We've said it countless times before, there's no better way to enhance your audio experience than with a high-quality set of headphones. From the ultra-luxurious KEF Space One to the gaming targeted SteelSeries Arctis 5 Gaming Headset, the headphones of today are lightyears ahead of the ones we had many years ago.
For many, choosing a high-quality set of headphones is a deeply personal experience. These aren't products that can be graded on a scale from "good" to "bad". Once you get into a certain tier, it's all about finding a pair that creates the exact type of sound you're looking for. Chances are, once you've gone through the process of selecting the pair that meets your needs, you want to make sure they stay safe.
Note: At no extra cost to you, we may earn a commission for purchases using our links. Learn more.
Sure, headphones are a lot more durable than the used to be. But if you really want to keep them protected, you need to make sure that you keep them safe. But where exactly can you put them? Leaving them on your desk occupies valuable space, and throwing them in a drawer leaves them open to the possibility of damage. For some, the best storage space for a high-quality set of headphones is right under your desk. These hangars are easy to install, providing you with the perfect little hideaway to keep your headphones safe. But there is a big difference between your typical hardware-store hook and a hangar that is specially designed for today's audiophile grade set of cans. Today, we'll be taking a look at the three best under-desk headphone hangars on the market. After, we'll help you pick the set that's right for you.
BrainWavz Truss
If you haven't spent much time upgrading your headphones, then you might not have heard of BrainWavz before. The brand made their mark in the industry by producing high quality headphone upgrades. One of their main focuses was on the ear pads. They've made everything from luxurious leather upgrades to exquisite memory foam earpads. Juts from browsing through their product line, it's clear that they know what headphone owners want. In some cases, they might know it a little better than the original manufacturers. When we saw that they had an under-desk headphone hangar available, we had to give it a try.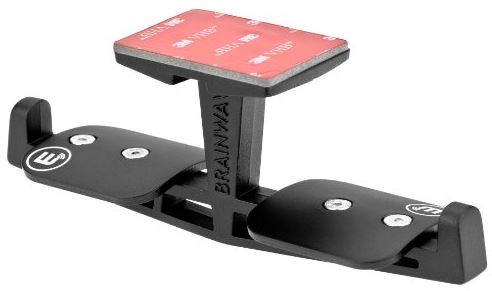 Design
The BrainWavz Truss takes its name from the steel trusses that were built to hold up bridges. Once you see it in person, you'll understand why. In many ways, it looks like a reversed bridge truss. The support of the bracket comes from the all-metal base. It's got a large aluminum plate on the bottom, with the back side coated with a very sticky tape.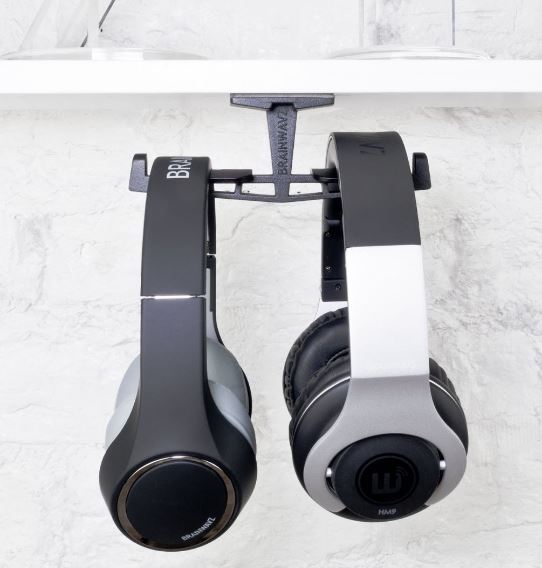 Rising up from the base is a large metal pillar that separates the base form the metal holding platform. Below that, you've got a teed off base with two little lips on each side that stop your headphones from sliding off either side. The T shape actually allows you to hold not one, but two separate pairs of headphones on a single stand.
Because the bracket is designed to be compact, many users would find that their headphones are unstable if the manufacturer didn't expand the part where the headphones rest. They corrected this by screwing on a smooth metal plate to keep them stable and straight. Up close, this might seem like a minor change. But from a distance, you'll notice that your headphones set much straighter than any other stand. If you're looking to show off a little, this is for sure the design that you want.

Mounting
When we were digging around looking for headphone hangars, we noticed that there were many models that require screws to be properly mounted. If you've spent money on a high-quality desk, the last thing you want to do is punch holes in it. But if you're using tape or glue, you run the risk of your bracket falling down and damaging the very same headphones you meant to protect.
BrainWavz did use tape on their bracket, but it's not your ordinary tape. 3M, one of the premier manufacturers of adhesives, made the special pad known as 3M VBH. This is one of the most reliable and long lasting adhesive pads that we've come across. On it's own, it's supposed to last upwards of 10 years. Obviously, we weren't able to verify this on our own. What we can tell you is that mounting it is literally as easy as peeling and sticking. We do recommend that you take a moment to wipe off the area, and carefully think about where you intend to place your stand. Once you mount it, it's not going to be easy to remove it.
Can it actually last the 10 years that 3M claims? If you want to know the answer to this question, check back with us in 2026. If this seems like a long time to wait, remember that if and when it does wear out, you'll likely have changed your desk orientation several times.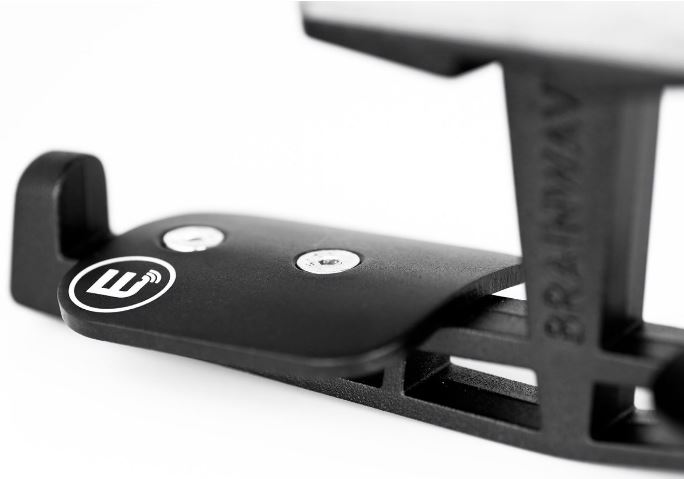 Durability
We can certainly say that this is the most durable headphone stand on the market. In fact, we might even go as far as to say that it's a little overkill. The main frame is made from cast metal, with the pads machined. Other than the sticky mounting pad, every part of this entire stand is made from metal. You could try to break this thing, and you likely wouldn't be able to. It really is industrial grade. The stand is able to withstand damage that would obliterate both your desk and a pair of headphones. Is it worth it? From a durability standpoint, it's more than you'd ever need. But from a design standpoint, we can't get enough of it.
BrainWavz Hengja
We've already explored BrainWavz top tier product, but here is something a little different. If you're concerned about the durability of the sticky-backed headphone bracket, this alternative poses another solution.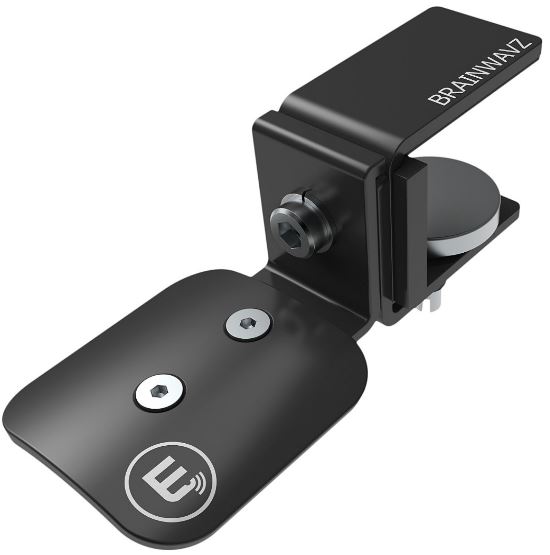 Design
Alright, we'll admit it. The BrainWavz Hengja isn't technically an under-desk headphone hanger. This one goes on the front, or on the side of your desk. That being said, you still get the same great design that BrainWavz uses with their headphone stands. The all black anodized aluminum build has both an premium feel with just a hint of industrialism. The only non-black elements on the whole frame are the two stainless steel screws that mount the stand to the frame, and the gray pad that protects your desk and allows the mount to apply a little more force. It's got a very squared off look about it, but when you're looking at it head on it is barely noticeable. All of the attention will be on your headphones, allowing you to show off your prized possession.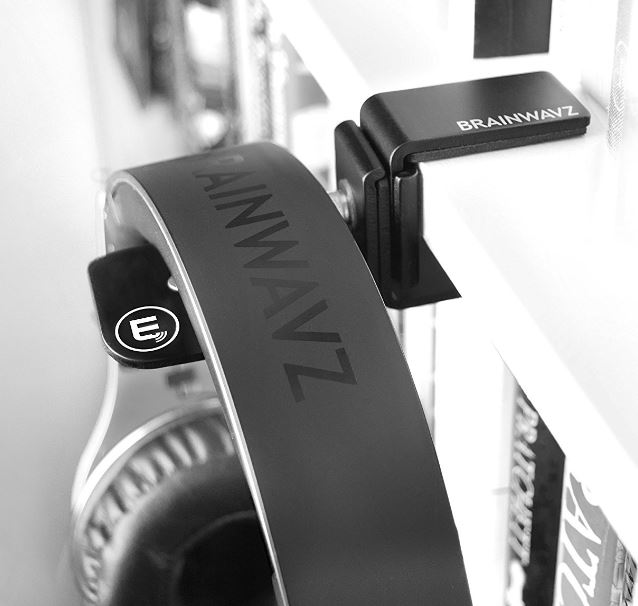 Mounting
Instead of the sticky 3M pad, this bracket clamps directly on to your desk. Its adjustable arm can be modified to fit desks of any thickness. Obviously, metal is not a particularly tolerant material. What BrainWavz did was put dense foam on each side, giving the metal bracket a little squeeze. This allows you to set it quite tight, without causing any damage to your desk.
It does take a few extra moments to get it mounted correctly, but this is our favorite mounting system of any stand.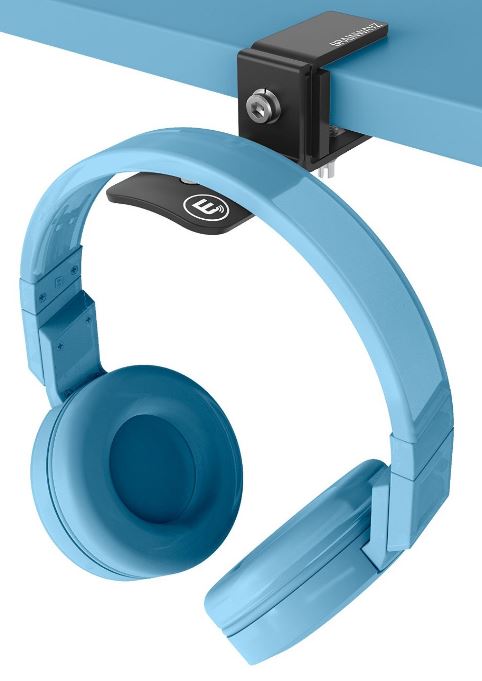 Durability
With the same metal construction as BrainWavz other headphone stands, our thoughts apply to this one as well. It is extremely durable, but probably much more than you'd need for something like this. The one benefit is the clip style mount. Unlike the sticky mounted device, you're not going to be able to pry this off your desk without some serious effort, or a few seconds with a screwdriver and the tightening bolt.
Elevation Lab "The Anchor"
As one first under-desk headphone hangers, we had to give this one a shot. Despite many manufacturers now entering the marketplace, this model still holds its own against others. That really says something about a company when others can copy it, but can't improve it.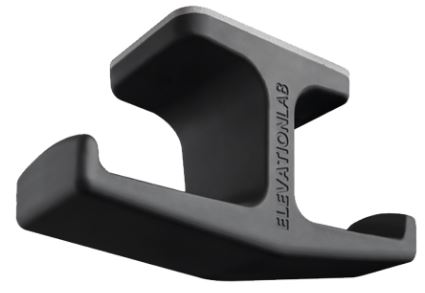 Design
We're pretty sure that we don't have to explain where this stand got its name from. The Anchor is a solid metal headphone hanger that is forged in one go. To keep it feeling soft and smooth, they've encased the entire thing in silicon. This gives it an almost rubbery feel to it, but protects it from scratches at the same time. There is not a single removable part on it, so you don't have to worry about it sustaining any damage. It's got a very attractive matte black design, but the rounded edges make it look a little less industrial than some. The only branding on the entire unit is a small logo embossed vertically down the center.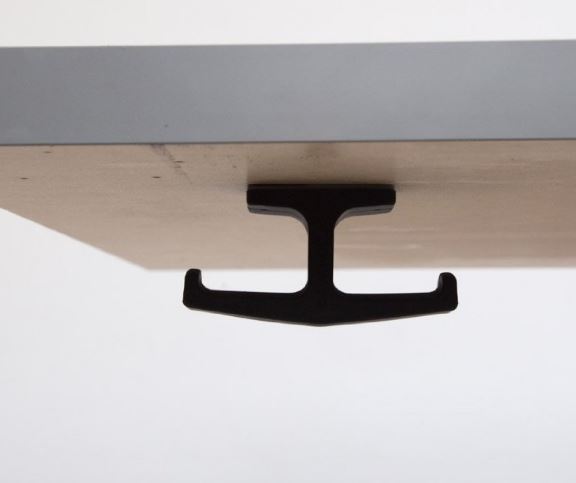 Looks aside, it's still a highly functional unit. Our favorite design feature is how the ends are tipped vertically. This stops your headphones from sliding off, although the grippy silicon already does a pretty good job of that.
Mounting
The mounting system on this headphone hanger is almost identical to the Truss. The difference is that this model uses a custom 3M adhesive. The same one, in fact, that's used on the Go-Pro. As you probably expect, sticking it to the bottom of your desk is a simple matter of peeling and sticking. We notice that this pad is a little firmer, so you'll want to press it against your desk for a few seconds to secure it. Once in place, it's not going anywhere.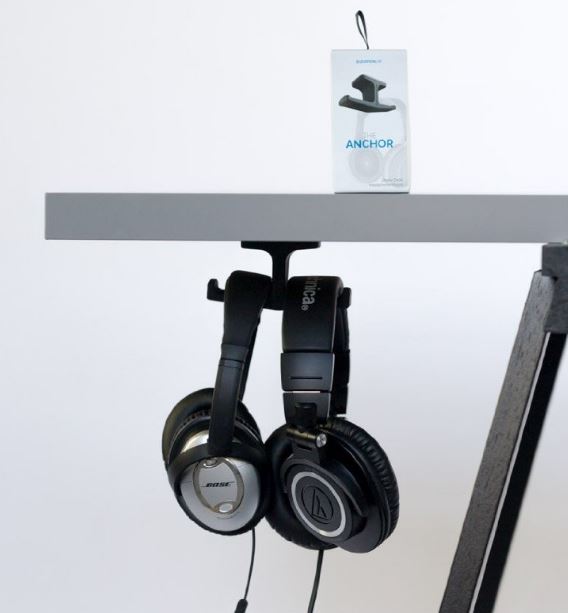 Durability
On paper, silicon is a little less durable than metal. However, it's got metal internal construction, giving it the same level of rigidity you'd expect. In this case, the silicon casing is actually a bonus. It protects the hanger from getting scratched, and does the same for your headphones as well.
Which Under Desk Headphone Hanger is Right for Me?
If you're trying to decide which one to put under your desk, we'll help you break it down. Our recommendation is to pair the one that you think looks best with your headphones. The Anchor has a sleek, modern look that would go great with the smooth curves or muted tones of high class audiophile headphones. Meanwhile, the BrainWavz Truss has a more industrial look that looks wonderful against the sharp angles of modern gaming headphones. But both of these units really look best with two pairs of headphones. If you've only got one set, the BrainWavz Hengja is a great choice.
Don't have a set of headphones to hang up yet? We've reviewed plenty of them at NerdTechy. The Brainwavz HM2 would obviously look great on any of their stands. For something a little sleeker, the BeoPlay H9 are one of the most attractive headphones we've ever reviewed.
Note: At no extra cost to you, we may earn a commission for purchases using our links. Learn more.