Balaclava face masks are a great way for people to stay warm during the winter months. With wind and things like rain or snow, it's hard to find options for your face and neck that provide all around protection.
There are certain conditions where accessories like earmuffs and scarves simply don't have the coverage to get the job done right. It's for this reason a growing number of people have turned to balaclava face masks.
Note: At no extra cost to you, we may earn a commission for purchases using our links. Learn more.
What is a Balaclava Face Mask?
Often referred to as a "ski" or "ninja" mask, a balaclava is a close-fitting hood that synergizes the warmth of a beanie with the protection of a scarf or neck gaiter in a unified low-profile item that can be used in a bunch of different scenarios.
Most people don't realize that leaving the head and neck exposed can release a lot of heat that could keep you warm. Using a balaclava helps keep this from happening.
There are different variations of a balaclava that provide different levels of coverage. Some cover everything except for the eyes while others keep the face exposed while covering the ears, neck and back of the head.
Besides full-heat coverage, a balaclava is extremely convenient. Rather than trying to find space in your pockets for a beanie and a scarf when you aren't using them, balaclavas are just one item of clothing to manage.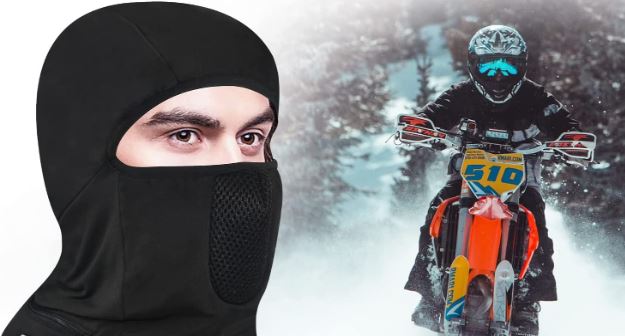 Is a Balaclava Face Mask Right For You?
While most people of all ages would benefit from a balaclava, those that spend extended times in cold weather for either work or leisure would benefit the most.
Most don't realize that things like frostbite and frostnip can happen in temperatures as high as thirty-one degrees. Factors like wind, rain and snow can make the risk for illness even greater. Balaclavas are a good choice for people that want to protect themselves from the elements conveniently.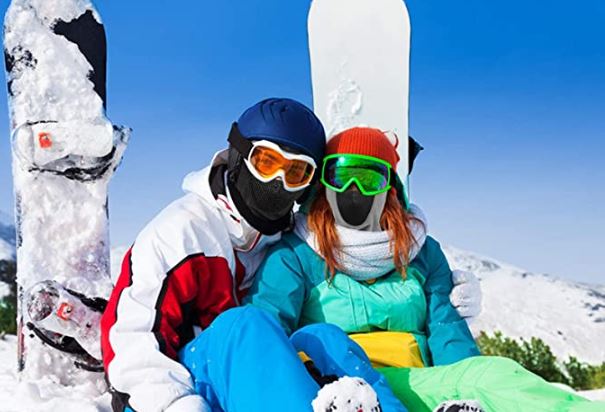 The Power of a Heated Balaclava Face Mask
Balaclavas that are powered by a battery have become incredibly popular amongst cold weather professionals and enthusiasts like skiers, snowmobilers and snowboarders. These give users the ability to generate an additional source of heat other than from their own body. When temperatures get extremely low, it's imperative to shorten the time to warm up.
Battery-powered heated balaclavas provide the perfect solution. Our roundup focuses on these battery-powered versions. There are a lot of options out there at different price points. To help you make the right decision, we've compiled four of the best battery-powered balaclava face masks currently on the market. Let's look.
How We Chose The Best Battery-Powered Heated Balaclavas
Our team leveraged its experience in cold weather climates and activities to build a list of key criteria to properly judge the effectiveness of the masks featured on this list. They include:
Price/Value: Based on product performance, quality of materials and user reviews, we put the balaclavas in this roundup through stringent testing to verify that the value matches the cost.
Reliability: In extreme temperatures, reliability is very important. These balaclava face masks have been tested for reliability over long periods of time and under intense use. During our tests, we not only looked at the reliability of the materials but also the output of the battery powered heating elements.
Durability: Although many cold weather users will have several balaclavas in their wardrobe, they are a decent sized investment. Good ones will cost a fair amount of money. Our testing sought to verify these masks would be good for long-term use. The products in our roundup presented a very low "cost-per-wear" during the life of the product.
Aesthetics: We wanted to make sure that the products featured also looked good. While many will place a balaclava under additional gear like a helmet, our team wanted to make sure it was aesthetically pleasing regardless of how it was worn.
Best Overall: Sun Will Heated Balaclava Face Mask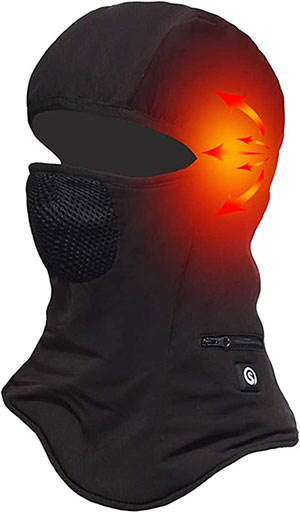 Key Features:
Polyester elastane material that has a velvet feel.
Machine washable.
Breathable material.
Heating elements on both sides of the head and ears.
6-8 hours of battery life.
1 year warranty.
The Sun Will Heated Balaclava face mask tops our list as the best balaclava currently on the market. Our testers rarely find a product that separates itself from the rest of the market as much as this product does. It takes the top spot because of its high quality materials, breathability, overall functionality and battery life.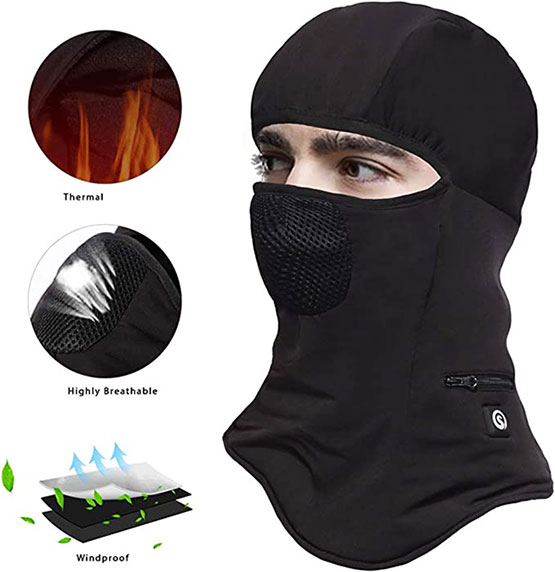 The polyester elastane used in this balaclava gives it a velvety texture that is ideal for prolonged use. It also did a fantastic job at dealing with the sweat, creating a type of wicking effect to move the moisture away from the skin.
It performed exceptionally well under ski helmets and work headgear. Many users remark how it stayed in place with limited bunching. It provides full head coverage except for a slit for the eyes and has nice design features to make it integrate better with your other articles of clothing.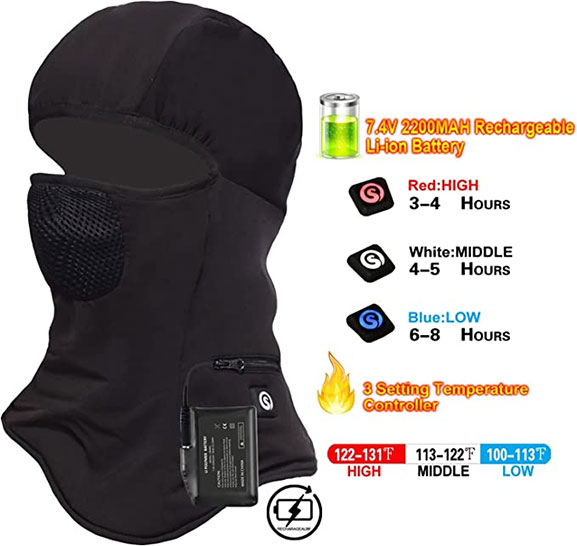 Last but most important is how the battery-operated heating elements perform. Many versions put out an excessive amount of heat that can be uncomfortable and even painful. This Sun Will balaclava's heating elements were spread out just enough to provide whole head heat without being overbearing in one specific spot. At six to eight hours of heating time, it's ideal for all day cold weather activities.
What We Liked:
All around head and neck coverage except for the eyes.
Durable, comfortable polyester material.
Easily fits under headgear and helmets.
Battery heat lasts for up to eight hours.
1 year warranty.
What We Didn't Like:
Sells out quickly.
Customer support can take some time to reply.
Best Runner-Up: ActionHeat Battery Heated Balaclava Face Mask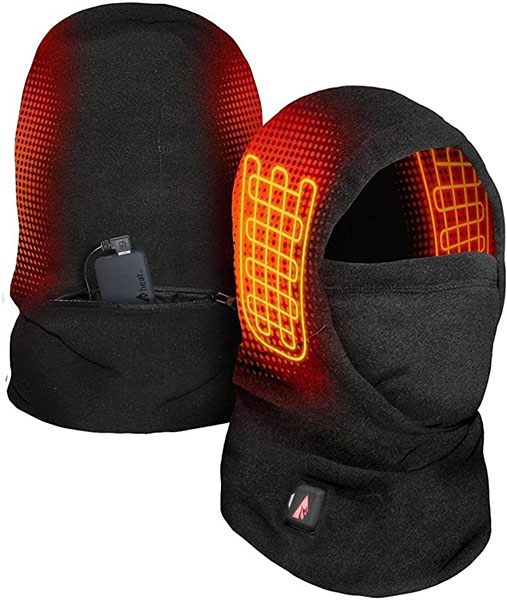 Key Features:
Button closure provides easy on and off.
3 heat settings.
5v rechargeable battery that lasts up to 4.5 hours on low.
Weather resistant.
The ActionHeat Battery Heated Balaclava Face Mask was impressive in many ways. We love the button closure design which allows easy removal while leaving other articles of clothing in place.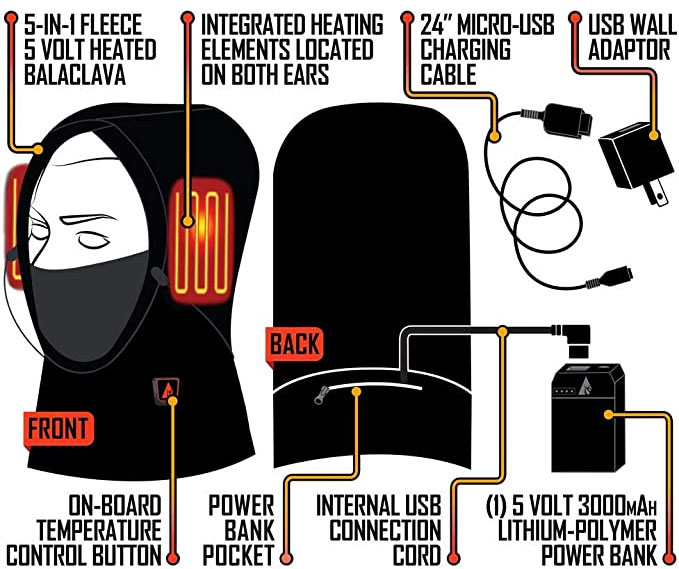 It has a head and neck enclosed design with a slit opening to reveal the eyes and part of the forehead. The entire thing does a great job of keeping the wind out. Best of all, it's weatherproof while also being breathable at the same time.
Another pleasant feature is the heating elements. The heating pattern is a waffle grid which allows for a more even heat distribution. There are three heat settings that are controlled by an attached button-touch controller.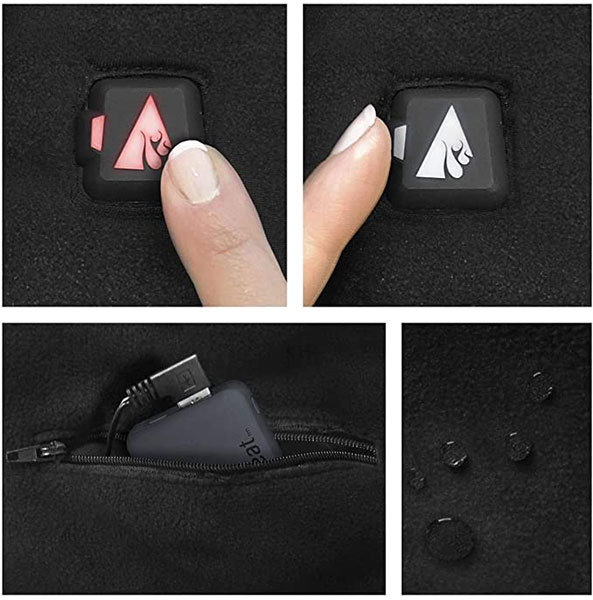 It wasn't hard to operate and we could shift between heat settings with little fumbling around. In terms of battery life, it runs on an included 5v rechargeable battery that can provide up to four and a half hours of heat at the low temperature setting.
We appreciated the included accessories which allowed us to put it to use without having to buy any additional gear or charging cables. Overall, this ActionHeat Battery Heated Balaclava is a great option for cold weather users.
What We Liked:
Button enclosure.
Wide heating coverage.
Breathable yet weather resistant.
Durable and rock solid performance.
What We Didn't Like:
Was heavy at times.
May not fit as easily under tighter headgear.
Best Alternative: Wermsock Heated Balaclava Face Mask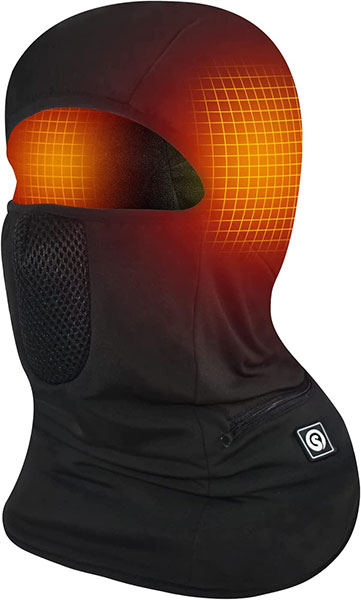 Key Features:
Comes in multiple sizes.
Made in the USA.
Fleece material.
All around coverage except eyes and partial forehead.
Rechargeable battery that lasts up to 8 hours.
The heated balaclava by Wermsock is a great option for those that need a low profile variation that provides maximal heating time. At up to eight hours of battery life, it is a great option for skiers and athletes that spend long hours on the slopes or in the elements.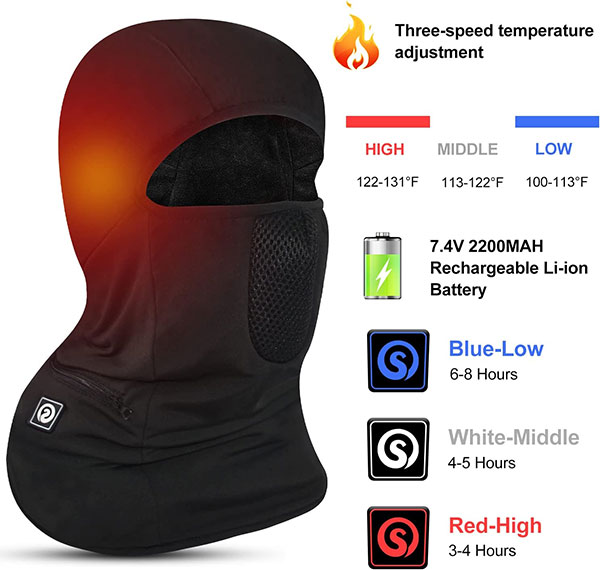 While the heating area is not as wide as some of the other options in this roundup, we found it did an adequate job of providing enough heat without being overwhelming after prolonged use.
Users remark about its incredibly soft fleece material. One thing to keep in mind is that this material retains more moisture than a polyester variation. With that said, our testing revealed it is a great option for extended use.
What We Liked:
Provides great coverage.
Battery lasts up to 8 hours.
Low-profile design.
Great heating power.
What We Didn't Like:
Less breathable than some other options.
Customer service can take some time to respond.
Best Budget: V.Step USB Heated Balaclava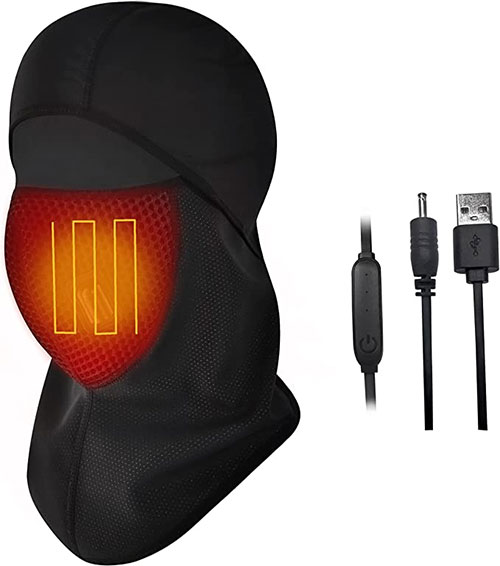 Key Features:
100% polyester.
Pull-on closure.
Hand wash only.
Overheat protection.
3 heating levels.
Heating timer.
A solid heated balaclava does not need to be expensive. The V.Step heated balaclava is our choice for the best budget version because of its loads of features, quality materials at a budget friendly price point. Made of a low profile polyester material, it's a great option for snow sports as it fits comfortably under helmets and goggles.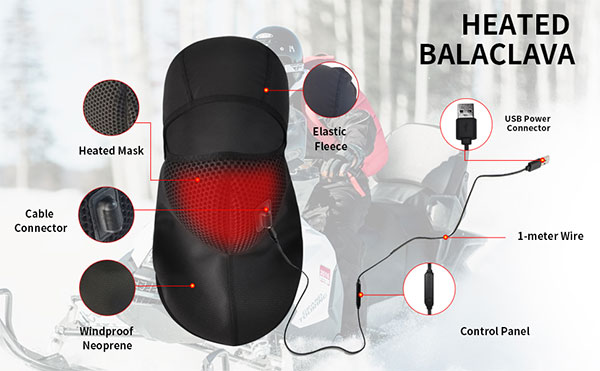 The pull on closure makes it a snug fit when putting on but it is not obtrusive at all once you put it on. One feature that we were impressed with was the variable heating control. With three options to choose from, it offers the most control of any other balaclava at this price point.
This is the only heated balaclava on our list that does not come with a battery. However, they are easy to purchase separately. Alternatively, you can simply it power it via virtually any USB port or power bank.
What We Liked:
Variable temperature control.
Battery lasts several hours.
Low-profile design is thin enough to fit under helmets and goggles.
Comfortable elastic material.
Great overheat safety features.
What We Didn't Like:
No battery included.
Heating elements not as wide as some other options.
Runs smaller than other balaclavas.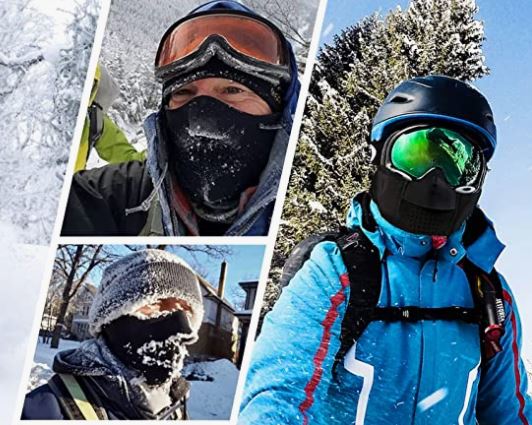 How to Choose the Best Heated Balaclava Face Mask
If you're still unsure of which balaclava is right for you, let's look at some considerations you should keep in mind to help with your decision making.
Intended Use: Are you using it for work or leisure? Sports? If your balaclava is going to be used underneath other wearables, your material choice should be thinner or lower profile to work best..
Fit: Be sure to check user reviews and sizing recommendations. Some products will run larger or smaller and may shrink depending on the material..
Battery length: Some may not need long hours of heating. If that is the case, you might save some money going with a shorter lasting heated balaclava. However, if you are out often or for long periods, investing more for extra time and fewer charges may be worth it..
A heated balaclava face mask is an ideal choice for those that want comprehensive heat coverage and protection from the elements. The right choice can provide warmth for years to come.
Please consider sharing:
Note: At no extra cost to you, we may earn a commission for purchases using our links. Learn more.