Desk jobs can be harder on your body than most people realize. It's not like you're working as a logger or a deep sea angler. But when you sit in the same position for hours at a time, you can end up with pain and stiffness. Even with the most comfortable chair, your body isn't going to be satisfied over the long term. It wants to move, flex, and change positions.
A standing desk affords you that opportunity. Instead of sitting, you're on your feet, and you can move around more freely. Better yet, many standing desks are adjustable. You can raise them to stand, or lower them to sit. That way, you get the best of both worlds. You can spend part of the day on your feet, and sit in your chair the rest of the time.
Today, we're going to review the FlexiSpot E7 Pro Plus Standing Desk. This is a motorized, adjustable standing desk that can support up to 355 pounds. But is it the right standing desk for you? To answer that question, we're going to have to dig a whole lot deeper. Let's get started, and see what we come up with!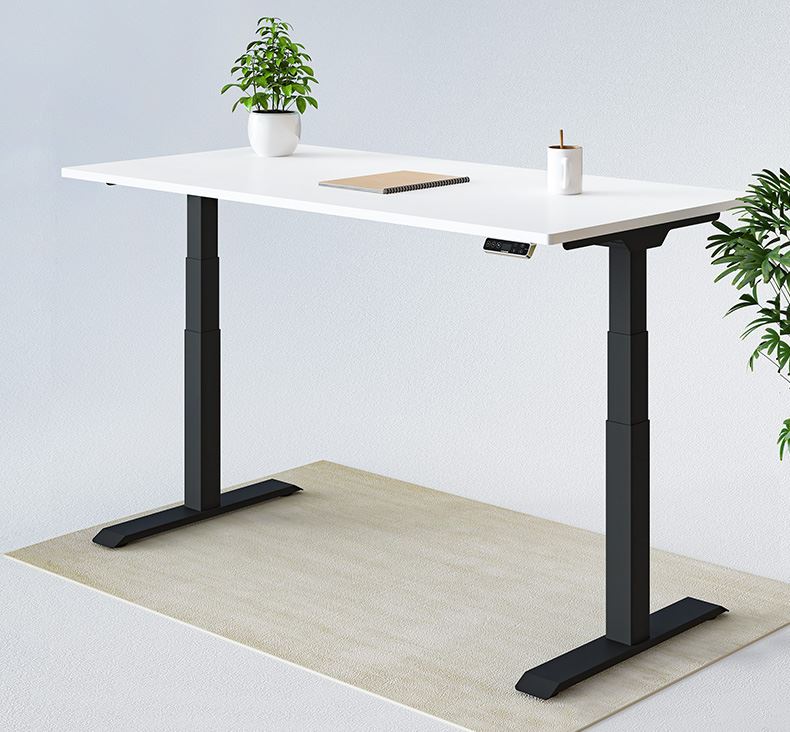 Overall Design
The core of the FlexiSpot E7 Pro Plus Standing Desk is its legs. They're big and fat, and the motors are embedded inside. This creates a clean look, without ugly motors hanging on the sides. The legs have a rectangular profile, and are embedded in the feet.
Since they sit in a socket in the feet, the design is very stable. The feet themselves stretch from the front to the back of the desk, further improving the stability. The material itself is a tough carbon steel that can handle a lot of abuse. It's powder-coated to resist moisture and stains. And you can order it in black, white, or grey.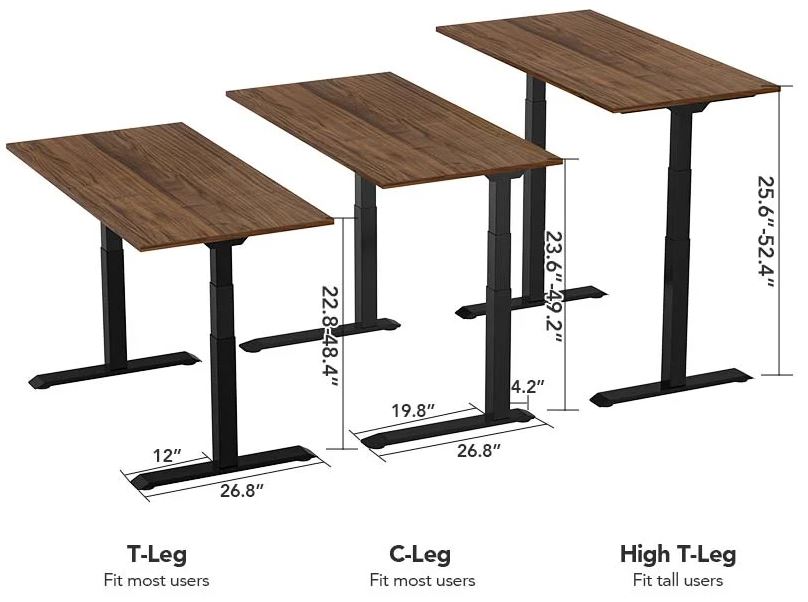 A top beam sits across the top of the two legs, connecting them. This serves as a stable platform for the desktop. It's also telescoping, and can adjust from 43.4 to 74.8 inches in width. As a result, it can fit almost any sized desktop.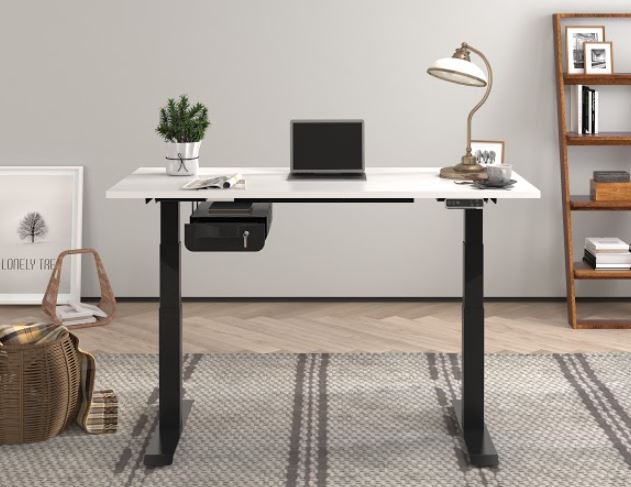 Speaking of desktops, you can order the E7 Pro Plus with your choice of surface materials. You can buy it in chipboard, bamboo, fiberboard, or solid wood. There's also a wood veneer option with a combined poplar and eucalyptus core. Each version comes in its own selection of colors or stain patterns. Some even come in faux stone patterns. In addition, you can choose three sizes: 48" x 24", 55" x 28", or 72 x 30". Or you can get adventurous, order the topless version, and cut your own desktop.
Be aware that this desk is heavy! Even the smallest version of the frame weighs in at a whopping 69 pounds without a desktop. With the top attached, it can weigh over 100. Thankfully, you have the option to order it with a set of casters. That way, you can just roll it around.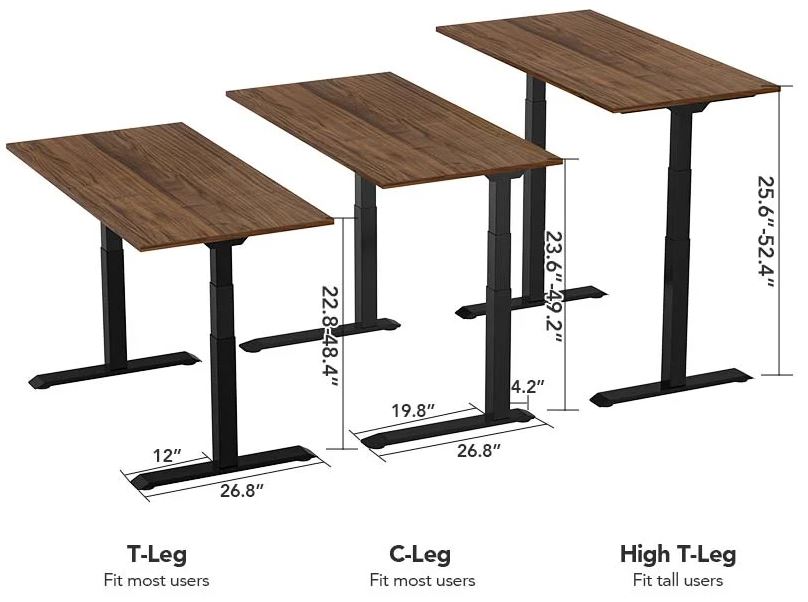 Assembly
When the E7 Pro Plus first arrives, it comes in a bunch of pieces. Thankfully, the assembly instructions are straightforward, and everything bolts together easily. To begin with, you'll need to attach the legs to the top panel, and attach the feet to the legs. The top beam bolts into a set of rails that are embedded in the bottom of the desktop. It's easy and intuitive. However, you'll have to do some routing to install the rails if you're building your own desktop.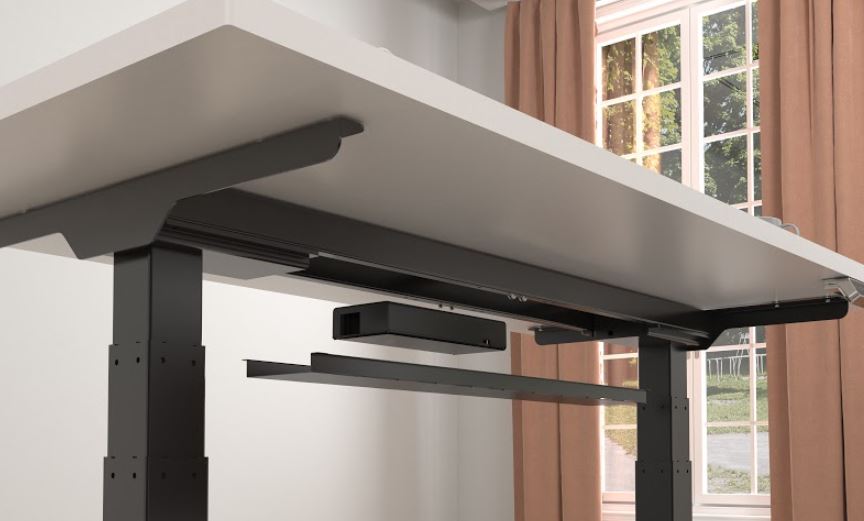 The controller unit installs under the front right of the top. It's a simple keypad with control buttons for modifying the height. There's a little display that shows the current height, and even a child lock button. The controller screws easily into place, and it wires into a harness on the frame. It plugs in easily, and you don't need to splice anything. And since the motors are already inside the legs, you don't have to worry about wiring them in, either.
If you want a more straightforward design, check out the AokPro Standing Dual Motor Desk. Not only is it easier to install, but it's also much more affordable. Then again, it's not as durable, and there's no real wood option available. There also aren't any worthwhile extra features.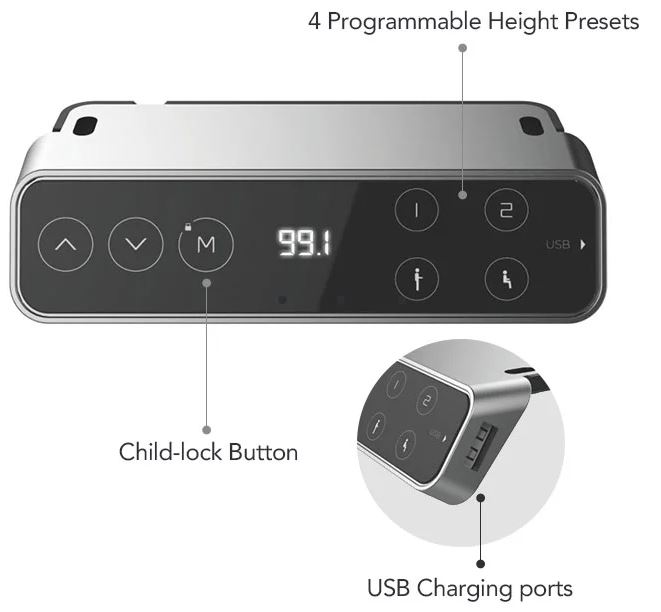 Adjustability
The control panel has a pair of buttons to adjust the height up or down. To the right of the LCD screen, a set of four additional buttons let you switch between preset heights. You can use the defaults, or program your own to get exactly the right height.
The legs have a telescoping design, with virtually zero gap between parts. They glide smoothly open and closed, and there's no room for dust and debris to get into the system. Exactly how far you can adjust the height will depend on the frame version.
The standard frame's legs connect to the feet in the middle, and come in two sizes: 22.8"-48.4" and 25.6"-52.4". The C-frame version's legs connect at the back of the feet, and it adjusts from 23.6" to 49.4".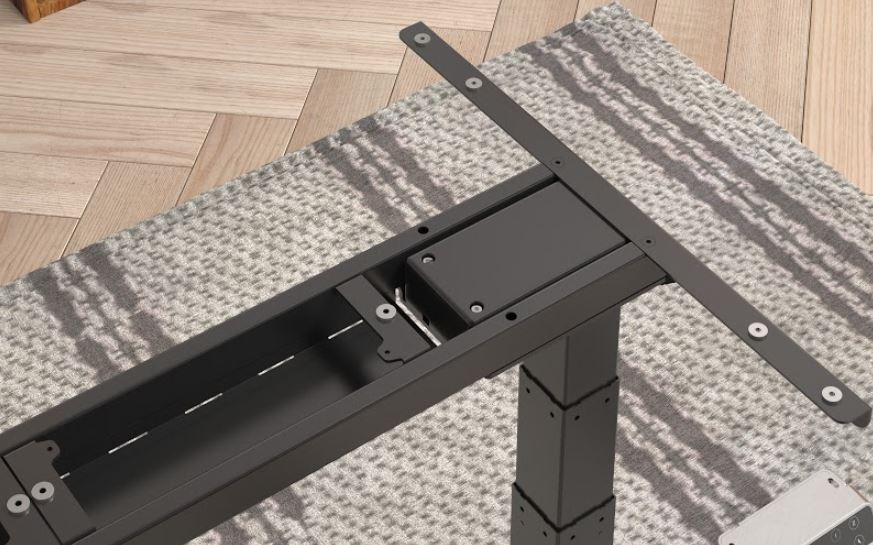 The dual motors are very powerful, and can move up to 355 pounds in weight. That's more than you'll ever need, which is exactly the point. Unless you're trying to use the desk to store your free weights, you'll have an overabundance of weight capacity.
The motors are also quiet, and produce less than 50dB of sound. That's more than quiet enough to use in an office environment. And despite being so quiet, they're pretty fast. They'll move the desktop up and down at a rate of 1.4 inches per second.
Extra Features
The E7 Pro Plus has a number of useful bonus features that are worth mentioning. To begin with, it comes with automatic object detection. If it hits something while moving up or down, it will bounce back. That way, you won't damage the desk – or anything else in your office.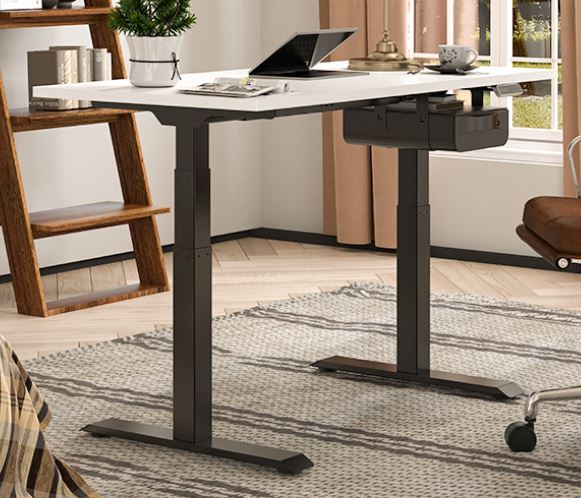 Another great feature is the removable metal track on the bottom of the top beam. This track creates a pathway for wires to pass through. Cable management is very easy, and you won't have cords draping across your desk or the floor underneath.
In the right side of the control panel, you'll find a USB port. This isn't an interface. It's a simple charging port for your phone or tablet. Even if your phone came with an obnoxiously short cable, it should be able to reach.
If you need even more charging capability, you can add the power strip onto your order. This is a black plastic strip that attaches to the back of the desk. It has a row of three grounded AC outlets, which are tilted at a 45-degree angle. Next to these are USB Type-A and Type-C ports, for charging yet another device.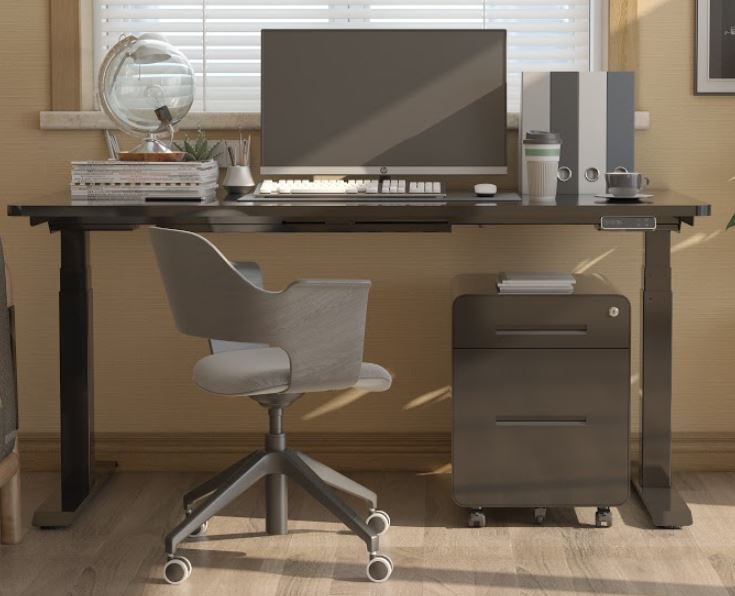 If you need storage for your office supplies, FlexiSpot offers a drawer. It mounts on the right side, and has enough space for some legal pads, pens, staples, and other basic gear. You can also order the keyboard tray, which mounts under the center of your desk. Or if you don't like the design, you could order an aftermarket under-desk keyboard tray.
Best of all, FlexiSpot's manufacturer's warranty is good for fifteen years. That's absolutely insane, but who's complaining?
Benefits of a Standing Desk
Before we wrap up, let's talk about why you'd want to use a standing desk to begin with. Here are a few good reasons.
It relieves muscle stiffness – Spend enough time in a chair, and you'll end up with some back and neck pain. Worse, this can lead to a snowball effect. You start sitting in weird positions to compensate for sore muscles. Then you put other muscles under undue stress. Sooner or later, your chest, arms, and shoulders are even in pain. Standing up, even for an hour or two a day, can make a huge difference.
It's good for your health – Sitting in a chair all day doesn't just make you stiff. It also comes with some serious health risks, not least of which is obesity. And along with obesity, you get the twin threats of diabetes and heart disease, and even some types of cancer. Moreover, standing allows for better blood flow than sitting. If you have vascular issues, a standing desk can be a huge help!
It's better for your mood – Sitting down signals your brain that it's time to relax. It's easy to get sleepy and it can be difficult to focus. Standing up causes you to become awake and alert. And if you're on a video call, standing up can make other participants perceive you as being more attentive.
You can stay active while you work – Look, you're not going to burn thousands of calories at your standing desk. But you can at least move around a bit, or even use a standing desk treadmill.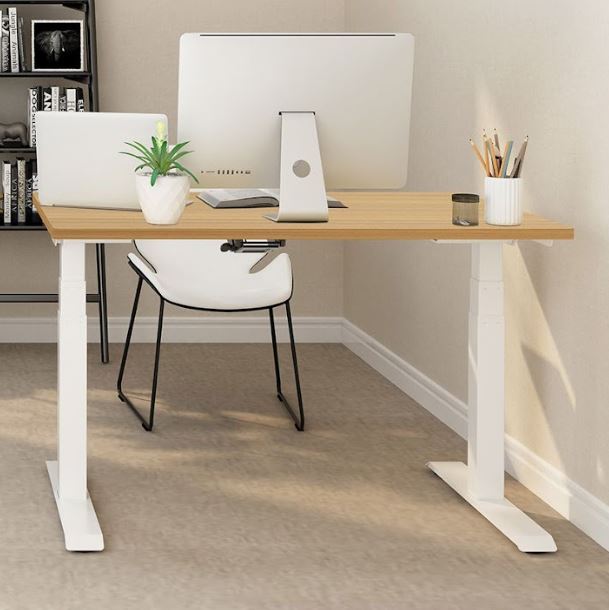 Final Verdict
The FlexiSpot E7 Pro Plus Standing Desk is a great piece of office equipment. For one thing, it's incredibly tough. With a capacity of 355 pounds, it's good for way more than a computer and monitor. Like with most standing desks, it requires some assembly; but assembly isn't all that complicated.
The motor is quiet, and it's also easy to operate. With four memory heights, you can figure out what works for you and save your preferred settings. Then you can return to your favorite heights with the push of a button. And with object detection, you won't accidentally damage anything while changing heights.
You can order three different frame sizes and multiple different desktops. And FlexiSpot offers plenty of extras to make the desk even more useful. With a drawer, keyboard tray, or power strip, you can build the ideal standing desk for your needs. In most respects, it's whatever you want it to be.