There's nothing more important than your personal health. Every day, we make conscious decisions to live happier, healthier lives. We choose the right foods, medications, and lifestyles that will help us live a long live, and avoid harmful chemicals.
But there is one thing that we could all give a little more thought to – our air quality. If you've been following the problems in Beijing, you know serious health problems can come up when people are regularly breathing polluted air. But what's happening there is an extreme example. Unfortunately, pollution is a fact of life in modern societies.
While simply breathing the air in a large city isn't going to give you cancer overnight, small levels of pollution can eventually build up within our bodies and cause health problems that don't show up until later in life. And these pollution levels can change on a daily basis. All it takes is a little change of direction in the wind and a once clean area and suddenly contain things that we'd be better off to avoid.
How are we to protect ourselves? The first step is to gather information. There are programs in place to warn people if pollution reaches dangerous levels, but there isn't much information available regarding the day to day air quality.
Indoor air quality monitors are the next generation of digitally connected devices. They constantly monitor the air in your home, giving you the ability to track the data from your mobile phone. But this isn't a simple process, and there are many different products on the market all designed for different purposes. We'll be taking a look at the two best indoor air quality monitors you can buy today. We'll go in-depth and explore not only the specifications of each model, but what they mean for you. After, we'll break it down so you can decide which one is the right fit for your home.
Dylos DC1100 Pro Air Quality Monitor
Dylos, known as Gradko in the UK, is a company that knows air quality. They've only been in business for a few years, but they were one of the first to market with an affordable air particle counter. For the first time, this technology was in the hands of consumers. While they aren't the only solution, they're one of the oldest competitors in this unique market. Since their products have had a few extra generations to mature, we'd like to consider them as the benchmark for what a good air quality monitor should do.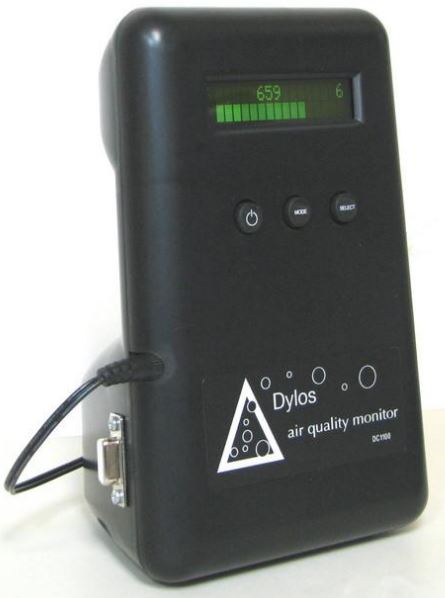 Design
This is a pretty utilitarian product. Most consumers are more concerned with what it does than how it looks. But it's important to consider how the design will impact your usage of the system.
The Dylos DC1100 Pro is sparse in design, which makes it easy to learn. At the top, you'll notice two numbers. These are readouts showing you the total number of particles in the air. If this was a real time reading, the numbers would be moving around so fast you'd never be able to read them. Instead, this monitor takes the average number of particles detected over the last 10 seconds.
The main number you'll want to look at is on the left. This is the total number of particles detected that measure above 2.5 microns. Typically, these are things that can potentially irritate the lungs. On the right, you'll see the average number of particles detected that are between the size of 0.5 microns and 2.5 microns. This number will almost always be much lower. These aren't things that can directly irritate the lungs, but rather ones that can potentially cause health problems.
Aside from the display, you've got three buttons that allow you to change what's displayed on the screen. The "mode" button lets you switch between real time monitoring, and historical data. When you push the button, you'll be given a list of options, and you just have to hit select to choose it.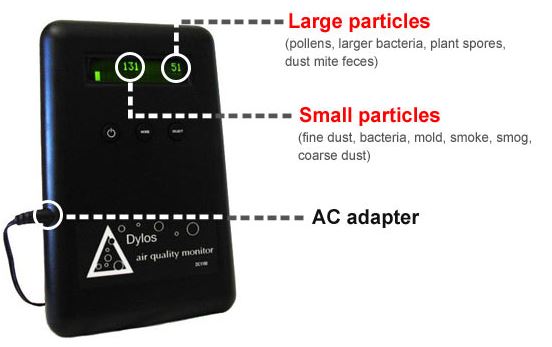 Accuracy
Before you buy any piece of measurement equipment, it's important to understand how accurate it is. The thermometer inside your oven is much more accurate than the one you hang outside your window, because it's designed for a different purpose. We trust the manufacturers who make our oven to choose the right hardware for the job, and they deliver. But air quality monitors are not ovens. If our food isn't cooked properly, we'll know right away. But if an air quality monitor is producing incorrect results, unfortunately consumers don't have many ways to verify the data.
Instead, it's important for us to look at the calibration data. When air quality monitors a running, they give you a readout to tell you how many particles are in the air.
However, not all particles are the same. Mold spores average around 10 to 30 microns in size, while coal dust ranges in size from 1 to 100 microns. For reference, just a single cubic inch occupies 25,400 microns of space. The Dylos Pro is calibrated to detect particles with a minimum size of 0.5 microns. At this range, it can detect things like Asbestos, mold, pet dander, dust, tobacco smoke, pollen, and much more.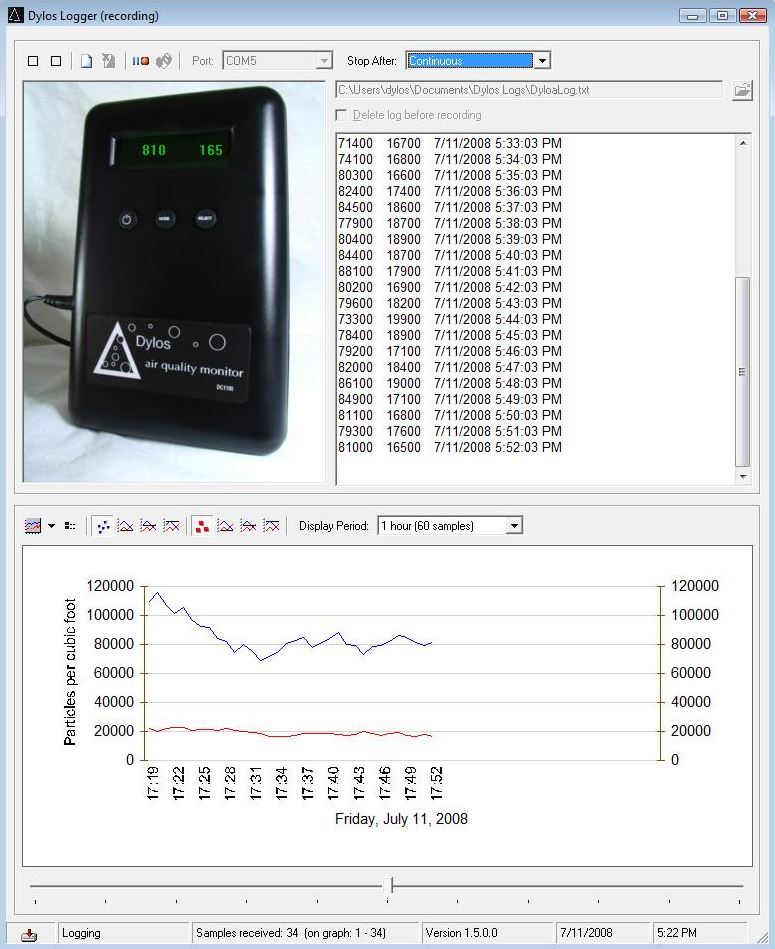 Technology
Wondering what makes the DC1100 tick? Inside is a laser air quality sensor. This technology is optical in nature. A laser is emitted onto a sensor, which carefully detects all obstructions that pass by. Because lasers are extremely accurate, Dylos is able to determine both the size and the quantity of any obstruction that passes between the laser and the sensor.
In order for this system to work, it's essential that it receives significant air movement. This is performed though a small fan, roughly about the size of your typical computer fan.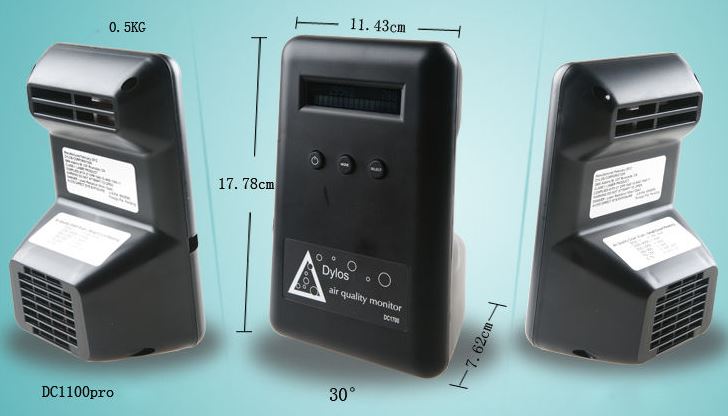 Functionality
What is it actually like to use the Dylos DC1100? In short, it's eye opening. According to Dylos, the quality ranges are as follows:
0-75 = excellent
75-150 = very good
150-300 = good
300-1050 = fair
1050-3000 = poor
3000+ = very poor
For us, the eye opener was how drastically simple things can change the air quality ratings. Obviously, the seasons and weather can make a huge daily impact. Downtown in a large city, we're often seeing readings of under 100 with our air purifier on. But open a few windows to get a breeze going through the house and these numbers can go up to nearly 900. Sweeping the floor can briefly bump the readings to nearly 3500. Of course, these readings drop off quite quickly. But you'll soon learn a lot about your home that you didn't know before. What happens when your heater kicks on? What about your vacuum? All of these questions will be quickly answered with the DC1100.
For most consumers, an air quality monitor isn't enough. If you find that your readings aren't what you'd like (this is bound to happen at least once) you'll want to take an active stance to prevent this from happening. When used in conjunction with an air purifier, you'll know exactly how effective your solution is.
Sper Scientific 800046 Indoor Air Quality Meter
Historically, Sper's focus has been primarily on the professional market. Not to long ago, they realized that there was a potentially huge customer base interested in purchasing lab grade products for their own personal use. The Sper Scientific 800046, as you could probably guess from the robotic name, is one of those products.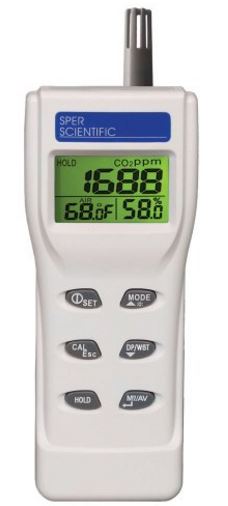 Design
Just as your air quality can vary hour by hour, it can also vary room by room. Most consumers won't find it valuable to set up an array of permanent air quality meters in every room of their house, so they'll commonly be moving their unit from one room to another as needed. By making a meter that is both high quality and portable, Sper has made this easier for you. This particular model weighs about three pounds, so it's got a bit of heft to it. But it's still surprisingly compact. It fits comfortably in the hand, feeling as if you're holding a late model cellphone. Once you turn it on, it will feel a little more like the communicator from Star Trek. That is to say, it's one serious piece of tech.
The backlit LCD display comes to live and gives you at-a-glance information that doesn't just tell you the number of particles, but the type. Controls below the screen allow you to navigate thought the menus and change how information is displayed. You can see the average reading over a period of time, set a threshold, or change the units.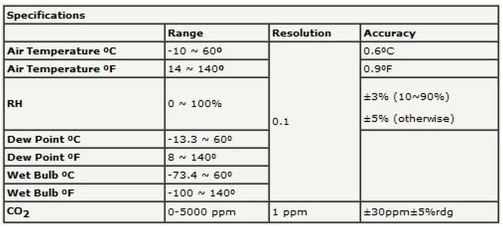 Accuracy
One of the nice things about this monitor is that it's not just a sensor, but a processor as well. Instead of giving you a readout of the number of particles, it tells you exactly what those particles are. Because of this, the sensor is calibrated separately for each measured variable. Unfortunately, calibration data isn't available for all variables. But it is certified for use in professional environments, so you can rest easy knowing that each value you're given is as accurate as it needs to be. For example, the temperature is accurate to within 0.06 degrees Celsius, while carbon dioxide emissions are accurate to within 5 parts per million. Carbon dioxide is a serious problem, so this part of the meter is extremely accurate. But 0.06 degrees Celsius, while technically a large margin of error in comparison, is barely even noticeable never mind harmful.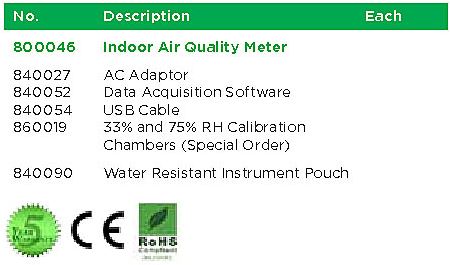 Technology
The Sper Scientific 800046 also uses laser technology, but in a much different way. First, air is pulled in through the upper inlet. It is then passed through a tube which contains not one, but several air quality sensors. You'll remember that the Dylos model detected particles in two different ranges. Well, Sper has a dedicated sensor for each measured variable. The primary one is Carbon Dioxide. This laser will only detect particles that are the exact measurement of a CO2 particle. While there is room for error, it's minor in comparison to an all-inclusive sensor.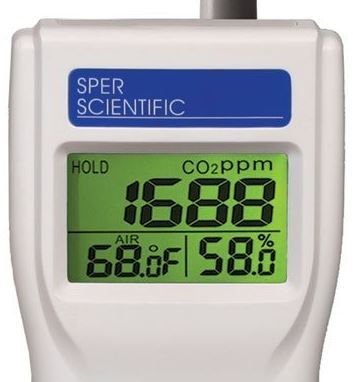 Functionality
Let's get down to the meat of the issue – how well does it work? Well, if you're not really sure what you're looking for, this is certainly the one you'll want to grab. The Sper Scientific 800046 focuses on the tangible things that could harm or irritate you. Most of it is centered around carbon dioxide. It can tell you the current CO2 levels, or give you the moving weighted average and time weighted average. There's even an alarm that will be triggered if you meet the short-term exposure limit set by occupational health and safety.
Additionally, it also gives you a lot of information about the air such as temperature, humidity, and dew point. This is particularly useful for asthma sufferers, or those who are easily irritated by dry air.
Which Air Quality Monitor is Right for Me?
These two handy devices might look the same, but they actually perform very different tasks. The Dylos DC1100 is designed for people who want to make sure their air purifier is working effectively. You'll be able to see the difference from when your purifier has been running, and when it has been off. It will also help you identify ways that your air is getting dirty to begin with. You'll learn habits like sweeping a little more gently, or keeping the windows closed in the morning during traffic. If you haven't already, check out our review of the best air purifiers to determine which should be used in conjunction with the Dylos DC1100.
The Sper Scientific 800045, on the other hand, is designed for a very different purpose. It's great for getting at a glance readings of the air quality wherever you are. This is ideal for people who work in a dirty environment, and want to make sure the air conditions are safe. Although it focuses primarily on CO2, this is the most harmful pollutant and also one of the most plentiful. Since there is an alarm, you can keep it in your pocket (with the sensor sticking out) and be notified if there is ever a problem.
It also comes with an extremely accurate humidity sensor, making it a great solution for those who are bothered by dry or humid air. When researching, we even found some users who were using it to determine if homes had a hidden water leak, although a smart water leak detector would do a better job of that.