If you're a proud owner of the iPhone 15, safeguarding that top-of-the-line camera lens is more than just a good idea – it's practically a necessity. We've taken a hard look at some of the best lens protectors out there so that you can be sure to keep your phone in pristine condition. What we found was four heavy-duty contenders that are sure to enhance durability and longevity. Here's a quick peek at our top picks:
Below, you'll find our thoughts on each of these camera lens protectors, including pros and cons. Our goal, as always, is to point you toward a quality piece of tech. Which one is right for you? Read on to find out.
#1 – Esanik iPhone 15 Camera Lens Protector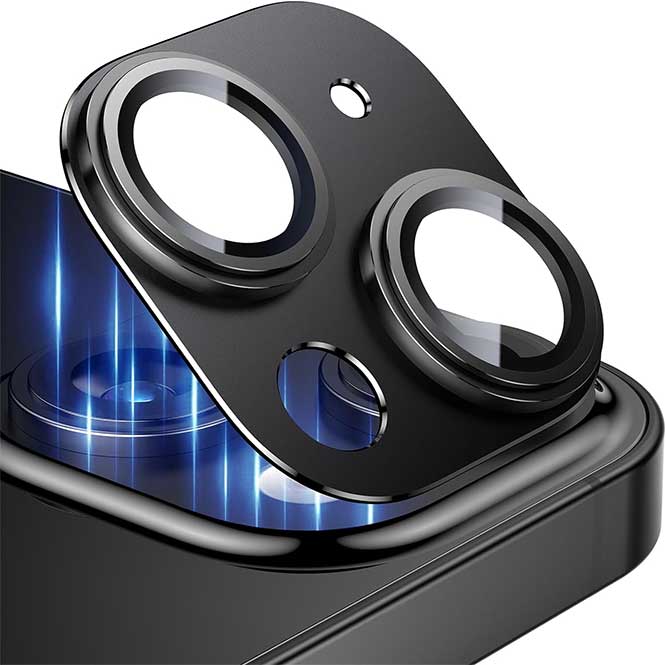 Key features:
CNC engraved single-piece design
Corning Gorilla 9H Glass
Branded adhesive tape
Original lens structure fit
When it comes to camera lens protection for your iPhone 15, don't skimp on quality. Our team got their hands on the Esanik iPhone 15 Camera Lens Protector and gave it a thorough examination to see how it holds up. Esanik clearly put some thought into the manufacturing process. CNC Engraving & Integrated Molding technology ensures a single piece of high-quality aluminum alloy forms the backbone of this protector. Unlike other protectors that tend to fall apart due to inferior assembly processes, this one's in it for the long haul.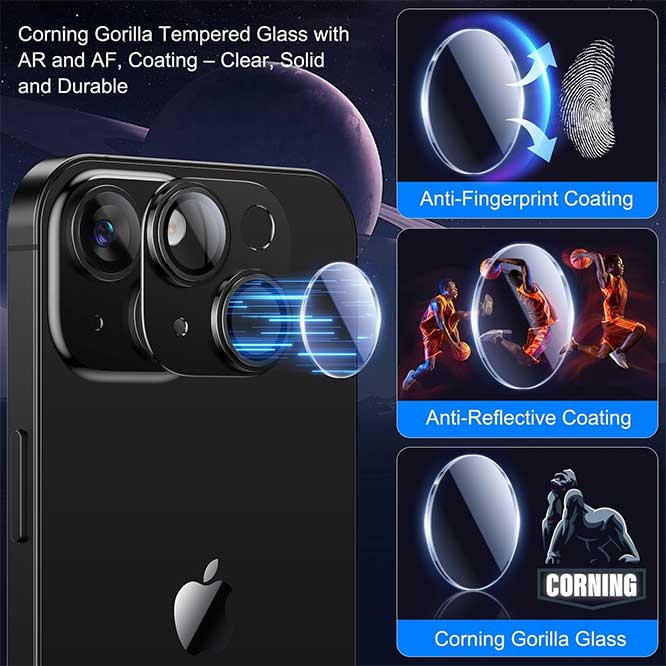 What's covering your camera lens? In this case, it's Corning Gorilla 9H Tempered Glass with AR and AF coatings. This top-of-the-line material not only makes your protector scratch-resistant but also ensures your photos maintain their original quality. Our tests found zero compromises in resolution, which is quite the feat. The branded adhesive tape on the device makes it stick like a committed relationship. We're talking 10+ times the adhesion of conventional protectors.
To test it, we shook the phone and even accidentally dropped it. The unit didn't budge. Design-wise, Esanik nailed it by incorporating a stair design that seamlessly fits into the original iPhone 15 camera lens structure. No air gaps, no fog, and no glare. Installation is child's play, and should you need any help, Esanik offers lifetime service. A perfect example of a company that stands by its product. And if you're curious, the product dimensions are 1.5 x 1.5 x 0.5 inches, with an item weight of 1.41 ounces.
What we liked:
Zero resolution compromise
Ultra-strong adhesion
Unmatched durability
Effortless installation
What we didn't like:
Slightly bulky
Only two black colors offered
#2 – Actgan Design iPhone 15 Pro/Pro Max Camera Lens Protector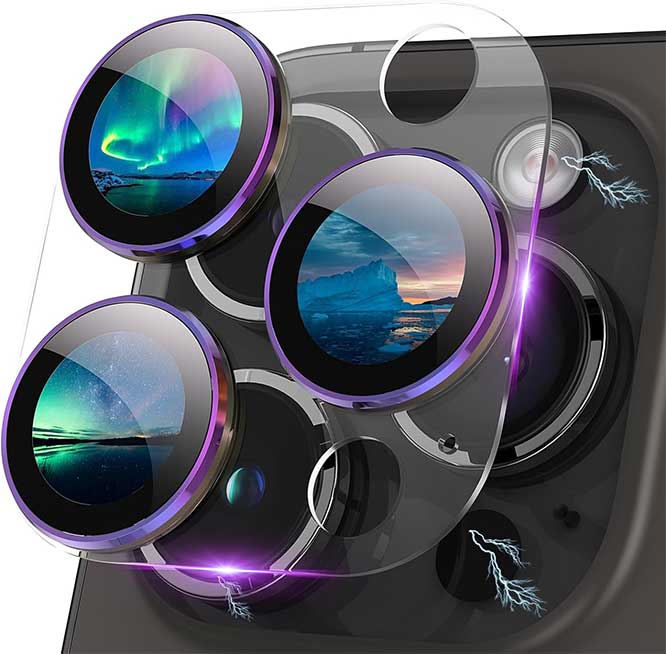 Key features:
Full camera coverage
9H tempered glass
Optical-grade coating
Multicolor design options
In the crowded space of iPhone camera lens protectors, Actgan's offering presents a refreshing take. Tailored for the iPhone 15 Pro and Pro Max, this lens protector takes camera security up a notch while still allowing you to flex your style. With its 3D one-piece aluminum alloy ring, acrylic plate, and 9H tempered glass, Actgan's unit isn't one-size-fits-all – it's customized precisely for the iPhone 15 Pro Max's 6.7-inch screen and the 15 Pro's 6.1-inch screen. The dimensions of the protector are 1.5 x 0.13 x 1.5 inches, and it weighs in at a mere 0.317 ounces.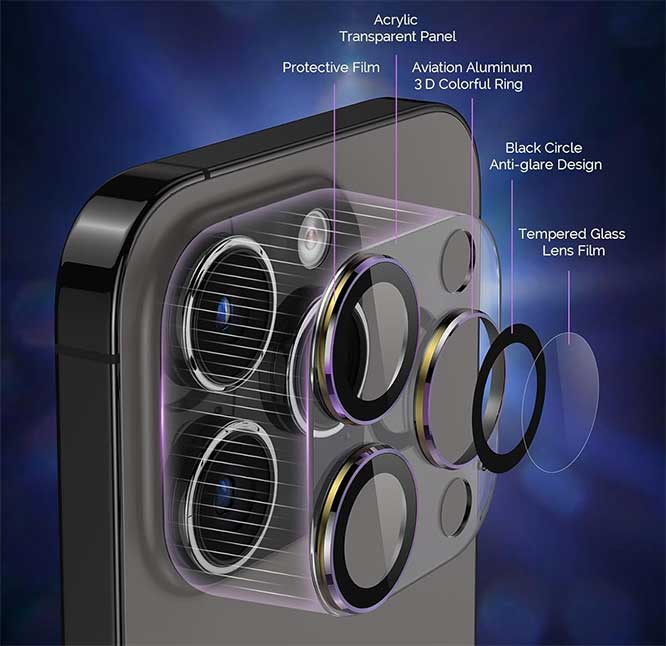 Our testing confirmed that this makes for a snug, gap-free fit that's nearly impossible to dislodge. The Actgan lens protector does more than just cover; it envelops your camera in a virtually impenetrable fortress. Oil-resistant and capable of handling its share of fingerprints, sweat, and grease, the lens protector made our camera almost invincible. It really feels like you've got a shield around your camera. When it comes to camera performance, this protector lets your iPhone shine.
The optical-grade antireflection coating on the tempered glass ensures transparency. We found zero negative impact on image quality – no fog, no blue light flare-ups – just crisp, true-to-life photos. How many lens protectors let you accessorize your phone? With 3D Texture and Glitter Bling designs in 13 different colors, it's protective gear that makes a fashion statement. You're not just keeping your camera safe; you're keeping it safe in style.
What we liked:
Stylish yet functional
Unobtrusive transparency
Lightweight design
24-hour customer service
What we didn't like:
Limited device compatibility
No bundled cleaning kit
#3 – AFARER iPhone 15 Camera Lens Protector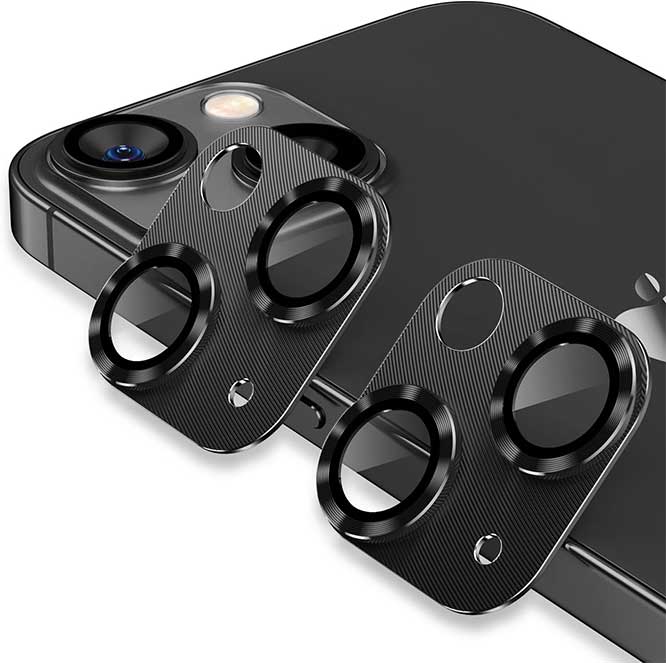 Key features:
Aviation aluminum and 9H glass
Optical-grade clarity
Robust adhesive for secure fit
Unique 3D metal design
When it comes to protecting the camera lens of your iPhone 15, AFARER delivers a product that manages to combine toughness and sophistication in a petite package. We tested the AFARER lens protector rigorously, and it did not disappoint. Clocking in at dimensions of 0.7 x 0.74 x 0.5 inches and a feather-light weight of 0.1 ounces, this protector is far from a bulky add-on. The fusion of aviation aluminum and 9H tempered glass gives this unit an industrial-level resilience.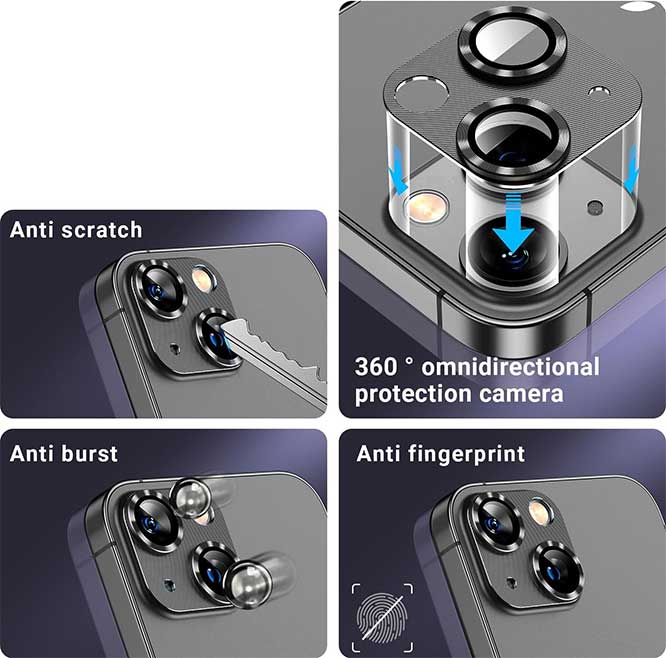 We tried scratching it with keys and coins, and it remained as pristine as the day it was born. One may worry that adding another layer over the camera lens could affect picture quality. The optical-grade glass ensures that your photos and videos maintain their original high-definition splendor. Our test shots showed no signs of haze, fog, or unwanted blue light from the flash. What caught our eye was the 3D high-brightness metal design.
Not only does it protect your lens, but it also adds a unique touch of character to your iPhone 15. The imported 0.18mm 3M glue provides a robust hold, ensuring the unit won't easily part ways with your phone. The application process was a breeze – just press the protector onto the lens, and the adhesive takes care of the rest. And if you ever run into issues, AFARER's premium service has got you covered.
What we liked:
Exceptional scratch resistance
Maintains photo and video quality
Adds aesthetic appeal
Easy to install
What we didn't like:
Limited device compatibility
Limited color options
#4 – Sinjimoru iPhone 15 Series 5-Layered Tempered Glass Camera Lens Protector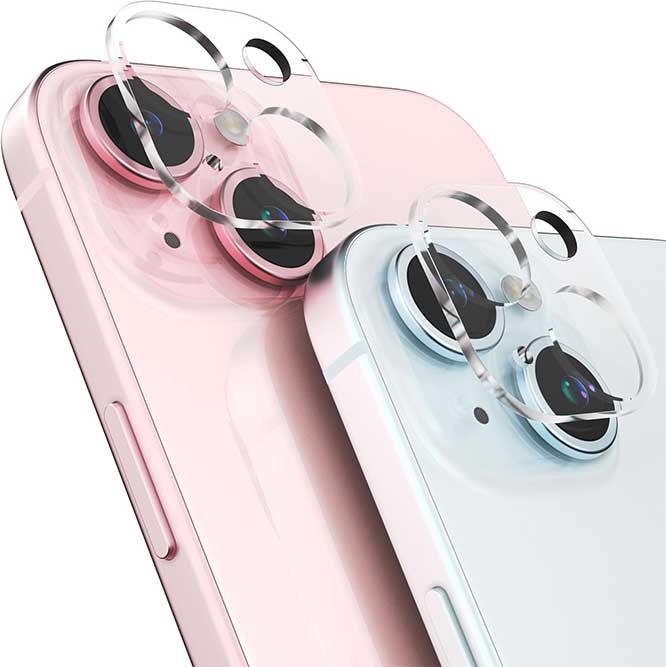 Key features:
5-layered tempered glass
Anti-glare black circle
Oleophobic and shatter-proof coatings
90-day warranty
When it comes to shielding your iPhone 15's camera lens, the Sinjimoru 5-Layered Tempered Glass Protector steps up to the plate with a concoction of durability and smart design. If you've been holding out for a quality camera lens protector, this isn't one you want to overlook. With dimensions of 1.12 x 1.3 x 1.3 inches and weighing in at 3.17 ounces, this protector brings robustness without overwhelming your phone's aesthetic.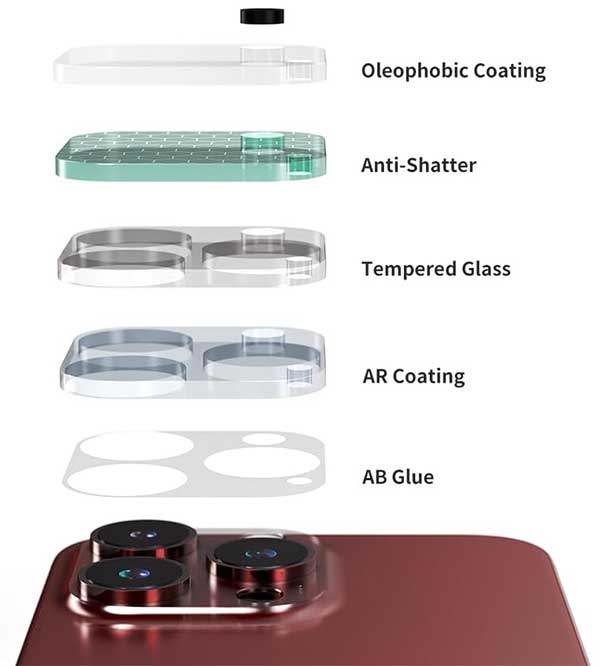 Sporting 9H hardness tempered glass that's enhanced by oleophobic and shatter-proof coatings, it held up impressively during our scratch and drop tests. The unit boasts a unique 5-layered construction that also includes AR coating and AB glue. These layers contribute to its anti-fingerprint, anti-glare properties and superior adhesion. When we snapped some quick photos, the lens protector did an admirable job of minimizing glare, especially when we used flash.
Designed to match the dimensions of the iPhone 15 Series, including the 15 Pro and Pro Max, the protector ensures that you're not fumbling with ill-fitted accessories. We like that it includes wet wipes, dry wipes, and dust absorbers in the package. This ensures you have a seamless installation experience. So even if you've never installed one of these, the included kit should help you avoid any mishaps. All in all, this is another solid contender in the camera lens protector space.
What we liked:
Resistant to fingerprints
Minimizes glare effectively
Comprehensive installation kit
Seamless fit for iPhone 15 Series
What we didn't like:
Heavier than others
No color variations
iPhone 15 Camera Lens Protector FAQs
Do I really need a lens protector for my iPhone 15?
Yes, you do. It's a small investment to protect the more significant investment of your phone's camera lens. Not only does a lens protector shield your lens from scratches and dust, but some high-quality protectors can even improve your photography.
Will a lens protector affect the quality of my photos?
In most cases, no. High-quality protectors are designed to preserve or even enhance the quality of your photos. Just make sure to choose a protector made from quality materials, like tempered glass, that doesn't compromise on transparency.
Is the installation process for lens protectors complicated?
Not at all. Some lens protectors – as you'll see in our reviews above – come with an installation kit that includes cleaning wipes and sometimes a guide. These additions make the process a breeze, even for the uninitiated. Just make sure the lens is clean before application, and you're good to go.
How often should I replace my camera lens protector?
The lifespan of a lens protector largely depends on the material quality and your usage patterns. If you notice scratches, cracks, or any issues with photo quality, it might be time for a new one. As long as you take proper care of your iPhone, your camera lens protector can potentially last a lifetime.
Final Verdict
Our choices for the top iPhone 15 camera lens protectors are the culmination of rigorous testing and analysis. Esanik's entry excels when it comes to strong adhesion and maintaining original photo quality, while Actgan Design's lens protector brings a refreshing dash of style without compromising function. AFARER combines industrial-grade toughness with a visually pleasing design, and Sinjimoru offers a versatile lens protector that has a lot going for it, from anti-glare features to a helpful installation kit.
No matter your specific needs, our selected protectors are the cream of the crop when it comes to defending your iPhone 15's prized lens. With our picks, you can be sure to avoid lesser-quality options in what is already a crowded market space. Whatever entry you ultimately decide on, you can trust you're getting superior protection and performance.
Meet Derek, "TechGuru," a 34-year-old technology enthusiast with a deep passion for tech innovations. With extensive experience, he specializes in gaming hardware and software, and has expertise in gadgets, custom PCs, and audio.
Besides writing about tech and reviewing new products, Derek enjoys traveling, hiking, and photography. Committed to keeping up with the latest industry trends, he aims to guide readers in making informed tech decisions.