In the world of gaming, the PlayStation 4 has left an indelible mark, captivating millions of gamers with its immersive experiences and huge game library. But as with any prized possession, it's essential to protect your PS4. One often-overlooked yet critical accessory is the dust cover.
These unassuming shields serve as the first line of defense against dust, debris, and potential damage, ensuring that your beloved console remains in pristine condition. Today we're going to explore the top PS4 dust covers available, making it easy to safeguard your console and extend its lifespan. Whether you're a casual gamer or a dedicated enthusiast, this article will help you find the perfect dust cover to keep your PS4 in top-notch shape.
| | | | |
| --- | --- | --- | --- |
| | Material | Water Resistant | Colors |
| Best for Standard PS4: eXtremeRate | Polyester | Yes | 1 |
| Best for PS4 Pro: CM Stretchy | Polyester, Elastic | No | 1 |
| Best for PS4 Slim: Hermitshell | Polyester | Yes | 5 |
Best for Standard PS4: eXtremeRate PS4 Dust Cover Protector
When it comes to safeguarding your standard PlayStation 4 console from dust and moisture, the eXtremeRate Dust Cover Protector stands out as a top-tier choice. This cover earns the title of one of the best for good reason, offering a combination of features that cater exclusively to PS4 users.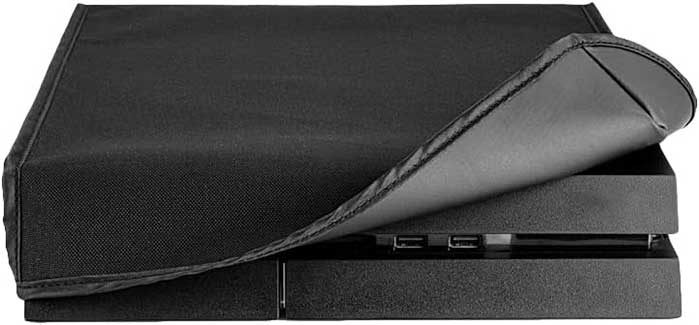 Constructed from high-quality polyester, the eXtremeRate Dust Cover Protector boasts exceptional durability and resistance to both water and dust. This means that not only does it keep your console looking pristine, but it also shields it from potential harm caused by liquid spills or environmental contaminants. The cover's hand-washable and ironable material ensures that it's easy to maintain and keep clean, preserving its appearance over time.
One of the standout features of this cover is its interior, which is incredibly soft to the touch. This soft lining adds an extra layer of protection, preventing any scratches or scuffs that could occur during installation or removal.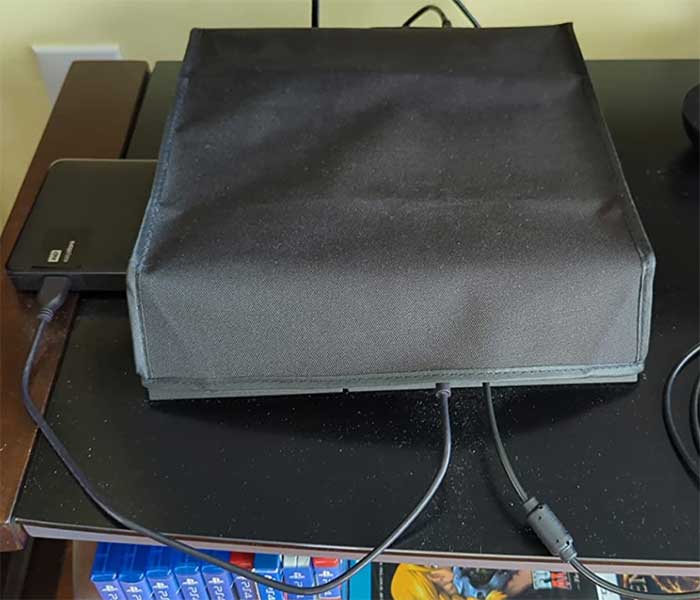 Another significant advantage is its design, which allows for easy access to all the console's ports. This means you won't need to disconnect or remove any cables when installing or removing the cover, saving you time and hassle. The precise fit of the cover ensures a snug and secure placement, so you can rest assured that your PS4 remains protected.
However, it's essential to note that this cover has a limitation. It is not compatible with PS4 Slim or PS4 Pro consoles, which may disappoint some users with these variants. In addition, it's only available in black, limiting color choices to those who prefer more variety in their gaming setup aesthetics.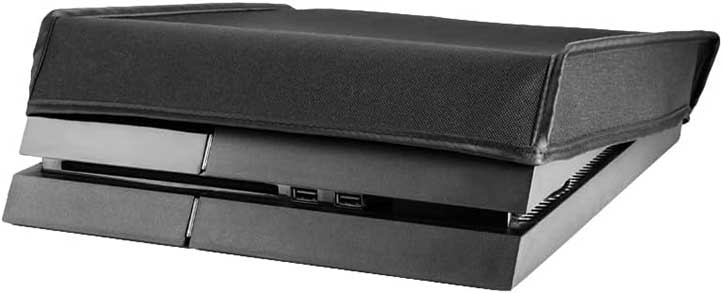 Finally, a crucial consideration is that the eXtremeRate Dust Cover must be removed while the console is in use. Using it during gameplay may cause overheating issues, so it's vital to remember to take it off when you're ready to dive into your gaming sessions.
Pros:
Excellent dust and moisture protection.
High-quality, durable polyester construction.
Soft interior lining prevents scratches.
Easy access to all PS4 ports.
Simple hand-washable and ironable maintenance.
Snug and secure fit.
Cons:
Limited color options.
Not padded.
Best for PS4 Pro: CM Stretchy Horizontal PS4 Pro Dust Cover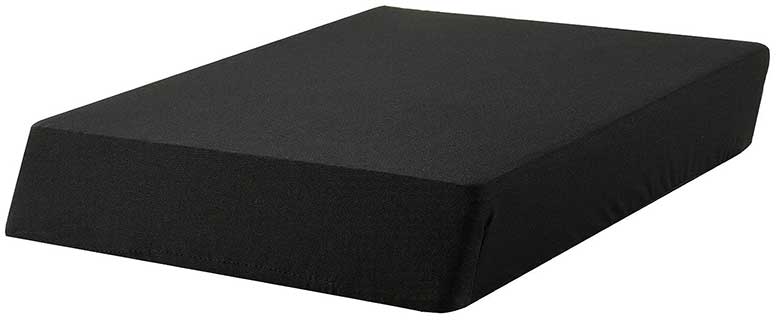 For PS4 Pro enthusiasts seeking a snug and form-fitting solution to shield their console from dust and minor spills, the CM Stretchy Horizontal PS4 Pro Dust Cover offers a practical and stylish choice. Crafted from a blend of stretchy polyester and elastic fabric, it's designed to provide a secure and snug fit around your PS4 Pro, ensuring all corners and edges are well-protected.
One standout feature is its elastic band that runs around the edge. This ensures a secure and tight fit that won't easily slip off. This added security means you can confidently leave your PS4 Pro covered without worrying about it getting accidently dislodged.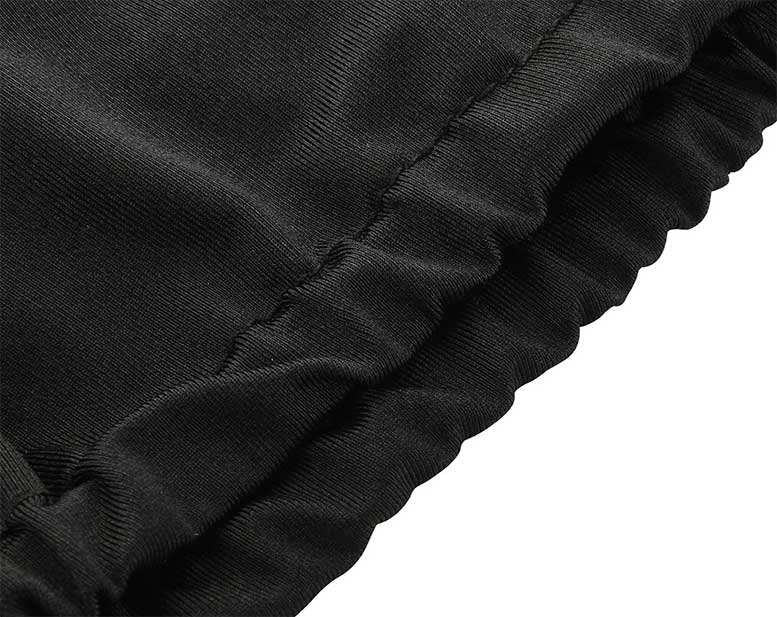 Maintenance is a breeze with this cover, as it's highly resistant to pilling and can be hand-washed with ease. Best of all, it dries quickly, so you can have it back on your console in no time.
The CM Stretchy PS4 Pro Dust Cover is designed with convenience in mind. It boasts precise cut-outs for the back ports, eliminating the need to remove cables when placing it on or taking it off. Also, the cover features a clever design that allows it to stow away neatly into its integrated pocket. This functionality makes it an excellent choice for those who travel with their PS4 Pro frequently.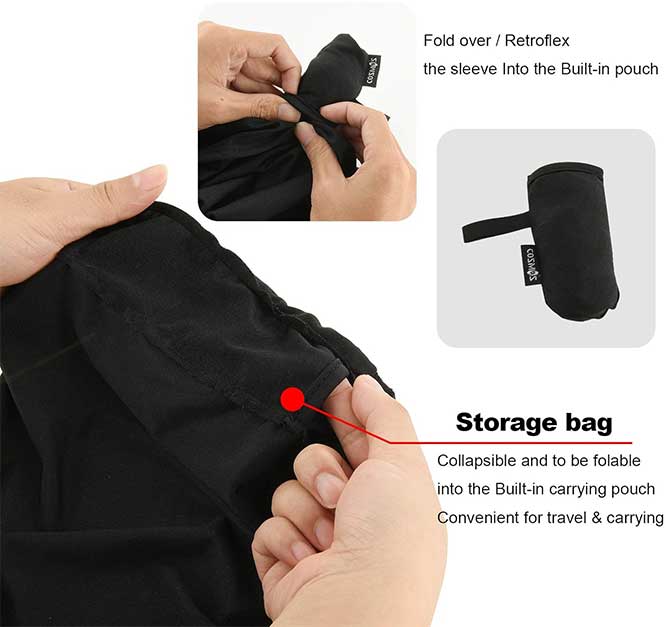 While this cover excels in dust protection, it's important to note that it may not offer the same level of waterproofing as some other options, like the eXtremeRate. Users should exercise caution when it comes to potential liquid spills.
Like many dust covers, the CM Stretchy PS4 Pro Dust Cover must be removed whenever you turn on your console in order to to prevent overheating. Furthermore, it's only available in black, limiting color choices for those who prefer bright or fun colorways.
Pros:
Snug and secure fit with an elastic band.
Highly resistant to pilling, easy to hand wash, and dries quickly.
Precise cut-outs for back ports, no need to remove cables.
Compact and travel-friendly design with an integrated pocket.
Effective dust protection.
Cons:
Limited waterproofing capabilities.
Available only in black.
Not padded.
Best for PS4 Slim: Hermitshell Dustproof Console Cover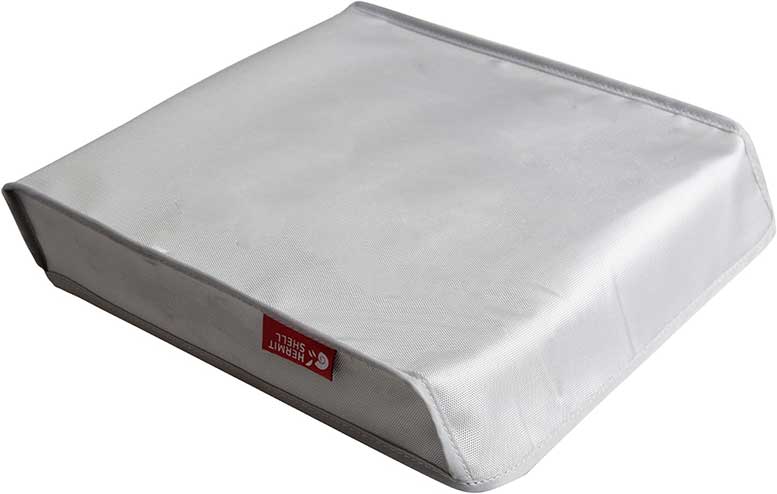 For owners of the sleek and compact PS4 Slim console, the Hermitshell Dustproof Console Cover offers a tailored solution that combines precision, protection, and style. This cover is precisely crafted to fit the PS4 Slim console flawlessly, ensuring a snug and secure fit without any unnecessary looseness. If you're looking for a dust and waterproof shield that feels tailor-made for your gaming hub, this has you covered.
Crafted from a thick and durable polyester material, the Hermitshell is designed to withstand the rigors of everyday use. Its robust construction ensures that it effectively guards your console against both dust and moisture, providing comprehensive protection.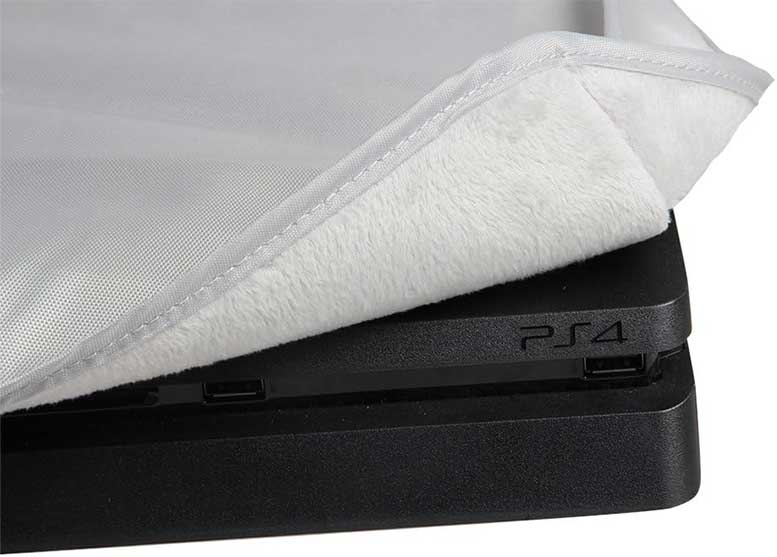 One of the standout features of this cover is its interior lining. The supple and velvety material not only adds an extra layer of protection but also provides ample padding throughout, safeguarding your PS4 Slim from debris.
What sets it apart from many others on the market is its variety of color options. With five different color schemes to choose from, including black, grey, coffee, purple, and dark green, you can personalize your gaming setup to match your preferences and aesthetic.
Like all dust covers, it's crucial to note that this cover should be removed when the console is turned on to prevent overheating. While it offers excellent protection, using it during gameplay could lead to potential heat-related issues.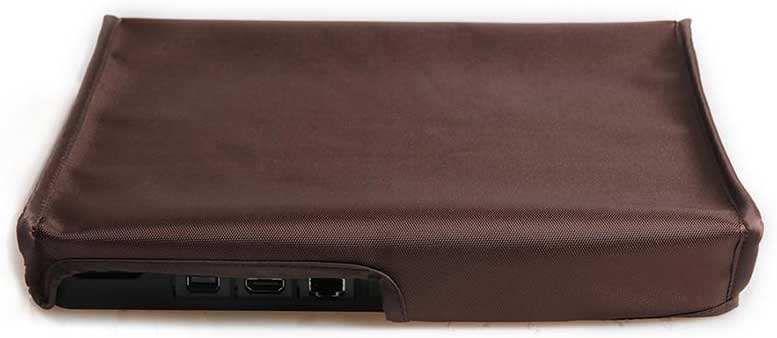 One aspect to consider is the price point; the Hermitshell Dustproof Console Cover is the most expensive option on the list. However, for those who prioritize a precise fit, premium materials, and a range of color choices, the investment may be well worth it.
Pros:
Precisely tailored for the PS4 Slim console.
Made from thick and durable polyester.
Plush velvety interior with ample padding.
Available in a variety of stylish color options.
Cons:
Among the more expensive options on the market.
Meet Derek, "TechGuru," a 34-year-old technology enthusiast with a deep passion for tech innovations. With extensive experience, he specializes in gaming hardware and software, and has expertise in gadgets, custom PCs, and audio.
Besides writing about tech and reviewing new products, Derek enjoys traveling, hiking, and photography. Committed to keeping up with the latest industry trends, he aims to guide readers in making informed tech decisions.