How far is your next shot? Whether you're shooting golf balls or live rounds, for taking a long distance shot, it helps to know the distance to your target. Experience and a sharp eye can provide you a decent estimate, but lasers are precise to the yard.
Laser rangefinders are extremely common among golfers, shooters, and hunters. Whether you're playing 18-holes in a professional tournament or just trying to get some practice aiming, the right laser rangefinder can make a world of difference. You've just got to be able to find the right one.
Choosing a Laser Rangefinder Under $500
Finding the right laser rangefinder is usually as simple as understanding where you plan on using it. Many rangefinders are made specifically for golfing, hunting, or surveying. If you've got no interest in surveying, hunting, or shooting, then a golf specific rangefinder is a great choice. They tend to have features specific to golfing, and a design that's intended to be small enough to toss in your golf bag.
Likewise, rangefinders which are made for hunting tend to have features specific to hunters. You're probably not going to need your golfing rangefinder to be tripod mountable. On the contrary, golfers are much more interested in portability. But being able to mount the rangefinder may be essential for hunting or surveying tasks.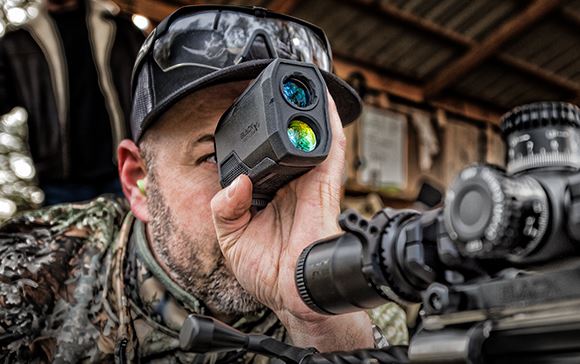 Targeting Priority
Golf rangefinders tend to be built on the principle of first priority. That means they send off a laser which determines the distance to the closest object in their direction. As a result, these types of laser rangefinders can tell you the distance to your target precisely, and not the distance of the tree-line behind it. Because there's usually no obstacles between you and the flags you're shooting towards, first priority mode works great for golfers.
Hunting and surveying laser rangefinders tend to be made with an emphasis on second priority mode. Hunters generally aren't standing in giant clearings with perfect visibility for hundreds of yards. They're in a mess of leaves and tree limbs, brush and weeds. A first priority rangefinder can be worthless in these conditions, unless you're trying to measure the distance between you and the nearest tree limb.
The second priority mode looks past the first objects it encounters to read the most distant object. When directed at game, it provides a precise distance to your target. You may notice considerable differences between the abilities of one rangefinder to move into another application. It just depends what you expect from your device, where you're golfing, where you're hunting, and so forth.
Quality of Construction
If you're using a rangefinder to improve your golf game, you're probably not going to need an instrument that's more indestructible than your clubs. In fact, as long as it's strong enough to survive a fall on the grass, that's about all you should have to worry about.
Casual golfers may not care about environmental protections because they won't be out on the course for play during fog and rain. But if you're a serious enough player to invest in a laser rangefinder, you probably do care about basic weatherproofing.
And certainly, if you're entering rugged environmental conditions, like with surveying or hunting, then you're going to have more rigorous standards for durability. Weatherproofing should go without saying. Hunters may also be concerned about the weight, particularly if you're counting every ounce in your bag. And in general, this type of equipment should be able to take the kind of light scrapes and bumps associated with being outdoors.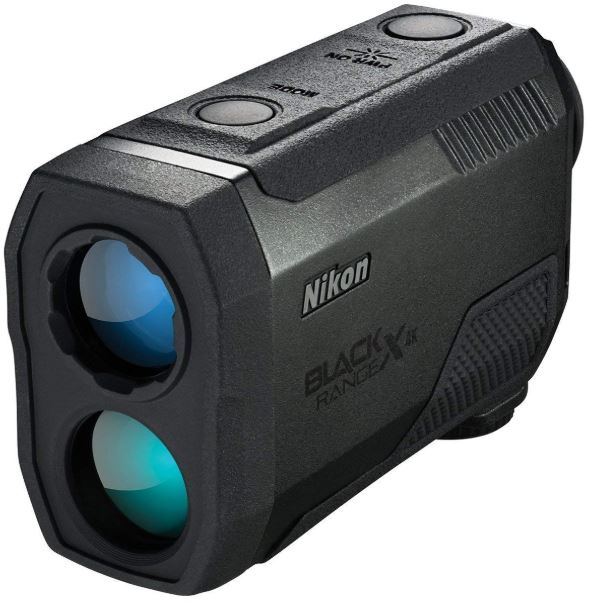 Nikon BLACK RANGEX
The Nikon BLACK RANGEX is arguably the best hunting laser rangefinder under $500 anywhere on the market today. It provides a massive 10 to 4,000-yard range of viewing. It's been constructed with a high-visibility red OLED display for easy target finding. And understanding that you'll be involved in any variety of lighting conditions, Nikon has prepared the BLACK RANGEX with five adjustable settings for brightness.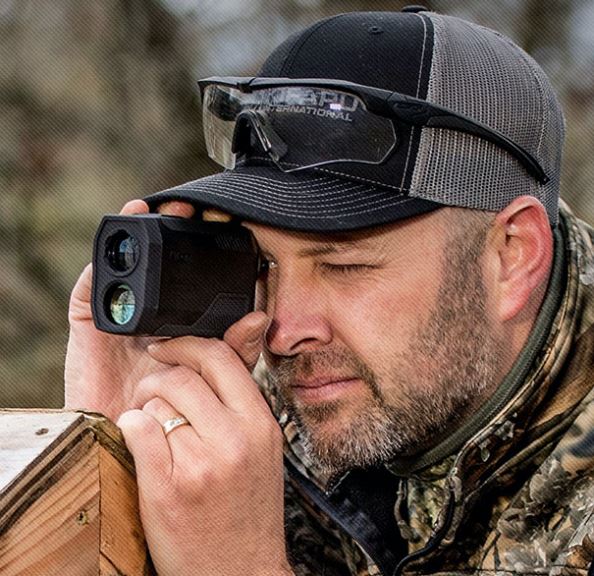 Build & Design
The BLACK RANGEX uses non-descript black casing that roughly resembles a Nikon camera. You can just about see the sturdiness of its construction from across the room. As you approach the BLACK RANGEX and place it in your hands, you get a sense for its through waterproof protection. Though it's somewhat surprising that it manages to weigh only 6.2 ounces given all that's inside.
The BLACK RANGEX uses a 3.5mm exit pupil, paired with 18.3mm of eye relief for people with glasses. And Nikon's Tru-Target technology allows you to toggle between first and second priority mode, depending on the necessity of your circumstances. Whether you're hunting in the woods or having fun on the green, the BLACK RANGEX is a powerful tool due its high adaptability.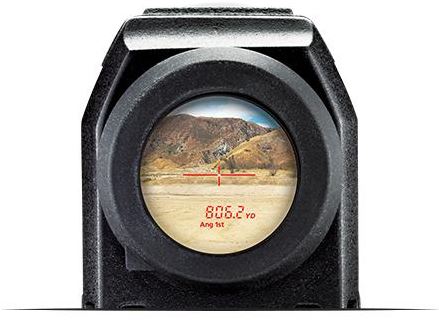 For instance, Nikon provides their own proprietary technology to help the BLACK RANGEX measure decline-and-incline angles. Those can help you take better shots by understanding how the slope affects distance. That feature is paired with another similar function called hyper-read, providing you with readings within roughly one third of a second. Just point the lens where you want to see and you'll have your distance reading literally before you know it.
Other Considerations
The BLACK RANGEX uses a standardized mounting configuration that can be quickly be mounted to a tripod or firearm. Although this rangefinder has a clear slant towards hunters, but it's versatile enough to be used for a variety of surveying tasks, and even taken to the green. And it's powered by an easy-to-replace CR2 battery, which is included.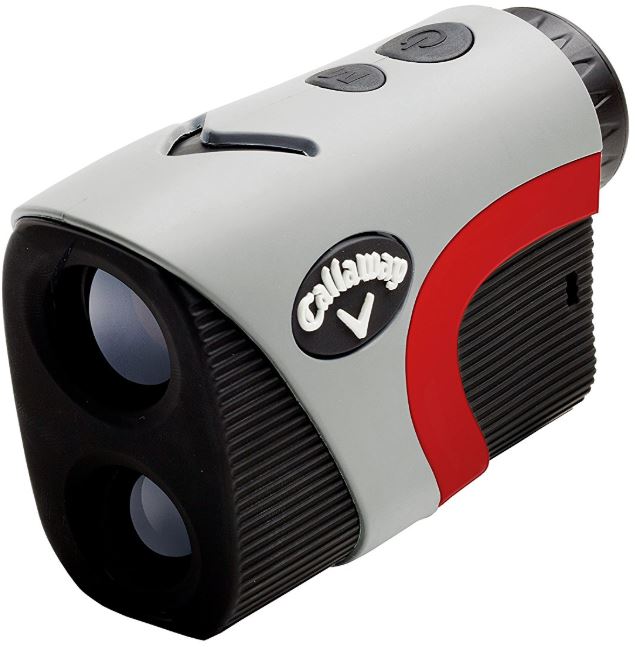 Callaway 300 Pro
If the name didn't give it away, the Callaway 300 Pro is a golf-oriented laser rangefinder. And while you don't have to be a professional to use it, you certainly do end up with a tool that's good enough for the pros. Whether you're a great player looking to get better, or you're just getting started, the 300 Pro provides a variety of accessible and powerful features. Its 6x magnification allows for a bright view of your ball, helping you take shots at distances between 5 and 1000 yards away.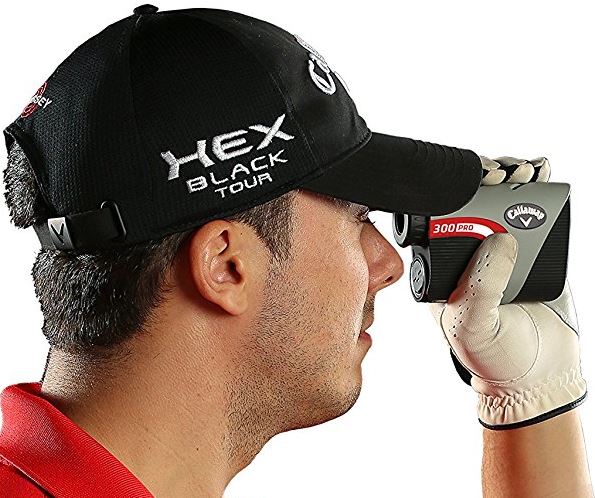 Build & Design
The Callaway 300 Pro uses a fairly compact 4.25 x 3 x 1.75-inch build. That small build paired with its 7-ounce construction makes this rangefinder feel somewhat hefty and substantial in your hands. The bottom side of the 300 Pro makes use of a black texturized grip, which is great for maintaining your hold while playing on wet grass. And the two-button operation is paired with waterproofing and fog proofing, which ensures your equipment is ready to play if you are.
Looking through the viewfinder, the distance to your target is clearly displayed in the upper-half of the rangefinder. Additionally, the Callaway 300 Pro uses a slope feature to help measure the decline or incline of an angle on your shot. In the lower half of your view, below the target reticle, the angle of the incline and the adjusted distance are clearly displayed for your use.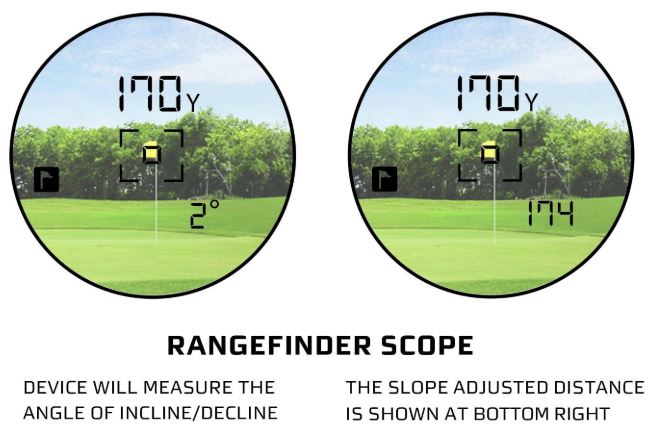 Other Considerations
The included battery lasts about 4 months of regular use, but replacement from a more reputable brand of battery manufacturer can ensure closer to 6-months between replacements. Part of that lengthy battery life is attributable to the Callaway 300 Pro having an automatic shut-off feature which remembers to power-down the device after a few moments of not being used.
The 300 Pro also has a BIRDIE feature, will plays a bright chirping noise after the distance to a flagstick has been confirmed. Once you've heard it, you can check the reading and take your shot with confidence. Additionally, the 300 Pro uses Pin Acquisition Technology (PAT), allowing you to lock on to a target from as far away as 300 yards. You can pin onto any object, bunkers, the edge of water, trees, and so forth.
The Callaway 300 Pro includes a handy carrying case. The case is scarcely larger than the rangefinder, but helps keep your equipment protected if you decide to toss it in your golf bag. This kit also includes the necessary CR2 battery. Accuracy is provided within +/- 1 yard, and metrics can be toggled between yards and meters by simply holding one of the buttons.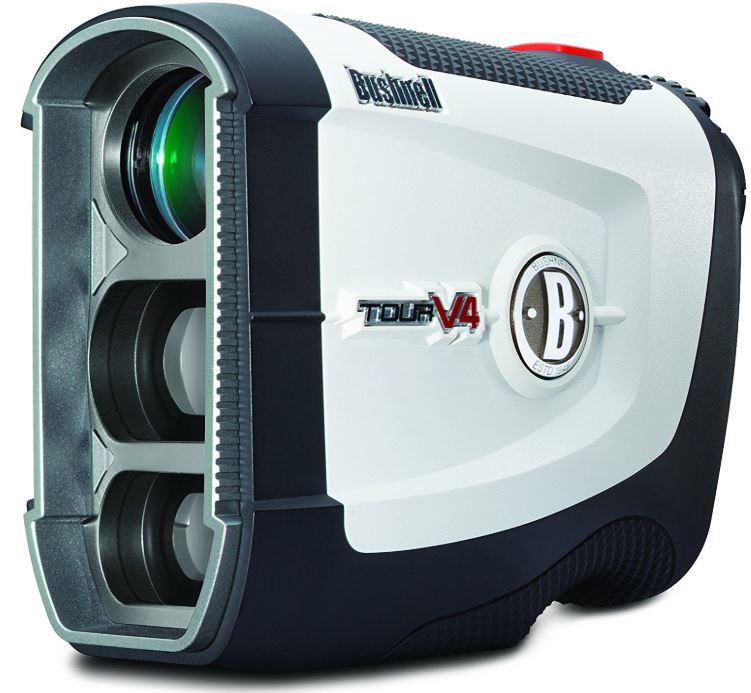 Bushnell Tour V4 Jolt
The Bushnell Tour V4 Jolt combines a variety of powerful aiming technologies into one device. Relative to its size, this laser rangefinder has an enormous amount of features. It has the accuracy and features golfers are looking for, and comes with some features you might not know you wanted. While it's possible to find more powerful laser rangefinders than the Bushnell Tour V4 Jolt, it's hard to do without being prepared to double your budget.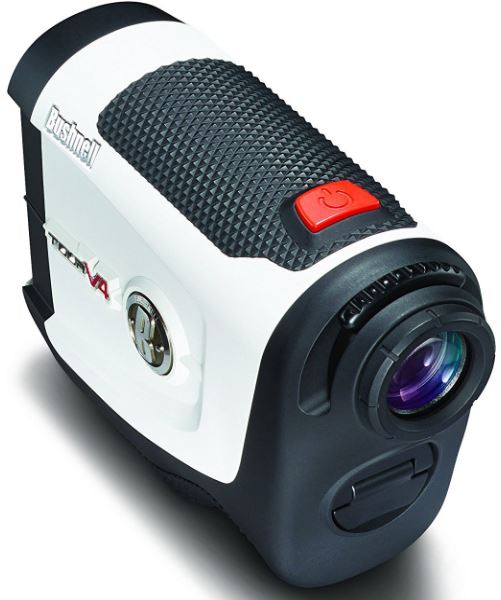 Build & Design
The Bushnell Tour V4 Jolt sits at 2.6 x 2 x 1.3-inches, and weighs a hefty 12 ounces. That exceptionally small build paired with the nearly one-pound weight makes using the Tour V4 Jolt feel like you're handling a top quality, precise instrument. And in most ways, you are.
Along its texturized grip, the topside of the device has one simple red button, clearly indicated with a power logo. The 5x magnification provided by the V4 Jolt isn't going to be good for birdwatching, but it's precise and bright enough for getting a highly specific aim at distant flags, golf balls, and hazards.
The Tour V4 Jolt is water resistant rather than waterproof. It won't be stopped by the rain, but you don't want to toss it into a water hazard out of frustration. And as with the Calloway 300 Pro, the metrics on your display can be changed from yards to meters with ease.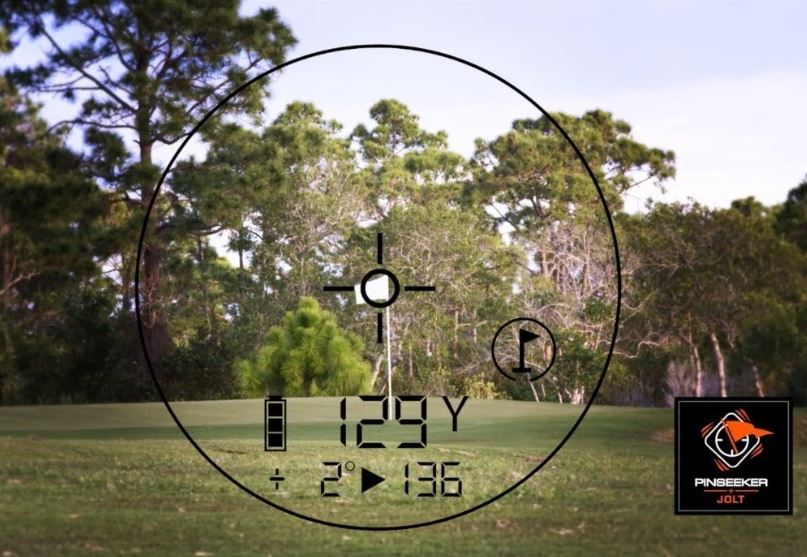 Other Considerations
At many points, the advertising for the V4 Jolt suggests that this device provides slope technology, which it does not. One of the reasons this device is legal for tournament play is precisely because it has no slope mode. Bushnell Tour laser rangefinders are available with a slope mode, but entering that territory will require you raise your budget by about $80.
One more thing to note is how the V4 Jolt uses a fast-focus system, similar to that in the BLACK RANGEX. It helps you rapidly get sight of your next shot, and keeps the 5 to 1,000-yard readout accurate to a precise range of +/- 1 yard. As with the other laser rangefinders on this list, the V4 Jolt is powered by a common CR2 battery, which is included. A carrying case is also included, along with a two-year warranty.
Choosing Between Three Accurate Laser Rangefinders
The Bushnell Tour V4 JOLT is legal for tournament play precisely because it lacks certain features. It has all the essentials you need for a highly accurate laser rangefinder, but it is rather specific to the game of golf. The 5x magnification is great for taking distant 400-yard shots, though the absence of a slope mode will leave some people unhappy. The Tour V4 Jolt is a good choice for golfers who want their rangefinder to be as small as possible, and certainly small enough to stick in your pocket as you play.
The Callaway 300 Pro Laser Rangefinder is essentially the same price as the V4 Jolt. But by disregarding tournament play, this rangefinder has a handful of additional features. The slope magnification feature, pin acquisition technology, and the convenient BIRDIE feature make using the 300 Pro exceptionally simple. It's a perfect tool for someone who wants to take their game to the next level. For under $500, you can't do better.
Finally, the Nikon BLACK RANGEX 4K is a good choice for hunters. It's got versatile, powerful features. The construction itself is mountable to a variety of different surfaces. And the 4,000-yard range has been pretty specifically made with hunters in mind. While the RANGEX 4K could be turned to casual golf use, that's not where this instrument shines. This is a good choice for hunters, shooters, and casual surveying.