If you're an iPhone owner, you want to enjoy a premium experience. You already get to take advantage of Apple's walled garden and compatibility with other Apple products. You get premium customer support and a long battery life. You can enjoy a number of convenient features, such as Apple's Airdrop functionality. But what about your phone's appearance? Do you want it to look like any old smartphone? Or do you want your phone to look like the top quality accessory that it is? With a leather sleeve or case, your phone can look just as good as its performance.
Today, we'll be looking at three such options. First, we'll review the Harber London Slim Leather Smartphone Sleeve Case. This is a simple leather sleeve, which is designed to carry your phone along with a few credit cards. Next, we'll check out the Harber London iPhone Case with Back Pocket. This is a more traditional phone case, and still allows for easy credit card storage. Finally, we'll check out the TORRO Genuine Leather iPhone Case. This case sports a magnetic closure, and it also doubles as a horizontal phone stand. Which one is best for you? Let's find out!
Note: At no extra cost to you, we may earn a commission for purchases using our links. Learn more.
Different Types of Leather
Unless you're a connoisseur of fashion or upholstery, you may not be familiar with different types of leather. For some, it can be confusing. You hear terms like "top grain leather" or "full grain leather", and it seems like a bunch of marketing jargon. But in fact, the exact type of leather makes a big difference in the quality of a product. To use a tech analogy, your grandmother might not understand the difference between USB Type-A and USB Type-C. To her, it just sounds like jargon. But the difference is huge! There are many types of leather, but here's a quick overview of the most common varieties.
Full Grain Leather
If you want the best quality leather available, you want full grain leather. Full grain leather is called "full grain" because it consists of the full thickness of the cowhide. Because there are several layers of hide with overlapping grains, it's exceptionally durable. This makes it virtually impossible to tear or puncture without dedicated leatherworking tools.
Generally, full grain leather is intended to have a natural look. Manufacturers will rarely scuff, buff, or sand the outer layer to smooth out the finish. These methods can remove minor imperfections and smooth the surface. But these imperfections are what make each piece of full grain leather unique. Think of a high-quality piece of oak furniture. The knots and irregularities in the grain aren't flaws. They just give it character. A simple dye job is more than enough to smooth out the surface and make it stain resistant. In some cases, there's not even any dye, just a simple stain protection coat on the top.
Top Grain Leather
Many novices get confused by the term "top grain leather". It sounds like the highest quality, but it's actually far less durable than full grain. In this variety of leather, the top layer is separated from the lower parts of the grain. It has a similar appearance to full grain, but is generally thinner. It's usually the smoothest type, though. Leatherworkers will sand the surface to remove imperfections, and may stain the leather for appearance. Even if the outer layer isn't stained, it will be treated for stain resistance.
Genuine Leather
"Genuine leather" is another term that can easily be confusing. It sounds like marketing hype, as if the manufacturer is bragging that their leather isn't fake. However, "genuine" is a specific type of leather. It's the opposite of top grain leather, since it consists of all the lower layers of the hide. Because of this construction, it's less durable than full grain leather. It also tends to have a rougher, more "weathered" appearance then full or top grain leather. There's a lot of visible grain, and it comes at a lower price than full grain or top grain leather. Because it's relatively inexpensive, genuine leather is the most common material for dyed leather products. You'll often find it in red, yellow, and other non-standard colors.
Corrected Grain Leather
Corrected grain leather is a different beast altogether. Instead of being taken from premium cowhide, corrected grain leather is taken from inferior hide. In the past, it was virtually impossible to find, and was more of a niche product. However, manufacturing processes are becoming more efficient as time goes on. Because of this trend, surplus leather scraps are becoming more valuable.
Corrected grain leather can vary considerably in quality. It needs to be reclaimed, sanded, buffed, and worked by leatherworkers in order to look good. A well-crafted piece of corrected grain leather can be indistinguishable from full grain. On the other hand, a cheap piece will look blotchy and irregular. Much like genuine leather, corrected grain leather is often used to create dyed leather products. The dye can hide many imperfections, so that's an obvious choice for an inferior piece of hide.
PU Leather
One product you should be very leery of is so-called "PU leather". Unlike the other terms we've looked at, this is indeed a marketing term. In fact, PU leather isn't leather at all; it's polyester, and it used to be called "pleather". It usually has a rubbery finish, which can be a bit sticky to the touch. It's also not anywhere near as durable as real leather. You can cut PU leather with an ordinary kitchen knife. On the other hand, PU leather doesn't use any animal products, so it's vegan-friendly. The only real reason to buy it is if you're a vegan who likes the look of leather.
The final downside of PU leather is that it doesn't age like real leather. It just gets dull. Real leather, on the other hand, ages like fine wine. It develops a patina, which gives it an antique look that leather connoisseurs treasure. Just make sure to condition your leather from time to time to prevent it from drying out.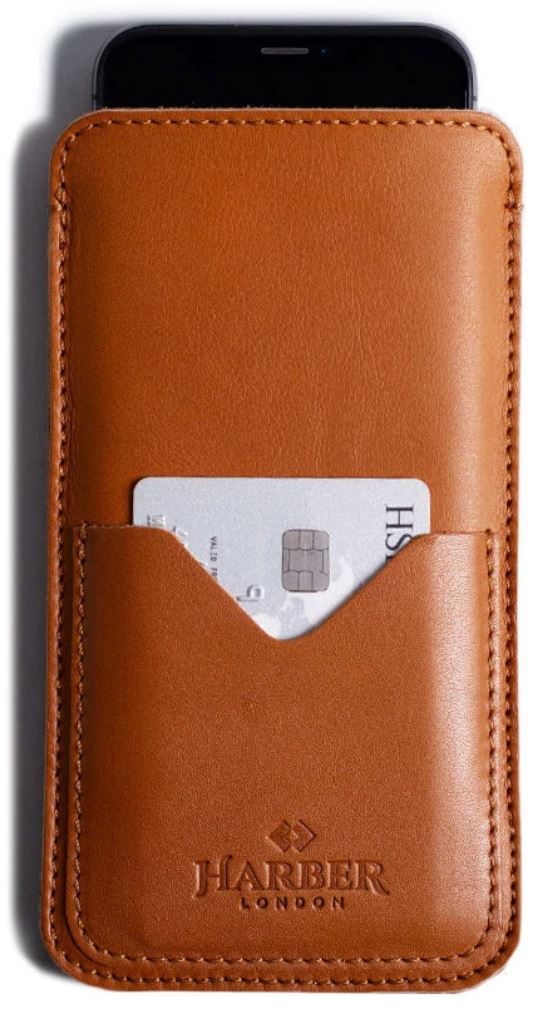 Harber London Slim Leather Smartphone Sleeve Case
If you're looking for quality leather products, Harber London is an excellent manufacturer. We've reviewed their leather desk pads in the past, and we liked what we saw. The Harber London Slim Leather Smartphone Sleeve Case is another excellent piece of work. It's constructed from full grain leather, with a smooth, vegetable tanned finish. It's available in tan, black, or navy blue to match most style choices. The stitching around the outer edges is strong but minimalist, with a perforated look. The rest of the surface is flat, with the exception of a Harber London logo at the bottom.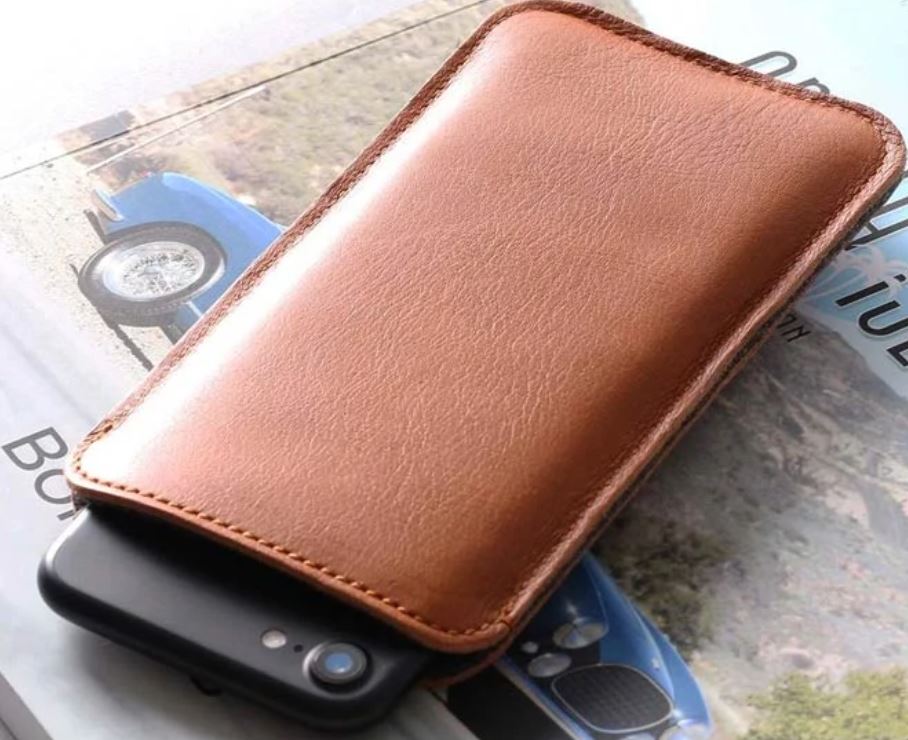 The design is very slim, and is designed to hug your phone like a glove. The inner liner is made of wool felt, which is both soft and absorbent. This means it won't damage your phone, even though the fit is tight. Of course, you'll need to get the right fit in order for the sleeve to be secure. There are sizes available for the iPhone 5, 5S, 5SE, 6S, 6S Plus, 7, 7 Plus, and 8 Plus. Modern iPhones such as the iPhone SE, X, and XS are also supported. There are even options for the Google Pixel, Samsung Galaxy S8, and other non-Apple brands.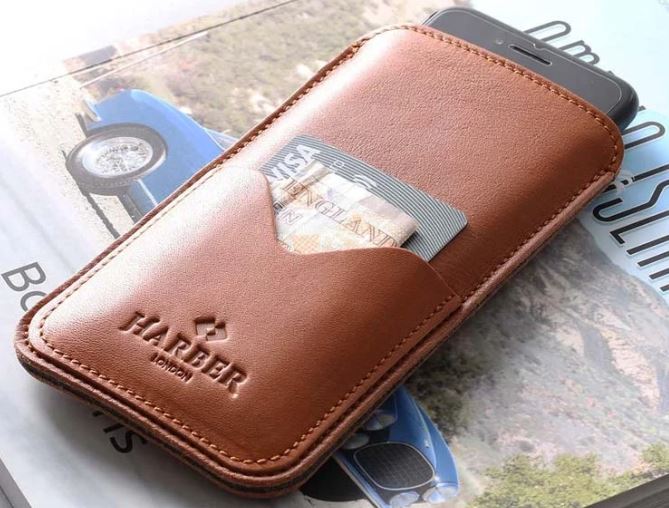 In addition to holding your smartphone, this Harber London sleeve can also double as a wallet. It has a small pocket on the front that can hold credit cards or folded bills. Admittedly, this isn't a whole lot of storage space. But if you favor a minimalist wallet to begin with, it gets the job done.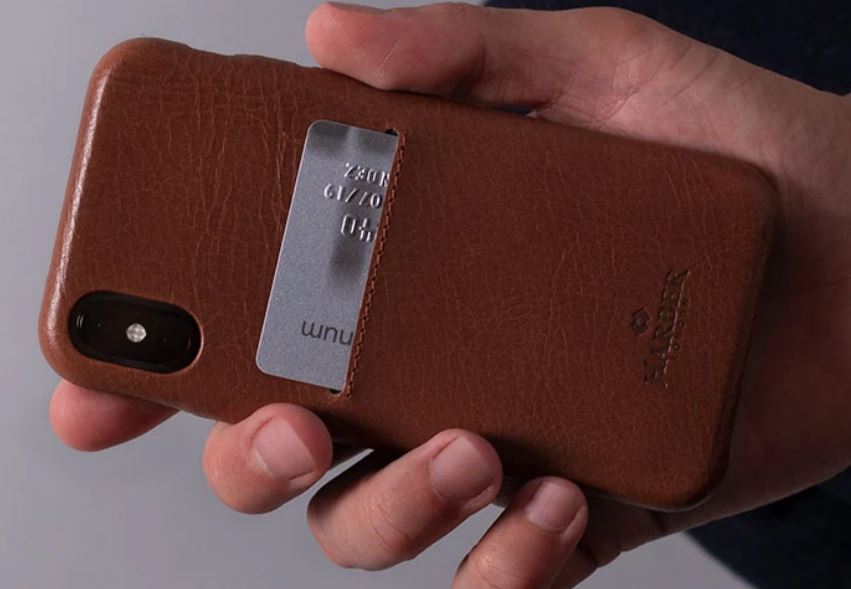 Harber London iPhone Case with Back Pocket
The Harber London iPhone Case with Back Pocket's traditional design is different from the last Harber London case. Instead of simply being a sleeve, it's more of a standard phone case. Rather than your phone sliding inside, it clicks into the case, which wraps around the back side. It has buttons on the side to interact with your iPhone controls, along with a cutout for your phone camera. There's also a cutout on the bottom for connecting your charging cable. It does cover all four corners, though, which provides plenty of edge protection. In fact, the edges are folded, which adds a bit of extra support.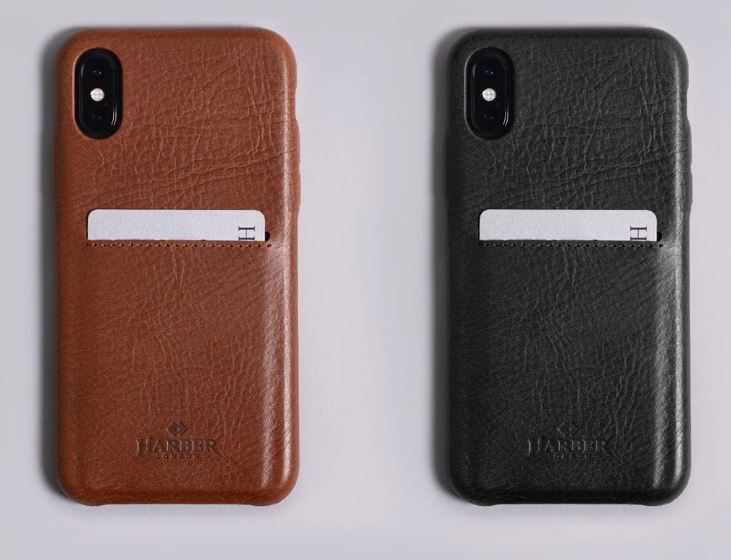 Like the other Harber London case, it's constructed from full grain leather. You can order it in black or dark brown, although there's no navy blue or tan option. There's a simple Harber London logo stamped on the back, and the finish is otherwise fairly clean. Above the logo, there's a card slot for a few credit cards or folded bills. Once again, you're looking at a suitable replacement for a minimalist wallet or money clip. The inside of the case is padded with microfiber, which provides additional cushion and scratch protection.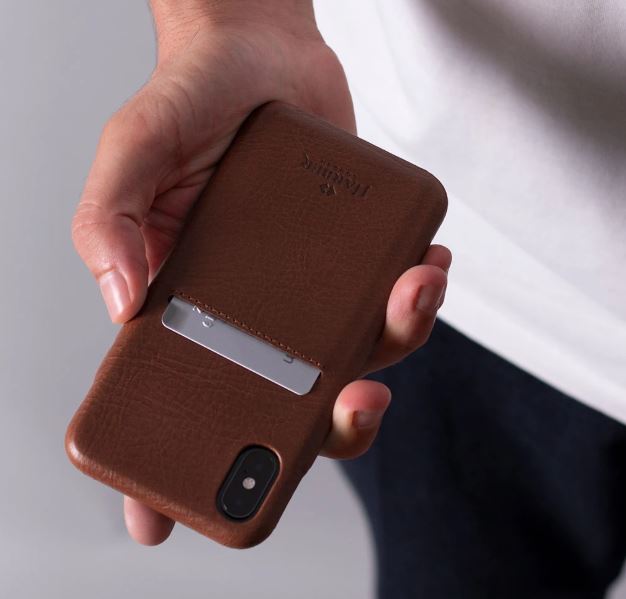 Because this case needs to fit your phone like a glove, you need to ensure proper sizing before you buy. There are three different sizes: one for the iPhone 6/6S, another for the iPhone 7/8, and another for the X/XS.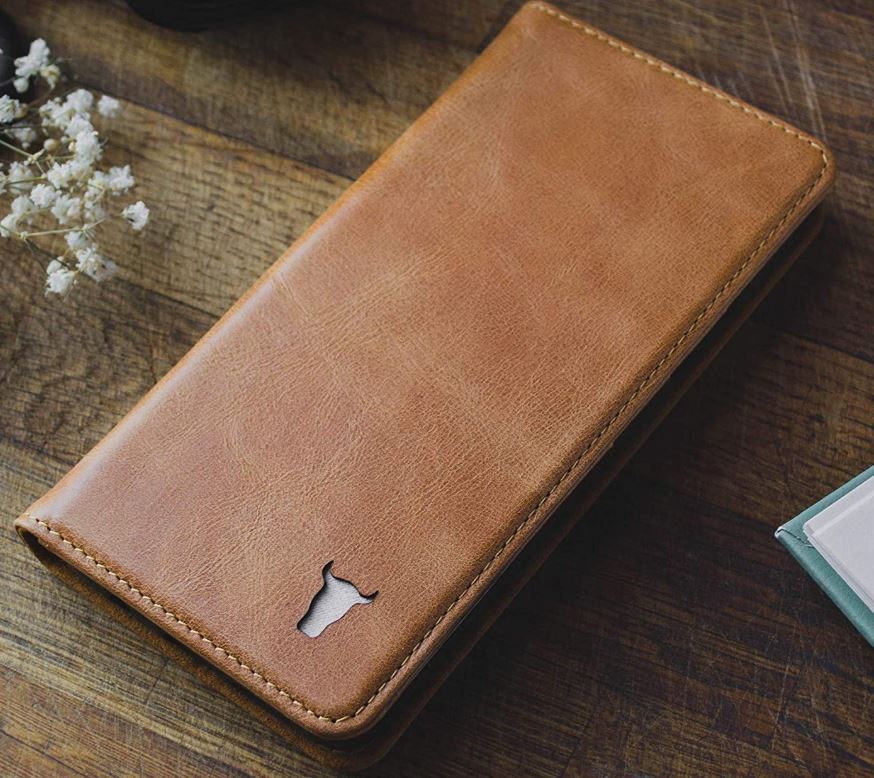 TORRO Genuine Leather iPhone Case
The TORRO Genuine Leather iPhone Case is another complete phone case. It's constructed from genuine leather, with a soft, mottled finish that has a natural antiqued appearance. You can order it in five colors: dark brown, red, tan, and black with two different accents. The accent consists of a bullhead TORO logo that varies in color to match the leather. The entire case has a folding design, with a flexible inner silicone frame that holds your phone. The frame and phone compartment are lined with microfiber to prevent scratching. There's a magnetic closure, which keeps the case securely closed when it's in your pocket.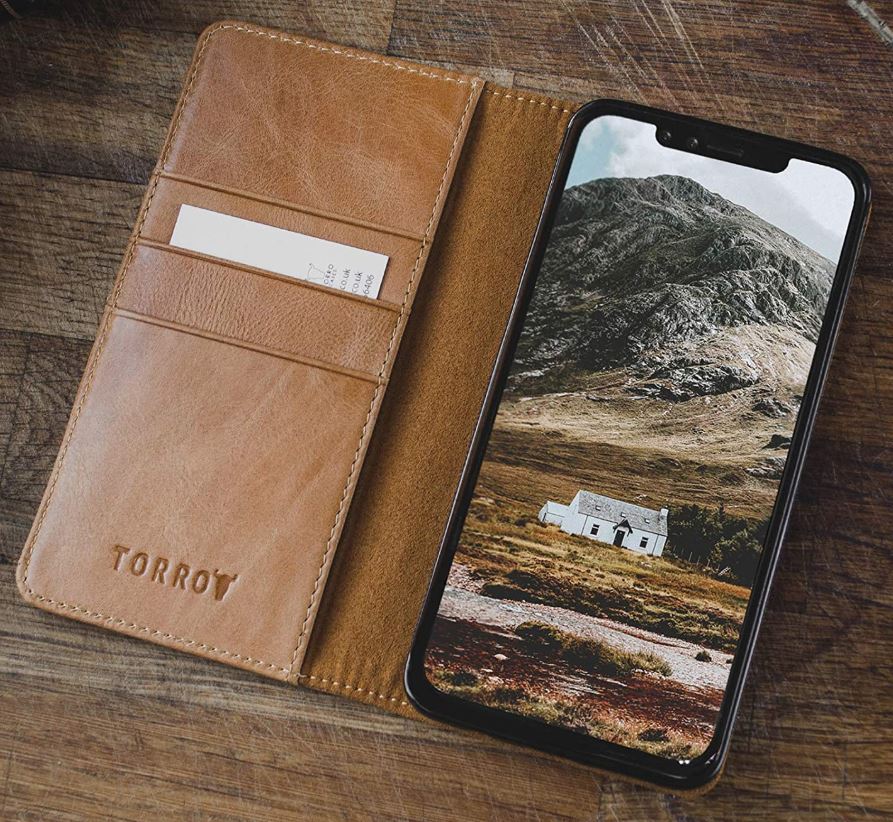 On the other side of the case interior, there's a row of three card slots with plenty of space. There's also a pocket behind them which can hold cash. Be careful, though. The card pockets will work just fine for chip cards. But old-school magnetic stripes can get damaged by the magnetic closure. The case also doubles as a stand. Simply fold it open and pull the phone holder forward, and you can use it for watching videos. The main downside here is that this case is sized for the iPhone XR only.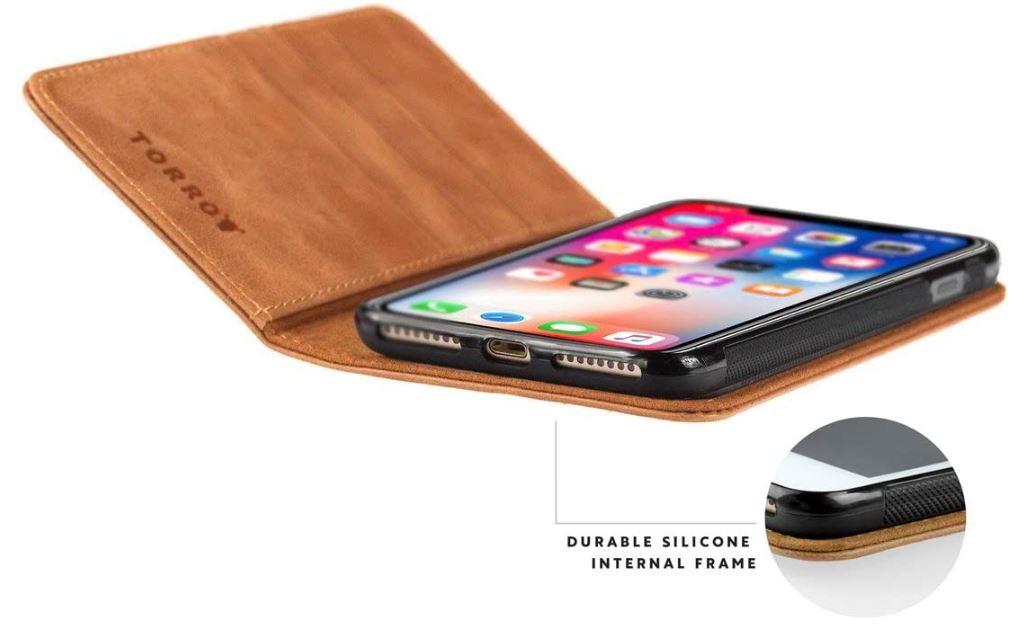 Final Verdict
As you can see, each of these cases has its own benefits and drawbacks. We could easily recommend any one of them. But which one is best for you is going to depend on your needs. Let's recap what we've learned. First, we looked at the Harber London Slim Leather Smartphone Sleeve Case. This case is constructed from gorgeous full grain leather, and has a minimalist, professional look. The ability to store a few credit cards is convenient, since it can theoretically replace your wallet. On the downside, it isn't a true "case". Your phone simply slides in and out as needed. As a result, it won't be protected while you're calling or texting.
The Harber London iPhone Case with Back Pocket has a similar full grain leather construction. It also has storage for credit cards. However, it's built more like a traditional phone case than a leather sleeve. It wraps around the back of the phone, complete with side buttons and a camera hole. Just get yourself a screen protector, and you're good to go.
The last case we looked at was the TORRO Genuine Leather iPhone Case. This phone case is a bit more robust, and is built like a wallet. There are three slots for cards, as well as a pocket for cash, tickets, or other small items. The phone snaps into one side, and is cradled in a microfiber liner. A magnetic closure ensures that the case will stay shut while it's in your pocket. The case can even flex to function as a horizontal stand. On the other hand, it's constructed from genuine leather, not full grain leather. This means it has a more rugged, rustic appearance than the last two.
Please consider sharing:
Note: At no extra cost to you, we may earn a commission for purchases using our links. Learn more.