If you own a MacBook, you've already made a significant investment in your machine. The least you can do is take care of it and protect it from getting damaged. There are many options available, and plenty of them offer excellent protection. But a MacBook sleeve is about more than just functionality. If all you wanted was something practical, you could wrap your MacBook in a ratty old towel. For a more professional look, though, it's tough to beat the appearance of leather. It shows that your MacBook isn't just any old laptop; it's a work laptop.
Of course, not all leather MacBook sleeves are created equal. Today, we're going to look at three of the most highly-rated sleeves on the market. First up is the Harber London Slim Leather MacBook Sleeve Case. This is a minimalist case that's designed for protection and a sleek look. Next, we'll look at the Harber London Carry-All MacBook Folio. This is similar to the first Harber London case, but a bit thicker, with a zipper closure and accessory pockets. Last, we'll review the CAISON Genuine Leather Laptop Sleeve. This is a more affordable case, and opens from the side rather than the front. Which one is the best? Let's take a closer look, and see how they stack up!
What to Look For in a Leather MacBook Sleeve
When you're buying a MacBook sleeve, the first thing you should look at is the quality of the leather. There are several grades of leather, including full grain leather, top grain leather, genuine leather, and corrected grain leather. Full grain leather is taken from the full thickness of the hide. It's exceptionally durable, and is generally considered the highest quality leather that money can buy.
Genuine leather is generally considered inferior to full grain and top grain. However, it offers some significant advantages. First, when compared to full grain leather, it's considerably thinner. This allows for a slimmer profile and easier portability. Secondly, it's much more affordable than top grain leather. If it were going to be under a lot of stress, durability might be a concern. But the only thing you need to worry about here is scuffing and scratching. And in this regard, genuine leather is comparable to higher grades. One thing you should definitely avoid is a PU leather sleeve. PU leather is not real leather. It's just plastic, and it's not very durable at all. Worse, it will start to wear out within a few months of use.
Another thing you want to look at is padding. This is one area where you'll need to strike a balance. If the sleeve is too heavily padded, it's going to take up a lot of space in your briefcase or laptop bag. On the other hand, if the sleeve is too lightly padded, it's not going to protect your laptop very much. Regardless of which way you go, ensure that the padding is nice and soft. Under no circumstances should you choose a padding that's rough or heavily stitched. This might scratch your laptop bag.
Finally, you'll need to consider sizing. Keep in mind that MacBooks come in a variety of sizes. There's a big difference between an 11-inch MacBook Air and a 16-inch MacBook Pro! You want the sleeve to be nice and snug, to keep the laptop from sliding out when you don't want it to. When in doubt, check the manufacturer's sizing guide to make sure you're getting the correct case.
Aesthetics and Other Features
When you're buying a leather MacBook sleeve, it's about more than just practical features. You want a professional-looking sleeve that will impress people with its appearance. You also want one that's going to match your personal style. Do you want brown or black leather? A smooth or a heavily-textured finish? There's no single right answer for everybody here. You'll just have to find something that works for you.
Finally, you'll have to consider what you want to carry. Do you want a simple protective sleeve that only covers your MacBook? Or do you want a more comprehensive sleeve that also carries your charging cord and other accessories? A slim case is a better choice if you're carrying it inside a laptop bag or briefcase. After all, there's already plenty of space for your accessories. If you're a true minimalist and only want to carry your sleeve, look for one that holds your accessories.
That about covers the features you should be looking for. Now, let's take a look at today's MacBook sleeves!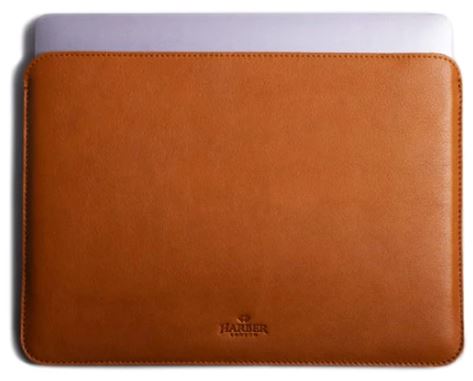 Harber London Slim Leather MacBook Sleeve Case
The Harber London Slim Leather MacBook Sleeve Case comes from a highly-regarded manufacturer. We've reviewed some of their products before, including a leather desk pad. They're well known for quality leatherworking, so we were interested to see their MacBook sleeves.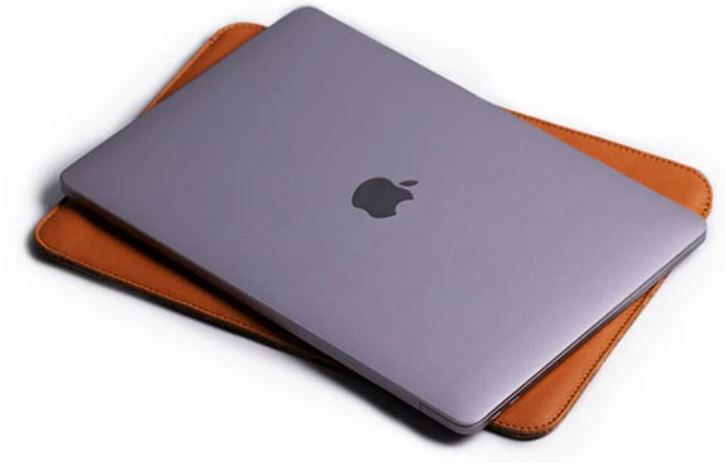 Their Slim Leather MacBook Sleeve Case is an excellent choice for most people. It's constructed from premium full grain leather, which means it's very durable. You can use this sleeve for years and it will still stand up to abuse. In fact, it's going to last so long that your laptop will go obsolete long before it needs a replacement. The finish is tanned with vegetable oil, which gives it a smooth, supple appearance. It's stain resistant, so it won't get ruined if you spill your coffee on it.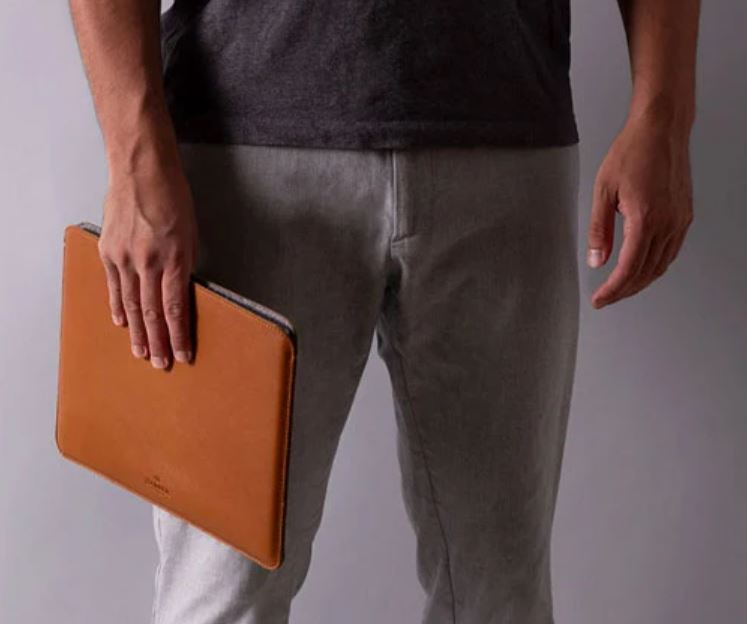 Moreover, the leather will form a patina as it ages. This will give it an "antique" look, without negatively impacting its performance. The finish is available in tan, black, navy blue, and dark brown. It will match most any sense of style or office décor. Regardless of the color you choose, the finish is fairly plain and unadorned. The stitching around the edges is heavy duty, but it doesn't stand out. It looks like a set of perforations rather than the thick, heavy threads you'll see on some leather accessories. There is a small "Harber London" stamped into one side, complete with Harber's iconic double-diamond logo.
Your MacBook inserts easily along the long edge, and slides into the sleeve. There's no closure of any kind. Instead, the sleeve is designed to be carried in a laptop bag, or in your hand with the opening facing upwards. Inside, a wool felt lining protects your MacBook. The wool is exceedingly soft, and absorbs any moisture that might get inside. Keep in mind that this in no way makes the sleeve "waterproof". It just provides a measure of protection against condensation. The primary purpose is to prevent damage from bumps and scratches. In this regard, the lining does an excellent job.
Sizing and Supported MacBook Models
The Harber London Slim Leather MacBook Sleeve Case comes in 11 different sizes. It's designed to fit the MacBook Air 11 and 12, as well as the MacBook Pro 13, 15, and 16. Additional sizes are available for the Dell XPS 13 and 15. Astute readers will have noticed that that's only 7 different machines. The reason there are 11 sizes is that some MacBook models have changed size over the years. Make sure to get the "old" or "new" size as appropriate for your MacBook. This will ensure a secure, snug fit.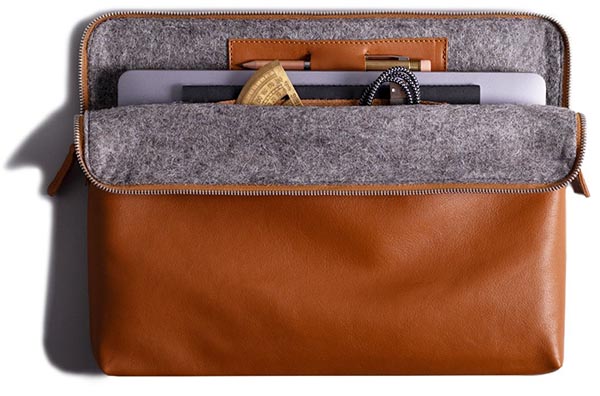 Harber London Carry-All MacBook Folio
The Harber London Carry-All MacBook Folio is another full grain leather case. It has the same attractive, vegetable oil tanned finish as the other Harber London case. It also sports a similarly plain design, in the same three colors. Finally, you get the same high quality wool felt lining that's exceptionally soft and lush. Other than that, this is where the similarities end.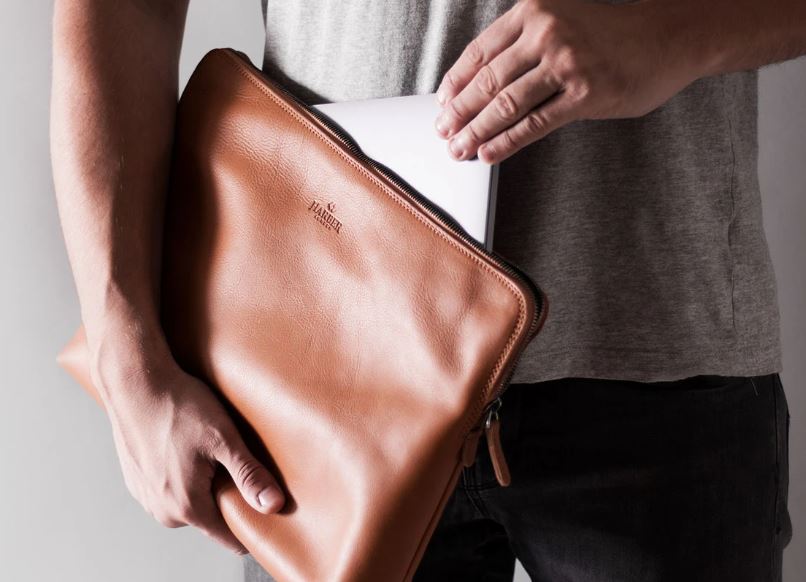 This sleeve is designed to hold your laptop very loosely. There's a zipper closure along the top that keeps the laptop from falling out. In addition to your laptop, the sleeve will also hold a variety of accessories. You can carry your charger or other office tools. There are small holes for carrying pens, as well as hidden pockets for your passport or other necessities.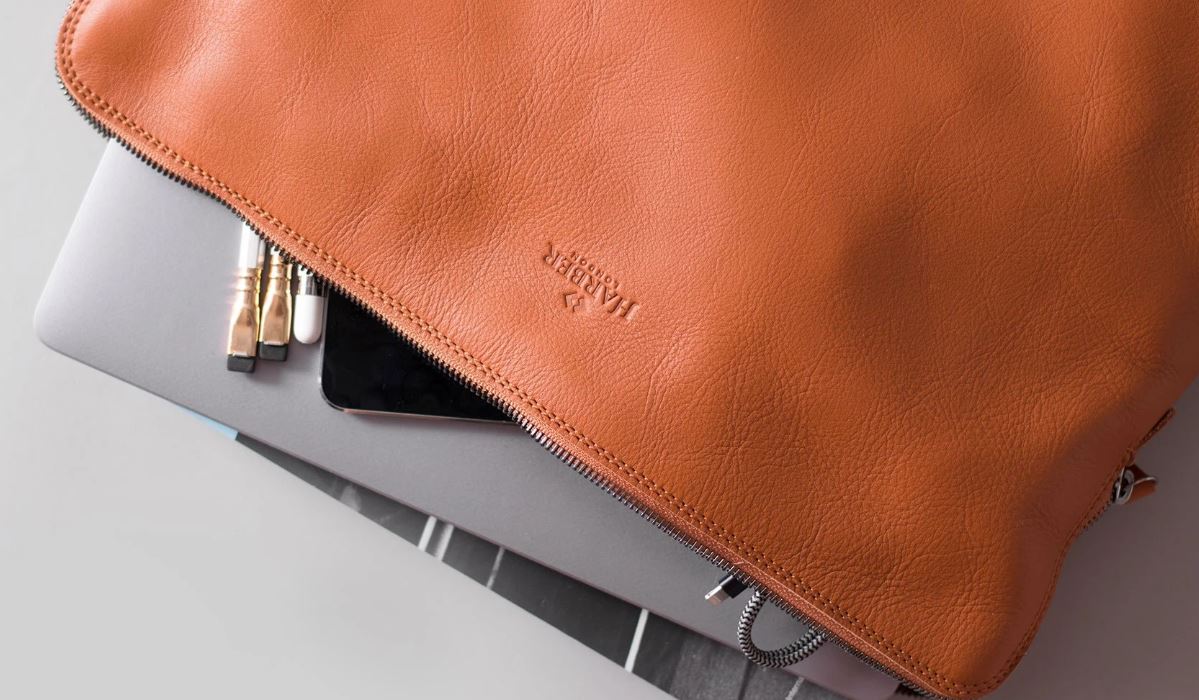 Sizing and Supported MacBook Models
Because the Harber London Carry-All MacBook Folio doesn't have a snug fit, sizing is a bit different than other sleeves. You don't need a case that's going to fit your MacBook like a glove. You just need one that's big enough for your laptop and all your gear. In total, there are three sizes available: small, medium, and large. These measure 11.5 x 8.46 x 1.77, 13.38 x 10.03 x 1.77, and14.72 x 10.03 x 1.77 inches respectively. A side benefit of this sizing is that you're not just limited to MacBooks. You can use this case to carry just about any small to mid-sized laptop.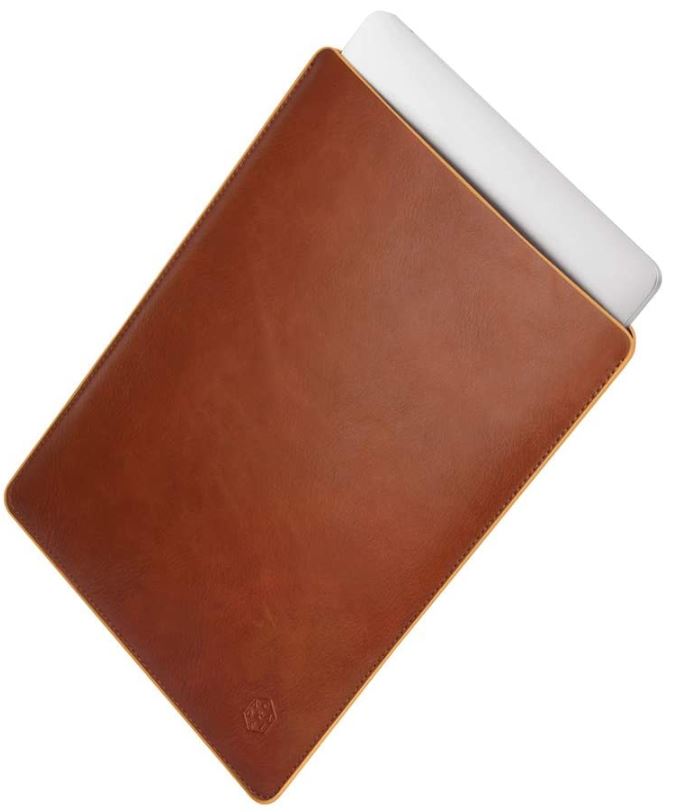 CAISON Genuine Leather Laptop Sleeve
The CAISON Genuine Leather Laptop Sleeve is more affordable than the Harber London sleeves. This comes at a non-monetary cost, though. Instead of being constructed from full grain leather, it's constructed from genuine leather. This means you experience a corresponding loss in quality. It's not as durable as the other cases, and it's not quite as smooth. You'll notice that the finish is slightly inconsistent due to the coarser grain. That said, it's still attractive enough, with an oiled finish that will gain a patina over time. In the lower corner, there's an embossed CAISON logo that adds a bit of flair.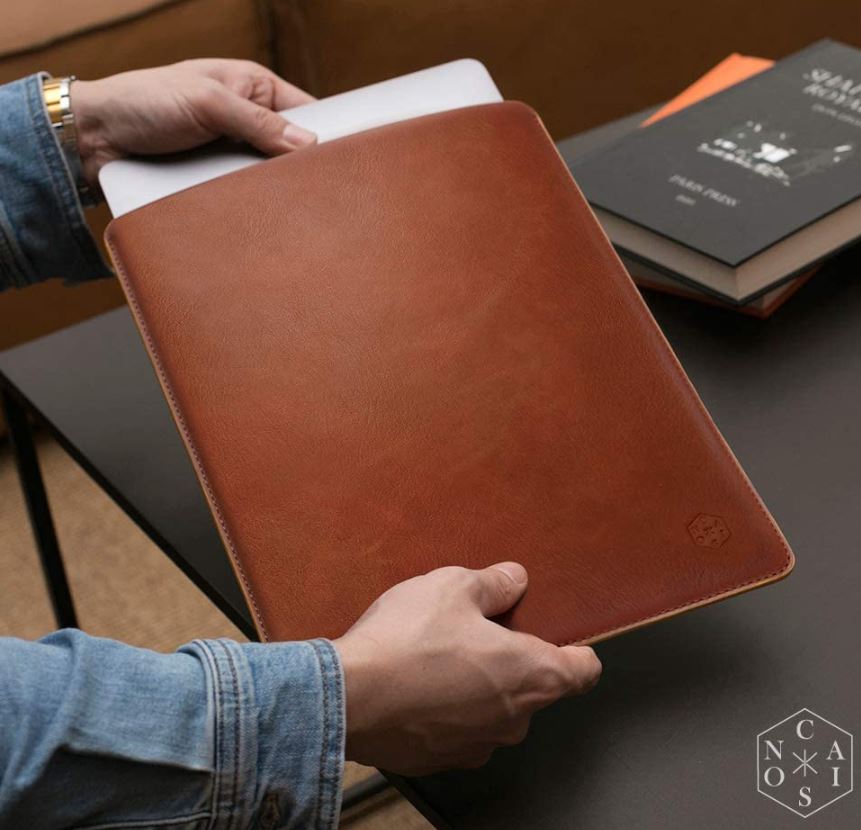 The sleeve is available in four colors: chocolate, tan, black, and "ink black". As far as we can tell, the black and ink black sleeves are the same color. However, the ink black sleeve has a textured band for grip and appearance. The inner lining is made of a quilted microfiber that's both soft and protective. It loads from the side, rather than from the top. But as long as you have the right size, it will hold your laptop very securely.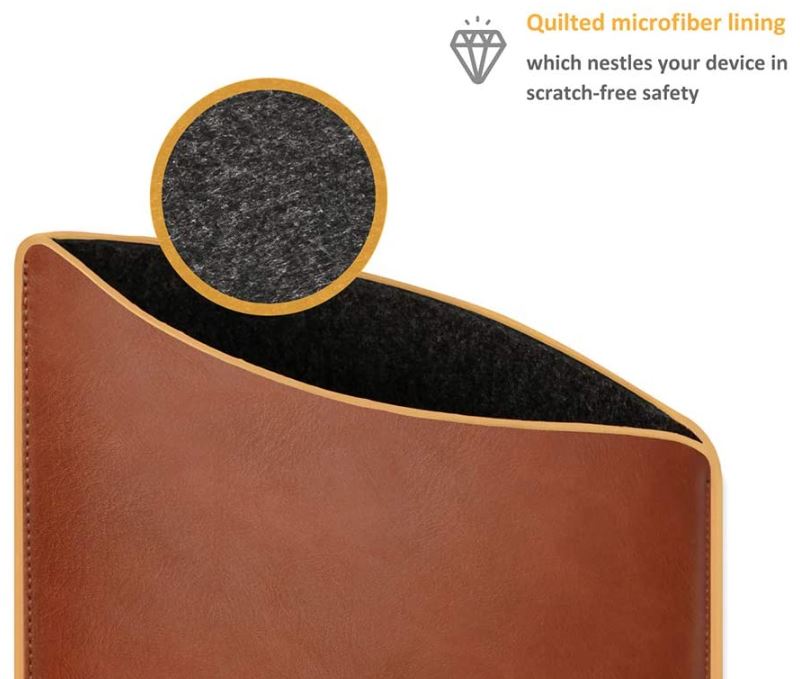 Sizing and Supported MacBook Models
The CAISON Genuine Leather Laptop Sleeve is available in eight different sizes. This allows it to accommodate most versions of MacBook, from 12 to 16 inches. In addition, it can also accommodate a 13.5-inch Surface Book 2 or Microsoft Surface Laptop 3. Unless you're sporting a tiny 11-inch MacBook Air, you'll be able to carry your laptop without any issues.
Final Verdict
As you can see, each of these MacBook sleeves has its own distinct benefits and drawbacks. Here's a quick summary of what we've learned. The first sleeve we reviewed was the Harber London Slim Leather MacBook Sleeve Case. This case is designed to be as minimalist as possible. It hugs your laptop snugly, providing a secure fit, with a soft wool lining that protects your laptop from damage. It will fit just about any model of MacBook, as well as some Dell XPS laptops. If you want a laptop sleeve with class and style, it's tough to go wrong here.
The Harber London Carry-All MacBook Folio is a bit more robust sleeve. In some regards, it's similar to the other Harber London case. It loads from the top, and it's constructed from durable, full grain leather. However, it has a much looser fit, with a zipper closure along the opening. It also holds a variety of accessories. You can carry your charging cable, charging block, and even some pens and a notepad. Basically, it's a miniature laptop bag without a carrying handle. It's not a good choice if you want to carry it inside another bag. But if you want a full-featured laptop bag that's as compact as possible, it's an excellent choice.
The CAISON Genuine Leather Laptop Sleeve is the budget option on our list. This does have a downside, though; it's constructed from genuine leather instead of full grain leather. The finish is noticeably less smooth than the Harber London cases, with more variation in tone. That said, it's still more than durable enough to do the job. You can carry most MacBooks, although there's no size available for the 11-inch MacBook Air. You also get the option of a textured black finish, which adds some flair to an otherwise boring accessory. If you want an affordable, side-loading sleeve, the CAISON sleeve is a good way to go.