There are few things more important than adequate lighting. Whether you're at home when the lights go out or trying to change a flat tire on the side of the road, having a way to illuminate your surroundings is essential for effectiveness and safety.
For proper lighting solutions, a growing number of people are turning to LED flashlight gloves. These gloves come with LED lights built-in at the fingertips allowing you to use your hands to see in low-light situations. Ideally used when working on a car, searching for something in a dark closet, or going for a night walk with your dog.
Our fingers have fine motor muscles capable of extreme precision. This makes placing lights on your fingertips a great way to control and direct light precisely at what you need to see.
Benefits of LED Flashlight Gloves
Hands-free lighting: LED flashlight gloves keep your hands free for tasks while providing and effective light source. This comes in handy in situations where it's not possible or convenient to hold a flashlight.
Improved visibility: Lights on the fingertips provide a focused beam of light that can help you see more clearly in the dark. There may be times when you need to angle light around a tight space. Ultimately, these gloves allow you to leverage a small form factor and concentrated light to make illumination possible.
Versatility: LED flashlight gloves are great in a variety of settings and situations. These include but are not limited to outdoor activities, automotive repair, and home improvement projects. They're even a great addition to keep in the car for your emergency roadside kit.
Durability: A good pair is made with durable materials and are designed to withstand rough handling. High-quality gloves have lights that are highly impact resistant, giving you more flexibility and peace of mind that they'll work reliably when you need them to.
Convenience: LED flashlight gloves are portable and easy to carry virtually anywhere. This makes them a great tool to have on hand for unexpected low-light situations.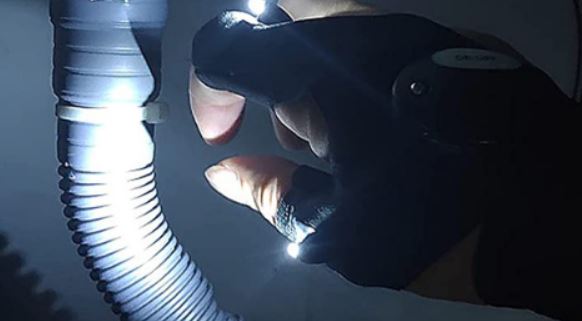 Our Criteria for the Best LED Flashlight Gloves
There are a lot of options available. In fact, a simple search will provide a mountain of results that can be overwhelming to sort through to find the best options.
To help make the process easier, our team of experts sifted through countless options in order to find the best for a variety of needs. We used the following criteria to make our selections:
Fit: Look for gloves that have adjustable straps or a customizable fit to ensure secure and comfortable wear.
Brightness: Some gloves have brighter lights than others, which can be useful in certain situations. However, keep in mind that brighter lights may also drain the batteries faster. Our team included options with varying brightness intensities.
Battery life: Battery life is essential for a good pair of LED gloves. The ability to re-charge or replace the batteries were also factored in.
Durability: We selected gloves that are made with durable materials to withstand rough handling and normal wear and tear. We included varying degrees of rugged materials so you can find the right balance of durability and functionality.
Price: There are decent options at nearly every reasonable price point. While you get what you pay for in most cases, it's still best to find a pair that fits your budget.
Additional features: Some LED flashlight gloves come with additional features, such as touch-sensitive fingertips or magnets that allow the gloves to be attached to metal surfaces. You'll want to decide if any of this would be important to you.
Best Overall: PARIGO LED Flashlight Gloves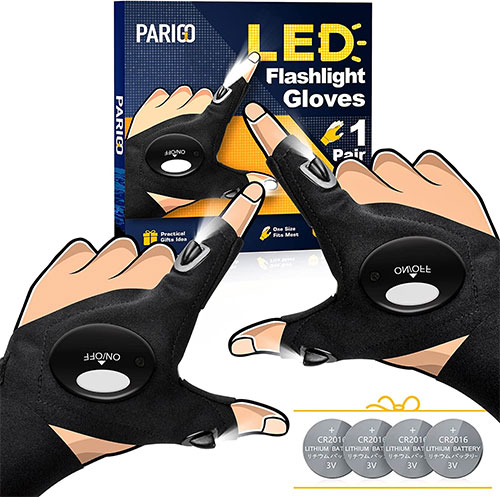 Key Features:
Open fingertip design.
LED light on thumb and index finger.
One size fits most.
Stretchy material.
Adjustable straps.
Pre-installed cell batteries.
Includes a storage pouch and extra batteries.
Unisex design.
The PARIGO LED Flashlight Gloves take our spot as the best overall since they provide a wide range of essential functions, extremely well. These are the most well-rounded option of the many gloves we tested. The stretch material and the operational components are durable in quality while avoiding the rigid, coarse feeling of lower quality options. Even when we placed them on larger hands, they were still comfortable while under maximum tension.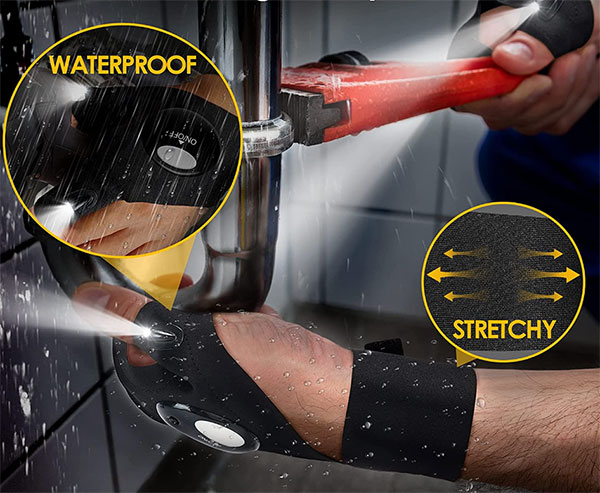 One thing that impressed us regarding the fit is that they did not cut off circulation even after extended wear. Several options we tested had rigid seams that would become tighter than other parts of the glove when tightened. PARIGO did a good job with providing an even, snug fit.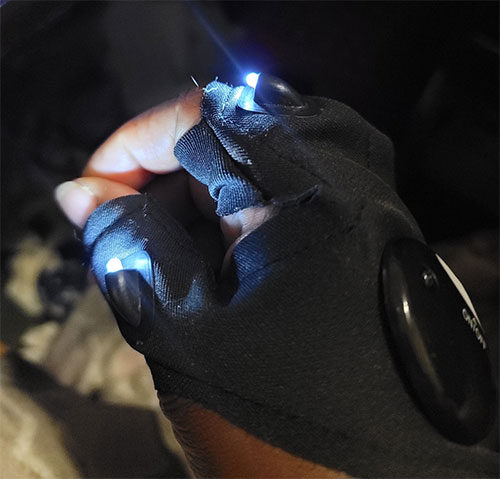 The angle of the lights and the way they rest on the digits are just right. They're elevated off the glove to eliminate obstruction from the actual glove itself without the main form of the glove ever getting in the way. The lights are angled slightly upward, which lets you adjust them with less strain on the forefinger and thumb. It's small design choices like these that made the user experience more enjoyable. There's even a large, tactile on/off button that doesn't require a lot of pressure to activate.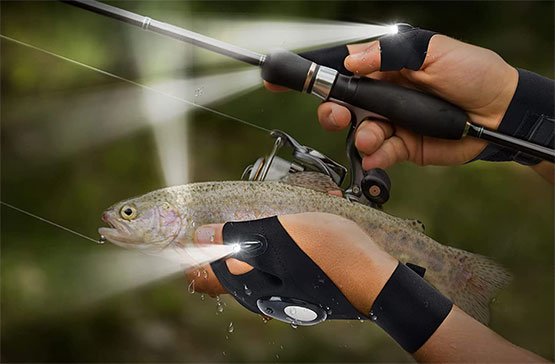 The brightness of the LEDs is in the upper tier of the options we put through the paces. It isn't the brightest but we feel it's strong enough for nearly every situation you would realistically encounter. The reason we didn't opt for a brighter unit is because these strike an ideal balance for battery life. In fact, each glove is powered by a single CR2016 battery that's easily replaced. Battery life will depend a lot on how you intend to use them but many users found them to last between eight to ten hours with intermittent use. Best of all, they come with extra batteries and a carrying pouch, which is definitely a nice perk.
Overall, the PARIGO LED Flashlight Gloves offer the perfect balance of quality, usability and comfort. All in all, they're an affordable, well-made option that we feel confident in reccomending.
What We Liked:
Snug, even fit for a wide range of hand sizes.
High-quality materials.
Durable LEDs with high brightness.
Lights are at an ideal angle.
Comes with extra batteries that are easily replaceable.
What We Didn't Like:
Pilling can occur on the portion between the thumb and forefinger.
Best Runner-Up: Mylivell LED Flashlight Gloves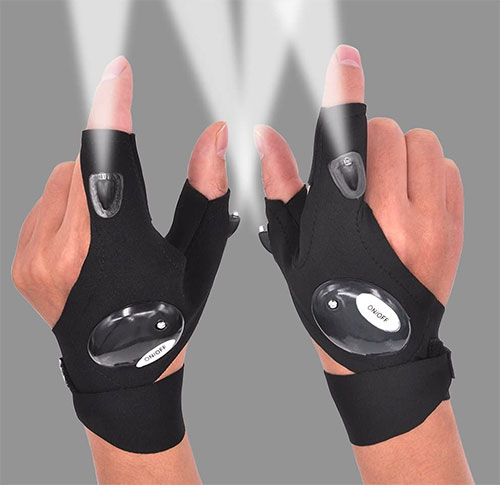 Key Features:
Various fabric patterns to choose from.
Ambidextrous hand orientation.
One size fits most.
Button, hook and loop closure.
The Mylivell LED Flashlight Gloves do a lot of things incredibly well. They're our runner-up for that reason. They sports a thumb and forefinger layout like our best overall choice. However, the LEDs are slightly brighter but they aren't angled. This may be a better fit for people that prefer the lights to be more inline with their fingers.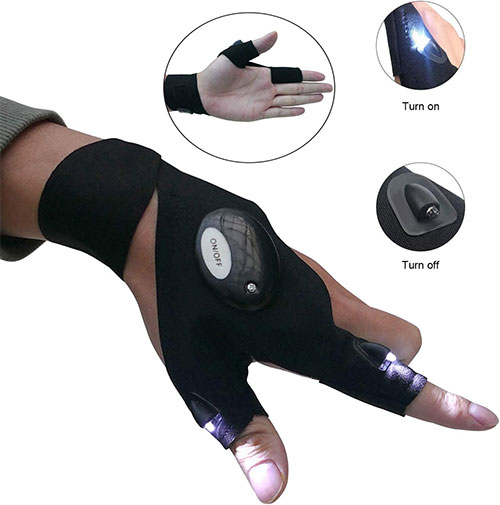 This option has a very secure button, hook and loop enclosure that a lot of users compliment. If you're doing a lot of things with your hands such as fishing or outdoor activities, the tightening system can keep things from sliding around. Keep in mind that initially, it takes a little more work to get them tightened and secured. However, once you've configured them to your hands, they tend to stay on very nicely with a nice amount of comfort.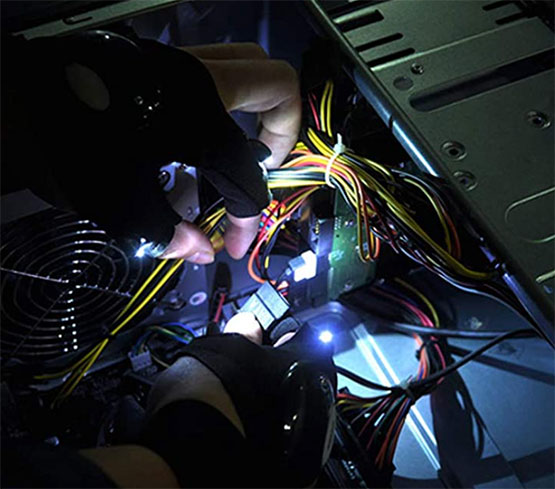 These gloves use the same, replaceable CR2016 battery as the PARIGO. It's located underneath the on/off button and can be accessed using the small tool included with them. As far as battery life goes, one can expect around 7-10 hours. The only knock we have is in the convenience and extras included. Unlike the best overall option, these only come with the battery tool. There isn't a carrying pouch to keep things together or extra batteries to save you from unexpectedly having to run to the store. That said, the functionality and performance of the gloves themselves is still fantastic.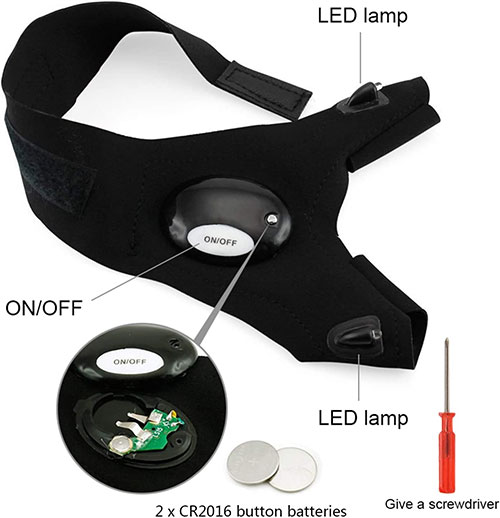 One area that the Mylivell gloves set themselves apart is in durability and breathability. Other units we tried pilled around the portions that regularly rubbed together. These did not have this same problem. In fact, we found them to be highly breathable, making them easier to wear for long periods of time. Additionally, the lights are water resistant for added confidence while using them in extreme conditions.
Overall, the Mylivell LED Flashlight Gloves provide an ideal option for those that need a strong, highly breathable pair that's built well for regular use.
What We Liked:
Extremely secure fit.
Highly breathable material.
Very bright LED bulbs.
Long battery life.
What We Didn't Like:
No carrying pouch included.
No extra batteries included.
Best Alternative: GREENEVER LED Flashlight Gloves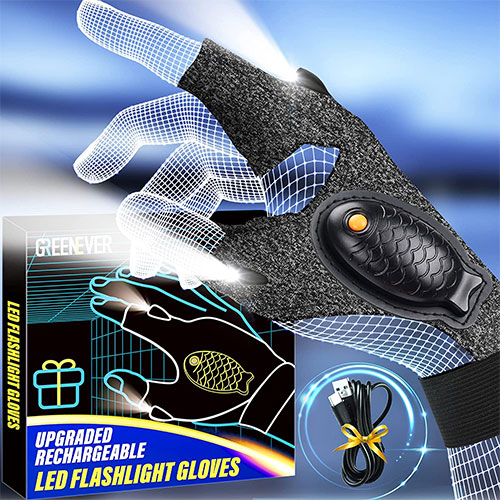 Key Features:
Rechargeable via USB-C.
Includes batteries.
1.5 hour charge time.
Gray color.
One size fits most.
Adjustable strap.
One of the best alternatives on the market, the GREENEVER LED Flashlight Gloves are a great option for those that want a budget friendly, rechargeable option. The unique two-tone, textured material makes them more visible than other gloves which can be important in different situations. Some users that routinely misplace their gloves state that these have just enough contrast to not suffer the same fate. The unique, fish-shaped on/off switch with a bright orange button also helps with this.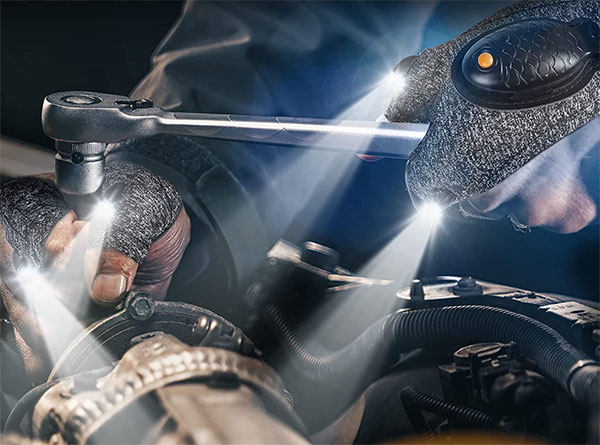 In terms of fit, the strap may not provide as secure of a fit as the Mylivell but they're much faster to take on and off. During our tests, we had no issues with them staying in place. The fabric is extremely breathable although a bit heavier than most. The stitching provides a strong feeling without being overly rigid. Simple put, these would be a great pair of gloves if you needed to wear them for long periods of time, especially in colder condition.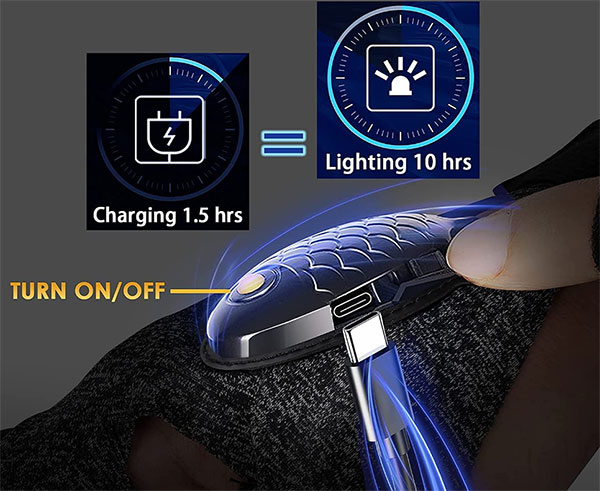 One of the best features is the rechargeable batteries. Since keeping them charged is extremely simple, it allowed the manufacturer to use brighter LED lights that traditionally wouldn't be possible. The result is much brighter performance. We found that the 1.5 hour charge time is accurate and that each charge can last between 8-10 hours, which is within an acceptable range.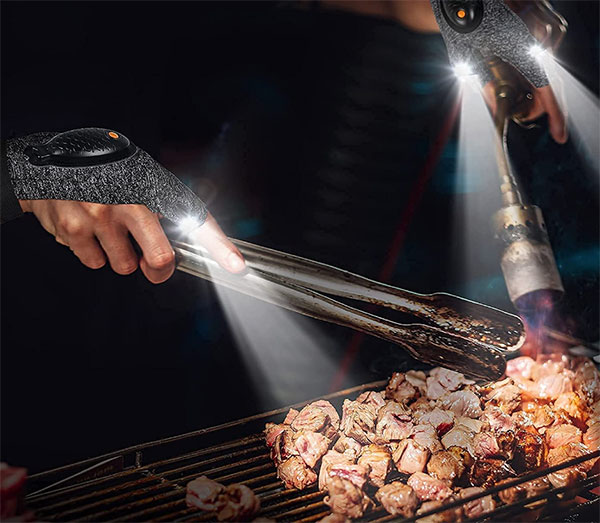 Something that we think could be improved on is the size of the on/off switch. While it functions just fine, some users found it hard to locate and press because of how small it was. Like the Mylivell, these gloves don't come with a carrying pouch which isn't as big a deal given the rechargeable, high visibility nature of them.
Overall, the GREENEVER LED Flashlight Gloves are an impressive pair to consider if you need brighter LEDs and the option to charge them on the go without having to replace any batteries.
What We Liked:
USB-C input means easy and fast re-charging.
Comfortable material with easy to secure straps.
Material is very breathable.
Water resistant.
Very bright LEDs.
What We Didn't Like:
Best 2nd Alternative: HABBIBI LED Flashlight Gloves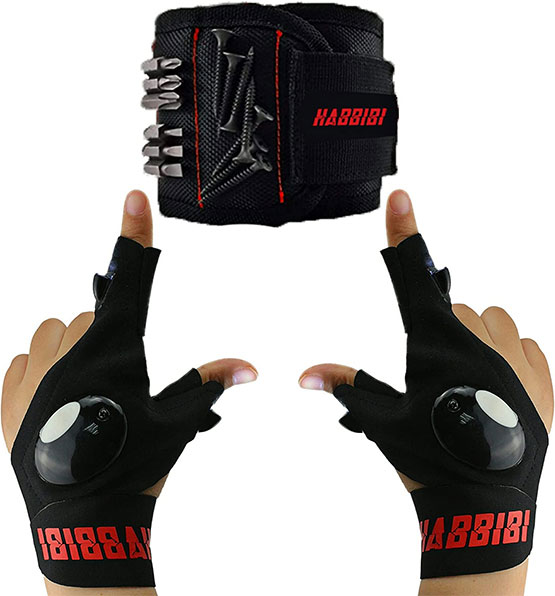 Key Features:
Magnetic wrist band included.
Replaceable CR2 batteries.
One size fits most.
Water resistant.
The HABBIBI LED Flashlight Gloves are one of the most functional pairs we've tested. Not only are the lights extremely bright and ideally positioned on the thumb and forefinger, they're extremely rugged. Many choose these because of how versatile they are for different auto and home applications. In fact, the LEDs are both highly water and shatter resistant.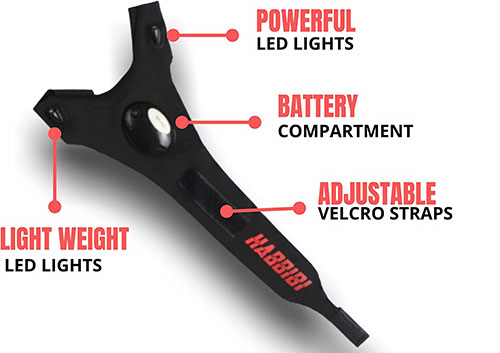 Position-wise they're low profile enough to avoid getting snagged in tight spaces. This makes them a great option if you're working under the hood of a vehicle or under a sink in the home. While the batteries are not rechargeable, they last for an average of 10-12 hours on a single battery. In fact, they're easy to swap out and utilize a widely available CR2 battery.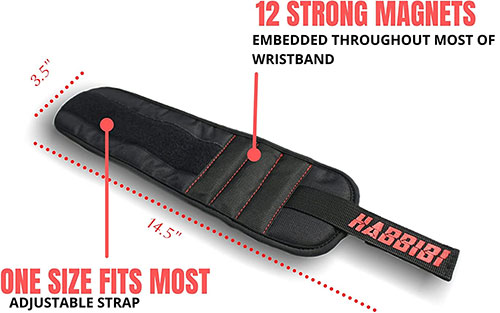 Our team found the included magnetic wrist band to be a great addition. It can be placed overtop the wrist strap of either flashlight glove to help you keep track of small metallic items like screws, nails, drill bits and bolts. It's a strong magnet that easily attaches to nearly every magnetic object you set them near, even with a lot of movement.
Overall, the HABBIBI LED Flashlight Gloves are an impressive pair. While they're priced a tad above the rest, the addition of the magnet strap is very unique and actually quite useful in real-world scenarios.
What We Liked:
Durable, comfortable material.
Additional magnetic strap is great for projects.
Easy to fasten and secure.
Bright LED lights.
Long battery life.
What We Didn't Like:
Slightly more expensive than others.
A bit bulkier.
Meet Derek, "TechGuru," a 34-year-old technology enthusiast with a deep passion for tech innovations. With extensive experience, he specializes in gaming hardware and software, and has expertise in gadgets, custom PCs, and audio.
Besides writing about tech and reviewing new products, Derek enjoys traveling, hiking, and photography. Committed to keeping up with the latest industry trends, he aims to guide readers in making informed tech decisions.