Liene Pearl
Pros
Compact, lightweight, and portable design.
Produces high quality prints.
Inkless printing process.
Very easy to use.
Battery powered for on-the-go use.
Cons
Photo paper needs to be stored carefully.
Relatively slow print speed.
In today's age of digital photography, printing often seems like an afterthought. But there's something special about a physical photo. You can put it in your wallet or paste it into a scrapbook. Or you can frame it and hang it on your wall. A digital copy is really only good for posting on social media.
If you're old enough to remember Polaroid cameras, you'll remember how fun they could be. You'd snap a picture, and within a few minutes the print would develop, revealing a beautiful photo. This particular type of magic didn't disappear with digital photography. Instead, you can get a similar experience by using a portable photo printer.
Today, we'll be reviewing the Liene Pearl. This is a pocket-sized printer that you can use to print your photos via Bluetooth. Snap a photo with your phone, and in a minute or less, you'll have a tiny photo print. But how well does it work, and is it worth your investment? In order to make a fair judgement, we'll need to dive into the features and functions. Let's take a closer look, and see what we find!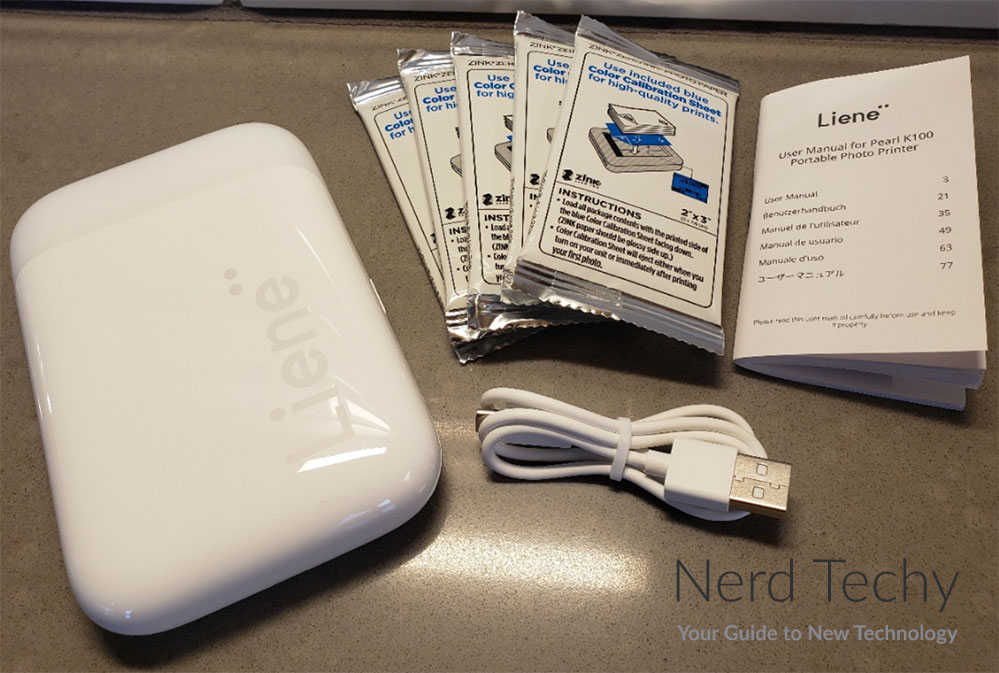 Overall Design
The Liene Pearl (K100) Portable Instant Photo Printer is constructed from a glossy plastic. It's easy on the eyes, and is available in white, green, or pink. The shape is flat and roughly rectangular, although the corners are curved so there are no sharp points. It measures 4.9 inches long, 3.3 inches wide, and 1 inch thick. And at 0.4-pound, it's both small and light enough to carry around in your pocket.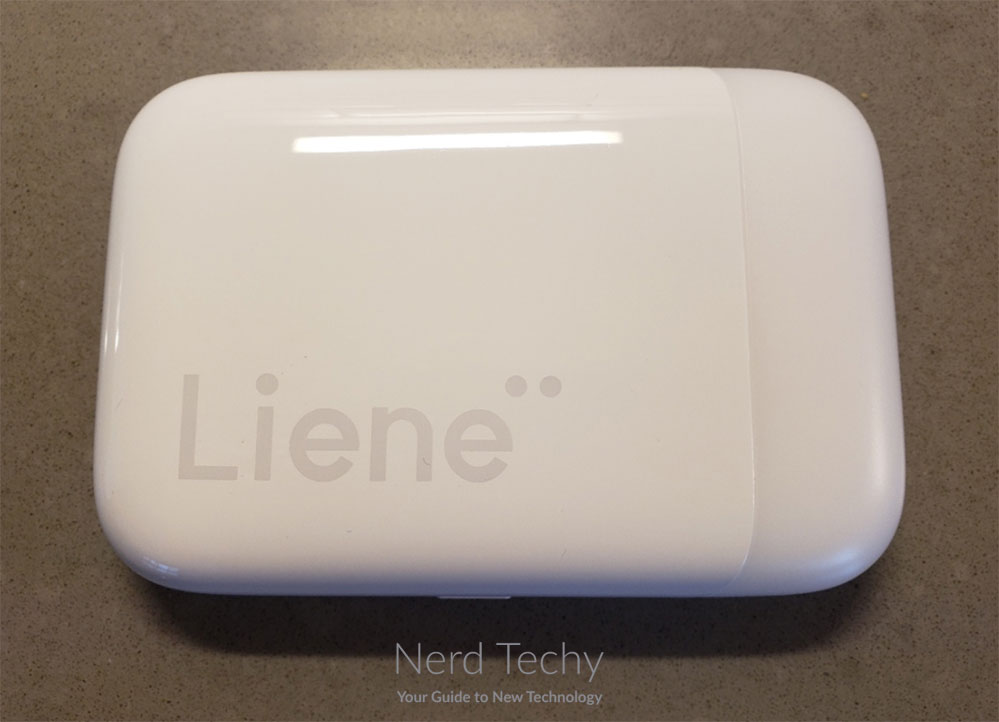 On top of the housing is a Liene imprint, in a shaded version of the main color. At the front end is a narrow slot, where your printed photos feed out. On the left side of the housing, you'll find a small tactile power button. This button lights up to let you know when the printer is active. The USB Type-C charging port is located on the back. It also has an indicator light, so you know when you're charging.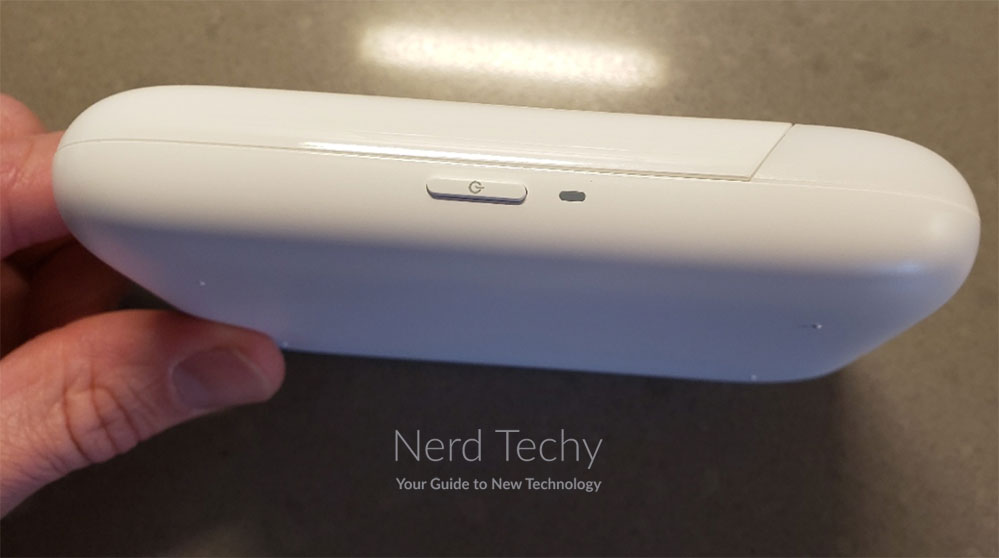 Accessories and Internal Parts
To access the inside of the Pearl, simply slide the top of the housing back. This will reveal a rectangular internal chamber that serves as a paper hopper. It's fairly small, but it can hold up to 10 sheets at a time. There are also no ink cartridges. Instead, the printer uses a heated element to print. This element is very small, and isn't easily visible inside the housing.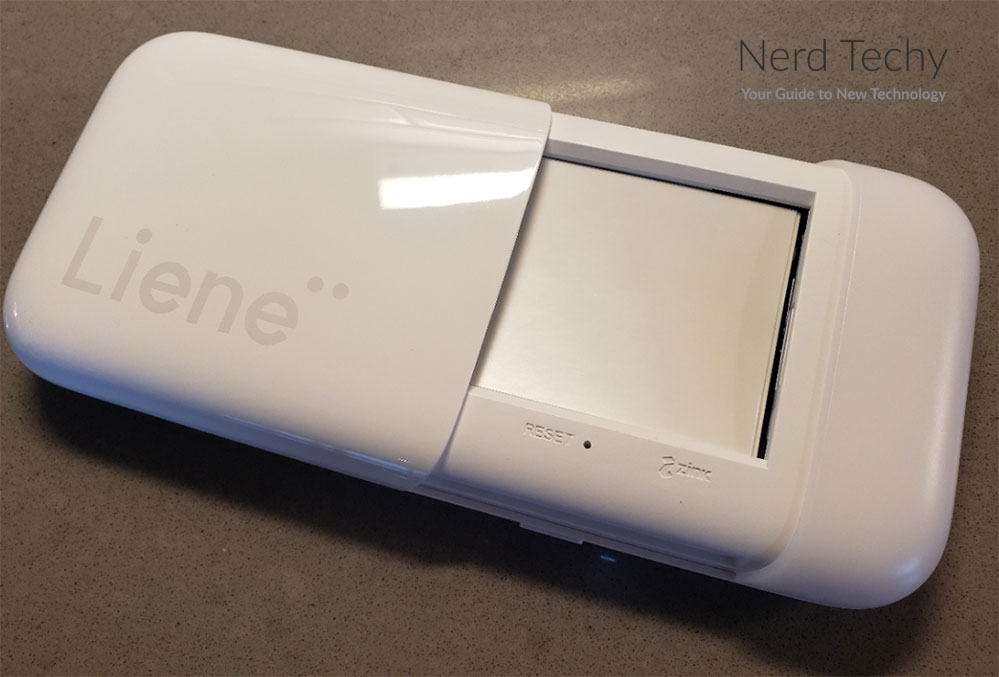 The kit includes a calibration card, which you'll need to insert the first time you use the camera. You also get a set of 2" x 3" paper with a sticky peel-away backing. The photo paper has a protective film on the front, which is designed to prevent damage. It causes water to bead up and roll off, and completely repels dust. It also doesn't fade quickly like old Polaroid photos used to do. Your pictures will be bright and vibrant for a decade or more after taking them.
The printer comes with 50 sheets, which is plenty to get started. It's more than enough to do a few test prints and verify that the Pearl is working the way you want it to. After that, you can order more sheets as you need them.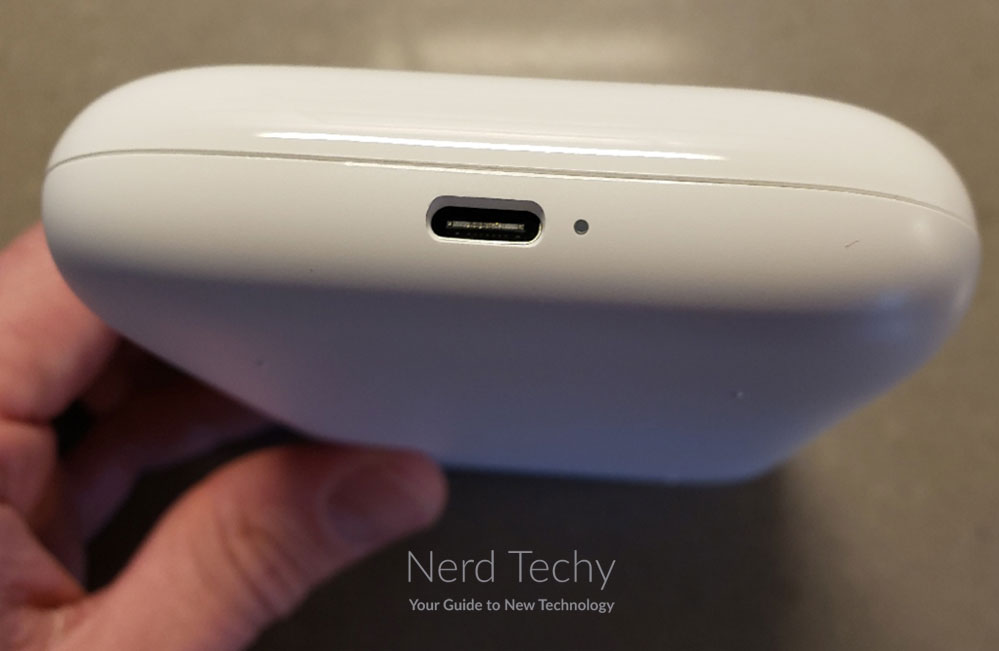 Along with the printer and paper, you'll also get a short USB Type-A to Type-C cord for charging the built-in battery. Charging takes around two hours, and gives you enough juice for around 30 prints. You may get one or two more or less depending on your Bluetooth usage and other variables.
Connectivity
The Pearl K100 connects to your phone via Bluetooth 5.0. All you have to do is find it in your phone's Bluetooth menu and select it. It will pair, and you'll be ready to print.
This printer is designed for use with smartphones. You have to download the free Liene Photo app in order to start printing. It's compatible with both Android and iOS, and the app is 100% free. That said, you can't print from your computer. If you want to print from your laptop or desktop, you'll need a different photo printer.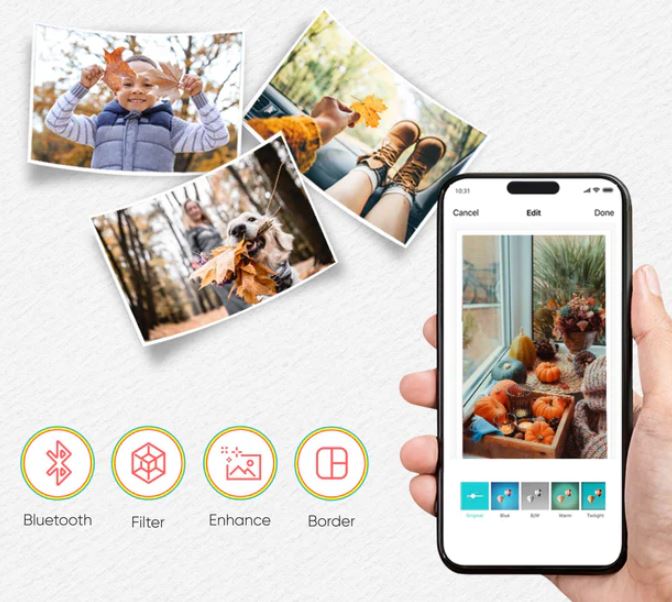 The app is surprisingly easy to use and well laid out. The user interface is fairly self-explanatory and organized in a manner that's easy to navigate and understand. Best of all, we found that it wasn't plagued with bugs or errors like some apps can be. The Liene Photo app makes the printer easy, and most importantly, fun to use. Users can load-in their photos from their smartphone and edit, crop and tweak photos while seeing a live-preview before they print.
Ease of Use
When it comes time to print, this printer is very easy to use. First, slide back the top cover and insert your photo paper. If it's your first time using it, you'll also need to insert the calibration card underneath. Each stack of ZINK photo paper comes with one of these calibration cards. Next, pair via Bluetooth. If your phone can't see the K100, you'll have to press and hold the power button for 3 seconds. At that point, your printer should be discoverable, and you'll be able to connect to it.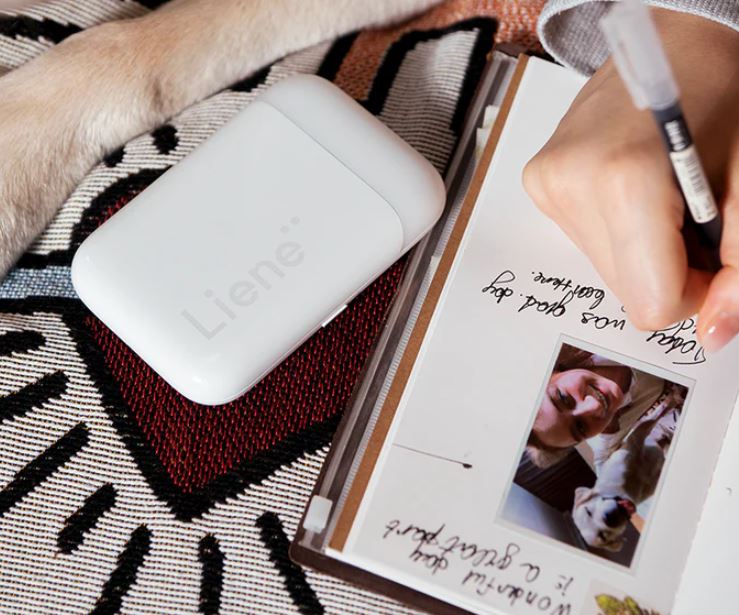 Last, open the Liene app. You'll be able to view any photos on your phone, and select one or more of them to print. You'll also have some editing capabilities, which we'll get into momentarily. But if you just want to print your raw photos, you can do it in seconds.
Best of all is the pocket-sized design and thermal printing. You can carry it with you anywhere and even take it on vacation. The thermal design is also a huge plus. You don't have to juggle ink and toner cartridges. As long as you have paper and a charged battery, you'll be able to print.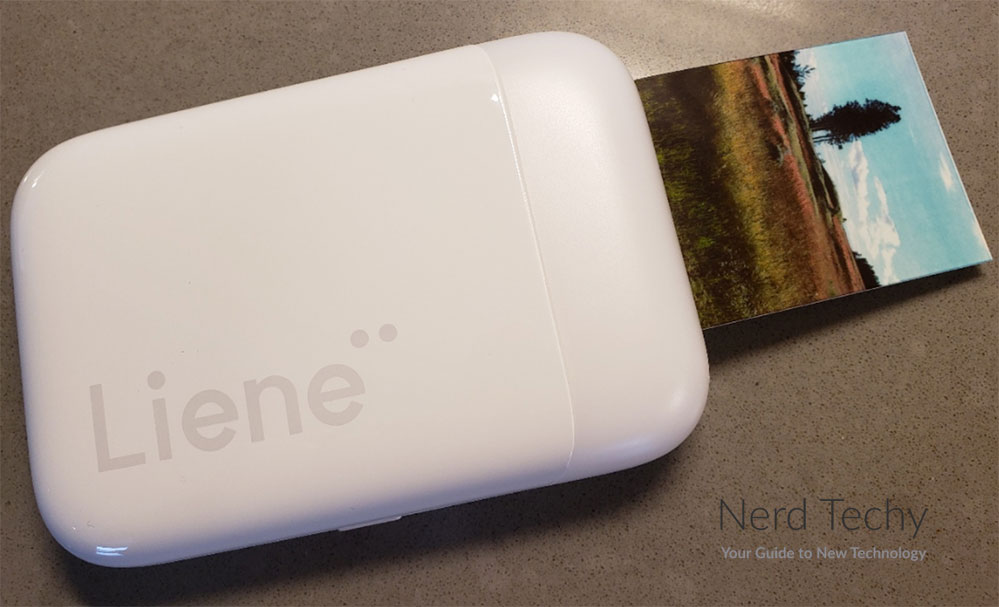 Printing Capabilities
As we mentioned, the Liene app has a number of extra settings and options that can improve your photos. To begin with, there's an array of adjustment tools similar to any photo-editing software. You can modify the brightness, sharpness, contrast, saturation, and other image features. For example, suppose your pictures are too dark. You can bump up the contrast to make everything more visible. If the colors look washed out, you can increase the saturation – or vice-versa.
You also get a set of filters and frames similar to what you'll find on Instagram. There are eight filters, including blue and black and white. Others adjust the tone more subtly, or even apply a spotlight effect or different levels of saturation. The names aren't very descriptive, so it's best to experiment with them and see what you like best. There are also four different frame options. If you're handy with scissors, you can even trim your photos precisely to the digitally-applied frame.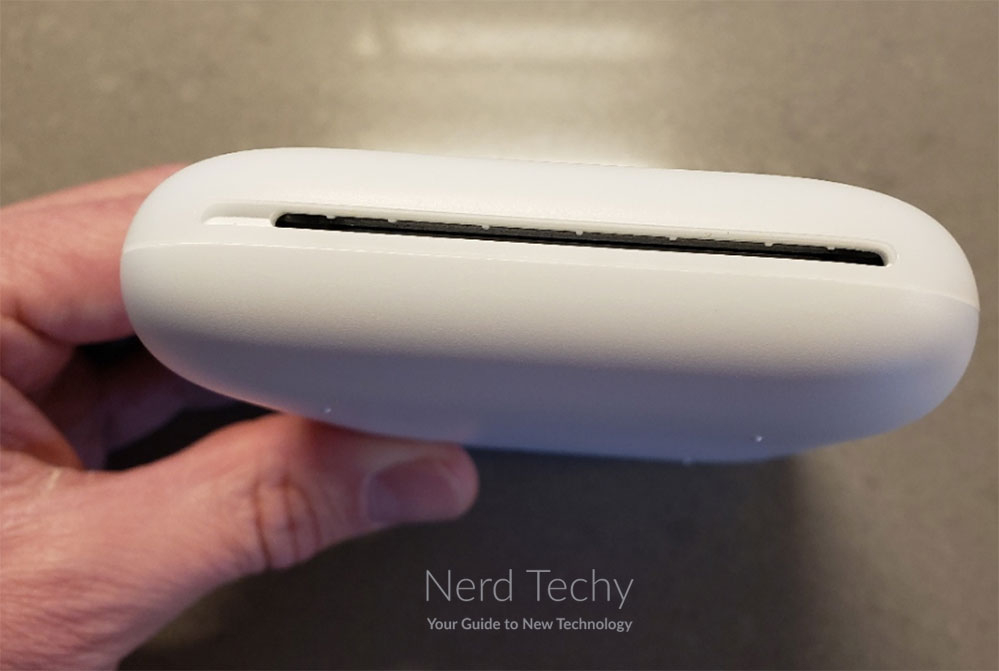 Speaking of scissors, the Pearl is the perfect printer for scrapbookers. Because of the sticky photo paper, it's easy to print your pictures and put them into a scrapbook. You don't have to mess around with glue. Just stick in your photos and any other elements, and apply a clear protective coat. That's almost absurdly simple.
If you want to print larger photos, check out the Liene 4×6" Instant Photo Printer. As the name implies, it creates standard-sized 4" x 6" prints. It also has similar app performance and an intuitive, easy-to-use design. On the downside, it uses an ink cartridge, and it's too large to be easily portable.
Printing Performance
The Pearl prints at a resolution of 300 DPI. That's very good, probably far more density than you need for a tiny 2" x 3" print. Images are surprisingly crisp, even when you hold a photo right in front of your face. Colors are bright and vivid, and come out exactly as they appear within the app. In terms of raw quality, we were incredibly impressed, especially given the low cost of the printer. You'll be able to create beautiful photos that last for years.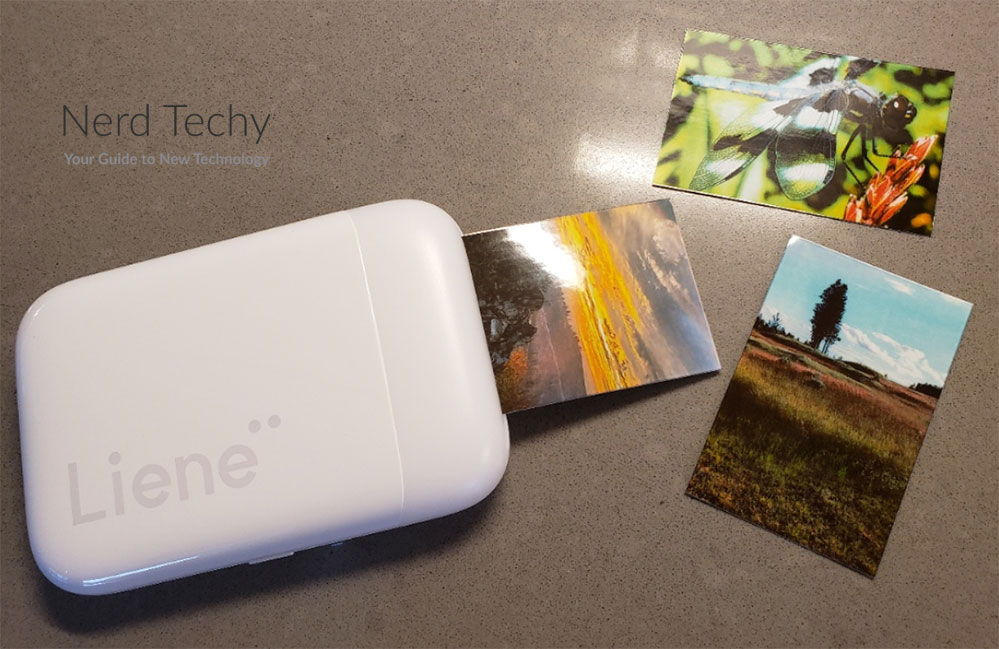 Best of all, each piece of ZINK photo paper has an adhesive backing. Ultimately, every photo that's printed can be stuck like a sticker to any smooth surface. This is a fun, added bonus that most people will really enjoy. Not only does it print high quality photos for the size, each one doubles as a sticker! While they aren't waterproof, the glossy finish gives the prints a professional, vivid appearance.
However, there are a couple of drawbacks you need to be aware of. To begin with, each print takes 45 seconds to complete. That's fairly slow compared to a conventional printer, especially considering the size of the prints. If you're trying to crank out a bunch of photos in a hurry, you're going to be disappointed. For one-off prints or small batches, that's less of a concern.
The other thing to be aware of is that the photo paper requires careful storage. It needs to be stored in an environment between 32 and 77 degrees. It also needs to be kept between 40% and 55% relative humidity. If the storage doesn't meet those requirements, sheets of photo paper can stick together and jam. The temperature requirements are easy enough to meet. Either keep it in your house or don't take it outside when it's hot or freezing. But it's tough to maintain humidity at that level. For this reason, it's best not to open the paper packets until you're ready to print.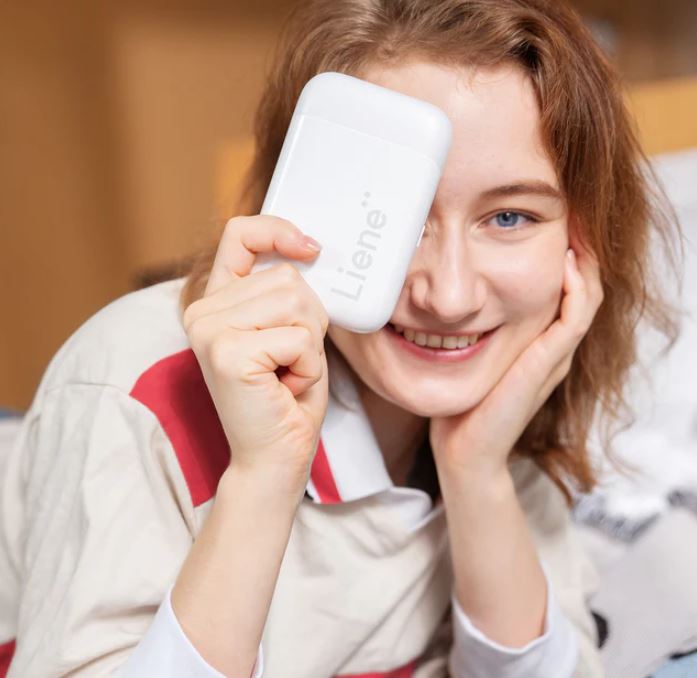 Final Verdict
The Liene Pearl is a high-quality little machine. To begin with, it produces beautiful 300 DPI prints. You'll have as much detail as you could possibly imagine, with beautiful colors. The printing speed might be a bit slow, but the results are well worth it. And with high-quality, sticky-backed photo paper, you'll have the perfect pictures for scrapbooking.
Since the Pearl is a thermal printer, you never need to worry about replenishing any ink cartridge or toner. The ZINK photo paper, although relatively pricey, is the best solution given the incredibly small form factor of the printer.
The app is well thought-out and easy to use. The filters and frames can be fun. But what we most liked about the app was the ability to adjust the brightness, contrast, and other image properties. The physical design also left little to complain about. It's easy to load, easy to charge, and easy to connect. All in all, you can color us pleased. The Pearl is a well-designed, fun printer that anyone can truly enjoy.