Long distance relationships can be challenging, but thankfully, technology is on our side. One such development is the advent of long distance touch bracelets – innovative devices that help bridge the gap between couples separated by geography.
These smart accessories harness the power of technology and connectivity to symbolize a bond that transcends distance. Here's a quick peek at our top three picks for the best long distance touch bracelets for couples:
BOND TOUCH Bracelets are known for their unique touch simulation feature and robust app ecosystem.
TOTWOO Bracelets combine a stylish design with practical tech features, including a secret messaging function.
PULOMI Bracelets stand out with their group connection ability and emergency SOS feature.
Let's take a closer look at each of these unique devices. We explore their key features, functionality, and how they could enhance your long-distance relationship experience. Find out which ones are best suited to your needs.
1. BOND TOUCH Long Distance Touch Bracelets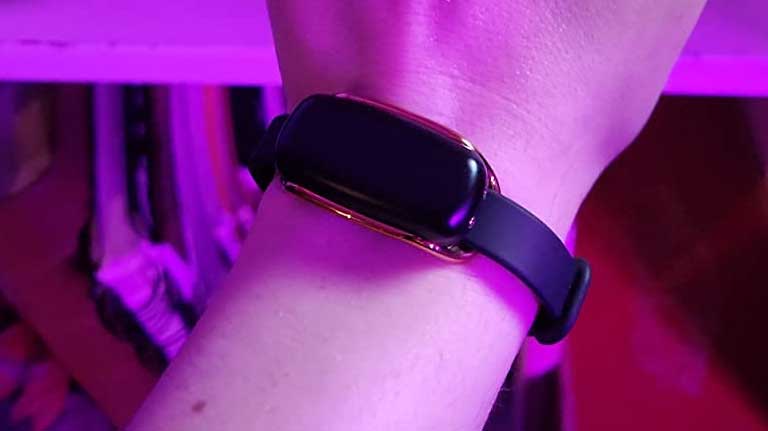 Key features:
Simulates touch with vibrations
Private, encrypted chat space
4-day battery life
Waterproof up to 3 feet
Our recent exploration into the realm of unique relationship gifts has led us to the Bond Touch Long Distance Touch Bracelets. This innovative pair of devices promises to provide a sense of connection and intimacy to couples, regardless of their physical distance. Armed with a multitude of intriguing features, it manages to leave a lasting impression. Weighing in at a negligible 0.53 ounces, each of the sleek, modern-style bracelets easily adapts to any wrist size.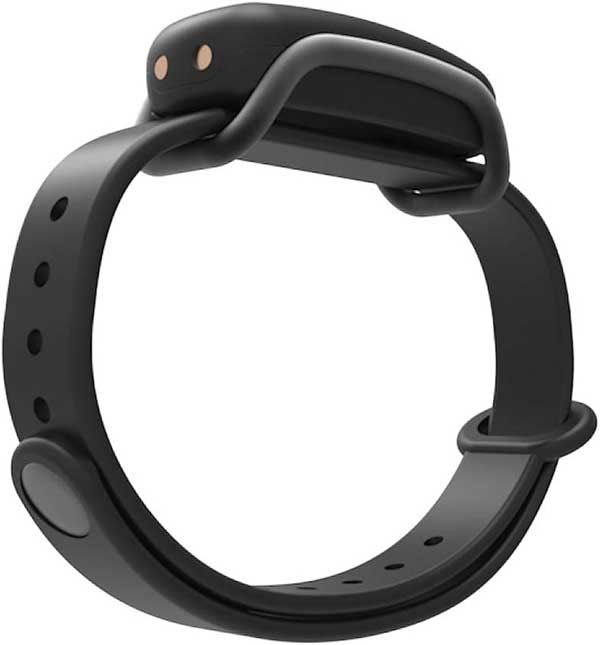 With a minimalist appearance, they embody the ideal blend of aesthetic allure and discreet wearability. And they're comfortable enough to wear for extended periods, as verified by our rigorous testing. The heart of the Bond Touch experience lies in its unique, intuitive interaction design. It recreates the sensation of your partner's touch through gentle vibrations and soft light patterns. During testing, we noted that while there could be a slight delay in transmitting the "touches," it did not significantly detract from the overall experience.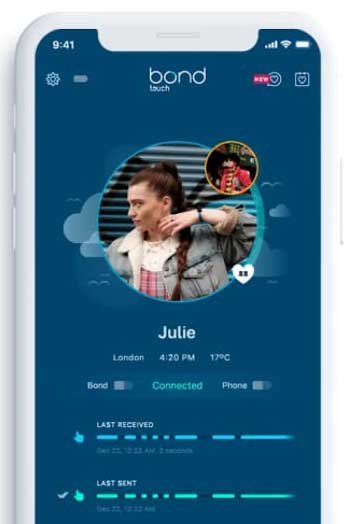 This link to your partner is made possible via the Bond Touch App, available on both Apple's App Store and Google's Play Store. This provides a private chat space for the couple, promising secure encryption for sharing personal moments. Users are also afforded the ability to check past touch history and replay any that hold particular significance.
Moreover, it notifies you when a touch is missed, so you never feel disconnected from your partner. You can look forward to impressive battery life of up to four days, a feature that enhances the bracelet's reliability and convenience. Additionally, Bond Touch offers the flexibility to change accessory bands to match your style or outfit, which is a nice customization feature.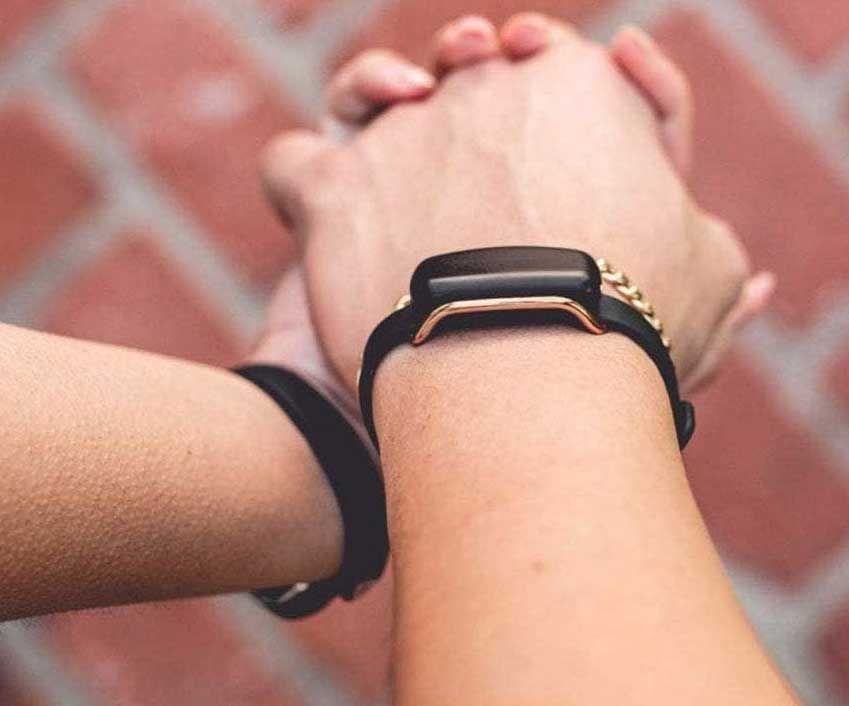 The bracelets are waterproof up to 3 feet, lending to their durability and functionality across various environments. However, we would have appreciated a higher waterproof rating for those more adventurous. Bond Touch Bracelets are more than wearable gadgets; they're a tangible tether between two individuals who want to share a part of their world, even from a distance. While it may not entirely fill the gap of physical separation, it certainly introduces a fresh, intimate mode of connection that's worth exploring.
What we liked:
Lightweight and stylish
Customizable accessory bands
Comprehensive app features
Durable with decent water resistance
What we didn't like:
Super short chargers
Touch transmissions can be delayed
2. TOTWOO Long Distance Touch Bracelets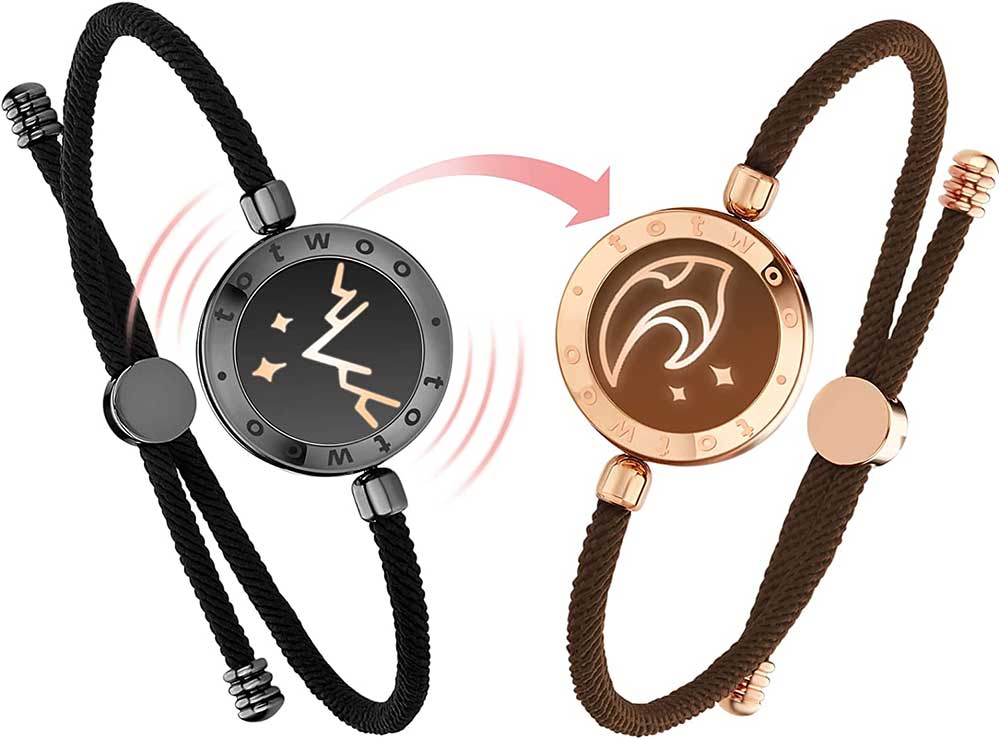 Key features:
Long-distance touch communication
Secret messages through TOTWOO App
Waterproof for daily use
One-hour charge for seven days of use
The TOTWOO Long Distance Touch Bracelets redefine the concept of emotional connectivity. A fusion of smart technology and jewelry, this set of bracelets provides a unique way to communicate feelings and intentions to a loved one, regardless of the miles that separate you.
The moment you unbox these bracelets, you'll appreciate the sleek design, which incorporates elements from Eastern culture – mountain and sea motifs – symbolizing steadfast love. On the reverse side of each bracelet, you'll find a touching quote from Jane Austen, reinforcing the romantic nature of this innovative piece of tech.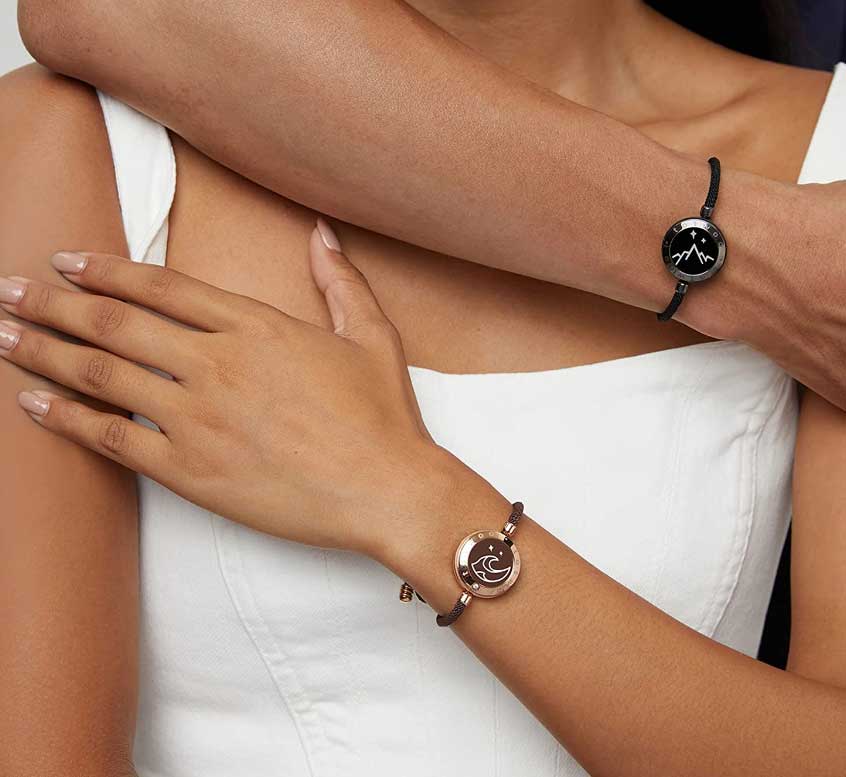 Each bracelet sports an adjustable Milan rope that you can get in a variety of hues. It lends a fashionable touch that blends seamlessly with diverse styles and outfits. But beyond aesthetics, it's the underlying smart technology that sets these bracelets apart. A custom-designed NB16 chip is concealed within the unit. It serves to empower core functionality, making these bracelets much more than stylish accessories.
With a quick tap, a vibration and flash signal the wearer, conveying that their significant other is thinking of them. This feature operated flawlessly during our testing, confirming its role as a unique communication tool. The only caveat is that you need a reliable internet connection, but that's to be expected. Beyond touch signals, the bracelets also incorporate several features through the paired TOTWOO App. The App allows users to send secret messages and love letters that appear when the receiver interacts with their bracelet.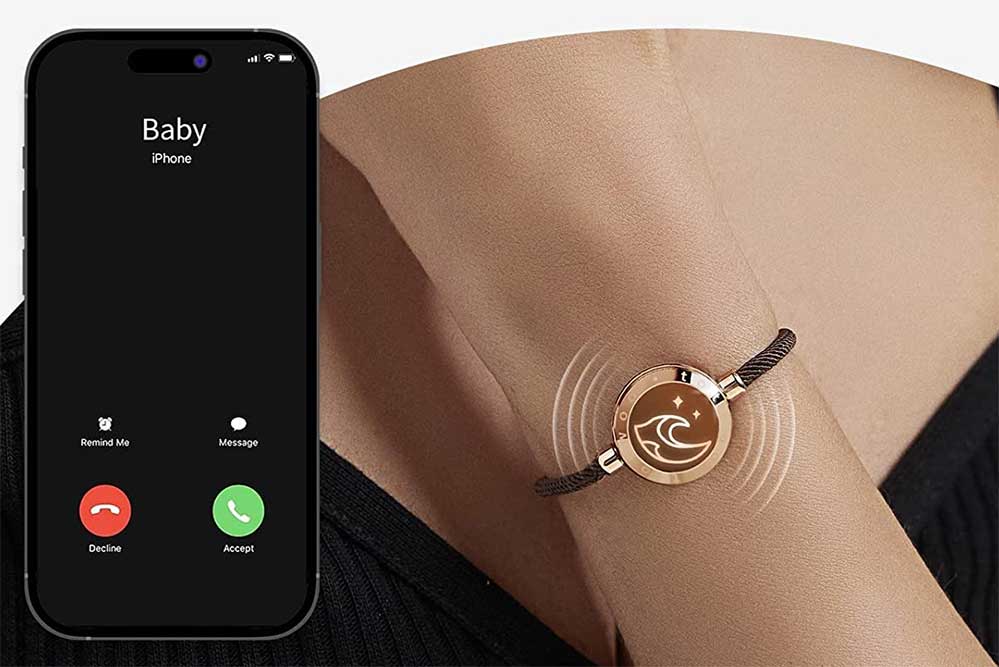 Other functionalities like an Anniversary Reminder and a Call Reminder contribute to making this device an all-in-one emotional communication tool. We were pleased to find that the App even enables private chats, providing an intimate digital space for couples to interact.
The bracelet is reasonably lightweight and unobtrusive on the wrist, measuring 0.75 inches wide and 0.25 inches thick. And although it's water-resistant for daily use, it's not recommended for swimming or bathing. While the bracelets can't be submerged, the fact that they can stand up to day-to-day exposure to water is reassuring.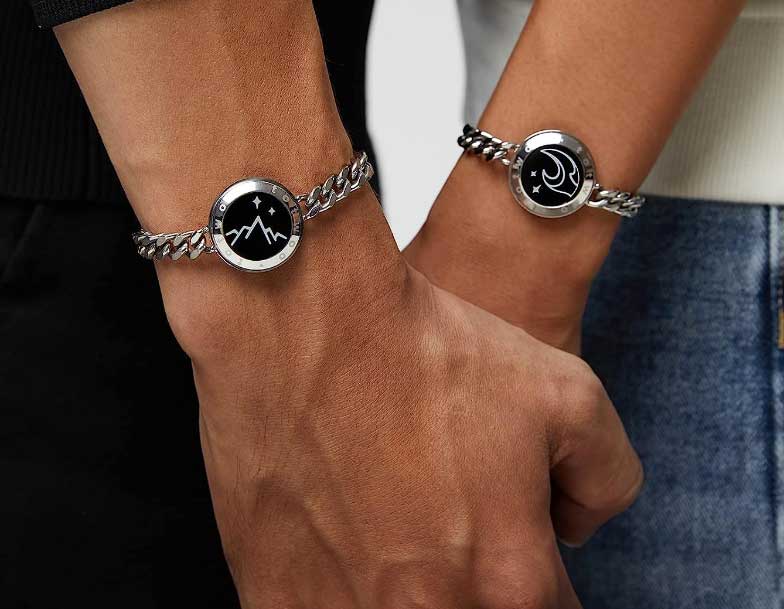 The battery life is impressive, too. A one-hour charge led to about a week of standby use during our testing period with the TOTWOO Bracelet. The included charger was somewhat bulky, but the infrequent need for charging made this a minor issue. While it performs admirably in many ways, it does have a few downsides. The adjustable clasp can be tricky to manipulate, and the bracelet occasionally flips over on the wrist, unintentionally sending signals. But these are minor gripes for an otherwise innovative and thoughtful product.
What we liked:
Sleek design with cultural motifs
Packed with thoughtful features
Strong battery life
Discreet and lightweight
What we didn't like:
Tricky adjustable clasp
Can unintentionally send signals
3. PULOMI Long Distance Touch Bracelets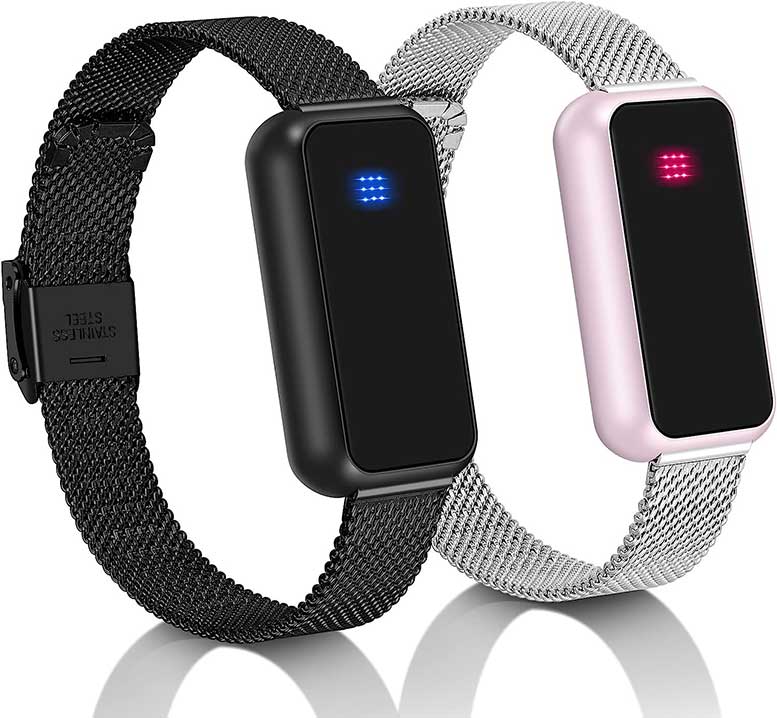 Key features:
Interactive touch and customizable colors
Sends SOS messages in emergencies
Group association for expanded connection
7-day battery life on a single charge
The Long Distance Touch Bracelets from PULOMI offer an affordable new way for loved ones to stay connected despite the miles separating them. This set of two bracelets, available in black and pink, is designed to bring people closer together no matter where they are in the world, presenting a blend of technology and sentiment. What makes these bracelets unique is their interactive feature: a touch from one bracelet is perceived by the other as if you were physically next to each other.

Additionally, you can customize the light colors on your partner's bracelet when you send a touch, providing a personalized communication experience. We appreciate that you have the ability to send an SOS message in case of an emergency. By holding the bracelet for three seconds, a message with your location is sent to the person or persons you have bound to the bracelet. This adds a layer of security to an already appealing piece of tech, making it suitable not only for lovers but also family, kids, and friends. The bracelets facilitate connection beyond two individuals, as well.
You can add countless people to a group, and when the bracelet is touched, everyone in the group receives the signal. This feature broadens the social reach, establishing a community beyond just two. Each bracelet comes with a USB charging line and a user manual. The bracelets have a battery capacity of 50 mAh, providing up to 7 days of use with a single charge. However, they only offer support for minimal waterproofing, meaning they can endure rainy days and hand washing, but cannot be worn while swimming or bathing.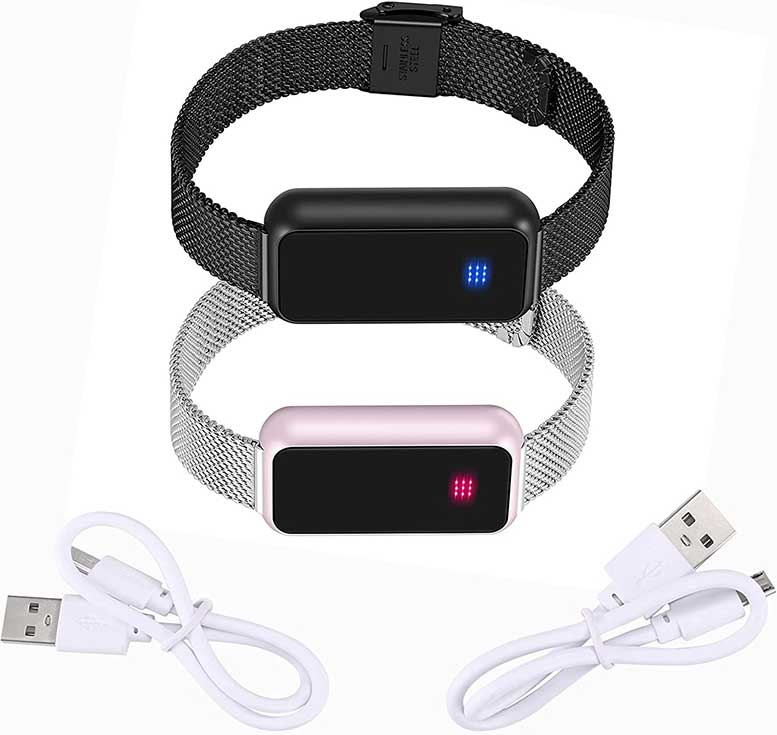 With their sleek, twinkling design, these bracelets are a fashionable accessory, appealing to lovers, families, and friends alike. We did experience some disconnection issues occasionally, as the bracelets need to be connected to an app via Bluetooth. And this isn't always consistent; at least, it wasn't in our tests. Despite the minor hiccups in Bluetooth connection, PULOMI's Long Distance Touch Bracelets offer a unique and endearing way to keep loved ones connected.
What we liked:
Unique personal communication experience
Added safety feature with SOS
Social connection beyond two individuals
Fashionable design
What we didn't like:
Bluetooth connection can be unreliable
Not fully waterproof
Long Distance Touch Bracelets for Couples FAQs
How do long distance touch bracelets work?
Long distance touch bracelets work by syncing to a dedicated app on your smartphone via Bluetooth. When you touch your bracelet, a signal is sent to your partner's bracelet, usually in the form of a vibration or light, letting them know you're thinking of them.
Do long distance touch bracelets need an internet connection to work?
Yes, these bracelets require an active internet connection. While they connect to your phone via Bluetooth, your phone needs to be online to send the touch signal to your partner's bracelet.
Are long distance touch bracelets waterproof?
While most long distance touch bracelets are water-resistant to withstand day-to-day use, like hand washing or exposure to rain, not all are fully waterproof. This means they shouldn't be submerged in water, like during swimming or bathing. Always check the specific product specifications for details.
How long does the battery of a long distance touch bracelet typically last?
Battery life varies between different models and how often they are used. Some bracelets can last up to seven days on a single charge, while others may need recharging after a few days. It's best to check the product details for accurate information.
Can more than two people connect via long distance touch bracelets?
While most long distance touch bracelets are designed for two people, some models, like the PULOMI Bracelets, offer the ability to connect multiple bracelets together. This allows friends, family members, or groups to share in the touch experience.
Can the vibration or light pattern be customized on long distance touch bracelets?
Yes, some of these bracelets allow customization. This feature lets you communicate different types of "touches" or "messages," creating a more personalized communication experience. Keep in mind, though, that the availability and extent of this feature depend on the specific model and the capabilities of the accompanying app.
What kind of smartphone do I need for a long distance touch bracelet?
Long distance touch bracelets generally require a smartphone with Bluetooth connectivity and the ability to download the specific app associated with the bracelet. Most of these apps are compatible with both iOS and Android systems. That said, you'll want to check the specifics of the bracelet you're interested in, as some may have additional requirements.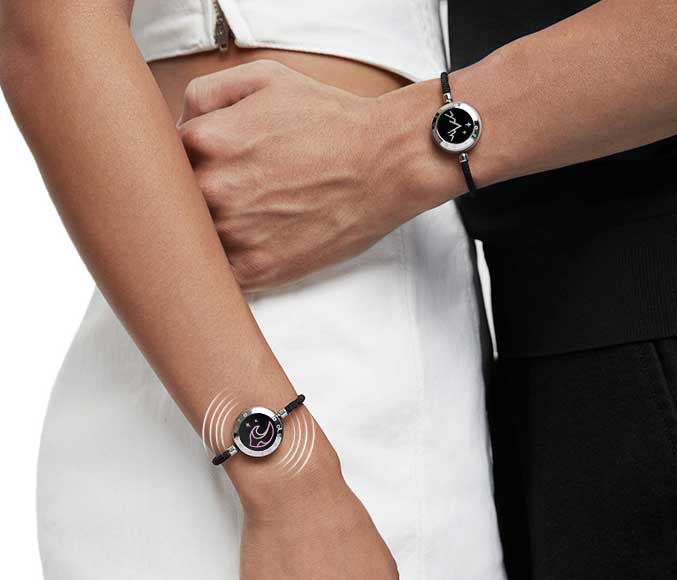 Final Verdict
When it comes to the best long distance touch bracelets for couples, each of our top picks offers something unique.
The BOND TOUCH Bracelets stand out with their balance of fashion and function. The intuitive interaction design that simulates touch and the private chat space provided by the accompanying app makes it a clear winner.
The TOTWOO Bracelets, meanwhile, marry smart technology with a unique, Eastern-culture-inspired design. Their secret message feature and the ability to send love letters through the app make them a compelling choice for couples seeking a more romantic, personal touch.
Finally, PULOMI Bracelets shine with their group connection feature and emergency SOS function. This makes them a versatile pick, suitable not only for romantic relationships but also for keeping friends and family members connected.
Ultimately, the best long distance touch bracelet depends on your personal preference, relationship needs, and lifestyle. Regardless of which you choose, these bracelets offer a novel, intimate way to feel closer to your loved ones, no matter how far apart you may be.