Overall Design -

8.5/10

Build Quality -

8.5/10

Versatility and Control -

9/10

Battery Life -

7.5/10
Summary
Hohem's iSteady XE smartphone gimbal stands out as a high-quality device that combines ease of use, versatility, and top-notch performance. Despite minor drawbacks related to specific smartphone models and the additional purchase for the magnetic fill light, the iSteady XE undoubtedly offers excellent value for money. Its extended battery life, impressive payload capacity, automatic balancing feature, and versatile control system make it a highly attractive option for both beginners and experienced videographers.
Pros
Remarkably lightweight and compact
Highly versatile control system
Impressive payload capacity
Extended battery life
Cons
Motor may appear in footage with specific phone models
Magnetic fill light not included
Modern smartphones have effectively taken the place of everything from cameras and camcorders to studios and editing software. Companies like hohem have taken notice and developed some pretty compelling hardware to accommodate the creator in you.
Today, we're exploring all that the iSteady XE smartphone gimbal has to offer. This remarkably lightweight yet powerful tool promises enhanced video stability and creativity. Does hohem equal a winner, or is it more like ho-hum? Let's dive into our detailed analysis and find out!
First Impressions
At first glance, the iSteady XE gimbal is a work of art in the realm of phone stabilizers. It comes in an appealing design with impressive build quality. In short, it looks sturdy and professional yet remarkably lightweight. Surprisingly, it weighs just 0.57 pounds (or around 258 grams), making it one of the lightest phone gimbals on the market. This weight, combined with its compact size of 7.05 x 3.11 x 1.54 inches and foldable feature, makes it easy to carry around in a pocket or bag (included).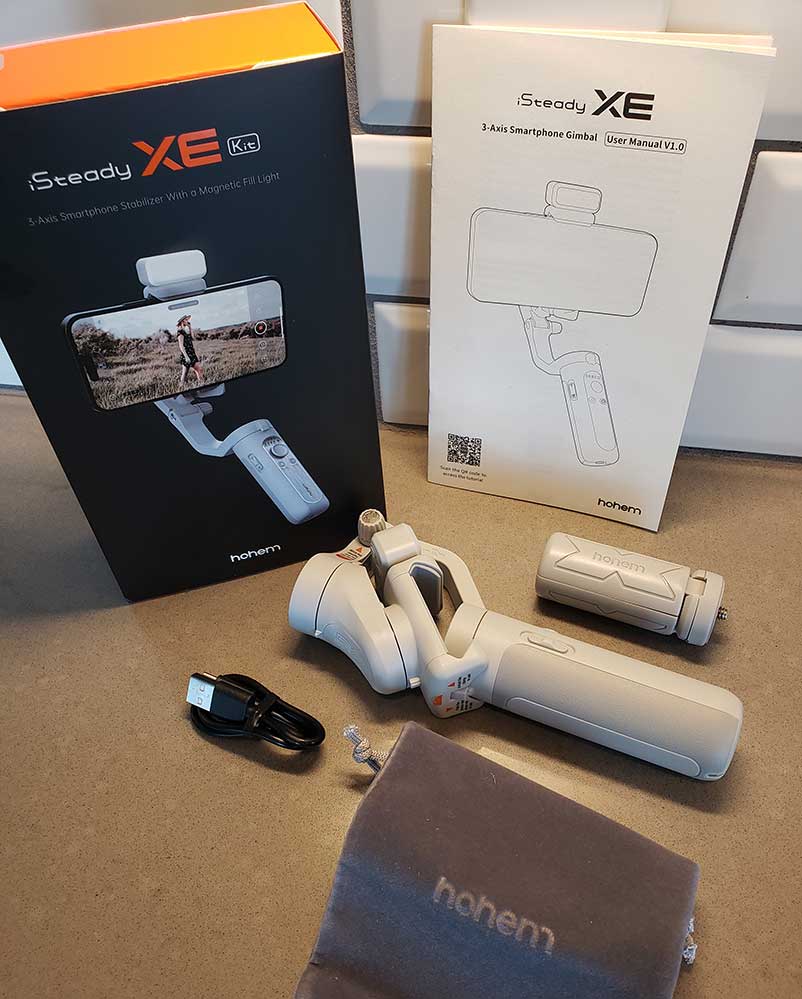 In its folded state, the gimbal dimensions are identical, making it as compact as a smartphone. Folding the gimbal is a one-step operation, so you're not going to be fumbling around to pack this tech with your gear. Also immediately evident are the buttons that adorn the handle. If you've ever used a Nintendo Wii or PlayStation Move controller, you will be right at home with the iSteady XE.
Setup and Operation
The setup process and operation are both straightforward, making it an excellent choice for beginners and experienced users alike. For the initial setup, we used an iPhone 14 Pro Max, which fit snugly within its stretchable range of 2.17 to 3.54 inches.
During setup, the gimbal's ability to automatically balance itself stood out. This removes the often tedious process of manual balancing seen in other gimbals, saving users precious time and effort. Hohem also includes an additional tripod attachment for even more stability and convenience.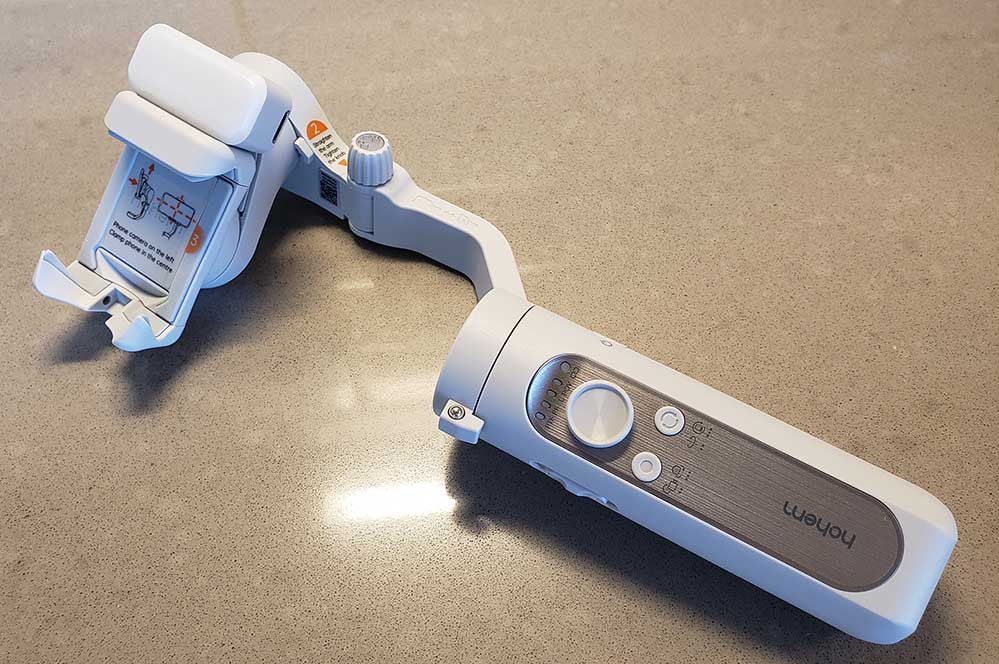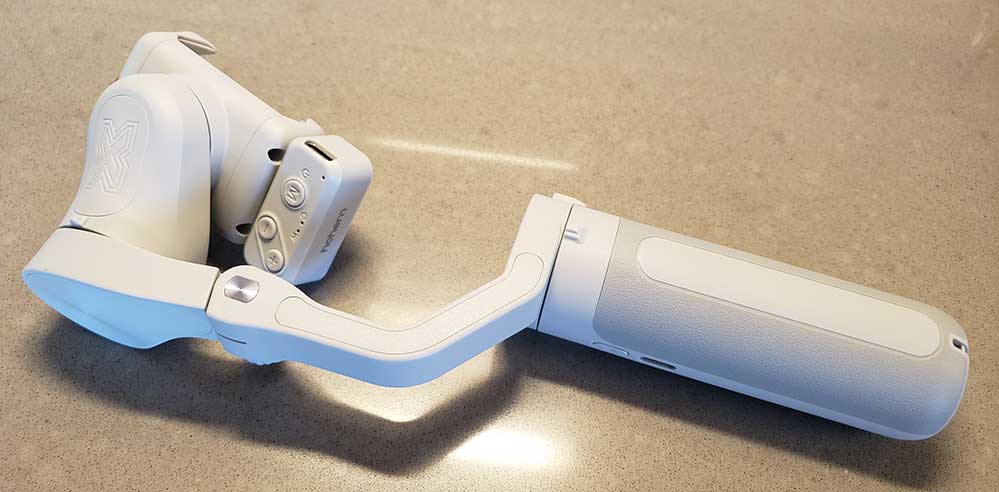 Operating it is equally intuitive. Powering up the gimbal simply involves pressing and holding the M Button for three seconds. Once activated, the device connected swiftly and seamlessly to the hohem Joy App via Bluetooth. This app serves as the control hub for the gimbal, offering a range of creative shooting templates and convenience features.
The App is easy to navigate, and it unlocks a host of features for you to play with, such as gesture control and active tracking. Gesture control allows users to start or stop video recording with a simple hand gesture, a valuable feature when filming solo.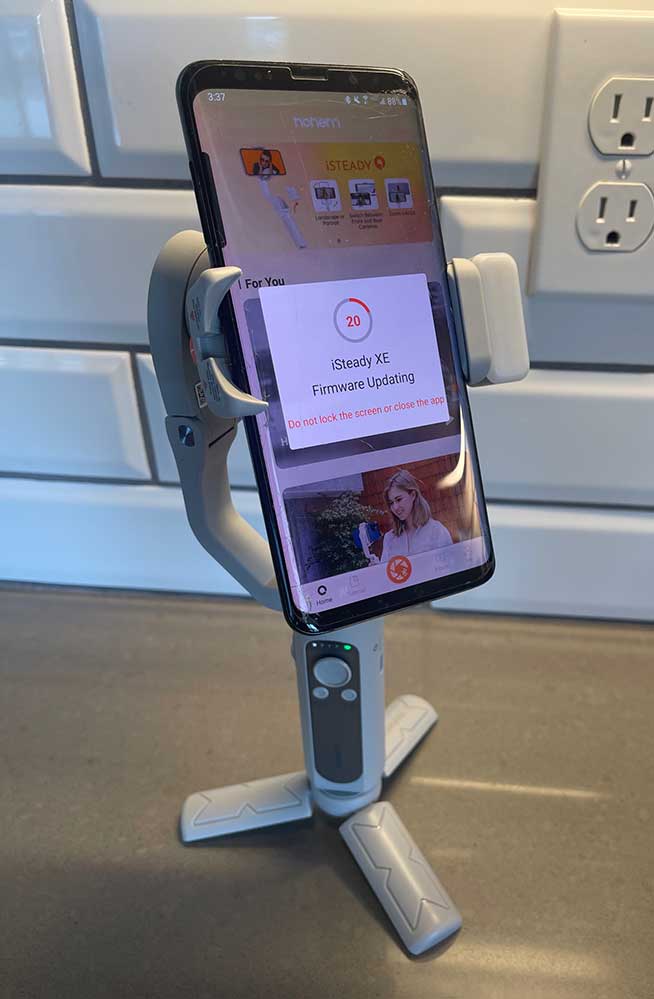 Meanwhile, active tracking enables the gimbal to automatically follow a moving subject, ensuring the target stays in the frame and in focus throughout the shoot. That alone makes this a highly versatile tool that caters to a wide array of filming scenarios and user needs.
How It Works
There's a lot of advanced technology in the compact form factor. For starters, it employs iSteady 7.0, a 3-axis stabilization system that allows a generous range of motion across all axes (pan, roll, and tilt) up to 320° each. Let's see how this and other features work.
Gimbal Control and Functionality
Upon successful pairing, the M Button also functions as a mode switch, letting you navigate through various working modes like Pan Follow, Pan & Tilt Follow, All Lock, and POV (Point Of View) mode with a single press. It also enters the standby mode upon pressing the M Button twice and initiates auto-calibration when pressed five times.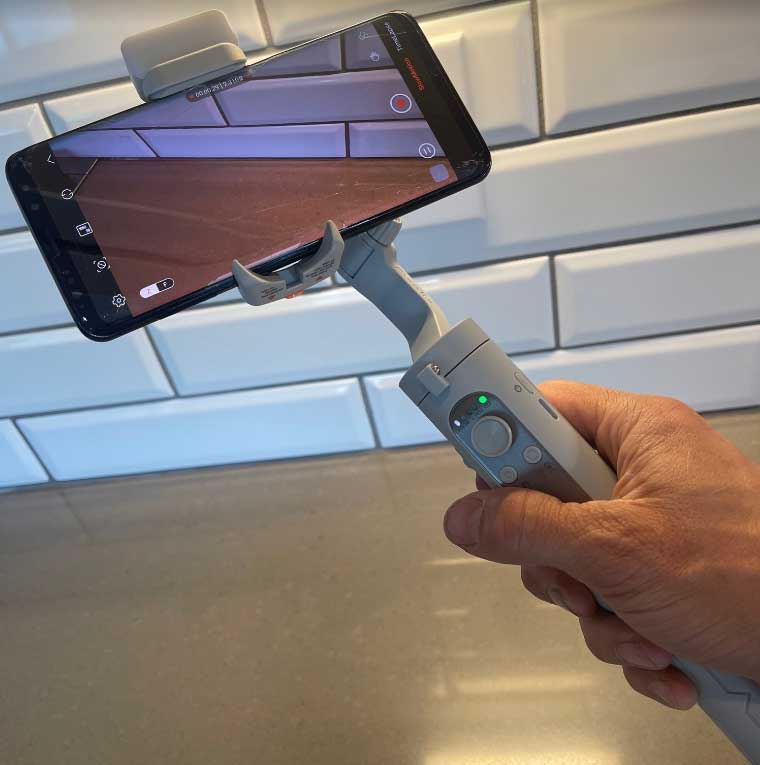 The gimbal offers a versatile control system with its multi-functional Joystick and Zoom Slider. The Joystick is designed to manage the Pan and Tilt rotation, while the Zoom Slider helps you zoom in and out during your shoot. The slider function is accessible via the App. The Joystick works well in allowing you to adjust the position, and it's pretty fun to use. This is where your gaming experience will kick in if you've used motion-controlled hardware in the past.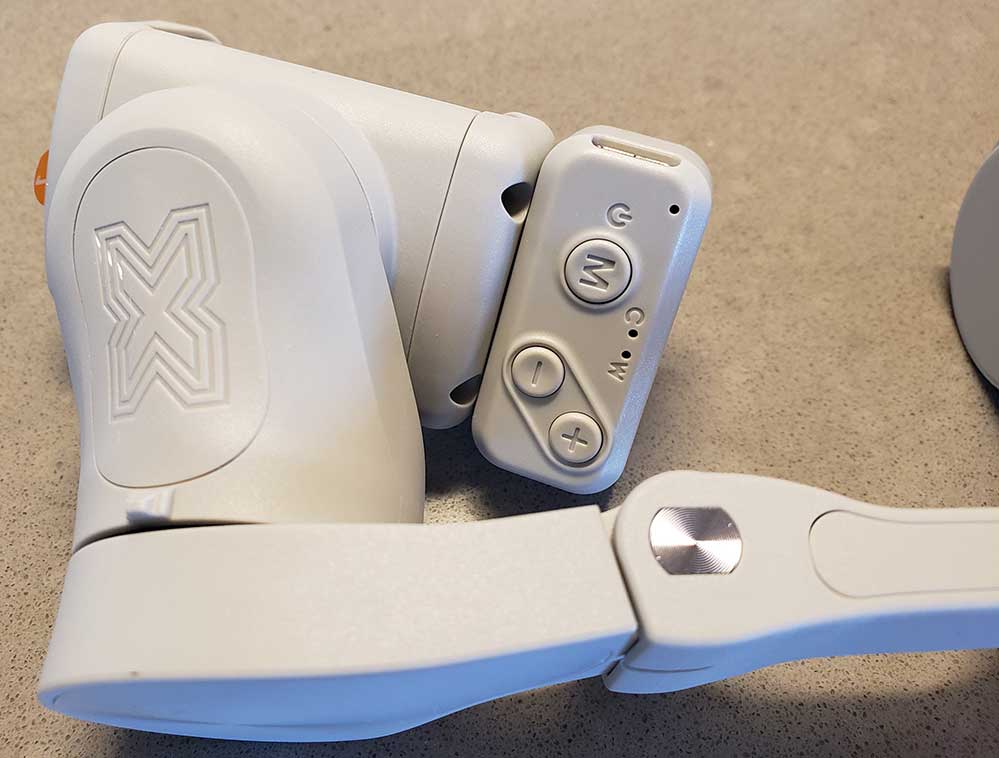 It feels very familiar in that regard. But even if this is your first time using such a device, the learning curve is minimal. We commend hohem for developing a user-friendly system. Nothing is even close to being complicated, so its versatility and control are high. We appreciate how accessible everything is, and the buttons on the handle are comfortably positioned for easy operation. After you've spent some time with it, you should have no issues controlling it without looking down at the buttons.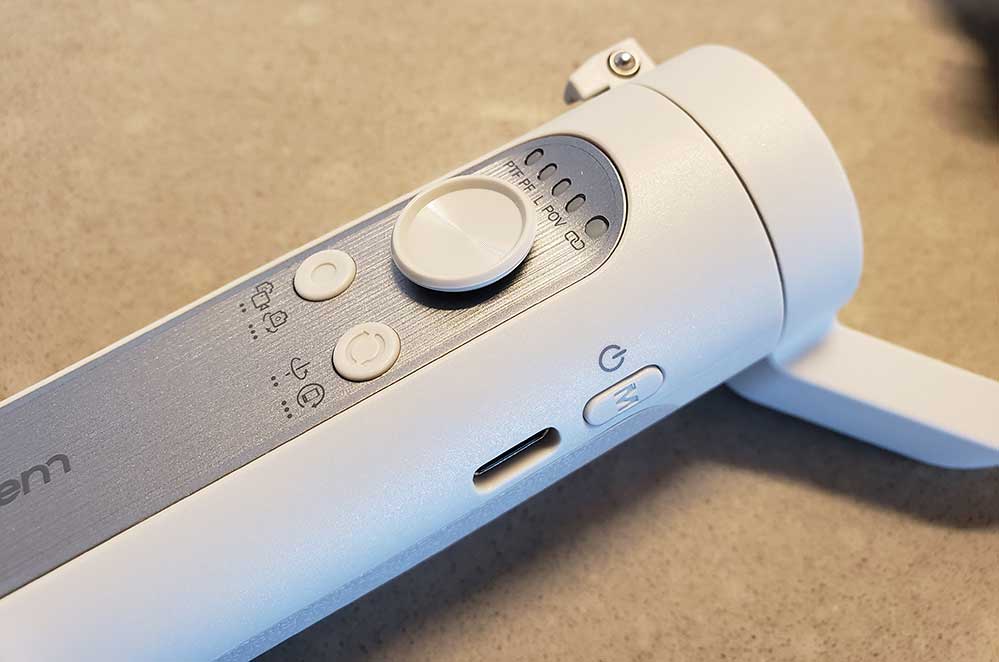 The Shutter Button provides additional convenience to the user. A single press captures a photo or starts/ends a video. You can switch between photo and video modes with a double press or switch the camera (front to rear or vice versa) with a triple press. The Function Button, another crucial feature, lets you switch between landscape and portrait mode (single press), re-center the gimbal (double press), or activate the 180° Inception Mode or spin shot (triple press).
Magnetic Fill Light
While not included with the base model, hohem offers a magnetic fill light that can be adjusted to suit various lighting conditions. If you're about the content you capture, you'll likely want to invest in it.
Once connected, long-pressing the M Button toggles the fill light's power while a single press cycles through cold, warm, or natural white light. You can adjust the brightness in ten levels using the Plus and Minus buttons. The Fill Light Indicator shows which light is in use: C (cold), W (warm), or both for natural white light. The Power Indicator displays the fill light's charge status.
Tracking and Follow-up Shooting
When it comes to tracking, the iSteady XE truly excels. We put the gimbal's face and object-tracking capabilities to the test using the App. The stabilizer exhibited impressive precision in following moving subjects, ensuring they remained the focal point of the footage. During a softball game, the gimbal's tracking performance was remarkable.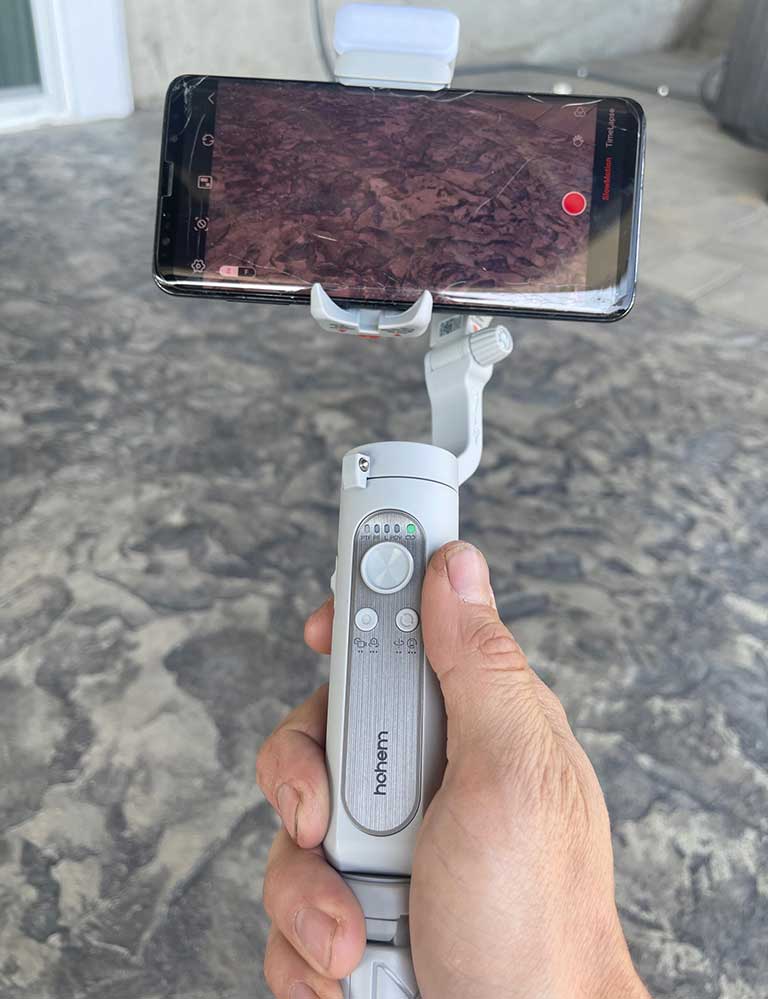 It managed to stay focused on the fast-paced action, maintaining smooth and stable footage throughout. It's a welcome feature, to be sure, and its uses are virtually limitless. From recording weddings to capturing treks in nature, the XE stands tall as a capable addition to any creator's repertoire. If you want to record smooth videos without the dreaded camera shake, this innovative device will serve you well.
Motor Performance and Payload Capacity
The XE's upgraded motor performance and payload capacity are certainly worth discussing in more detail. With a significant 30% increase in motor power compared to the previous X series, the XE is capable of delivering enhanced stability and smoother movements. This means the gimbal can effectively manage sudden movements and rapid panning while maintaining the optimal stability required for professional-quality footage.
Its payload capacity is equally impressive. It can comfortably handle a payload of up to 0.62 pounds (approximately 280 grams), which accommodates a variety of smartphones, from lightweight models to heavier ones like the iPhone 14 Pro Max. This makes it a highly versatile tool suitable for different filming needs, whether you're using a smaller, more compact smartphone or a larger, more advanced one.
What is noteworthy here is how the gimbal performs when it's loaded to its maximum capacity. During our testing, even when fitted with the iPhone 14 Pro Max, which was the heaviest phone in our test, the iSteady XE did not falter. It operated smoothly and maintained its performance level, demonstrating that it can effectively handle its maximum payload without compromise.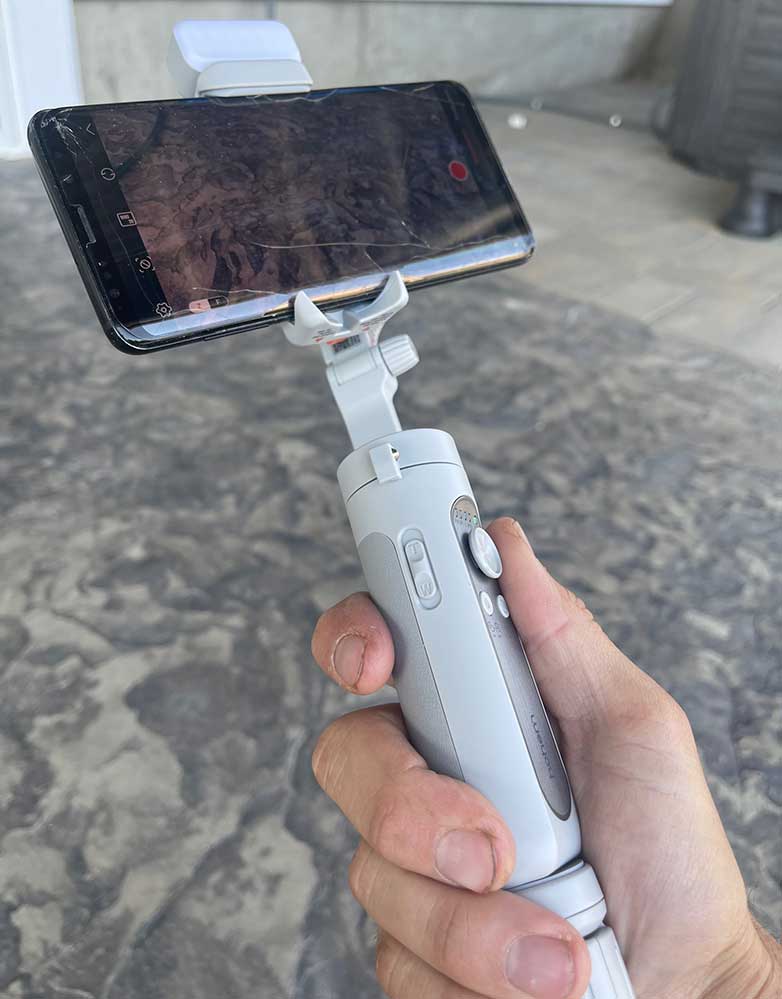 Battery Life
Despite its compact size, the iSteady XE houses a 3.7V 2000mAh battery capable of supporting up to 8 hours of operation on a single charge. To fully recharge it, you'll need to plug it in for about 2 hours.
The 8-hour claim was verified in our tests, where it held up impressively, even under heavy use that included video recording, object tracking, and constant movement. This extended battery life is beneficial for users who need long-lasting performance throughout the day, whether for professional shoots or capturing travel experiences.
Smartphone Compatibility
Compatibility is high, with a wide array of smartphones supported by the gimbal. It can comfortably support devices with thicknesses of up to 11 millimeters. In terms of width, it can accommodate phones ranging from 55mm to 90mm wide. This makes it an extremely versatile tool, able to accommodate a variety of popular smartphone models from different manufacturers.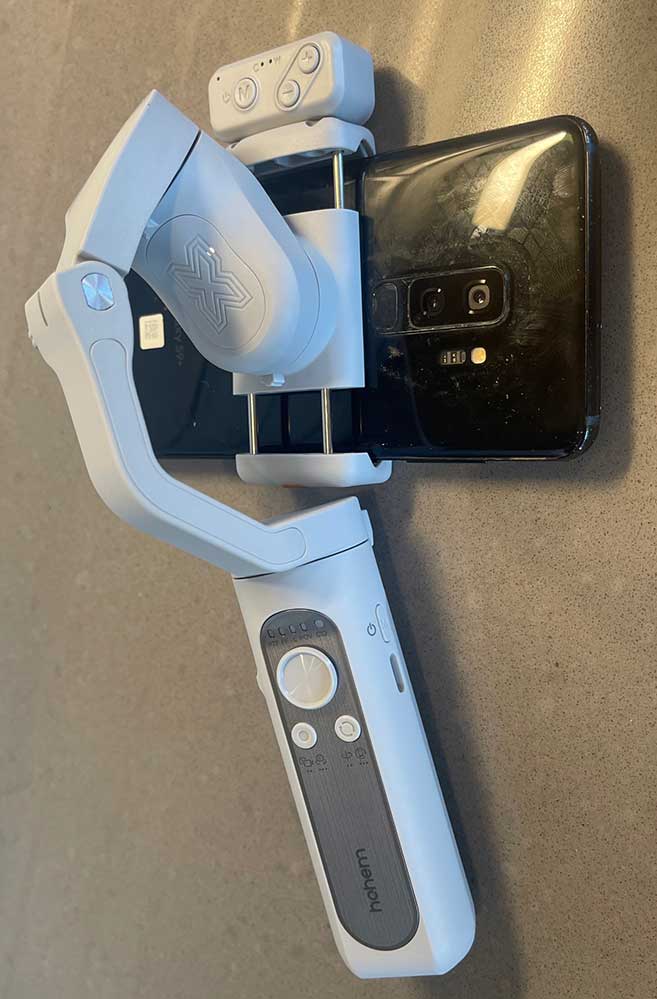 It's worth noting that for certain phone models, such as the Xiaomi Mi 10, Xiaomi Mi 10 Pro, and Xiaomi Mi CC9 PRO, where the camera is placed in the middle of the phone, the motor of the gimbal may appear in the footage due to the wide-angle lens. This is not a performance issue but a physical limitation due to the positioning of the camera lens on these specific phone models. Hohem provides a detailed spreadsheet of phone compatibility, so you can check to see whether yours works with it.
Thankfully, this is a highly compatible gimbal that can cater to a wide range of smartphones. Regardless of your device's size or operating system, you'll likely find the XE to be a compatible and reliable option for enhancing your videography. Moreover, the Joy App is compatible with both Apple and Android devices, so you shouldn't have any trouble getting it up and running.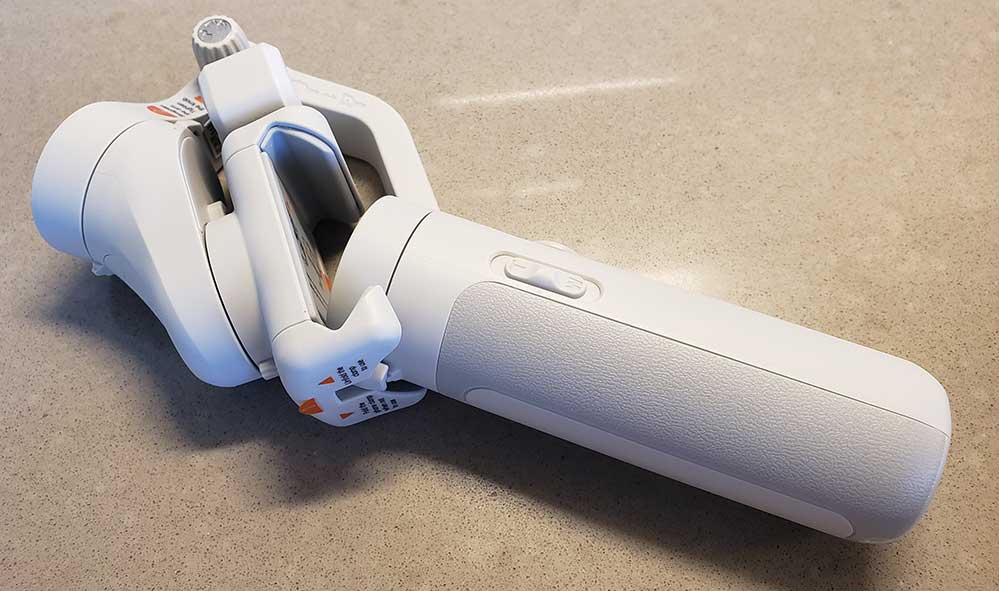 Final Verdict
Hohem's iSteady XE smartphone gimbal stands out as a high-quality device that combines ease of use, versatility, and top-notch performance. Despite minor drawbacks related to specific smartphone models and the additional purchase for the magnetic fill light, the iSteady XE undoubtedly offers excellent value for money.
Its extended battery life, impressive payload capacity, automatic balancing feature, and versatile control system make it a highly attractive option for both beginners and experienced videographers. Whether you are capturing your travel memories, shooting a professional film, or simply making everyday videos, this is a worthy investment for smooth, stable, and creative footage.