If you're looking for a cost-effective solution to keep pets or livestock from venturing off your property, a solar electric fence charger is worth your consideration. Today, we're offering comprehensive reviews of the best options available. Here's a quick overview of our top picks:
We tested each charger thoroughly, taking into account its performance under various weather conditions and in different settings. Read on as we delve into the finer details of each product, providing the information necessary to make an informed decision for your fencing needs.
Zareba ESP5M-Z Solar Electric Fence Charger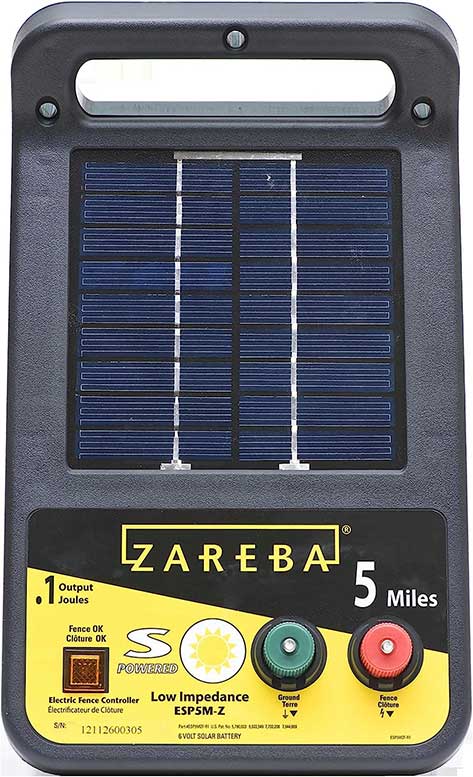 Key features:
Solar-powered for up to 5 miles
Built-in mounting bracket for versatility
360-degree rotation for optimal sun exposure
Operates up to 2 weeks without sunlight
The Zareba ESP5M-Z Solar Electric Fence Charger demonstrates impressive utility, making it an ideal addition for livestock containment and predator deterrence. One of its main strengths lies in its solar energy utilization. It effectively turns sunlight into a reliable source of energy for up to 5 miles of fencing under ideal conditions. But this becomes problematic if there's thick brush nearby. Our output got reduced to approximately 2.5 miles in areas with light weeds.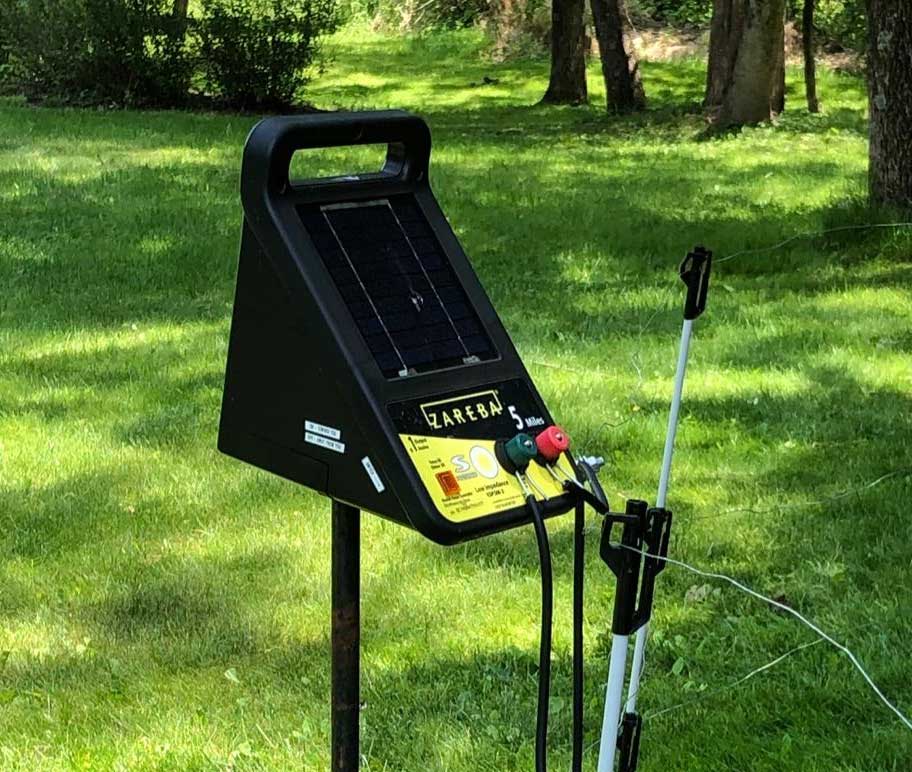 The power collected by its built-in solar panel offers longevity, as well. You can expect to get up to 2 weeks of operation, even in the absence of sunlight. It also exhibits versatility in installation options, with a built-in mounting bracket that's compatible with T-posts, round-wood posts, and Y-posts. We like how the charger takes advantage of a patented 360-degree rotation feature. It enhances solar exposure by allowing the charger to follow the sun's path throughout the day, which is a huge plus over many other models.
We put the ESP5M-Z to the test in a remote area, where it was exposed to the elements. There, we assessed its performance in keeping livestock contained while deterring potential predators. It proved itself to be both reliable and efficient. It's also well-built and durable. The American-made unit weighs a manageable 5.8 pounds and measures 7.9 x 7.9 x 15 inches. Its robust casing testifies to its durability, standing up well to environmental conditions.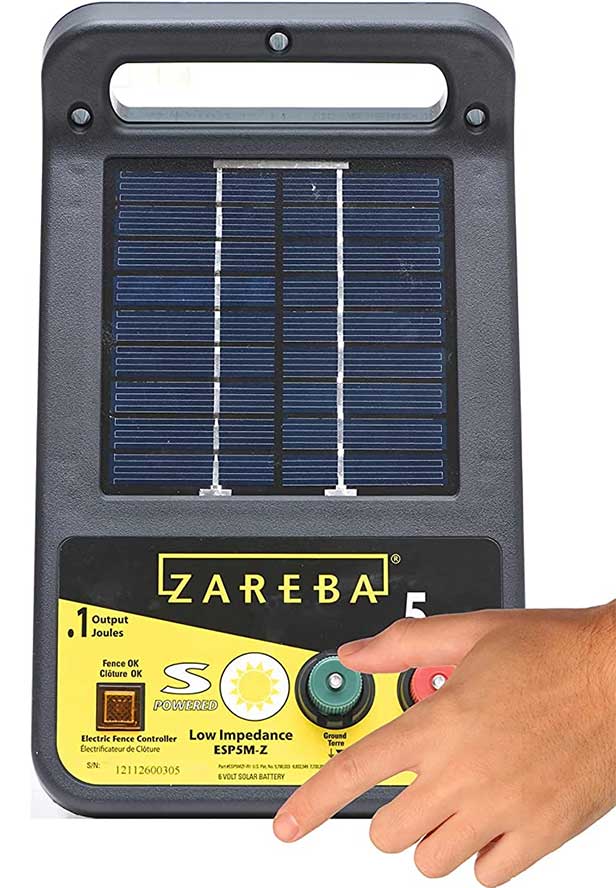 We also appreciate its user-friendliness in installation. It features easy-grip terminals for a straightforward setup. The inclusion of a "Fence OK" light is a nice addition, too. This feature allows for quick, simple checks on the fence's status and solar power flow. All things considered, Zareba's ESP5M-Z offers a reliable, sustainable solution for electric fence energizing, bringing a much-needed blend of functionality and convenience.
What we liked:
Solar energy utilization for sustainability
Long-lasting operation in sunlight absence
Versatile installation and positioning
Reliable livestock containment and predator deterrence
What we didn't like:
Reduced coverage in weedy areas
Shocks are pulsed rather than steady
Gallagher S12 Solar Electric Fence Charger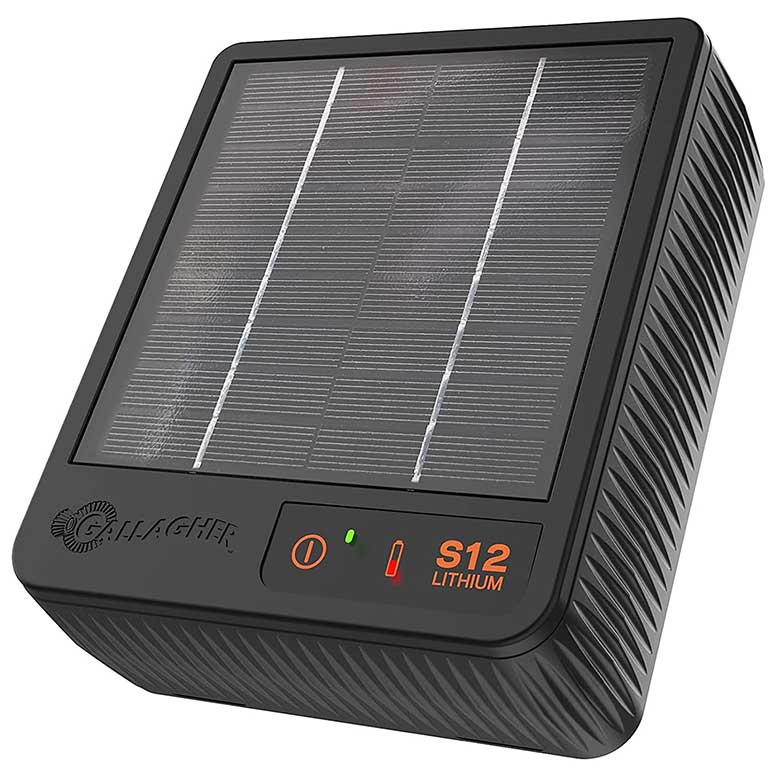 Key features:
4 miles of electrification
Built-in solar lithium power
Portable and durable design
Unique earth mounting system
Next is Gallagher's S12 Solar Electric Fence Charger. It's a small yet mighty device, delivering commendable efficiency and dependability for various fencing needs. Given its compact and portable construction, it measures just 5.7 x 5 x 6.7 inches and weighs 2.4 pounds. Yet it exhibits prowess by powering as much as 4 miles of fencing, efficiently enclosing approximately 18 acres. We tested it in various weather conditions, and it was particularly impressive how well it handled lower light conditions.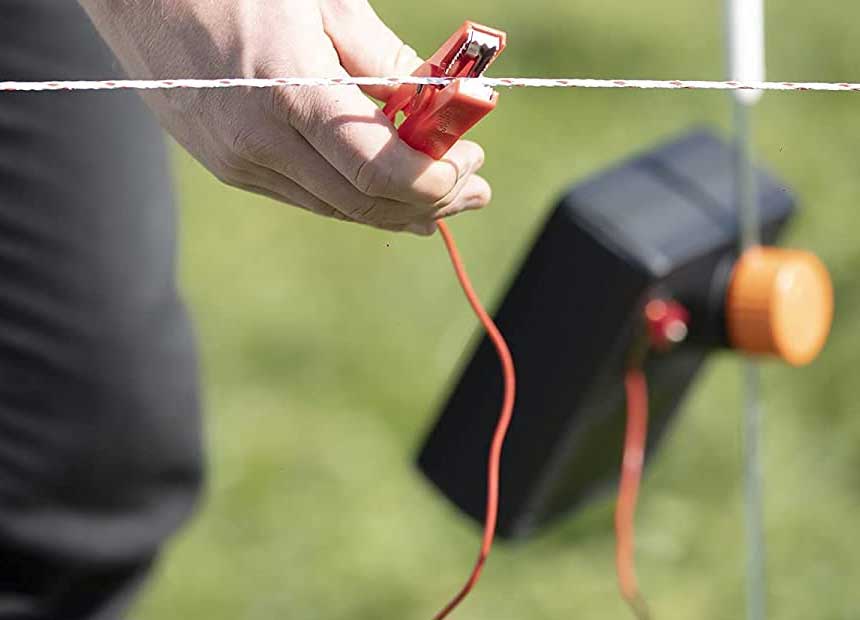 Thanks to Gallagher's high-efficiency solar panel and lithium battery, the charger proved its reliability even during gloomy days. This is notable, as it affords the user set-it-and-forget-it operation. As a result, you can expect uninterrupted power 24/7. That's a critical factor when you require constant pasture management. Moreover, its portability is equally advantageous. The S12's compact design and quick and easy installation allow for ease of relocation – an optimal choice for strip grazing.
Having both a solar panel and an internal lithium battery give the charger self-sufficiency, thus eliminating the need for a separate power source or constant battery replacements. One interesting aspect of this entry is its earthing system. It can be mounted directly onto a post or metal rod up to 0.5 inches thick, which subsequently acts as the grounding system. This design makes installation even simpler, doing away with an additional grounding lead.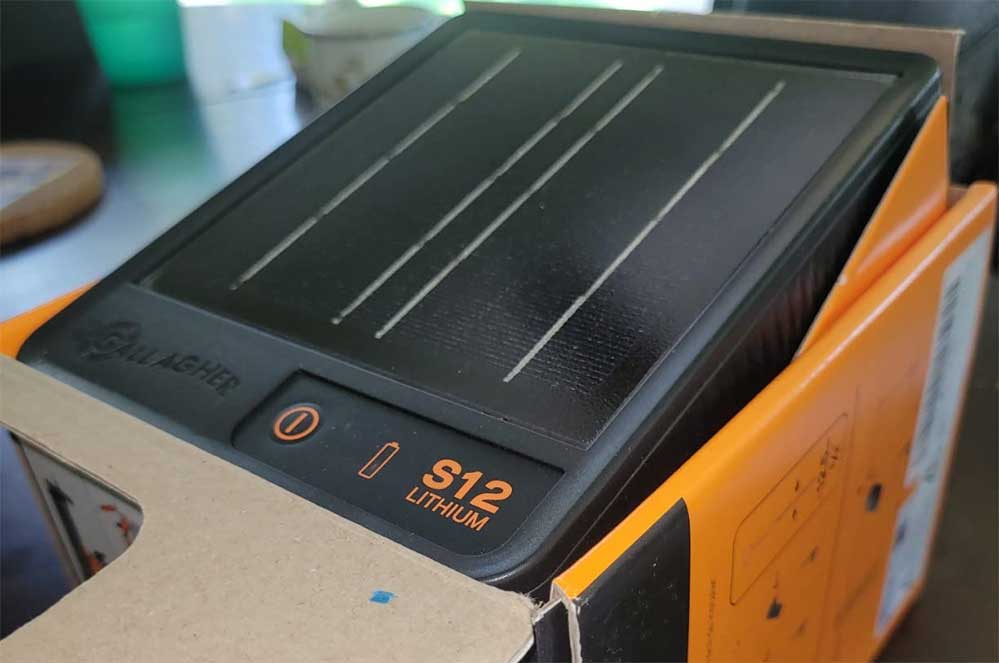 These are all welcome additions. And yet, the S12 is not without its imperfections. While its solar charging capability is impressive, it lacks a clear battery level indicator. Without it, assessing the remaining charge can be a bit of a guessing game. That caveat aside, the S12 Solar Electric Fence Charger stands out as a reliable and durable device, living up to Gallagher's reputation for high-quality products.
What we liked:
Uninterrupted power supply
Excellent in low-light conditions
Compact and easy to move
No separate ground lead required
What we didn't like:
Lacks clear battery level indicator
No alternate charging option
FenceMate Solar Fence Charger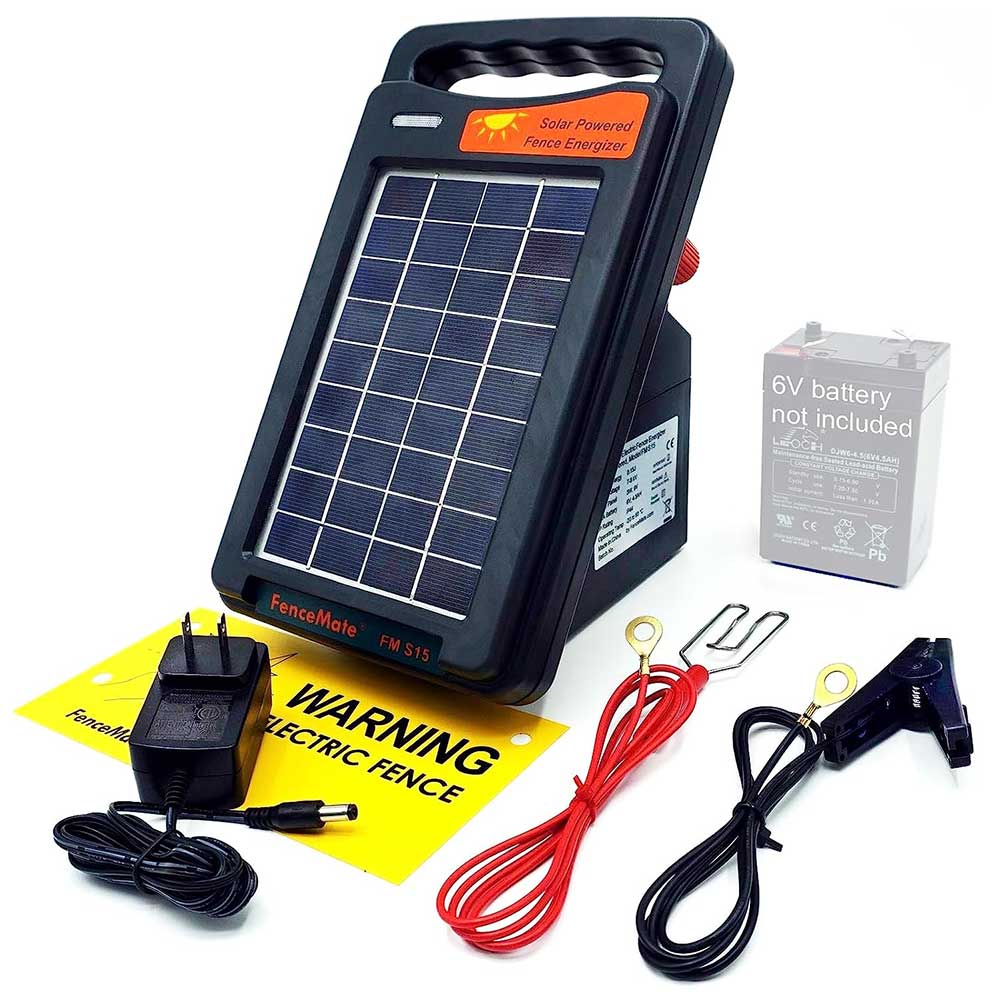 Key features:
Solar-powered with built-in 3W panel
Flexible and easy installation on various posts
Suitable for various fence materials
Able to energize up to 2 miles of fence
In our testing, FenceMate's Solar Fence Charger offered an appealing mix of functionality and flexibility. For starters, it's compact, measuring 11.42 x 7.48 x 7.87 inches and weighing 3.73 pounds. It's intended for various applications that include the containment of pets and small animals, seasonal grazing of livestock, and even backyard or camp fencing.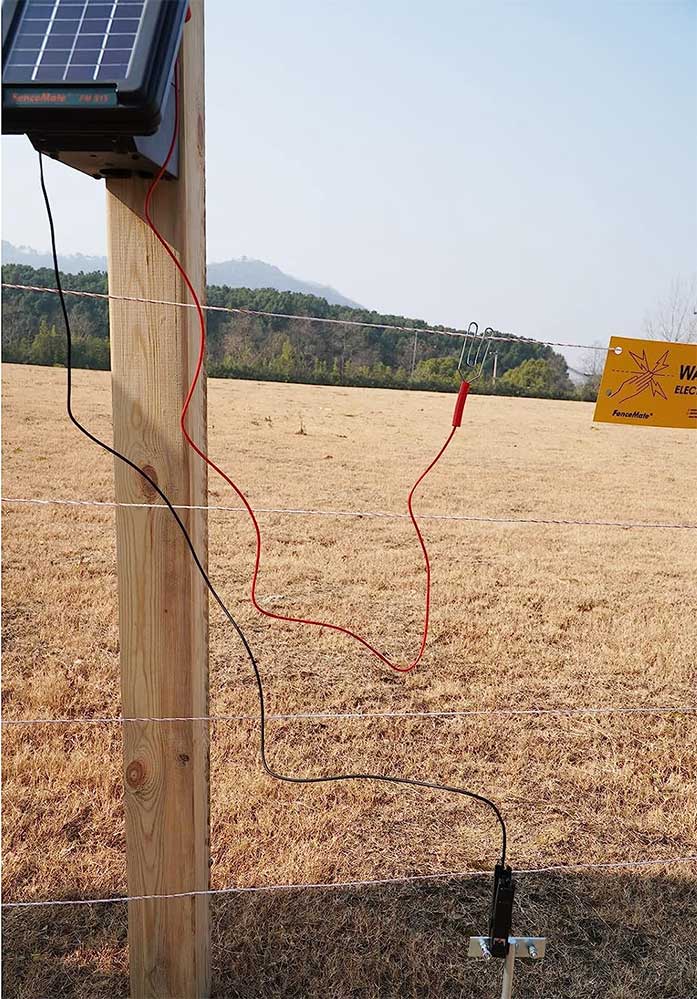 Its "all-in-one" structure showcases a built-in 3-watt solar panel that delivers continual power, even in overcast or rainy conditions. And during periods of extended inclement weather, the inclusion of an AC/DC adapter allows for quick charging. This provides reliability in diverse weather scenarios. However, it's important to note that a 6-volt lead acid battery, which is essential for operation, is not included. While such a battery will only set you back a mere $12 to $15, it's still an added expense that we would prefer not to be in a charger of this caliber.
One commendable aspect is the adaptability, courtesy of its flexible erection system. The device can be positioned on various types of posts, including T- and Y-posts, or even walls with a separate kit. This results in a versatile option for diverse fencing requirements. Also, it can connect with multiple fence materials like wire, braid, tape, or rope, so it's widely applicable.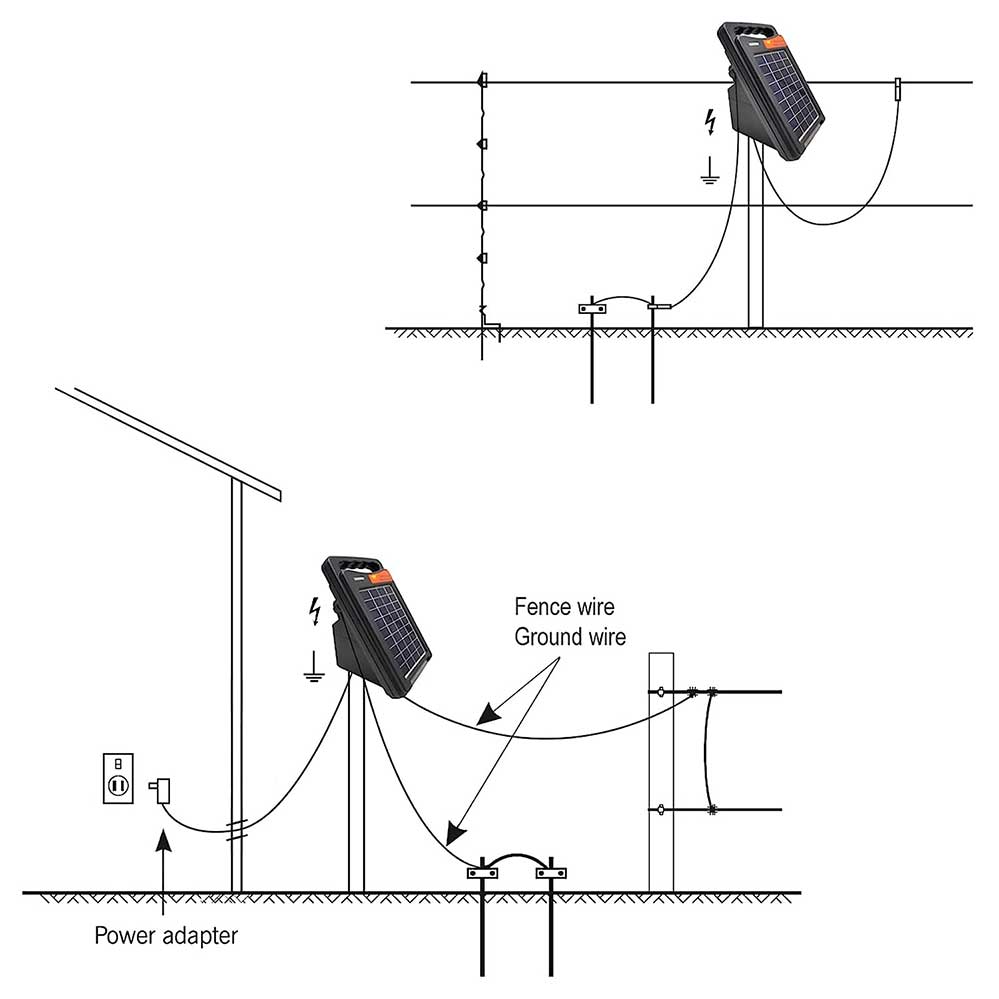 While the charger can energize up to 2 miles of fence, its effectiveness might depend on the animal's size or fur. In our tests, it performed well for smaller or short-haired animals but appeared less effective for larger animals like horses or sheep. Still, on the whole, FenceMate's Solar Fence Charger is a portable and flexible option that should fulfill most temporary fencing needs.
What we liked:
Works well in diverse weather conditions
Easy and quick installation process
Effective for smaller or short-haired animals
Adaptable to various fencing types
What we didn't like:
Battery not included in the package
Less effective for larger animals
Parmak DF-SP-LI Electric Fencer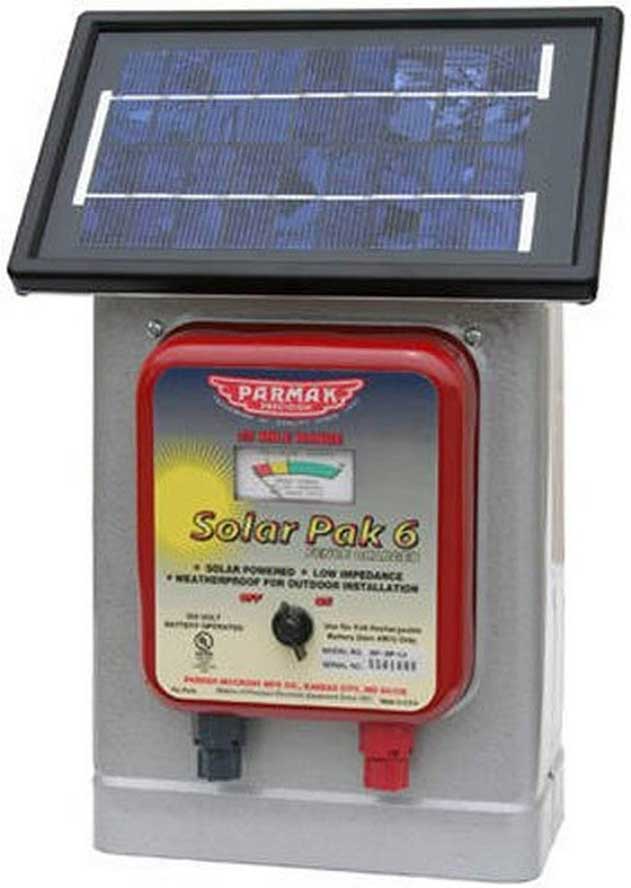 Key features:
Solar-powered, no battery replacement
Weatherproof for outdoor use
Can operate 21 days in darkness
Charges up to 25 miles of fence
Parmak's DF-SP-LI Electric Fencer offers a pragmatic solution for livestock owners seeking to secure their animals within specified boundaries. Weighing in at 11.33 pounds and measuring 17 x 8 x 13 inches, it's a bit larger and heavier than our other picks. You'll want to keep that in mind if optimal portability is what you're primarily looking for. Still, it boasts a blend of power and mobility that is not to be underestimated.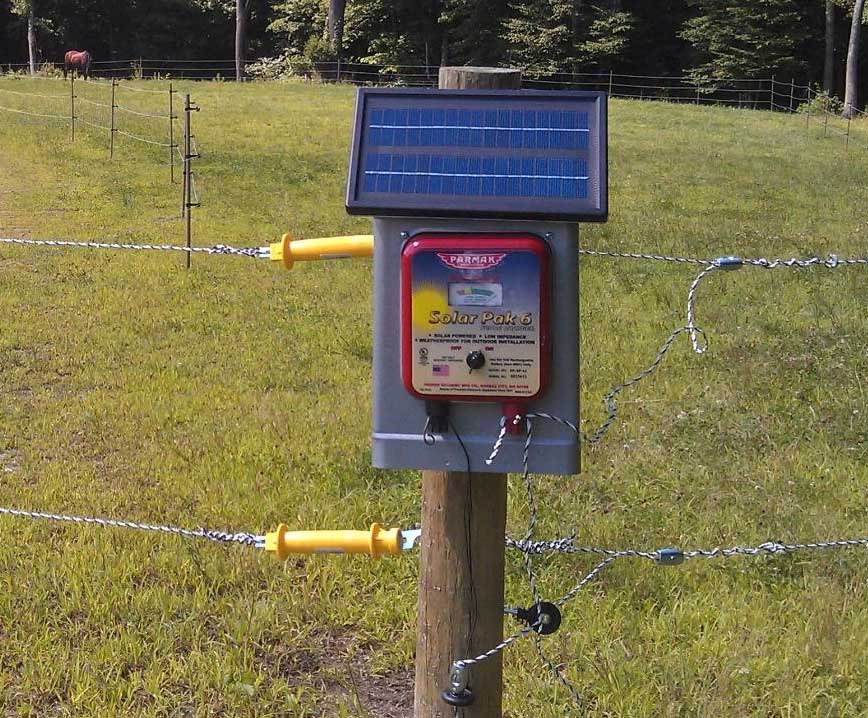 Tested in a small to medium pasture scenario, the charger came into its own. It excelled in providing a potent yet safe shock deterrent to a variety of animals ranging from cattle to coyotes. The solar-powered feature removes the need for battery replacement, a blessing for those in remote areas. It is worth noting that it continues to function even on cloudy days, with maximum power delivery in direct sunlight.
We were impressed by its resilience, as well. Rain or shine, the weatherproof nature of the charger guarantees consistent performance. This is backed up by the claims of its 21-day operational ability in total darkness, which we found to be a fairly accurate representation of its capabilities. Our tests revealed it to be closer to 2 weeks, but that's still quite commendable. The state-of-the-art solar technology helps it achieve its long power time.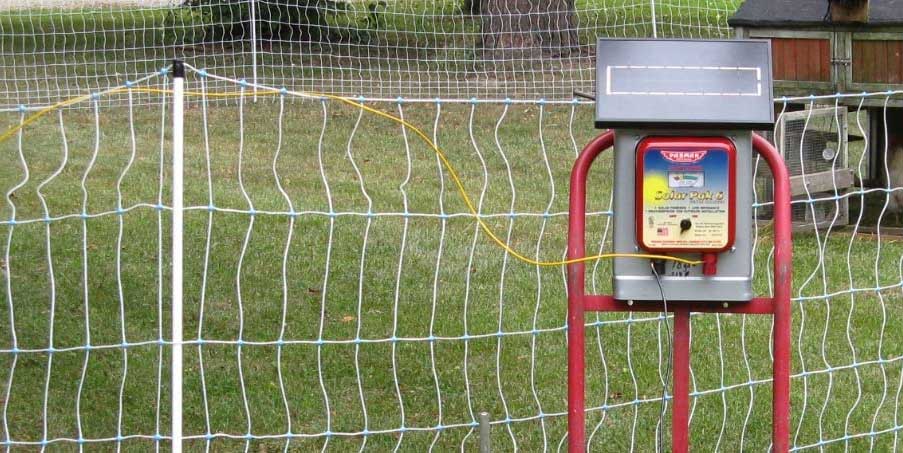 Plus, it comes equipped with a performance meter so you can monitor the condition of the fence. This is a welcome feature that isn't present on all fence chargers, so we were happy to see it here. Moreover, its pulse system discharges approximately once per second, effectively deterring any creatures without causing harm. In terms of setup, Parmak's Electric Fencer proved straightforward to install. Grounding rods, heavy wire, and careful placement regarding sun exposure are paramount. But once these factors are addressed, its efficacy is reliable.
What we liked:
Suitable for small to medium pastures
Reliable even in cloudy conditions
Comes with a sealed 6V rechargeable battery
Suitable for different livestock types
What we didn't like:
Power output may be too high initially
Pulse frequency could be faster
DC HOUSE Electric Fence Solar Energizer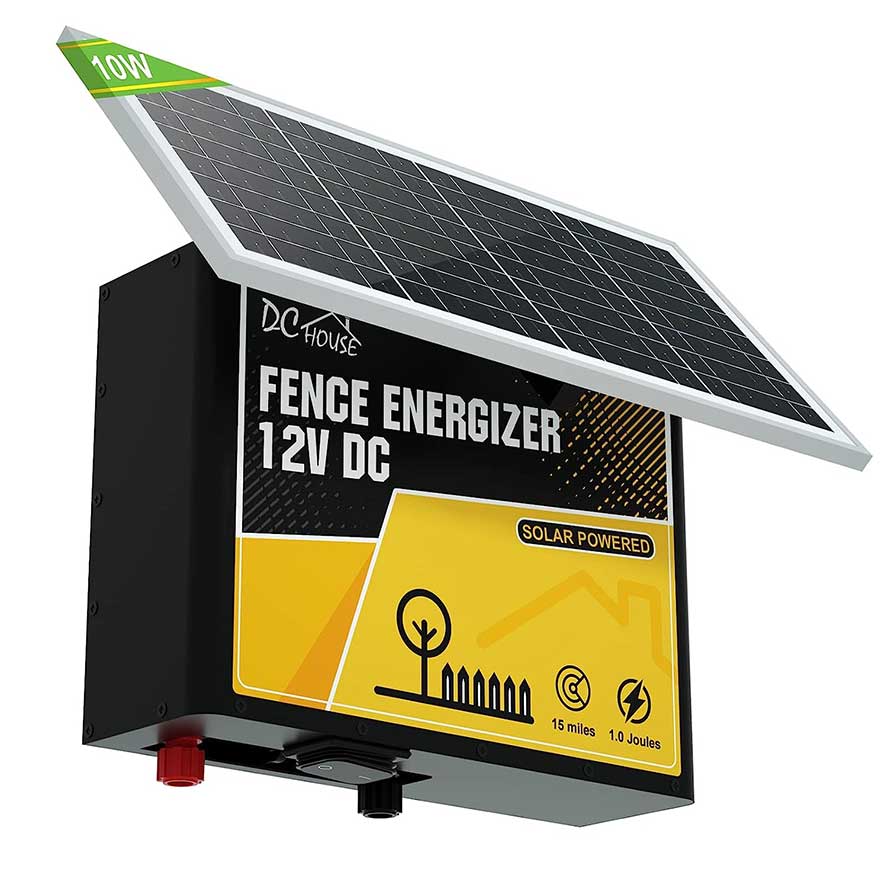 Key features:
Portable and easy to install
10W Solar Panel with built-in battery
Supports up to 15 miles of fence
Weather-resistant full metal shell
As tech enthusiasts, we were intrigued to evaluate the DC HOUSE Electric Fence Solar Energizer. This little black box weighs in at 8.33 pounds with dimensions of 15.79 x 13.74 x 5.75 inches. Our first impressions revealed an efficient and sustainable solution for fence electrification. To test it, we proceeded with installation on a variety of fences in diverse weather conditions. From there, we evaluated its performance over a considerable duration.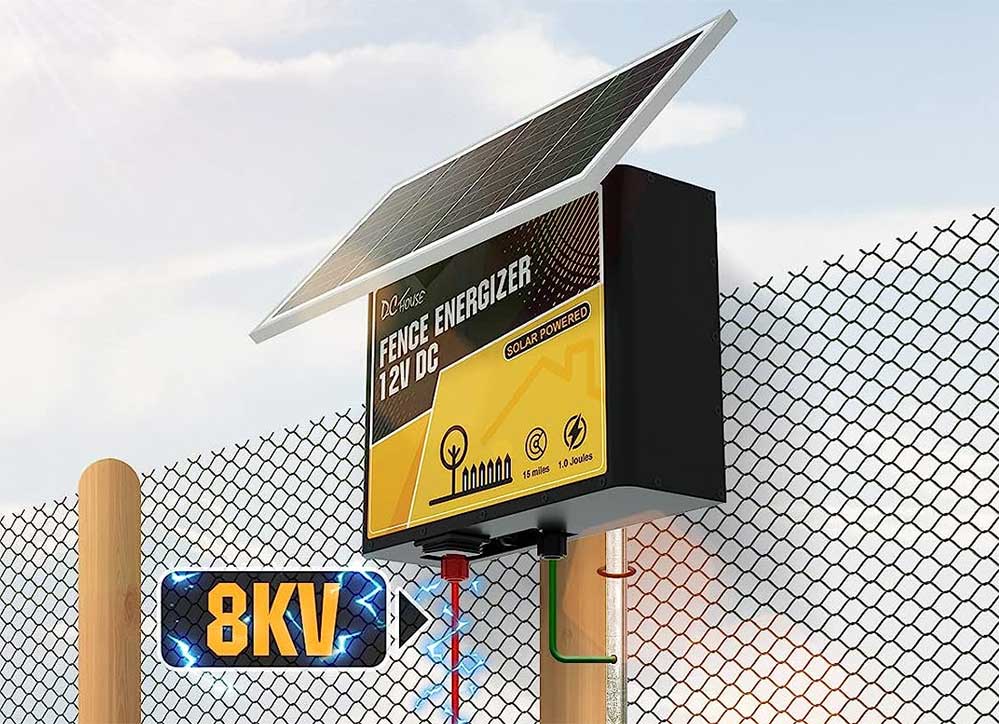 What was immediately striking was its portability and easy setup process. The user-friendly design required only a nail to secure the unit to any stake or wall – a truly hassle-free installation. Moreover, it comes with a built-in battery that's charged by an integrated 10-watt solar panel. As a result, it was completely self-sufficient once installed. This function was tested during overcast and rainy days and even in low-light conditions. In all scenarios, it performed admirably, providing a consistent power supply to the fence.
DC HOUSE designed the Electric Fence Solar Energizer to endure outdoor conditions. As such, it sports a sturdy, full metal shell that is completely waterproof. Withstanding both heavy rainfall and freezing temperatures proved to be effective in our testing phase. In addition, the solar panel's angle is adjustable between 15 and 45 degrees, which we were able to utilize for optimal sunlight absorption. Output capacity is impressive, as well. It claims to support up to 15 miles of fence with an output voltage reaching 8KV. In our testing, it performed consistently across various fence lengths, demonstrating its versatility and dependability.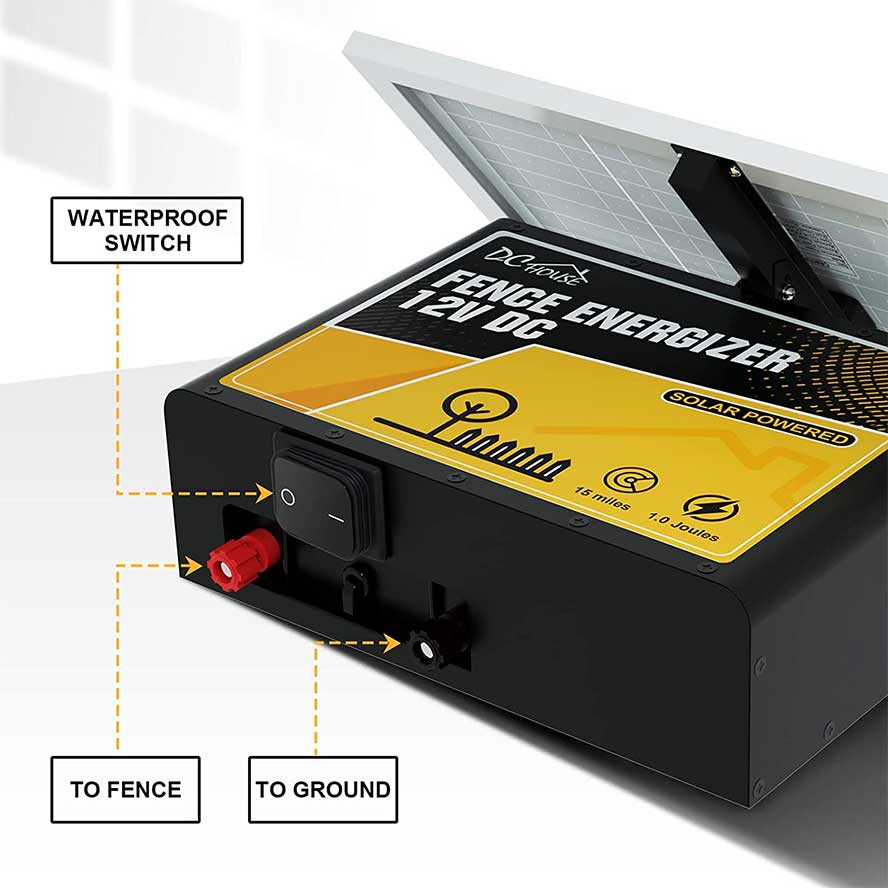 However, we did note some drawbacks. Most egregious is the lack of an indicator to check operational status or charge level. This feature would greatly enhance the user experience, offering peace of mind and saving time on regular testing. Also, we took issue with the battery's longevity. In some cases, it would last just 2 days. But other times, we got a week's worth of power. Another problem is the occasional inability to maintain power after sunset. This isn't consistent, however, and your mileage may vary with the DC HOUSE.
What we liked:
Performs well even in low light
Sturdy and durable design
Versatile fence support range
Easy installation and adjustability
What we didn't like:
Lacks operational status indicator
Battery may not hold charge after sunset
Solar Electric Fence Charger FAQs
How does a solar electric fence charger work?
A solar electric fence charger works by converting sunlight into electrical energy, which it stores in its internal battery. The charger then uses this stored energy to send a pulsed electric charge along the fence wires.
Can a solar electric fence charger work on cloudy days or at night?
Yes. Most solar chargers are designed to store excess energy in their batteries during periods of sunlight, which they then use to power the fence when the sun is not shining.
Is a solar electric fence charger suitable for all types of animals?
Solar electric fence chargers are generally effective for a wide range of animals, from small pets to larger livestock. That said, the effectiveness can depend on the type of animal, its size, and its fur. So some larger animals or animals with thick fur may require a more powerful charger.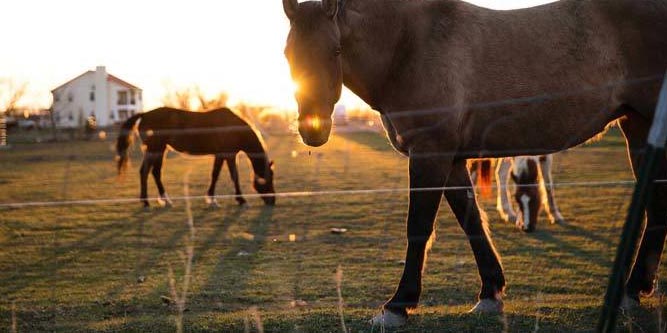 Final Verdict
After rigorous testing and in-depth analysis, we found each of these solar electric fence chargers to offer distinct advantages.
Zareba's ESP5M-Z stands out for its range and sustainable design, while Gallagher's S12 offers remarkable efficiency in a compact and portable package.
FenceMate's Solar Fence Charger scores high on flexibility, offering a good mix of functionality and adaptability.
Parmak's DF-SP-LI Electric Fencer is a powerhouse in a weatherproof shell. It has the ability to operate consistently even in adverse weather conditions.
And finally, DC HOUSE's Electric Fence Solar Energizer offers an easy-to-install, sturdy option with good performance in low light.
All these chargers have their own strengths and weaknesses, so your decision will ultimately depend on your specific fencing needs and environmental conditions.
Meet Derek, "TechGuru," a 34-year-old technology enthusiast with a deep passion for tech innovations. With extensive experience, he specializes in gaming hardware and software, and has expertise in gadgets, custom PCs, and audio.
Besides writing about tech and reviewing new products, Derek enjoys traveling, hiking, and photography. Committed to keeping up with the latest industry trends, he aims to guide readers in making informed tech decisions.