Overall Design -

9/10

Build Quality -

9/10

Ease of Use -

8.5/10

Drying Performance -

9/10
Summary
With its premium design and range of innovative features, the SYLPH Hair Dryer offers superior performance. Its lightweight, durable build and ergonomic design make for comfortable use, while its powerful motor ensures fast and efficient hair drying. Unique features such as the self-cleaning mode and ultrafine magnetic suction filter add a layer of convenience and safety not often seen in similar products.
Pros
Superior design and build quality
Advanced, reliable self-cleaning feature
Magnetic nozzle enhances styling control
Significantly improves drying time
Cons
Pricier than traditional hair dryers
Cylindrical handle might be less comfortable
In an era where technology is rapidly transforming the simplest tools we use in our daily life, one wouldn't be surprised to find innovation even in a basic home essential – a hair dryer.
The SYLPH Hair Dryer comes as a revolution in personal hair care tools, boasting cutting-edge features and performance. Our review aims to delve deep into the intricacies of this product to help you, the reader, understand the value proposition of this high-speed, ion-generating blow dryer.
Unboxing and First Impressions
Straight out of the box, SYLPH's Hair Dryer impresses with its sleek, modern, and stylish design. Reminiscent of an airplane engine, the unique aesthetic element is undeniable. Encased in its packaging, it includes a storage pouch and a magnetic diffuser, adding a touch of convenience and sophistication to the overall package. The diffuser plays a pivotal role in the overall user experience, and we'll get into it and other features as our review progresses.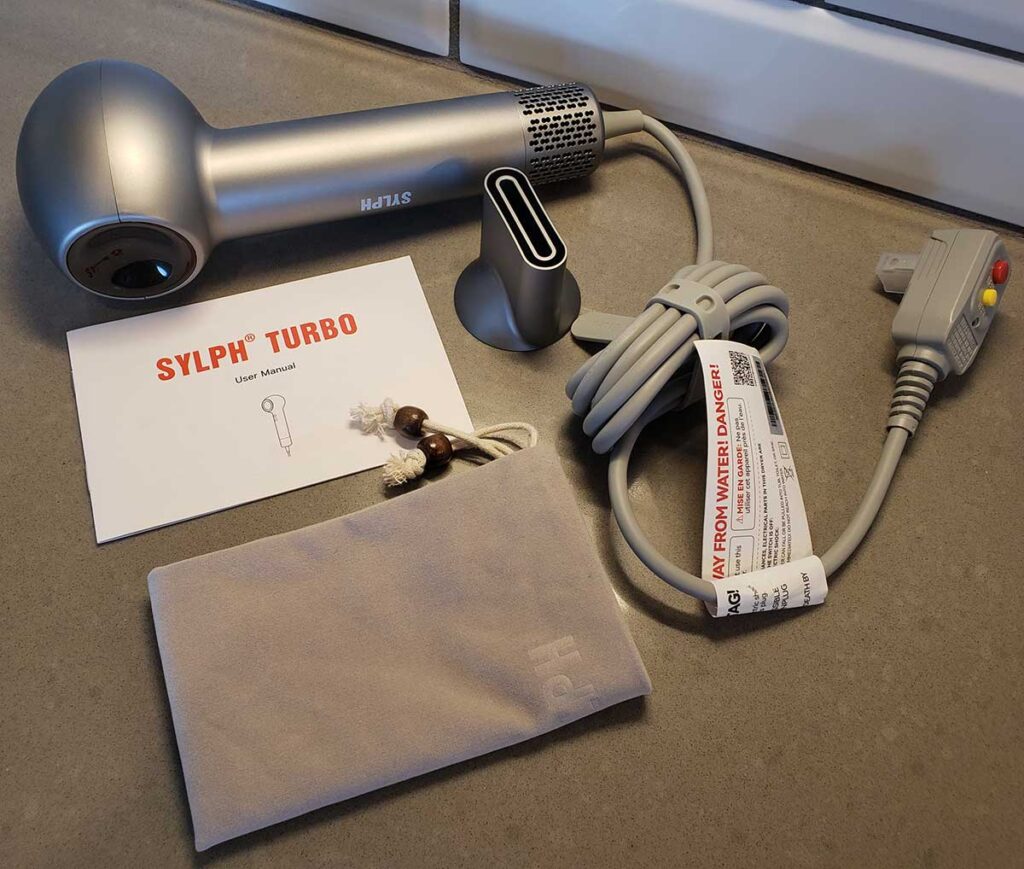 Color options are limited to gray, but it's elegant in its appearance and reflects a premium feel. The unboxing process also affords an initial interaction with the unit's unique power cord. Not your average type, this one features patented suspension wire technology that promises a tangle-free user experience. Right off the bat, our first impression of the hair dryer screams high-quality and superior design.
Build Quality and Form Factor
Digging into the details, the build quality of the SYLPH Hair Dryer leaves no room for doubt. It's made of ceramic material, known for its durability and heat distribution properties. Despite packing a punch in terms of features and functionality, it's lightweight, weighing only 0.8 pounds, or 350 grams. This trait helps reduce arm fatigue, a common complaint with traditional blow dryers. The dimensions measure 9.45 x 2.95 x 3.35 inches, striking a perfect balance between compactness and functional design.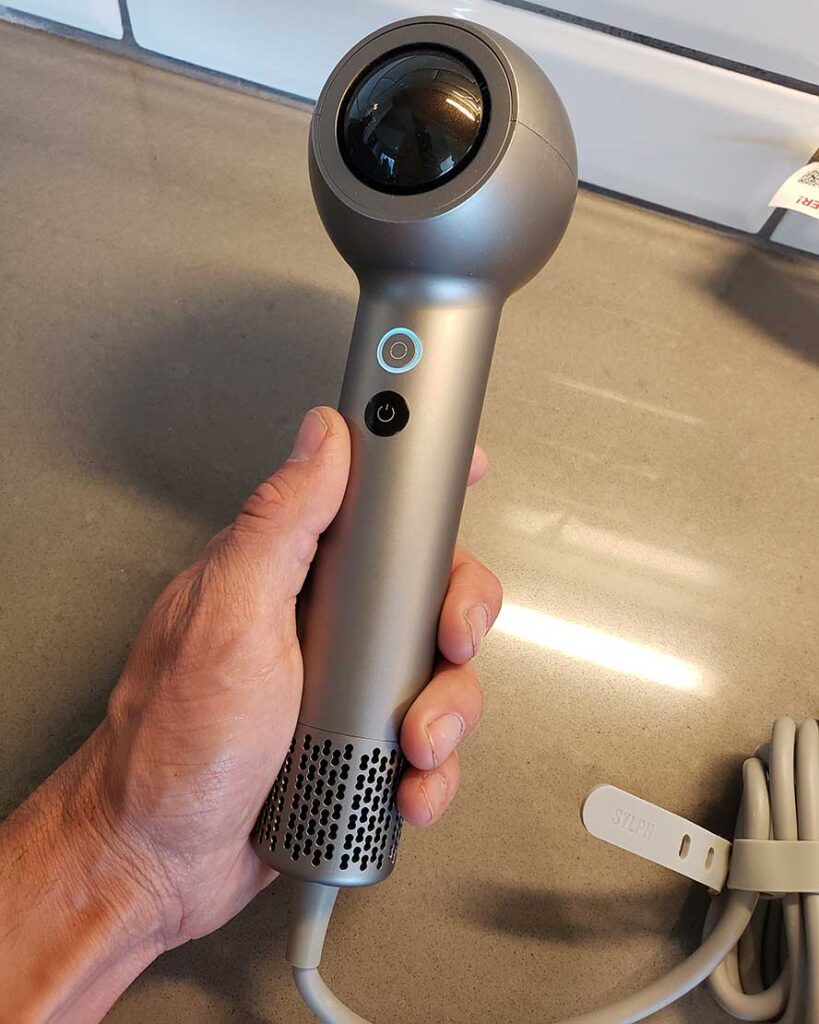 Its ergonomic build aims to center the weight in the palm of your hand, promoting ease of use. However, some users may find the cylindrical handle a bit less comfortable compared to conventional hair dryers. Overall, the build quality and form factor make a strong case for SYLPH's Hair Dryer. It presents a unique blend of style, durability, and comfort that stands up to the demands of everyday use and possibly beyond.
Modes and Features
Beyond its striking appearance and build, this hair dryer packs an array of innovative features that truly sets it apart from its counterparts. Moreover, there are various modes that make it more than a one-trick pony. Whereas conventional blow dryers are limited to merely delivering various levels of heat, SYLPH's Hair Dryer has a lot more up its sleeve. Observe:
Self-Cleaning Mode
Arguably one of the most intriguing features is the Self-cleaning Mode. This intelligent feature reverses the airflow to clear out any accumulated dust. It's designed to ensure the dryer remains efficient while reducing maintenance time and extending the overall lifespan. We put this mode to the test to see how well it performed. We're pleased to report that its claims are valid. The hassle of manual cleaning is effectively eradicated, thanks to Self-cleaning Mode.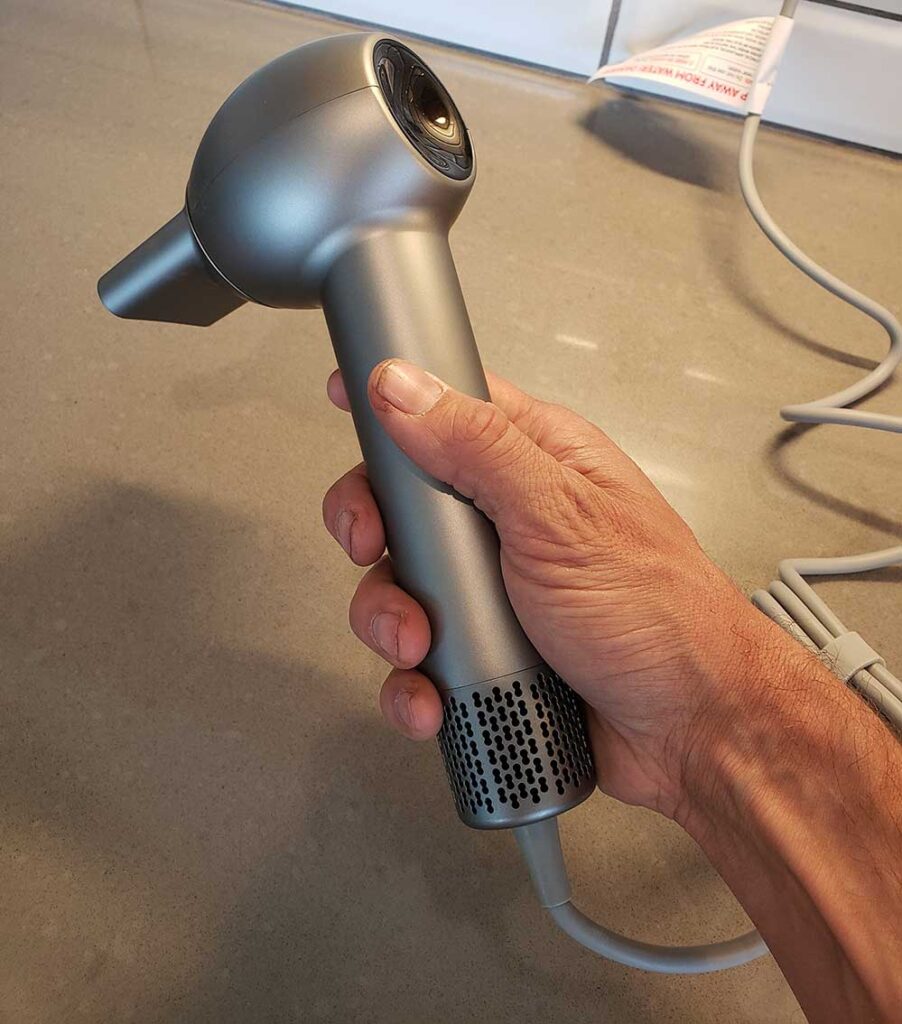 Not only does it save precious time and effort, but it also promotes greater longevity. That's a win-win for consumers who are tired of replacing blow dryers every few years. So far, SYLPH has proven to us that it knows how to build a hair dryer centered on reliability. But this is only one feature out of several. Let's see what else makes this unit tick.
112,000 RPM Brushless Motor
Central to the overall operation is a powerful 112,000 RPM Brushless Motor (BLDC). This high-speed motor significantly contributes to SYLPH's claims of rapid drying capabilities. We subjected these assertions to our stringent testing processes, and the results were notably positive. We observed that the Hair Dryer markedly decreased drying times compared to traditional hair dryers, lending credibility to its claims.
In terms of high-speed performance, the SYLPH Hair Dryer left a powerful impression. Despite its incredibly fast rotational speed, it managed to operate with a surprisingly low noise level, a rare combination that is a testament to its superior design. One noteworthy attribute of brushless motors, like the one employed here, is their longevity.
These motors usually outlive their brushed counterparts due to fewer moving parts, which means less wear and tear over time. In addition, they often deliver better performance and efficiency. Consequently, this high-performing motor enhances the value proposition of SYLPH's Hair Dryer, making it a durable, long-term investment for your hair care routine.
Speed Settings
As with many other hair dryers, you get three speed settings: Low, Medium, and High. These settings are easily accessible with a long press of the Power button to switch the device on and off, while a single tap cycles through the available speed settings. During our tests, we were keen to determine the practicality of these settings and how well they catered to various hair types and drying needs.
Our findings revealed that the different settings indeed provide a level of customization that can benefit a range of hair types. The low setting was ideally suited for those with fine or thin hair, providing a gentle drying process that reduces potential heat damage. Conversely, the high setting was powerful enough to efficiently dry thick and long hair, a challenging task for many traditional hair dryers. The medium setting presented itself as a balanced option, ideal for normal hair types or for those seeking a more moderate drying experience.
The speed settings prove to be more than just a specification on paper; they offer tangible benefits that enhance the overall user experience. Whether you have thin, thick, or normal hair, this hair dryer caters to your specific needs, further highlighting its commitment to user-centered design and performance.
Heat Settings
The heat settings are just as versatile. Here, you get four options: High Heat, Low Heat, Intelligent Hair Care, and Cool Air. You activate the Cool Air function by long-pressing the Heat control button. The High Heat setting proved to be ideal for quick drying, while the Low Heat setting was suitable for styling without causing heat damage. We appreciate that the right level of heat is present across the various heat settings. We've used other hair dryers that don't deliver as noticeable a difference, so this was a welcome change of pace.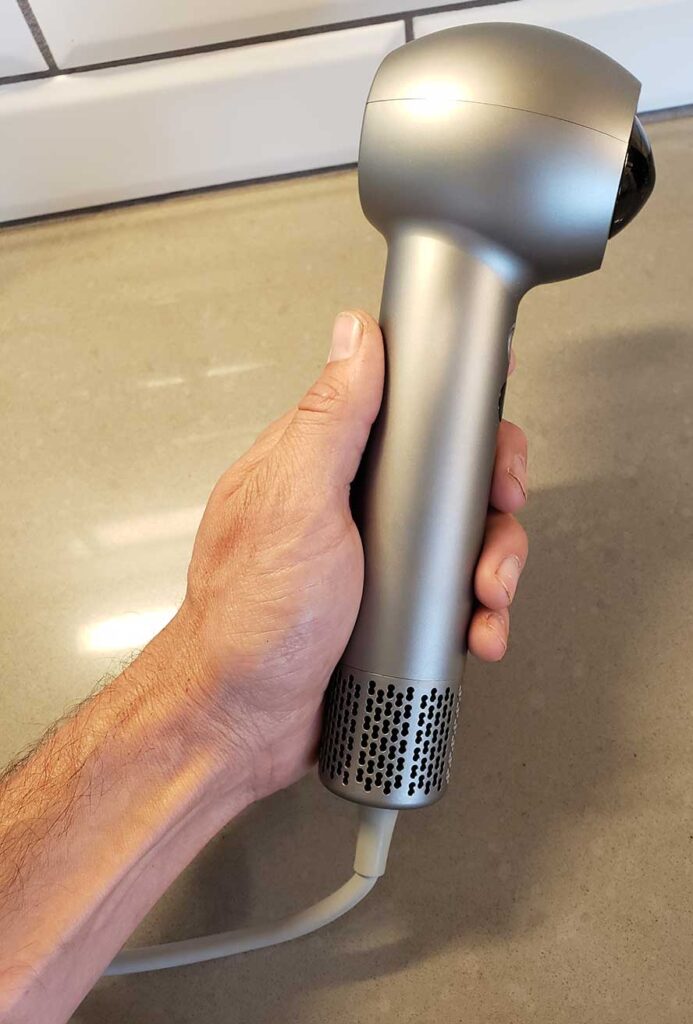 Next, the Intelligent Hair Care setting was particularly intriguing. It works by adjusting the heat automatically, ensuring optimal temperature for hair nourishment, effectively reducing frizz, and leaving the hair feeling soft. This is made possible thanks to negative ions – 200 million, to be exact. These highly-concentrated ions adjust heat 100 times a second for precision drying. And they're responsible for promoting hair health and providing a truly beautiful appearance.
The Cool Air setting, although taking a bit of getting used to, proved excellent for setting the hairstyle and adding shine. The modes and features present here offer an exceptional level of customization and functionality. We can report that each feature worked as advertised, providing an excellent user experience and well-rounded performance.
Powerful Magnetic Nozzle
In the quest for a superior hair-drying experience, SYLPH included a magnetic nozzle that proved to be a game-changing component. As you'll discover, it significantly elevates functionality. For starters, the attachment process is as straightforward as it gets, with the nozzle effortlessly popping onto the hair dryer via a strong magnet. This eliminates any fumbling around associated with traditional clip-on designs.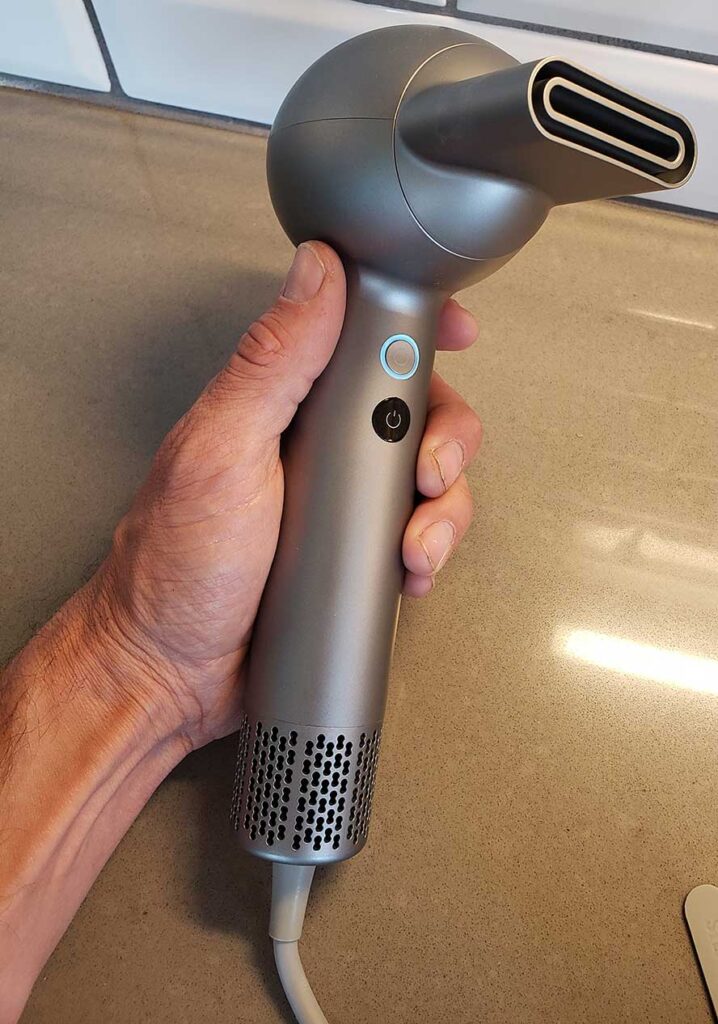 This feature's brilliance isn't just in its easy attachment process but also in the control it affords users during their styling routine. The nozzle boasts an impressive 360° rotation capability, enabling unprecedented precision in directing the airflow. From focusing the high-speed blast at your roots for quick drying to carefully styling the ends of your hair, the nozzle's versatility facilitates highly targeted drying and styling.
Our testing found that the magnetic connection held steadfast during use, regardless of the angle or intensity at which the hair dryer was held. There was a certain fluidity in motion with this feature; it could be swiftly attached or detached as per the user's requirement. This stood out as a significant advantage, providing a more seamless and efficient hair-drying experience compared to the often cumbersome clip-on attachments of traditional hair dryers.
In short, the magnetic nozzle embodies a fusion of convenience and performance. Its innovative design and functionality align perfectly with the user's needs, offering a high degree of control that translates into a superior hair-drying and styling experience.
Ultrafine Magnetic Suction Filter
Another unique bonus is the Ultrafine Magnetic Suction Filter. Its job is twofold – it plays a crucial role in the self-cleaning functionality and provides an additional layer of safety by ensuring no hair gets sucked into the dryer.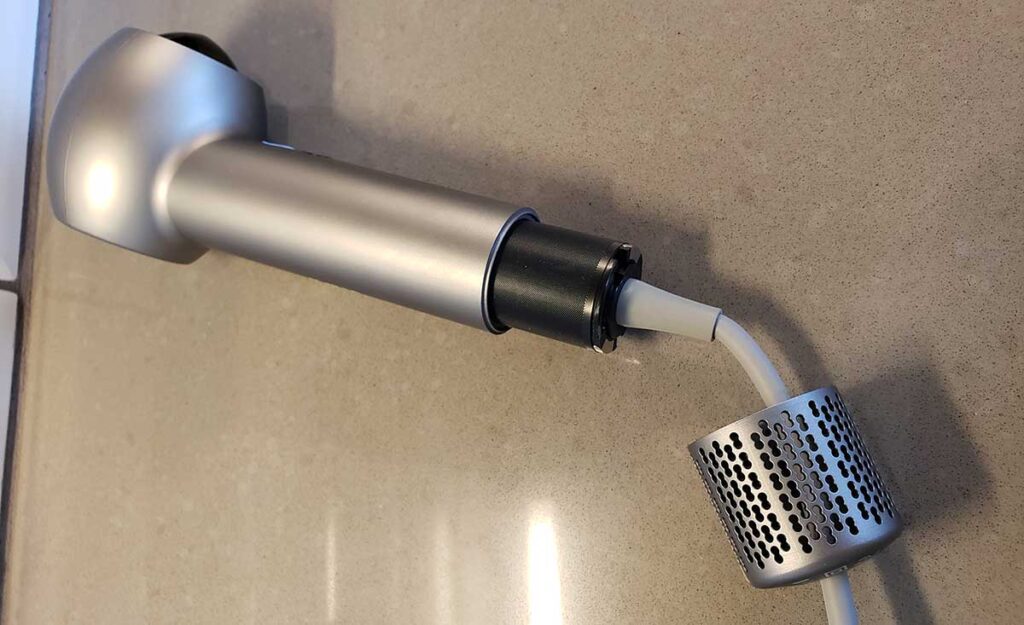 This feature proved to be incredibly valuable throughout the testing period. Thanks to the filter, loose hairs are kept in check. So not only are rogue hairs kept off your person, they're also kept off your bathroom space and out of the hair dryer. It's another practical aspect of the SYLPH Hair Dryer that contributes to its easy use and maintenance.
Both the magnetic nozzle and the ultrafine magnetic suction filter enhance the Hair Dryer's usability and performance, providing users with a fast, efficient, and safe hair-drying experience. The thoughtfulness of these features reflects the brand's commitment to providing high-quality, user-friendly products. And it's yet another notable aspect that's sure to support long-lasting performance.
Final Verdict
With its premium design and range of innovative features, the SYLPH Hair Dryer offers superior performance. Its lightweight, durable build and ergonomic design make for comfortable use, while its powerful motor ensures fast and efficient hair drying.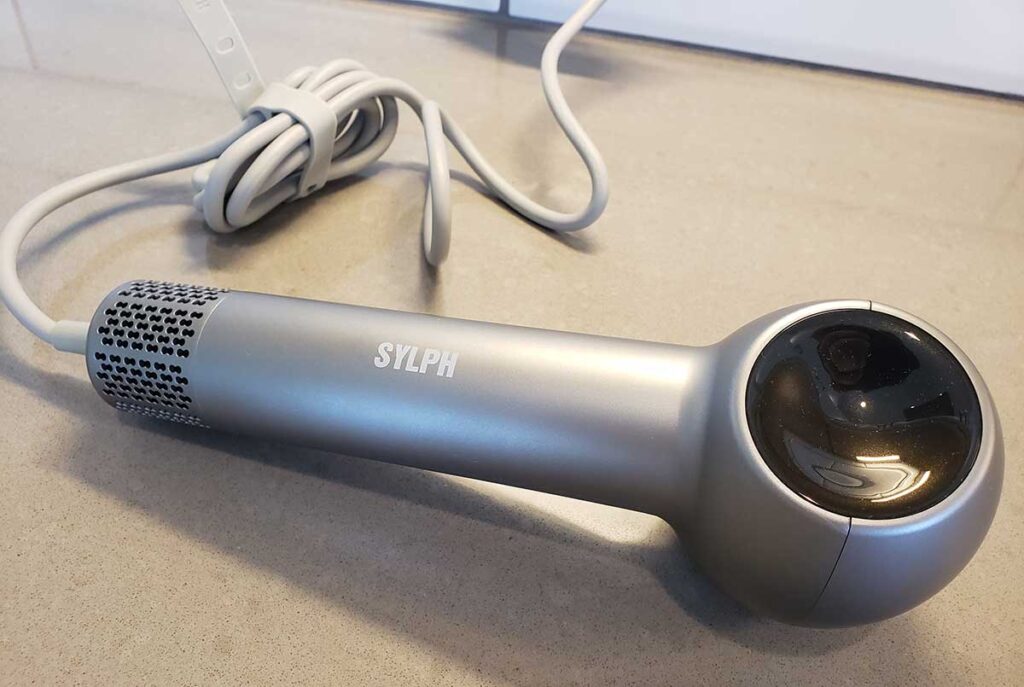 Unique features such as the self-cleaning mode and ultrafine magnetic suction filter add a layer of convenience and safety not often seen in similar products. It stands out as a reliable and high-performing hair care tool and a worthy investment for anyone seeking a touch of luxury and efficiency in their hair-drying routine.