Ham radios occupy a unique niche in the technological landscape. These amateur radios are designed for personal use.
You can use them to chat with your friends. Or, you can use them to meet and chat with strangers across incredible distances. They're not authorized for commercial use, so you won't be listening to music on one.
And while they're not designed for emergency services, they're often used in the aftermath of a disaster.
No-one is really sure where the term "ham" came from. One popular theory dates from the 1930s and 40s.
During this time, amateur radios were booming in popularity. The industry was still poorly-regulated, with radio bands used for both commercial and amateur purposes. Commercial operators would often complain of "hams" – or amateurs – crowding out their signals.
Today, ham radios are far more regulated. Amateur and commercial traffic are separate, so that kind of interference is a non-issue.
We're about to review three of the best magnetic mobile dual-band ham radio antennas we could find. These can extend the range of your vehicle's radio handset, putting you in touch with more people.
To find out which one is the best, we'll have to look at each antenna's unique features, benefits, and downsides. After that, we can render a fair verdict. Let's begin!
VFAN Dual-Band Magnetic Mobile Ham Radio Antenna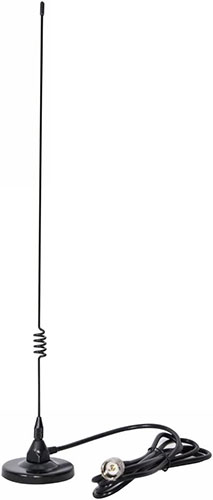 Key features:
Operating range: 137-149MHz, 437-480MHz.
2dB VHF gain and 3dB UHF gain
Supports 100 watts of power
The VFAN Dual Band Mobile antenna is tall and slender. It stands 18 inches tall, with a coil about a quarter of the way up its height. It's all black, and has a little nub at the tip like a traditional car radio antenna.
At the bottom, the antenna attaches to a base, which has a built-in rare earth magnet. This magnet is more powerful than an ordinary iron magnet, which is a valuable feature. Even when you're zooming down the highway, your base will stay nice and secure.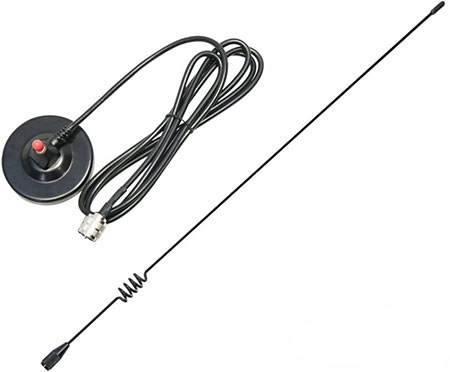 This antenna has a friction fit system, with a little cup on the bottom. The cup fits over a rubber boot on the top of the base, and the fit is surprisingly tight. Once again, wind and high speeds are no risk to your antenna.
But you may run into problems if you have to drive in places with low clearance. Instead of flexing in the middle, the antenna will flex at the bottom near the boot. This can cause it to pop off after you drive in and out of your garage several times.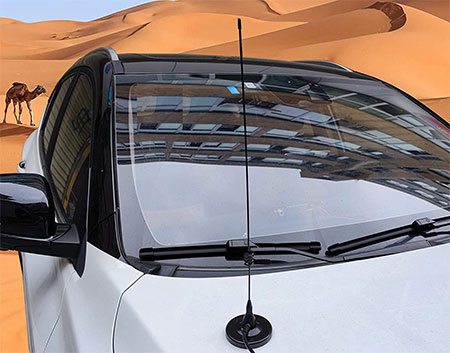 The VFAN antenna uses a PL-259 connector. This is the most common type of connector for vehicle ham radios, but check yours first to be sure. In the worst case scenario, you might need to buy an adapter. Meanwhile, the 10-foot cable provides enough reach for easy installation on almost any vehicle.
Like most ham radio antennas, this one is designed to operate on both VHF and UHF frequencies. The VHF range is from 137MHz to 149MHz, and the UHF range is from 437MHz to 480MHz. It provides gain on both sets of frequencies. On VHF, 2dB of gain will up the signal strength by over 50%. On UHF, you get double the signal, or 3dB of gain.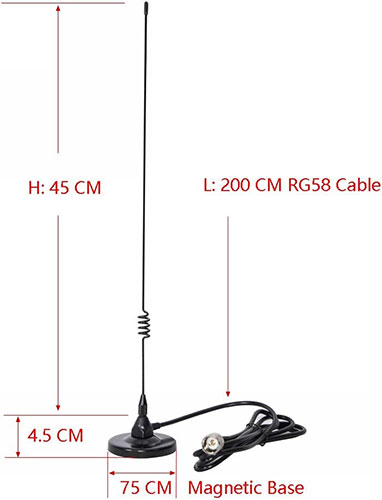 Perhaps the VFAN antenna's greatest strength is it ability to handle a high-powered handset. It's capable of broadcasting a signal at 100 watts. Compared to a home antenna, that's pretty weak. But compared to most car antennas, it's very strong.
The antenna and mount are covered by a 12-month manufacturer's warranty. If it fails due to a defect in parts or labor, you'll be protected.
What we liked:
Plenty of gain.
Powerful for a car antenna.
Powerful rare earth magnet base.
What we didn't like:
Friction mount can pop out under stress.
Bingfu Mobile Ham Radio Antenna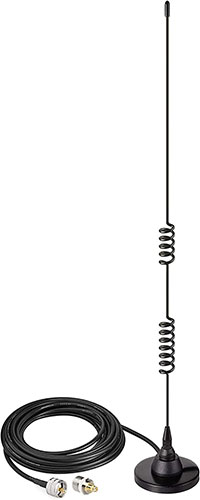 Key features:
Operating range:136-174MHz, 400-520MH, 764-960MHz.
Supports 50 watts of power.
Specially optimized for UHF.
The Bingfu Mobile Ham Radio Antenna is a touch smaller than the VFAN antenna. It stands 16.1 inches tall, and is made of slender black metal. It has two twists in it, which increase the receiving capability as well as the flexibility.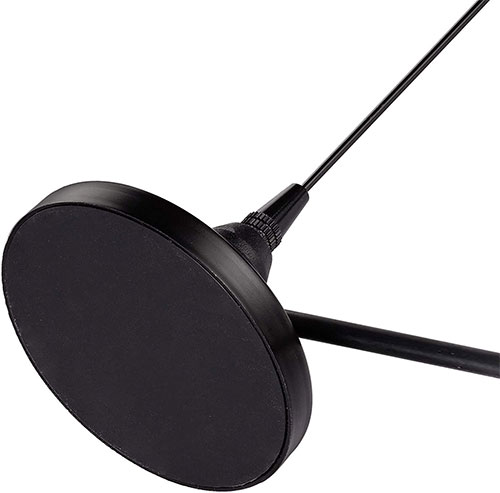 The bottom of the antenna screws onto a black base, which is 1.5 inches tall. The bottom is flat, and measures 2.75 inches in diameter. It's magnetized, so it will cling tight to your roof.
We weren't clear on the exact type of magnet Bingfu uses. But whatever it is, it provides a secure enough grip to remain firmly attached at highway speeds.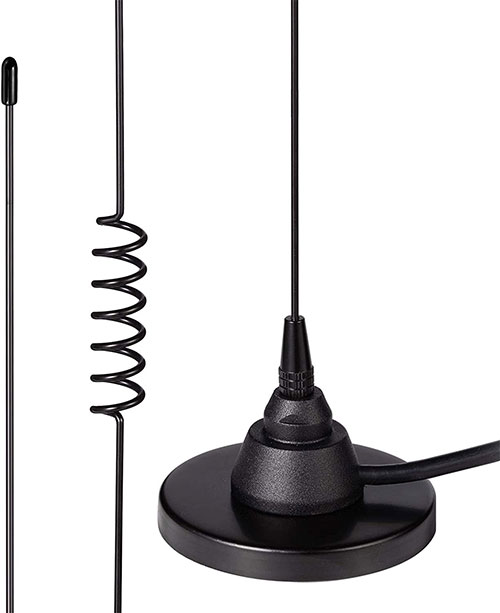 The cable is 10 feet in length, which will be long enough for just about anybody. At the end is a PL-259 connector, which works with most radios. It also includes a little adapter to convert the tip to an SO239 connector – another common variety. As before, check your radio's manual to be sure.
The Bingfu antenna supports three different sets of frequencies. As a VHF antenna, it can transmit and receive between 136MHz and 174MHz. That said, it's really optimized as a UHF antenna. It can operate between 400MHz and 520MHz, or 764MHz to 960MHz.
The 50 watts of maximum power isn't as impressive as our last antenna. But it's still enough for most automotive handsets. We were more disappointed by the fact that there's zero gain. This makes it less powerful than an equivalent antenna with gain.
What we liked:
Supports a wide range of frequencies.
Includes SMA to UHF SO239 adapter.
Stable, secure mounting.
What we didn't like:
Eightwood Dual Band Ham Radio Antenna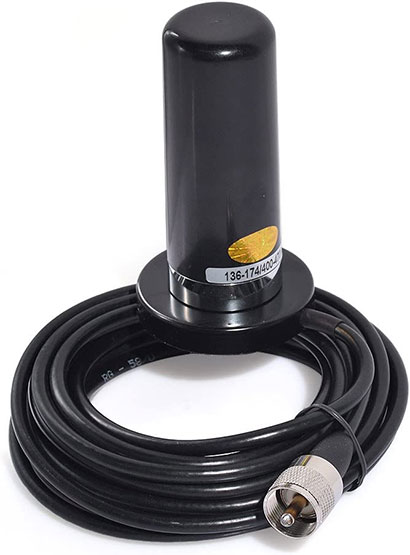 Key features:
Operating range: 136-174MHz, 400-470MHz.
Supports 50 watts of power.
3dB gain.
The Eightwood Dual Band Ham Radio Antenna has a different design altogether. Instead of being tall and slender, it's short and fat. It's a black cylindrical pod that measures 3.5 inches tall and 1.4 inches in diameter.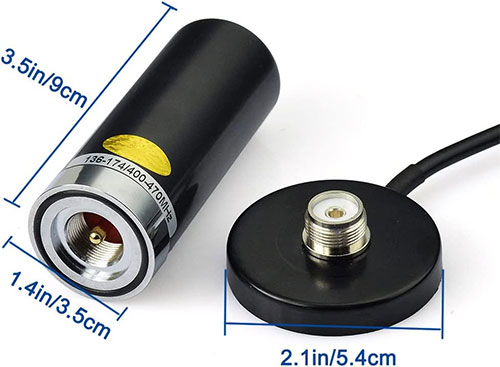 At the bottom is a threaded pin connector, which screws onto a wide, 2.1-inch diameter base. As with our other two antennas, the base is magnetized. It's a strong connection, and will remain attached to your car under all but the most extreme conditions.
The cable for connecting to your radio is 16.4 feet in length. That extra length could come in handy in an RV. If nothing else, it gives you more flexibility as to where to mount your antenna. In terms of frequency, you'll have your choice of VHF or UHF. In the VHF range, you can tune to between 136MHz and 174MHz. The UHF frequency will work from 400MHz to 470MHz.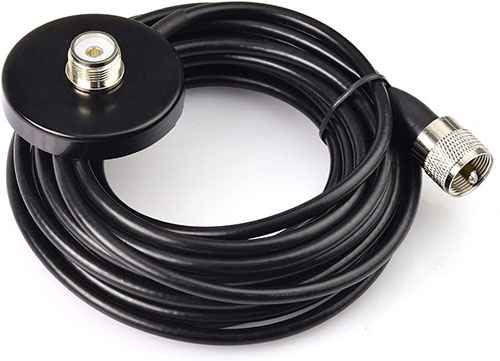 The antenna provides 3dB of gain, which doubles your signal. However, the short, stubby design limits its capabilities. Even with a 50-watt radio, you can expect a signal range of around 10 to 15 miles.
What we liked:
Lots of gain.
Low-profile design.
Extra-long cable.
What we didn't like:
Ham Radio Fundamentals
Ham radios aren't the only type of amateur radio. There are other options, like citizen's band (CB) radio. Family radio service (FRS) is another common set of frequencies, used for walkie talkies. However, ham radios have a couple of advantages.
They provide a much longer range than FRS, which is only really useful for a local signal. And compared to CB radios, the airwaves are far less crowded. That's thanks in part to the wide frequency range of ham radios. They can operate on frequencies from 1.8MHz to 1,300MHz, albeit not continuously across that entire range.
In order to keep people from abusing ham radios, the government puts strict limits on their usage. For one thing, they can only be used for non-commercial purposes. This is to keep the airwaves from getting cluttered by delivery services and other similar businesses.
We should note that in this context, "non-commercial" really means "personal." You can't use it for your nonprofit organization, and you can't use it to broadcast a radio station.
There are a few exceptions for this. Teachers can use ham radios when working with students. And in some cases, hospitals and other emergency services will use ham radio to communicate.
For example, in 2017, Hurricane Maria knocked out power to all of Puerto Rico. Cell service didn't return to the island for days in some areas, weeks in others. During that time, amateur ham radio operators served as a critical link between first responders and the US mainland.
Ham Radio Antenna Basics
When choosing a ham radio antenna, you want one that can handle your base station's wattage. For home base stations, 1,500 watts is the legal maximum. But for a mobile antenna, 50 watts is typically all you need. All but the most powerful car radios will top out at 100 watts.
The main challenge with mobile ham radio antennas is that the size is limited. You can't build a giant 12-foot antenna like you could on your house. This will limit your range, so look for an antenna with plenty of gain.
On the plus side, you won't have to do anything special to ground a mobile antenna. It attaches to the top of your car, which is already grounded.
Final Verdict
So, which of these magnetic mobile dual-band ham radio antennas is the best choice for you? Here's what we've learned.
The VFAN Dual-Band Magnetic Mobile Ham Radio Antenna is the best of the bunch in terms of raw power. With support for up to a 100-watt handset, you can pair it with some of the more powerful car radios. It also provides plenty of gain for most purposes, along with a powerful rare earth magnet. The only real downside is if you drive in a lot of spaces with low clearance.
The Bingfu Mobile Ham Radio Antenna isn't quite as powerful, with 50 watts of maximum power. It also doesn't provide any gain. That said, it's capable of operating on a wide variety of frequencies, which makes it a bit more versatile. And the straightforward mounting mechanism remains well-secured under almost any circumstances.
The Eightwood Dual Band Ham Radio Antenna is noticeably different from the other two. The short, stubby design makes it ideal for anyone who has to deal with low clearance. Then again, this design inherently limits its range. Whether or not this is a good tradeoff depends on where you drive and how much range you need.