It's that time of year again, Christmas is here and you know what that means. Decorating with string lights! It's easy to get your hands on a set of Christmas lights at virtually any store. However, if you're looking specifically for USB-powered options, your choices are very limited. USB-powered Christmas lights are a great option for certain situations where there's no access to a standard wall outlet or extension cord. Often times, people use them inside their car, on a golf cart, near their computer, at the office, etc. The amount of power you can pull from a USB port is limited, around 7.5 watts. As such, these lights utilize tiny LEDs that draw much less energy than your standard string lights.
Today we're going to take a deep dive and explore some of the best USB-powered Christmas lights for the 2021 Holiday season. Keep in mind that you'll need a USB port or USB wall adapter to use these. If you don't have access to that, it may be worth looking into the battery powered fairy string lights. Alternatively, you might want to checkout the best Bluetooth enabled Christmas lights that pair with your smartphone for maximum customization. Either way, the options we'll outline in this article are all hand-picked and personally tested by us for quality and reliability. Let's get right into it!
Note: At no extra cost to you, we may earn a commission for purchases using our links. Learn more.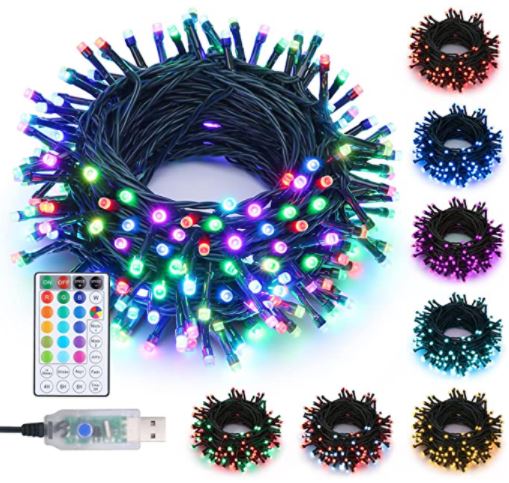 Joomer RGB Color Changing Christmas Lights
The Joomer RGB Color Changing Christmas Lights are an excellent choice for those who need string lights powered by USB. Fully water-resistant, and sold as a 33 foot string with 100 separate LEDs, you're given a lot of flexibility when it comes to customization. Included is a small remote that enables you to adjust a wide variety of light settings. With this, you can select between 18 individual colors and have the entire strand the same color. Alternatively, you can choose the "multicolor" mode for an ideal blend of Christmas colors.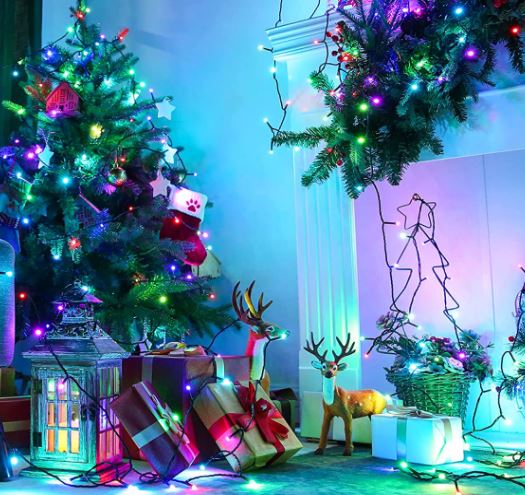 In addition to choosing colors, the remote lets you adjust the speed for some really cool lighting effects. Users can select between waves, strobe, asyn, fade, jump, and more. Each effect gives a new pattern of lighting with fading, flashing and more. Playing round with the different modes is actually pretty fun, and lets you achieve a custom-like effect with a few button clicks.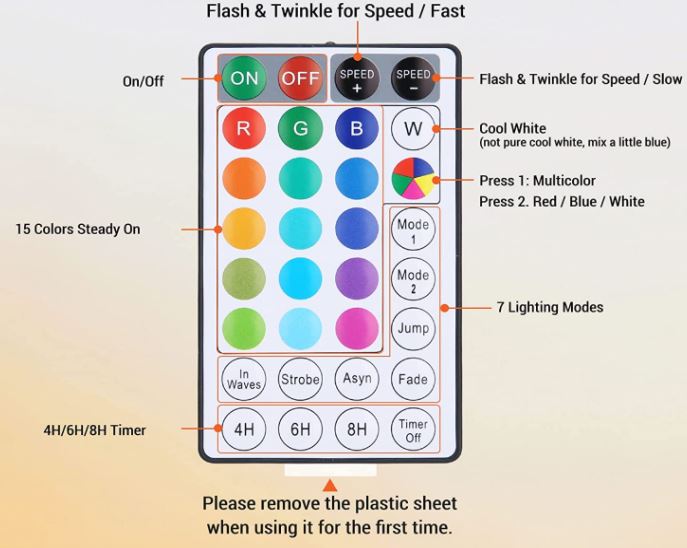 There's also a built-in memory function and three timer options. With this, users are given the freedom to choose between 4, 6, and 8 hour timer settings by using the remote. Once activated, the timer will remember the setting and turn on/off automatically according to the interval you selected.
The string is dark green; the typical color of Christmas string lights that blends perfectly into a tree or wreath. It's labeled as 33 feet in length, but this is the length given from the first LED to the last. Simply put, the string is actually 39 feet, but the lights are visible for 33 foot increments. With a distance of 10 centimeters between each bulb, it has plenty of glow and vibrancy for virtually any scenario. Sure, these aren't quite as bright as plug-in lights, but they have no problem emitting consistent, vibrant colors.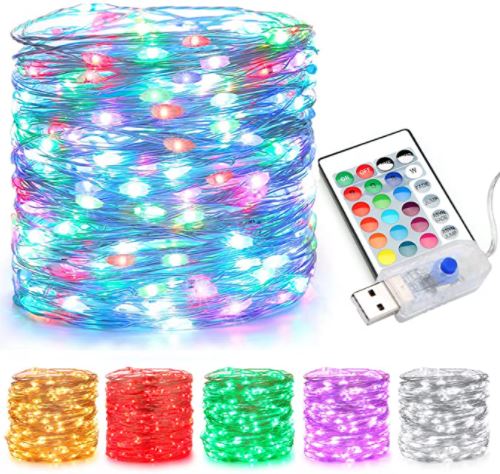 BrizLabs Christmas Fairy Lights
Another great choice is the BrizLabs Christmas Fairy Lights. With a standard fairy light appearance, they're slightly less bright than the Joomer RGB lights, but full of great features. Powered by USB, these lights are comprised of a skinny, metal inner-wire that's easy to twist, mold and bend into virtually any shape. As such, curving them around a railing, tree, wreath or even writing a name with them is much easier than other options. The 42 foot string, with a lighted length of 33 feet, has a foil-like ability to contour while keeping in the original position that you shaped them into.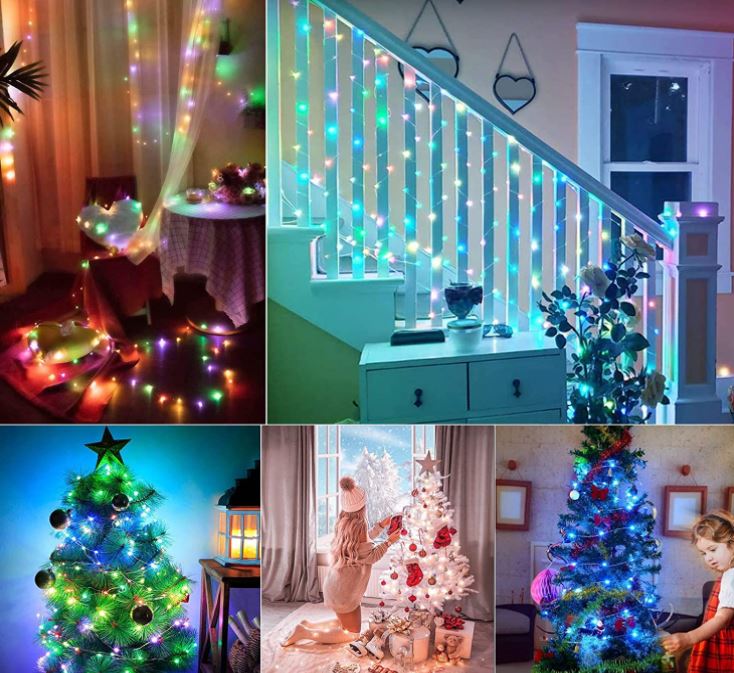 There are two ways to control the light modes. First, you can utilize the integrated button located near the USB plug. It's a single-button design that turn them on/off but it doesn't open up the full amount of customization that's available. For this, you'll need to rely on the included remote. With it, you can select between 16 solid colors and 4 dynamic modes at a variety of speeds. In addition, the timer function lets you keep them on for 6 hours and off for 18 hours. You're not given quite as much adjustment to the timer as you are with the Joomer RGB string lights, but it's still useful.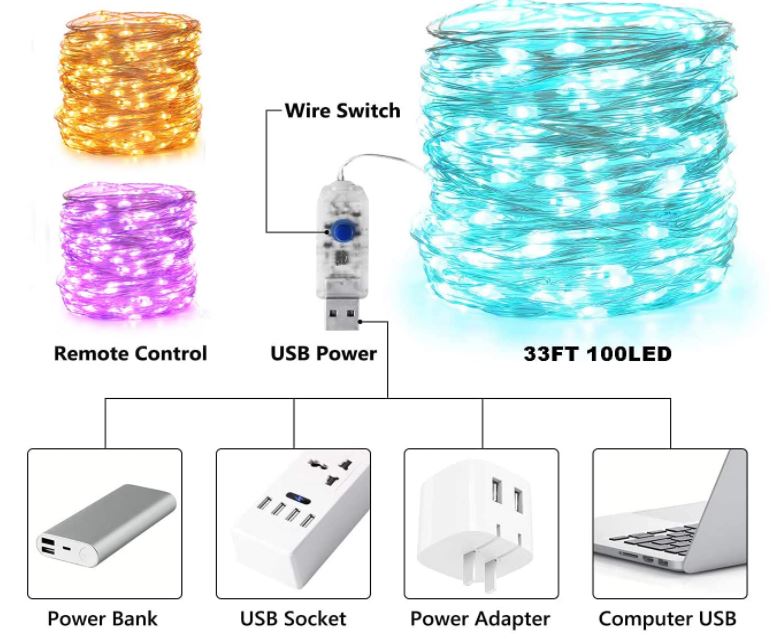 The BrizLabs Xmas fairy lights are water-resistant. In fact, they're given a rating of IP44, meaning that they're sealed for water resistance and rated for use both indoors and outdoors. Rest assured, you can keep them in a soggy, wet or snowy environment without any worry. Although the actual string isn't green, you can still use these lights on a tree or wreath. Sure, they may not blend in quite as well, but they're able to twist and bend to a significant degree, making installation very easy.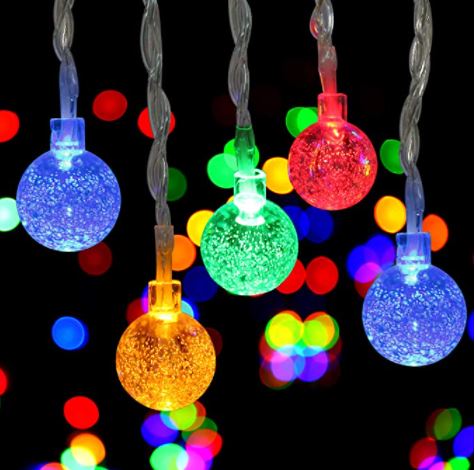 Aluan Globe String Lights
The Aluan Globe String Lights carry a unique appearance with tiny circular globes rather than typical pointy bulbs. From first glance, you'll notice that these Christmas lights are unique in design. Sold in a 34 foot strand, with 60 tiny dangling bulbs, they're a bit brighter than the other aforementioned options. However, these lights have something very unique about them. Users can simply plug them into any USB port. However, there's a built-in battery pack that enables you to use them almost anywhere, even if you don't have access to a USB port. Plop in three AA batteries and they're good to go for up to 24 hours of consistent use. Sure, the batteries don't last long, but it's just an alternative.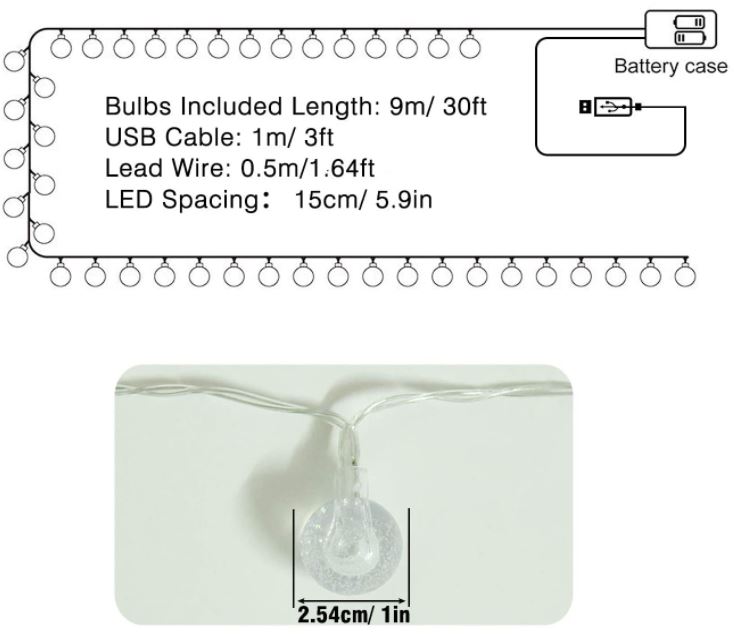 Although there isn't a remote included, you can press a tiny button on the battery case to toggle between eight different lighting modes. Unfortunately, there's no built-in timer setting, so that's something worth considering if you're reliant on a timing function.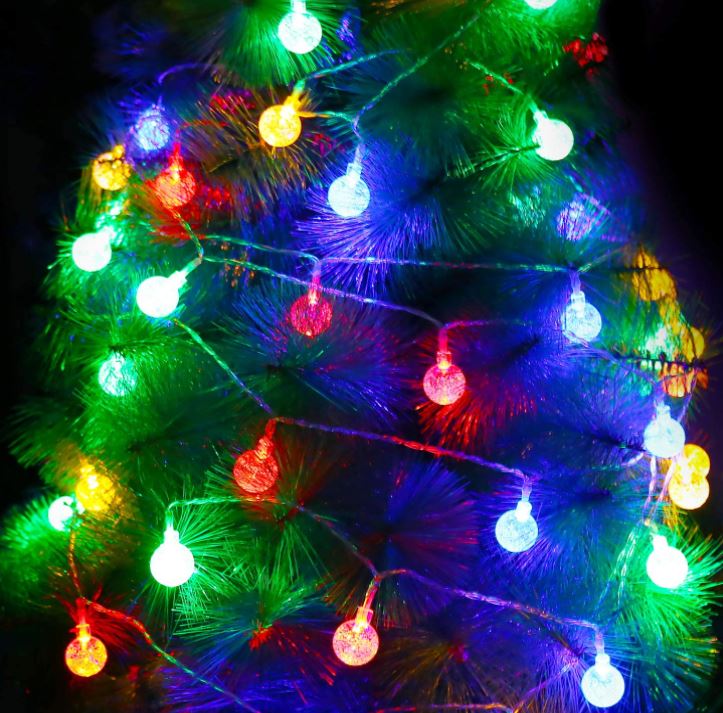 Each LED bulb is inside of a tiny 1 inch diameter plastic bulb/ball for an excellent style but also plenty of protection. In fact, just like the BrizLabs fairy lights, the Aluan Globe String Lights are rated as IP44 water resistant. With this, you can use them outside in the cold, snowy and/or wet conditions without any negative effects. Solid in multicolor, cool white or warm white, you can select the best option for your situation and get a great deal while you're at it. Ultimately, they're plenty bright and a bit more affordable than other options.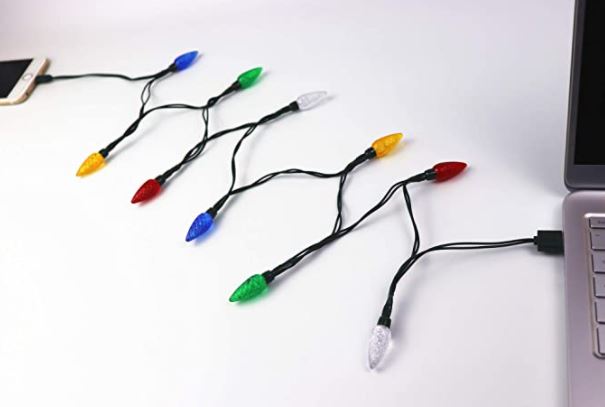 YAGE Tale LED Christmas Lights Charging Cable
The YAGE Tale LED Christmas Lights Charging Cable is a bit of a different offering that anything else we've already presented. Rather than being solely for decorating, these string lights are actually built into a charging cable. As a 50-inch long strand with 10 different LED bulbs, one end has a standard USB plug while the other has a plug for connecting your smartphone or tablet. Available in either Lightning or USB-C, you can use this cable with your iPad, iPhone or Android smartphone or tablet. As it charges your device, the bulbs will emit festive Christmas colors that pair well with any home or office.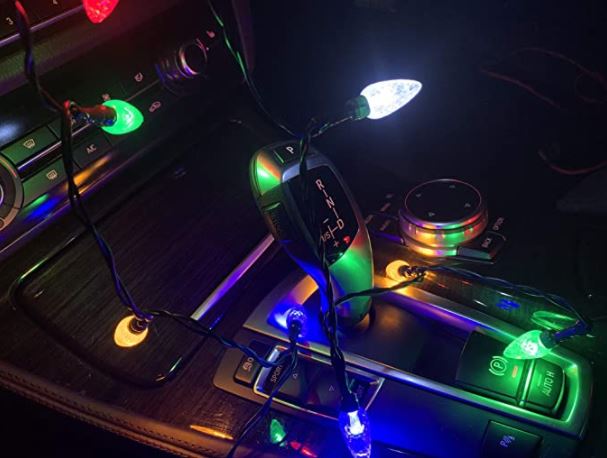 Best of all, while not in use, you can still utilize it for decoration. Sure, there isn't a remote included or even a wealth of customization available. However, this is a unique take on a USB-powered set of Christmas string lights that's sure to bring some cheer in an otherwise dull office setting. Even while you're not actively using it as a charging cable, the lights will glow and bring out the festivities.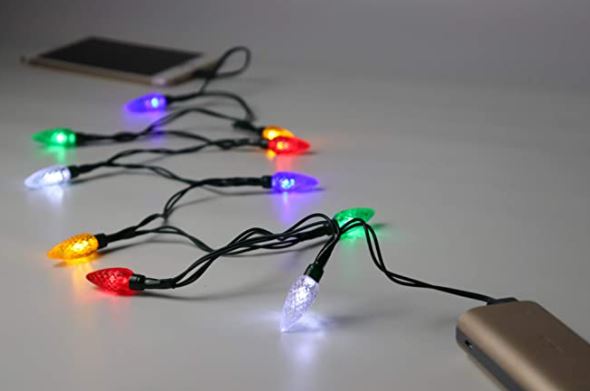 Keep in mind, however, that this cable isn't water resistant. It's solely supposed to be used indoors or at least in a dry environment. Our favorite application is the use it inside of your car. Leaving it plugged-in is a sure-way to add Christmas spirit to the inside of your vehicle. Additionally, it should be known that it cannot transmit data; only charge. It's not ideal for those who want to transfer files, only for those who will use it as a charger or decoration.
Final Thoughts
We've presented four separate LED Christmas Lights that all offer a great solution to those specifically looking for USB-powered options. Ideal for scenarios where a standard outlet isn't available, these low energy use string lights are perfect for bringing color and festivity to cars, golf carts, offices or even just around your home.
The Joomer RGB Color Changing Christmas Lights are a popular choice that offer plenty of customization for those who love to tweak settings and fine-tune their lighting. With the included remote, users are given the freedom to select their own colors and effects. The modes are fun to toggle between and contain a wide range of adjustments. Best of all, they're equipped with all of the water-resistance you need to install them in any outdoor environment.
The BrizLabs Christmas Fairy Lights are similar to the BrizLabs, but are comprised of a tiny silver wire that's very pliable. With it, you can conform it to sharp angles, curves or even write letter with the string. There's also a remote included that opens up a wide range of color options and lighting effects. Sure, they're not quite as bright as others, but they're bright enough for most scenarios.
Next, we took a look at the Aluan Globe String Lights. They boast a unique 1-inch hanging bulb design and contain a built-in battery pack in case you need to use the lights in an area where a USB port isn't always available. However, you can still fully power them via USB, if desired. Best of all, these seem to be the brightest of the bunch. In addition, they're also water-resistant and perfect for both indoor and outdoor settings.
Last, we examined the YAGE Tale LED Christmas Lights Charging Cable. This is an entirely different offering that acts as a 50-inch charging cable with 10 separate LED bulbs built into the strand. Available in both Lightning and USB-C, it'll work well for both Android and Apple devices. However, keep in mind that it isn't water-resistant nor is it able to transmit data. It's a unique-take on a charging cable that's sure to bring Christmas cheer to any interior setting.
Please consider sharing:
Note: At no extra cost to you, we may earn a commission for purchases using our links. Learn more.