The Steam Deck might not have the same name recognition as the Xbox or PlayStation – at least not yet.
But it's sold very well since its release back in February, and it's growing more popular by the week. This marks quite the turnaround for Valve's hardware division, which had been unproductive for years.
Note: At no extra cost to you, we may earn a commission for purchases using our links. Learn more.
In 2015, Valve released the Steam Machine, a Linux-based console that could run Steam games. But it didn't offer much of value.
If you wanted an affordable PC alternative, you already owned a console. If you were a fan of PC gaming, you already owned a PC. The Steam Machine was a solution in search of a problem, and it went off the market in 2018.
Then, in 2021, AMD developed a new, compact processor that's powerful enough to run any Steam game. Valve used this processor as the basis for the Steam Deck. Like the Steam Machine, the Steam Deck can run any game in the Steam library.
But it's also portable, similar in many ways to the Nintendo Switch. You can take your Steam games on the road without lugging around a desktop or buying an expensive gaming laptop.
Then again, it's a handheld system. If you want to use it on a desk or tabletop, you'll need a stand. Today, we'll review four of the best Steam Deck stand bases and kickstands, and provide our judgement. Let's begin!
MARSPELL Adjustable Steam Deck Stand Base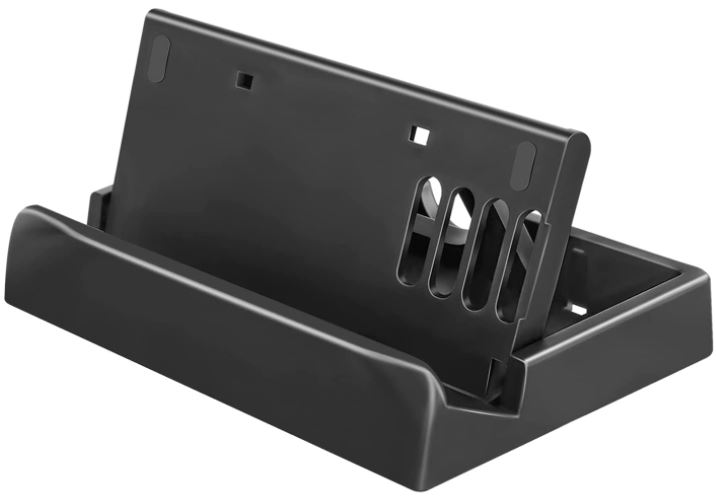 Key Features:
Supports the Steam Deck in 3 positions.
Collapsible design.
Cutouts in the back allow for easy airflow.
The MARSPELL Adjustable Steam Deck Stand Base is constructed from black ABS plastic. It's lightweight, and collapses to 5" x 3" x 1". That's small enough to carry in your pocket, or throw in a backpack with your Steam Deck. The material isn't as rugged as some stands. But unless you abuse it, you shouldn't have any serious durability issues.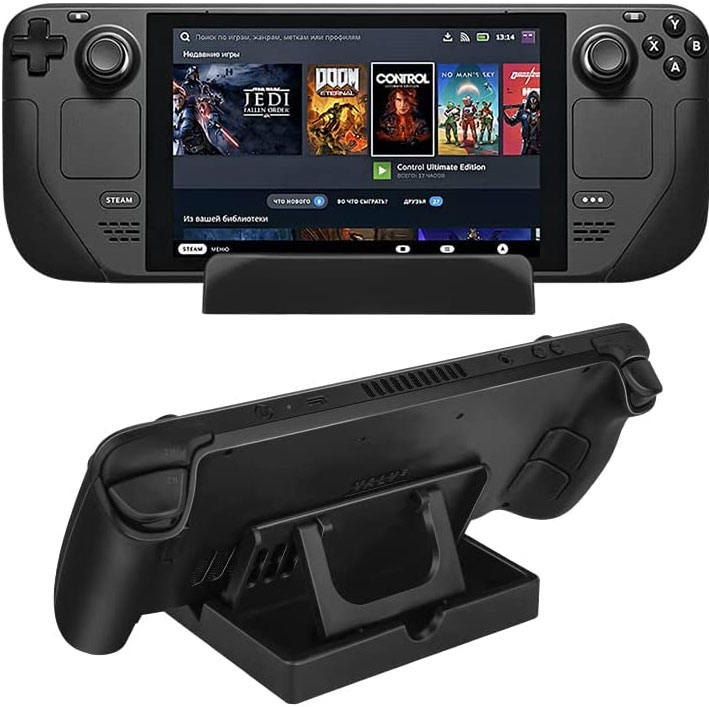 Much of the body consists of a broad base. The footprint of 5" x 3" is enough to be very stable, so your Steam Deck won't wobble around. It also has little rubber pads at all four corners of the bottom. These do a great job of protecting wood and other scratchable surfaces. They also keep the stand from sliding around and dumping your system on the floor.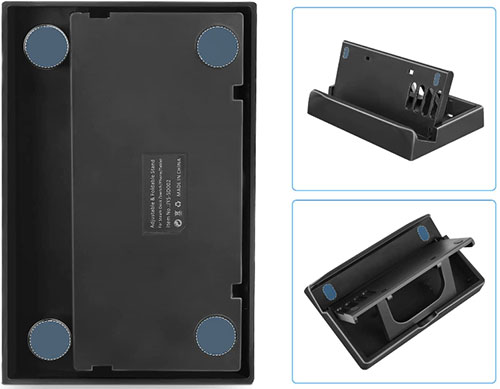 The base has a groove at the front, where your Steam Deck can rest on its front edge. A tall lip at the front end keeps your system from falling out the front of the base. Meanwhile, the inside of the groove has soft rubber padding, which keeps it from scratching your Steam Deck's housing.
A second plastic plate attaches to a hinge at the back of the groove. It folds down when collapsed for travel, but can stand up at three different angles. The kickstand support rides along a rail with three stops. The screen can be adjusted to 45, 60, or 75 degrees, which provides a good range of viewing angles.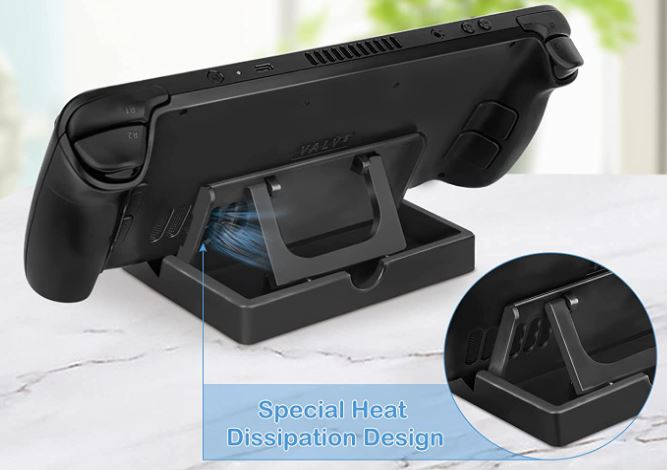 A set of four oval cutouts in the back plate are designed to go over the intake vent on the Steam Deck. Since they're the same size and shape as the ones on your system, you won't have any airflow issues. Not only that, but the beefy design of the stand makes it big enough to support a Nintendo Switch. You can even use the MARSPELL Stand Base to support your smartphone or tablet.
What We Liked:
3 adjustment angles.
Collapsible design.
Very stable.
What We Didn't Like:
JSAUX Aluminum Stand Base for Steam Deck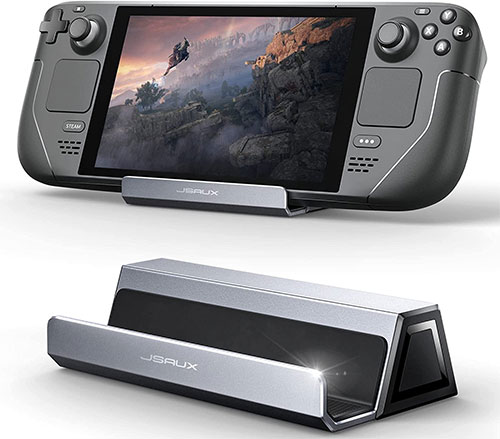 Key Features:
Made from aluminum alloy.
Silicone padded front groove.
69.4-degree viewing angle.
The JSAUX Aluminum Stand Base for Steam Deck isn't collapsible, but it doesn't have to be. At just 4.41 inches wide, 2.2 inches deep, and 1.1 inches tall, it's already pretty compact. It also weighs in at a mere 3.2 ounces. Put it in your pocket, and you'll hardly notice the extra weight.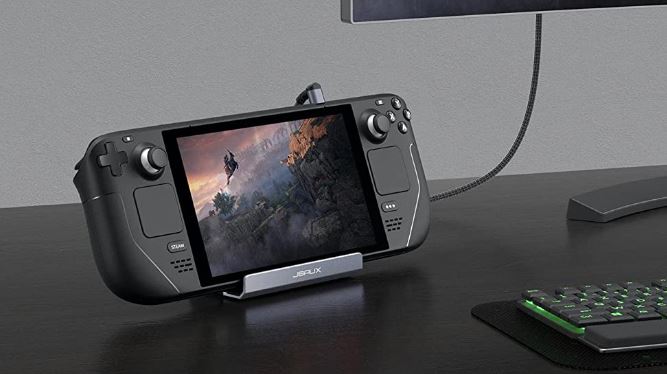 It might be lightweight, but the JSAUX stand is no shrinking violet. It's constructed from a tough aluminum alloy that can take a serious beating. Now, it's not often that you'll need a stand that's tougher than your Steam Deck itself. But there are scenarios where this can come in handy. For example, you can take your Steam Deck in your carry-on luggage and check your stand.
The back portion of the housing is roughly wedge-shaped, but with a flat top instead of a point. On the bottom of the housing is a set of silicone pads that protect and grip surfaces. Towards the front of the housing is a deep groove, with a vertical lip that rises in the front. This lip secures your system in place when it's in the stand.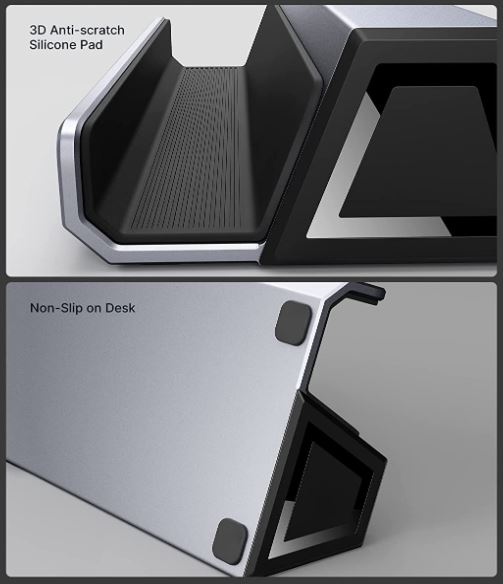 The inside of the groove is covered in silicone padding on all three sides. It's very soft and provides plenty of cushion, which protects your Steam Deck from damage. It holds your screen at a 69.4-degree angle, which is a nice medium orientation. Under most circumstances, it should at least be comfortable to view.
On the downside, the groove is designed to hug tight to your Steam Deck. If you have a thick case, your system won't fit.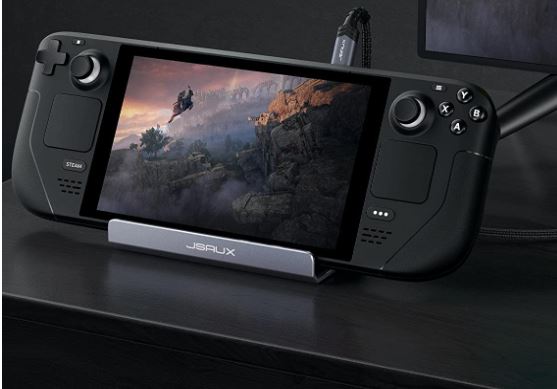 The JSAUX stand can theoretically support a Nintendo Switch as well as a Steam Deck. However, the same issues apply if you have a thicker case. More realistically, it's a good choice for your smartphone or tablet.
If you want the most durable stand, you may also want extra protection for your game system. In that case, check out our list of the best Steam Deck protective travel cases. No matter what your preferences, at least one of them should be up your alley.
What We Liked:
Tough aluminum alloy construction.
Gentle on your Steam Deck.
Good viewing angle.
What We Didn't Like:
Won't fit thick protective cases.
YUANHOT Adjustable Metal Kickstand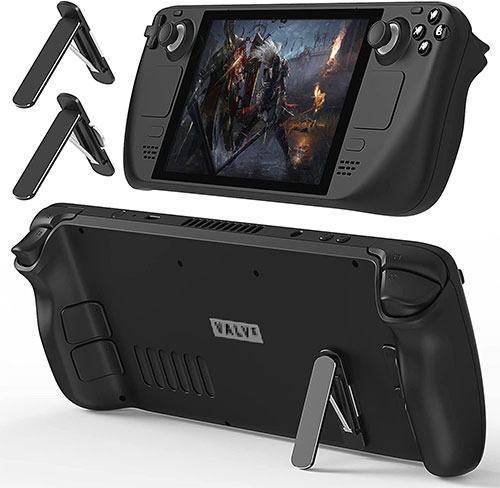 Key Features:
2-pack of metal kickstands.
Made from zinc alloy.
The YUANHOT Adjustable Metal Kickstand is unlike the others in that it's a true kickstand, not a stand. It comes in a two-pack, so you can equip two systems. And despite the small size, it's surprisingly durable. The kickstand is crafted from zinc alloy, which is tougher than aluminum or even steel. It won't mar or snap easily like a plastic kickstand will.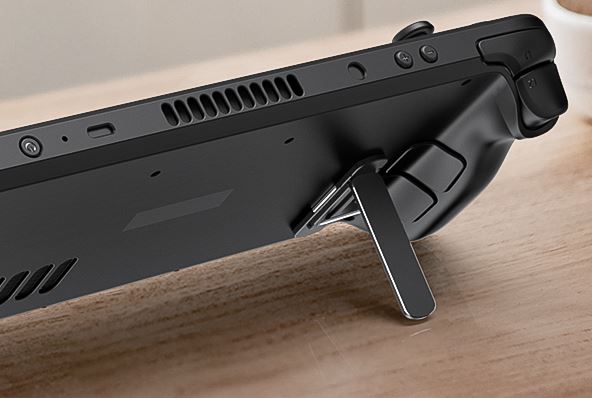 The stand is oval in shape, and opens with a sliding inner metal hinge. This hinge can float to support your Steam Deck at almost any angle, from very shallow to very steep.
When closed, the total size is just 2.2 inches long 0.55-inch wide and 0.2-inch thick. That's incredibly compact, and it doesn't cover much of your Steam Deck's case. That's a good thing, since your case will remain in contact with the air. And since your vents won't be covered, airflow isn't a concern, either.
That said, you can only install one kickstand on the side of the unit. You can't use both to balance things out, since the air vent gets in the way. This makes it slightly less stable than a broader, full-sized stand.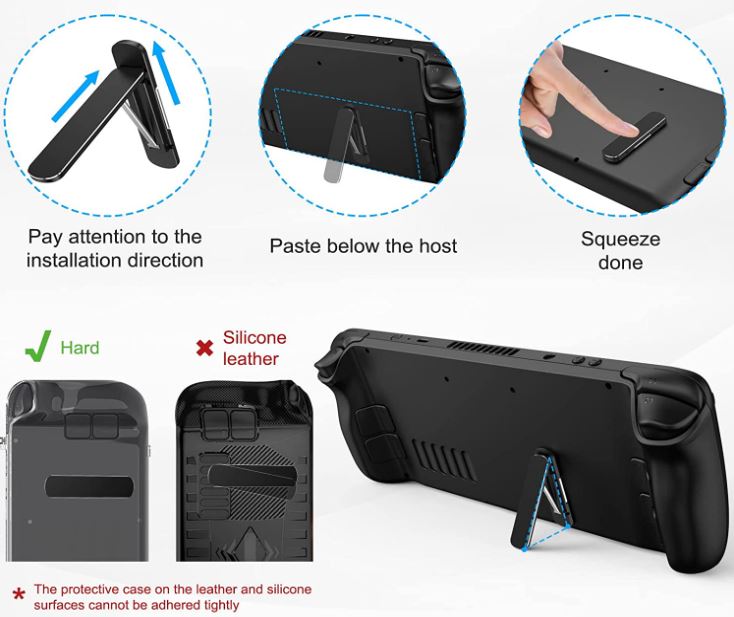 Attaching the YUANHOT kickstand is very simple. It comes with a red peel-off backing and adhesive. Peel off the paper, press it to your device, and wait for two hours before use. It won't attach to soft silicone surfaces, only hard plastic. That said, it can be used for many devices. You can stick your spare kickstand on your tablet and use it for movies.
When you're using a stand, you can't use your on-board controls. Instead, you'll need to use a mouse and keyboard for your Steam Deck.
What We Liked:
Sturdy zinc alloy construction.
No heat dissipation concerns.
Comes in a 2-pack.
What We Didn't Like:
Not as stable as a full stand.
OwlTree Upgraded Stand Dock for Steam Deck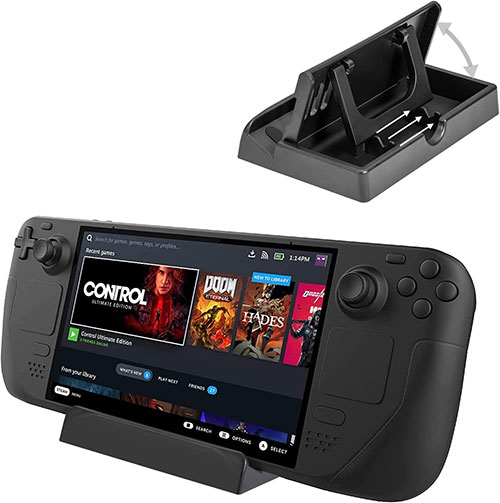 Key Features:
Holds your game system at 3 angles.
Collapsible for travel.
4 cutouts in the back panel for cooling.
The OwlTree Upgraded Stand Dock for Steam Deck is a black ABS plastic design. Like the MARSPELL stand, it's collapsible, but it's slightly beefier. When fully collapsed, it measures 5.7 inches wide, 3.7 inches deep, and 1 inch thick.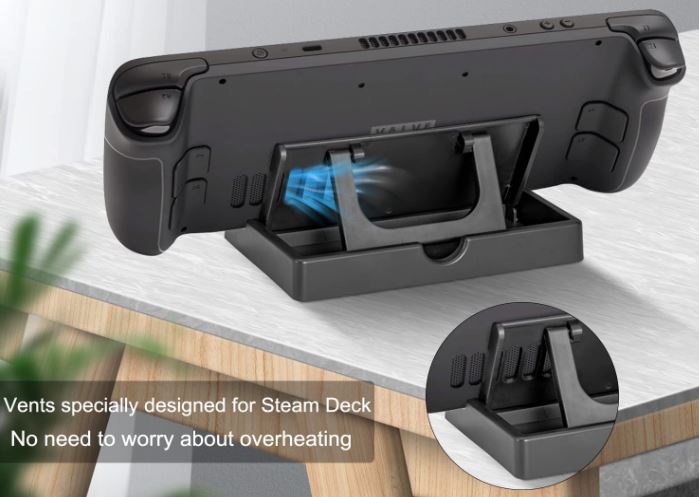 This stand supports your phone at one of three angles: 45, 60, or 75 degrees. There are four oval slots in the back that are designed to line up with your Steam Deck's air vents. For the most part they work well. However, the frame partially covers the cutout on the far right. This restricts some of your airflow, but not to a major extent.
What We Liked:
Adjustable to 3 angles.
Collapsible and portable.
Wide, stable base.
What We Didn't Like:
Some ventilation concerns.
Final Verdict
Each of these Steam Deck kickstands or stand bases has its own strengths, benefits, and weaknesses. But which one is the ideal choice for you? Let's go over what we've learned.
We began with the MARSPELL Adjustable Steam Deck Stand Base. This stand is both lightweight and collapsible, great features for anything you take on your travels. It's not as durable as some of the others. But it supports your Steam Deck at three different angles. And its large size isn't just stable; it also makes it capable of supporting the Nintendo Switch.
Next, we looked at the JSAUX Aluminum Stand Base for Steam Deck. This stand is most noteworthy for its durability. Since it's made from aluminum instead of plastic, it can take a serious beating. It's also surprisingly lightweight and compatible. But if you have a thick Steam Deck case, your system may not fit into the narrow groove.
After that, we checked out the YUANHOT Adjustable Metal Kickstand. This is a tough little stand that's very easy to attach to your Steam Deck. It's not as stable as the others, but it's the lightest by far. It's also highly adjustable, so you can use your system at any angle.
Finally, we reviewed the OwlTree Upgraded Stand Dock for Steam Deck. This is similar to the MARSPELL stand in most respects. But it's a bit stockier and more durable, at the expense of providing somewhat less airflow.
Please consider sharing:
Note: At no extra cost to you, we may earn a commission for purchases using our links. Learn more.