Protecting your data can be tough. Most hard drives are not built to withstand a fall. For most HHDs, a two-foot drop will almost certainly mean death. And these are the devices that are supposed to be protecting your data! In some cases, it can be like writing a business contract on a sheet of glass. Just one accident is all it takes.
Unless you're willing to add some zeros to your budget, HHDs are still the most economical way to store data. Solid state drives are getting cheaper every year, but they're nowhere near as affordable for large quantities of storage as HHDs. Unfortunately, HHDs are also fairly fragile by design because they use moving mechanical parts. So to protect one, you need essentially a full suit of armor to be applied to the drive.
You don't need to be trekking through the jungle to be concerned about the fragility of your data. But if you are taking a bumpy journey, then you want the best protected external drive you can possibly find. Smartphone screen repair is a billion-dollar industry because people drop things. And while portable hard drives are slightly larger than smartphones, they're just as likely to suffer a fall as anything else without handles and straps.
Choosing a Rugged Portable External HHD
For selecting a truly rugged HHD, you'll want to know about some relevant performance tests. Military grade protection is mostly a fancy marketing phrase, but in some cases, the manufacturer is specifying a very specific standardized test by which their drive was tested.
There's a world of difference between equipment that looks rugged, and equipment that's built to take a spill. For selecting a hard drive with military grade construction, you need a device which was built to pass a military drop test known as MIL-STD-810G 516.6.
It's a test which involves two-dozen drops into plywood, and devices which pass are built to survive at least a six-foot drop. But because no independent labs are doing this type of testing, it's often useful to check these claims against reviews to see whether or not the construction actually lives up to the manufacturer's claims.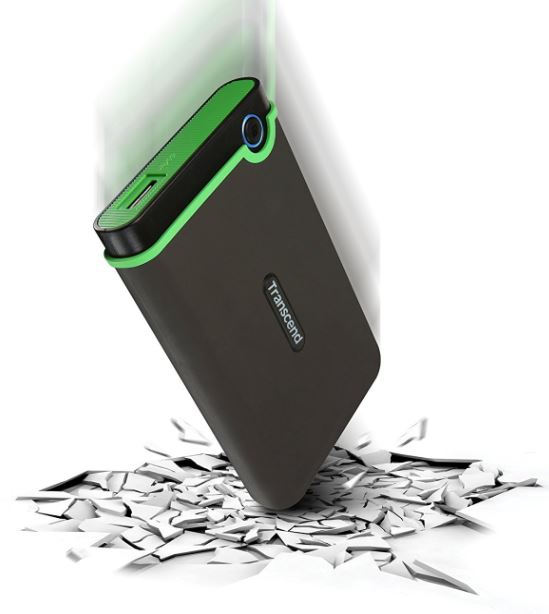 Technical Considerations
Like with choosing any hard drive, you'll want to understand about the performance of drive, including its ability to store and read data in a timely manner. Depending on your intended use, you might even care about the power consumption of the drive on your laptop battery. As is so often the case, it's the small details that count most.
How much space do you need for your drive? If you're not sure, aim for at least one terabyte of data. Speed considerations for drives are often a reflection of the type of cables you use. For instance, USB 3.0 connections are literally ten times faster than their 2.0 counterparts, and that speed plays out as you try and move files from one place to another.
But ultimately, your speed will be bottlenecked to HHD read/write speeds. A speedy 7,200 RPM drive will have a maximum read/write speed in the neighborhood of 100 MB/s. It varies from one hard drive to another, and will be the determining factor on speed more than USB cabling. In short, that means you don't have to pay attention to USB speeds, only to which type of USB plug is used.
Making Safe Bets
Hard drives have an annual failure rate of about 3%. These figures vary slightly from one HHD manufacturer to the next, from one generation of drives to the next. But any drives which don't have serious flaws will come close to having a standard 3% failure rate. In other words, if one hundred people buy a drive, three people are getting a dud that will be dead inside of 12 months.
That's just a fact about hard drives. Unfortunately, the higher failure rate of these devices are often manifest in user reviews. How many of the unlucky 3% decide to complain their product failed? Whenever you're looking at consumer reviews for hard drives, this is often important to keep in mind. To protect yourself from being part of that unlucky 3%, what you need to do is pay attention to the warranty provided by the drive's manufacturer. The very least you should expect is a one-year warranty.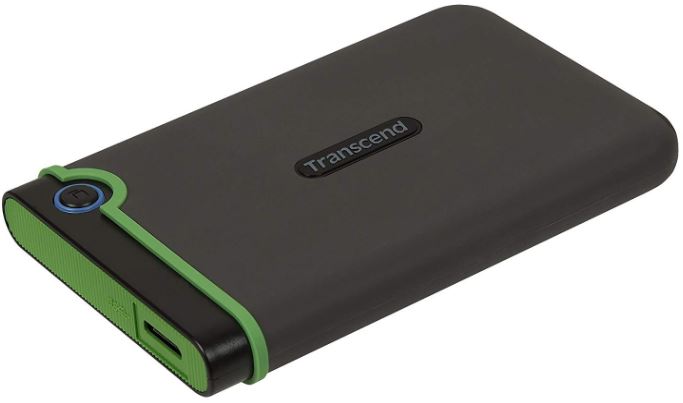 Transcend StoreJet M3
The Transcend StoreJet M3 is a USB 3.1 drive which makes use of military-grade shock resistance. It's constructed with a distinct military aesthetic composed of green and iron gray. And it provides a bulky 1TB capacity, which should be suitable for virtually all data storage and transfer needs.
The generally rugged build of the Transcend StoreJet M3 gives off the impression you could take this drive into rugged terrain. But if you look carefully at the actual protection it offers, what's provided is more in line with someone who wants to keep their data remotely backed-up.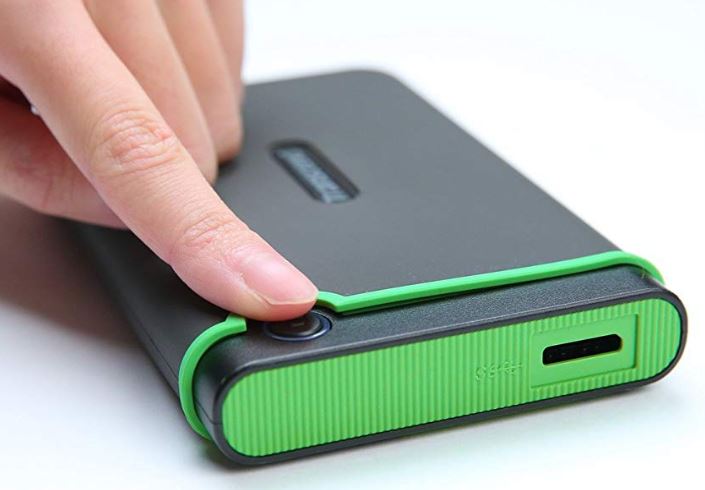 Build & Design
Hard drives aren't terribly large to begin with, but they can get a big bulky when you start wrapping them up in armor. The Transcend StoreJet M3 sits comfortably at 5.1 x 3.2 x 0.7-inches, which is a surprisingly slim profile.
For protection, it has a three-stage shock protection system. The first layer is the external anti-shock rubber case. The next layer involves the thick aluminum armoring over the device. And the final stage involves an internal, rubber-based hard drive suspension system.
On the outside of the M3, you'll notice its single button, a quick reconnect button, which allows you reconnect a removed hard-drive without unplugging it. That button can also be used as a one-touch auto-backup feature from within the Transcend StoreJet M3 software.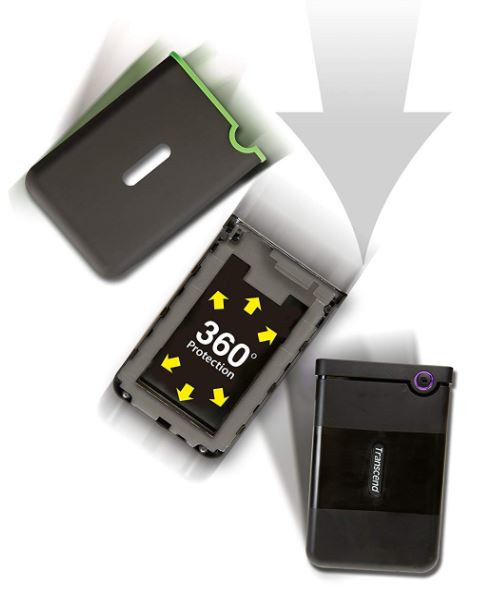 Technical Specifications & Connectivity
The M3 includes Transcend Elite software, which you can use for data management on the drive. The software isn't terribly impressive, but it does help you help keep things organized, and quickly find your files, and remove unused documents.
The Transcend StoreJet M3 also supports military grade 256-bit AES encryption for your data. That keeps your data as well protected from cyber-crime as your it is from physical damage. It has a fairly ordinary range of operating temperatures for an HHD, from 41°F to 131 °F. And it includes a three-year warranty from Transcend.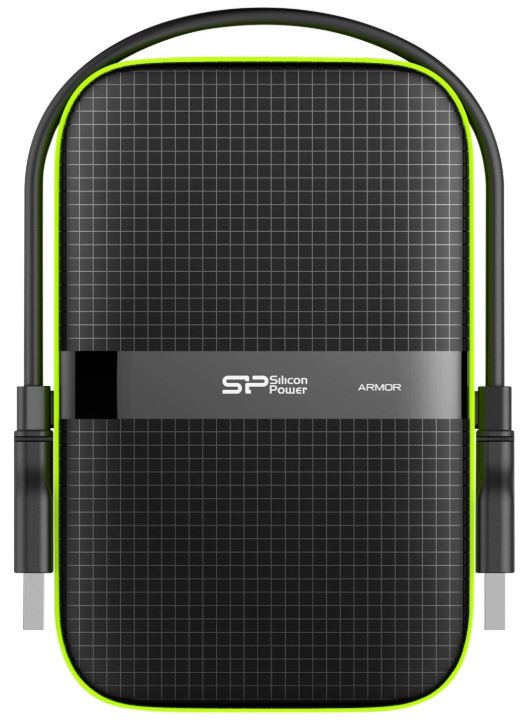 Silicon Power Armor A60
Inside the A60, Silicon Power has basically taken a Samsung HHD and wrapped it in armor. The two terabyte capacity leaves little to be desired, especially given the exceptionally small size of this device. Made specifically with gamers in mind, the A60 has added compatibility for every major console.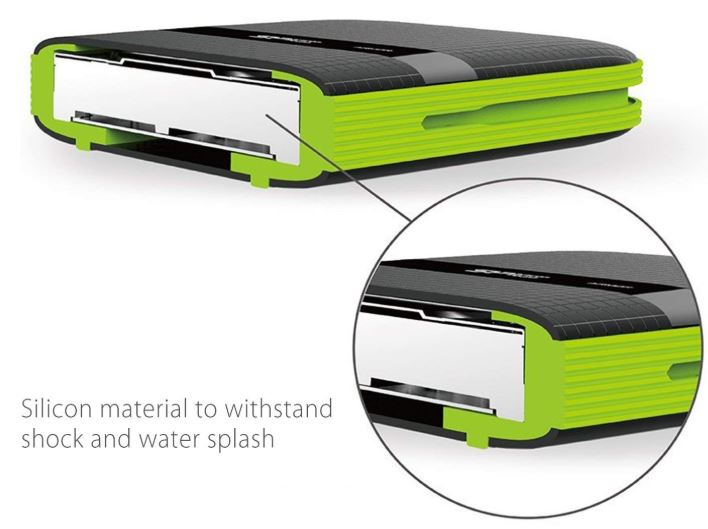 Build & Design
Like with the M3, the Silicon Power Armor A60 is constructed to a slim 5.5 x 3.7 x 0.7-inch build. It weighs only 0.6 pounds, making it easy to take on the go. Beyond having the somewhat ordinary appearance of an external drive, on the side of its body, you'll notice a storage cubby.
That's a great grip-space for carrying the A60, but more importantly, it can be used to carry the included USB connection cable. It's a 3", USB Type-C to Type-A cable, with a high-density nylon cover for maximum lifespan. And aesthetically, the A60 is available in striking varieties of crimson red, deep blue, ooze green, and dark black.
The A60 isn't merely military-grade shock proofed, it's also rigorously waterproofed with IPX7 protection. Notably, the build includes a sturdy aluminum casing, capable of withstanding 300kg of force. That armor is paired with a reinforced rubber frame, providing all the protection you need for your data, at least for a 6-foot fall.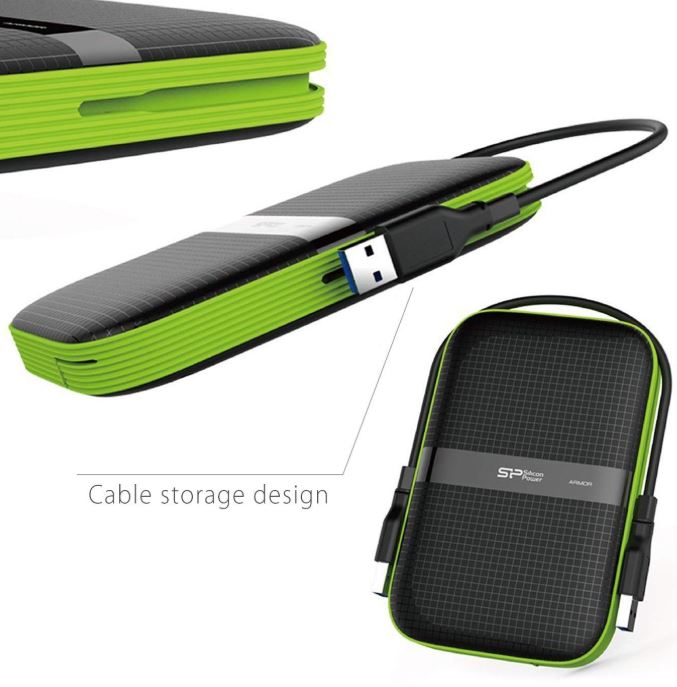 Technical Specifications & Connectivity
The outside of the device has a single LED indicator which can let you know the drive is connected or transferring data. This indicator light seems like a small thing, but it can come in handy if it ever becomes necessary to do troubleshooting on the drive. It's worth noting how the cable isn't actually attached to the external drive, which is generally a good thing. And Silicon Power includes a three-year warranty.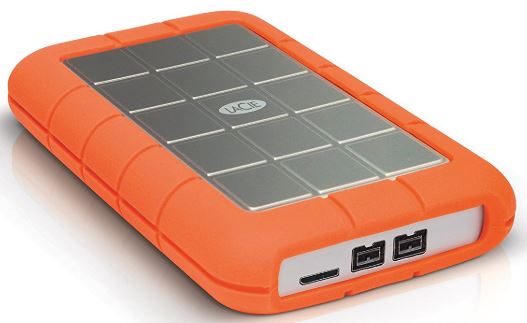 LaCie Rugged Triple Hard Disk
The LaCie Rugged Triple Hard Disk is three times as durable as an ordinary drive. Within its formidable protection, you'll find 2 TB of storage space. LaCie drive are also available in 1Tb and 500GB capacities, with the same protection available. While the LaCie drive is somewhat bulkier than the other drives on this list, it's still every bit as well protected.
Build & Design
This drive is constructed to a slightly-thick 1 x 3.5 x 5.7-inch build, weighing just over half a pound. The bright orange exterior that's highly visible, which can be useful depending on where you end up storing the drive. You'll probably appreciate how the plugs are clearly labeled. And you find the same essential waterproofing as you do in the A60.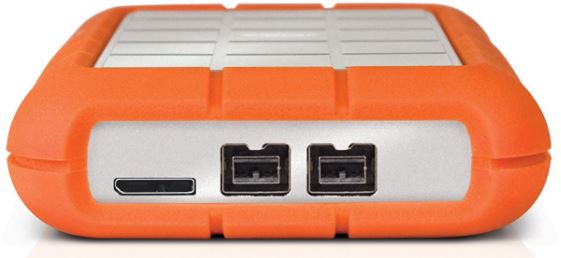 The LaCie Rugged Triple Hard Disk is constructed to meet the standard military testing procedure for hard drives, ensuring that you're protected for falls of at least six feet. The bright, external shock-absorbing sleeve is its first layer of protection, helping to reduce the amount of force which is ultimately applied to your drive in the event of a fall.
The next layer of protection is an anti-scratch casing, constructed from a high quality aluminum chassis, as with the other drives on this list. And finally, the internal rubber bumpers help resist shock for up to 1000G. That's three layers of protection between your data and damage. Everything is well protected for a 6-foot drop. It's plausible you the drive could survive a 9-foot drop, but you'd certainly be gambling at that point.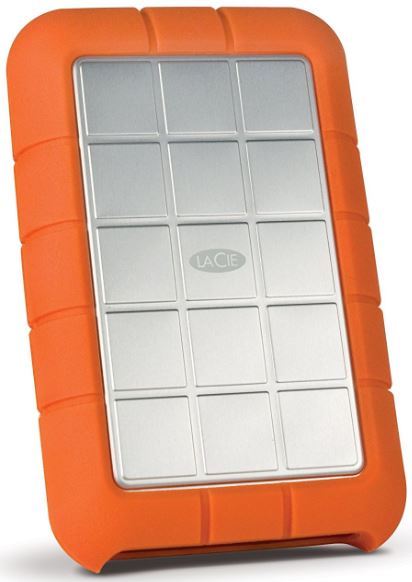 Technical Specifications & Connectivity
Interestingly, the LaCie HD offers connectivity over both USB 3.0 and FireWire 800. These formats offer backwards compatibility for previous versions, and they allow for moving a 1000 MB movie file in under ten seconds. The included LaCie software enables automatic backup for PCs and Macs, while providing the option of AES 256-bit encryption for your data.
Additionally, the LaCie Rugged Triple Hard Disk has an eco-mode which reduces power consumption by nearly half while you're not using the drive, which extends the battery life of whatever laptop it might be plugged into. For people who are connecting to mobile devices on the go, these battery savings can make a big difference for scenarios where you're doing sustained read/write operations, like watching a movie.
Choosing Between 3 Rugged Portable External Hard Drives
The LaCie Rugged Triple Hard Disk is your best choice if you can make use of its unique port configuration. The inclusion of FireWire 800 ports makes this great for people who need to connect to their FireWire devices. And the slightly thicker nature of this drive means it's wouldn't be that difficult to replace the internal HDD, if you so wished.
The Transcend StoreJet M3 is a value-oriented option. It's only a 1TB capacity, but it has a thoroughly rugged build, and that's ultimately what you're looking for. The one-touch backup button is a handy feature for people who aren't technology wizards, and want things to be simple. With all of that in tow, it still manages to be in incredibly slim device, well under one inch in depth.
The Silicon Power Armor A60 is just as slim, but it also contains the necessary cabling you need for operation, and a handy storage space for that cable. It's got the best waterproofing of the bunch, and the shock-proofing which passes rigorous examination. Silicon Power went as far as to test 300kg force. For portability and performance, the A60 is hands-down the best external drive on this list.