If you're sitting in your car, it's fair to say that binoculars are relatively compact and portable. But when you're actually carrying your magnification device around with you, the heavy weight of a full pair of binoculars makes them nothing short of burdensome. For portability, there's simply no substitute for a monocular.
A monocular is a small, low-powered telescopes you hold in your hand like a pair of binoculars. But unlike binoculars, monocular pocket scopes are usually scarcely larger than your thumb. That makes them perfectly sized to comfortably attach to your jacket, fit inside your pocket, or otherwise be ready to come along with you on your next adventure.
Choosing the Right Monocular for You
As always, it's important to choose the right tool for the job. When it comes to a monocular, that means selecting an instrument built specifically for the tasks you have in mind. Even though a monocular is a small instrument, you'll want to pay attention to the size of the lens. You'll want to think about the quality of the optical equipment that's being used, and the qualities of the focus ring on the device. But you'll want to start by thinking about magnification.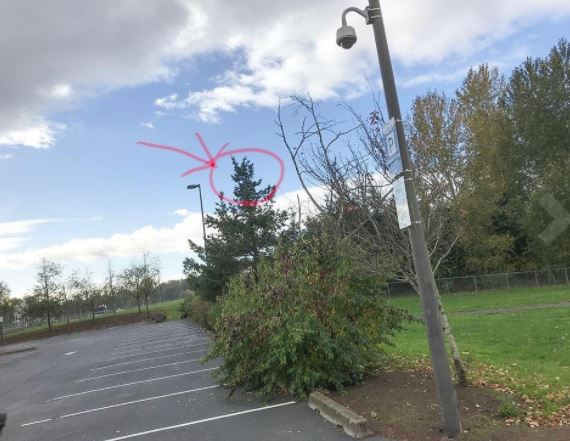 Selecting Magnification
Available magnification power varies widely from one monocular to another, with most being built between 5x and 10x. But how much magnification do you need? Most consumers are driven towards the bigger number, suggesting a more powerful tool. But selecting higher magnifications when you intend on viewing shorter distances can be a dire mistake.
Even with flawless manufacturing, larger magnifications are proportionally more difficult to hold steady. Higher magnification makes it more difficult to make small motions with the device, and as you look further away, the field of view you have available to you will shrink. Unless you know you specifically need higher magnification, your best bet is to stick to around 6x.
If you do end up needing higher magnifications, you'll want to consider using a tripod or similar stationary mounting fixture. These types of considerations amount to the difference between having enough magnification to effortlessly see what you're trying to see, or having so much magnification that your job becomes harder.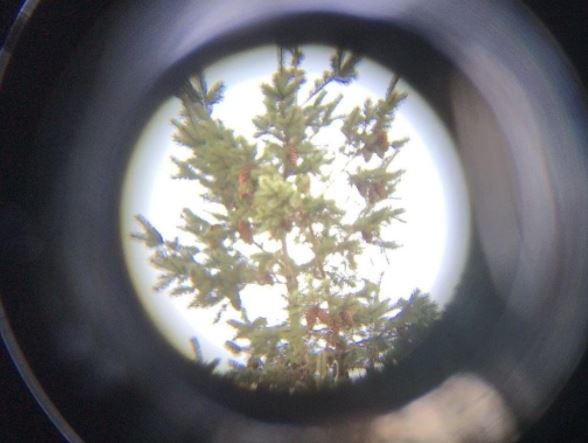 Optic Coating and Prism Type
Clear, crisp views at great distances are only possible with well-manufactured optics. That's why you'll always want to ask what kind of optics a monocular will use in its construction. Prism glass and BaK-4 glass are the industry standards you want to look for. Additionally, you'll want to ensure that the spaces between the lenses have been filled with nitrogen or a similar gas. Gassed lenses are necessary to prevent fogging, and ensuring your monocular can be used in virtually any environment.
For lens coatings, multicoated prism glass has been specially equipped for light transmission. In the interests of brightness and clarity, you want a lens that's been fully multi-coated. Being fully multi-coated indicates that all side of each lens have been given several layers of special coating. Alternative optics that describe themselves as being "fully coated" or less are actually greatly inferior to multi-coated lenses.
Additionally, you'll want to know if the monocular you're considering uses a roof prism or a Porro prism. For lower magnifications, most monocular devices make use of a Porro prism, which gives an image more depth and brightness. Relative to a roof prism, Porro prism optics tend to become blurry with small bumps and adjustments. However, modern constructions for both types guarantee that the differences between the two aren't night-and-day as they once were.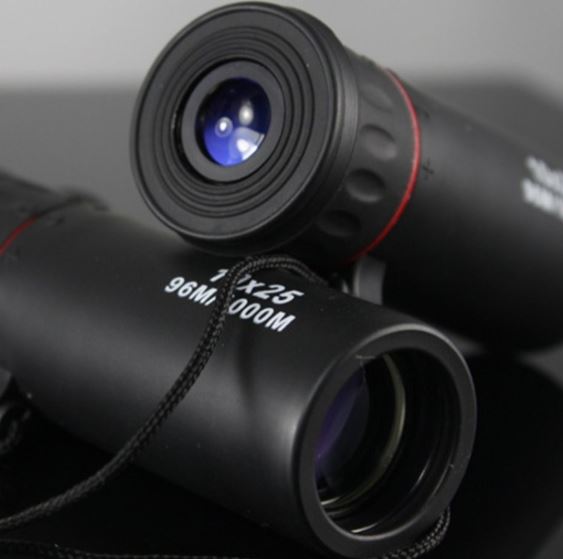 Lens Size
Monocular are typically built with lenses ranging between 20 and 40mm. Larger lenses provide a wider view. And because they let more light in, they allow brighter images, and a better viewing during dawn or dusk. For describing the lens size and magnification of a monocular pocket scope, a device that's called "8 x 25" indicates it 8x magnification and a 25mm lens. This naming standard occurs throughout the monocular market, so it's worth remembering.
Eye Relief and Focus Ring
The eye relief distance of a monocular pocket scope refers to the space between your eye and the monocular eyepiece. Most people don't have to worry about eye relief distance, but anyone with glasses will want at least 15mm of relief.
The focus ring may seem like a minor detail, but it plays into the practical use of a pocket scope. For example, if you're mostly interested in tracking birds, then you'll want a focus ring that can move fast enough to make a quick adjustment. But you don't want the ring to spin so readily that you could lose focus by accident. On the other hand, viewing more stationary objects will demand a fairly stiff focus ring. A stiff ring is all but impossible to accidentally nudge or move out of place.
Other Considerations
Monocular have to be somewhere when you're not holding them. A carrying case is something you should expect with any quality brand. Any good case should include a strap or lanyard to help you keep your grip on the device. And a microfiber cleaning cloth is another essential to look for because you don't want to clean high quality optics with ordinary coarse cloth.
After the visual aspects have been considered, you'll want to think about the casing of the monocular. Rubberized coating helps with durability. Ergonomic grips ensure you don't drop the device. The housing may or may not have a lanyard hole to keep the monocular pocket scope attached to your wrist. For regular use, these features are what compose the durability and lifespan of the device.
Being shockproof or waterproof may be another concern. Real-world conditions always put to the test what looks good on paper. You'll want to know how a monocular look after you've been using it for a few hours. Reviews are good for that, especially when paired with a product warranty that can give you an indication of the kind of lifespan you can expect from the device.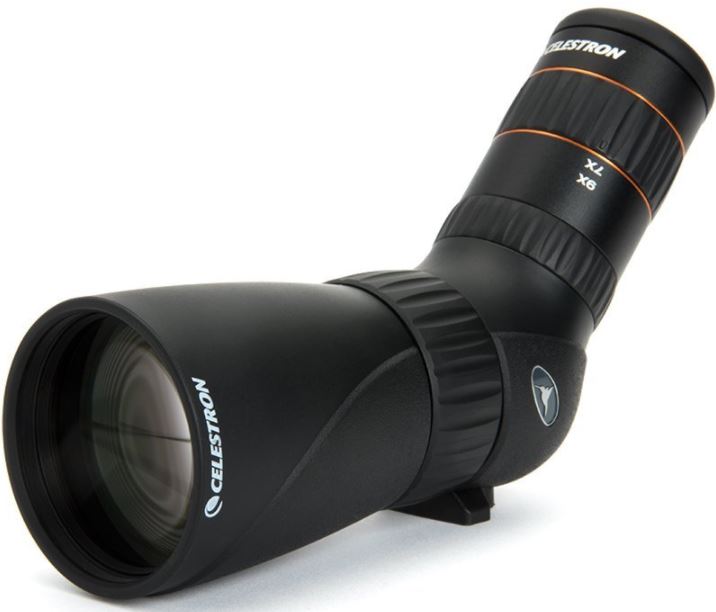 Celestron Hummingbird Micro Spotter
Celestron's Hummingbird is a powerful yet compact spotting scope. Even though it fits comfortably in one hand, it's just about powerful enough to replace a telescope. Inside you'll find optics that are fully multi-coated for a sharp, bright image. Outside, you'll find versatile mounting options for monopods, window mounts, tripods, trekking poles, and similar devices. And constructed with BaK4 prism glass, relative to its price point, the Hummingbird has an unmistakably flawless design.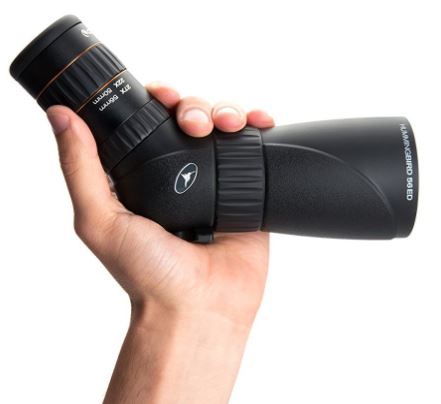 Optics & Design
Along the base of the device you'll find a helical focus dial that can help you quickly find focus, while also providing a considerable degree of precision in your turning. As far as portability goes, the Hummingbird includes a custom designed padded case that's easily carried over your shoulder, or tacked on your belt.
An eye relief of 15mm ensures that even though this device is compact, it's large enough for someone with glasses to still comfortably use. The gaps between each lens are filled with nitrogen to prevent fogging, and a fully waterproof design helps ensure this monocular can last.
As its name suggests, the Hummingbird isn't restricted to one magnification setting, it can be effortlessly increased between 9x and 27x magnification. That makes this device as powerful as a pair of binoculars, but still small enough to hold in the palm of one hand. Much like a pair of binoculars, the eyecup makes use of an intuitive twist design.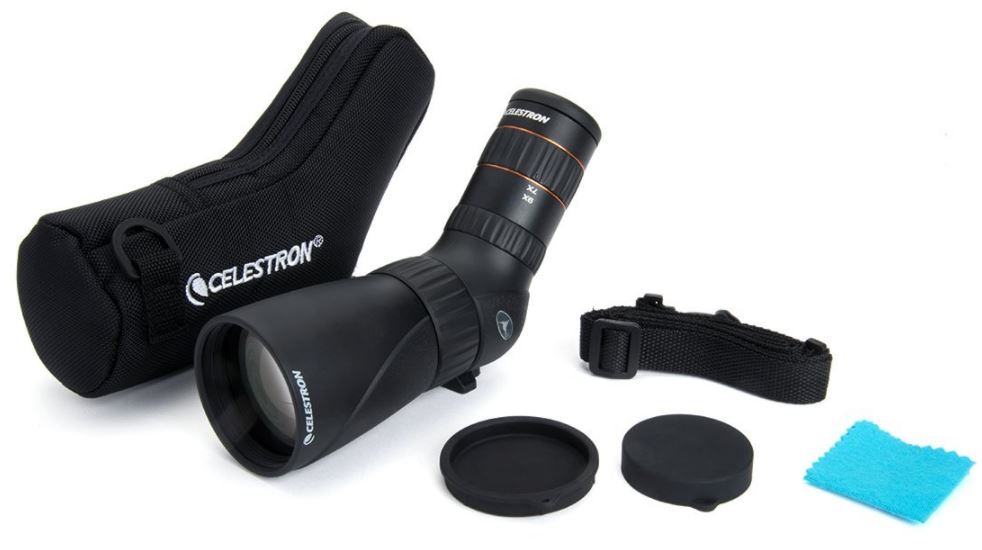 Other Considerations
Several accessories are included with the Hummingbird. A microfiber cleaning cloth, eyepiece cover, carrying case, and instruction manual are all present. But what's just as important as the tangible products are Celestron's amazing technical support. Whether or not you think a monocular that costs a few hundred dollars is expensive or cheap will reflect your expectations of the optics, but it's fair to say that for the Hummingbird, the quality matches the price.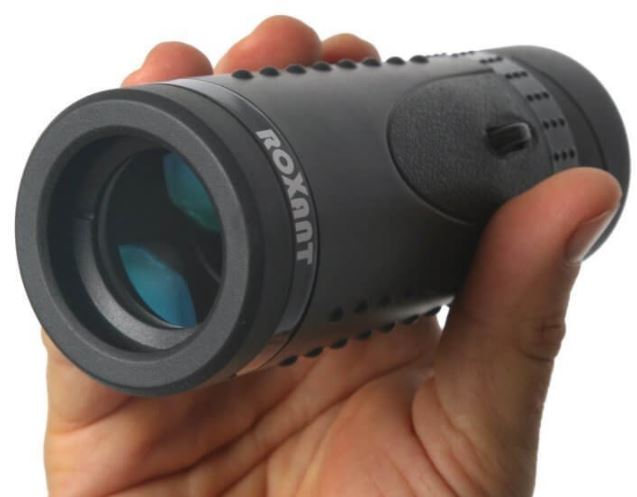 Roxant Grip Scope High Definition Wide-View Monocular
If you're looking for handheld magnification, you probably don't want to go any higher than 6x. That being the case, you'll want to take a close look at Roxant's Grip Scope. It's a small yet powerful companion for any hunter, birdwatcher, or outdoorsman who wants to get a better look at something a few hundred feet away. It's small enough to easily fit into your pocket, but built with all the quality construction of a far more powerful device.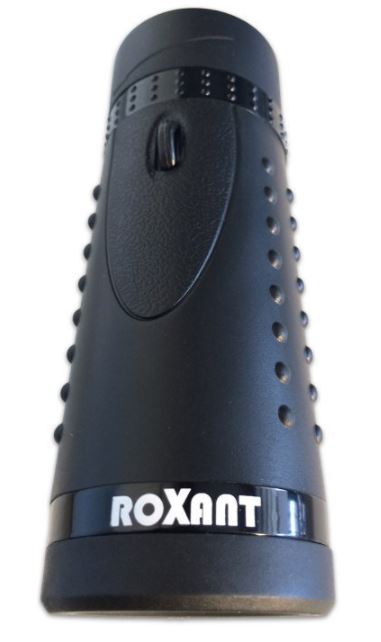 Optics & Design
The ROXANT Grip Scope is made from high definition optical glass, including optics that are fully multi-coated for the best possible short-distance viewing. This design helps ensure you end up with less light dispersal, for a much clearer view of whatever you're trying to see. Additionally, the relatively large 30mm lens allows you to get a clearer view even from considerable distances, in spite of the compact size of this unit.
Other Considerations
As far as the small details go, ROXANT gets all of them right. This monocular pocket scope makes use of a carefully molded grip for an easy and comfortable hold. Grip design may seem like a minor touch at first, but it contributes to less shaking of the device when you're looking through it. This scope also includes a carrying case, neck strap, and microfiber cleaning cloth.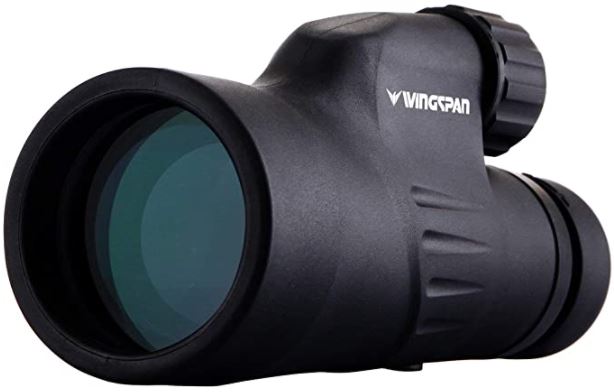 Wingspan Optics Explorer
The Wingspan Optics Explorer pairs powerful 12X50 magnification with a highly compact 50mm lens. The result is a powerful long-distance focus that doesn't feel limited by the size of this scope. Wingspan's Explorer is also fog proof, shock proof, waterproof, and generally weatherproof. The 10x magnification gives you a field of view of about 1,000 yards. And your comfort is no more limited than your viewing distance, thanks to a smoothly designed twist-cup eye.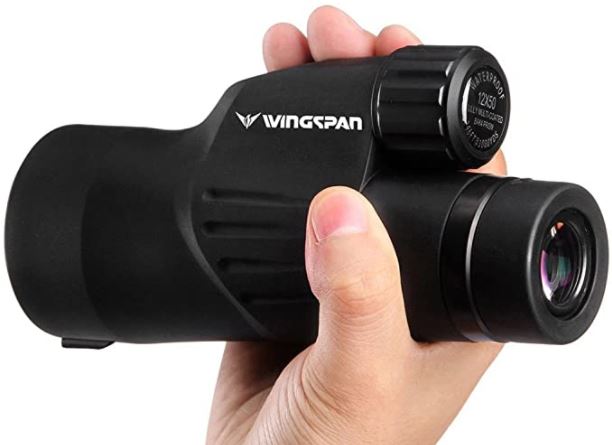 Optics & Design
Wingspan's Explorer use fully multi-coated optics for the clearest and crispest views you can get through a monocular pocket scope. They're also constructed with a BAK-4 roof prism that's much better at enduring small bumps than alternative prisms. As a result, you're able to get clear views even when you're rapidly moving your view from one position to another.
Additionally, the Explorer has been engineered to be internally well-balanced, which helps to provide easier viewing when you're using the scope for long periods of time. That means it won't strain your hand from prolonged use. And the adjustable eyecup provides enough relief for comfortable viewing with or without glasses.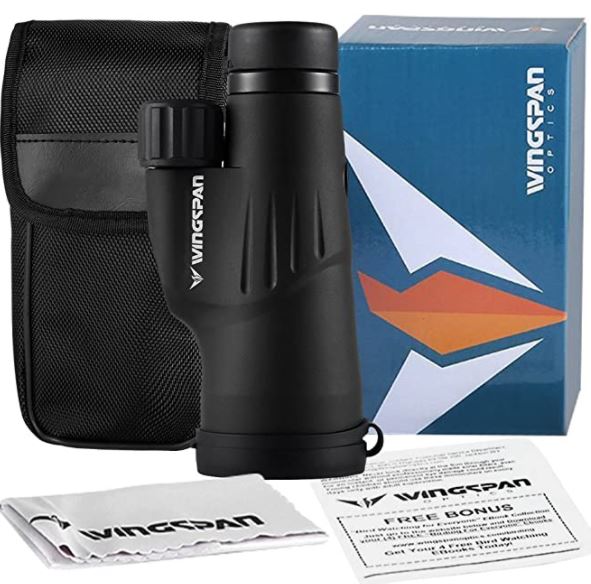 Other Considerations
The Explorer is designed with a compact 5.5 x 3 x 2.7-inch build, and weighs only six ounces. It includes a nylon mesh carrying case that's great for keeping the scope safe while traveling, neck strap, lens and eyepiece covers, and a microfiber cleaning cloth. It also includes a 30-day money back guarantee, and a lifetime warranty. Compared to even extremely high end optics, Wingspan is willing to bet their money and reputation that Explorer can hold its own.
Choosing Between 3 Quality Monocular Pocket Scopes
If you're looking for modest 6x magnification, then you want the Roxant Grip Scope. It has all the hallmarks of excellent monocular pocket scopes, and remains relatively inexpensive in spite of the quality of the materials. It's a great choice for hunters, outdoorsmen, and anyone engaged in similar outdoor activities.
If you're trying to get more magnification than you can squeeze out of a 6x scope, but you're not trying to look any further than 1,000 yards, then the Wingspan Optics Explorer is the scope you want. Wingspan Optics' Explorer makes use of a smart and well balanced design while remaining durable enough to endure just about any type of environment.
But being restricted to one type of magnification isn't going to work for everyone. Celestron's Hummingbird is like having 18 separate monocular pocket scopes packed inside one device. It's smartly designed from top to bottom, with even the case working to enhance the versatility of the device. For anyone who needs variable magnification settings, the Hummingbird is an obvious pick.