Whether you own the original Nintendo Switch or the newer OLED version, you're going to want to protect it from dust and debris. Maintaining your console's cleanliness is crucial to ensuring it continues to perform at its best.
Dust and debris can hinder your gaming experience and potentially damage your hardware. That said, you should probably invest in a decent dust cover. Today we're going to introduce five of the best Switch dust covers. Regardless of if you own the regular Switch or the OLED version, all of the options we'll introduce are compatible with both.
| | | | | | |
| --- | --- | --- | --- | --- | --- |
| Top 5 Switch Dust Covers | Thickness | Material | Protection | Colors | Price |
| Best Budget: Mcbazel | 0.17″ | Oxford Cotton | Dust, Water, UV | 2 | $9 |
| Best All-Around: U/C | 0.29″ | Ultra-Plush Cotton | Dust, Water, UV | 1 | $13 |
| Best Clear Cover: MANMUVIMO | 0.12″ | Clear Acrylic | Dust, Water | 1 | $23 |
| Best RGB: Mooroer | 0.16″ | Clear Acrylic | Dust, Water | 1 | $40 |
| Best Alternative: PlayVital | 0.09″ | Clear PVC | Dust, Water | 11 | $12 |
Reasons to Cover Your Nintendo Switch:
Dust Prevention: The most obvious benefit is that dust covers effectively shield your console from accumulating dust and debris, reducing the risk of internal contamination.
Maintain Performance: Dust can clog vents and affect cooling, potentially causing overheating and performance issues. A cover helps maintain optimal performance.
Extend Lifespan: By keeping your console clean, a dust cover can extend the lifespan of your Nintendo Switch, saving you money in the long run.
Prevent Scratches: They also act as protective barriers against scratches, keeping the surface of your console and screen looking new.
Protection During Storage: If you store your Nintendo Switch when not in use, a dust cover ensures it remains protected from environmental factors.
Customization: Some covers come in various colors and designs, allowing you to personalize your console's appearance.
Best Budget: Mcbazel Nintendo Switch/Switch OLED Dust Cover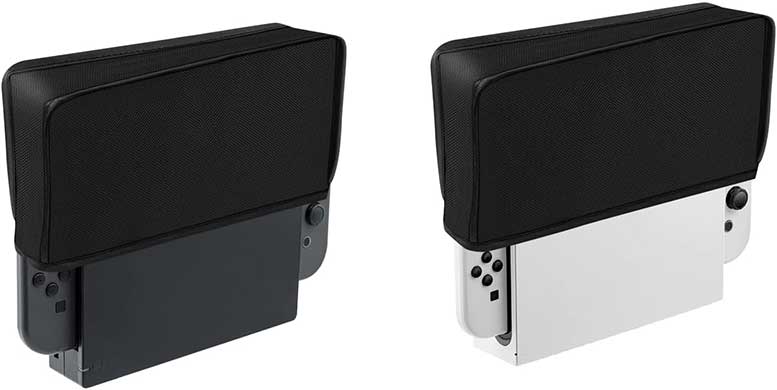 Key Takeaways:
Most affordable option available.
Simple, no-frills design.
Available in either black or gray oxford cotton.
Backside offers access to cables without removal.
If you're looking for a simple, no-frills option that comes at an attractive price, look no further than the Mcbazel Nintendo Switch Dust Cover. With a material thickness of 0.17 inches, it's designed to fit snugly over your Switch or Switch OLED, whether you have JoyCons attached or not. Available in sleek black or gray colorways, this cover proves that affordability doesn't necessarily mean compromising on quality.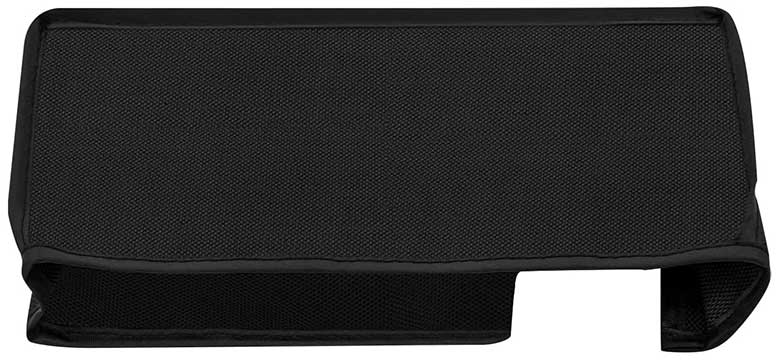 What sets the Mcbazel Dust Cover apart is its construction. Crafted from heavy-duty oxford cloth, it provides exceptional water resistance and durability. This material not only shields your console against dust but also provides a barrier against water, sunlight, and scratches, making it ideal for various environments.
The attention to detail in its design is evident in the heavy-duty stitching around all edges, ensuring longevity and a secure fit. Plus, the cable port cut-out on the backside allows easy access to cords without the hassle of manual removal.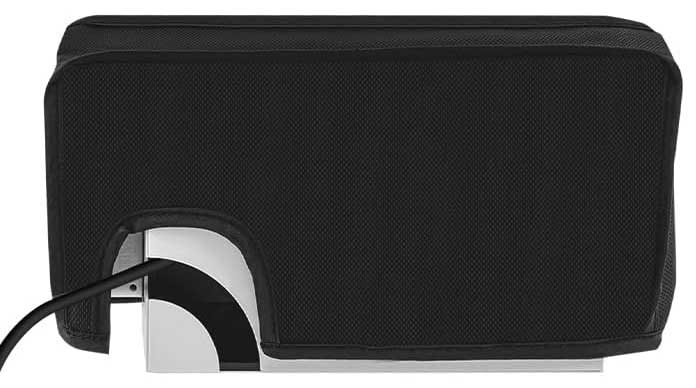 It's important to note that you should remove the cover before using your console to prevent overheating. While you technically could leave it on, it's best not to.
All in all, the Mcbazel Nintendo Switch Dust Cover offers affordability without compromising on protection and convenience, making it an excellent choice for those who don't want to spend a lot.
Best All-Around: U/C Dust Cover for Nintendo Switch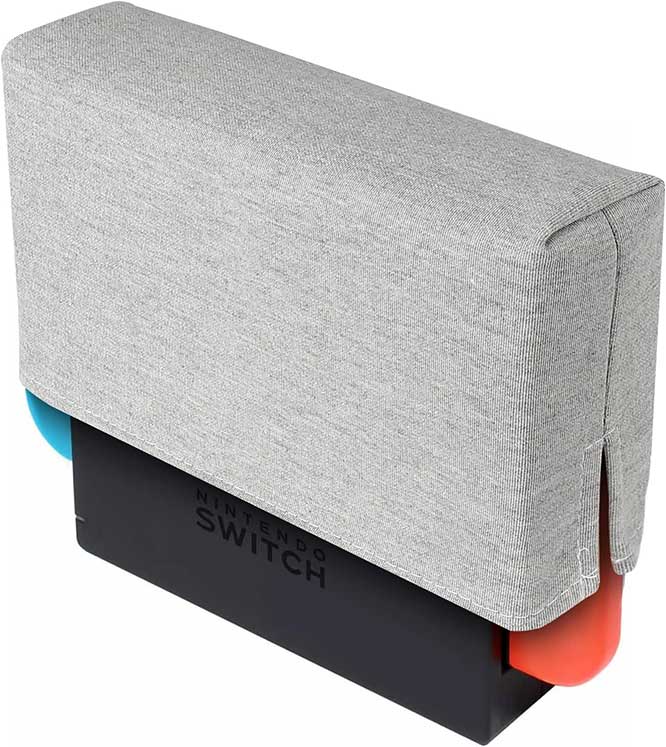 Key Takeaways:
Ultra plush cotton interior.
Only available in gray.
Four game or SD card slots on the back.
Cable routing slit on the right side.
The U/C Dust Cover for Nintendo Switch stands out as another comfortable solution to protect your console. Crafted from medium-weight ultra-plush cotton, it offers a luxurious feel that sets it apart from other dust covers. With a material thickness of 0.29 inches, it strikes a balance between plush comfort and practicality.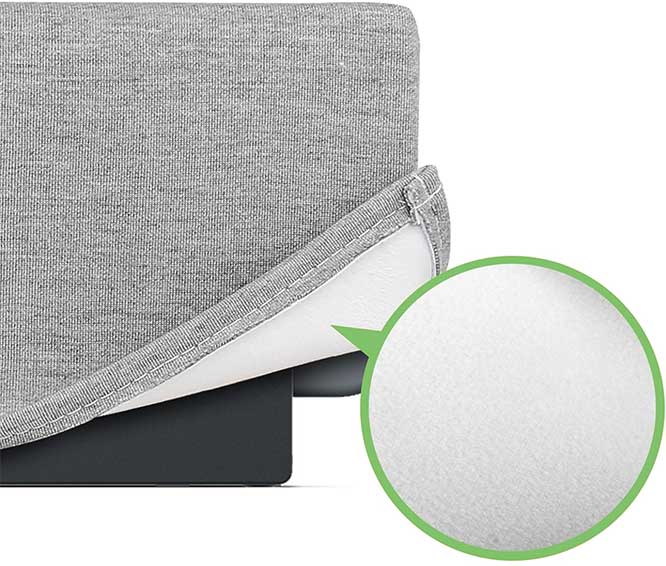 Available exclusively in a stylish gray color, the U/C Dust Cover is not only aesthetically pleasing but also highly functional. Although it's not available in any other colors, it looks great. That said, it has exceptional resistance to dust, UV rays, and is built with splashproof properties.
For easy access, there's a small slit on the right side towards the bottom, which simplifies cable management by allowing cords to route through effortlessly. As a unique touch, on the backside, you'll find four elastic slots, perfect for storing game cartridges or memory cards, adding a nice element of convenience.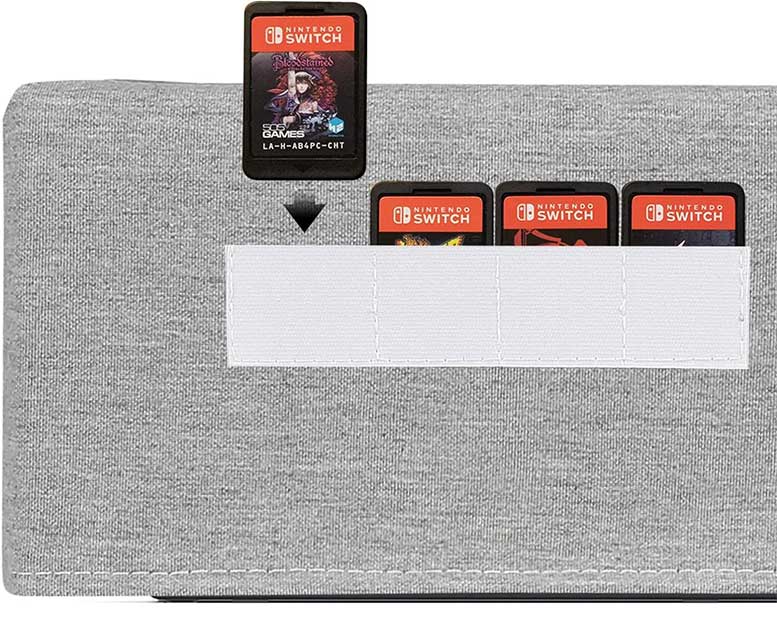 It's crucial to remember that, like most dust covers, the U/C Dust Cover should be removed when using your Nintendo Switch to prevent overheating. But rest assured, it comes with a generous 40-day warranty period, providing peace of mind for your investment.
With its unique game slots, ample thickness and ultra plush interior, it's an easy all-around choice. It may cost a touch more than the Mcbazel, but we feel the added features make it a worthy option.
Best Clear Cover: MANMUVIMO Nintendo Switch Acrylic Dust Cover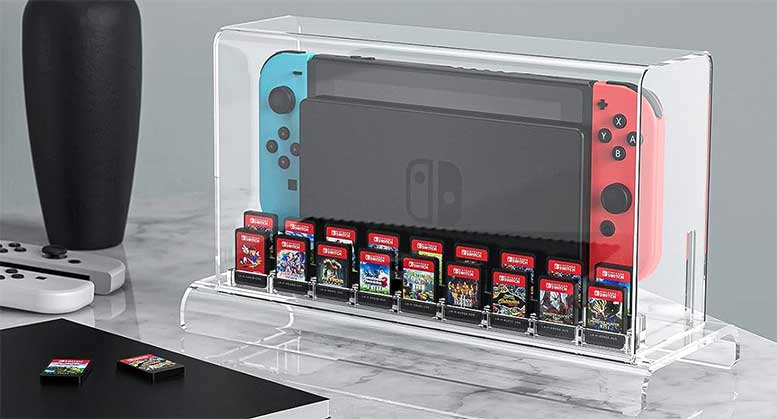 Key Takeaways:
100% clear acrylic.
Holds up to 18 game cartridges.
Two cable routing slots.
Spacious interior.
For those who love the visual elegance of their console, the MANMUVIMO Nintendo Switch Acrylic Dust Cover brings a unique blend of style and functionality. Crafted from ultra-clear hard acrylic with an impressive 3mm thickness (0.12 inches), this cover provides a crystal-clear, 360-degree view of your Nintendo Switch. It doesn't just protect; it showcases your prized gaming console.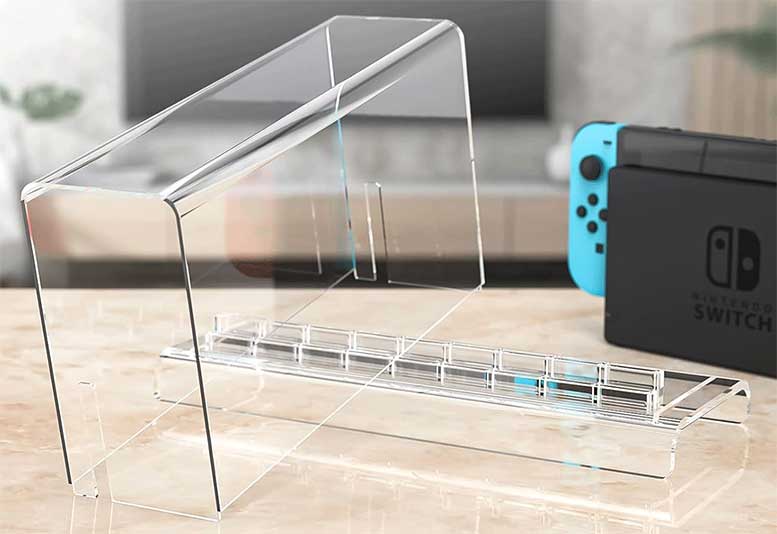 What sets this dust cover apart is its clever design for game cartridge storage. With a capacity to hold up to 18 individual Nintendo Switch game cartridges, the cover places them on display in the front of the dock, adding a touch of organized elegance to your gaming setup. This makes it convenient to access your games while keeping them protected from dust and other potential hazards.
The MANMUVIMO Acrylic Cover provides excellent dust and water resistance, though it's worth noting that it's not UV proof due to its clear construction. Additionally, both sides feature small slots near the base for cable routing, aiding in a tidy and organized gaming environment.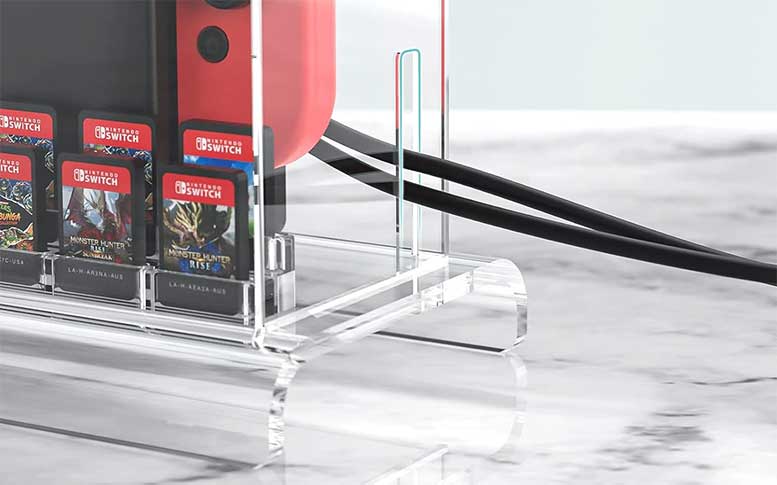 One noteworthy advantage is the spacious interior, which allows for use while playing the Switch with limited risk of overheating. However, it's recommended to check on the console regularly to ensure proper cooling.
While it comes at a slightly higher price point than some other options, the MANMUVIMO represents a worthy upgrade that not only protects but adds an element of style.
Best RGB: Mooroer Dust Cover with 16 LED Colors Light Base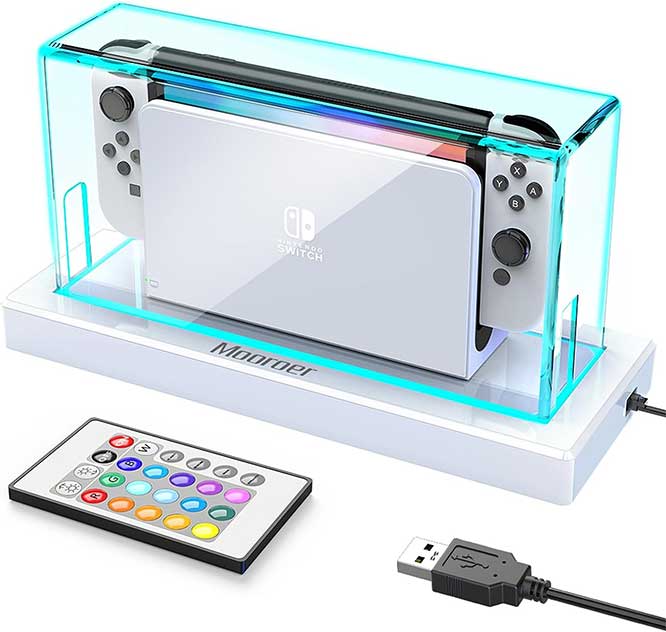 Key Takeaways:
Unique LED base provides RGB light show.
Made from ultra-smooth acrylic.
Included infrared remote for wireless control.
Most expensive option.
The Mooroer LED Dust Cover is not just a protective accessory for your Nintendo Switch; it's a statement piece that will undoubtedly turn heads. While it may be the most expensive option, its cool and unique appearance is well worth the investment. Crafted from robust 0.16-inch thick clear acrylic, this cover boasts a striking design that sets it apart from traditional dust covers.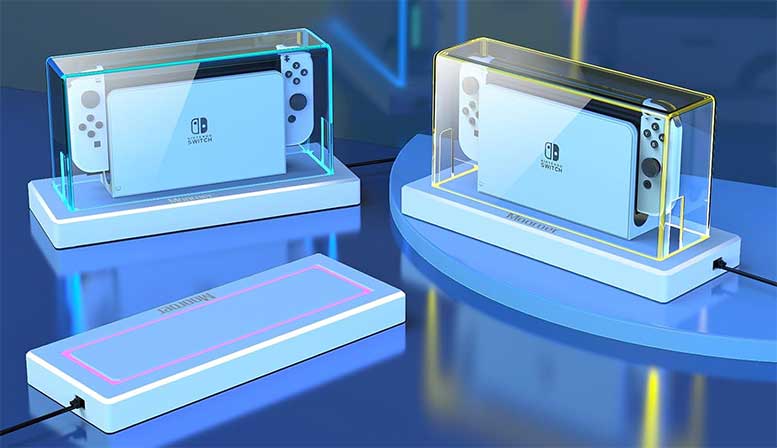 What makes it truly exceptional is its built-in LED base. It's capable of displaying a stunning array of 16 different light colors and offers four dynamic lighting modes: flash, strobe, fade, and smooth. This feature allows you to personalize your setup with vibrant and eye-catching illumination. The included pint-sized infrared remote control ensures convenient wireless control of these captivating LED effects.
Beyond its visual appeal, the Mooroer Dust Cover features a sleek and smooth design that's comfortable to handle, ensuring that it's both functional and aesthetically pleasing. And like the others, cable slots are on both sides near the base enable tidy cable management.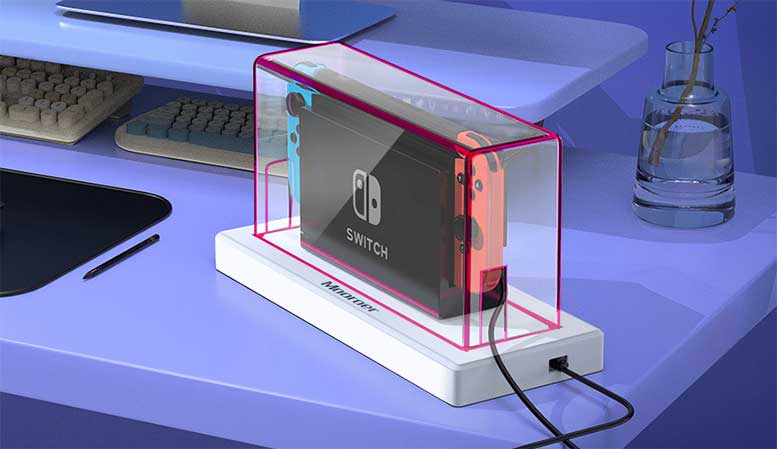 To put it simply, the Mooroer Transparent Dust Cover is the premium choice for those who want to make a bold statement with their console protection. Its thick clear acrylic construction, dynamic LED lighting, and ergonomic design combine to create a dust cover that's as much a conversation piece as it is a practical accessory.
Best Alternative: PlayVital Transparent Dust Cove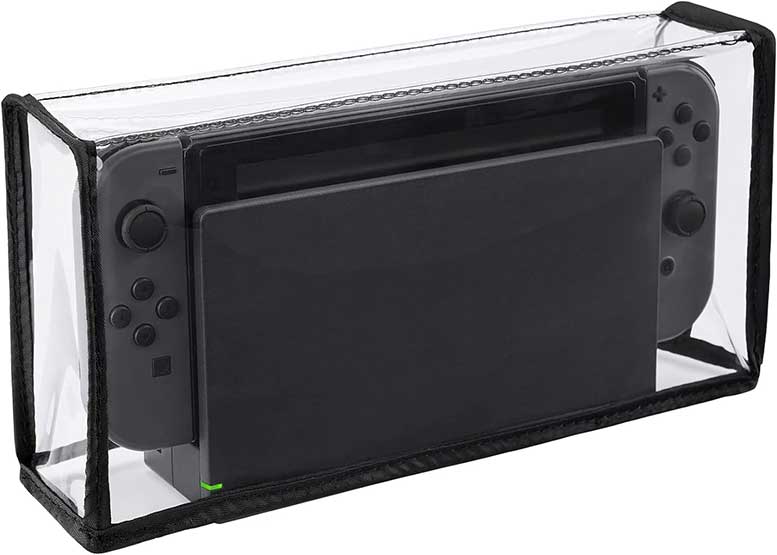 Key Takeaways:
Available in 11 different unique styles/patterns.
Thinner than most but still acceptable.
Back-right corner cutout with Velcro for cable routing.
The PlayVital Transparent Dust Cover is another stylish option to protect your Nintendo Switch. Crafted from clear PVC with sturdy stitched nylon edges, this cover provides a sleek and transparent shield against dust, water, small debris, and scratches. Despite its thin 0.09-inch thickness, it offers dependable protection without compromising on quality.
What sets the PlayVital Dust Cover apart is its extensive variety. With 11 different patterns and colors to choose from, including plain transparent and various artsy designs, you can select the one that matches your personal aesthetics. Whether you prefer a minimalist look or a vibrant design, this has you covered.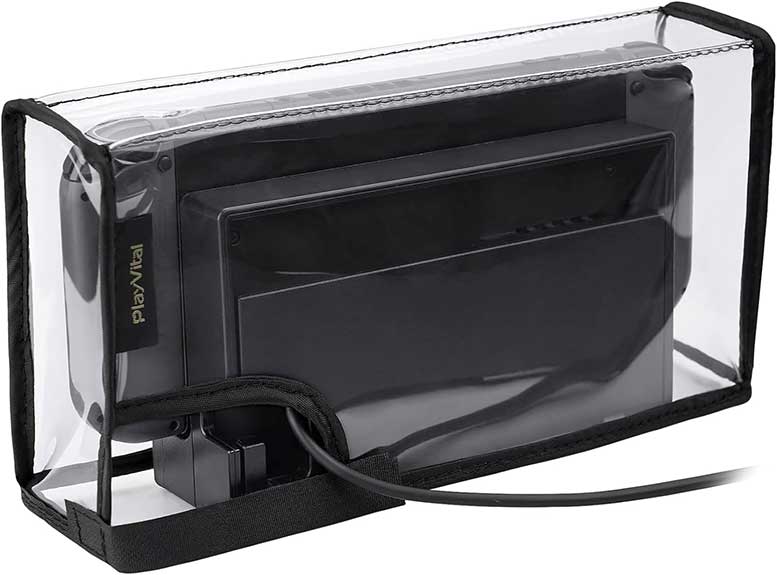 This dust cover is designed to fit your Nintendo Switch perfectly, whether you have JoyCons attached or not. However, it's important to note that it's recommended to remove the cover before turning on your console to avoid overheating. In fact, it fits more-snug than other options so do take note.
Like others, the back right corner cutout. But this one is accompanied by a unique Velcro strap. This design allows for easy routing and securing of cords, helping you maintain a tidy look.
All in all, the PlayVital not only offers dependable protection against dust and other elements but also allows for personalization with its wide range of design options. It's definitely a practical and stylish choice.
Meet Derek, "TechGuru," a 34-year-old technology enthusiast with a deep passion for tech innovations. With extensive experience, he specializes in gaming hardware and software, and has expertise in gadgets, custom PCs, and audio.
Besides writing about tech and reviewing new products, Derek enjoys traveling, hiking, and photography. Committed to keeping up with the latest industry trends, he aims to guide readers in making informed tech decisions.