In today's fast-paced digital world, having a reliable and efficient workstation laptop is crucial for productivity. This is true whether you're a student, a remote worker, or a creative professional.
Nevertheless, finding a budget-friendly option that doesn't compromise on performance can be a daunting task. In this article, we'll cut through the clutter and explore the cheapest workstation laptops available for under $500.
These laptops prove that you don't have to break the bank to get your work done efficiently and without compromise. We'll discover affordable workstations and discover how they can meet your computing needs without emptying your wallet.
| | | | | | | | |
| --- | --- | --- | --- | --- | --- | --- | --- |
| | CPU | RAM | Storage | Screen | Weight | OS | Price |
| ASUS VivoBook | Intel i3-1115G4 (3.0 GHz) | 20GB | 1TB SSD | 15.6″ FHD | 3.97 lbs. | Win 11 Home | $499 |
| Acer Aspire 5 | AMD Ryzen 5 5500U (4.0 GHz) | 8GB | 256GB SSD | 15.6″ IPS | 3.88 lbs. | Win 11 Home | $494 |
| Dell Inspiron 15 | AMD Ryzen 5 5625U (4.3GHz) | 8GB | 256GB SSD | 15.6″ FHD | 3.71 lbs. | Win 11 Home | $499 |
| Dell Precision 7510 | Intel i7-6820HQ (2.7 GHz) | 8GB | 500GB HDD | 15.6″ FHD | 9.65 lbs. | Win 10 Pro | $399 |
1. ASUS VivoBook Business Laptop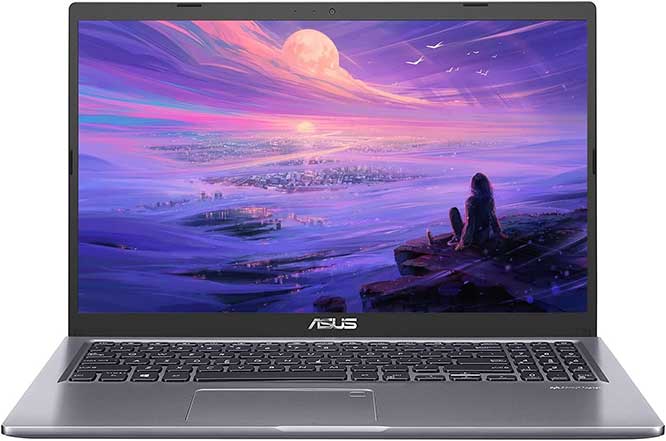 Key Takeaways:
Sleek and Lightweight: A stylish, lightweight design with a slim-bezel 15.6″ display.
Strong Performance: Intel Core i3 CPU with 20GB of RAM and a 1TB SSD.
All-Day Battery: Offers up to 9 hours of battery life for productivity on the go.
Great for Work: Ideal for business and productivity tasks, though not suitable for intensive graphics or gaming.
The ASUS VivoBook Business Laptop is a remarkable blend of style, performance, and productivity. Visually, what sets it apart is the thin-bezel 15.6-inch FHD display that offers an impressive 83% screen-to-body ratio. Weighing just 3.97 pounds and measuring 16.29 inches in width, 9.25 inches in depth, and 0.78 inches in thickness, it's easy to take this laptop wherever you'd like.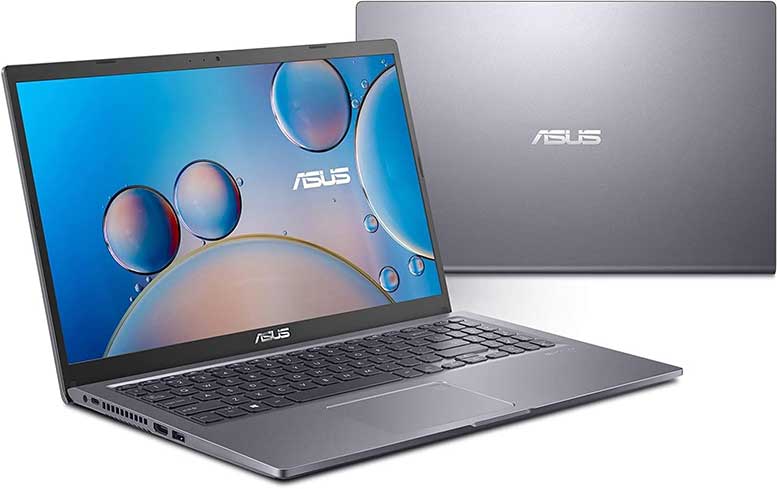 Under the hood, the ASUS VivoBook is powered by an 11th Gen Intel Core i3-1115G4 dual-core processor. Equipped with 20GB of RAM, it offers ample memory for smooth multitasking, allowing you to run multiple applications simultaneously without slowdowns. The massive 1TB PCIe SSD not only provides lightning-fast boot-up times but also ensures quick program loading.
When it comes to battery life, it shines, offering up to 9 hours of usage in optimal conditions. While the integrated Intel graphics handle everyday tasks with ease, it's worth noting that they may not be ideal for intensive graphics or gaming. However, for business and productivity-oriented tasks, it performs just fine.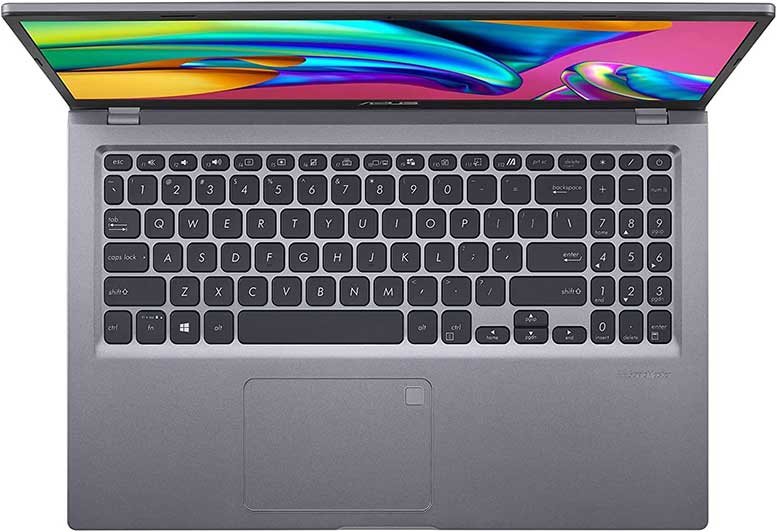 In terms of connectivity, the ASUS VivoBook offers a variety of ports, including 2 x USB 2.0, 1 x auxiliary audio input, a Kensington lock port, HDMI out, USB 3.2 Type-C Gen 2, and USB 3.2 Type-A Gen 2. It's worth mentioning that it utilizes WiFi version 5 (802.11ac) rather than the newer WiFi 6 standard, but for most common scenarios, it still delivers reliable and fast wireless connectivity.
2. Acer Aspire 5 Slim Laptop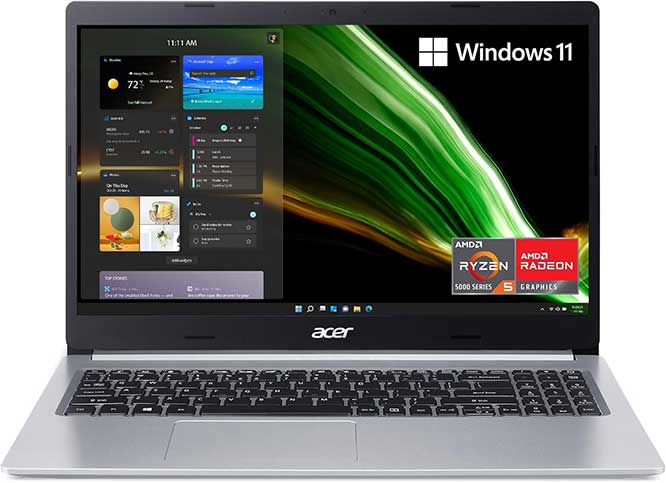 Key Takeaways:
Sleek and Portable: A stylish, super-slim laptop that looks and feels sleek.
Responsive Performance: Powered by an AMD Ryzen processor for everyday tasks.
Eye-Friendly Display: 15.6″ IPS screen with enhanced color accuracy and blue light reduction.
Quick and Efficient: 8GB RAM and a fast 256GB SSD for smooth multitasking.
Incredible Battery Life: Up to 11 hours on a single charge.
The Acer Aspire 5 Slim Laptop is a sleek and versatile option that's designed to meet the needs of modern users. Its slim profile, with a stylish aluminum top cover, looks very elegant. Weighing in at 3.88 lbs. and measuring 14.31 inches in width, 9.86 inches in depth, and a mere 0.71 inches in thickness, it's a compact powerhouse that you can easily transport.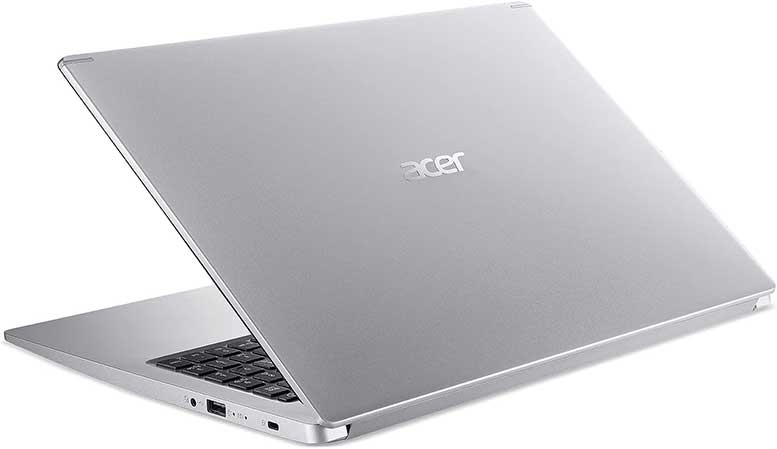 Internally, the Aspire 5 boasts an AMD Ryzen 5 5500U Hexa-Core CPU, delivering a seamless and responsive computing experience. The AMD Radeon integrated graphics ensure smooth visuals for everyday tasks and light gaming. While they aren't ideal for heavy graphics use, it works well.
The 15.6-inch Full HD (1920 x 1080) widescreen LED-backlit IPS Display not only provides crisp and vibrant visuals but also incorporates Acer Color Intelligence and Acer BlueLightShield technologies. These features enhance color accuracy and reduce blue light emissions, making it easier on the eyes during long hours of use. Realistically, this is a super nice screen for this price point.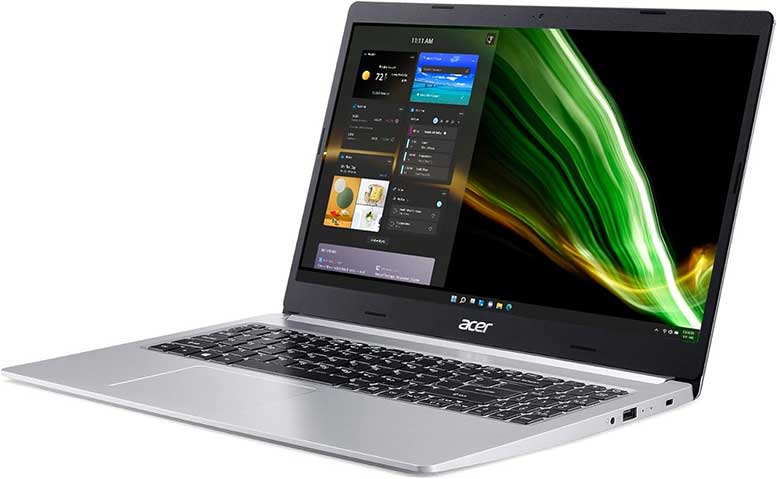 With 8GB of DDR4 onboard memory and a speedy 256GB NVMe SSD, this laptop offers ample memory and storage for efficient multitasking and quick data access. Quick boot up and fast responsiveness is the name of the game here.
For connectivity, it supports the latest WiFi 6 protocol, providing faster and more reliable wireless connections than most laptops in this price range. In addition, it offers a variety of ports, including USB 3.2 (Type-C) Gen 1, USB 3.2 Gen 1 with Power-off Charging, USB 2.0, and HDMI 2.0 with HDCP support, ensuring compatibility with a wide range of peripherals and accessories.
One of its standout features is the impressive battery life, offering up to 11 hours of usage on a single charge, in ideal conditions. We're also glad to see built-in Acer TrueHarmony speakers, delivering immersive and high-quality sound.
3. Dell Inspiron 15 3525 Student Laptop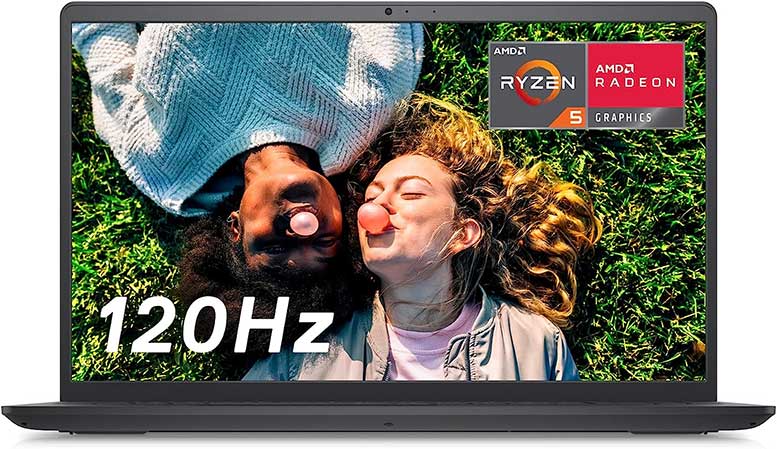 Key Takeaways:
Student-Friendly Design: Ultra lightweight (3.71 lbs.) with a 15.6-inch anti-glare display.
Speedy Performance: AMD Ryzen 5 processor, 8GB of RAM, and a 256GB SSD
Impressive Battery Life: Enjoy up to 10 hours of usage on a single charge, ideal for a full day of work, classes and studying.
ExpressCharge Feature: Offers rapid recharging, going from 0 to 80 percent capacity in just 60 minutes.
The Dell Inspiron 15 3525 Student Laptop is another excellent choice designed to be a student-friendly computing companion. It boasts a wonderful 15.6-inch anti-glare 120Hz narrow border WVA display, making it a pleasure to work on for extended periods. Included with Dell's ComfortView low blue light software does a great job at reducing eye strain.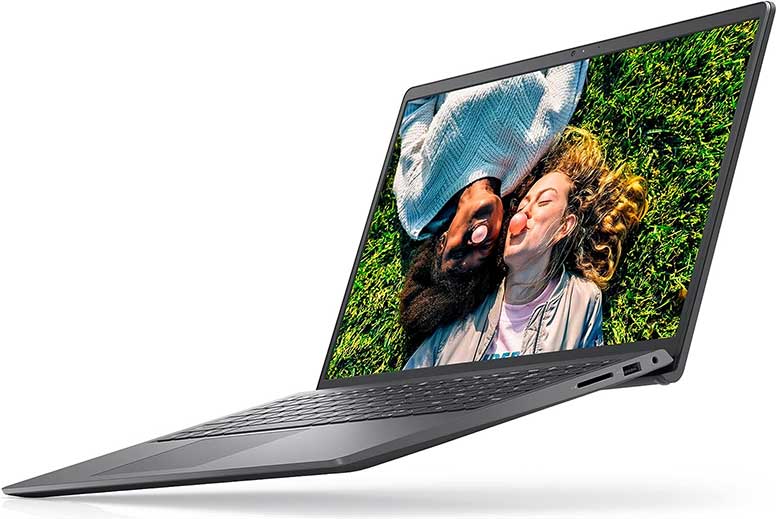 Weighing just 3.71 pounds and measuring 14.11 inches in width, 9.27 inches in depth, and 0.83 inches in thickness, it's the most portable in this article
On the inside, the laptop is powered by an AMD Ryzen 5 5625U CPU, which clocks in at 4.3GHz, ensuring swift and responsive performance for virtually any task. With 8GB of RAM and a speedy 256GB SSD, it provides ample memory and storage for efficient multitasking and fast data access, crucial for productivity.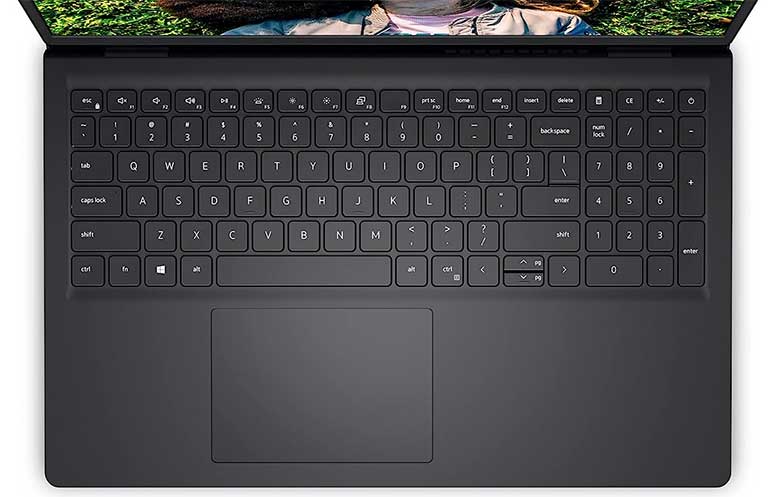 One standout feature of the Dell Inspiron 15 3525 is its impressive battery life, offering up to 10 hours of usage on a single charge. This means you can carry it throughout your busy day without worrying about finding an outlet. But what truly sets it apart from others is its ExpressCharge feature. This allows for rapid recharging. In just 60 minutes, it can go from 0 to 80 percent capacity – much faster than any other laptop we've introduced.
Running on Windows 11 Home, the laptop provides a modern and intuitive experience. Connectivity is also a breeze with WiFi 6 (802.11ax) and Bluetooth.
4. Dell Precision 7510 Mobile Workstation Laptop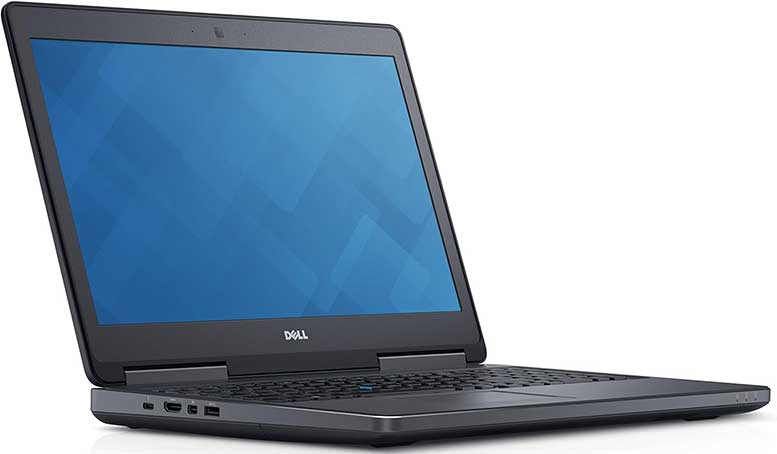 Key Takeaways:
Affordable Reliability: A well-made, budget-friendly 15.6″ screen workstation laptop.
Robust Performance: Powered by Intel Core i7 and 8GB of RAM for smooth multitasking.
Graphics Powerhouse: Features Nvidia Quadro M1000M for graphics-intensive work.
Very Durable: Slim design and MIL-STD 810G-tested chassis for durability.
The Dell Precision 7510 Mobile Workstation Laptop is a solid choice for those in search of a reliable, well-crafted, yet affordable workstation. Measuring at 1.3 inches thick, 14.88 inches wide, and 10.38 inches deep, it strikes a balance between portability and performance. Its beautifully bright 15.6″ FHD screen looks sharp and displays rich colors.
Under the hood, it boasts an Intel Core i7-6820HQ Processor, making it capable of handling demanding tasks with ease. Running on Windows 10 Pro 64-bit, it offers a stable and familiar operating environment for productivity.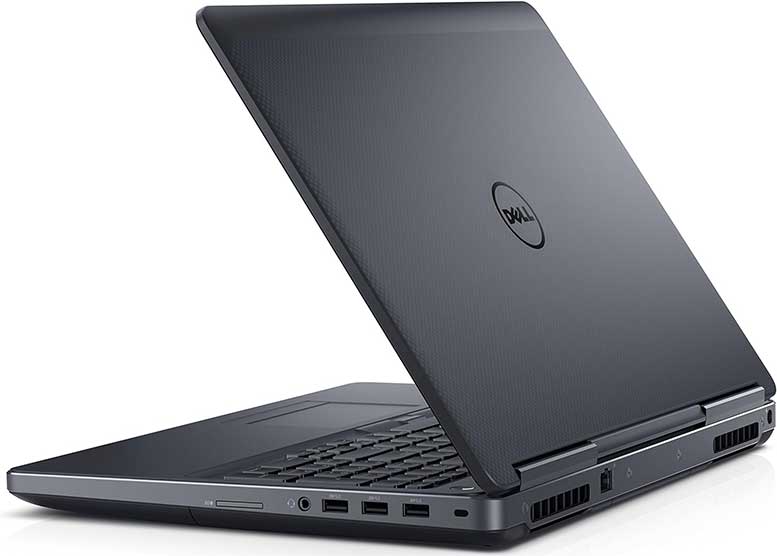 When it comes to memory and storage, the Dell Precision 7510 features 8GB of DDR4-2133MHz SDRAM spread across 2DIMMs, ensuring smooth multitasking. Its 500GB 2.5-inch SATA 7200rpm Hard Drive provides ample space for files and projects.
For graphics-intensive workloads, this laptop is equipped with an Nvidia Quadro M1000M with 2GB GDDR5, ensuring crisp visuals and efficient rendering. It's a valuable asset for professionals in design, engineering, and content creation.
In terms of connectivity, the laptop comes with Intel Dual-Band Wireless-AC8260 Wi-Fi and Bluetooth 4.1, offering fast and reliable wireless connections. While it's not the latest WiFi 6, it's still sufficient. Best of all, its unique thermal cooling system helps maintain optimal performance even during resource-intensive tasks. In other words, it operates with minimal heat, thus improving performance.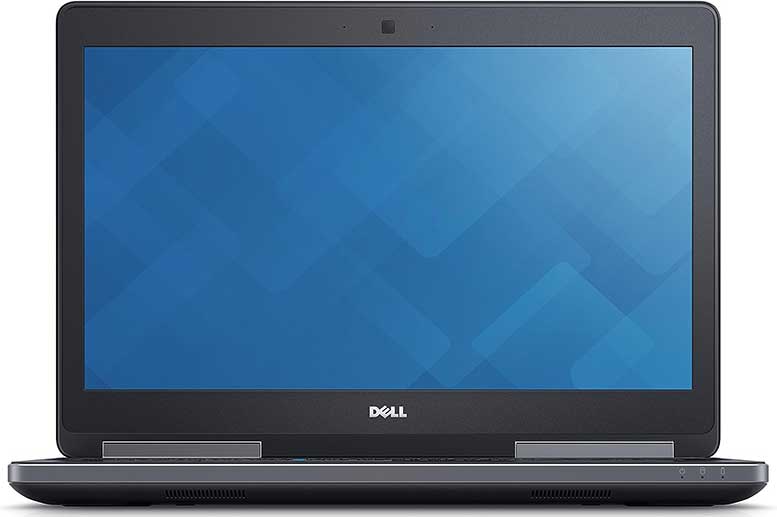 Durability is a key feature of the Dell Precision 7510. Its chassis has undergone MIL-STD 810G testing, guaranteeing that it can withstand the rigors of everyday use and remain reliable under various conditions. This laptop is an excellent choice for those seeking a dependable workstation without breaking the bank.
FAQs About Workstation Laptops
What is a workstation laptop, and how does it differ from a regular laptop?
A workstation laptop is designed for professional tasks that demand high-performance computing, such as 3D rendering, video editing, and complex simulations. They typically feature powerful processors, ample RAM, dedicated graphics cards, and high-resolution displays, whereas regular laptops are more versatile but may have less powerful hardware.
What are some common use cases for workstation laptops?
Workstation laptops are commonly used by professionals in fields like architecture, engineering, graphic design, content creation, scientific research, and software development. They excel in handling resource-intensive applications and multitasking.
What should I consider when choosing a workstation laptop?
Key factors to consider include the type of work you'll be doing, processor power, graphics capabilities, RAM, storage capacity, display quality, and portability. It's essential to strike a balance between your specific needs and your budget.
Can workstation laptops be upgraded?
Most workstation laptops offer some degree of upgradability, typically allowing you to increase RAM or replace storage components. However, the extent of upgradability varies from model to model, so it's important to check the laptop's specifications and documentation.
Are there any cooling concerns with workstation laptops?
Some workstation laptops can generate a significant amount of heat during demanding tasks. Manufacturers typically design these laptops with robust cooling systems, including multiple fans and heat sinks, to manage heat effectively. It's essential to ensure proper ventilation and avoid obstructing air intakes and exhausts to maintain optimal performance.
Meet Derek, "TechGuru," a 34-year-old technology enthusiast with a deep passion for tech innovations. With extensive experience, he specializes in gaming hardware and software, and has expertise in gadgets, custom PCs, and audio.
Besides writing about tech and reviewing new products, Derek enjoys traveling, hiking, and photography. Committed to keeping up with the latest industry trends, he aims to guide readers in making informed tech decisions.