Many people who consider themselves gamers start their gaming life on a console of some sort. These are usually controlled with one of a few different controllers on the market. From there, people will eventually venture into the world of PC gaming, where mouse and keyboard controlling dominate. And it's definitely justified, as it's a great way to play games. However, you'll eventually notice that using a normal keyboard can almost seem wasteful.
The standard layout focuses on your left hand on the keyboard and your right hand on the mouse. This leaves tons of space on your keyboard that is never used for gaming. The problem this creates is you lose desk space and don't have something specifically made for gaming.
To combat this issue, one-handed gaming keyboards were created. These are smaller keyboards with fewer keys that can all be accessed with your left hand. Some have additional buttons and joysticks for further controllability, but ultimately they're the perfect keyboard for gaming on a mouse and keyboard setup. When shopping for one, there are a few things to consider.
Keycaps and Switches
Since this is still a keyboard, the various keycaps, and switches are important. Some use mechanical switches, while others use membrane switches. Ultimately your choice between the two will come down to preference. As for keycaps, you'll want something that's durable and easy to game on.
Aesthetics
Looks are almost as important as functionality when it comes to a gaming keyboard like this. You want something that compliments your setup well. Whether that means tons of RGB or something that blends in, there are choices out there.
Connectivity
Connecting to your computer can vary between either wired or wireless. Wired gives you less input lag but does increase the amount of clutter on your desk. Wireless can be extremely clean looking, but running out of battery while in the middle of a gaming session is a real issue.
Extra Features
Looking for extra features like joysticks, extra macros, and more is what helps distinguish the good from the great. Finding these features that are important to you and increasing the quality of your setup are important to look for.
Best Overall: Razer Tartarus V2 One Handed Gaming Keypad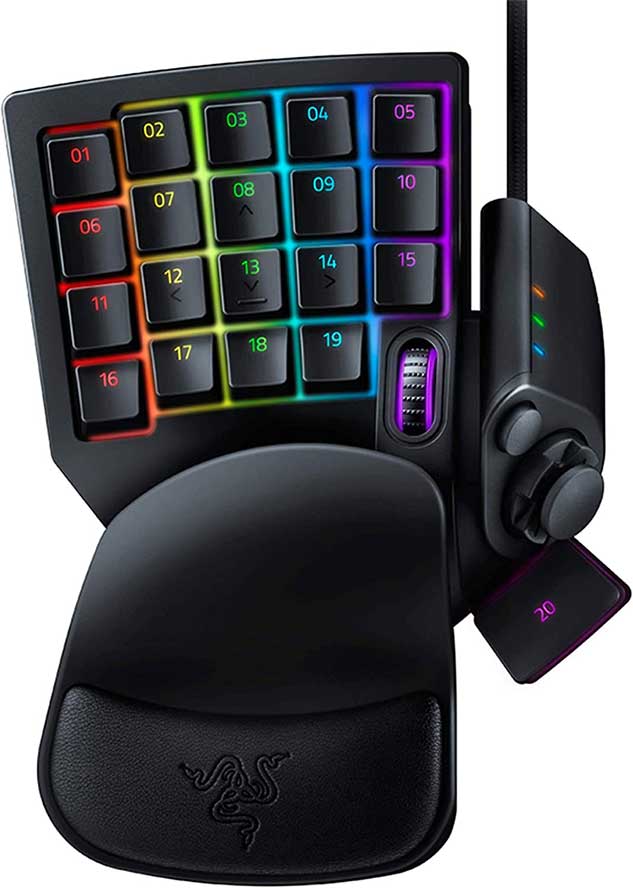 Key Features:
32 Total Keys
Full RGB
Thumbpad Included
The best overall one handed gaming keypad is the Razer Tartarrus V2. This is an incredible piece of gaming hardware, perfect for hardcore PC gamers. It features 32 total keys. Each key is a high-performance mecha-membrane switch. This allows them to have the soft touch of the membrane while maintaining the tactile click of mechanical.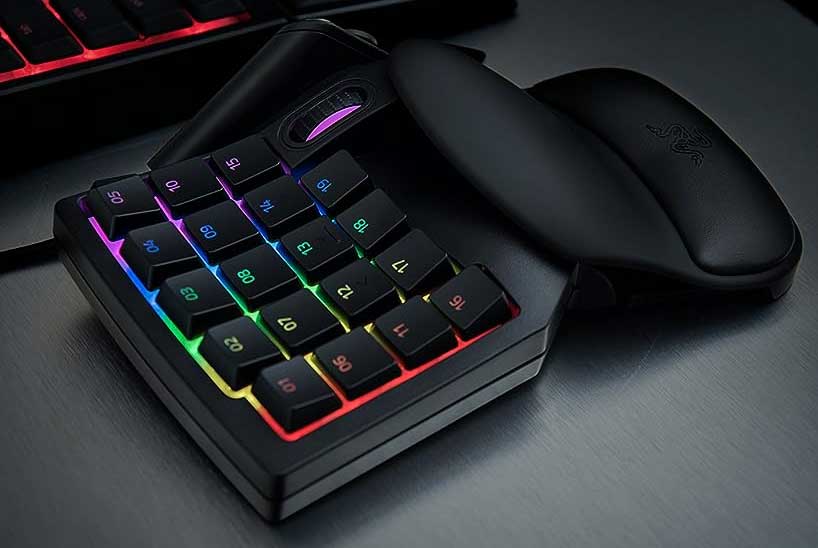 The overall look of this gaming keypad is great. It's available in either a black or white colorway. Additionally, there is full RGB support with Razer Chroma. This allows you to pair it with different games, software, and more to access 16.8 million different colors.
To connect this to your computer, you can simply plug it in via the attached USB cable. Each key is fully programmable to allow you to customize it exactly how you want it. This makes it great for gaming as well as creative work if you desire to use it for that.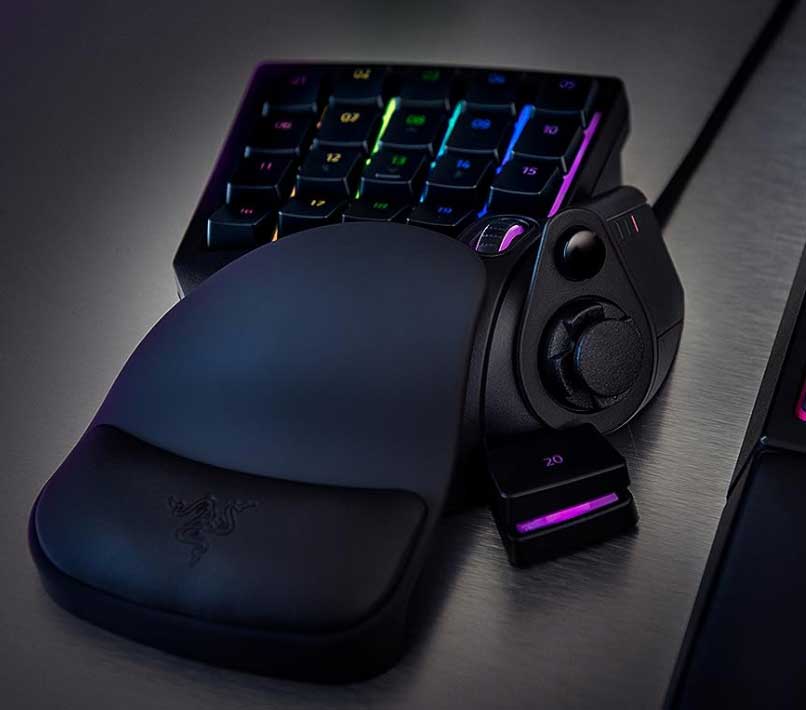 The coolest extra feature of this gaming keypad is the additional thumbpad. This allows you to have 8-way movement controls for in-game use. Whether you're a seasoned PC gamer, or someone switching from console now, this thumbpad makes movement in-game much easier. Overall, this is our top pick for one handed gaming keyboards.
Pros:
The 8-way moveable thumb pad
32 different keys
Full RGB customization
Two color options
Cons:
Some reviewers note the companion software is bad
Best Runner-Up: Redragon K585 DITI Wireless One-Handed Mechanical Keyboard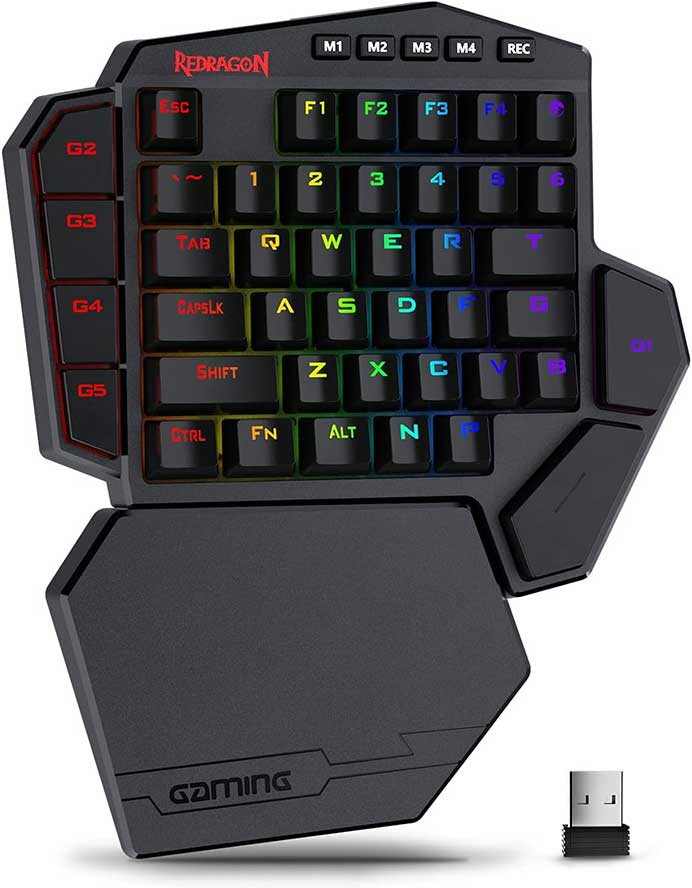 Key Features:
42 Total Keys
Wireless connectivity
RGB backlighting
The Redragon K585 is the best runner-up for one handed gaming keypads. This option features 42 individual keys to use while gaming. There are three different options for switch types, including Reds, Browns, and Blues. Each has its own sound and type feel, so you'll have to do a bit of research to find the one best for you. The keycaps used are made from durable plastic to help with long gaming sessions.
This keyboard looks perfect for gamers. It has a black colorway with RGB backlighting. Each keycap has a great-looking font to further make it fit in with gaming setups. The included RGB shines through each key with one of 16.8 million different colors.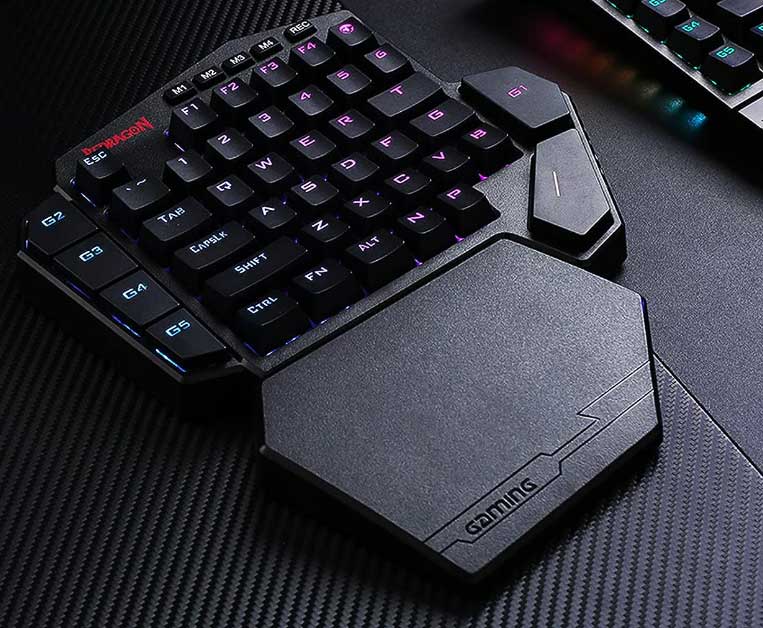 To connect this to your computer, you'll be using 2.4 Ghz wireless transmission tech. Having a wireless keypad like this is awesome, especially with how large the battery is. Inside you'll find a 300 mAh battery that can power the keyboard for 15-20 hours of non-stop use. Once it's time to recharge, simply plug in the USB-C cable, and it will be completely full in 10 hours or less.
This keypad also comes with seven different programmable macro keys, so you can further customize its capabilities. Another great feature is the detachable magnetic wrist rest to help improve the ergonomics of this device.
Pros:
Magnetic detachable wrist rest
42 keys
7 reprogrammable macro keys
Full RGB backlighting
Wireless connectivity for up to 20 hours
Cons:
Must be plugged in for use with app customization
Most Unique: AZERON Cyborg One Handed Gaming Keypad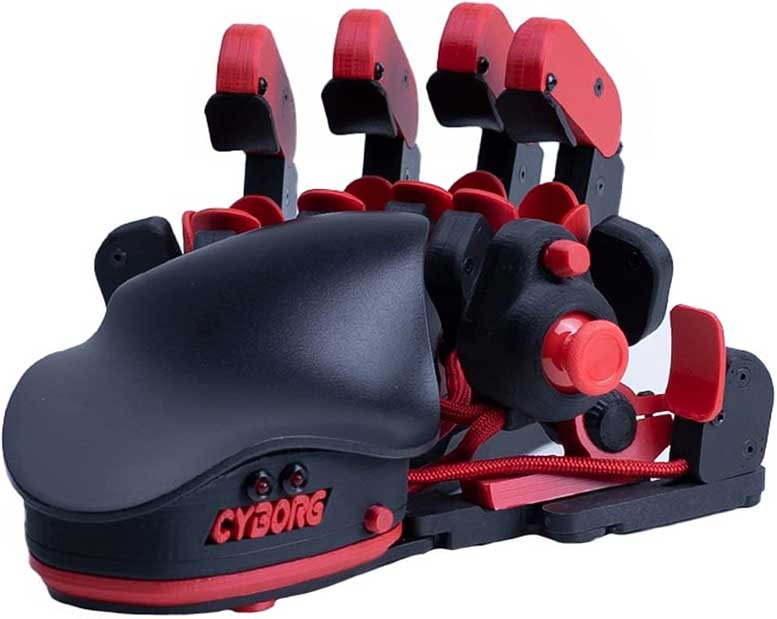 Key Features:
29 Total Keys
Extremely Unique Design
Three Color Choices
If you want something that's sure to stand out and turn some heads, then the most unique option out there is the AZERON Cyborg. This thing doesn't even look like a keyboard, rather, it looks like a big plastic glove (kinda). It has 29 programmable keys. Instead of a normal keyboard, however, these keys are located above and below your fingers, so you can access each in different ways while moving your whole hand.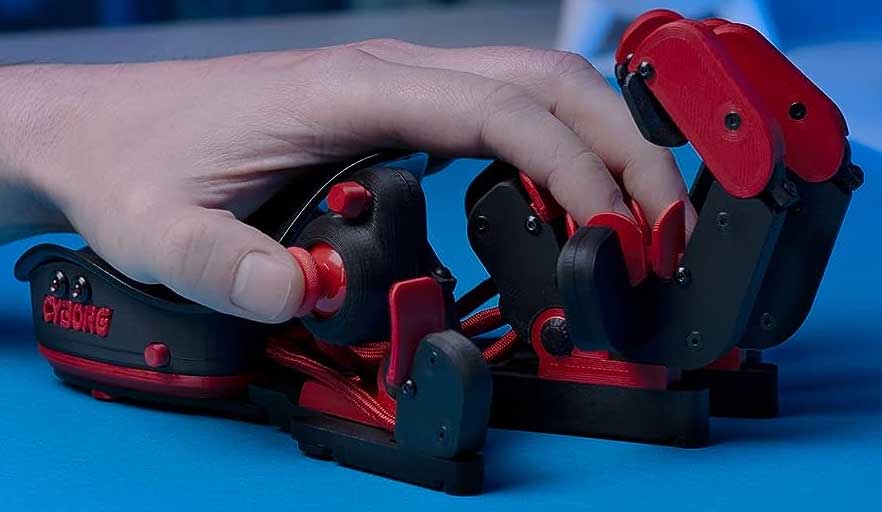 Overall, this thing looks unique. In addition to that, there are three color options. You can pick between red, green, and purple. The colored portions are 3D printed, so you also get the look of a 3D print on the keyboard.
Connecting to your computer with the Cyborg is simple. There's an included cable that plugs into the side of the keyboard and then goes into your computer. You can also map each key in two easy clicks, so you can quickly customize it to your liking.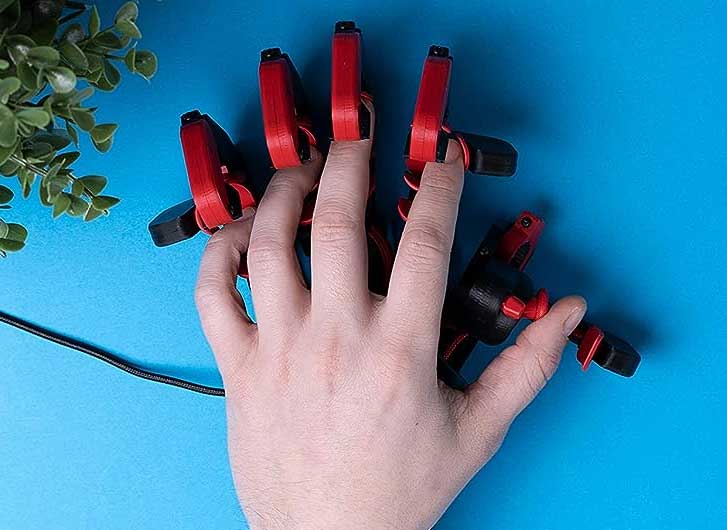 One great extra feature of the AZERON Cyborg is an included joystick on the side where your thumb goes. This can be used as your WASD movement or as a 360-degree movement tool. Everything on this keyboard can be customized to fit your hand perfectly, so you can experience gaming in a way you likely never have before.
Pros:
Most unique design on the market
29 individually customizable keys
3 colors to choose between
Cons:
Best Alternative: RedThunder Wireless One-Handed Gaming Keyboard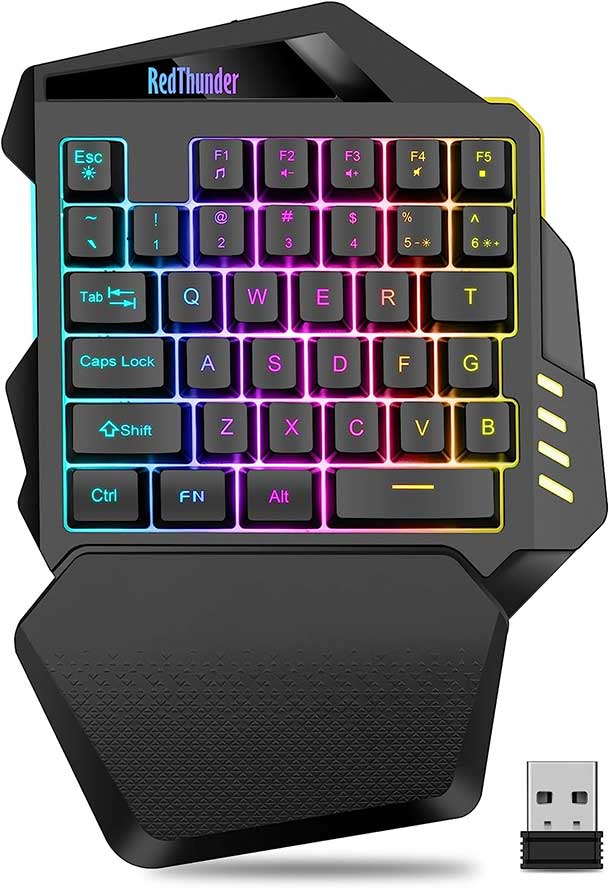 Key Features:
35 Total Keys
Wired Or Wireless Connection
7 Color RGB
A great alternative option for one handed keyboards is the RedThunder Wireless. This keyboard features 35 total keys that are all pretty similar to what you'd find in one section of a standard keyboard. The keys are designed to be fast and are also membrane.
Aesthetically this is a good-looking keyboard. It's an all-black design with RBG backlighting. While we're happy it has it, there are only seven colors to choose from, which is quite a few less than 16.8 million like some other options have. Additionally, there are only two modes to choose from for lighting.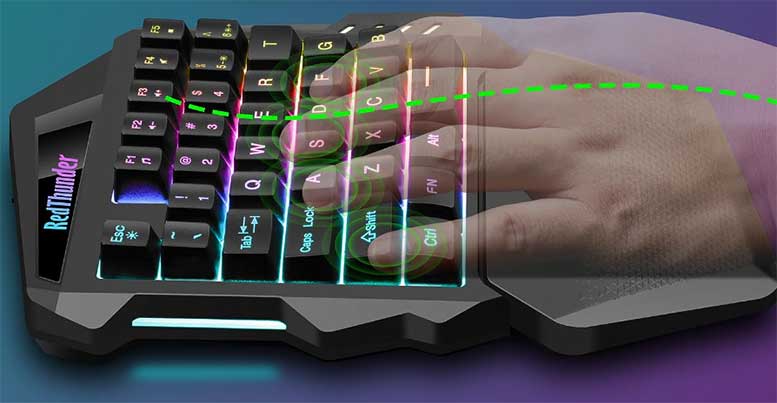 A great feature of this keyboard is the connectivity options. You can use it in both wired and wireless modes. While wired, simply plug it in via the USB cable included. In wireless, you'll connect to your computer over 2.4G. Internally it has a 2000 mAh rechargeable battery that can power the keyboard for 15-20 hours with the backlighting on. Once dead, you can recharge it in only 8 hours.
One other great feature of the RedThunder is the included wrist rest. It's massive and perfect to keep your wrist relaxed and comfortable for long nights of gaming. Overall this is a solid option with only a few areas we'd like to see improvements in.
Pros:
Large wrist rest
35 keys included
Can connect to your computer in wired or wireless modes
Cons:
RGB leaves a lot to be desired
Best Budget: MageGee One Handed Gaming Keyboard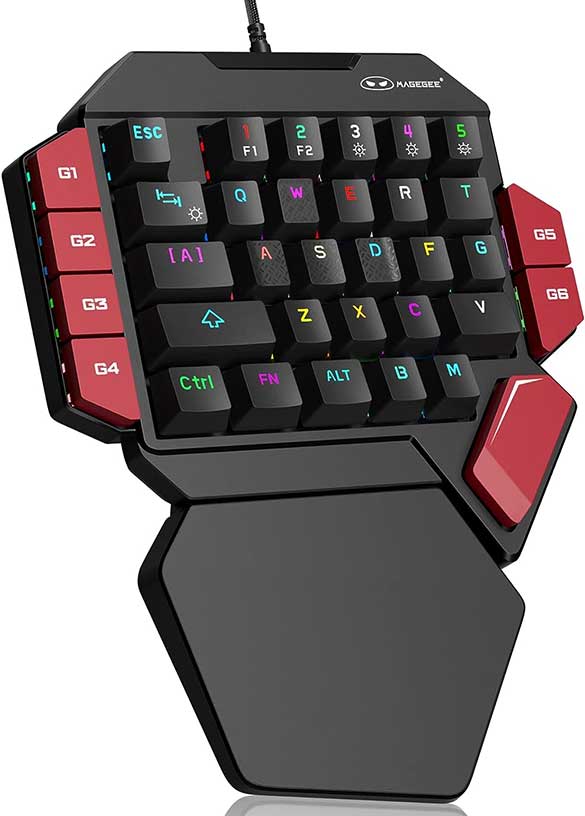 Key Features:
35 Total Keys
Budget Friendly
6 Macro Keys
If you're someone who wants to try out a one-handed keyboard without going all in, then the MageGee is a great budget option. It features 35 total keys for gaming. Six of those keys are programmable macro keys, so you can customize your gaming experience. There are also two different kinds of switches to choose from; red or blue. These switches have a strong mechanical feel while in use.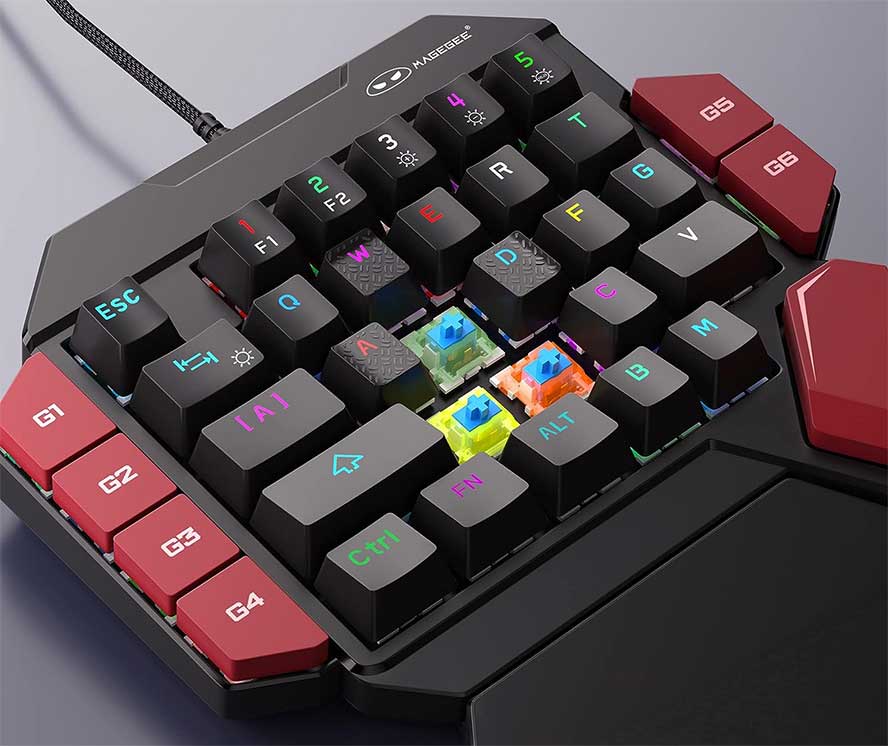 As for looks, this will go nicely with your gaming setup. It's a black device with red macro keys. There's also RGB backlighting under the standard keycaps that shine through to the front. However, this RGB backlighting is extremely basic and only comes with a few different colors and modes to choose from.
The connection type for this keyboard is wired. Additionally, the cable isn't detachable like some other options on the list are. But, at a budget price point, we don't necessarily knock it for that. With the USB connector, you can easily plug and play into most Windows, Linux, and Mac systems.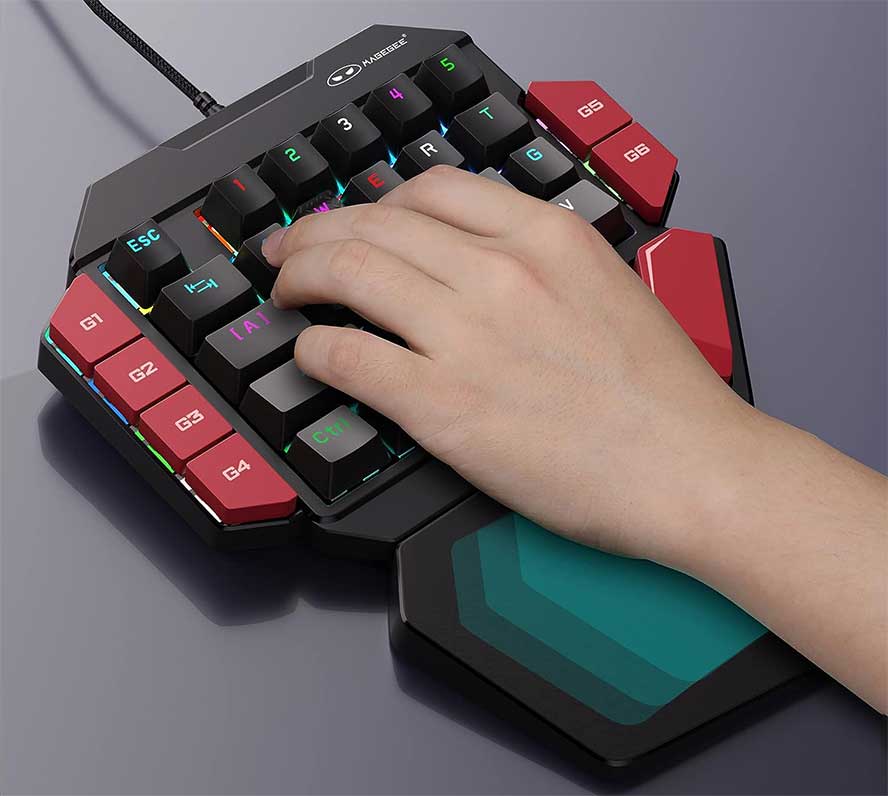 There are a couple of quality-of-life features that make the MageGee really stand out. The first is the textured keycaps on the WASD part of the board. This helps you feel where you are without having to look, as well as keeping your fingers from sliding off. There's also an included wrist rest for enhanced ergonomics.
Pros:
Textured WASD keycaps
Six programmable macro keys
Two switch options
Cons:
RGB backlighting isn't the greatest
Best Budget Alternative: Cakce RGB One Handed Mechanical Gaming Keyboard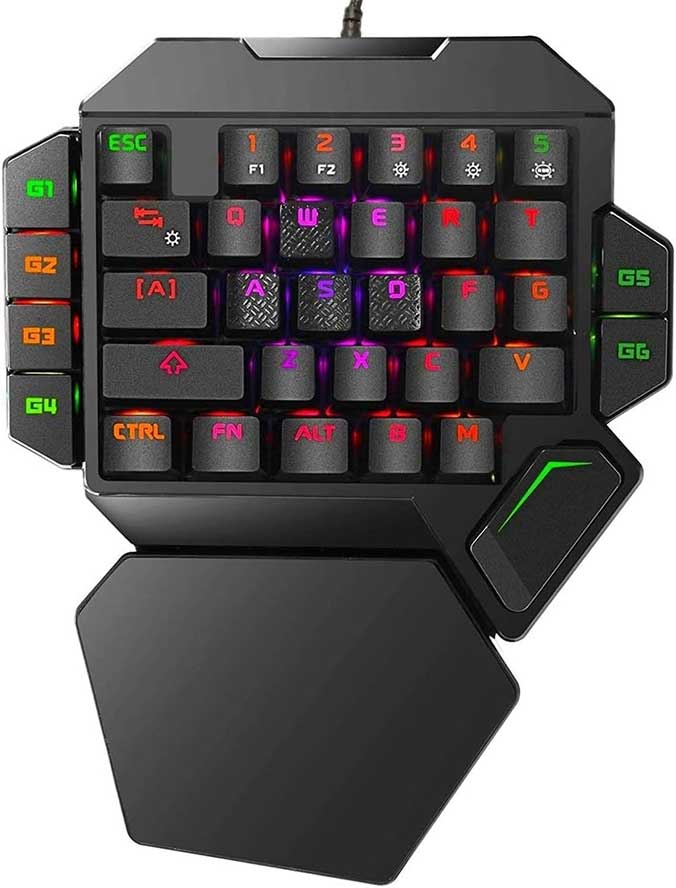 Key Features:
35 Total Switches
6 Macro Keys
Textured WASD Keycaps
Another great budget option is the Cakce RGB One Handed Mechanical Gaming Keyboard. This board uses 35 mechanical switches that have full anti-ghosting, so you can press them all at once without issue. The keycaps used are durable plastic, and the WASD keys are textured just like the MageGee option. Additionally, there are six programmable macro keys that can make it even better to game on.
When it comes to looks, there are some good features on this keyboard. It's an all-black color, with gamer-looking type font for the keycap legends. It also has RGB backlighting with a few different colors and effects to choose from.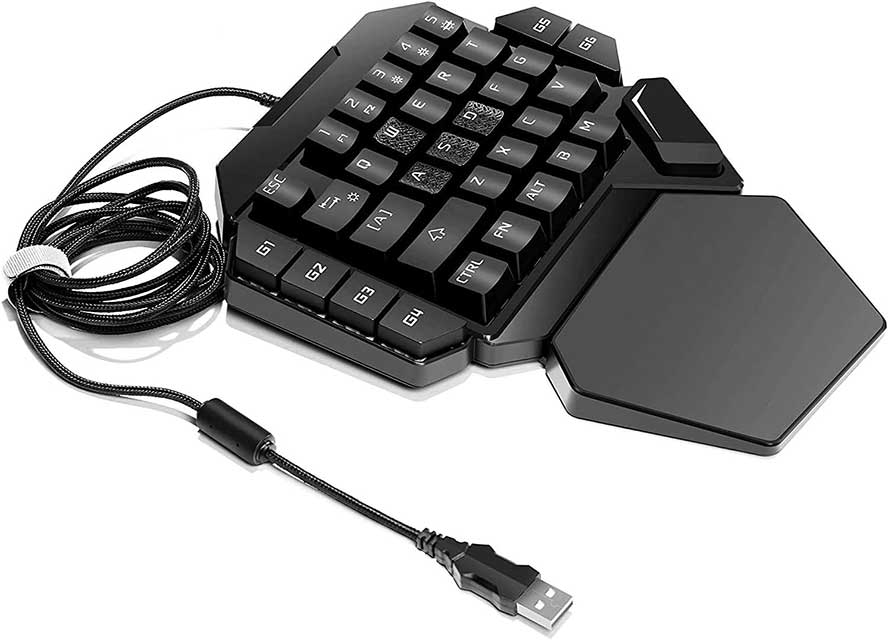 The connection type for this keyboard is wired, using an attached USB cable. This allows the keyboard to be compatible with Windows, Linux, PlayStation, and Xbox. Best of all, you don't need additional drivers or software to make it function, simply plug it in and start gaming.
The best extra feature of this keyboard is its ergonomic design. It has a curved keycap layout that makes it much more comfortable to rest your hand on and game for hours. Plus, there's a wrist rest to make it even better.
Pros:
Full anti-ghosting
Ergonomic keycap layout and design
Works on consoles as well as on computers
Cons:
Some reviewers note that it's loud even for a mechanical keyboard