Maybe you've just built your dream PC, or perhaps you're just trying to squeeze a little more performance out of an aging system. Having quality hardware is important, but keeping it cool is even more important.
In the past, high end cooling systems were used primarily by CPU overclockers. Today, many cooling systems still follow the same principal. You've got a fan on top of your case to pull air into the system and over the CPU cooler. You've got a fan on the front that pulls hot air out of the case. There is no doubt that these fans have benefits to keeping your GPU cooled, but this is just a side benefit at best.
You can think of this a lot like a fan in your bedroom. On a hot summer day, you might place on in your window. You might place on in your door. But in an ideal world, you'll have a fan close to yourself.
The further a fan is from the source of heat, the less effective this fan is at pulling hot air away from the source of the heat. With modern graphics cards, this is extremely important. This is because graphics cards can be throttled. If they get too hot, they can get damaged. So manufacturers make sure that when temps run high, the power is cut to the graphics card and performance drops.
The last thing that any of us want is to have our graphics cards cut out at a time when we need them the most. To correct this issue, PCI expansion slot cooling cards create a fan vent where there previously was none. Just like the fans on the side of your laptop, these vented inserts pull air from within the case and push it back out. But which ones are right for your system? We'll be taking a look at the three best units on the market to help you make the decision.
StarTech.com Expansion Slot Rear (Exhaust) Cooling Fan
Having been featured on many of our reviews, StarTech.com is a company that is well known for creating unique and hard to find peripherals. While many of their products are purchased directly by system manufacturers, a large number of them are available online directly from their warehouses. This enables enthusiasts to purchase the accessories that may be an expensive upgrade from vendors, and install it themselves for a low price.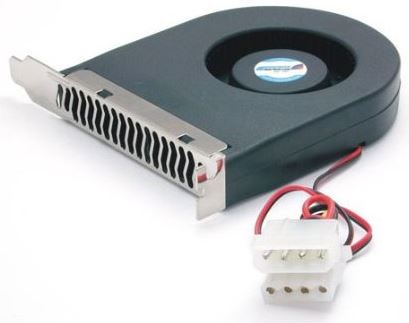 Design
The StarTech.com Expansion Slot Rear (Exhaust) Cooling Fan is made from a large impeller styled fan connected to a vented expansion slot cover. This is actually important as it doesn't connect directly to the PCI slot, allowing you to install it wherever there is an empty metal bracket. Most desktop computers have the PCIe slots at the top or the bottom of all the expansion ports, meaning there isn't a place near your graphics card that it can be placed. However, many professional graphics cards occupy two slots, meaning there is usually an empty expansion plate right next to them. This unique design gives you a lot of options with placement, making this cooler very universal.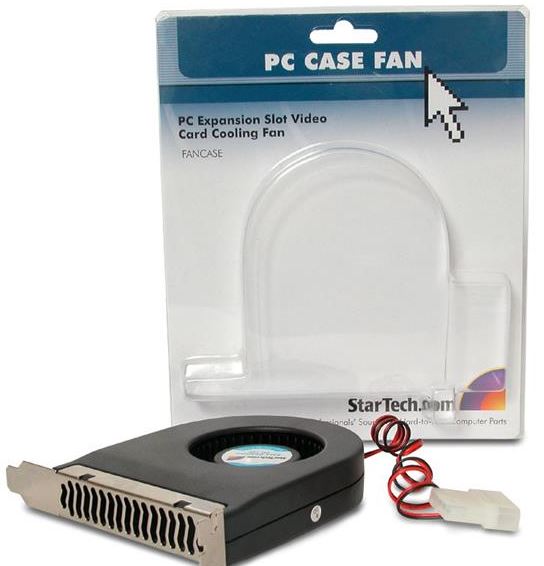 Fan
The fan used in this cooler is an impeller, very similar in style to the ones used in modern laptops. Typical fan blades are slightly angled, so they pull air in through one side of the fan and shoot out out the back in a straight line. But this impellar is designed to force air out at a 90-degree angle. This allows them to make the cooler flat in design, so it occupies very little space. Despite that limitation, it does produce a very high volume air output. It has a ball bearing motor, which is commonly accepted as being one of the quieter motors on the market.
The fan is powered using a standard 4 pin connector, which almost every PSU on the market has included. But if you find that you're running short, you can use the pass-through connector. This allows you to plug the fan into a power cable, then plug it into something else, effectively piggybacking off the signal.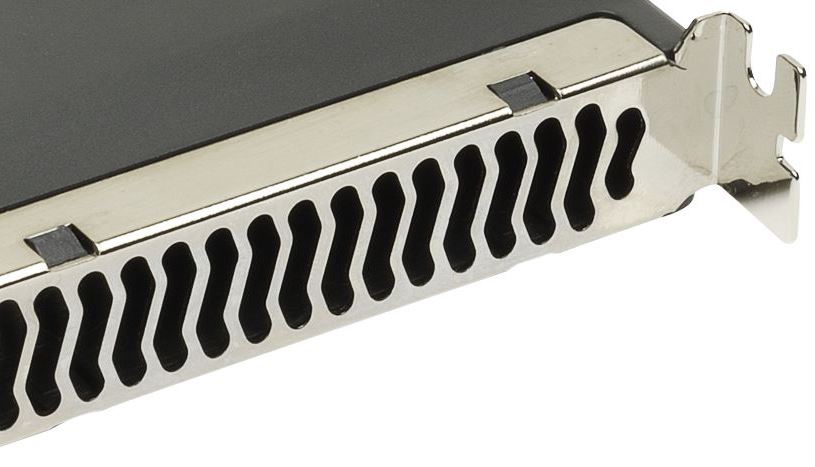 Functionality
Because this same fan is used in laptops, the volume is surprisingly low. If your tower is right up next to your head, you'll probably hear it running. But if you've got it down on the floor, it's quiet enough that you won't hear a peep. A major part of this is the vents at the back. They aren't straight cut, instead opting for a design with multiple zig-zags across the back. Although it is a little more expensive to manufacturer, this prevents the flat edges that can increase noise.
In terms of cooling performance, this fan does a great job of evacuating air from the case. This is the perfect choice for anyone who wants to eliminate any hot pockets of air in their system, improving the performance of their internal components.
Vantec SP-FC70-BL
Where peripherals are concerned, Vantec is no stranger to the industry. They design all kinds of smart devices from hard drive enclosures to expansion plates. Whether it be storage or performance, Vantec is often one of the first companies we turn to when we want to expand the capabilities of our computers.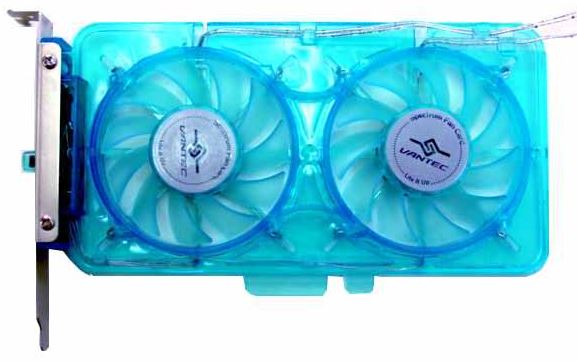 Design
Featuring a cool blue enclosure design, you can tell from the first glance that the Vantec SP-FC70-BL is a performance fan. If you're fortunate enough to have a windowed case, then this fan is certainly going to give the inside that pizzaz you've been looking for. With ultra-bright UV LEDs, the entire fan enclosure seems to glow in the dark. It looks great next to your graphics card as it occupies the same amount of space. But the peripheral lighting will illuminate your high end graphics card, drawing your attention to what may be the most expensive part of your computer.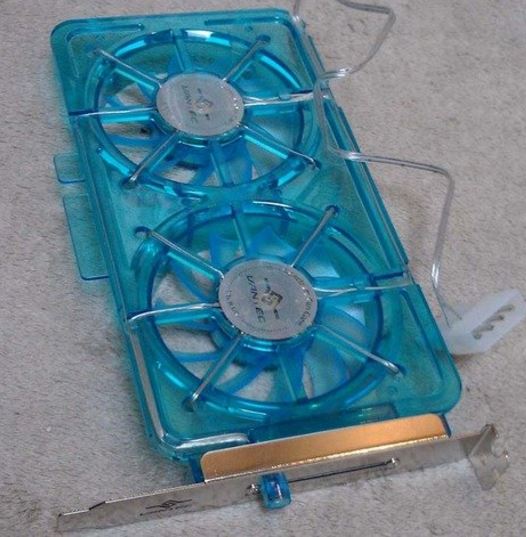 Fan
Unlike the other coolers on our list, this one features two fans instead of one. These are standard fans, and serve a different purpose. Their goal is to pull hot air away from your GPU, moving it to where your case exhaust fans can better deal with it. The fans measure 70mm in diameter, putting them right in the middle of performance. They use a low-contact bearing, allowing them to spin quietly with little disruption.
These two fans run at a very high speed, and move much more air than any GPU fan can move on it's own. They can effectively increase the cooling of your GPU by a noticeable margin, and are a great addition to any case with heat problems.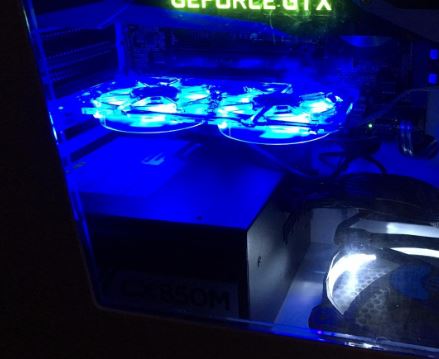 Functionality
Because this cooling card is so much larger than the other models, it needs a way to anchor itself into your motherboard. The easiest way to do so was to build it in such a way that it can slip right into your PCIe slot.
EASWEL Antec Cyclone Blower
Known primarily for their high-end cases, it would make sense that EASWEL Antec designed their own cooling addition. As they've already put tons of research and development into how air flows within a case, their Cyclone blower is specially designed to perform as good as competing solutions for an ultra-low price.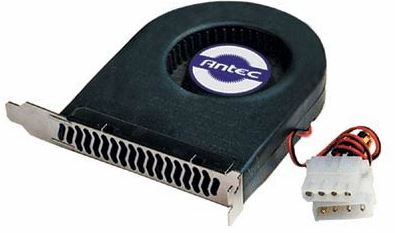 Design
The EASWEL Antec Cyclone Blower is available in two different packages. For most users, the standard model is perfectly suitable. It's a standard impeller fan mounted to an ultra-quiet mounting bracket, much like the first model we looked at. If you need a little extra performance, there's also a Super Cyclone Blower, which is nearly identical in design but uses a larger fan and dual port rear exhaust.
Regardless which model you choose, they both have one unique feature included. The rear backing plate is reversible. This allows you to orient the fan intake towards your heat source, making the fan much easier to use.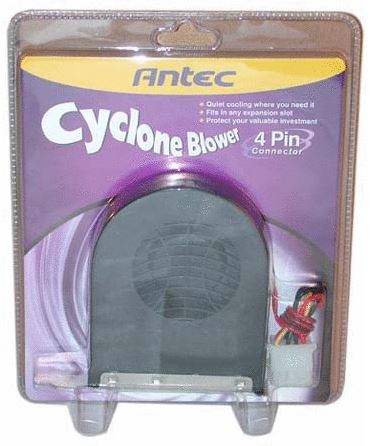 Fan
EASWEL Antec was clearly focused on output volume, and it shows. This fan has the highest output of any fan we've seen in this form factor. It runs at 2200 RPM, and moves 22 cubic feet of air every minute. This makes it a very high performance unit, ideal for cooling high performance cards that generate a lot of heat.
Functionality
Although the very high output fan is great for air movement, it's not great for noise. At 28 Dba, it's a little louder than some fans on the market. The volume is still quite low, but far from silent. That being said, a 20% increase in sound allows for nearly doubling the amount of air that's being moved, which is pretty impressive. The main source of the noise is trying to push all that air through the tiny little cooling slot. If you upgrade to the Super Cyclone Blower the volume is reduced to 22 Dba.
Which PCI Expansion Cooling Slot is Right for Me?
If you're not sure what to buy, you'll first need to consider your needs and the orientation of your case. The first question to ask yourself is "why am I buying this?" Are you trying to cool down a specific part of your computer, such as a graphics or expansion card? Or are you trying to improve the output of your existing exhaust fans?
The first, and most important thing to consider is the air pressure. How much air do you have going into the case versus how much you have going out? This is important to establish air pressure. If you have several fans pulling air in, but only a few pushing air out, you will have positive pressure. This is the ideal time to add an exhaust fan. Because the air pressure is higher inside the case, exhaust fans will do a better job of pushing it out.
If you have positive air pressure, there are two options available. The StarTech.com Expansion Slot Rear (Exhaust) Cooling Fan is ultra-quiet, and very affordable. This is the perfect fan to mount below your graphics card, allowing you to remove the hot air as it's generated. If you aren't too concerned about noise, you can get much higher levels of airflow with the EASWEL Antec Cyclone Blower.
If you have negative air pressure, or more fans pulling air out of the case than fans pushing it in, an exhaust fan might not be the best option as they won't be able to move air effectively. Instead, the goal should be to re-route air from the hot spots to allow the exhaust fans to better remove it. In this case, the Vantec SP-FC70-BL is the perfect choice. Not only is it the most effective way to remove air away from your hot GPU, but it looks pretty darn cool as well! With two large fans to move air, the built-in cooler on your desktop will be able to much more effectively do it's job.