Upgrading your computer with the latest and greatest PCIe Solid State Drive is a pricey but well-worth investment for those needing the best of the best. Although the price of a high quality PCIe SSD has come down consideribly in 2015-2016, it's still a challenge to find one that's adequate for all of your computing needs. Whether you're a hardcore gamer or a video editor, investing in one of the following PCIe SSD's is a worthwhile expenditure. We had the opportunity to research and review a few of the top rated.
Kingston Digital HyperX Predator PCIe Gen2 x4 Solid State Drive SHPM2280P2H
Kingston has always been well known for creating some of the finest drives available. Introducing their HyperX Predator SSD, available in either 240 or 480 gigabytes, it's suitable for providing incredible speeds with absolutely zero latency. The PCIe connection is the key to it's incredible speeds. It provides much higher speeds than any sort of SATA technology that's in existence. Powered by a Marvell controller, it fits both newer and older motherboards with noticeable improvements in performance. With speeds capable of reaching a read speed of 1400 MB/s, and a write speed of 1000 MB/s, any SATA drive simply won't compare.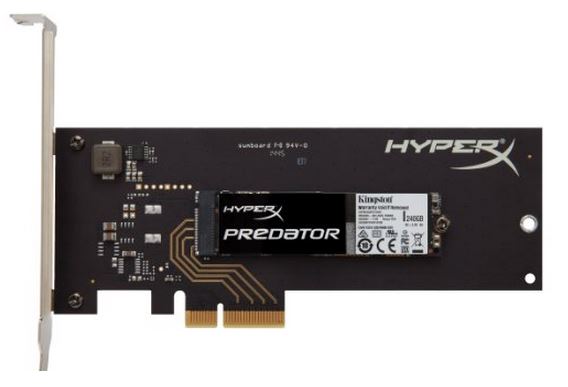 Kingston's done something really special with the SHPM2280P2H, they've packaged it with a generous three year warranty with free technical support. This means your investment is protected for the first 36 months of ownership. Although it's spendy, costing just under $450 for the 480 GB version and $240 for the 240 GB version, many are impressed with the price point, considering it's incredibly hard to find a PCIe SSD with this much available storage. Overall, we're impressed with the Kingston Digital HyperX Predator and wouldn't hesitate to recommend it to anyone looking to build the fastest and most efficient storage drive for their PC.
Intel Solid-State Drive 750 Series SSDPEDMW400G4R5 400GB PCI-Express 3.0 MLC
Intel is proud to be the manufacturer of one of their newest drives to hit the market. The 750 Series SSDPEDMW400G4R5 is a PCI-Express 3.0 SSD that offers 400 gigabytes of storage space. Using the industry's leading NVM Express Interface, users can achieve a sequential read up to 2,200 MB/s and a sequential write up to 900 MB/s. With speeds like this, you'll be happy you made the initial investment.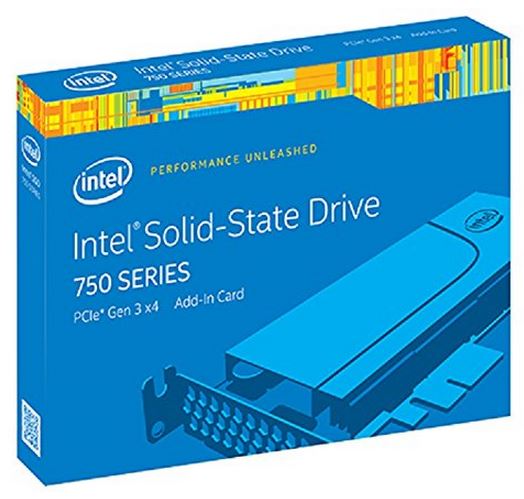 Intel's always been known for providing some of the leading CPUs and computer related chips and hardware for the last few decades. They're always on the cutting edge of technology and available with the latest and greatest. This holds true with this PCIe SSD. Random 4KB read speeds up to 430,000 IOPS and random 4KB write speeds up to 230,000 IOPS are easily achieved. Although the price comes in at just under $400, it's a considerable upgrade that can increase your load speeds tenfold. Plus, with over thirteen five star reviews on Amazon, it seems like everyone loves it.
Plextor M6e Series 256GB PCI Express Internal Solid State Drive PX-AG256M6e
The Plextor M6e Series offers 256 gigabytes of storage space with a 512MB DDR3 DRAM cache for quicker boot times and improved speeds for all of your favorite memory intensive applications. Not only does it boost your system's responsiveness, it provides a sequential read speed of 770 MB/s and a sequential write speed of 580 MB/s. Although this isn't quite as fast as the Kingstone Digital HyperX Predator, or the Intel 750 Series, it's priced much less at just under $280. For those who are searching for a fantastic upgrade on a budget, it's one to be considered.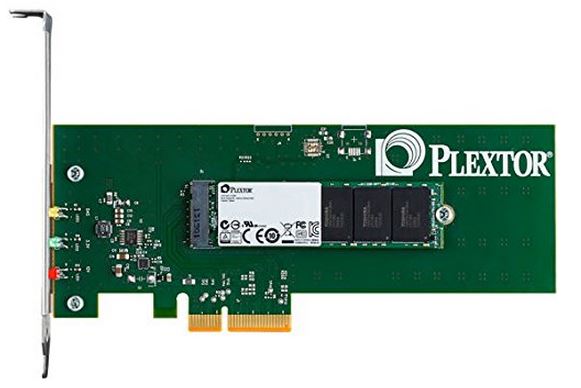 And plus, with a random read speed of 105,000 IOPS and a random write speed of 100,000 IOPS, it still offers plenty of upgrade with a noticeable performance boost on all fronts. One thing that we really fell in love with with the Plextor M6e Series is the fantastic warranty. It boasts plenty of reliability since it's equipped with a 5 year warranty – the industry's longest and most generous standard warranty period. Plextor prides themselves on their best quality components and extensive failure testing that each unit rigorously goes through before it leaves the factory.
ASUS RAIDR PCI Express 240 GB and 8-Inch PCIe SSD 90MB0G60-M0AAY0
The ASUS RAIDR PCI Express 240 GB SSD proves that ASUS is still in the game when it comes to PCIe SSDs. This latest release offers RAMDisk-Double up technology that increases the speed with RAM and SSD combined. This way, you'll achieve incredible boot up speeds and application processing. It's equipped with SSD Tweak It that provides faster and longer lasting, more reliable storage for years to come. In fact, this is fully compatible with UEFI for an easy upgrade for your system.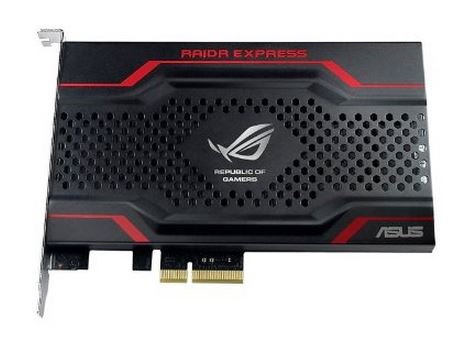 One thing that Asus does before they ship any of their drives is verify each one through intensive ROG testing. This ensures the best quality control so each and every drive delivers on it's promise to increase boot times, load operations, and increase overall efficiency for your daily computing tasks. Plus, it looks as nice as it performs. It has a sleek black and red style that'll surely impress when anyone takes a glance at your system.
Final Thoughts
As time goes on we've seen the need for a high quality PCIe SSD steadily increase. More and more individuals are selecting a new SSD with PCIe to boost performance and make noticeable changes. Although they require a bit of an investment, we've outlined a few that stand out as affordable and best rated for under $500 in 2015-2016.