Choosing the perfect pH meter is anything but easy, given the numerous models and features available across various brands. That's why we've rigorously tested the best pH meters available and compiled the results into a comprehensive guide. Here's a quick look at the top contenders:
Join us as we highlight each pH meter's standout features, what we liked, what we didn't, and who they're best suited for.
Apera Instruments Premium-Series PH60S PH Meter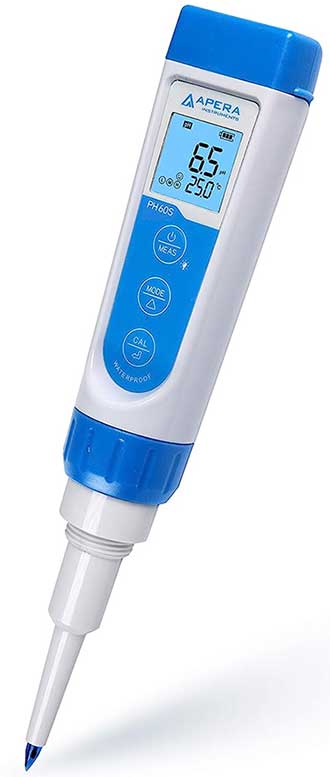 Key features:
Swiss spear sensor with long-life system
Automatic calibration with temperature compensation
Three-color backlight display
Compact and portable, complete with carrying case
The Apera Instruments Premium-Series PH60S PH Meter is an essential tool for serious bakers, food enthusiasts, and scientists alike. With a compact dimension of 7 x 1.6 x 1.6 inches and a feathery 5.1 ounces, it's truly pocket-sized, easy to handle, and conveniently portable. Equipped with a Swiss spear sensor, it can pierce through semi-solid foods like cheese, fruit, dough, and sushi rice, giving you a direct pH reading. But be careful not to push too hard into firmer mediums, as it can break the meter.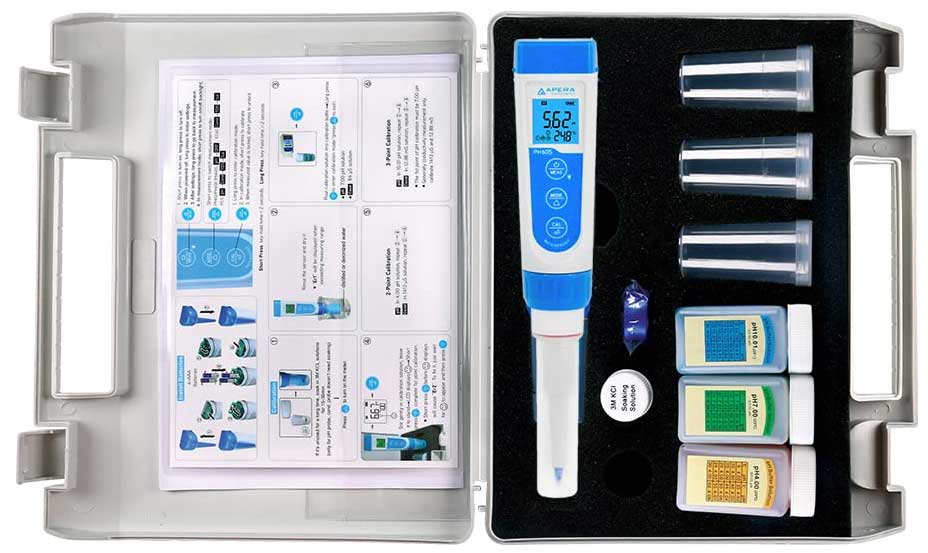 We tested it in multiple scenarios to ensure accuracy, and it didn't disappoint. The meter took stable readings effortlessly and also coped admirably with testing temperature-sensitive concoctions, thanks to its Automatic Temperature Compensation feature. It's worth mentioning the unit's backlight system. In measurement mode, the display lights up in a soothing blue; for calibration, it switches to green, while in alarm mode, it alerts you with a vivid red. This intuitive use of colors makes operation a breeze.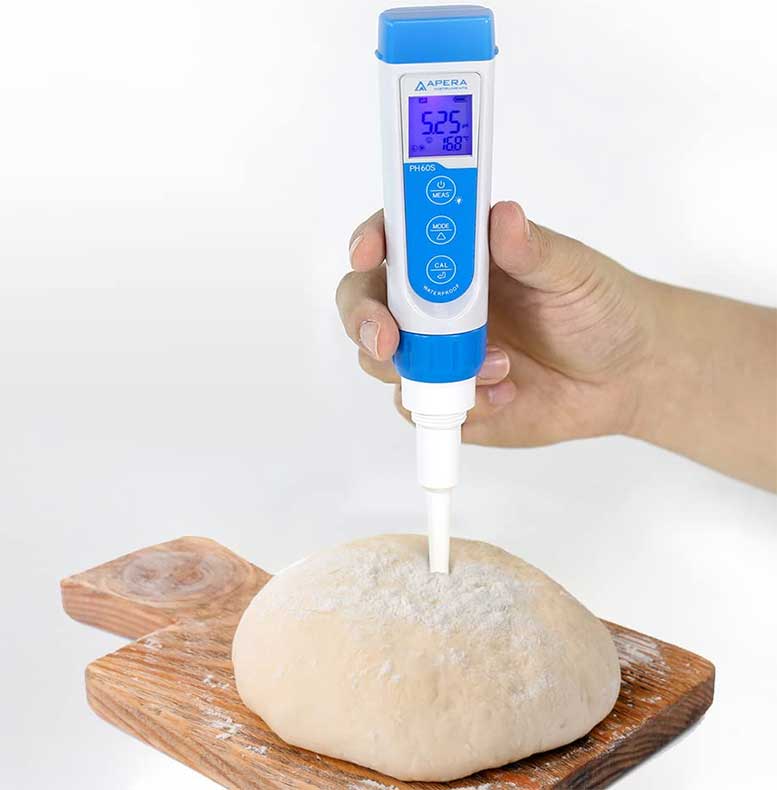 Admittedly, the case design and storage solution could be improved. The meter needs to stand upright for storage, but the included case is horizontal. Despite this minor setback, the Apera Instruments' PH60S remains a robust tool. Just handle it carefully, and it's sure to enhance your culinary or scientific endeavors. Lastly, 4 AAA batteries power the meter, providing between 3 and 6 months of use.
What we liked:
Direct pH testing on semi-solid food
Intuitive backlight color system
Light and compact for portability
Excellent automatic temperature compensation
What we didn't like:
Case design doesn't support upright storage
Limited included storage solution
Apera GroStar Series GS1 pH Pen Tester Kit (Gen II)

Key features:
Lab-grade precision in pH/temperature readings
Double-junction replaceable pH probe
Quick two-point calibration on HD screen
IP67 waterproof and dust-proof
Apera makes the grade again, this time with its second-generation GroStar Series GS1 pH Pen Tester Kit. Tailor-made for growers, this meter does more than merely take readings; it becomes an indispensable tool in your horticultural arsenal. What sets it apart? For starters, it boasts lab-grade precision with the ability to measure pH and temperature using advanced probe technology. The results are precise, durable, and require minimal upkeep.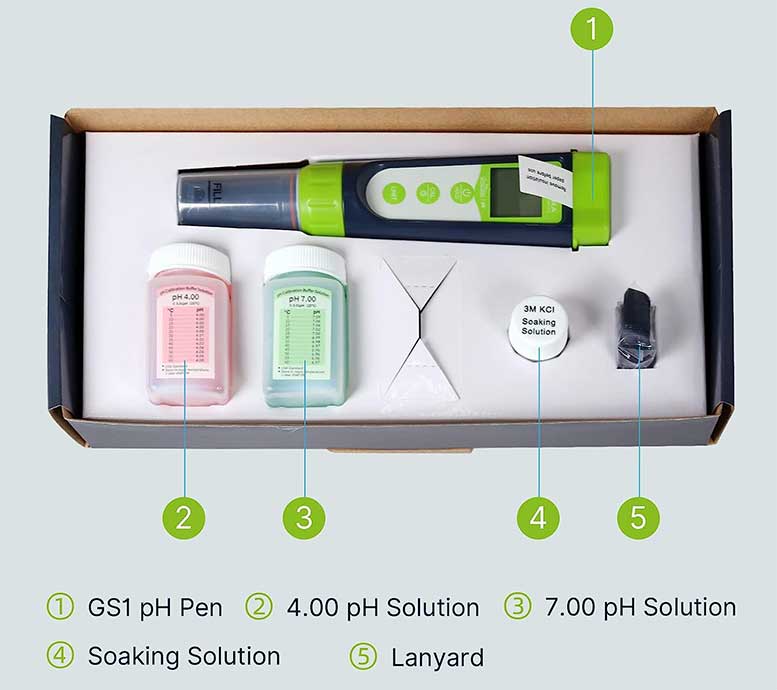 Furthermore, the intelligent double-junction pH probe can be replaced, offering a practical, cost-effective solution for the long haul. The GS1's user-friendly interface and backlit HD screen make calibration a breeze. A two-point calibration can be wrapped up in less than 60 seconds, and with the helpful condition indicator and reminder functions, proper maintenance becomes second nature. Four AAA batteries power the meter, and they're included. This power source should last anywhere from 2 to 4 months.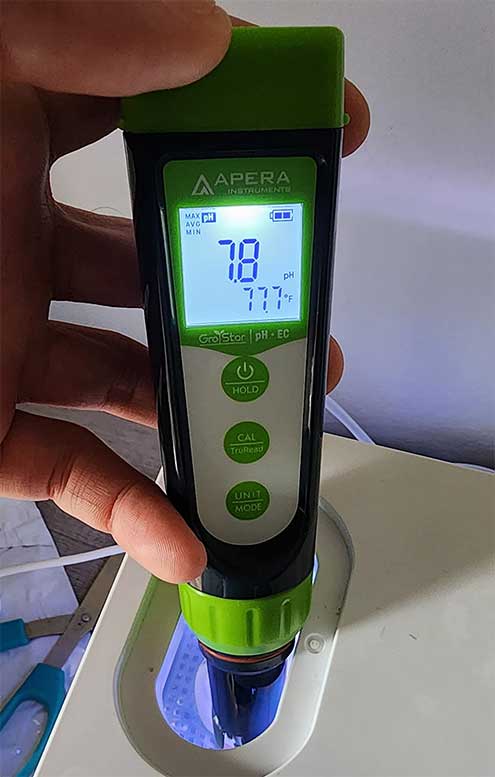 Built to weather harsh conditions, it comes with an impressive IP67 waterproof and dust-proof rating. You'll love the convenience of the 3-color backlit HD display that smartly changes colors based on the mode, helping you avoid potential errors. Despite its robust features, this tester is a lightweight, compact unit that weighs 4.69 ounces and measures 7 x 1.5 x 1.3 inches. Truly, the GS1 makes pH and temperature testing straightforward, convenient, and reliable.
What we liked:
Compact, lightweight design
User-friendly interface
Accurate and durable measurements
Resilient to harsh conditions
What we didn't like:
Calibration instructions could be simpler
Customer service could be more direct
Bluelab pH Pen-Digital pH Tester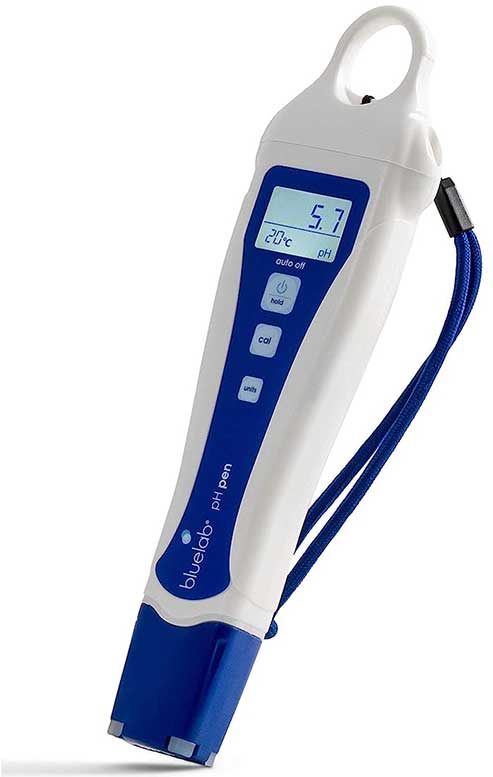 Key features:
Lab-quality glass probe
Automatic temperature compensation
Fully waterproof and floatable
Double-junction electrode
In the realm of pH testers, the Bluelab pH Pen stands out as a reliable, sturdy, and easy-to-use tool. This compact handheld device is specifically designed for gardeners and growers, offering precision pH measurements and temperature readings with an impressively high degree of accuracy. Boasting a lab-quality glass probe, it allows for precise adjustments to nutrient solutions, making it ideal for various applications, from aquaponics to brewing. We tested this device in diverse environments and were pleased with its performance.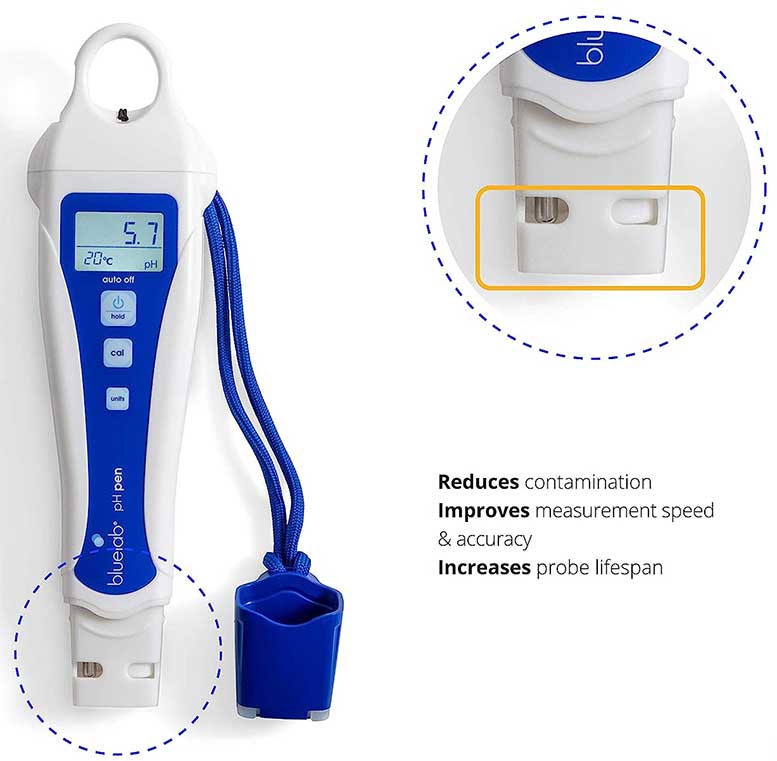 The Automatic Temperature Compensation (ATC) feature ensured consistent readings, unaffected by ambient temperature fluctuations. Furthermore, this unit's durability is unquestionable; its fully waterproof design, which even allows it to float in solutions, ensures longevity and resistance to mishaps. A standout feature is the double-junction electrode. This electrode, superior to standard probes, results in less contamination, thereby boosting the device's lifespan and providing consistent and reliable readings.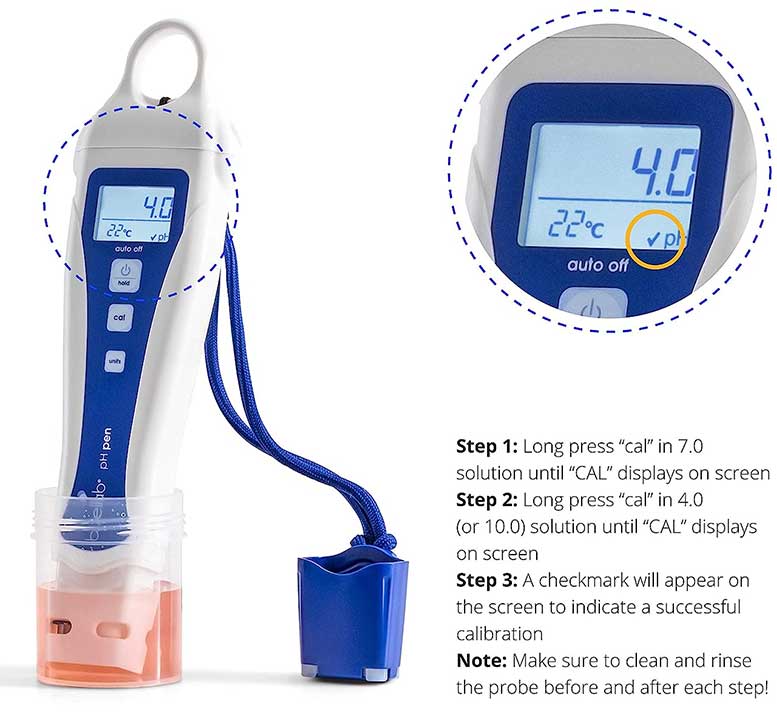 We were also pleased with the additional features this unit offers, such as an auto-off function, low battery indicator, and temperature units. The meter also includes 1 AAA battery, a lanyard, and calibration solution, ensuring you have everything you need right out of the box. In terms of battery life, expect to get 2 to 6 months of use before needing to replace the AAA battery. Take note that if the probe is dry, it needs to be soaked in KCL solution for 24 hours before using it for the first time. At 8 x 2.16 x 0.98 inches and weighing a mere 4.3 ounces, this New Zealand-made tool is incredibly portable and robust, a reliable companion for any grower.
What we liked:
High degree of accuracy
Durable and robust design
Suitable for diverse applications
Compact and portable
What we didn't like:
Requires probe soaking for dry probes
Additional purchase for KCL solution
Apera Instruments AI3713 PH60S-Z Smart Spear pH Tester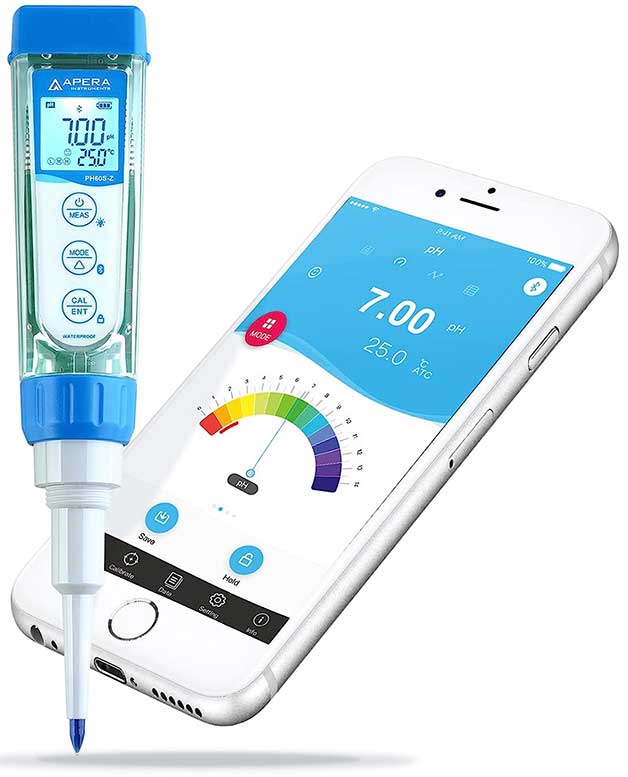 Key features:
Swiss spear probe for direct testing
Cloud-based data management system
Hybrid design for flexible use
Four measurement display modes
That's right; Apera earns a third showing among our reviews, and rightfully so. The AI3713 PH60S-Z Smart Spear pH Tester is specially designed with a Swiss spear probe. This model is a real game-changer for those needing direct pH tests on food and semi-solid samples – think cheese, meats, and even cosmetics. We tested it extensively, sampling from a variety of substances, and were particularly impressed by its smart, hybrid design.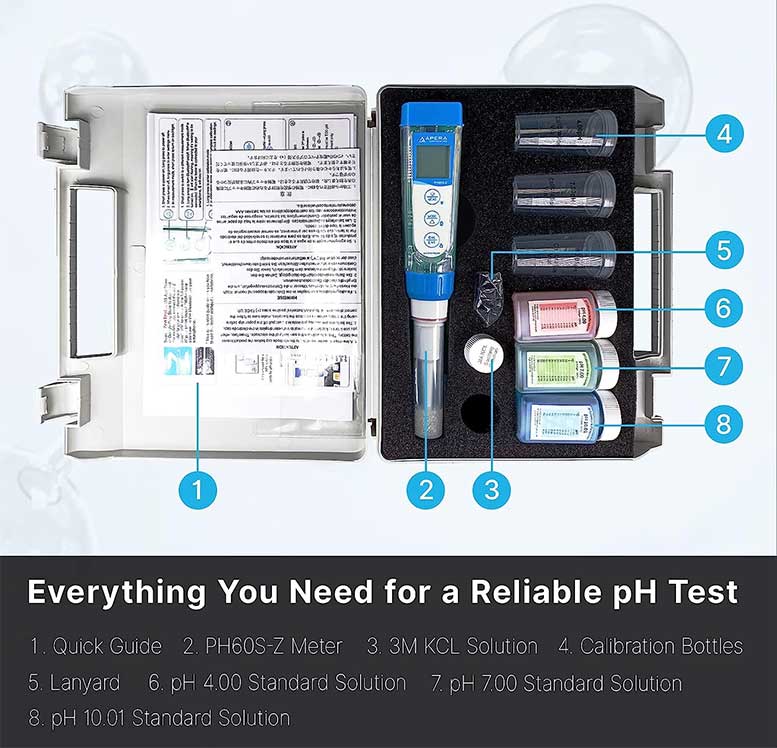 It shines in connectivity, pairing seamlessly with our smartphone via Bluetooth and the ZenTest App, but in instances where our phone battery was low, it operated independently as a classic tester. What really sets this one apart is its cloud-based data management system. Our test data could be recorded, managed, and shared with ease, ensuring no data loss. This feature is ideal for professionals needing precise data records.
Furthermore, each data set can be customized with GPS location, notes, and even a photo. Its comprehensive information display features four measurement modes catering to diverse situations. Plus, it's portable and easy to use, measuring 9.84 x 82.68 x 19.69 inches and weighing 1.59 pounds. In addition, it's powered by 4 included AAA batteries.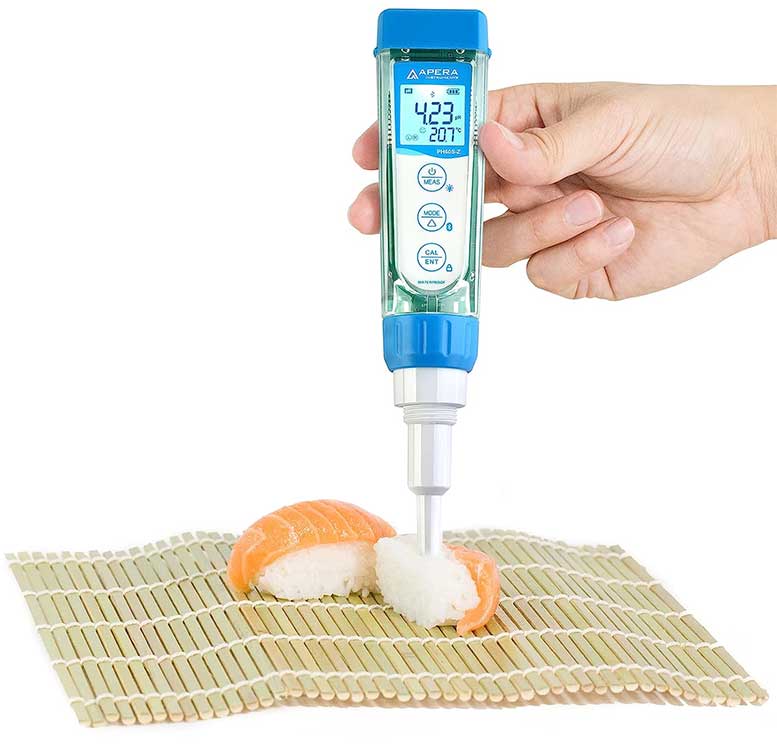 These should last you between 3 and 6 months before needing to swap them out. Apera Instruments' AI3713 PH60S-Z is a must-try for all pH testing needs. Its intuitive design, precise measurement, and sophisticated data management capabilities make it a top contender in its category. The only downside? It's pretty spendy compared to other entries we reviewed. But when you consider all that it offers, it's easy to see why.
What we liked:
Comprehensive and customizable data sets
Precise and accurate measurement
Operates with or without smartphone
Includes calibration solutions
What we didn't like:
It's expensive compared to others
Data sharing reliant on app performance
Bante 220 Portable pH Meter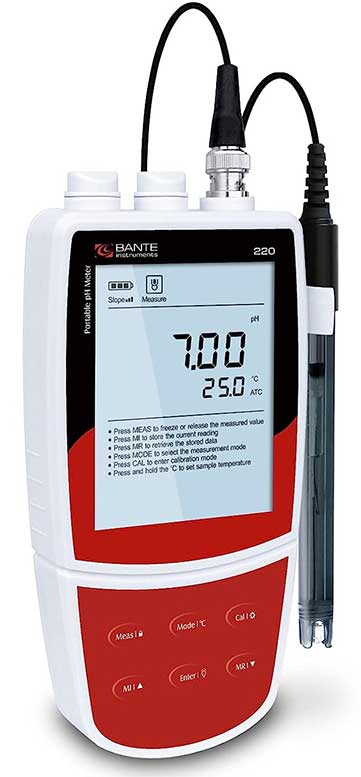 Key features:
±0.01 pH accuracy
Auto temperature compensation
100 sets of data storage
USB interface for data transfer
The Bante 220 Portable pH Meter is a serious game-changer for lab techs and hobbyists alike. Compact at 3.5 x 1.2 x 6.7 inches and weighing just over 3 pounds, this device is designed to provide accurate pH measurements on the go. Its ±0.01 pH accuracy is highly accurate, a feature that immediately stood out in our testing. Furthermore, we calibrated the meter using its convenient 1 to 3 points automatic buffer recognition system.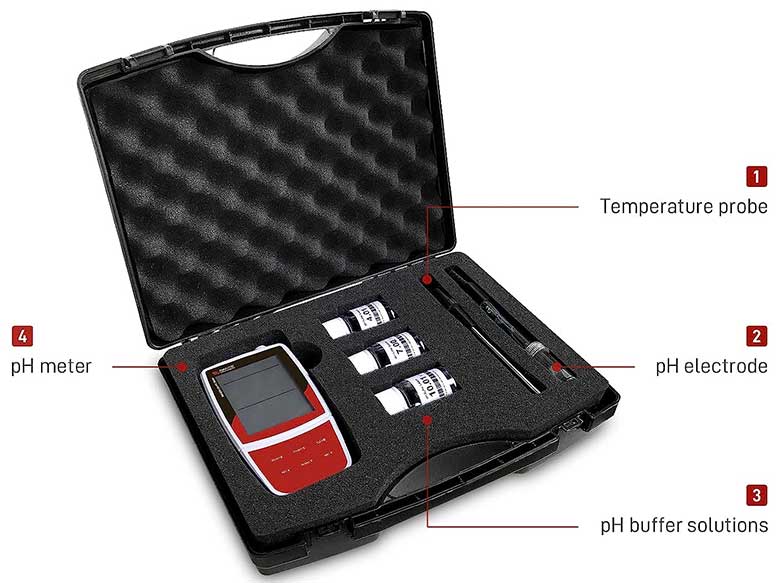 To ensure consistency, it offers automatic temperature compensation, and the auto-read function expertly locks onto the measurement endpoint. What sets it apart is its automatic electrode diagnosis feature. This tool provided insights into the zero-point offset and electrode slope, allowing us to make necessary adjustments for impeccable results. The device's expanded memory was another highlight, storing up to 100 data sets – a boon for those needing to reference past readings.
Powering the meter can be done in a couple of ways. You can use three AA batteries or use a 5V DC power adapter. Via batteries, you can expect to get between 3 and 5 months of use, depending on how often you use it. And via the power supply, you can of course use it as often as you like without worrying about power loss. Switching gears, its USB interface was a practical addition that we really liked seeing. It's responsible for facilitating seamless data transfer and allowing it to connect to a power adapter when needed.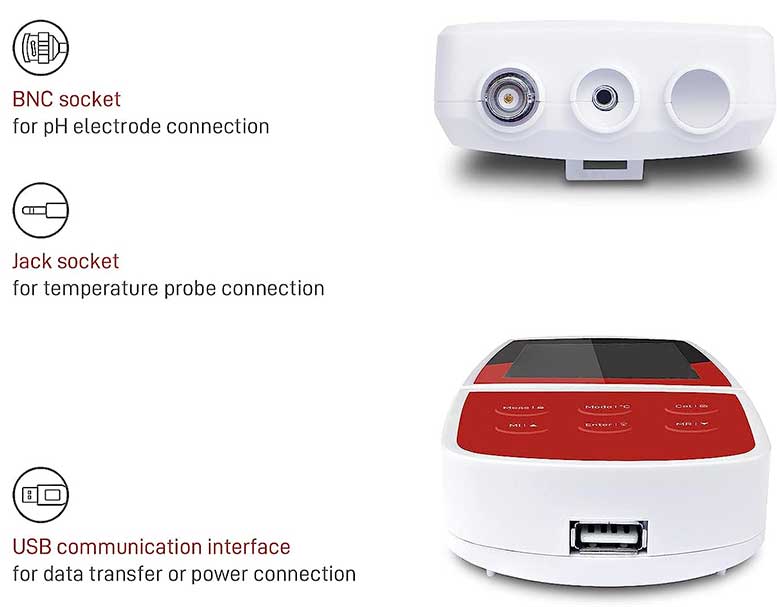 The accompanying software turned out to be quite useful, too, taking measurement data and creating an Excel file – a feature that analysts and data-driven users will adore. The pH electrode, temperature probe, pH buffers, and carrying case included in the box rounded off this impressive portable pH meter package.
What we liked:
3 points calibration
Automatic electrode diagnosis
Useful companion software
Data transfer works well
What we didn't like:
Slightly heavy for size
No built-in power source
Milwaukee Instruments MW102 PH and Temperature Meter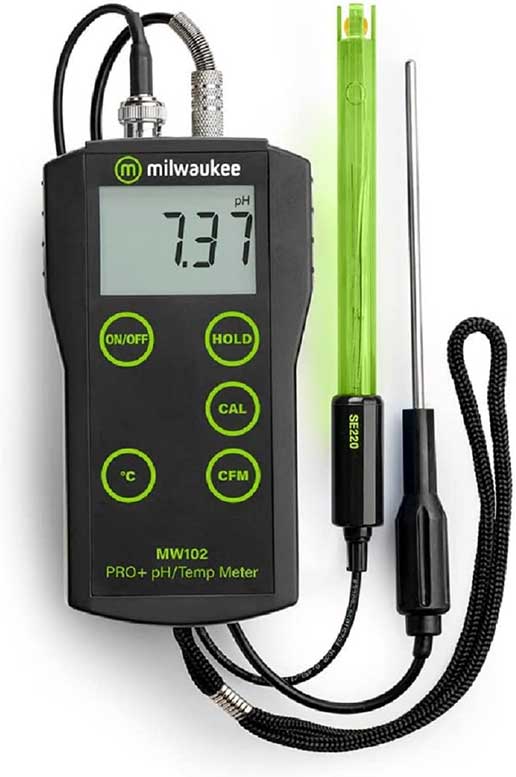 Key features:
Microprocessor-based pH/Temp meter
Automatic Temperature Compensation
Two-point calibration
Complete with pH electrode and temp probe
When it comes to straightforward, reliable pH and temperature measurements, the Milwaukee Instruments MW102 excels. Packaged in a practical and easy-to-handle 5 x 10 x 10 inch body that weighs just over a pound, this handy device packs a punch, all while running on a mere 9 volts. What sets the MW102 apart is its simplicity, making it ideal for classrooms, labs, and even general field use. It's all about convenience and usability; from its automatic temperature compensation to the straightforward two-point calibration, it's evident that this device is designed with user-friendliness in mind.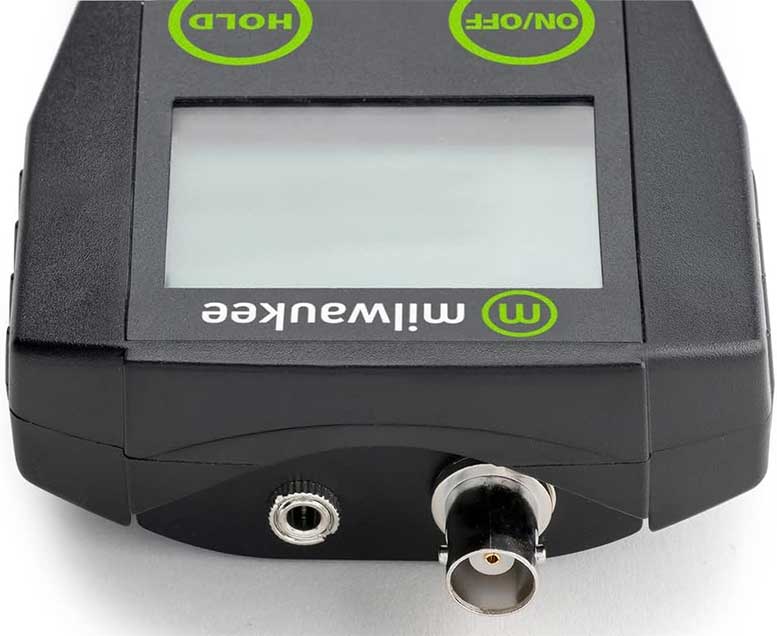 Powered by a microprocessor, this device covers an extensive pH range (-2.00 to 16.00) with an impressive ±0.02 pH accuracy, making it a reliable partner for your pH testing needs. It comes complete with a MA911B/1 pH electrode, MA830R stainless steel temperature probe, and calibration solutions, so you're ready to start right out of the box.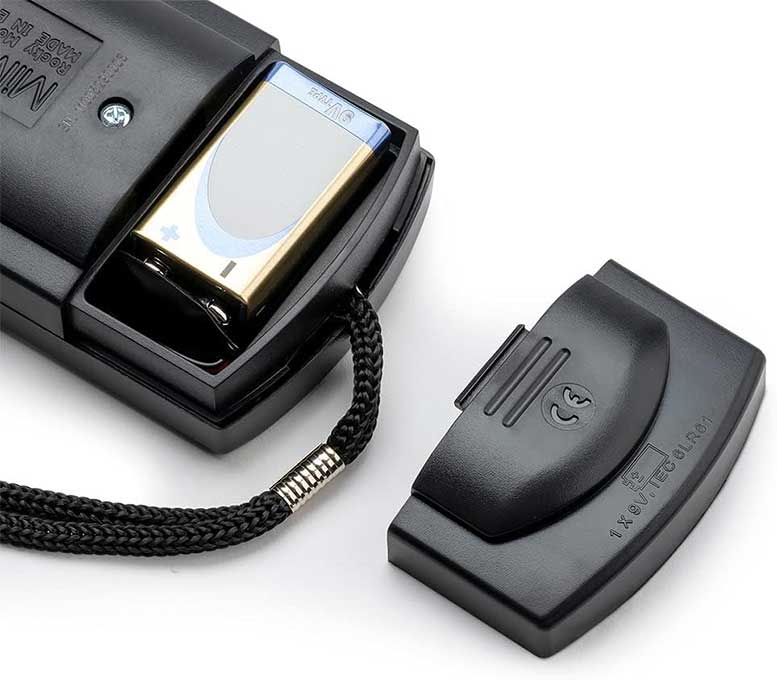 However, it's not all rosy. Despite its many merits, the MW102 isn't without its flaws. The kit could do with an extra storage solution, and the lack of a storage bag that hangs vertically could lead to leakages. Also, the readings' accuracy is something to be tested over time. That said, its positive aspects far outweigh the negatives, especially when considering its no-frills approach to pH and temperature measurements.
What we liked:
Ideal for classrooms, labs, field use
Practical, user-friendly design
Ready to use out of the box
Extensive pH range with high accuracy
What we didn't like:
Needs extra storage solution
No vertical storage bag
PH Meter FAQs
What is a pH meter?
A tool commonly used in scientific fields such as chemistry, biology, agronomy, and food science. It measures the hydrogen-ion activity present in water-based solutions, indicating whether they are acidic or alkaline.
How does a pH meter work?
A pH meter works by generating a voltage proportional to the concentration of hydrogen ions in a solution. This voltage is then translated into a pH value, a measurement of acidity or alkalinity.
How do I maintain my pH meter?
Regular calibration is crucial for maintaining the accuracy of your pH meter. It's also essential to clean the electrode after each use and store it in a storage solution to keep it hydrated and responsive. Always refer to the manufacturer's instructions for specific care guidelines.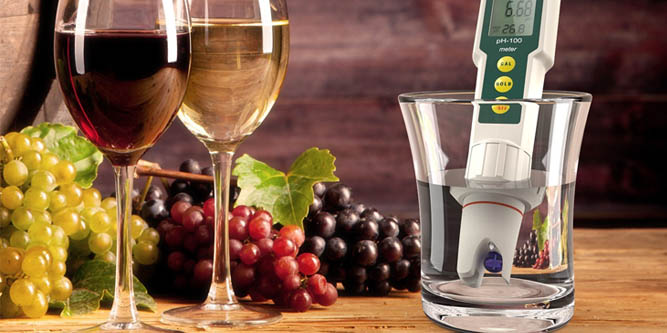 Final Verdict
Our rigorous testing led us to these six excellent pH meters, each with its own unique strengths. The Apera Instruments PH60S PH Meter stood out for its portability and ease of use, especially on semi-solid foods. The GroStar Series GS1 pH Pen Tester Kit was impressive with its lab-grade precision and sturdy waterproof design, making it ideal for growers. The Bluelab pH Pen was a hit for its durability, high accuracy, and waterproof design.
The Apera Instruments AI3713 PH60S-Z showed its strength in data management with its smart, hybrid design and cloud-based system. The Bante 220 offered high accuracy and an impressive storage capacity, making it a great tool for analysts and data-driven users. Lastly, the Milwaukee Instruments MW102 PH Meter was lauded for its simplicity and practical design, making it suitable for various environments, from classrooms to labs.