Securing your property or campsite shouldn't have to be a bothersome task. With the right trip wire alarm device, you can effectively deter potential intruders and maintain peace of mind. To help you determine the right one for your needs, we're sharing our picks for the best trip wire alarm devices currently available. Here's a quick look at what to expect:
Each of these alarms provides a unique set of features, ensuring there's a solution for everyone, regardless of your specific needs. Let's dive into the reviews to provide a deeper understanding of their features, pros, and cons. Although you could use a personal emergency alarm with some fishing line, these options are trip-wire specific.
Trip Alarm Co 12 Gauge Trip Wire Alarm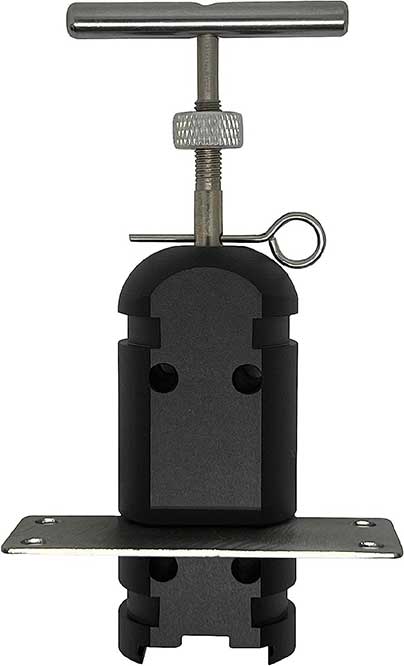 Key features:
360° Quad patent-pending design
Rust-resistant stainless steel and aluminum build
Multiple trip lines on a single device
Versatile, reusable, and adaptable design
As an innovative solution to perimeter security, the 12 Gauge Trip Wire Alarm by Trip Alarm Co. offers unmatched detection ability, ensuring peace of mind. Housed in a compact 3 x 1 x 1-inch shell, this lightweight 5-ounce device is expertly crafted from rust-resistant stainless steel and 6061 aluminum. Sporting a 360-degree Quad patent-pending design, it provides comprehensive coverage, alerting users to any breach via a tripwire-initiated system. We like that it gives you the option to set up multiple trip lines on a single device.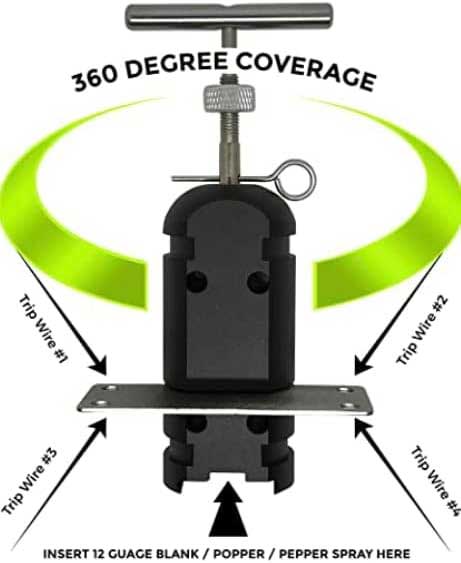 It creates a wide-reaching early warning system that's versatile enough for various settings – from campsites and farms to private properties. Another key highlight is the reusability factor. It can be deployed time and again across different paths and entry zones, secured easily to doors, trees, or gates via screw holes or zip tie notches. We found either to work well. This convenience is further enhanced by the alarm's compatibility with 12-gauge blanks or optional pepper gas and flash-bang rounds, adding an additional layer of deterrence.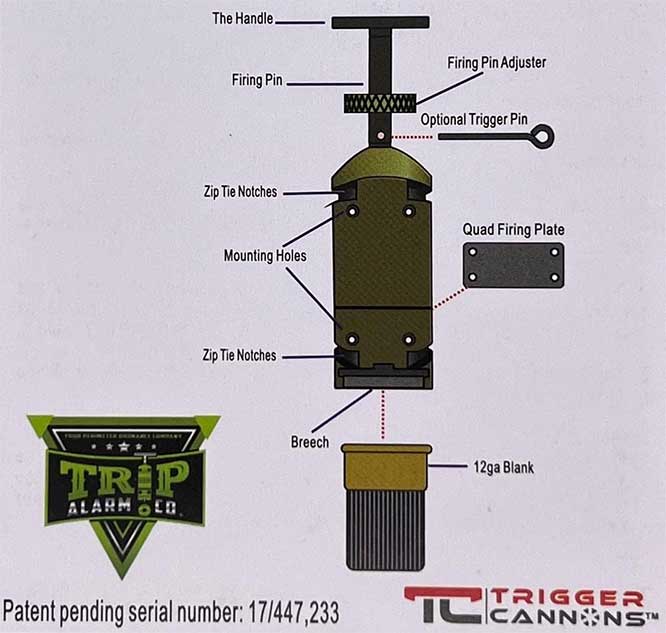 The American-made device's sensitive trigger and diverse adaptability make it a reliable choice for property owners and outdoor enthusiasts alike. The use of rust-resistant stainless steel and aluminum grants it durability, potentially surpassing the other options in terms of lifespan. However, unlike the Fith Ops Camp Safe Full 209 Perimeter Trip Alarm Kit, it doesn't come with a trip wire, and the reflective parts might require camouflage to blend into the environment.
What we liked:
Lightweight and compact
Highly sensitive trigger
Durable and long-lasting
Easy to set up and use
What we didn't like:
Tripwire not included
Reflective parts may require camouflage
Trip Alarm Co .22 Ramset Micro Perimeter Trip Wire Alarm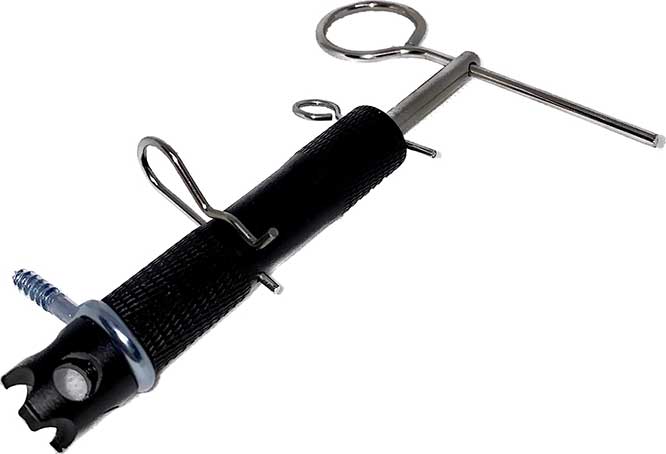 Key features:
Ultra-portable design
Rust-proof construction
Uses .22 Ramset blanks
Loud alarm activation
The .22 Ramset Micro Perimeter Trip Wire Alarm from Trip Alarm Co. delivers reliable and effective perimeter security in a portable, easy-to-carry package. This compact unit measures only 4.25 inches in length and 9/16 inches in circumference. Additionally, it's exceptionally light at just 1.5 ounces. But despite the small size, it packs a formidable punch in terms of noise output when paired with .22 Ramset blanks, ideal for camping safety or securing private areas.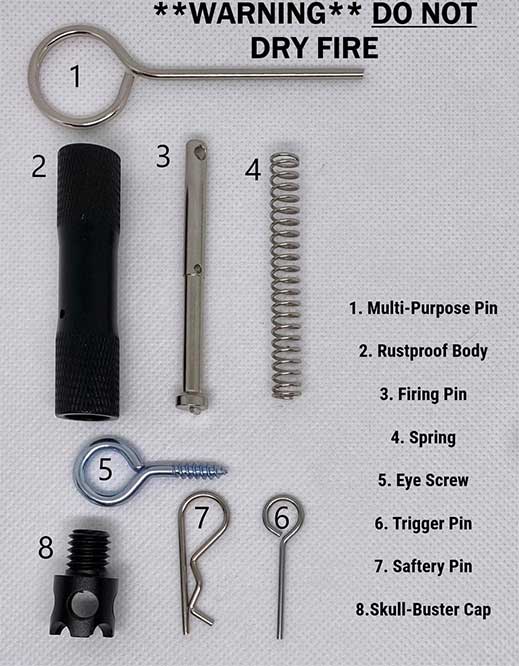 During our tests, it proved to be straightforward to set up, and it consistently gave a high-decibel alert upon activation. It's also quite sturdy and durable, thanks to its high-quality, rust-proof aluminum materials. These are designed to resist wear across multiple uses, ensuring longevity and reliable performance. Speaking of which, it worked without issue when we tested it in various weather conditions. That said, users planning to place it outdoors for extended periods may want to consider weatherproofing the cap's crimp for added reliability.
One of its defining features is its utilization of readily available .22 Ramset blanks. This avoids the need for potentially expensive and hard-to-find materials. It's a practical approach that underscores Trip Alarm Co's commitment to simplicity and convenience without compromising functionality. It should be noted, however, that these blanks aren't included in the package and must be acquired separately. On the whole, the .22 Ramset Micro Perimeter Trip Wire Alarm offers a well-designed and effective solution for those seeking compact, loud, and durable early warning systems.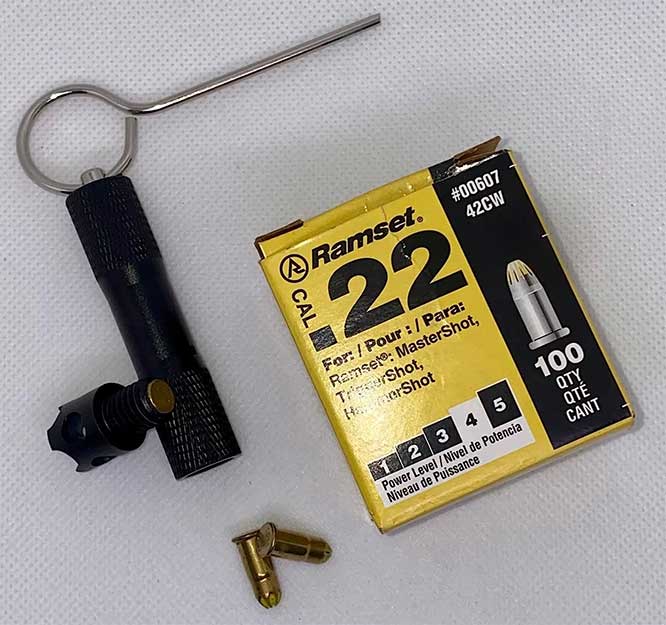 Compared to other alarms, its use of .22 Ramset blanks makes it slightly more straightforward in operation. Plus, it sports a significantly lighter weight than the Dahszhi Dual Laser Detector Alarm and a smaller circumference compared to other items on the list. If versatility is what you're looking for, this one is sure to meet your needs.
What we liked:
Easy to set up
High-quality materials used
Available .22 blank use
Weather-resistant
What we didn't like:
.22 blanks not included
May need cap weatherproofing
Fith Ops Camp Safe Full 209 Perimeter Trip Alarm Kit

Key features:
Lightweight and compact
Includes 85' Dyneema trip line
114 dB alarm sound
Made in USA
From Fith Ops comes the Camp Safe Full 209 Perimeter Trip Alarm Kit. This is a well-thought-out piece of equipment, particularly for outdoor enthusiasts. For starters, it boasts a compact and lightweight design, measuring 4 x 0.5 x 0.5 inches and weighing just 2.78 ounces. This makes it an ideal companion for backpacking or camping trips. Yet, despite its small stature, there's a lot of bang for your buck packed into this alarm.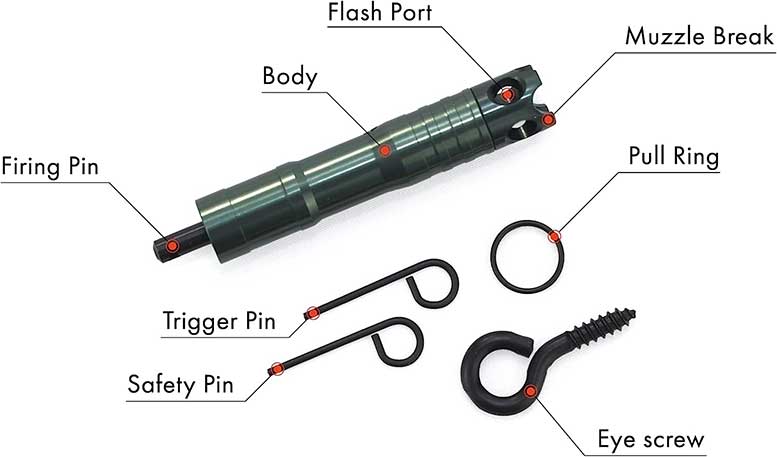 Crafted in the USA with machined aluminum and steel, it gives you the confidence of a sturdy and reliable solution. It shows meticulous consideration for the outdoors with the included 85-foot Dyneema trip line and silicone primer caddy, which can attach to the spool for convenient access. Testing it during a camping trip, we found setup to be straightforward and unproblematic. We secured the trip wire along the unobstructed perimeter of our campsite and mounted the alarm vertically to a tree.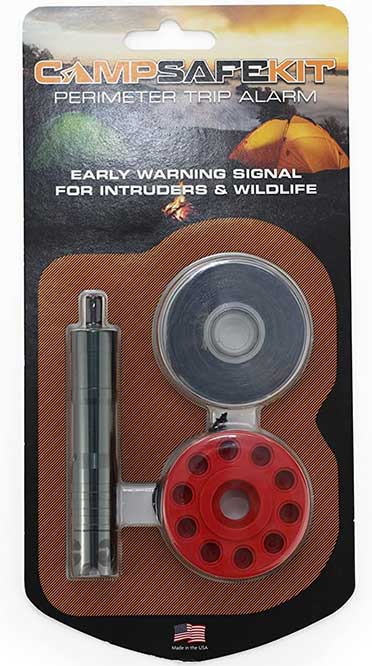 When triggered, it emits a clear and loud 114 dB alarm, which is more than effective in deterring wildlife and trespassers. In an era where security is a must, the Camp Safe Full 209 Perimeter Trip Alarm Kit proves its worth immensely. But as with other similar systems, this kit does not include primers. Still, the fact that this unit is reusable and reloadable makes it a smart buy. Even better, the included 85-foot trip line sets it apart from the Trip Alarm Co. devices that require separate trip wire purchases.
What we liked:
Easy to set up
Sturdy and reliable
Reusable and reloadable
Excellent customer service
What we didn't like:
Primers not included
Slightly pricier than others
Dahszhi Dual Laser Detector Alarm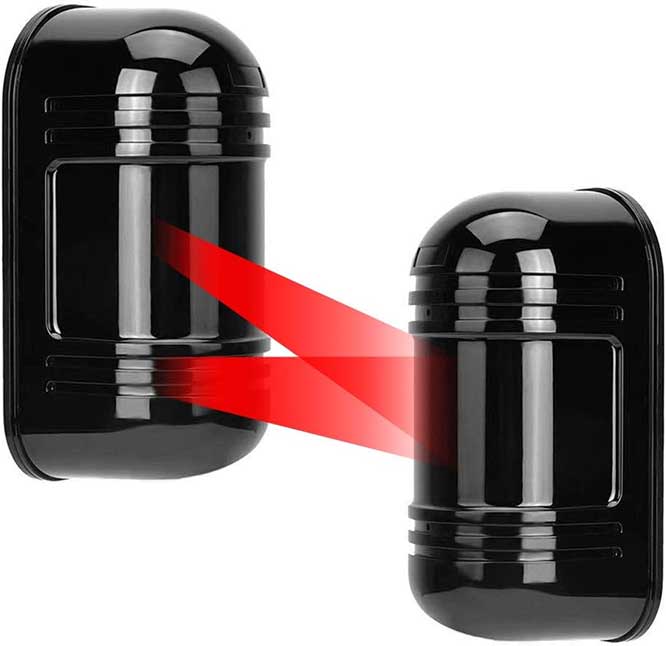 Key features:
Twin infrared beams for reliable detection
Environmental adaptability increases durability
Indoor 300m, Outdoor 60m detection range
Fast response speed 50-700 milliseconds
The Dahszhi Dual Laser Detector Alarm is an exceptionally robust and precise security device. Weighing 835 grams and measuring 6.7 x 3.1, it exhibits a compact yet weighty feel, hinting at its solid construction. Its mounting type is a convenient wall mount, making installation straightforward. Using twin infrared beams, it provides reliable perimeter security. One aspect we appreciate is that it minimizes false alarms caused by falling leaves, birds, or even inclement weather conditions such as rain, snow, or mist.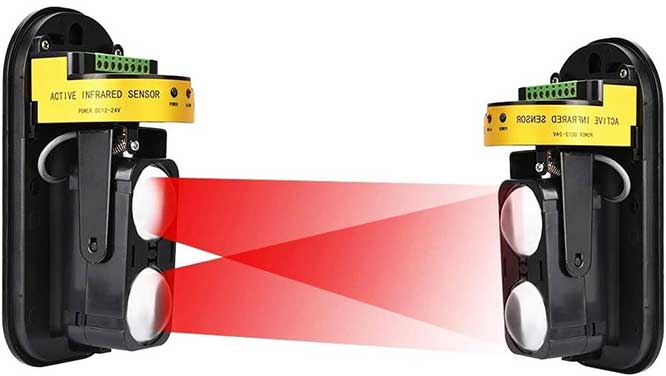 The alarm also boasts an intelligent automatic adjustment design that adapts transmit power according to environmental conditions. This feature increases the lifespan of the launching tube and reduces power consumption, enhancing durability and energy efficiency. We put the alarm through its paces in both indoor and outdoor scenarios. Indoors, it easily covered a range of 300 meters, while outdoors, it performed well over 60 meters.
But what impressed us most was the speed response, which clocked in between 50 and 700 milliseconds. Combined with its holographic spot real-time report, all of these features contribute to rapid detection and alarm triggering. Despite some initial challenges with instructions that seemed a bit complex due to language translation issues, we successfully installed the alarm after careful review.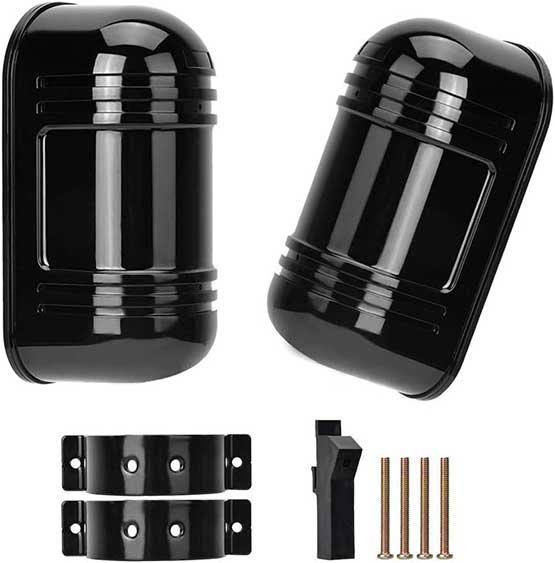 Plus, it comes with its own set of installation accessories, so the process wasn't that big of an issue once the instructions were deciphered. It should be noted, though, that its weight and size are considerably larger than other options, potentially limiting its portability. But its ability to minimize false alarms gives it an edge over the other devices.
What we liked:
Minimizes false alarms effectively
Efficient power consumption
Solid build quality
Excellent for a variety of premises
What we didn't like:
Initial setup instructions unclear
Reported quality control issues
Lewis N. Clark Travel Door and Window Alarm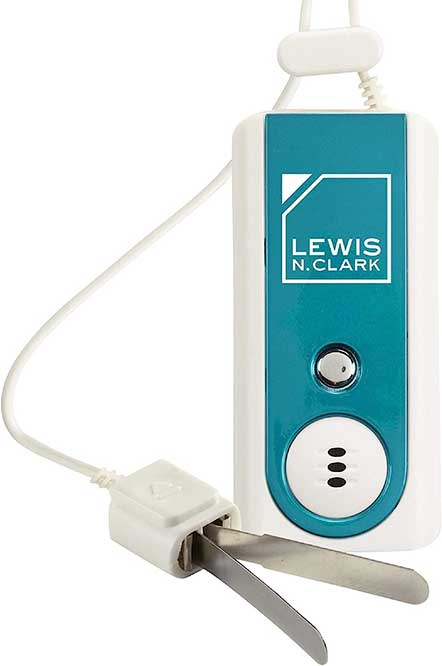 Key features:
High-pitched 91 dB alarm
Portable and lightweight design
Built-in LED flashlight
Suitable for doors and windows
Lewis N. Clark's Travel Door and Window Alarm stands out as a compact, user-friendly device designed to enhance personal security wherever you go. Its simplistic design belies its effectiveness: when triggered, the unit emits a high-pitched 91 dB alarm, powerful enough to alert neighbors and deter potential intruders. It is tailored for ease of use, fitting seamlessly into the doorframe gap, with a cord looped around the door handle to ensure firm placement.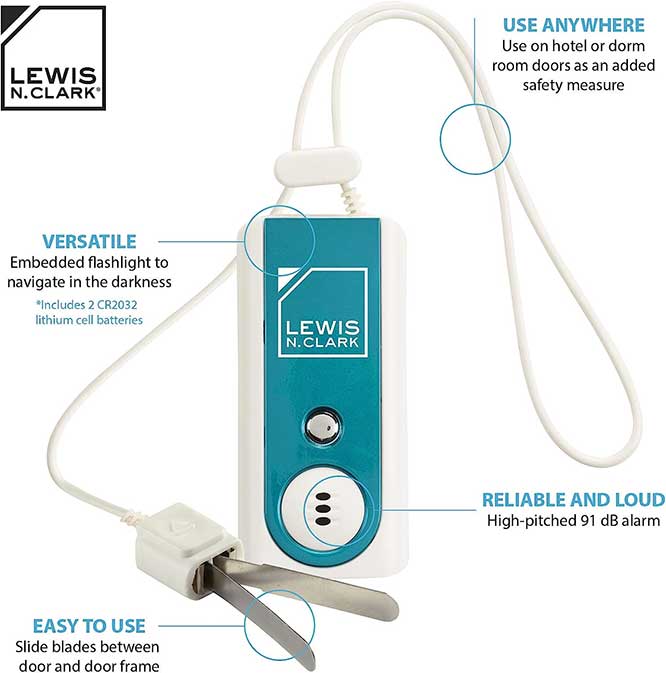 This feature also extends to windows, thereby amplifying its utility. Designed for portability, this petite and feather-light device – measuring only 7.05 x 3.19 x 1.14 inches and weighing a mere 3.2 ounces – makes it an essential companion for travelers. It can snugly fit into a suitcase, backpack, or even a handbag, making it readily accessible.
An additional built-in LED flashlight feature adds an extra layer of convenience, especially in unfamiliar or poorly lit environments. During testing, the setup process proved effortless, so it's a breeze to use, even for novices. Its ear-piercing alarm promptly activated upon breach, demonstrating the alarm's reliability. Moreover, the LED flashlight provided ample illumination in dark surroundings, further reinforcing its worth as a travel-friendly safety tool.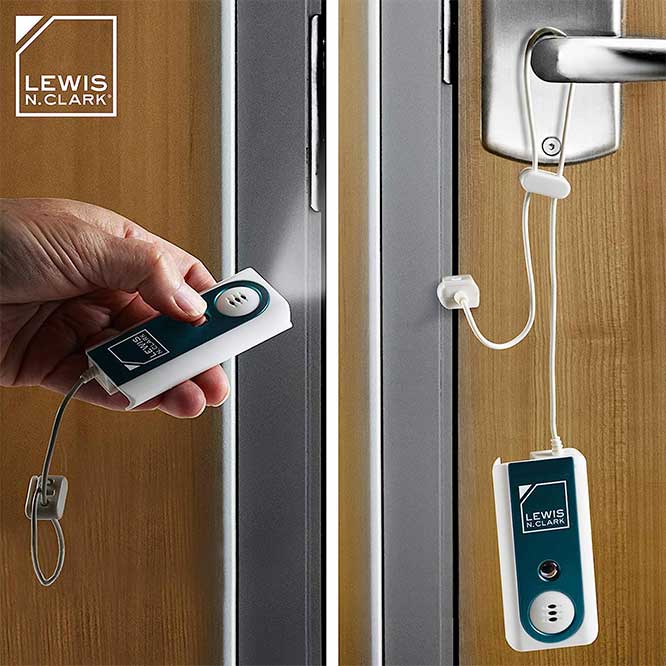 Comparatively, its suitability for doors and windows potentially offers more versatility than some other alarms. The built-in LED flashlight is also a unique feature not seen in the other solutions we reviewed. However, it falls short in terms of sound level compared to the Fith Ops alarm. But its simple setup procedure, like the .22 Ramset Micro Perimeter Trip Wire Alarm, can make it an easy choice for those looking for hassle-free operation.
What we liked:
Loud, attention-grabbing alarm
Simple setup procedure
Compact for easy travel
Multi-functional use
What we didn't like:
Requires careful placement
No adjustable sound levels
Trip Wire Alarm Device FAQs
What is a trip wire alarm device?
As its name implies, a trip wire alarm is a security system that uses a trip wire trigger mechanism to alert you when someone or something crosses a designated boundary or perimeter.
How does a trip wire alarm work?
When the wire is tripped, the alarm is triggered to create a loud sound, alerting you to potential threats. Some models use infrared beams to produce the same result.
Where can I use a trip wire alarm device?
Trip wire alarms are versatile and can be used in a variety of settings, including homes, farms, campsites, hotels, and private properties. They're an excellent way to secure your perimeter and deter potential intruders.
Final Verdict
Securing your space for peace of mind is easier than you think, and our top picks are evidence of that. Trip Alarm Co's 12 Gauge Trip Wire Alarm, for instance, boasts an innovative and adaptable design, offering a comprehensive perimeter security system ideal for various settings. Further solidifying its place in the trip wire alarm market, Trip Alarm Co earned another spot among our reviews with its .22 Ramset Micro Perimeter Trip Wire Alarm. This one is favored for its use of .22 Ramset blanks and a weather-resistant design that ensures ease of use and durability.
The Fith Ops Camp Safe Full 209 Perimeter Trip Alarm Kit is notable for delivering a comprehensive kit. It consists of a trip line, a loud alarm, and an easy setup process, making it an excellent choice for camping enthusiasts. Dahszhi's Dual Laser Detector Alarm provides reliable detection with its twin infrared beams, fast response time, and the ability to minimize false alarms. And lastly, the Lewis N. Clark Travel Door and Window Alarm deserves its portability, simplicity, and multi-functionality. Each of our picks offers unique performance and benefits, ensuring that there's an option for most needs.