There are some things that you hope you won't need, but still want to have on hand. A car alarm, for example, only prevents theft once in a while. But because they're so prevalent, car theft has dropped all over the country. While our vehicles are important, nothing is more important than your own personal safety.
Whether we like to admit it or not, attacks have happened in the past and they may happen in the future. Fortunately, there is a simple solution. Personal panic alarms are compact little devices that, when triggered, emit an extremely loud alarm that will catch the attention of any bystanders.
It's such a simple system, and yet it's been proven to be super effective. The last thing a perpetrator wants to do is draw any attention to themselves. In this case, an offense is the best defense.
When your personal safety is at risk, you can't afford to get the wrong device. Today, we're going to look at the three best personal safety alarms on the market. First, we'll look and see what puts these alarms ahead of the competition.
ORIA Safe Sound 130dB Personal Emergency Alarm
When it comes to personal safety, ORIA is a brand trusted by many. They're known for affordable and reliable safety equipment, designed to help people from all walks of life keep themselves safe.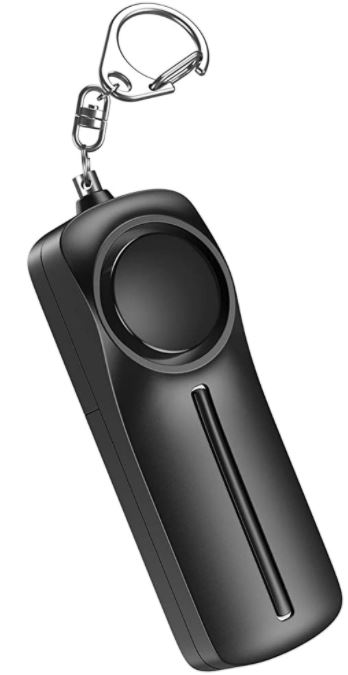 Design
The ORIA Safe Sound comes in a durable plastic keychain that's both compact and sturdy. It doesn't draw much attention to itself. At first glance, it looks like a little more than a remote control or fancy key ring. But behind that unassuming exterior is a device that really packs a punch. Attached to the top is a reliable keychain-clip that makes it easy to wear. Many people recommend putting it around their waist band or wearing it with a lanyard. But it's just as easy to clip it to virtually anything. It's recommended to keep it on your person at all times, especially when jogging or commuting at night.
This alarm takes a replaceable AAA battery. These batteries are cheap and easy to find. Once installed, they're good for upwards of a year. Because the alarm uses no battery on standby, the only reason you'd want to replace it is to address the typical aging of batteries.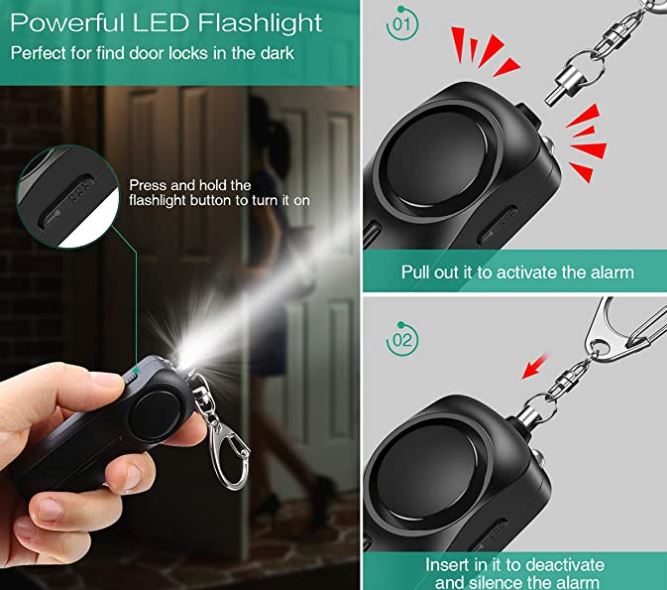 Loudness
The 130 DB alarm emits a continuous chime similar to a high-speed police siren. The one issue with many alarms is that they have a continuous tone. Especially in an urban environment, it would be easy for bystanders to mistake it for a home alarm or police siren. But you'll have to trust us (and our neighbors) on this one, there's no mistaking this alarm.
A number like "130" doesn't seem like much on paper, but let's put this in perspective. 70 decibels is the maximum volume in a nightclub or concert. 80 decibels is loud enough to cause hearing damage. 110 decibels is known as the pain threshold. Any sound louder than this is likely to cause serious discomfort. The 130 decibel sound produced by this alarm is over 32 times as loud as a night club. This is the same volume as the sound of a military jet taking off with afterburner. It's even louder than a clap of thunder at 50 feet. We really don't recommend testing this out. You'll have to take our word on it. When this alarm goes off, the perpetrator is going to want to get as far away as possible as fast as possible.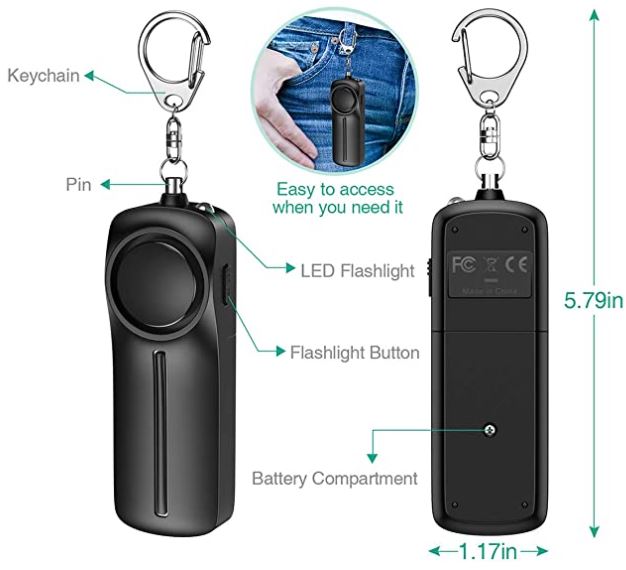 Functionality
When you're in an emergency situation, you don't have time to fiddle around with buttons to try and trigger the alarm. In fact, you really don't even have time to think. That's why this alarm was designed to be as simple and easy to use as possible. To trigger it, all you have to do is grab and go. The lanyard feels like it's firmly attached, but when you yank it from the string the pin pulls out, setting off the alarm. From this point, you've got up to an hour of continuous audio. Triggering the alarm only takes a matter of seconds, and can save your life.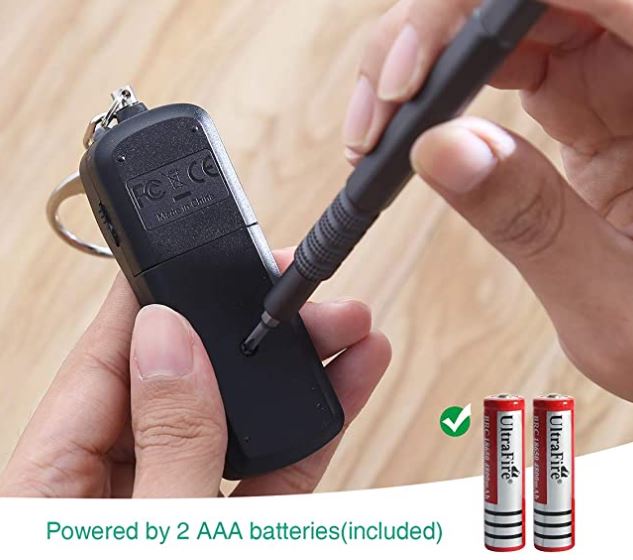 Users
Who should use this alarm? One of its defining features is how sturdy it is. It's unlikely that you'll accidentally trigger the alarm, making it suitable for athletic activities. We recommend it for police or correctional officers, since a scuffle requires a little extra durability. It's fantastic for running, jogging, or other activates that include a lot of movement. By the same token, if you're mobility challenged the durability will help protect the alarm for accidentally being triggered.
B A S U eAlarm+ 130dB SOS Personal Alarm
Although they aren't a well-known brand, B A S U has a penchant for producing durable personal safety devices that stand up to the test of time. If you couldn't tell from the name alone, B A S U generally has a focus on law enforcement personnel. Fortunately, this particular alarm is designed to be used by anyone, so we were excited to take a look at it.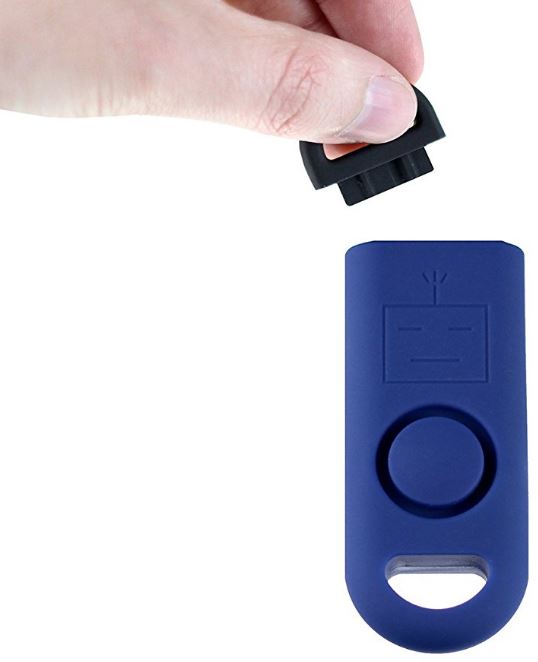 Design
The B A S U eAlarm+ 130dB SOS Personal Alarm is a rubbery little device that looks completely unassuming at first glance. Nobody will be able to tell what a wallop this compact device can pack. It's available in four great colors. If you're looking for something simple an utilitarian, the black one is always a safe bet. But if you want to spice it up a little, the forest green model is our personal favorite. It's also got pink for a little feminine flair, and blue is by far the best-selling color.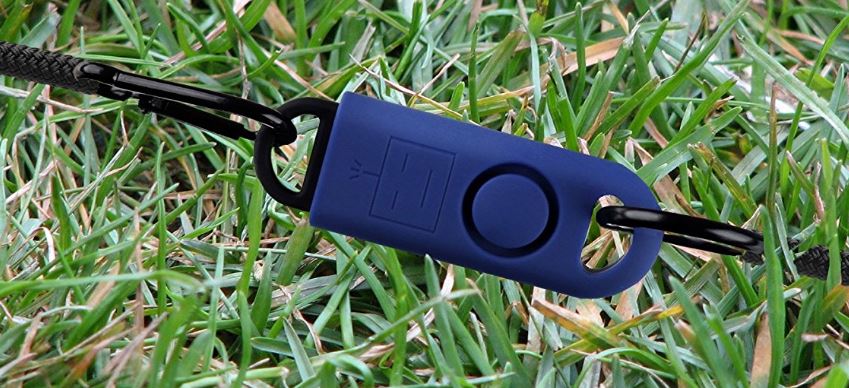 Aside from the color, the physical design is also a little striking. It's very compact, with a loop on each end. The base is coated with a rubbery material, featuring a circular hole where the sound comes out and a straight end looking logo, shaped like a robot's head. But the real power comes from the black cap. This loops is the trigger for the alarm, and this tiny little component plays a crucial role in the functionality of this alarm.
Loudness
This alarm is also capable of producing 130 dB. On paper, it's just as loud as the ORIA Safe Sound. But if you've learned anything from our reviews, you'll know that you can't always trust the specifications. This alarm has a siren that has a much wider range of frequencies, quickly sweeping from the high notes to the low ones. The key thing to remember is that this alarm hits 130 dB at times, but some portions of the tone are a little lower. This is better for your personal comfort. It's possible to get hearing damage at 130 dB. If you don't need the loudest siren possible, this is a good compromise.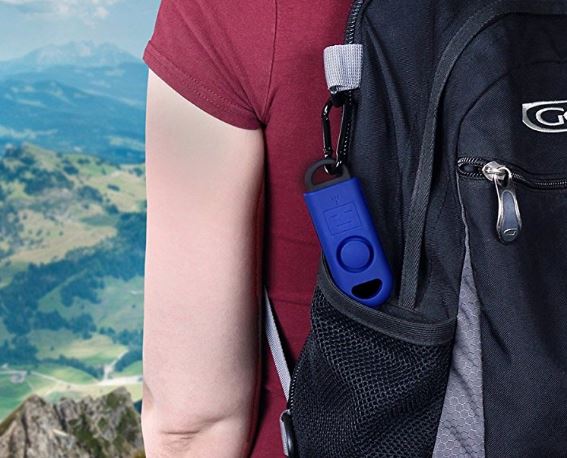 Functionality
The design of this alarm is almost identical to the previous model. You can anchor the alarm by the black portion and pull the entire body to trigger it. Alternately, you may want to anchor it by the colored portion. This makes it a little harder to trigger, but reduces the chances of accidentally activating it. Depending on if you want to use it at all times, the choice is yours. No other personal alarm gives you quite as much choice.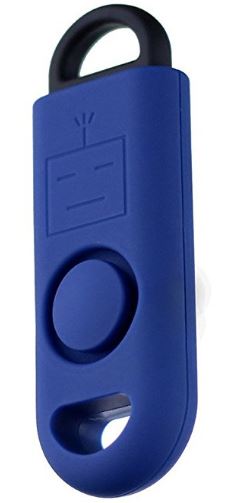 Users
This isn't a specialty alarm. This is something that's designed for the everyday user. Whether you're using it on your daily commute or a late-night ride, the compact size and unique design mean that you can take it with you at all times without being stuck carrying around a cumbersome alarm.
Sabre Personal Self-Defense Safety Alarm
Nope, this isn't the same Sabre from everyone's favorite sitcom 'The Office'. This is a company that's built their brand on portable electronics that are sold at rock bottom price. Although it makes a few compromises, you're not going to find a better deal.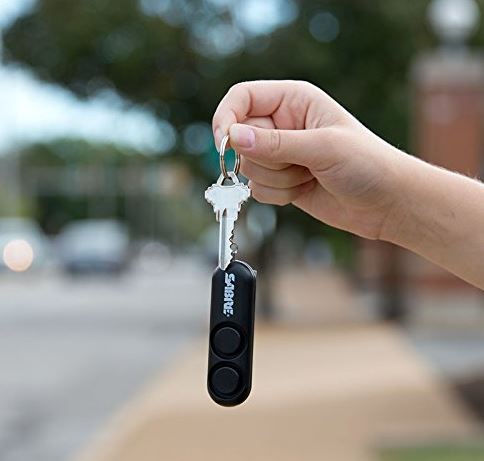 Design
The Sabre Personal Self-Defense Safety Alarm is the smallest one on our list. It can easily be attached to a key ring, allowing you to almost forget that it's even there. To compromise for the small size, you'll notice that it has not one, but two separate audio drivers. You can get it in three great colors. Personally, if it's something we're going to carry around on our keys all day we prefer the black model. But depending on your taste, pink and red are also available.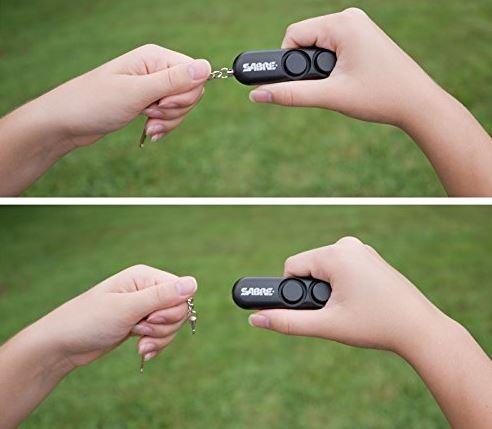 Loudness
At 110 dB, this isn't the loudest alarm on the market. But it's still more than loud enough to catch attention of anyone standing nearby. To be specific, the sound will easily travel up to 600 feet or 185 meters away. It's got a dual siren, with two alternating tones played from each of the two speakers. This dual output system allows for multiple tones each of which play back at the same volume. You won't suffer from the issues that some have where some tones are too quiet, and others too loud.
For many users, the quieter volume is an asset. 130 dB does have the potential to cause hearing damage. If you're already suffering form hearing loss, you'll want to tone it down a bit with this model to protect yourself.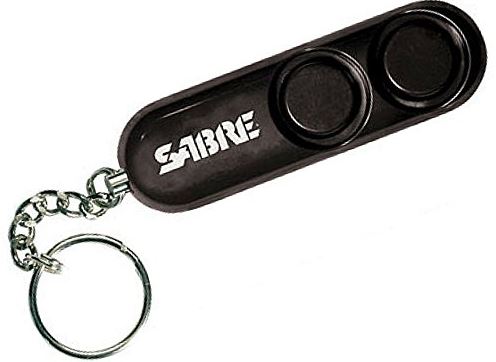 Functionality
As usual, the alarm is activated simply by pulling the pin. It's a reusable system so that as soon as the pin is reinstalled the alarm will stop. It's got a built in, non-replaceable battery. In essence, this makes it a disposable alarm. A couple accidental triggers aren't going to ruin it, but after two hours of continuous use you'll want to buy another one. Hopefully, you won't have to use it. But if you do, a couple dollars is a low price to pay for protection.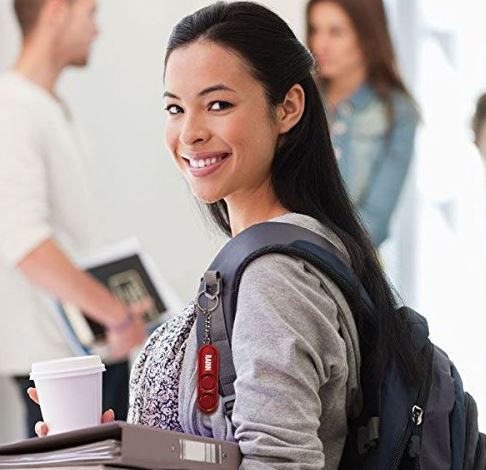 Users
If you don't have any particular reason to protect yourself, we still recommend picking up one of these alarms. They're dirt cheap, and die the job effectively. For both children and the elderly, we recommend this alarm above all others.
Which One Should You Choose?
To find the one that suits your needs best, you'll need to take into consideration a few factors. Primarily, this will be size and reliability. For the ultimate in protection, the ORIA Safe Sound is the best on the market. Their key focus is safety, and they didn't make any compromises.
For daily use, the B A S U eAlarm+ 130dB SOS Personal Alarm is a better choice. It's not quite as loud, but it's much more compact and easy to carry around for your day to day use.
If you're not sold on the personal safety alarm, do yourself a favor and pick up the Sabre Personal Self-Defense Safety Alarm. It's extremely affordable, and very easy to use. You never know if you'll need it, but if you do it could save your life.
Was this helpful? Please consider sharing: