When it comes to your personal safety, there's no such thing as being too careful. But the necessities of life sometimes force us into less-than-ideal situations. You may find yourself all alone in a parking garage late at night. You may have to walk through a dark alley as part of your job.
Under these situations, you can be particularly vulnerable. This is particularly problematic for many women, as well as the elderly and physically disabled. If a big, strong mugger tries to attack you, there's not much you can do about it. Even if you're also big and strong and you're a trained fighter, your attacker may be armed. So, what do you do?
Note: At no extra cost to you, we may earn a commission for purchases using our links. Learn more.
A lot of people carry a gun for personal protection. But that's not legal in all locations, nor is it legal for all people. Not only that, but you might have moral or ethical objections to carrying a firearm. Another option is to carry a stun gun. This is a non-lethal way to defend yourself, and they're legal to carry in far more places.
But a stun gun requires you to get uncomfortably close to your attacker. If they manage to knock your stun gun away, all you've done is make them angry. On the other hand, if you make a loud enough noise, you're going to attract a lot of attention. Muggers and other criminals don't like attention, and are liable to go running. That's the concept behind a personal safety alarm.
Best Personal Emergency, Safety, Panic Alarms
We're about to review three of the best personal emergency, safety, panic alarms. These are small, portable devices that are designed to emit a loud siren when activated. Many also have built-in strobe lights and other additional features.
To find out which one is the best, we'll have to look at all of their functions, as well as the form factor. We'll talk about how they're built and how you carry them. We'll talk about the siren volume, strobe function, and how you activate them. Additionally, we'll also discuss the battery power and other related details. After that, we'll be well-equipped to render a fair verdict. Let's begin!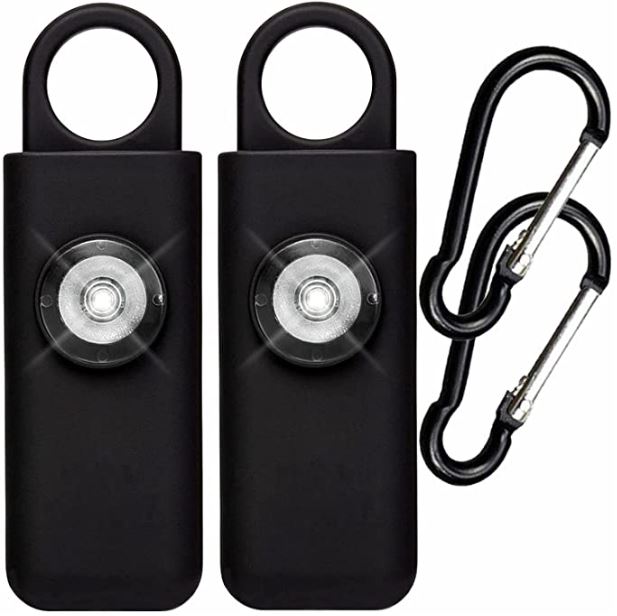 Spartan Defense Personal Alarm
The Spartan Defense Personal Alarm is a key fob style device that's designed to carry outside your clothing. The housing is constructed from a smooth matte plastic, which is easy to keep clean. It measures 3 inches long, 1.5 inches wide, and 1 inch thick, and it's very lightweight. At the top, there's a ring, which can be used to easily attach it to your person. It even comes with a little carabineer, which can be attached to a belt loop or any other convenient spot.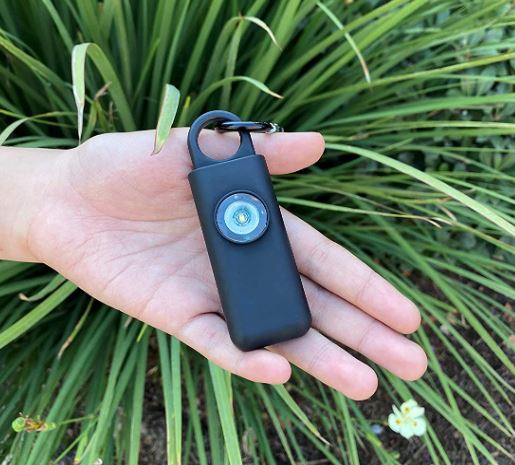 The default version of the Spartan alarm is black, and is available in a 1, 2, 3, 4, 5, or 6-pack. However, you can also order it in teal, pink, or purple if you want something a little more colorful. The only other visual feature of note is a round light on the front of the housing.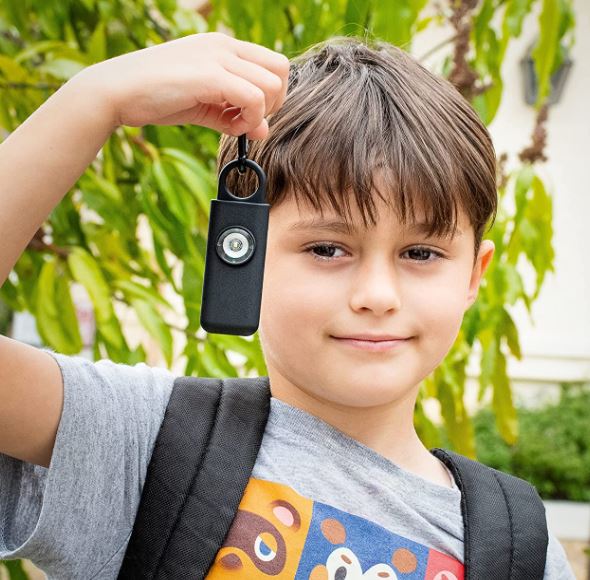 This alarm runs on a single CR2032 battery. Spartan doesn't advertise how long it will last, but it's easy enough to replace. Alternatively, you can order a rechargeable version. This has a Micro USB charging port, and includes a cable. However, it's only available in black.
Loudness and Functionality
To activate the Spartan Defense Personal Alarm, tug hard on the top ring. It will pull out of the housing, and the alarm will sound. You can use two hands if you want. However, if you're carrying the alarm on a carabineer, just yank on the alarm. When you want to shut the alarm off, just push the ring back into place. You can do this as many times as necessary, which is good news if you want to test it out.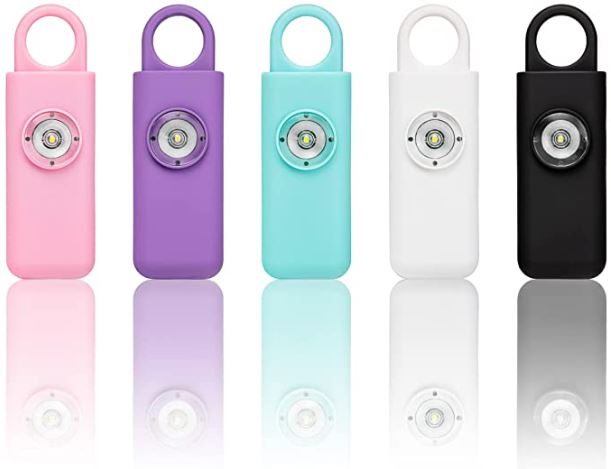 If you do decide to test the alarm, put in some ear plugs first. This siren is insanely loud, producing 130dB of sound. To put that in perspective, a modern fighter jet with its afterburners turned on is about the same volume.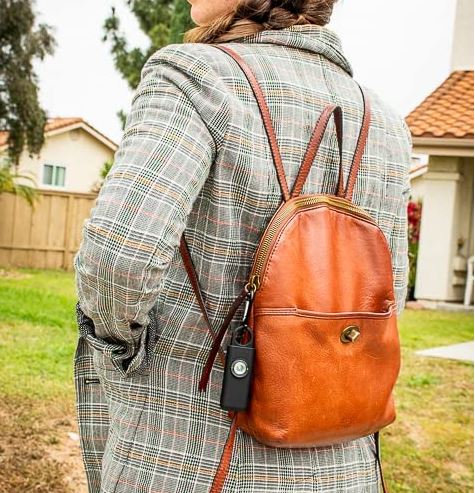 Depending on the environment, people will be able to hear you from over 1,000 feet away. For anyone closer, the alarm will be impossible to ignore. This isn't just designed to get other people's attention. A sudden siren of this volume can disorient an attacker, giving you a chance to run away.
Along the same lines, the strobe light on the front will also flash when the ring is pulled. It's extremely bright, and will further disorient your attacker. Police will often use a strobe flashlight to achieve a similar effect.
As a matter of fact, the rechargeable version actually has a separate control button for the strobe. This allows you to use the strobe light on its own, without an alarm. It's a great way to signal for help if you're stranded on the side of the road somewhere.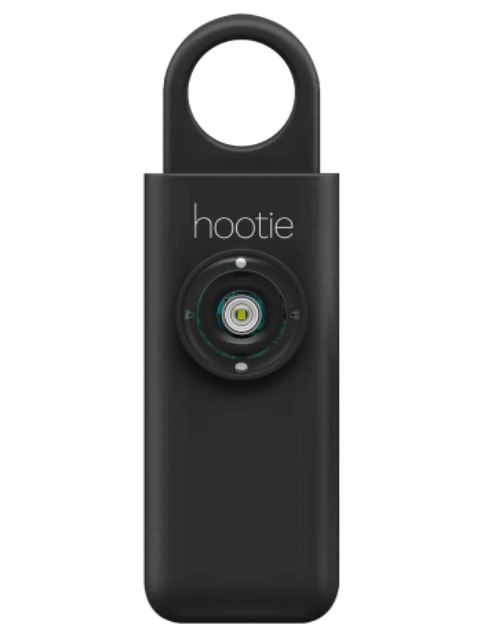 Hootie Personal Keychain Alarm
The Hootie Personal Keychain Alarm is a similar key fob-style device to the Spartan alarm. However, it's a bit smaller, at 3.5 inches high, 0.63 inches wide, and 0.5-inch thick. That's small enough to conveniently slip into your pocket. At the top, there's a ring, which can be used for carrying. You also get a carabineer, just like the Spartan alarm.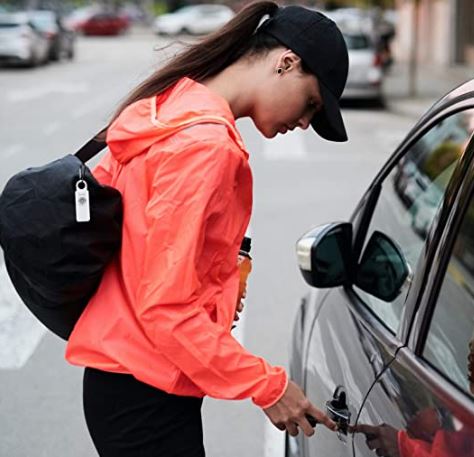 This alarm is available in six colors: black, lavender, mint, navy, red, or white. All the finishes are matte, so cleaning is a non-issue. That's important for anything you're carrying outdoors. On the front, there's a white "Hootie" imprint, just above the round LED strobe light.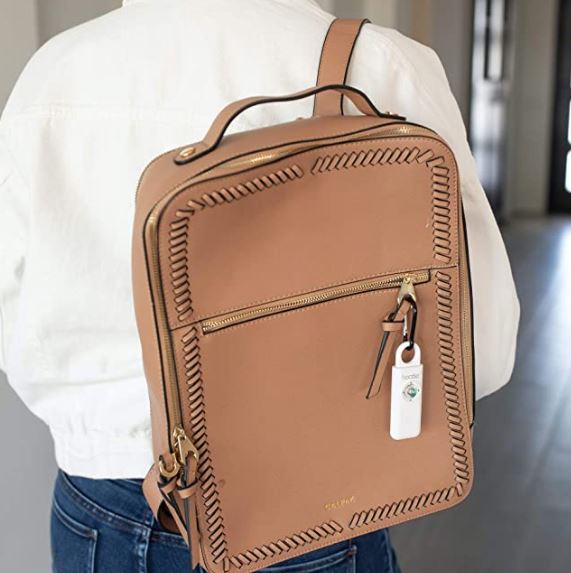 The Hootie alarm takes a pair of CR2032 batteries, which are already installed. They're rated to last for up to 40 minutes of continuous use, which is pretty impressive. Hootie recommends replacing them at least once a year to ensure they maintain a decent charge.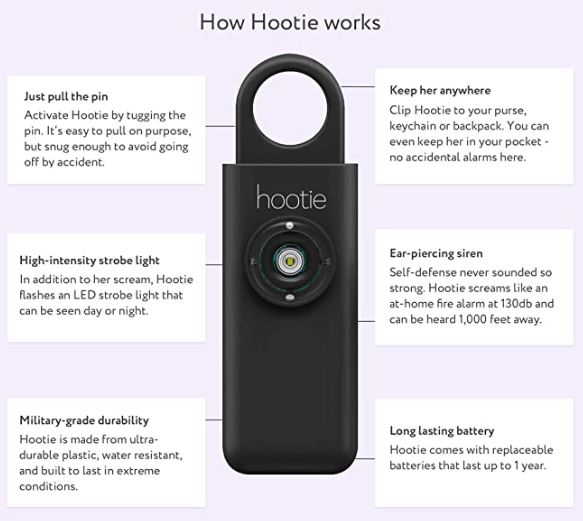 Loudness and Functionality
The Hootie Personal Keychain Alarm's siren is activated by pulling out the top ring. As with the last alarm, this ring is replaceable, so it can be used multiple times. You also get the same siren volume, an ultra-loud 130dB. With that kind of volume, you'll be able to get plenty of attention.
This safety alarm is also designed to partially stun your attacker. The sudden, piercing siren will have a serious impact on its own. But to make things even tougher on them, the strobe will also flash extremely brightly.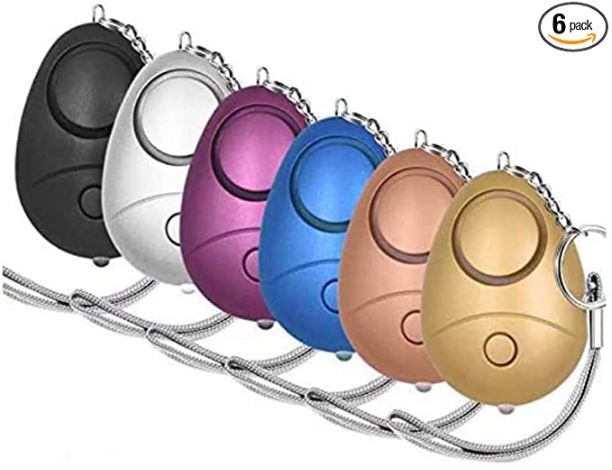 KOSIN Safe Sound Personal Alarm
The KOSIN Safe Sound Personal Alarm has a different physical design than the others. Instead of being rectangular, it has a playful egg-shaped design. It's also fairly large, at 7.36 inches high, 3.94 inches wide, and 1.26 inches thick.
In other words, you'll definitely be carrying it outside your clothing, not in your pocket. Thankfully, this is fairly simple. There's a key ring on the top, which can attach to a carabineer, as well as a small lanyard on the right. As we'll see, you won't want to carry it by the lanyard, only by the ring.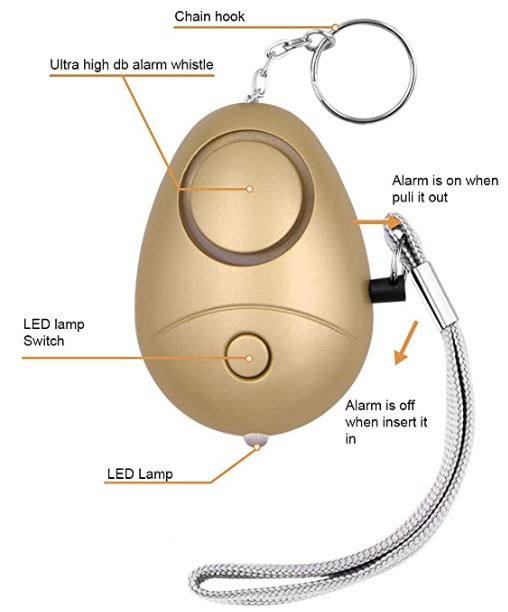 This alarm comes in a six-pack, with six different colors. There's one each in gold, brown, blue, purple, white, and black. If you have multiple family members, it's easy to keep track of whose alarm is whose.
Power is supplied by a pair of LR44 batteries, which are tiny button batteries. There's a screw on the back to open the compartment for easy replacement. This should be done no less than once a year, in order to maintain a robust charge. The batteries are good for 40 minutes of operation, which is more than you'll ever need.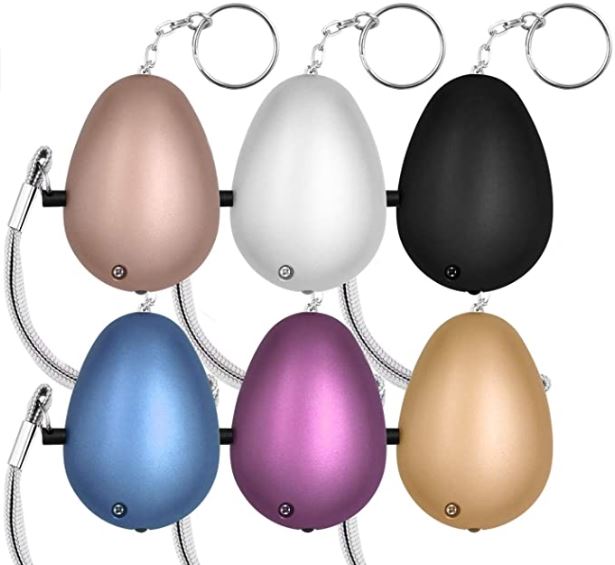 Loudness and Functionality
If you thought the last two alarms were loud, you'll really be impressed by this one. Its siren has a volume of 140dB, which is significantly louder. If you've ever lived somewhere with a tornado siren, that's the kind of volume we're talking about.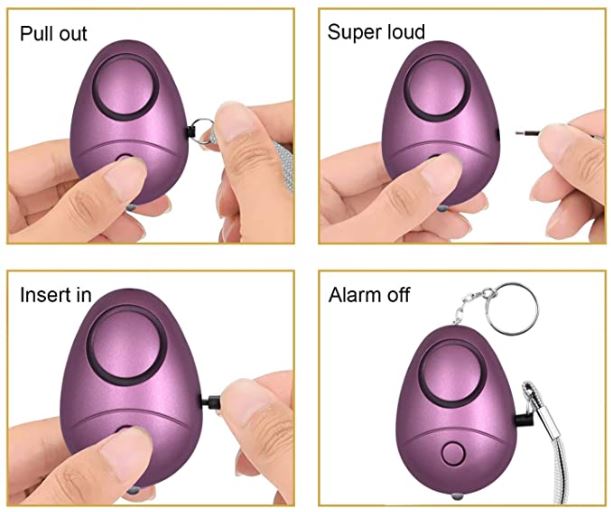 This is a level of noise called the "pain threshold," and it's exactly what it sounds like. It causes physical pain, and can cause hearing loss with more than only brief exposure. To activate the alarm, you pull on the lanyard, which removes a metal pin from the housing. To turn it off, you slide the pin back into place – it's that simple.
On the bottom, you'll notice a small LED diode. Unlike the previous two alarms, this isn't designed to deter attackers. It's a simple flashlight, meant to help you navigate dark areas. There's a button built into the front of the housing, which you hold down to activate the light. Release the button, and the light will turn right off.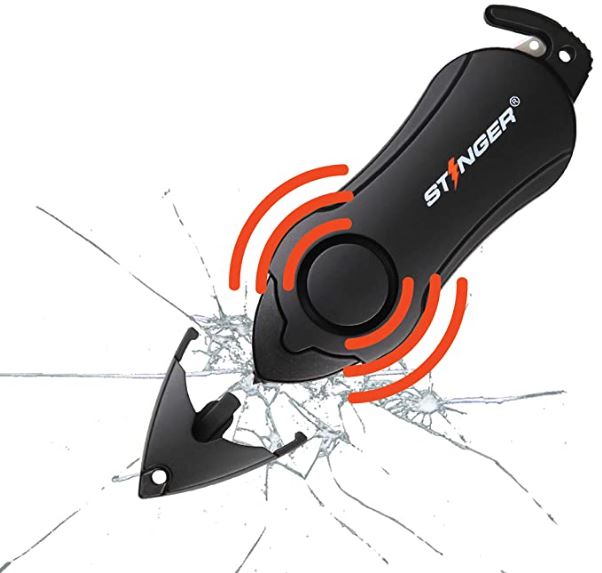 Stinger Personal Alarm Keychain
The Stinger Personal Alarm Keychain is an irregularly-shaped fob with multiple functions. It's fat at both ends and thinner in the center, which makes it easy to grip. You can order it in black in either a 1- or a 2-pack.
Alternatively, you can order it in a number of other patterns, such as an American flag or a shark. At the back end, there's a little hole where you can attach it to a key ring or lanyard. It's protected by a 12-month manufacturer's warranty, so you'll be covered if there are any premature failures.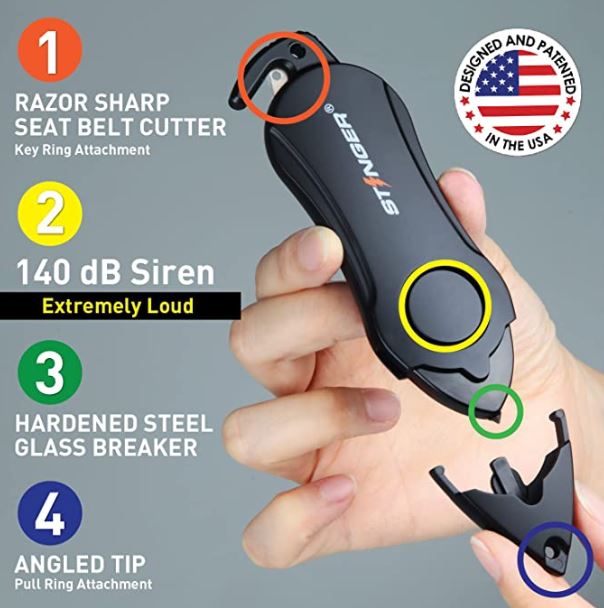 The alarm comes with a set of three LR44 batteries already installed. Stinger doesn't give any battery life rating. However, based on the performance of the other alarms, we expect you could use it for up to an hour.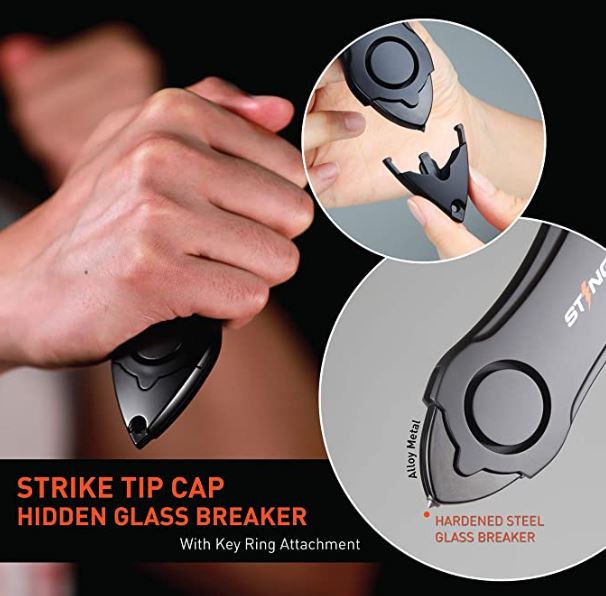 Loudness and Functionality
As with the KOSIN alarm, the siren is an ear-splittingly loud 140dB. It's activated by pressing the large button on the front of the housing. Release the button, and the siren will shut right off.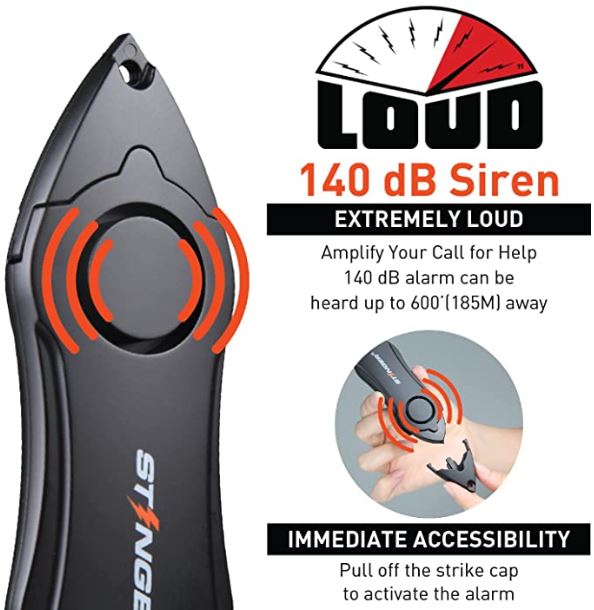 This alarm keychain doesn't have any strobe light. However, it does have a couple of other nifty features that are worth mentioning. To begin with, there's a blade built into the back of the housing. This blade is protected, so it's tough to cut yourself by accident. But in a jam, you can use it to quickly cut your way out of a seatbelt. This can be critical after a major auto accident.
Along the same lines, there's a removable cap at the front of the housing. Remove this, and you'll see a triangular blade with a pointed stud at the front of it. This is a glass breaker, designed to safely smash a car window from the inside. Slam it into the glass, and you'll have an easy way to escape when you're trapped in a car.
Which Personal Panic Alarm is Best?
So, which of these four personal panic alarms is the ideal choice for you? Here's what we've learned about each one of them:
The Spartan Defense Personal Alarm is a straightforward device that's easy to carry and use. It includes a carabineer, and the siren and strobe functions are both very powerful. You can also order it in multi-packs of up to six units. If you're trying to protect the whole family, that's an excellent value.
The Hootie Personal Keychain Alarm is similar in most respects to the Spartan alarm. However, it has a smaller form factor, which makes it more convenient to carry. It also takes double the batteries, so you can get longer-lasting performance. It's not available in a six pack, but it does come in six fun colors.
The KOSIN Safe Sound Personal Alarm is even louder, with a 140dB alarm. It's big and egg-shaped, and it comes in a multi-colored six-pack. It's also very easy to use, with a little lanyard on the side. There's even a built-in flashlight for everyday use.
The Stinger Personal Alarm Keychain is more than just an alarm. It's a complete personal safety device with multiple built-in tools. You can cut your way out of a locked seatbelt, or even break your glass. And with a loud, 140dB siren, you'll be able to disorient all but the most determined of attackers.
Please consider sharing:
Note: At no extra cost to you, we may earn a commission for purchases using our links. Learn more.