Sylvox Smart Under Cabinet TV
Pros
Folds up to sit flat under your cabinet.
Decent picture quality.
High quality, all-metal design.
Installs in just a few minutes.
Waterproof control buttons.
Cons
Relatively small display.
Audio could be better.
If you're old enough to remember CRT TVs, you probably had a friend with one in the kitchen. You know what we're talking about. The little TV that mounts under your cabinet, where mom watches game shows while she makes dinner. With the advent of flat-screen TVs, smartphones, and streaming apps, those little kitchen TVs have disappeared. Like all other CRT displays, they've gone the way of the dinosaur. So what do you do if you want to mount a little TV under their cabinet?
Thankfully, there are options. A small flatscreen TV can still mount under your cabinet without all the extra weight. A flatscreen will also have other benefits. For example, you'll have much higher resolution than you got on your old CRT TV. You can also take advantage of modern features like HDMI, WiFi, and Bluetooth. That way, you can enjoy Netflix and other streaming services without leaving your kitchen.
Today, we're going to review the Sylvox 15.6" Smart Under Cabinet TV. This is a compact flatscreen display that mounts flush to the bottom of your kitchen cabinet. You fold it down when you want to use it, and fold it up when you're done.
But there are many features that go into making a good TV, and under-cabinet mounting is just one of them. To truly understand this TV, we're going to have to take a much closer look. We'll discuss the resolution, controls, inputs, and other important features. After that, we'll know enough to deliver a fair verdict. Let's begin!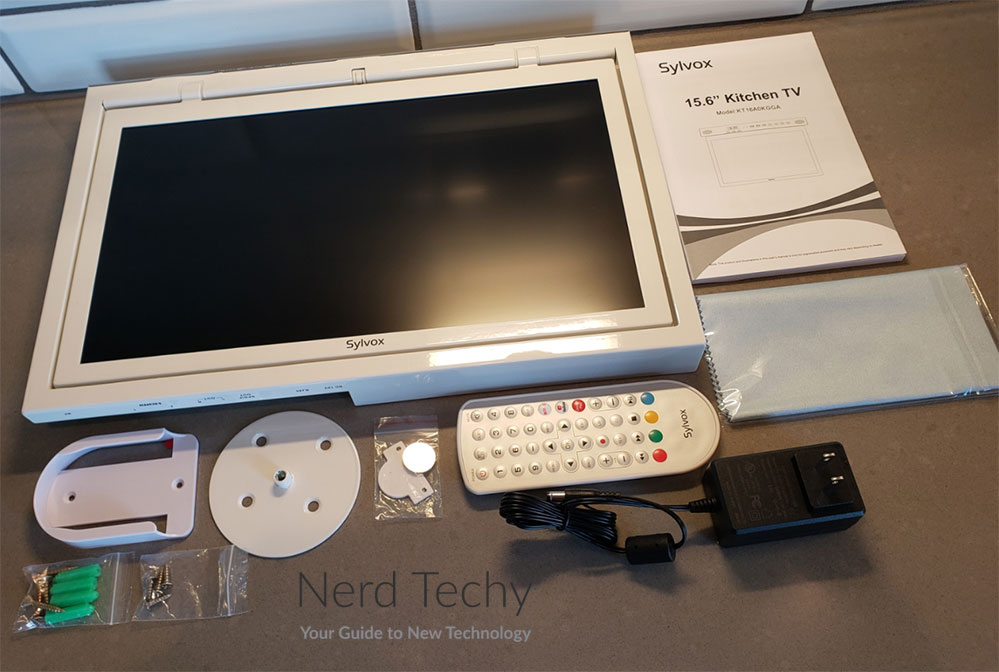 Overall Design
The Sylvox 15.6" Smart Under Cabinet TV has a white all-metal housing. The glossy finish is smooth and easy to clean, which is an essential feature in the kitchen. When collapsed, it measures just 15.92 inches wide, 10.5 inches deep, and 1.44-inch thick.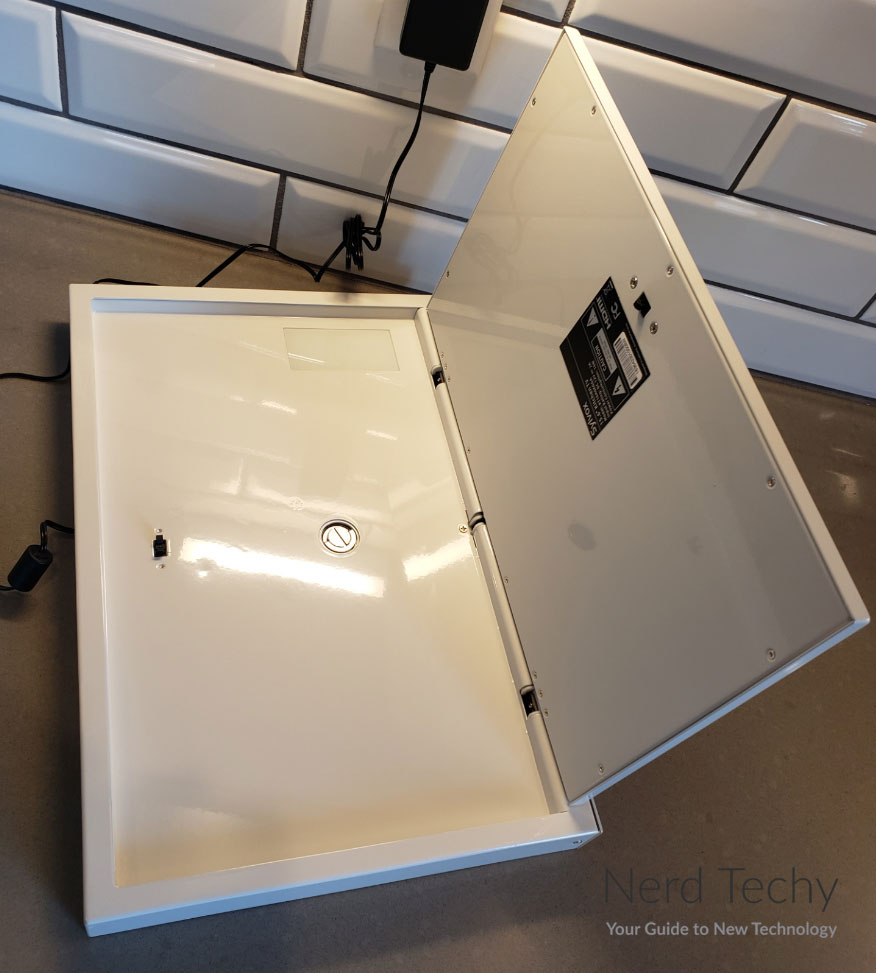 This gives it an ultra-slim profile that leaves plenty of clearance underneath. If you want to install it above your blender or coffee maker, you'll be able to. And at a mere 7.72 pounds in weight, you don't have to worry about it being too heavy for your cabinet.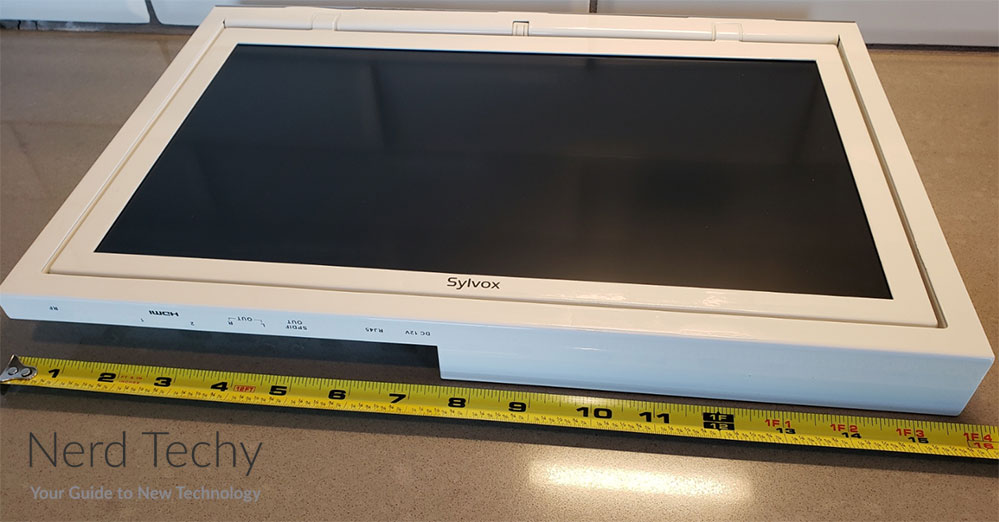 The display lays flat to the bottom of your cabinet when it's folded shut. It flips down 90 degrees when you want to use it, measuring 8.93" high, 14.7" wide, and 0.37" thick. Furthermore, the screen can be rotated 360 degrees. This makes it easy to achieve the right viewing angle no matter where you are in the kitchen. The mount is very sturdy, and doesn't rock around when properly installed. The kit includes a flat mounting bracket, along with a set of mounting screws. Installation takes only a few minutes, and doesn't require any special tools, besides a drill.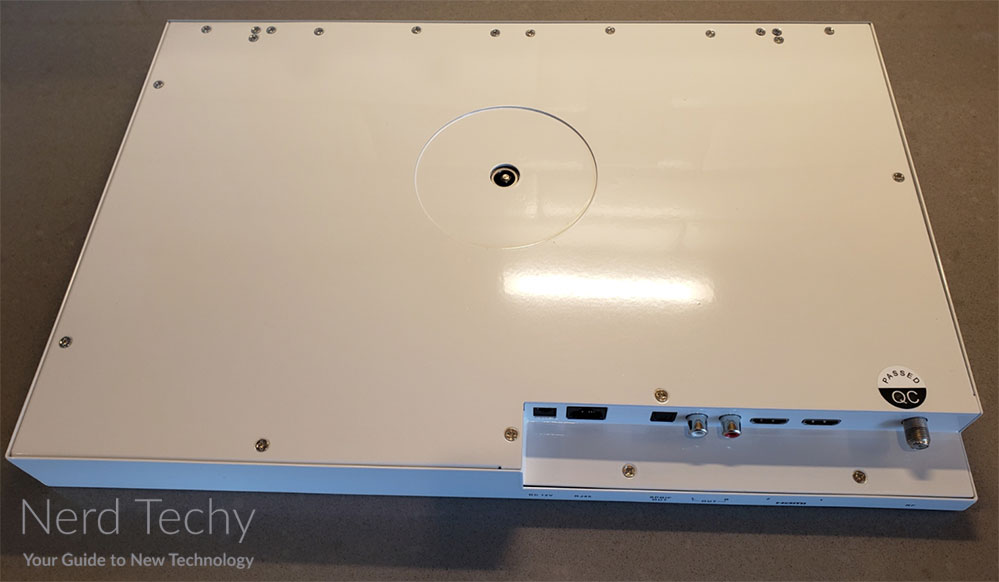 Across the front of the mount, above the screen, is a row of controls. At the left is a green clock and timer with three physical buttons underneath. To the right are soft touch buttons for power, volume, channel, and input source.

The buttons are water-resistant, and the soft touch design makes them easy to use while you're cooking. You can tap them with your knuckle, even while you're in the middle of hand-mixing a meatloaf. If you need more controls, there's also a handheld remote. It also has soft touch buttons, and is powered by a pair of CR2025 batteries. Among other things, you can use it to jump to a specific channel or streaming service.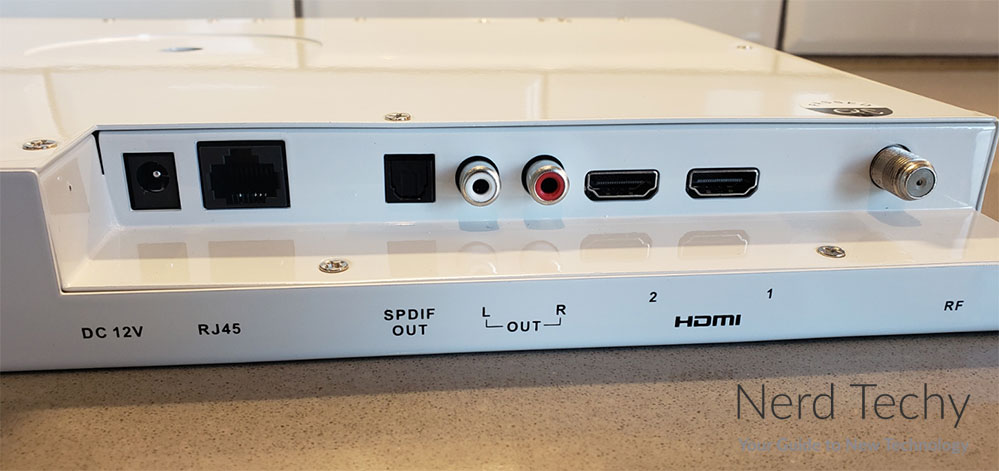 The input and output ports are all located on the back and left side of the housing. On the back, there's a 12-volt DC power input that connects to the included AC power adapter. Next in line is an Ethernet port for connecting directly to the internet. After that, you'll find a Sony/Philips digital interface port. There's a pair of L/R RCA audio inputs for connecting older devices. Next, you'll find a pair of HDMI inputs for Blu-Ray players and other video devices. There's also an aux input for an antenna or cable box.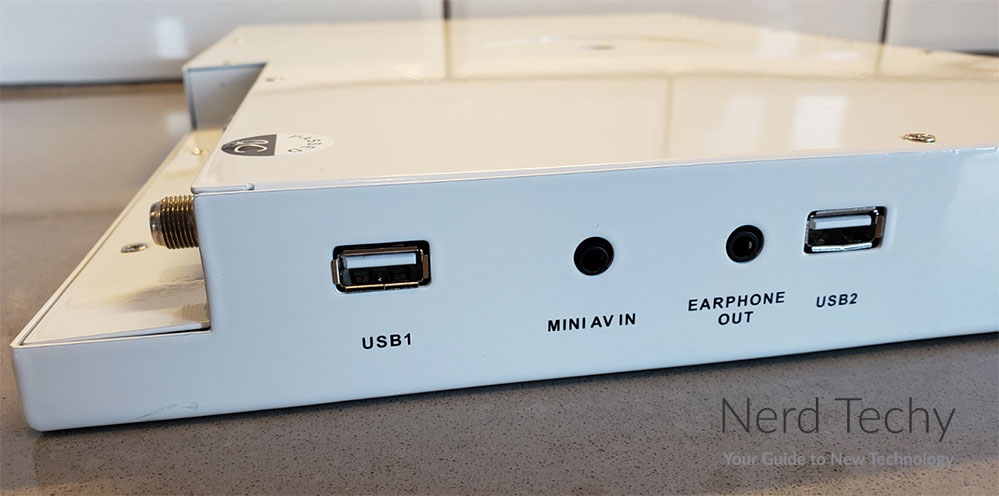 On the right side of the housing is a Mini AV in port for camcorders and similar devices. There's an 3.5mm aux port for plugging in your headphones or earbuds. And a pair of USB ports allow you to connect thumb drives, streaming sticks, and similar sources. As a result, you can use pretty much any video source without a bunch of fuss.
Picture Quality
The display itself has a size of 15.6 inches. As with any TV, this size is measured not from side to side, but from corner to corner. Obviously, this is on the small side for a modern TV. You wouldn't want to use it for watching epic war movies or anything else that begs for a big screen.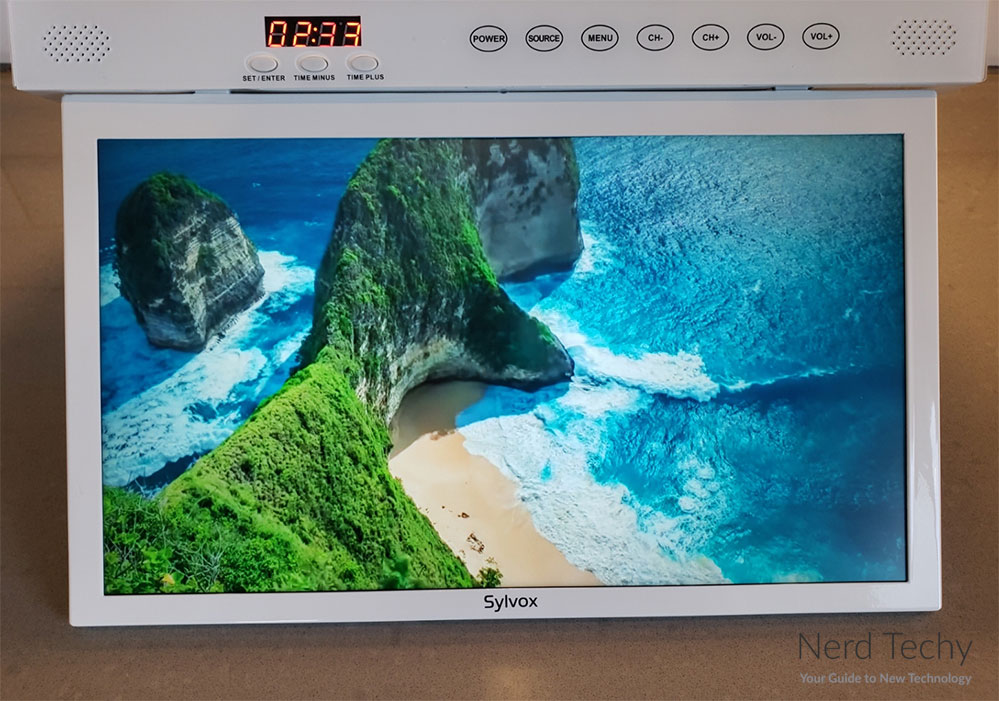 But that's not what this Sylvox TV is for. It's for providing a source of entertainment while you're cooking. For this purpose, it works very well. For one thing, you'll probably be focused on your cooking, so you'll be "watching" the TV mostly with your ears. For another thing, the kinds of TV you watch while you're cooking don't normally require a huge screen. Guy Fieri is an entertaining dude, but he doesn't need to be larger than life.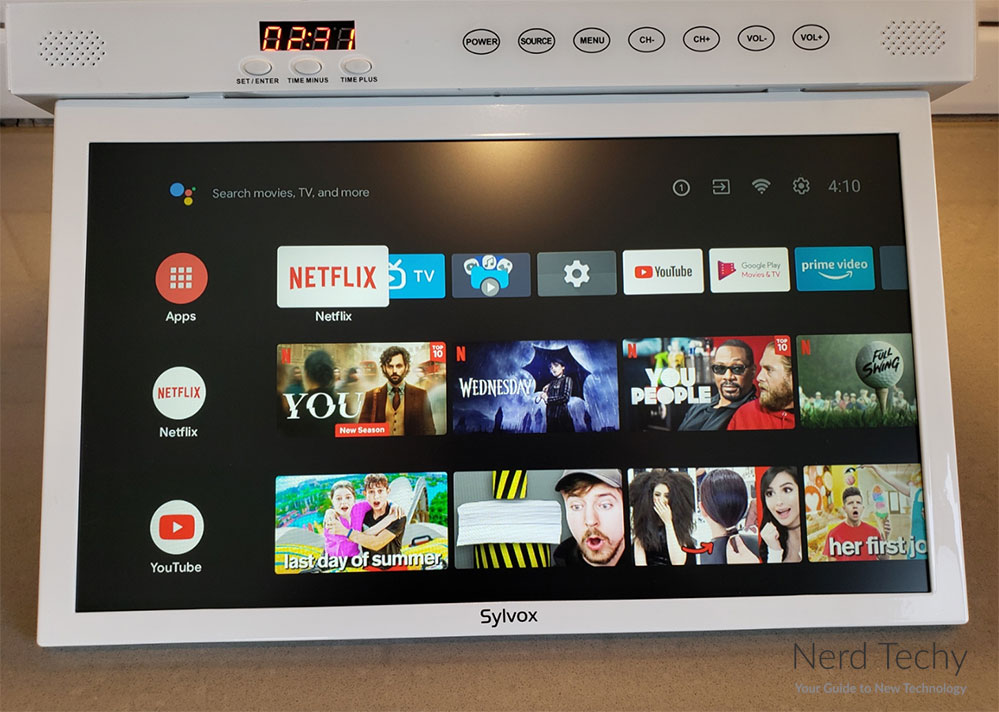 The screen resolution is 1,920 x 1,080 pixels, or standard 1080p. This isn't incredibly high, but it's not low either. 1080p is the standard for HD video, and in most cases it's all you'll need. Streaming services, for example, only deliver video at a maximum resolution of 1080p.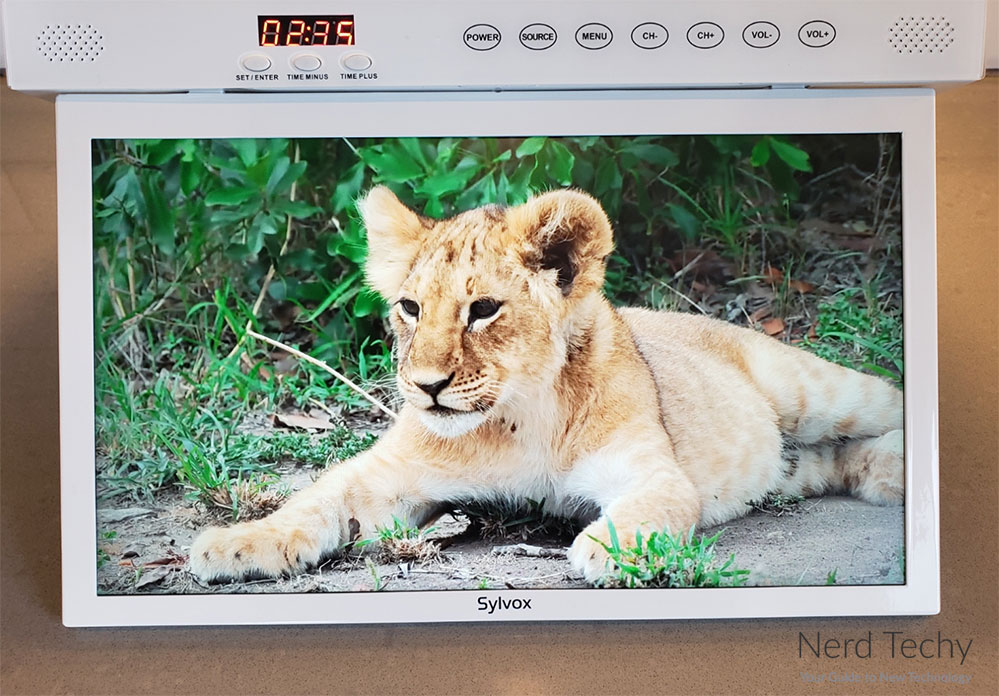 If you're watching Netflix on a 2K or 4K TV, you're not getting the full benefit of your screen. Besides which, we're talking about a very small display. If it were 4K, you wouldn't even be able to see the pixels. Considering the 15.6" screen size, 1080p is more than good enough, and looks very crisp.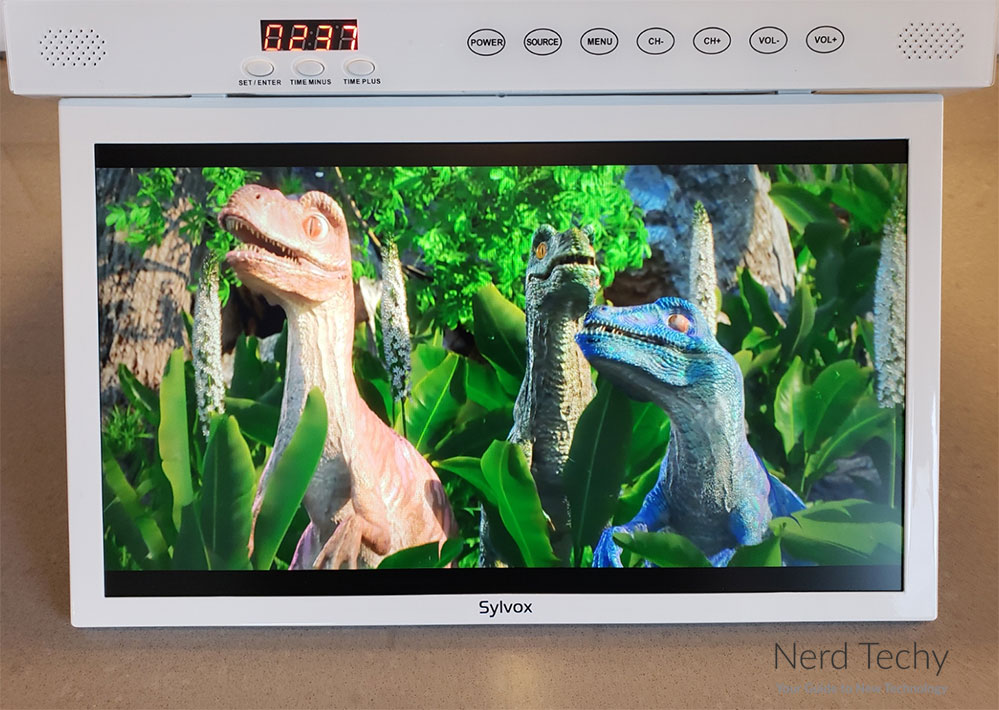 The IPS display technology allows for a very wide viewing angle. You can see the screen clearly across a 178-degree arc without any distortion. The video won't suddenly look negativized or black-and-white just because you're viewing from the side. This is an essential feature in a kitchen television. You're going to be moving around while you cook, so it helps to be able to watch your video from any angle.
The contrast ratio isn't listed in the product specs, and that's unfortunate. The contrast ratio is the difference between the lightest and darkest tones on the screen. The higher the ratio, the easier it is to make out what's going on during darkly-lit scenes. While we can't state definitively what the contrast ratio is, it looks pretty good. You can watch a the notorious season eight battle episode of Game of Thrones and follow the action just fine.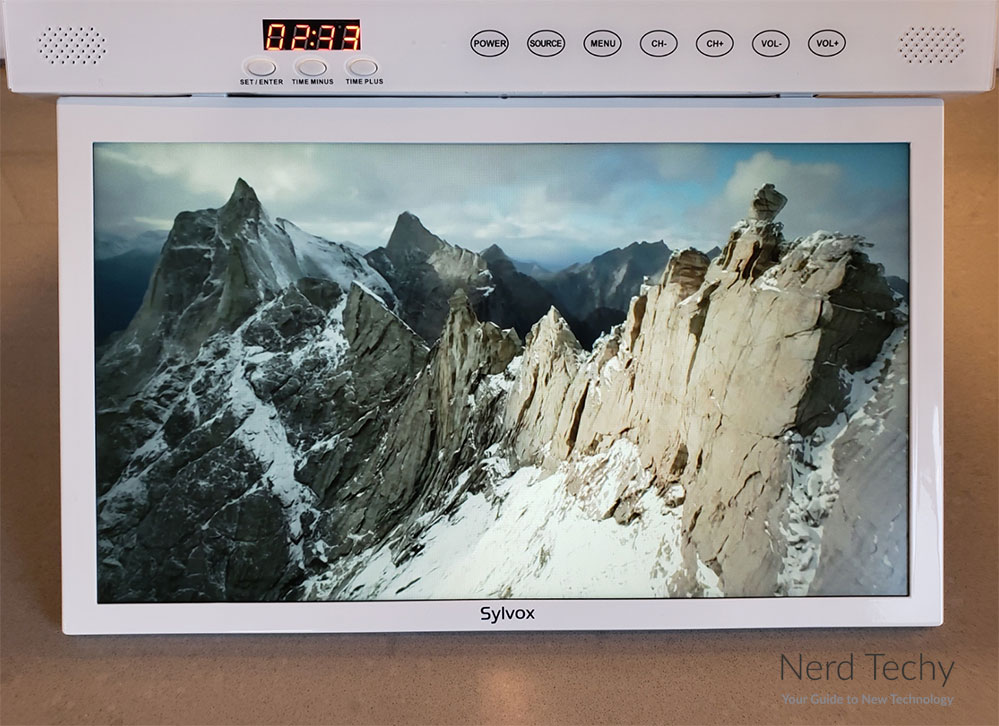 Sound Quality
The Sylvox 15.6" TV sports a pair of built-in 3-watt speakers. Because they're so small, these don't put out a ton of volume. For what it's worth, the audio quality is OK, with relatively clear sound from low to high frequencies. It sounds decent for what it is, but don't expect vivid sound quality. There is a little bit of distortion at higher volumes, but this is expected with such small speakers.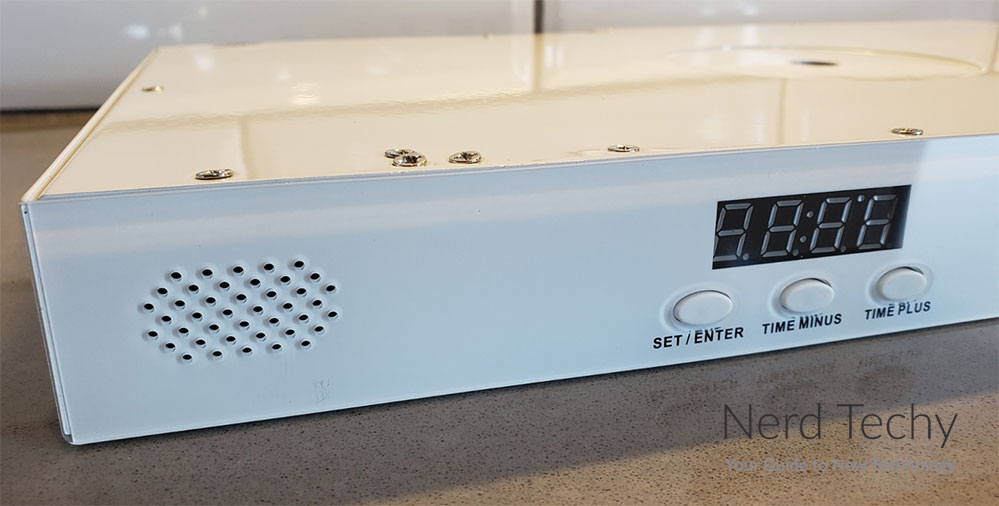 In addition, you're not going to get a whole lot of power. That's not a big deal if you're walking around your kitchen, within a few feet of the TV. But if you're trying to fill a whole room with sound, you'll want to hook up a set of external speakers.
If you're looking for a more versatile television, check out the Sylvox Outdoor TV. It's dust-proof and waterproof, which makes it perfect for your back patio. It also runs the WebOS operating system, which makes it very simple to use. On the downside, the waterproofing technology muffles the audio, which can sound muddy at high volumes.
Features and Functionality
The Sylvox 15.6" TV has a few extra features we should discuss before we wrap up. To begin with, the little built-in clock isn't just a clock. It also functions as an alarm, which you can set from 15 to 60 minutes.
This is a small touch, but it's nice to have an egg timer handy without the need for an actual egg timer. It also ensures that your alarm won't get drowned out by your TV, since the alarm will come to the forefront. As a result, you'll always know when it's time to take your food off the heat.
The TV also supports Bluetooth 5.0 and WiFi 2.4GHz and 5GHz connectivity. Via Bluetooth, you can sync a pair of earbuds and get clear audio while you move around the kitchen. Or you can connect to a pair of Bluetooth speakers to pump up the volume.
WiFi, meanwhile, allows for a variety of video inputs. You can use your smartphone to cast YouTube or other streaming apps directly to the TV. This is very convenient, since pressing the "cast" button is way easier than hooking up a wire.
In addition, the remote control supports voice commands. Besides pressing the buttons, you can also control your TV by verbally telling it what to do. This makes it easy to change the channel or adjust the volume without taking your hands off of your cooking.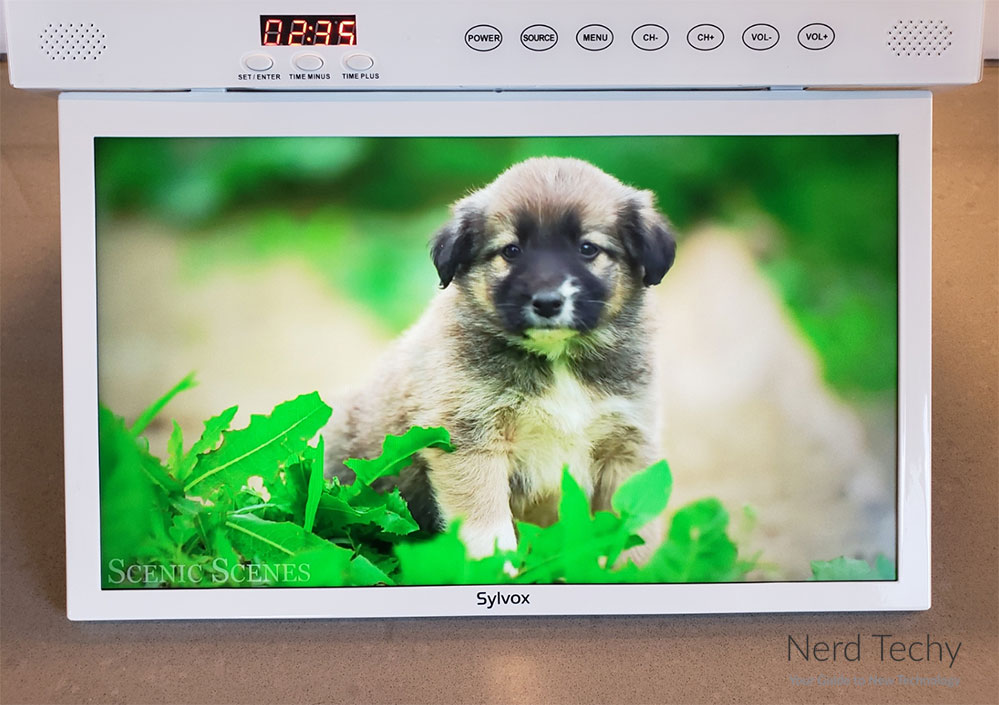 Final Verdict
The Sylvox 15.6" Smart Under Cabinet TV is a well-designed little TV for your kitchen.
To begin with, we loved the design. It sits flush under your cabinet, and provides plenty of clearance for your appliances. When you want to use it, you just flip down the screen and rotate it in whatever direction you like. This is far more convenient than an old-school CRT TV, which occupies a lot of space.
The video quality is good, with crisp 1080p images and bright colors. Given the small size of the screen, this is a relatively low bar to clear. But it's still good to have sharp, clear video.
Control and connectivity are also simple. You can connect devices via HDMI, USB, or even via WiFi. The on-board controls are easy to operate, even with wet or dirty hands. And with the ability to use voice commands, you can change the channel even when you're elbow-deep in dishes.