For those of us on the go, one of the most frustrating parts of travelling is finding a secure mobile hot spot. Sure, we can always duck into a Starbucks for a quick internet session, but there are some serious security issues with using open networks. If you're accessing any secure data or doing online banking, unprotected networks are simply off the table. In fact, many corporate devices completely block open networks, leaving you out of options for mobile internet.
Another common issue is signal quality. When you're using hotel networks, you'll often find yourself just out of range of a strong connection. At this point, you've got two options. Some might station themselves in the lobby. But others known to pick up a portable travel router. These handy little devices can attack the problem from two sides. You'll be able to create a secure tunnel within an unsecured network, and you'll be able to extend the range of existing networks to bring connectivity to your devices. But not all travel routers are created equal. We'll be taking a look at the three best mini travel routers on the market. We'll explain why we chose them, then help you find the one that's right for you.
TP-Link N300
When you're looking for a networking appliance that combines affordability with reliability, TP-Link is often one of your first choices. They've been in the router business for many years, giving them worldwide recognition thanks to countless successful product launches.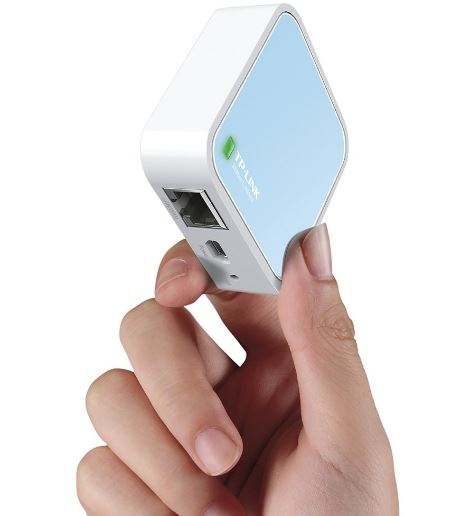 Portability and Design
The TP-Link N300 truly is one of the most portable models we've come across. Described as a "nano router", it measures only 2.2 x 2.2 x 0.7 inches. It's very light weight at only 7.2 ounces, and can easily be carried around in a pocket or in your hand. Fortunately, its compact size doesn't affect its usability at all. All of the connectors are standard, but designed to be as compact as possible so that you won't have to carry around any adapter cables or connecting hardware.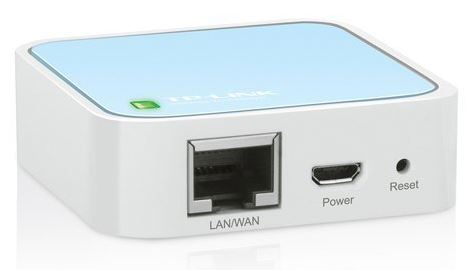 The router itself is fairly attractive, opting for a two-tone baby blue and white design. It's roughly square with rounded off edges, making it both sleek and modern. Only the upper face is colored with the stylish blue design, featuring a subtle "TP-Link" logo in the bottom left corner.
Connectivity
This router can be powered by any USB port or the included AC adapter thanks to its micro-USB power supply. Even if you happened to lose the cable or adapter, you'd be able to connect it to any phone charger to get it up and running.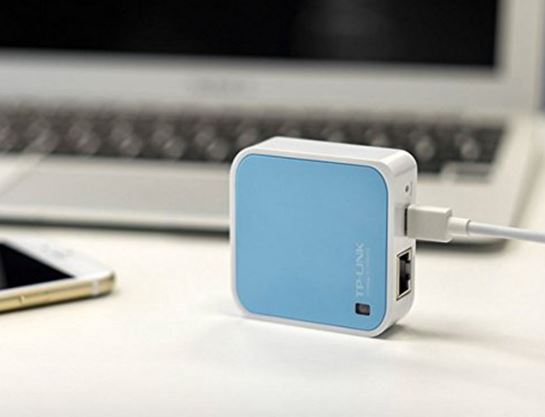 Ideally, the device can be used to take a wired Ethernet connection and broadcast it over a short-range wireless network. Supporting 2.4 Ghz frequencies, it's capable of a maximum 300 Mbps of throughput. The WAN port technically supports gigabit Ethernet, but you'll always be bottle-necked by the wireless network adapter so 300 Mbps is still the maximum you'll see.
Connection Modes
This travel router supports almost every connection mode under the sun, giving you countless ways to access the internet. If you have access to a wired connection, you'll be using it in the standard router mode. You can pre-configure it with a specific SSID (network name) and password so all you'll have to do is plug it in, they log in as usual. This mode is especially useful in hotels or areas where only a wired connection is provided, but you still want to connect multiple wireless devices in a secured manner.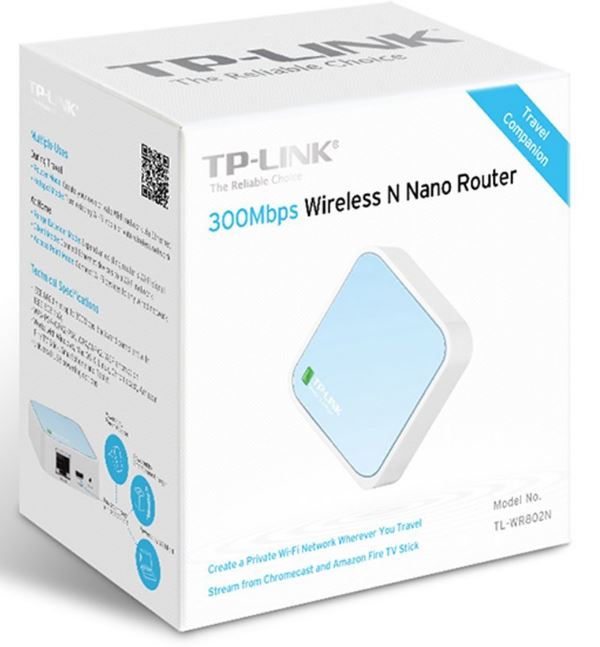 Alternately, maybe you're plugging into a corporate network and need direct access without going through a middle man. In this case, you can use the router in access point mode. This will allow you to connect to the network through the wireless network, but all of the DHCP and security will be handled by the main network.
Having trouble getting a good connection? The repeater function disconnects the LAN / WAN and only uses it to rebroadcast the existing wireless signal. This little router has a very powerful antenna inside, so it's likely that it will get a signal in areas where your phone does not. WISP mode acts as a more advanced form of an internet repeater. Instead, the wireless network card acts as both a client and a server, providing access in complicated security schemes such as paid internet access.
ZyXEL Wireless N 3-in-1 Travel Router
ZyXEL might not be the most well-known manufacturer of networking equipment on the market, but that's because they focus their energies on niche products. To be specific, most of their solutions revolve around extending networks, or getting that one frustrating device that you can't get a connection for. The Wireless N 3-in-1 Travel Router is a little more advanced than most of their solutions, but that's because it's the combination of several of their best-selling products all in one unit.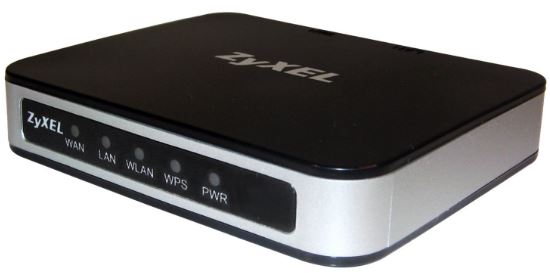 Portability & Design
Images don't quite do the ZyXEL Wireless N 3-in-1 Travel Router justice. It really is surprisingly small. At 2.91 x 2.3 x 0.59 inches, it really is about the size of a few cards stacked upon each other. Despite being one of the smallest routers on the market, they still managed to cram a surprising number of features into it. For starters, you'll notice that there are not one, but two wired network ports on the back. The face has all the standard indicating lights that are present on most routers, although you'll notice that most manufacturers remove these to keep the size small, so seeing them included is a nice little bonus.

Design wise, ZyXEL went for a little more classic black and silver look. Although it's not quite as accessible looking as some, this router is designed for people who like to tweak settings manually. The visual design of it really embodies this.
Connectivity
This router uses 802.11N technology. Although it's a few years old at this point, wireless N is one of the most well supported protocols, making it compatible with almost every wirelessly equipped device on the market. Like most routers, it's also fully backwards compatible with 802.11B and G.

It also has two gigabit Ethernet ports on the back. This is great if you need to use it for both WAN and LAN connectivity. Since there are two ports, one of your wired devices can connect at full speed, so you won't be bottle-necked by the Wi-Fi technology.
Connection Modes
As the name implies, there are three different ways that you can use this router. The most obvious (and simplest) ways is just as a router. You plug it into a modem, and set up a local wireless network for all of your devices to connect to. This is no different from your home router, and the set-up procedures are even similar.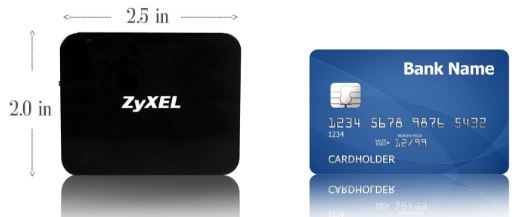 Next, you've got the access point mode. This allows you to connect it to a wired network using one of the Ethernet ports, and rebroadcast the network wirelessly. All DHCP and security will still be controlled by the host network, so there won't be any compatibility issues.
Finally, you can use it as a client bridge. This is essentially the opposite of an access point. You'll connect to any in-range wireless network, and use the two built-in Ethernet ports to connect devices that only support wired networks. This is a bit of a loophole so you can use corporate devices that only allow wired connections, and also works great for things like IPTV boxes or gaming consoles.
RAVPower FileHub Plus
Although RAVPower might not be a company you've heard of before, you'll certainly remember the name once you see what their wireless travel router is capable of. They're well aware of how consumers use their wireless networks, and wanted to create something that takes advanced functions and makes them simple to use.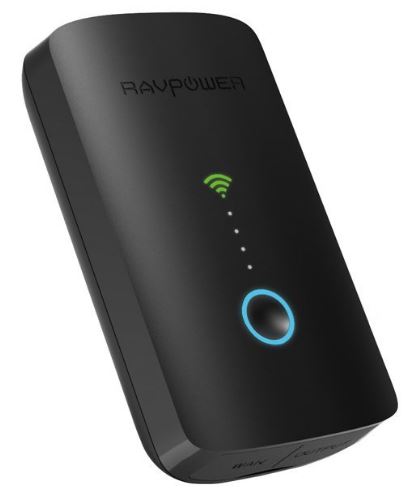 Portability & Design
The RAVPower FileHub Plus isn't just a router that's shrunken down to the size of a deck of cards, it's a groun-up redesign of what we consider a router to be. The device is extremely easy to hold in the hands, featuring an easy to use power button and four network power indicating LEDs. At first glance, it might look it's just a single button with no external ports. But when you lift the top, you'll see a USB port (full size) and a WAN port bundled in. This can do a lot more than you'd expect, thanks to the impressive built-in software.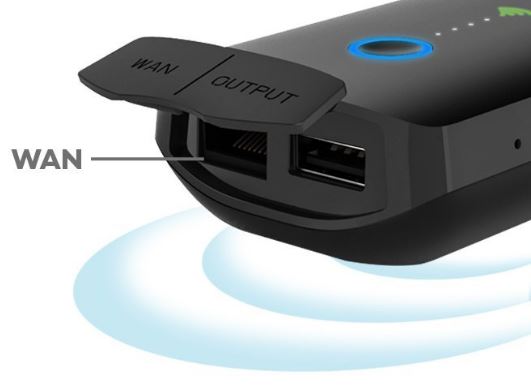 Connectivity
This powerful little router supports almost every network standard out there, surprisingly allowing it to compete with some of the top tier consumer networking equipment. For starters, it supports 802.11 BGN.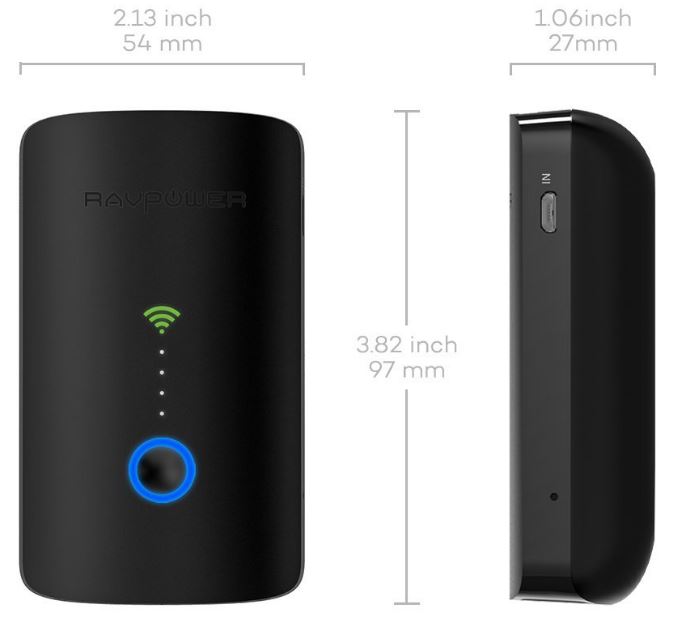 But really, it's what this router can do over top of these networks that make it impressive. The USB port can be connected to an external HDD, or you can install an SD card. This makes it operate as a NAS, so you can access these files from all of your devices easily. It also supports DLNA, so you can broadcast media files from your phone or laptop to any compatible TV.
Connection Modes
The one nice thing about this router is that almost all of its modes are operable at the same time. The only choice you need to make is hotspot, (sharing the active internet connection from one of your devices or the WAN port with all of them) or extender (taking an existing Wi-Fi network and re-broadcasting it to be more powerful.)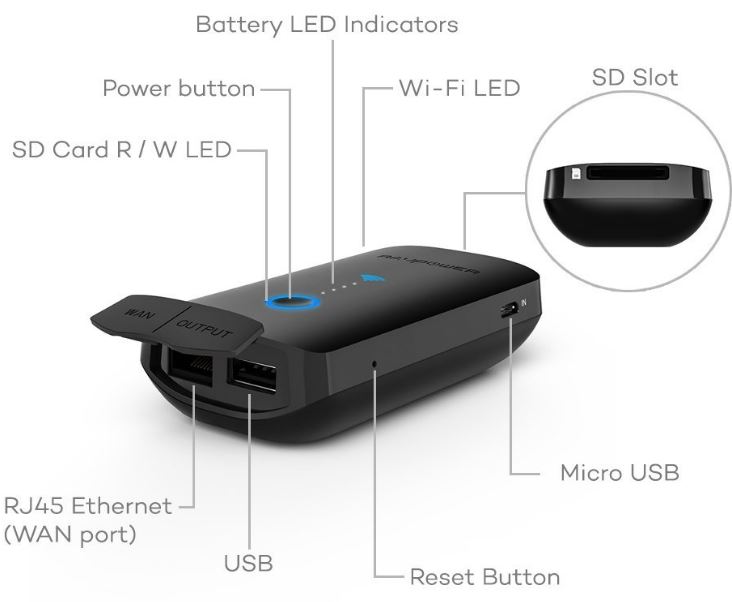 Once you've made that choice, you'll have access to all kinds of powerful features. You can share files from the SD card with every device, or you can share the internal media from your phone or laptop. You can even use it as a way to clear up your internal storage by dumping everything onto the locally attached drive. In essence, this is an all in one media streaming device that just happens to have a powerful router built in, making it a great purchase.
Although this isn't a networking feature, it's also worth mentioning that this portable router includes a 6000 mAh battery pack, so you can use it to charge your phone on the go. Overall, it's a pretty solid purchase.
HooToo Wireless Travel Router
Like RAVpower, HooToo is another company that wanted to design an all-in-one media center / router combination device. This one beefs up the media sharing capability, but reduces the network sharing options. Depending on your needs, this could be a good option.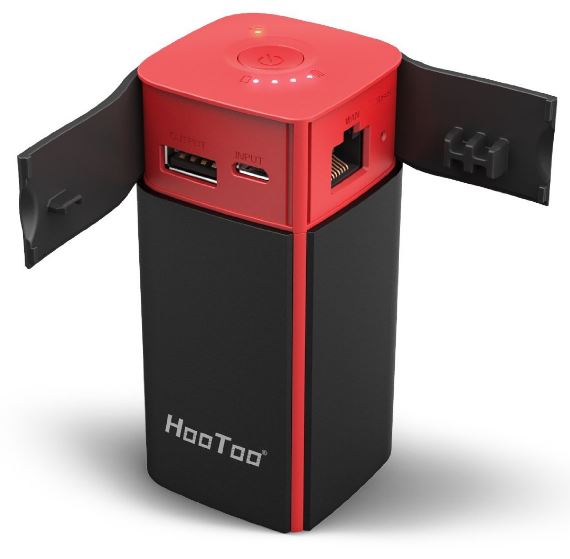 Portability and Design
The HooToo Wireless Travel Router is one of the larger models, but it's unique design makes it easy to carry around. It's designed like a large rectangle, opting for a "stand up" design rather than the standard flat models. That being said, we think it's one of the most attractive of the bunch. It's a bright red color, although most of it is covered with a black rubbery material that makes it extremely durable. When you peel back the upper portion of the casing, you'll see that it's got a full-size USB port, a Micro-USB port, and a WAN port to connect virtually any device you need.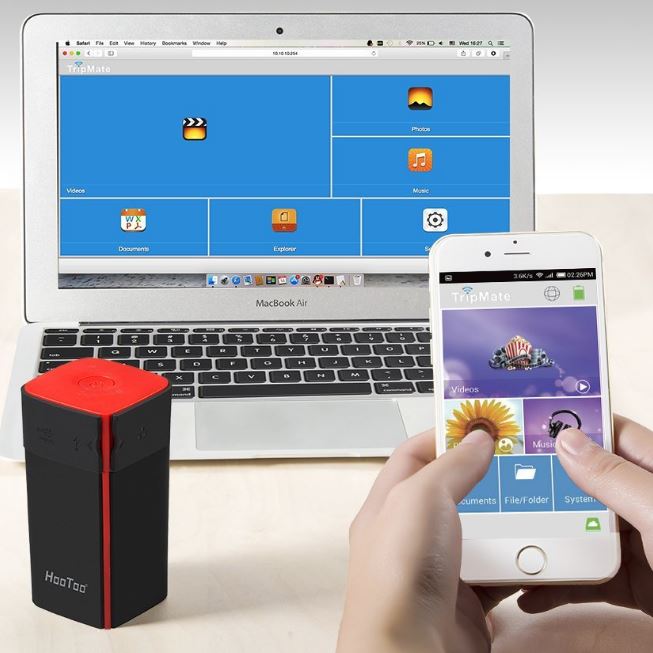 Connectivity
Supporting 802.11n, this router can support standard 2.4 Ghz networks. This is one of the few areas it's a little thin, capping out at 150 Mbps. Although it's not the most powerful router on the market, it's more than competent for most purposes.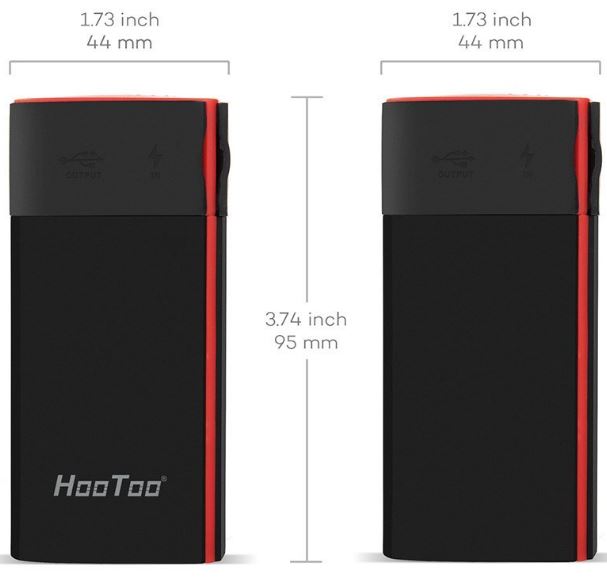 Connection Modes
There are two different ways that you can use this travel router to connect to a local network. The most common mode is as an access point, where you use it to share a wired network wirelessly. But it can also be used as a network bridge, connecting two wireless networks so you can access both at the same time.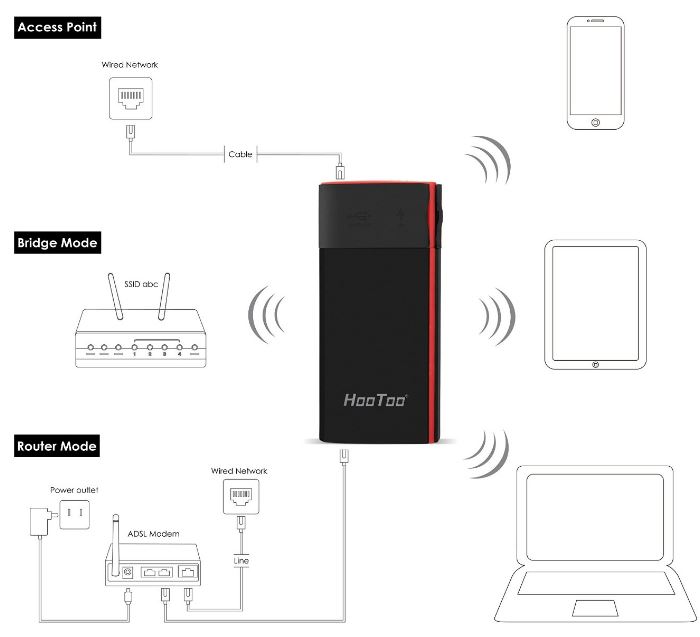 Once you've got it connected, it can be used to share, backup, and server all of your local files. Although it only has one USB port, it's fully compatible with a USB hub so you can use that to connect multiple storage devices. File sharing works much the same way as the Ravpower hub, with the exception of its support for additional USB devices. It also includes a built-in battery, but this one is much more powerful with a total of 10500 mAh of battery life.
Which Portable Travel Router is Right for Me?
Having a hard time deciding? Depending on how you want to use your portable travel router, some of these models will be better suited to your needs than others. If you're just looking for a simple way to get connected in places you'd otherwise have difficulty, the TP-Link N300 has both the most bandwidth and the simplest interface. It's suited for use in almost all applications, and one of the most powerful routers on our list.
If simplicity isn't the biggest selling point, you might be interested in the ZyXEL Wireless 3-in-1 Travel Router. This model provides you with access to two Ethernet ports, and has a much more customizable software that techies will appreciate.
Looking for something that allows you to backup all the data on your phone, share files with others easily, and charge your mobile devices at the same time? You've got two choices for this purpose. The HooToo Wireless Travel Router has the simplest networking functionality, but provides the most connectivity options. It also has the largest battery life. If you're more concerned about getting online, the RAVpower FileHub Plus functions better as a router, with a small reduction is battery capacity and file sharing capabilities.