Some of the most frustrating experiences you can have in an office setting involve being unable to find what you need, when you need it. Anytime you're on the clock and trying to get something done, your work can come to a grinding halt because of disorganization, and that's when it's normal to feel like shouting. Being organized isn't just about taking a messy space and making it look cleaner. Organization is a practical and pragmatic force that has a measurable effect on your productivity.
But where do you stick your large-but-necessary office accessories, like your printer? Where printers are stored, along for the ride you'll typically find extra reams of paper, spare ink cartridges, wires, and half a dozen other things you don't want sitting on your desk all day. That's exactly why people make use of rolling printer carts and stands, to help keep their electronics organized without having to stack their office printer inconveniently in on the edge of someone's desk.
To that end, having a printer cart is first and foremost about being organized. Do you know how much paper is left, or how many more print jobs you need to complete? Can you find all your supplies near where they'll be used, or will you have to go on a quest to a supply closet and dig around for what you need? Not being able to find what you need doesn't just cost you 15 minutes of time looking for it, you end up feeling stressed as a result. Stress is the kind of thing that makes you less prepared for a curveball, and more likely to snap at a rude customer or coworker. Simply put, stress is the enemy of office productivity.
Professionalism
For businesses, organization is also important because it helps provide an aura of professionalism. Imagine you enter a local shipping business to send a package. Inside you find the shop owner has kept their printer on the floor near their desk, with their personal belongings stacked alongside the edges of the shop. Whether or not the packages you're shipping get to where they're going isn't the point. The point is whether or not customers like you see the shop and feel the owner is professional, trustworthy, and worth of your more important business. In other words, the perception of organization can be just as important as organization itself.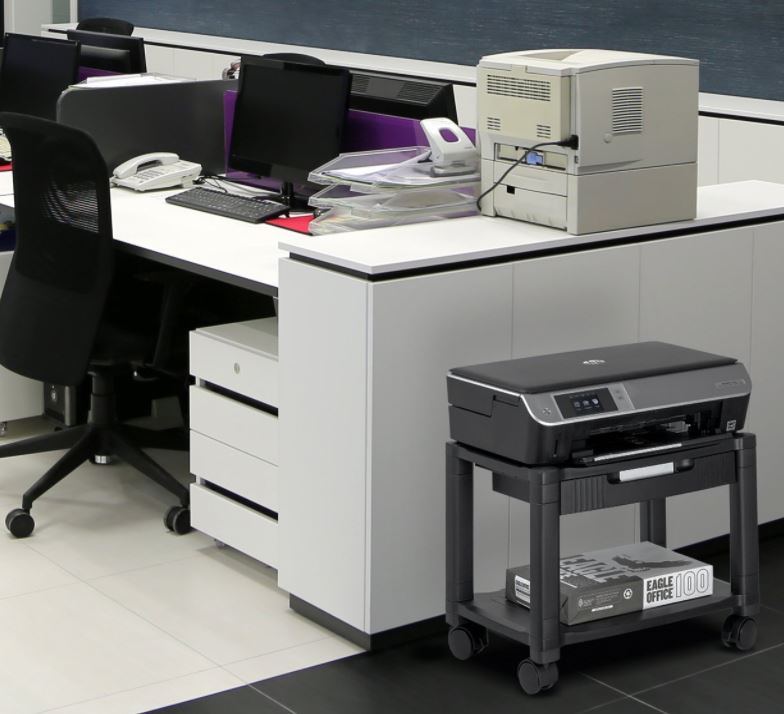 Convenience
Of course, not everyone is running a business. For people just trying to stay organized at home, a printer stand provides mobile convenience. You may want to move your office space from time to time, but the idea of disconnecting and reconnecting a giant assembly of computer peripherals in the process is in the process is too daunting. Nobody wants to have to complete a jigsaw puzzle composed of computer stuff just to move their setup from location A to location B. But printer carts can help you move quickly and efficiently while cutting down on the hassle.
Choosing a Printer Cart
The kind of printer cart you want will depends largely on where it will be used, what you're looking to store, and how much storage you're looking for. If you want to connect a laptop to your printer, you may want to find a stand with a pullout tray. Those types of trays are also excellent for keyboards if you ever see yourself setting up a computer at the stand. But when you're stacking printers and computers on top of furniture, you need to know it can handle the weight you're putting on it. That's largely a concern for people who are looking for ample storage.
If you're trying to get organized and save space, you'll find bigger isn't always better when it comes to a printer stand. As long as the stand can satisfy the space needs for everything you want it to hold, there's no reason to get something larger than you need. Fortunately, many stands are designed to make optimal use of space with multiple-tier designs or drawers that create space where there was once none. But whether or not the design of the stand provides a cookie-cutter space that can't be adjusted, or more flexible storage options is another question entirely.
Wheels Up
Regardless of your intended purpose, it's important you find a printer cart that has lockable castors to help keep the stand stationary when necessary. If you can't lock the castors, there's little difference between your stand and a skateboard. Stacked with electronics, ink, and sorted documents, you don't want to use a stand that can't hold a stable position. This may be particularly important if you end up using the area as a mobile work space.
Functional Aesthetics
Finally, you'll want to reflect on the aesthetic of your printer stand. You may want a stand which looks like a functional piece of office furniture, or you may want something that looks like it belongs in someone's personal library. In large part, aesthetic is a matter of preference. But for an upscale office or home environment, you're probably going to want the aesthetic of wooden furniture.
If you're not terribly interested in aesthetic, you'll probably be satisfied with inexpensive and reasonable durable plastic stands. And for something that's both highly utilitarian, lightweight, and professional, you'll probably want to use a mobile metal wire cart. Wire stands don't have the gorgeous aesthetic of finished wood, but they do have a professional aesthetic that communicate precisely where those stands belong, and what they should be doing.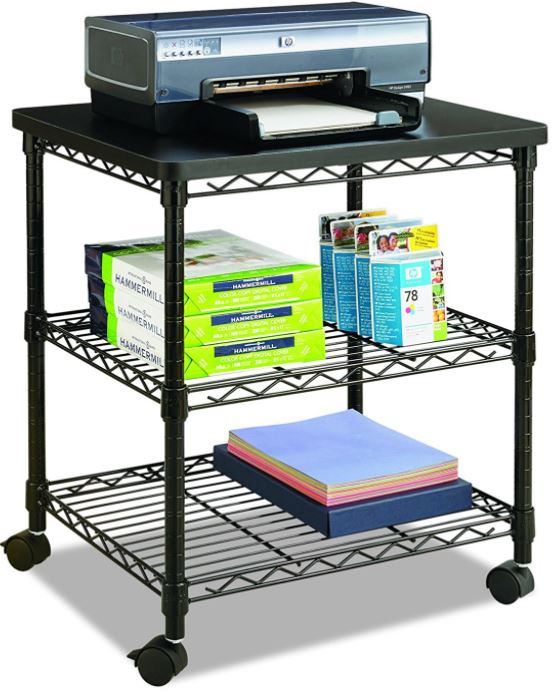 Safco Products 5208BL Desk Side Wire Machine Stand
For multi-purpose stand, you don't want a product that's been specially designed for printers, you want a general purpose all-star. That's what you find with the Safco 52088BL. It uses a smooth flat design that's ideal for scanners, laptops, stereo equipment, microwaves, or just about anything else you want to throw on it. The stand itself moves on four swivel casters, with two of them locking to keep the cart in place. Sturdy and simple, clearly a piece of function-focused office furniture that's designed for professional use.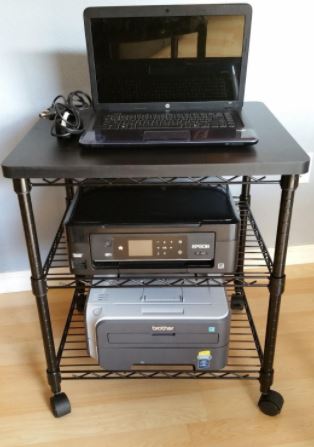 This wire stand is clearly designed with offices in mind, and is ready to add a considerable amount of storage space to wherever its placed. In the second tier of storage, you'll find about 20-inches of usable space between the top and bottom shelves. You place the middle shelf on gradients between the top and bottom shelf, which provides an extra bit of customization which can help ensure you get the most out of the available space.
Dimensions and Style
Compared to less breathable surfaces, the steel wire construction of the stand is designed to help keep your electronics from overheating. And being composed of only a few simple parts, the assembly of Safco's stand is something you can finish in only three or four minutes.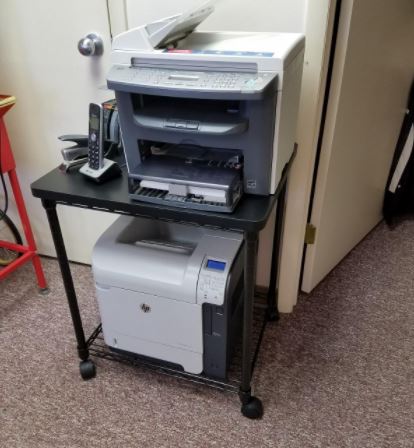 This stand measures 24-inches wide, 20-inches deep, and 27-inches tall. The laminate top has a maximum weight capacity of about 100 lbs., with the total cart capable of carrying as much as 200 lbs. The two lower shelves are each capable of holding 50 lbs., making them ideal for storing paper or other moderately heavy supplies.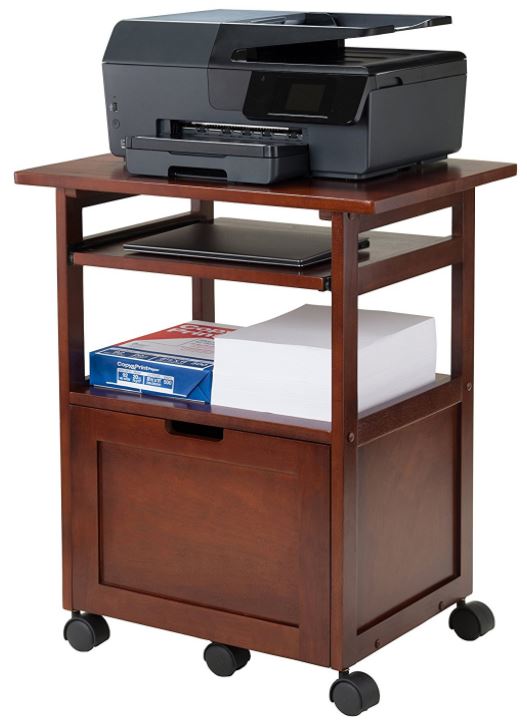 Winsome Wood Piper Work Cart
If you're using your printer stand at home, or you're otherwise trying to achieve a distinguished look from your furniture, then you're not going to want a utilitarian printer stand that's has a wiry aesthetic more suited to a mail room than a home. When you plan on using your printer stand on a regular basis, you're not going to want merely a functional piece of furniture, but something that looks nice as well.
The Piper Work Cart is exactly that: a mixture of premium aesthetic with office versatility. Their wooden stand is a multipurpose space that could easily store a printer, laptop, four reams of paper, and dozens of documents with ease. Whether you're looking to set up a general purpose desk area or you're looking specifically to find a home for a printer, Winsome Wood's cart offers high-storage and high-elegance simultaneously.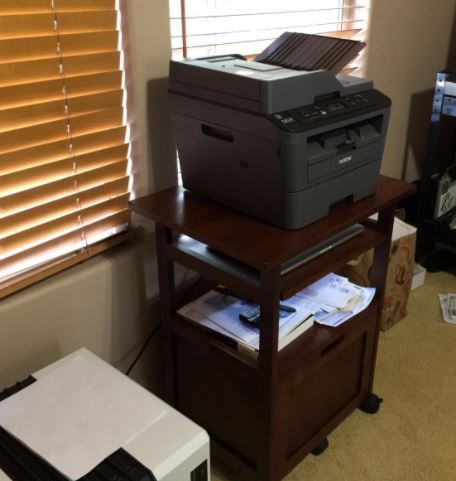 Dimensions and Style
The best words to describe this tray would be sturdy, solid, and handsome. For matching office aesthetics, you may want to know the specific shade of brown used is closer to a walnut brown than an espresso brown. The material used is a mix of composite and solid wood products, which provides the high-quality aesthetic of wood without the full price or weight. Although the full weight of this stand is 36 lbs., which should give you an idea of the quality of the wood.
The top area of the cart provides a roomy 24-inch wide 17.4-inch deep workspace. That much room is more than enough for larger printers, laptops, and even most desktop monitors. The bottom drawer provides a storage area that's 16-inchs wide and 17-inchs deep, with a 4-inch clearance overhead. That's an ideal space for keyboards, mice, and even laptops to sit comfortable on.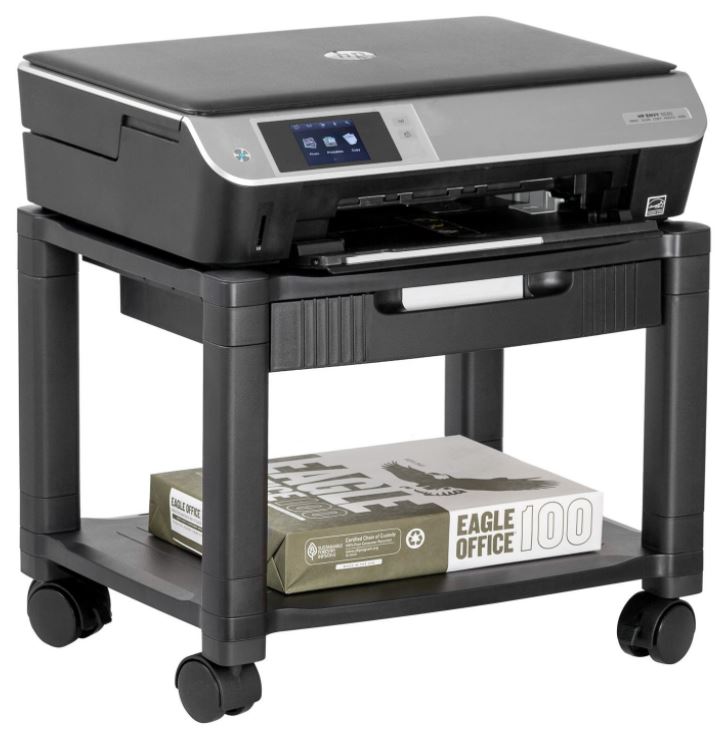 HUANUO Mini Rolling Printer Cart
Some people aren't going to need tons of extra storage, and they're not going to care about paying for the aesthetic of wood. For a simple and straightforward printer cart, you want something compact, lightweight, and inexpensive. For that you'll have a hard time beating the HUANUO Mini Rolling Printer Cart. It has a pullout tray for storage, a bottom space for storage, and the top position for the printer. It's minimalistic, but still makes use of all the available space that it can.
Of the three carts on this list, the HUANUO is far-and-away the quickest to assemble. After as few as 90 seconds, you should be ready to have your printer set up on top of this cart. On the shelf you'll find a built-in cable manager to help you keep your cables as organized as everything else. And like you want from a rolling printer cart, two of the castor wheels have locking mechanisms to help keep the cart in stable position.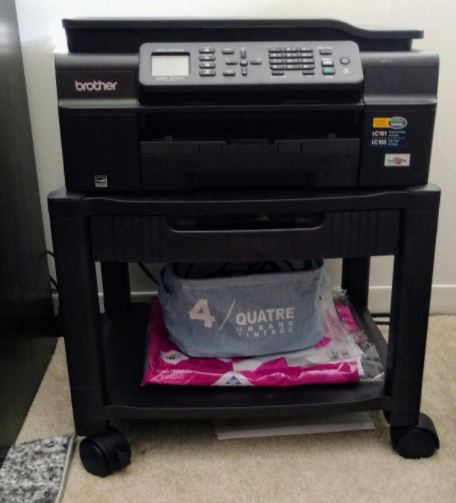 Dimensions and Style
The HUANUO uses a super-small 17" x 13" x 14" design, and is composed of a lightweight and durable plastic that weighs about 7lbs with the wheels attached. The total supported weight is 75 pounds, which should be enough for all but the largest printers. And the super-low 14-inch profile of this stand makes it ideal for being used as an under-desk shelf or even closet storage.
Choosing Between 3 Solid Printer Stands
The differences between these 3 carts are largely differences in aesthetic and storage space. For optimal storage space and an office aesthetic, you want Safco's 5207BL desk side wire machine stand. It has the most storage capacity of any stand on this list, it's tough enough to hold all the things you'll want to place on it, and it's clearly designed for an office environment. As functional piece of office furniture, it has a functional aesthetic that's more suited to a library than a law office.
If aesthetic matters, then you'll have a hard time finding something better than wooden furniture. The Piper Work Cart has that professional and homey look that fits well in a home office. Although it has less storage space than the Safco's wire stand, it has an unbeatable aesthetic that makes it well suited for both high-scale offices and homes.
Some people aren't going to want an entire piece of furniture dedicated to their printer stand. Rather, you might want a printer cart that's as small and mobile as you want your printer to be. For that, you'll be best served with HUANUO mini rolling printer cart. What you're getting is right in the name – a mini product. It's good enough for the minimalistic task of holding your printer firmly, and it'll fit just about anywhere in a room. Although this cart provides the least storage of the three on this list, it should be more than enough for paper, printer supplies, and other basic things you want to keep with those devices.
Meet Derek, "TechGuru," a 34-year-old technology enthusiast with a deep passion for tech innovations. With extensive experience, he specializes in gaming hardware and software, and has expertise in gadgets, custom PCs, and audio.
Besides writing about tech and reviewing new products, Derek enjoys traveling, hiking, and photography. Committed to keeping up with the latest industry trends, he aims to guide readers in making informed tech decisions.