Joyzis BS100
Pros
Charges a wide range of devices.
Portable, easy to carry design.
Three different ways to charge it.
Plenty of USB ports.
Several integrated safety features.
Cons
Not water resistant.
No USB-C charging ports.
Only one AC port.
No built-in screen.
In this day and age, our lives are filled with a variety of gadgets. Whether it's your smartphone, digital camera, headphones or portable speaker, you're going to need a way to re-charge them. Sure, you could simply plug them into an outlet in your home, but there are certain scenarios where that just isn't possible. Often times, you're on the go; traveling, driving or exploring far from any standard electrical outlet. In these kinds of situations, a portable power station offers a perfect solution.
Comprised of a lithium battery with several power outputs, these devices are becoming more common. Not only are they cheaper than ever, they're more reliable and simply better at providing energy in a quick and convenient way. Take the Joyzis BS100 for example. This is a 150Wh portable power station that's small but mighty. At least on paper, that is. With a 40500mAh capacity battery, an integrated 100W (120W surge) AC outlet and several DC and USB outputs, it seems to be a great solution. But is it really? Today we're going to get hands-on and see whether or not the BS100 is a promising solution, or something that you should pass on.
First Look
Here at NerdTechy, we're no stranger to reviewing portable power stations. Recently, we took a look at the Joyzis BR300; the big brother of the BS100 that we're going to review today. Needless to say, we were impressed with what we found; it had a lot to offer. That being said, we had very high hopes with their smaller model, the BS100.
In the box of the Joyzis BS100 there are a few accessories included. Open it up and you'll see an AC power adapter, 12v DC input power adapter and a 12v DC output power adapter. In addition, there's also a user manual, quality certificate, warranty card and of course, the BS100 portable power station itself. There's nothing extra and everything you need.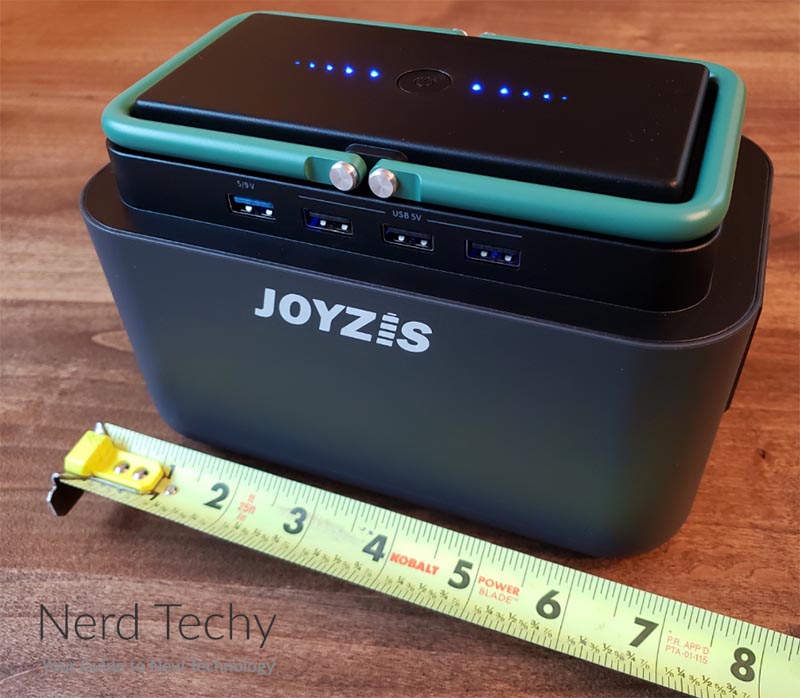 Build & Design
The unit itself is fairly portable with a standard rectangular design. Weighing in at 3lbs 5oz and measuring approximately 7.25 inches wide, 4.15 inches deep and 4.8 inches tall, it's the perfect size for traveling. Comprised mostly of flame-resistant ABS plastic, we appreciate how the housing has a matte, two-tone grey and black finish. It doesn't necessarily feel rugged, but it does feel solid and well-built.
On the top are two solid aluminum green-colored handles that fold inward and collapse into the rectangular top while not in use. These feel sturdy with metal hardware and a smooth swivel that lets you easily carry it around. Near the recessed handles on the top-panel is a round power button with 10 individual LEDs. These indicate the remaining battery-life and also the current charge-status.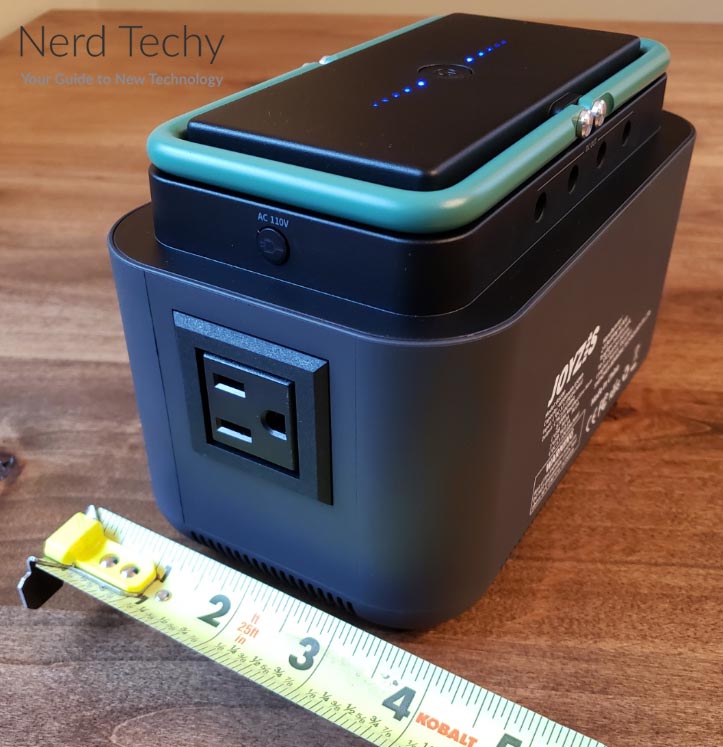 The front panel boasts four individual USB ports. Three of these are standard 5V USB 2.0 while the blue one on the left is 9V USB 3.0. Turn the unit to the right side and you'll see the 110V AC grounded outlet near a small round button that activates it. On the opposite (left) side is the DC input port next to a light button that activates the two LED flashlights. Press it to toggle through solid-on, quick-strobe, SOS and off. Beneath the LEDs is a small 1.5 inch x 1.5 inch mesh grille that has a cooling fan behind it, inside the unit. FYI, this cooling fan is only activated when there's a high energy draw with the AC port.
Last but not least, the back of the unit has four individual DC outputs as well as a ventilation grille near the base; about 4.5 inches wide for cooling purposes. Additionally, the base of the unit is fairly straightforward. There's four rubberized feet that keep it stable when in use.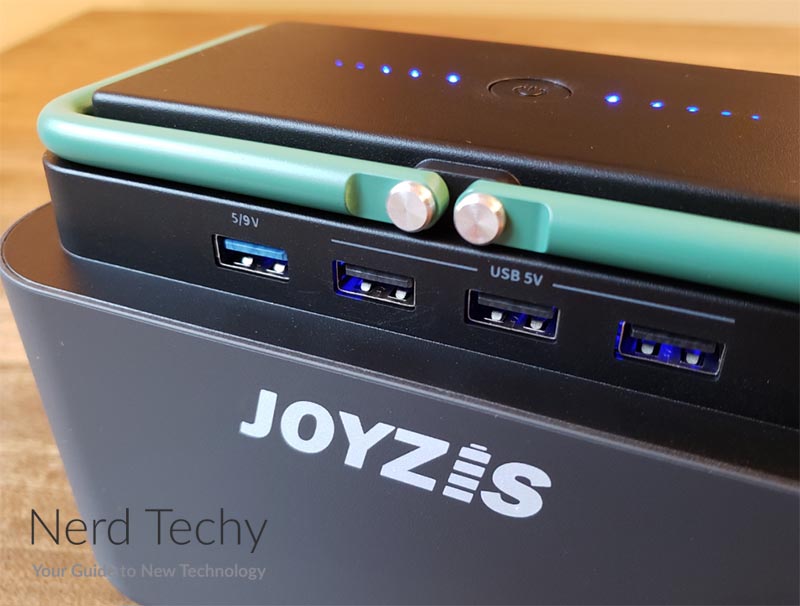 Charging
The Joyzis BS100 is equipped to handle 3 different charging methods. The most popular method is using the supplied AC wall adapter. Simply plug it into a wall-outlet and it'll replenish the internal lithium battery from empty to full in around 4-6 hours. This offers the fastest way to re-charge, although there are two other methods. The next method is using the supplied car charger. We found that the car charger is almost as fast as the AC wall adapter, but not by much. Truthfully, either method is a great solution to re-charging since they offer convenience at a fairly quick charge rate. Sure, it isn't quite as fast as Joyzis claims, but still good enough for most situations.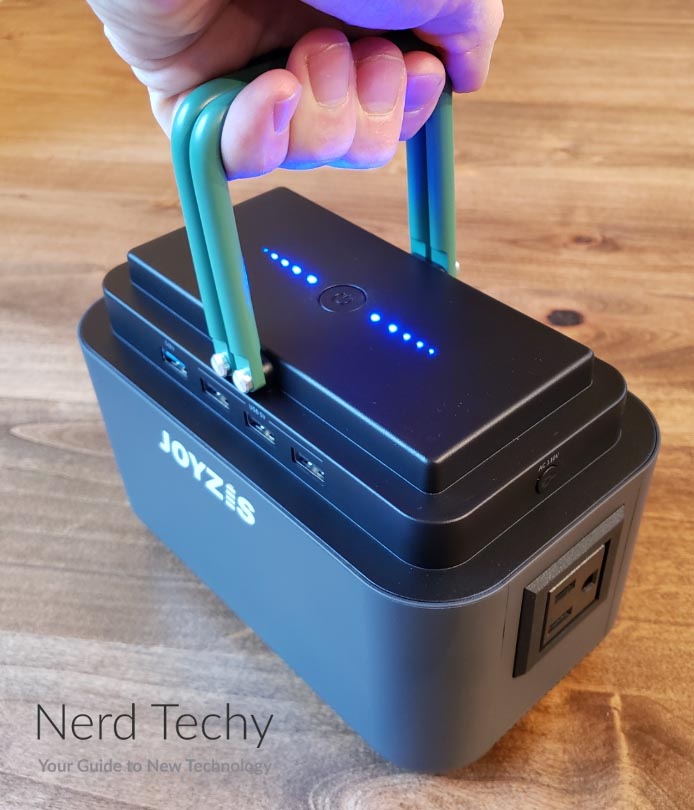 Lastly, users can use a solar panel to top-off the internal battery. Although Joyzis doesn't manufacture their own solar panel, you can use a generic one like this to fully recharge with the power that the sun provides. To do so, simply plug-in the solar panel to the BS100's DC input and position the panel in direct sunlight; as perpindicular to the sun's rays as possible. Constant, unfiltered, direct sunlight will offer the best solar charging ability that's both quick and effective. However, much of the duration for solar charging depends solely on the panel you choose. Most are fairly low-wattage and can take twice as long as charging via your car or a standard wall outlet.
The wide range of charging methods is nice to have. In most instances, you'll likely use the provided wall or car charger, but having the ability to use solar is a nice feature!
AC Power
As we stated earlier, there's one dedicated AC-outlet on the right side of the unit. It's a grounded outlet that's rated to power anything below a 100 watt power draw with a 120w surge. Yes, it's not capable of powering everything like blenders, electric grills, microwaves or refrigerators, but it's sufficient for most laptops, chargers and small devices. Unfortunately, since there's no LCD screen, there's no way of telling how much power it's currently drawing. However, the unit will automatically decline powering anything that it isn't capable of properly energizing. In addition, there's a small fan that'll activate if the AC power draw comes close to the 100w maximum. This fan is a nice touch that assures users it will not overheat and therefore damage any of the internal components.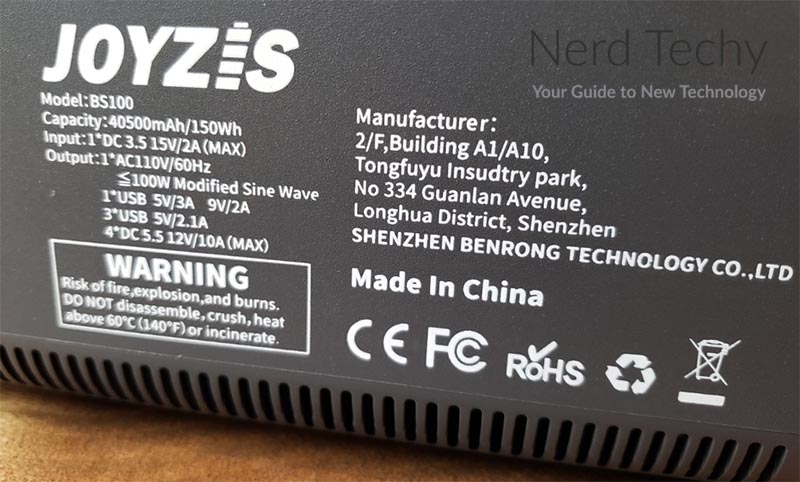 Safety
Inside the Joyzis BS100 are several smart safety features that were integrated. These include protection against overvoltage, undervoltage, short circuit, overcurrent, overload and overheating. If any of these instances occur, the unit will intelligently automatically shut the power off so there's no risk of fire or damage. These protections offer peace of mind for those who want to use the BS100 to its maximum potential. We like to see that they've been integrated in a smart way that gives protection to not only the power station, but the devices that you have charging off of it.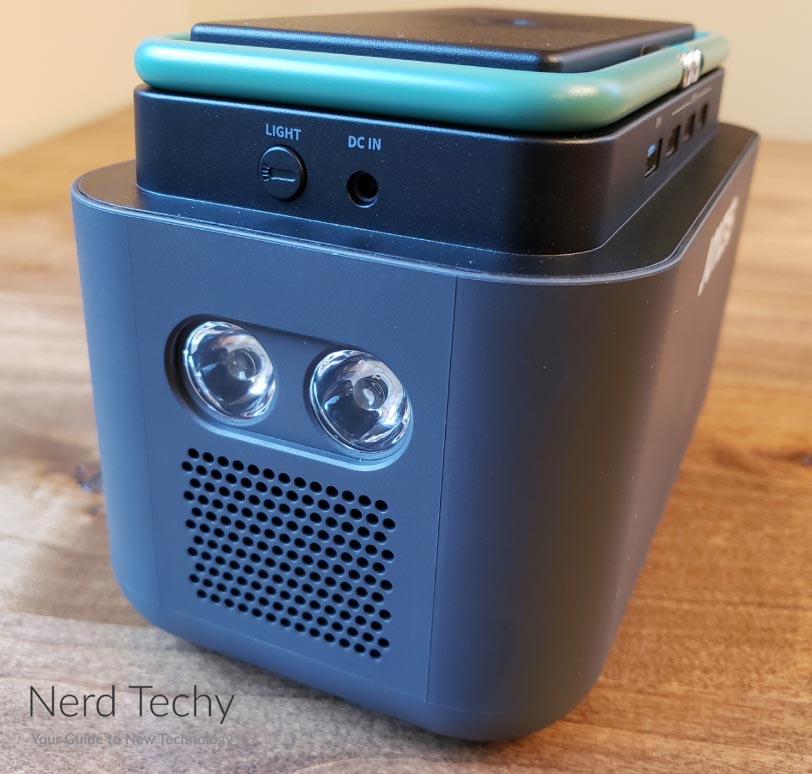 Potential Downsides
While the Joyzis BS100 has a lot of positives going for it, there are a few complaints that we have about it. First, there's no USB-C port. With technology evolving at a rapid pace, these days we're seeing more devices switch over to USB-C rather than standard USB-A. USB-C opens up a lot of potential with Power Delivery and much faster charge times. The exclusion of it means that you'll need to use an adapter or converter in order to charge certain newer devices that are reliant on USB-C.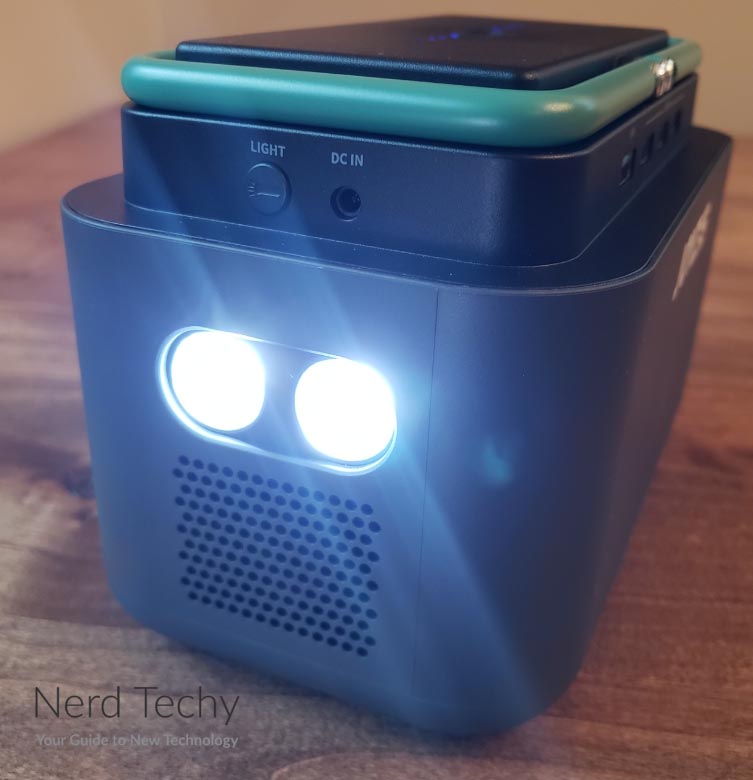 While the BS100 feels solid and built well, there's no amount of water resistance. That said, you'll need to make sure that you keep it in a dry and indoor environment. We believe a bit of water resistance would have gone a long way. We feel that Joyzis could have easilysealed all of the seams and at least made it splash-proof. Since it's not, you'll need to exercise a bit more caution if you use it outdoors while camping or traveling.
Lastly, there isn't an integrated LCD screen like we've seen on other power stations. However, this keeps the costs down so the retail price is lower than average. A small screen that indicates a percentage of capacity, current electrical draw and other statistics would have been nice. But we understand; this is more of a budget-friendly power station – not a top of the line unit with all the bells and whistles!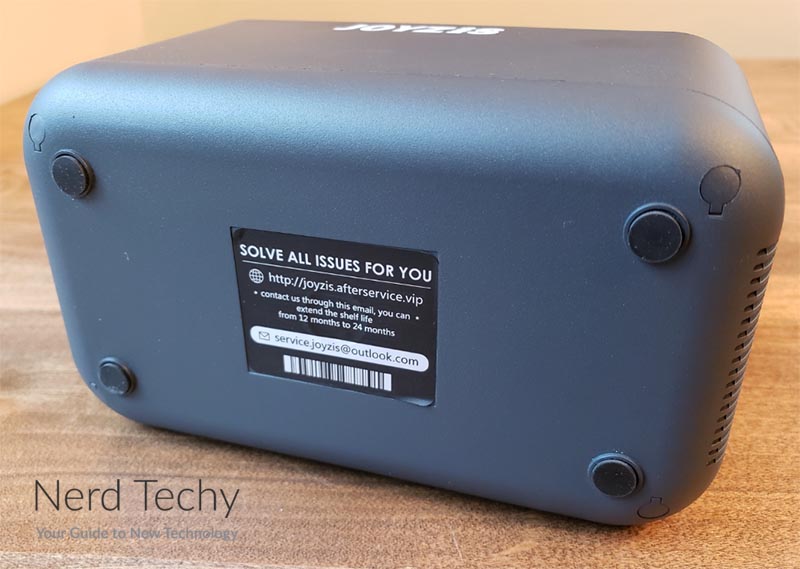 Final Thoughts
All in all, Joyzis seemed to create the BS100 Portable Power Station with the right amount of features for the price-point. The multitude of power outputs and charging inputs makes it an easy to use and versatile unit that we can confidently recommend. Sure, it's lacking USB-C, any kind of water resistance and an integrated LCD screen; but these are small qualms.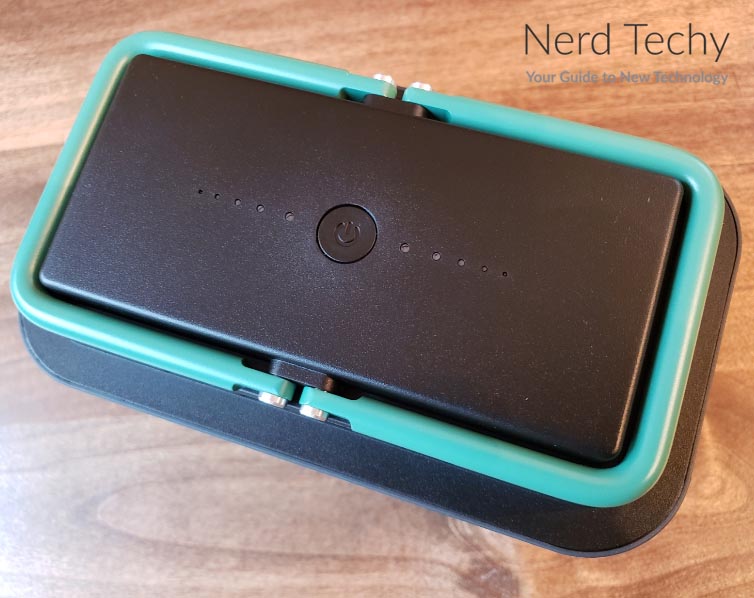 The build quality is adequate, comprised mostly of fire-proof ABS plastic and sturdy metal handles. It's not necessarily going to scream high-end, but it gets the job done and does a fantastic job at it. The capacity is commendable for the price and the features seem to right on par, if not better than other options in the same price range.
Have you tested out the BS100? Or are you thinking about it? Let us know by leaving a comment below; we would love to hear from you!