If you're concerned about your home's security, you're not alone. The world can be a scary place, and our homes are supposed to be an oasis of safety and comfort. But you can't always be at home to keep tabs on things. Life is out there in the world, where we work, shop, and meet up with our friends. One way to keep an eye on your house when you're not there is to use a home security camera. The camera will record anything that happens while you're gone, and provide you with video evidence. A modern camera will also send push alerts to your phone, so you know when something is happening.
This hasn't always been practical for the average person. Little more than a decade ago, home security cameras were cumbersome and expensive. They had to be hardwired into your home, and they were big and bulky. Not only that, but you needed a VCR and a cassette tape for each camera, for recording your videos. Remote monitoring was simply not a thing, so you had to be at home to review your recordings. In other words, they were only useful as evidence, after a break-in had already taken place. And for all that trouble, all you got was some grainy, low-resolution footage. But modern home security cameras are smaller, more affordable, and with much higher quality.
We're about to review the Vacos Indoor Cam. This is a compact little camera that can be mounted on a wall or set on a table or shelf. It's designed for indoor use, and it pairs with a smartphone companion app. It also records in 1080p full HD. But how does it stack up to other security cameras on today's market? To put things in perspective, we'll have to look at all the various aspects of its design. First, we'll talk about the physical construction, and how it's powered and installed. Next, we'll talk about the video quality, as well as the night vision function. We'll also discuss video storage, and your remote monitoring capabilities. After we've considered all of those things, we'll be able to render a fair verdict. Let's get started!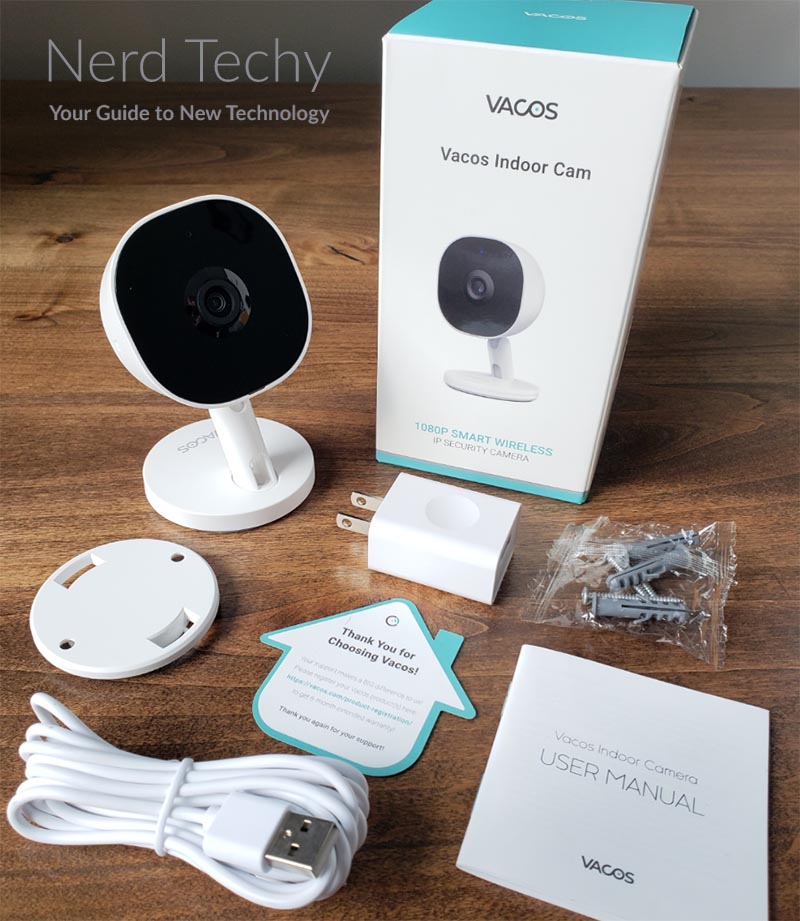 Design & Installation
The Vacos Indoor Cam is a compact, roughly rectangular camera that sits on a slender mounting arm. This arm then attaches to the base, and it's jointed at both ends. This makes it possible to manipulate the camera and point it in any direction without moving the base. The base itself is round, and the support arm attaches towards the back. It's plain white, with the Vacos brand name printed towards the front in grey text.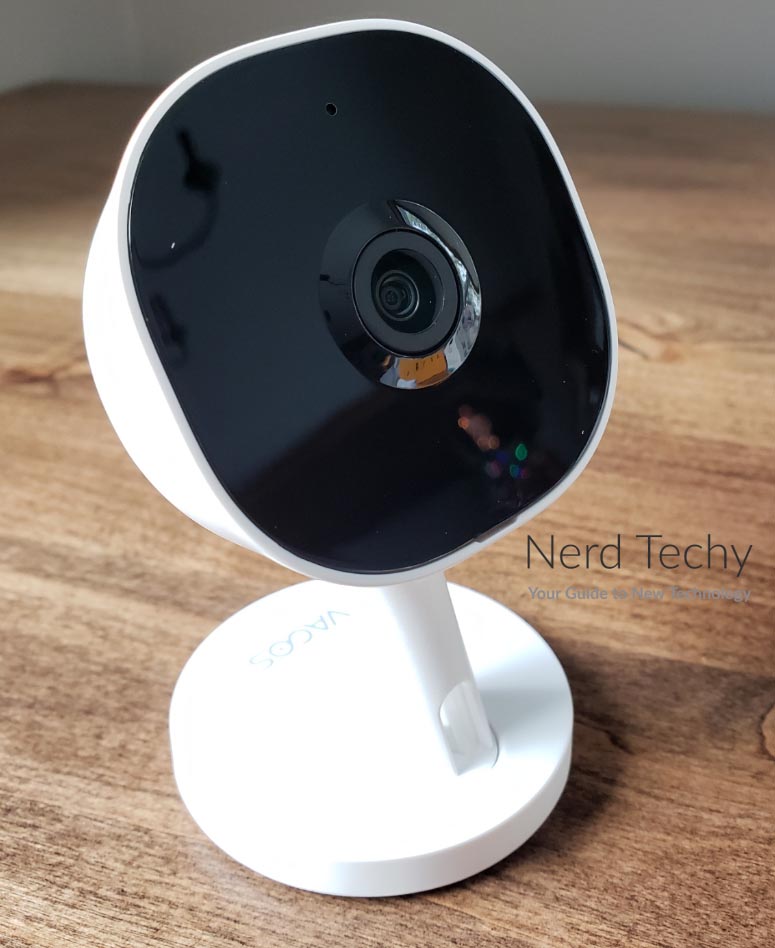 The main housing is white plastic, with a matte finish that's easy to keep clean. It's reasonably durable, although it's not really designed to take a beating. It should withstand everyday dings and bumps, but you still want to keep it safe from drops. There's a Micro SD card slot built into the side, and visible speaker holes on the back. The inner lens housing is black, and occupies the entire front of the main housing. This part of the camera has a glossy finish, and the lens itself protrudes slightly from the center. Above this, there's a small blue LED that indicates when the camera is currently recording. There are additional infrared LEDs built around the lens, but they're not clearly visible.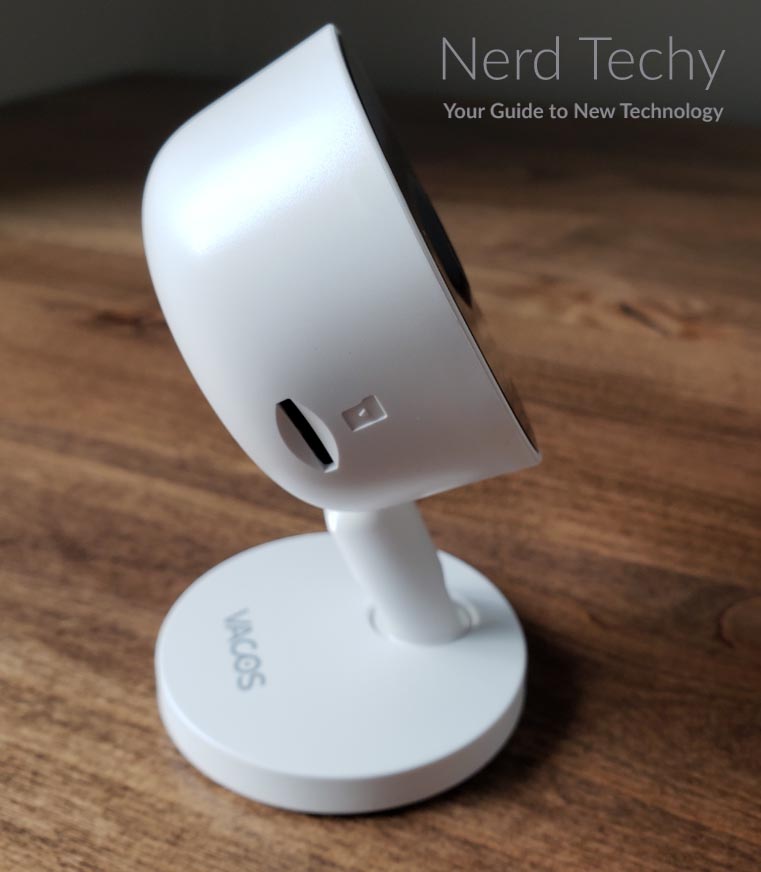 One thing we should point out about this camera is that it doesn't have a water-resistance rating. It's designed for indoor use only, so you need to be careful about cleaning it off. A damp cloth works just fine, but don't try to run the camera under water or anything like that. You also want to avoid putting the camera anywhere where there's a lot of moisture. Three-season porches and other partially exposed spaces are a bad idea. But for ordinary indoor use, you're not going to have any issues.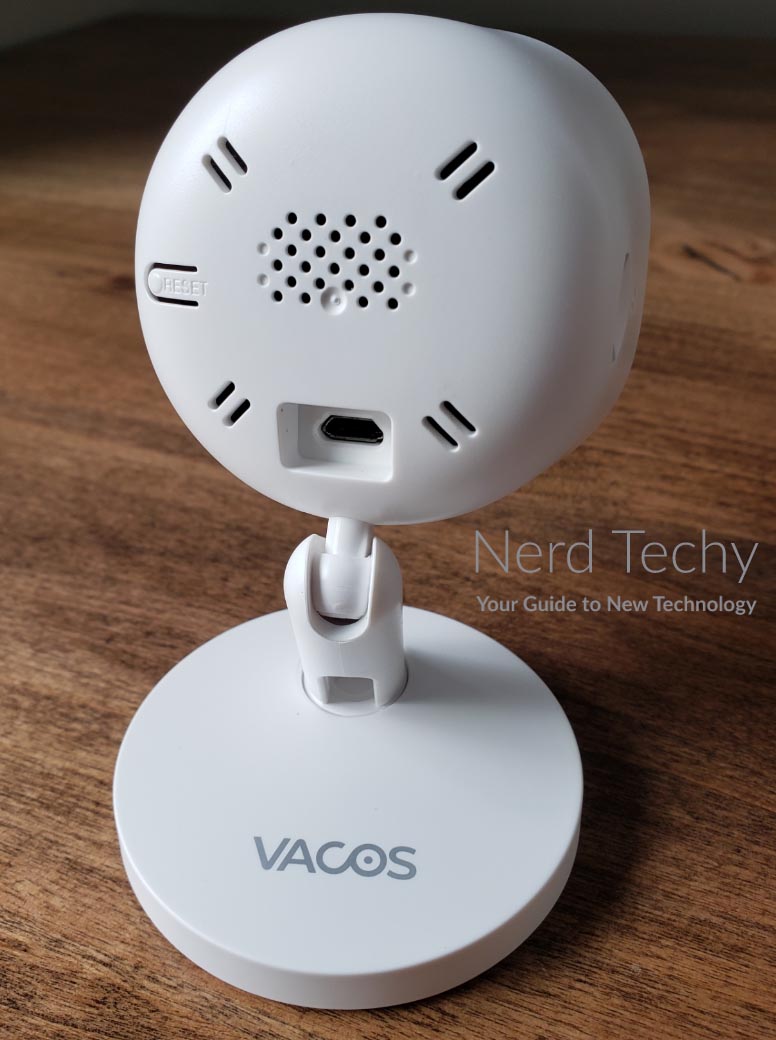 If you need an outdoor-friendly option, consider the Vacos Wireless Home Security Camera instead. This is designed to be weatherproof, and it even comes with an optional solar panel to keep it charged. That said, the night vision range is fairly short, which could be an issue for covering larger areas.
The design is such that you can position the Vacos Indoor Cam just about anywhere. Because the base is flat and well-balanced, it can easily be positioned on a shelf or a table. This is a great benefit for renters, since you don't have to put any holes in your walls. It also means you can move the camera around easily without an involved reinstallation. That said, the base can also be wall- or ceiling-mounted, and the kit includes the necessary mounting screws. The kit also includes a USB power cable and an AC power adapter. That said, the cord is only 3.3 feet in length. In most cases, you'll find you need an aftermarket cord to get the necessary reach to the nearest power outlet.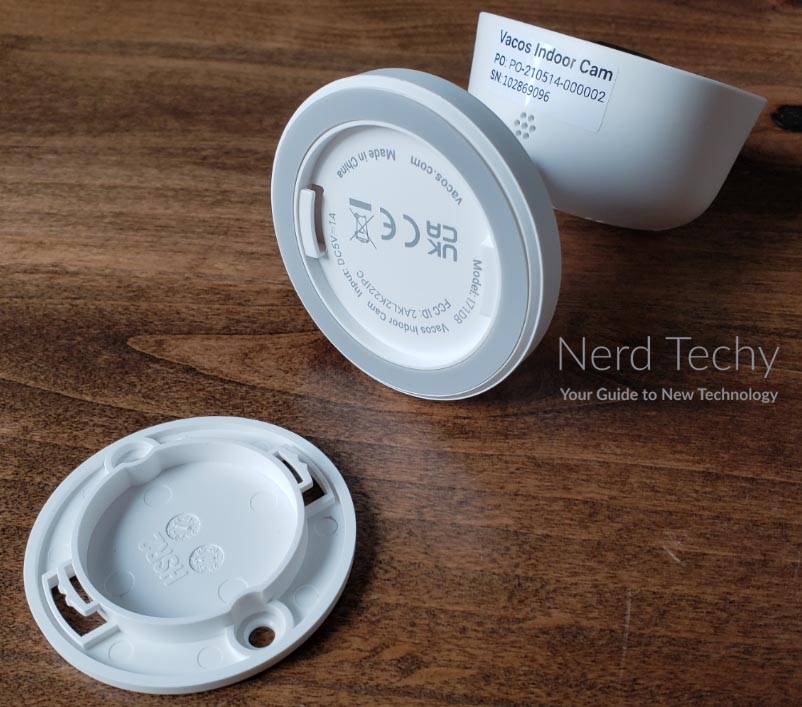 Video Quality
The Vacos Indoor Camera captures video in 1080p full HD. This is fairly standard for a modern security camera, but it amounts to pretty good resolution in an indoor space. You'll be able to easily identify faces and other details, even from across the house. For outdoors, you might prefer something more powerful, like a 2K or 4K camera. These cameras can let you zoom in on tiny details, and even read package labels on your front porch. But higher resolution can push your costs up significantly. This is a small, affordable camera, and 1080p is more than enough resolution for the price tag.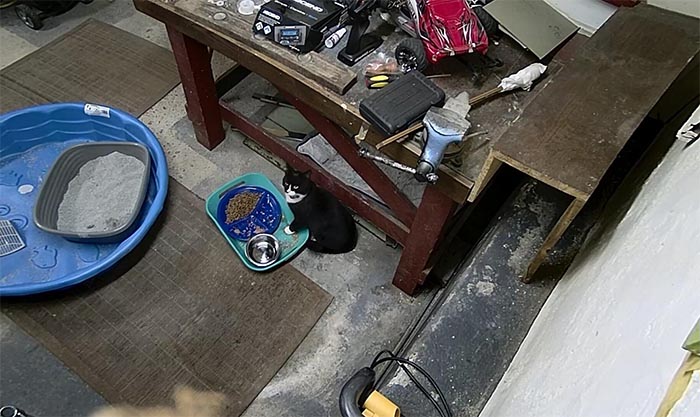 The camera's field of view is 115 degrees. That's a good number, since it's more than the angle you need to cover an entire room from the corner. Keep in mind that it's not a wide-angle lens, though. If you put it in the middle of a wall, there will be blind spots to both sides. That's not necessarily a bad thing, though. Wide-angle lenses can distort shapes and proportions. They also cram more information into the same number of pixels, reducing your ability to see detail. For most purposes, a medium-angle lens is best, and 115 degrees is right in the sweet spot.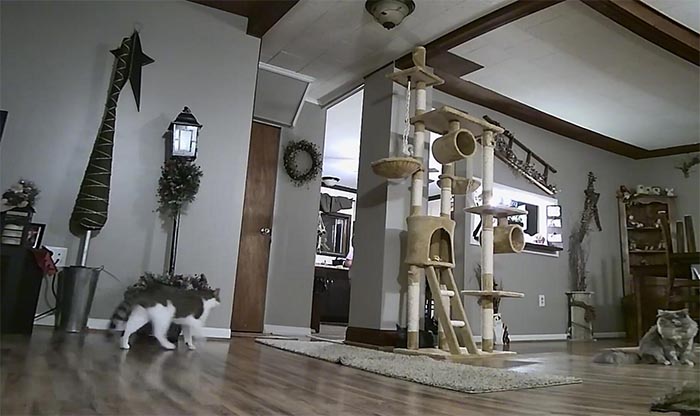 The night vision is aided by a set of built-in infrared bulbs, which bathe the room in invisible light. The sensor will record night vision in crisp, vivid detail. If you were picturing cheap, grainy night vision, think again. You can see just as well as you can in the daylight, even if the room is pitch black. Keep in mind, though, that the IR bulbs only have a range of 26 feet. If you're trying to record a cavernous room, you might not have total visibility.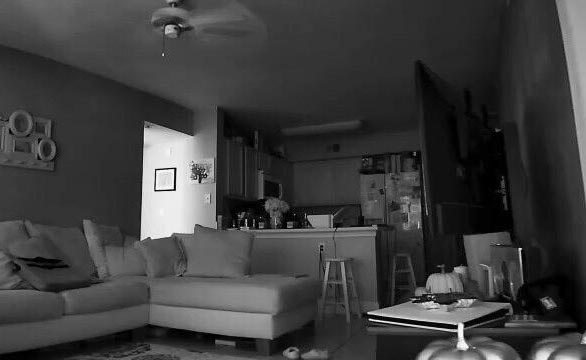 As you can see, this is a well-designed, versatile indoor camera. But one place it would be awkward to mount would be on a crib. If you want a camera to use as a baby monitor, check out the Simshine Baby Pro. It's a baby monitor camera that mounts to your crib rail and films your baby. Then again, it's not useful for monitoring the rest of your house.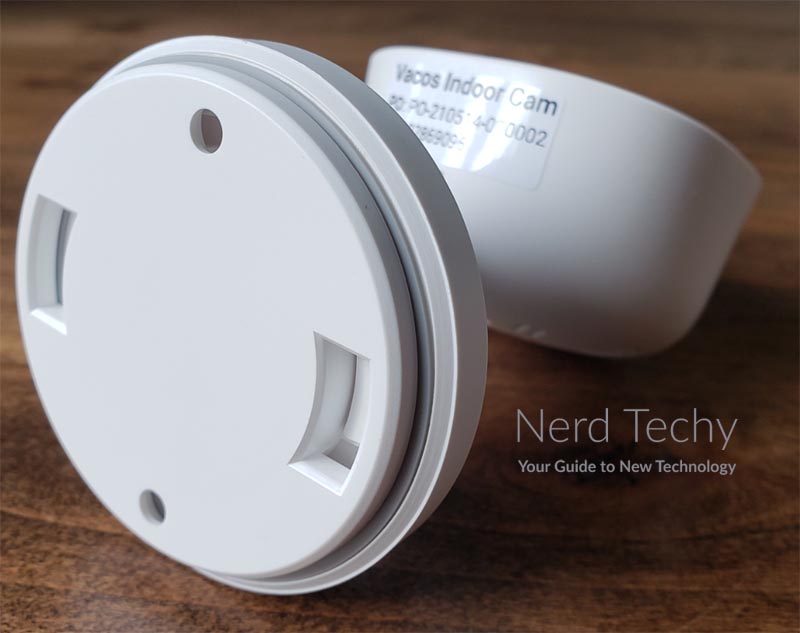 Storage and Monitoring
Even the best quality video isn't much good if you can't access it. So, how can you store and monitor recordings on the Vacos Indoor Cam? To begin with, you could store your videos locally. There's no SD card in the kit, but they're cheap enough to buy these days. The camera will accept up to a 128GB card, which is enough for weeks worth of recordings. It also uses loop recording. This means that when the card gets filled, the oldest recordings will automatically be overwritten first. Your other option is to use cloud storage. Vacos gives you a free week of storage when you first sign up. After that, you have to pay a monthly fee for the service.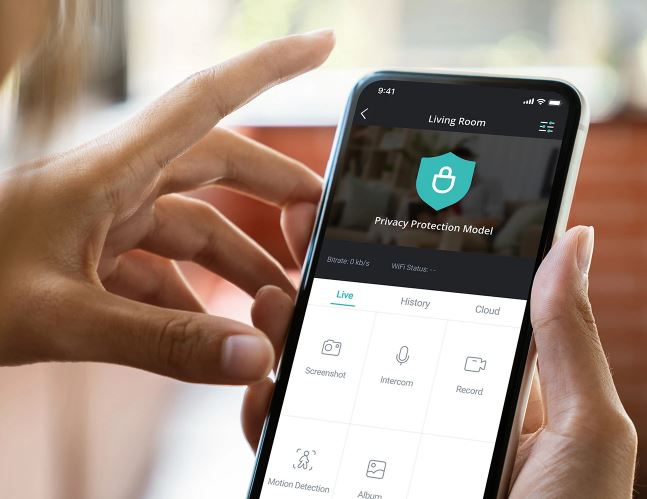 To control the camera, you utilize Vacos' smartphone companion app. This allows you to remotely monitor video from anywhere in the world. You can also delete old footage, or flag individual clips to be saved permanently. The app and camera even support voice controls, through both Alexa and Google Assistant.
Perhaps the most useful app feature, though, is the ability to set up push alerts. These alerts can be triggered whenever the camera detects motion. If you're not at home and something moves, you'll be the first to know. You can also set up alerts for sound detection, which can be a useful alternative. Keep in mind that both of these features can get annoying if you have pets. Then again, if you don't want an alert whenever the dog walks by, you can turn off your push alerts.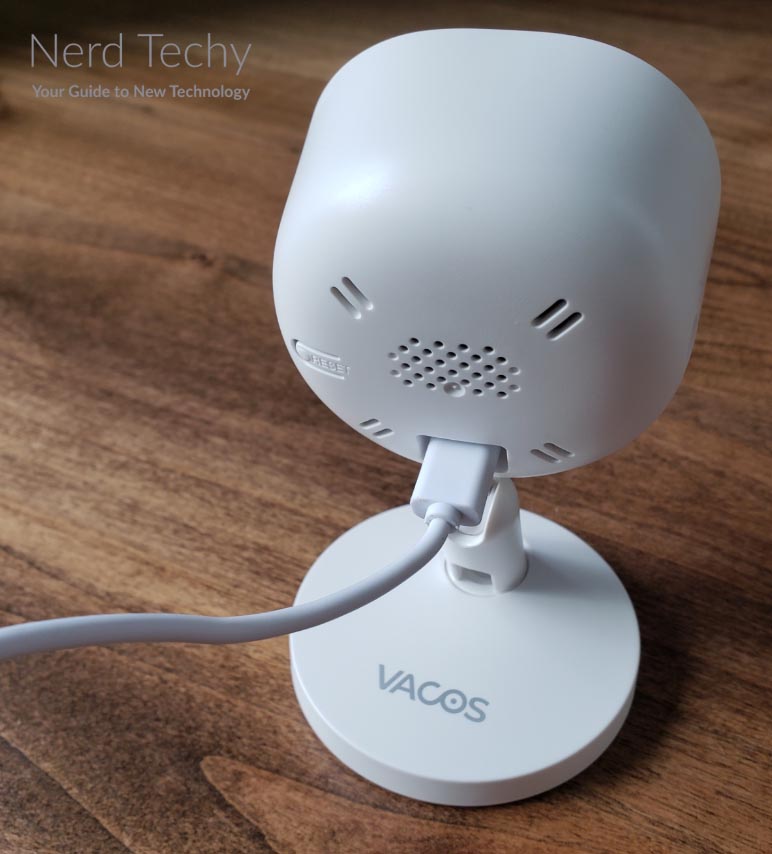 But what if you want a camera with even more advanced monitoring capabilities? If that's what you're looking for, take a look at Deep Sentinel. This is a three-camera kit that's expandable to five, with cloud storage and professional monitoring. On the downside, the subscription service is pretty expensive.
Within the Vacos app, you also get some extra bonus features to provide more functionality. To begin with, you can take advantage of two-way audio. When this is activated, your phone and the camera will act like a pair of walkie-talkies. If you ever wanted to terrify a burglar, now's your chance. You can also use two-way voice for more mundane applications, like asking your partner to thaw some food.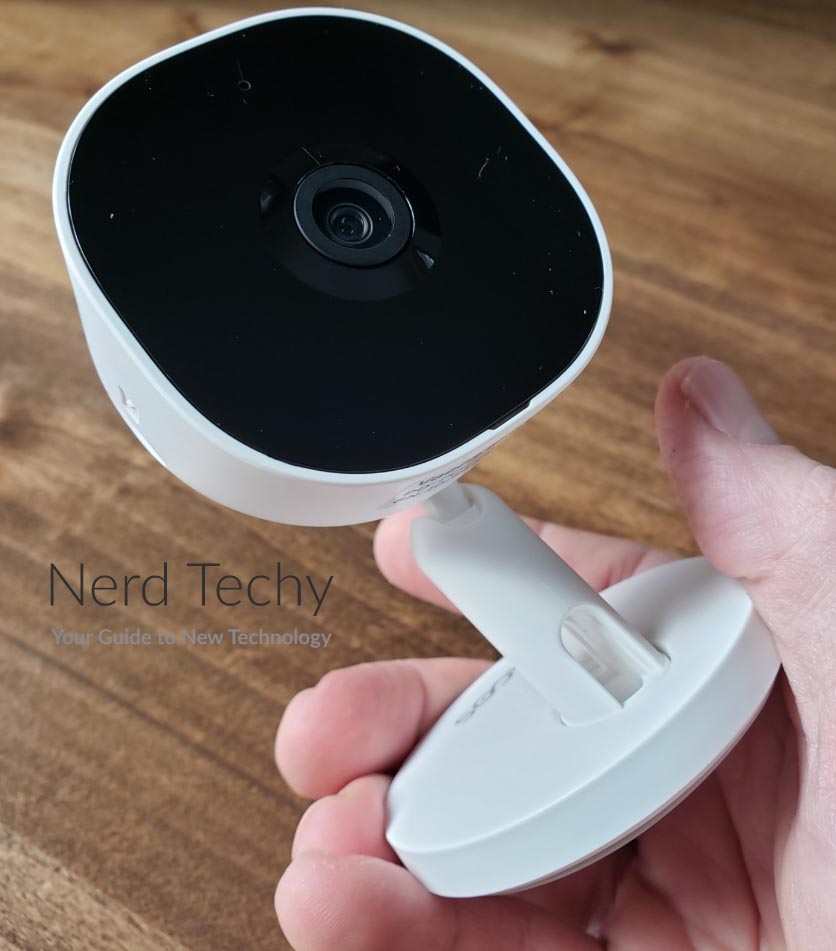 The other neat bonus feature is the geofencing function. When geofencing is active, your camera will automatically turn off whenever your phone is nearby. This prevents you from activating the camera yourself when you're in the house. You can also deactivate the camera manually if you ever want to stop recording.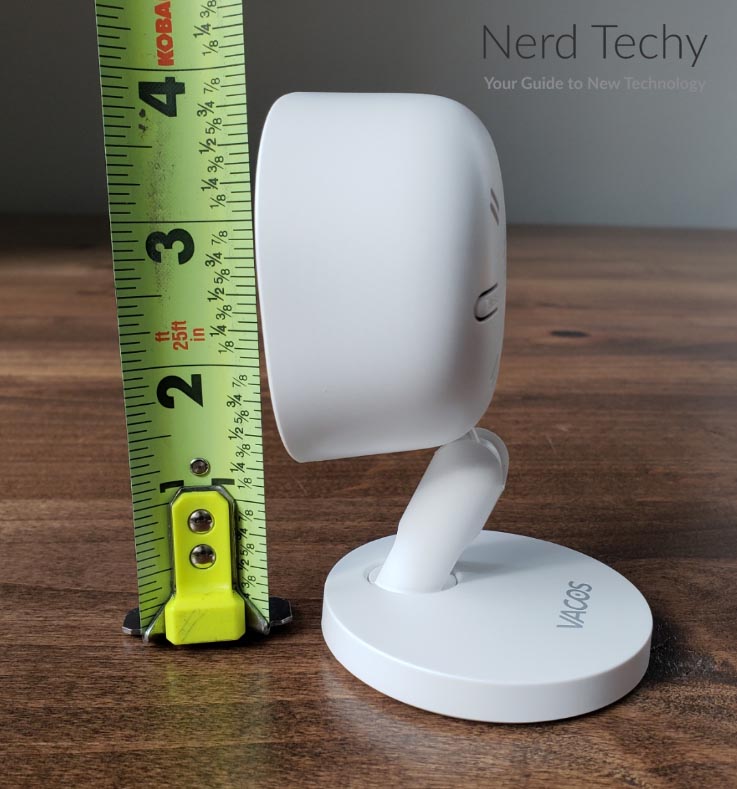 Final Verdict
The Vacos Indoor Cam is a compact, affordable camera that's easy to position. The video looks good by day or night, and the app is easy to use. And with plenty of control and monitoring options, you'll have plenty of flexibility. Yes, it's only for those who need an indoor-specific camera. Although it isn't battery-operated, it still offers plenty to love at a very affordable price point.