Quick Analysis
Pros
High-quality video and full-color night vision.
Easy to install.
No cables required.
Can run on battery or solar power.
Cons
Night vision has relatively short range.
No way to expand internal storage.
These days, you can't be too careful about your home's security. Whether you're worried about home invaders or porch pirates, a camera can help keep you protected. In the past, this was out of reach for most ordinary people. A home security system required extensive wiring, and you needed a dedicated VCR for saving video. Not only that, but you could only monitor your video on a TV. This made a security system more or less useless unless you were actually at home. Unless you were running a business or were fairly wealthy, it simply wasn't a reasonable option.
Nowadays, home security cameras are relatively affordable. You can buy and install one for less than the price of a new game console, so anyone can get in the game. Not only that, but modern technology has made installation and storage easier. And with better video quality, you can see more details than ever before. Of course, not all home security systems are equally well-engineered. Some are worth your money, while others belong in your trash can. We've reviewed several security systems in the past, such as 4k PoE systems. We've even reviewed fake cameras that can spook a potential intruder. Needless to say, we know what we're talking about.
Today, we'll be reviewing the Vacos Wireless Home Security Camera. This is a versatile device that can operate on an internal battery or an external solar panel. But is the video quality any good? What about the storage and online options? We'll go over all the features, and render a final verdict. Let's get started!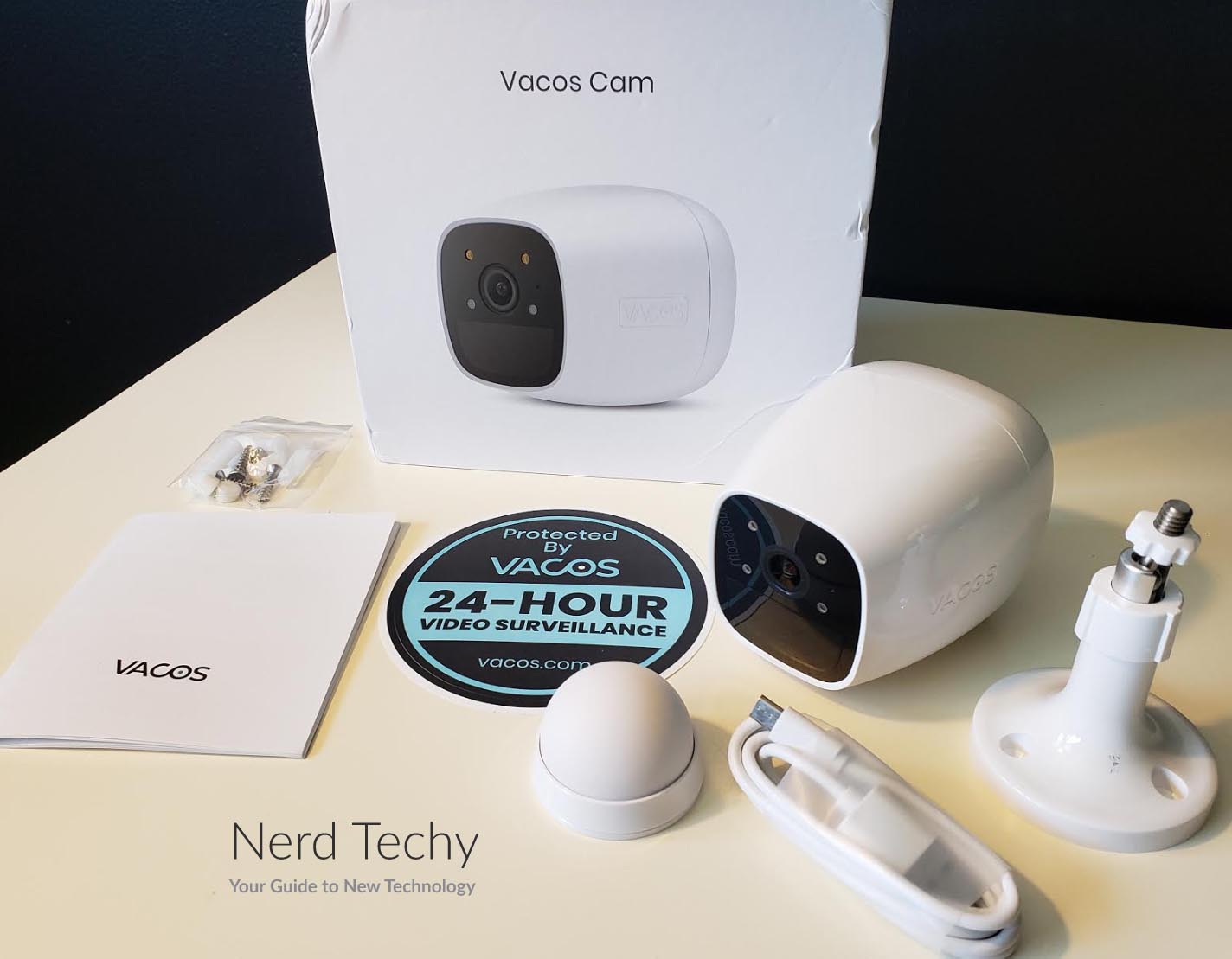 Design & Construction
The Vacos Wireless Home Security Camera is a relatively compact device. It measures 3.5 inches in width, 3 inches high, and just over 4 inches long. It's constructed from a mix of ABS plastic and polycarbonate, with a glossy white finish. In most respects, the finish looks similar to a traditional painted aluminum camera. It's not quite as durable, but it doesn't really need to be. After all, it's not like you expect your security camera to take a beating. Regardless, it's an attractive look, so you don't have to worry about an ugly camera detracting from your home's appearance.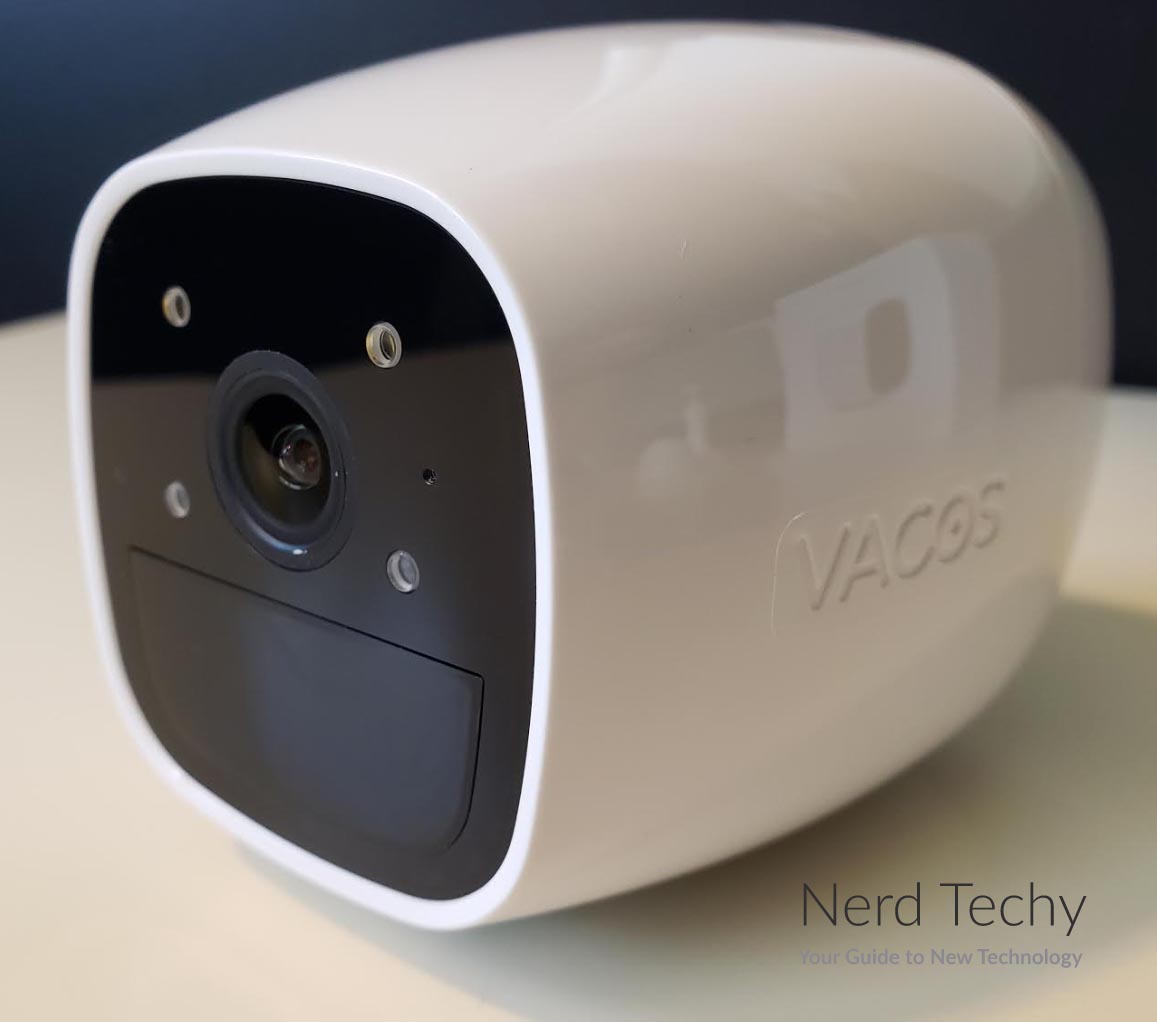 The profile is partially rounded, further enhancing the overall aesthetics. On the sides, there's a pair of engraved Vacos logos, but it's otherwise quite bare. On the front, you'll find the lens, which is recessed behind a glass panel over a black background. The lens itself is located just above the center, and is clearly visible from the outside. Off to both sides, there are four LEDs that are used for the night vision technology. The bottom half of the front is occupied by a motion sensor panel. We'll talk more about how that works in a minute.
The Vacos camera is IP65 water-resistant, which makes it well-suited for outdoor use. It can withstand most dust, even fine particles. It can also withstand a heavy rain storm. You can even clean it with your hose if you want to. As long as it doesn't get submerged in water, it's going to keep working just fine.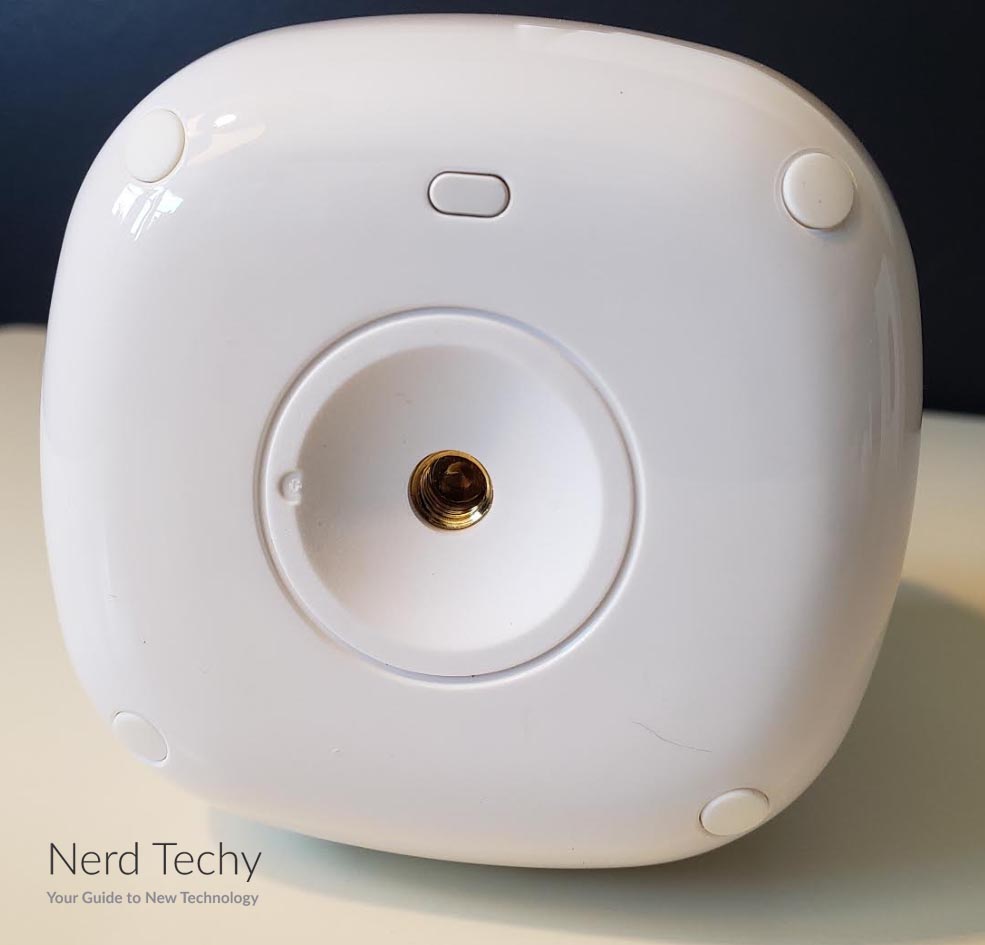 Installation is relatively easy. You get two choices of hardware, which are designed for different purposes. The first is a standard screw mount. You attach the mount to your wall, and the camera screws onto it. This provides a very secure attachment that won't come down by accident. However, it can be a pain to unmount the camera when you need to charge it.
If you want an easier time charging, it's best to use the simple, hemispherical wall mount. This mount is magnetic, so it's not quite as secure as the screw mount. That said, it makes it easy to detach the camera when you so desire. And because its hemispherical, it's easy to tilt and swivel your camera. You can angle it however you like, just by sliding it around on the mount.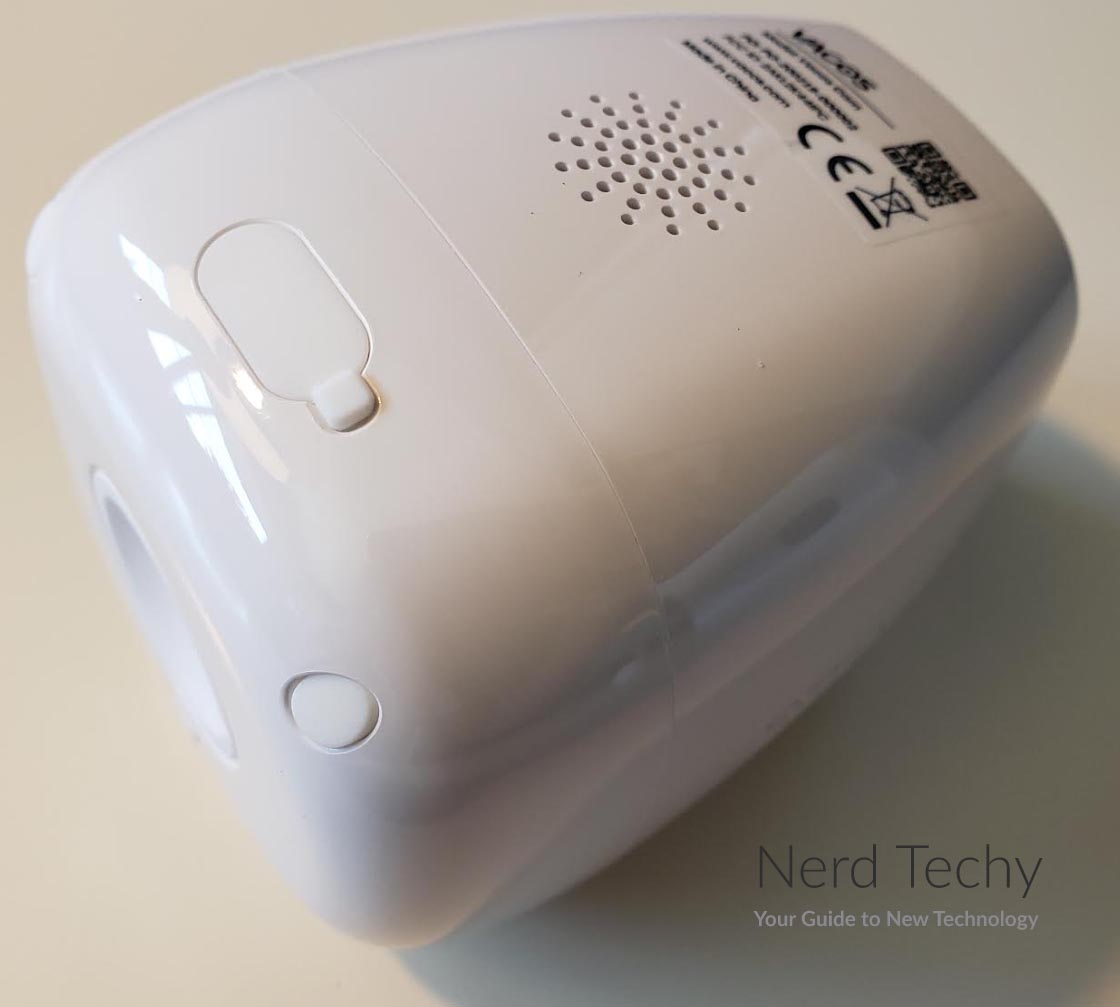 Regardless of which mount you choose, the mounting screws are included in the kit. There are four screws and four drywall anchors for easy installation. In fact, you only need three, so the fourth is more or less an emergency backup in case one breaks. This allows you to install on just about any surface. If you're installing on masonry, keep in mind that you'll need sturdier masonry anchors to get the job done. Along with all this, you get a 3.3-foot charging cable. You'll have to unmount the camera for charging in most cases, which is what makes the wall mount so useful.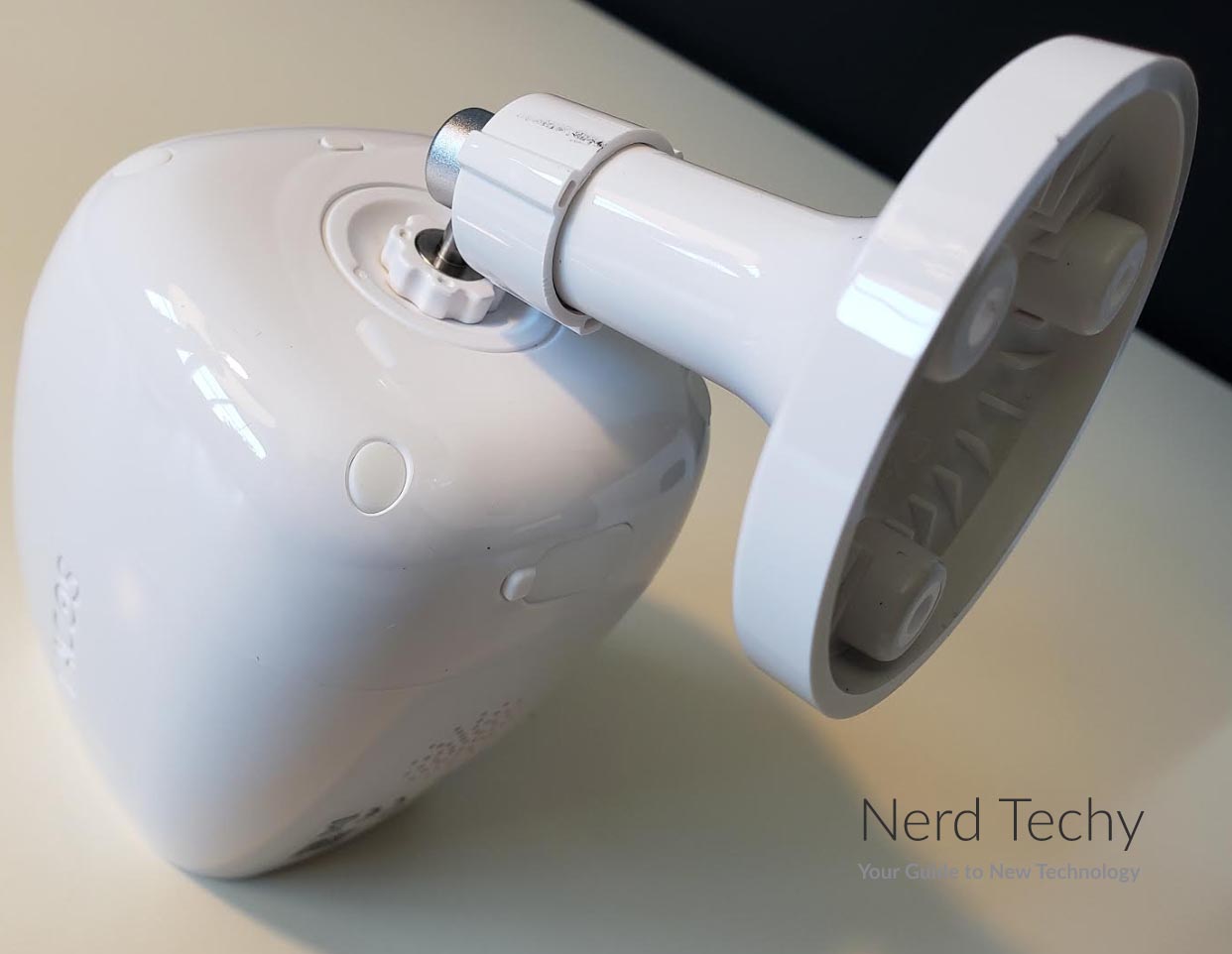 Setup
Stting up the Vacos camera is a bit convoluted. First, you need to download the "Vacos" app from the Google Play or App store. Once you do that, it'll attempt to walk you through the process of setting it up. The problem is, the instructions are confusing. The voice-prompts are in broken English and not very clear. The voice that speaks to you as you configure it for the first time is clearly Chinese. Because of this, the crucial steps must be done 100% accurately or you'll have to re-start the process from the beginning. It can be quite frustrating so we recommend having a bit of patience when going into this.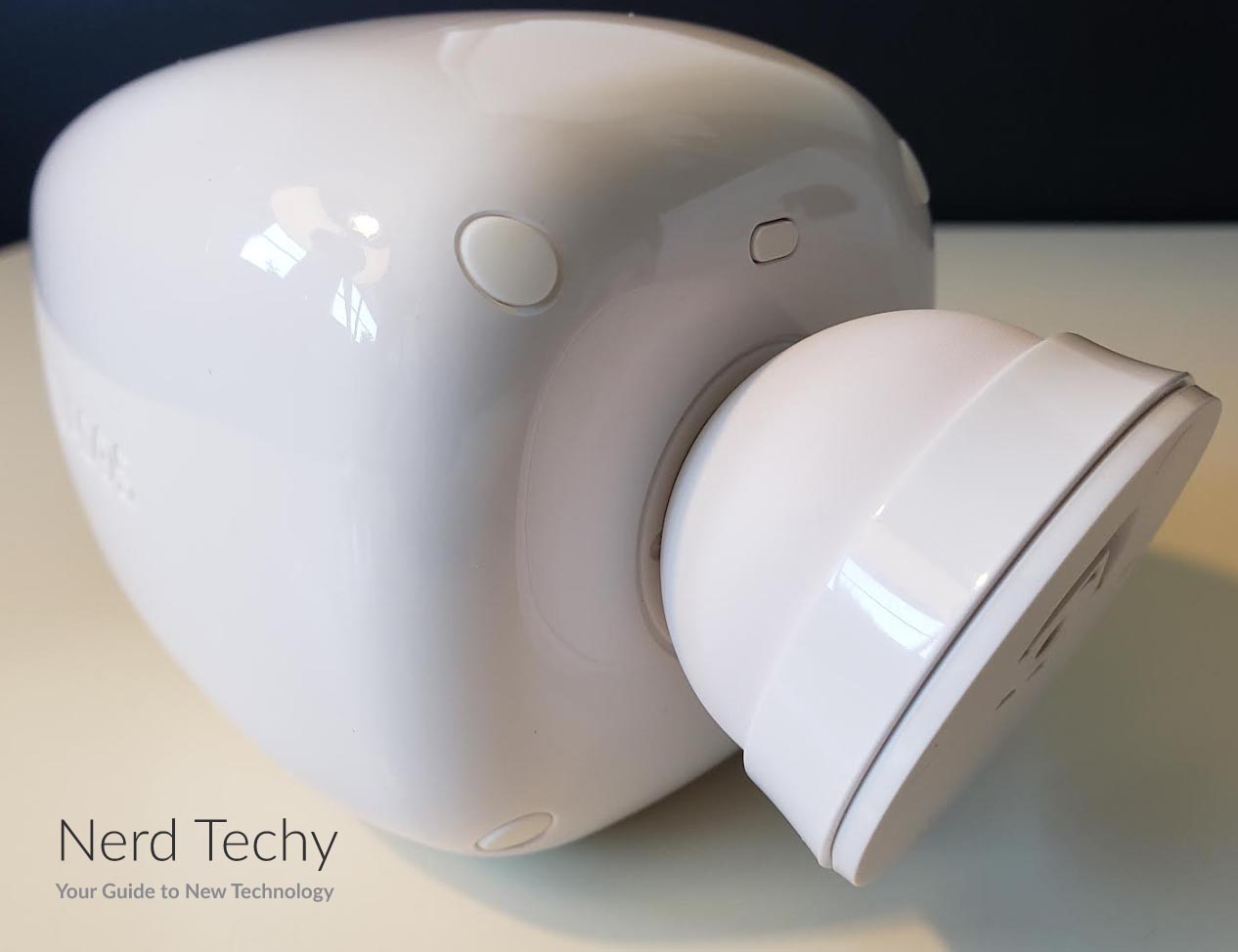 Image & Video Quality
The Vacos Wireless Home Security Camera records video in full 1080p. This is more than sufficient to make out details in most circumstances. You won't be able to read a license plate that's out in the street. But you'll be able to make out facial details on a visitor or intruder without any issues. For the majority of circumstances, that's all you really need. For still images, you get a 2 megapixel snapshot. This is simply an official rating, and it doesn't matter in most cases. In practice, the only time you'd ever have a still image is if you take a screenshot of a pre-recorded video.
The video quality seems crisp and clean, and there's no noticeable motion blur or fuzziness, unless you have network connection issues. Impressively, this remains true even at night, when many home security cameras get a bit sketchy. The LED bulbs provide full-color visibility, which is also better than most night vision cameras. No green or black and white video here. You'll be able to clearly distinguish any color on the spectrum, making this an excellent night vision camera. That said, the night vision range is only 33 feet. As a result, this isn't a "professional grade" camera. It's best used on a front porch or rear patio when this range limitation won't be a problem.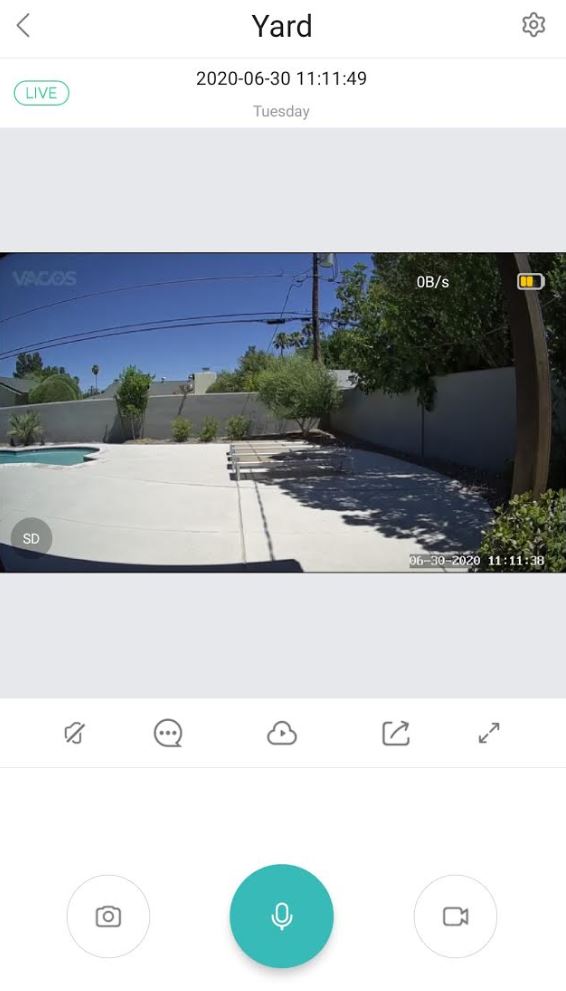 You can view live security camera footage at any time. However, there's only one kind of automated alert or recording event, and that's motion detection. The motion detector has enough range to cover the camera's entire field of view, so nothing can sneak by. More importantly, the motion detector software is designed to only trigger when it sees a human shape. This is a great feature, since many cameras will trigger due to animals or blowing branches. With the Vacos camera, the only time you'll get an alert is when there's an actual human being in the frame.
Connectivity & Storage
The Vacos Wireless Home Security Camera connects to the internet via your home's 2.4 GHz WiFi network. Strictly speaking, this isn't necessary for operation. Your camera will still activate and record even if it's not connected. But without an internet connection, you're going to be missing out on many of the most important features.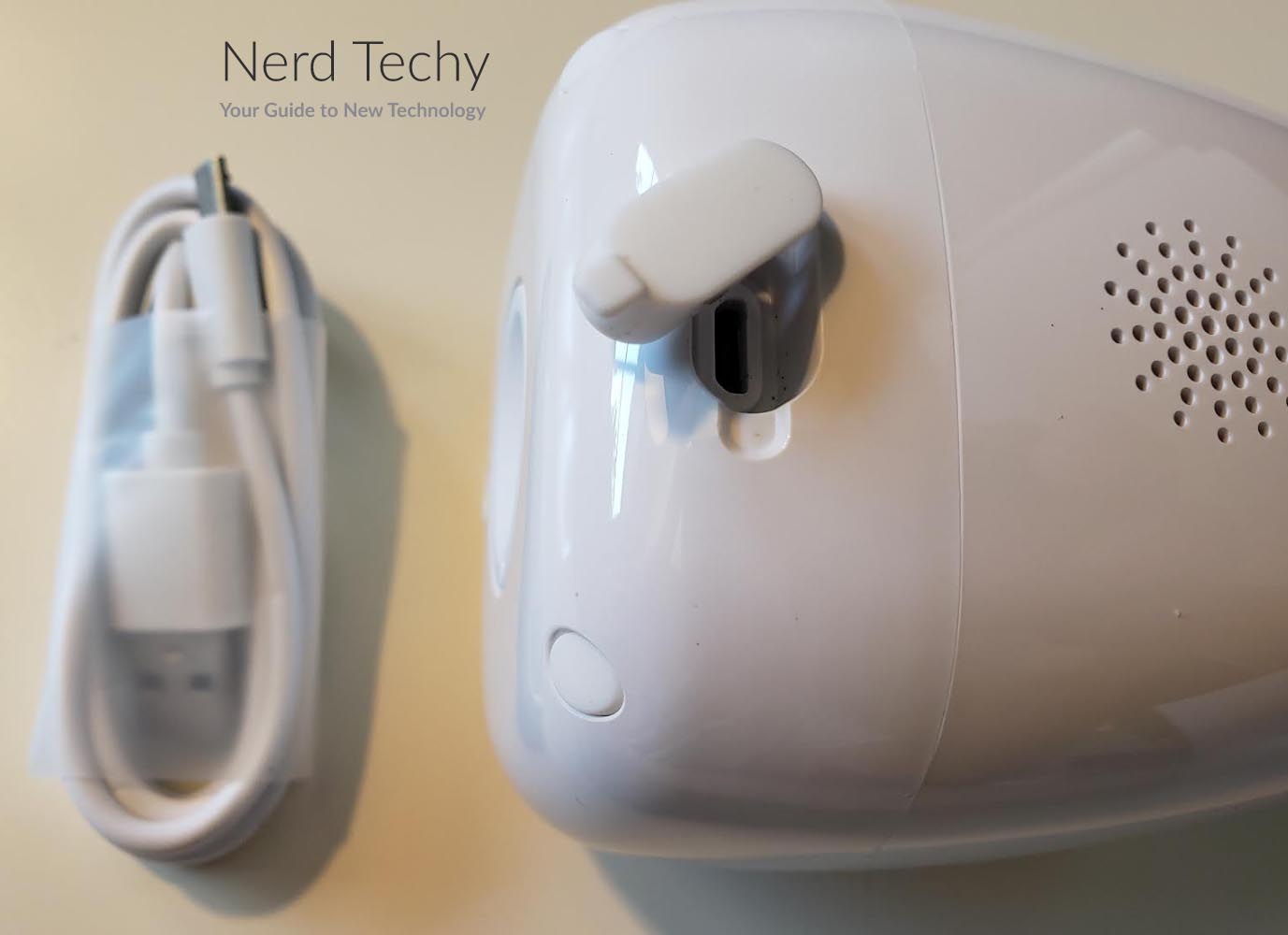 To begin with, via the Vacos app, you can monitor your camera anytime, anywhere. If you want to check in and see what's going on, this is an essential feature. Moreover, once you've paired your phone with the camera, you'll also get motion detection alerts. You can instantly peek in and see what's setting off your camera. If you spot an intruder, you can activate a bright spotlight or a siren. This feature alone can save you a lot of trouble in the event of a burglary.
You can also pair your Vacos camera with Amazon Alexa and Amazon Echo. This allows for easy voice controls, both from your phone and from your Echo device. There's nothing you can do with voice controls that you can't do with the app. But simply having the option for hands-free controls is an excellent feature.
The camera itself operates from a 6,700mAh battery which is built into the body of the unit. It can operate for up to 6 months on a single charge. On its face, this sounds impressive. But in practice, you'll use a lot more battery when the camera is actively recording. So your actual performance will vary based on how often your camera is triggered. Assuming people use your front door more than a few times a day, two weeks is more realistic. This means you'll need to actively monitor the battery level and recharge as needed.
Alternatively, you can connect your camera to the Vacos Solar Panel. This is a small, 4-watt solar panel that's specifically designed for the Vacos camera. It even comes with a 13-foot power cable, so you can position it as needed to get direct sunlight.
There are two ways of storing recorded video from the Vacos camera. The first is to use the on-board 16GB storage drive. This is enough to record several hours of video before it needs to be overwritten. That should be enough for most people under most circumstances. On the downside, there's no way to insert an SD card for additional storage, so 16GB is all you get. If you prefer cloud storage, Vacos provides a 90-day free trial to all customers. The storage is encrypted, so it's virtually impossible for anyone to hack. That said, after that period, continuing to use cloud storage requires a monthly subscription.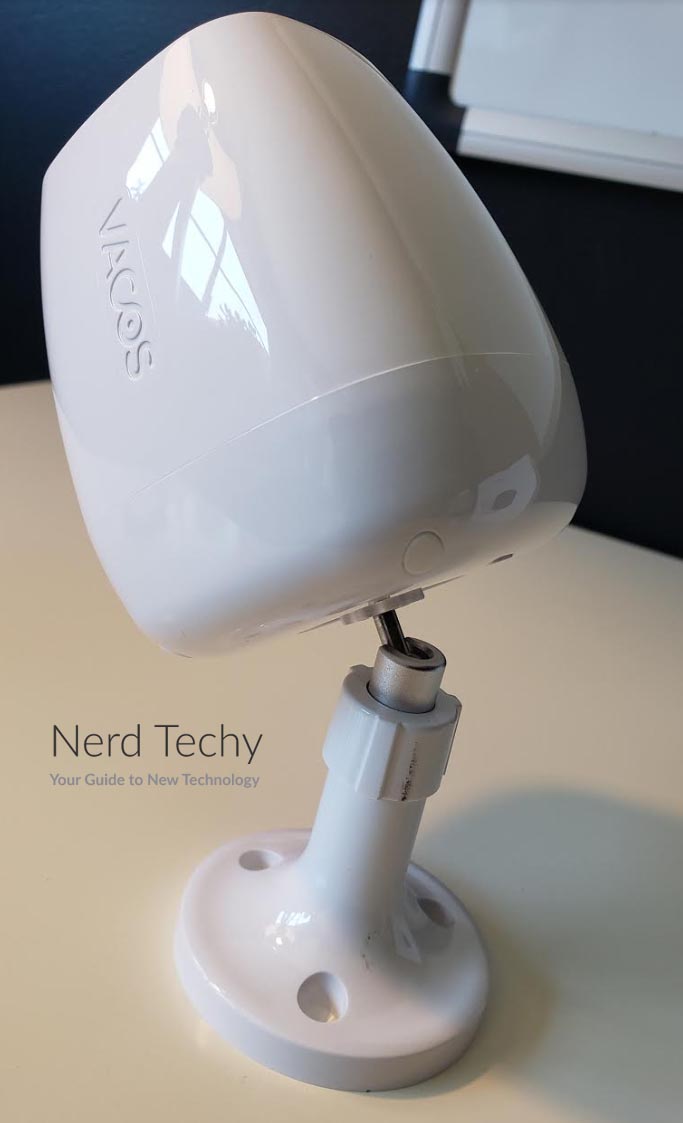 Final Verdict
As you can see, the Vacos Wireless Home Security Camera brings a lot to the table. To begin with, you get two different mounting options. Many home cameras require complex mounting and unmounting to recharge the battery. That isn't an issue here. Moreover, the ability to use an optional solar panel is a great added value. The video quality is decent, and is exceptional when you change over to night vision. A full color image, even in pitch blackness, is not something that should be discounted. The battery is long lasting if you want to go that route and not mess around with a solar panel. And the connectivity is easy and intuitive.
Setting it up for the first time can be quite confusing and problematic for some. The instructions are not very clear as the voice prompts are in broken English, which can be very frustrating.
All in all, you're looking at a decent home security camera, particularly at this price point. If you want better features, you may want to "up" your budget a bit and spend more on a well-known brand.