For the ambitious do-it-yourselfer, HVAC work represents one of the bigger challenges. Framing work is sweaty, but it's easy to see if the end results are up to snuff. Drywall and paint is messy, but it's purely cosmetic. Even in the worst case scenario, a mistake isn't going to cause any major trouble. But HVAC work, like electrical and plumbing jobs, requires a great deal of precision. But a leaky air duct can go for years without giving any outward sign of trouble. To get the job done right, you need to ensure the proper pressure differential between the vent and the room.
Needless to say, this requires special equipment. In this case, you need a manometer. These tools are used to measure air pressure. This, in turn, will help you maintain your system at peak efficiency. To help you sort out the wheat from the chaff, we've reviewed three of the best manometers available. We'll give you a complete overview of their features, capabilities, and extras.
If you're performing HVAC work, sometimes you need to get a good look at what's going on inside your vents. This can help you identify leaks, blockages, and other problems. In that case, an endoscope can help sort you out. These tools have a camera on the end of a gooseneck, that can reach around corners and into small spaces. They're also useful for plumbing and automotive jobs.
Why Use a Manometer?
A major source of inefficiency in HVAC systems is an over-stressed fan. If a fan is pulling against too much pressure, it's going to waste energy. But without the right pressure, you can face even more serious problems. With too much pressure difference between the inside and outside of the ducts, there will be too much resistance. In turn, this means the air isn't going to circulate efficiently. If the difference in pressure is too great for the fan, your problems can get even worse. In extreme cases, air may not even circulate all the way to the furthest ducts. This means the furthest rooms of your house will be too hot or too cold respectively.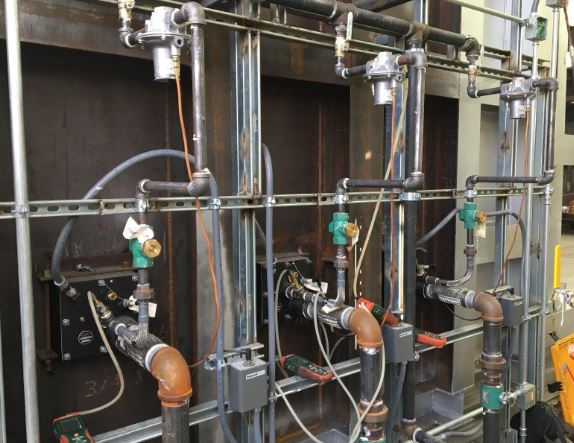 To avoid this issue, you need to measure the static pressure inside your air ducts. This pressure is the resistance your fan will need to push or pull against to effectively move air. The higher the pressure, the more powerful of a fan you're going to need. Of course, there are other ways to reduce static pressure. The easiest way is to change your air filters. Dirty filters add extra resistance, preventing efficient operation. In extreme cases, you may need to add or remove ducts along a certain line. This can relieve pressure by providing additional outlets. However, it can also reduce efficiency, since you'll be pushing the same amount of air to more ducts.
A manometer can assist with this in two ways. First, it can tell you the absolute pressure within your lines. This lets you know how much resistance your fan will be up against. But differential pressure, or the difference between air inside and outside the vents, is also important. High pressure inside the vents is less of an obstacle if the pressure outside is also high. Either way, a manometer is a great way to improve your system's efficiency.
How do Manometers Work?
There are two main types of manometer: analog and digital. While we'll be focusing on digital manometers today, it's good to understand how both varieties work. So before we begin, here's a quick overview of how these tools actually measure air pressure.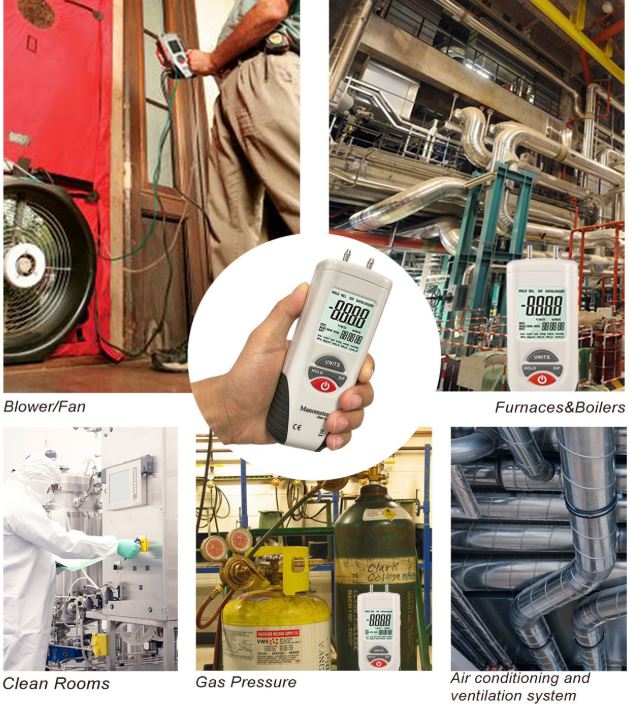 Analog Manometers
Analog manometers work by containing fluid within a U-shaped tube. They work on a very basic principle called hydrostatic balance. When there's no difference in pressure between the ends of the tube, the fluid will settle in the middle. If the pressure on one side is higher than the pressure in the other side, the fluid will shift. By measuring the distance that the fluid shifts, an analog manometer can determine the air pressure. Some of these manometers have an inclined tube, which sits at a shallow angle. Because the fluid won't shift as much in this configuration, these inclined manometers are much more sensitive. Both these types of analog manometers measure differential pressure between the two ends of the tube.
To measure absolute pressure, a different type of analog manometer is required. Appropriately called "absolute manometers", these tools have a similar design to U-shaped manometers. However, one leg of the tube is sealed, with mercury inside. Since mercury can compress and decompress, much like in a mercury thermometer, this allows for easy measurement. Based on the pressure outside the tube, the mercury will rise and fall accordingly. This is similar to an old-fashioned analog barometer, but much more sensitive.
Digital Manometers
Digital manometers don't require any fluid for operation. Instead, they use a component called a pressure transducer. This component produces an electrical signal as long as the unit is powered on. Depending on the air pressure, the signal will change. An on-board computer then converts this signal into an actual measurement. Depending on how well-engineered the electronics are, these manometers may be more or less sensitive. However, since they don't rely on mechanical parts, the same machine can be used to read different types of pressure. Rather than carrying different tools to measure absolute and differential pressure, an electrical manometer can generally perform multiple tasks.
In addition, digital manometers have several other advantages over analog manometers. They're smaller and lighter, which makes them more portable. They're also less delicate, since they don't rely on glass tubes. And you don't have to worry about toxic chemicals like mercury, which can spill if an analog manometer is damaged. In addition, they're easier to read. Rather than trying to read small lines on a tiny tube, you can read an LCD display. Finally, they're easier to calibrate. Rather than dealing with the amount of fluid in a tube, all you have to do is change software settings.
Of course, even the most well-insulated HVAC system isn't going to be efficient without a good thermostat. A smart thermostat can help you save energy, by regulating the temperature whether you're home or away. And the Ecobee4 is one of the best on the market. It's Alexa-enabled, so you can use voice controls to operate it from anywhere.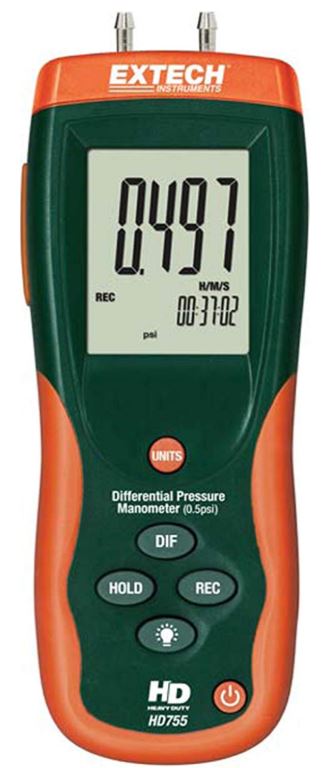 Extech HD755
The Extech HD755 is a handheld manometer with a high-visibility orange-on-green case. The main part of the case is green ABS plastic, which is both rigid and sturdy. This portion of the case is double-molded, making it tougher than most similar ABS devices. The orange portion is rubberized, providing for a comfortable, secure grip. It measures 8.2 inches long, 2.9 inches wide, and 1.9 inches thick. At 9.9 ounces, it's fairly light for the size, but it's still durable enough for everyday use. It has a corded design. On the one hand, you'll need to be near a power outlet. On the other hand, you won't need to worry about a dead battery putting you out of commission.
There are five different buttons on the front, which allow for easy operation. The top orange button allows you to switch between different units of measurement. Underneath, three other buttons are used for everyday operation. The last button operates a backlight for the LCD display, which makes it easy to read in the dark. The bottom of the case houses the plug for the AC adapter, as well as a USB port. You also receive a hard carrying case, as well as a hose for probing hard-to-reach areas.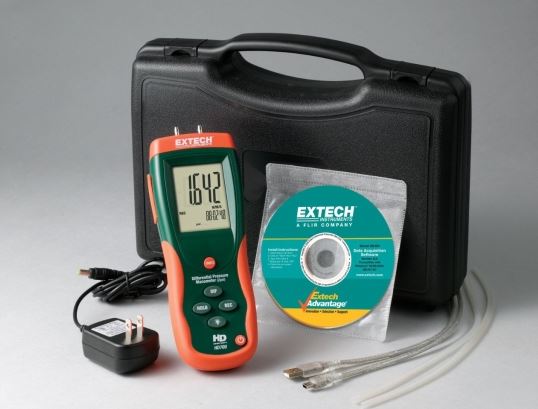 Performance and Functionality
The Extech HD755 is a differential pressure manometer, meaning it measures the difference in pressure between two areas. It has a range of +/- 0.5 PSI, which is a fairly wide range. If you're reading more than 0.5 PSI, you're either experiencing an error or you're working on the International Space Station. There are eleven different possible measurements, including PSI, mm/Hg, inches of water, and other options that are more suitable for HVAC professionals.
This manometer allows you to measure pressure differentials over time. When used in this way, it will show the maximum, minimum, and average differentials, along with time stamps. The HD755 includes Windows software, which can help you keep track of all your results. And the entire unit is ISO 9001:2000 certified. This means it's acceptable for industrial and commercial use.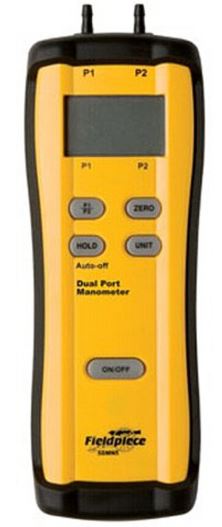 Fieldpiece SDMN5 Dual-Port Manometer
The Fieldpiece SDMN5 is a rugged manometer that's designed to stand up to the rigors of a jobsite. The tough plastic frame is high-visibility yellow, encased in a black rubber boot. It measures 7.2 inches long, 2.5 inches wide, and a slim 1.2 inches in thickness. This is fairly compact, but the boot makes it easy to grip. The five control buttons are easy to operate, with a soft, easy touch. Hands-free operation is easy. There's a magnet on the back of the unit for mounting it to the side of a duct.
The top four buttons switch between units, zero out the measure, and switch between different modes. The bottom is a simple on/off button. There's no power port, but it isn't needed; the SDMN5 runs on a 9-volt battery. And it has an auto shutoff feature to keep it from running dead in your toolbox.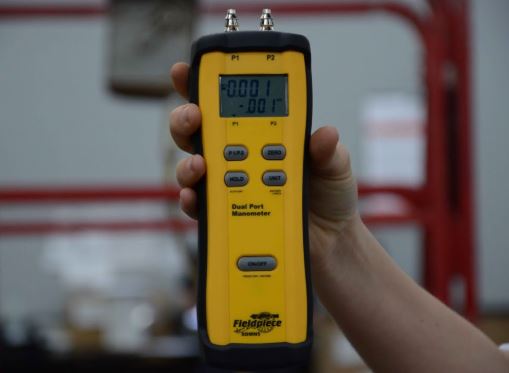 Performance and Functionality
The SDMN5 can be used for differential measurements, as well as for measuring absolute pressure. The zero button allows you to reset the unit quickly and easily. This way, you can perform multiple measurements as quickly as possible. In terms of measurement units, you can switch between inches of water, millibars, and PSI. The resolution is 0.01 inches of water or 0.01 millibars respectively. This is a far finer measurement than you'll need for almost any purpose. And the LCD display is easy to read. It doesn't just display the pressure differential. It displays the absolute pressure of both sides of the unit. This makes it suitable for a variety of purposes, above and beyond HVAC installation.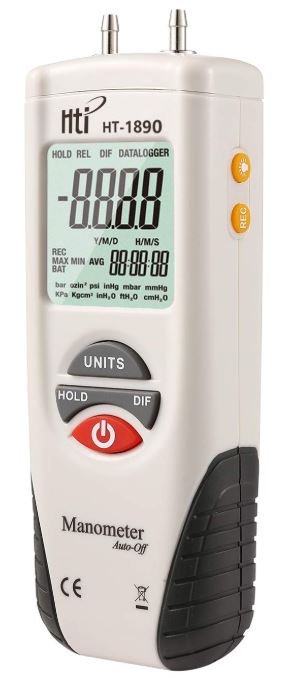 Hti-Xintai Digital Manometer
The Hti-Xintai is a compact digital manometer that's literally pocket-sized. It's only 5.8 inches long, 2.2 inches wide, and 1.3 inches thick. And at 4.3 ounces, it weighs about the same as a burger patty. The shell is grey ABS plastic, with ribbed rubber bumpers at the base for an easy grip. Four buttons on the face of the unit allow you to switch between absolute and differential pressure. They also include an on/off button, as well as a button that switches between 11 units of measurement. A pair of buttons on the side allow you to save measurements and turn the LCD backlight on and off.
The 9-volt battery supplies power without the need for an AC cord. And there's a power-saving feature that will shut the unit off after 20 minutes of inactivity. The Hti-Xintai also includes a soft carrying case, which will protect your unit when it's not in use.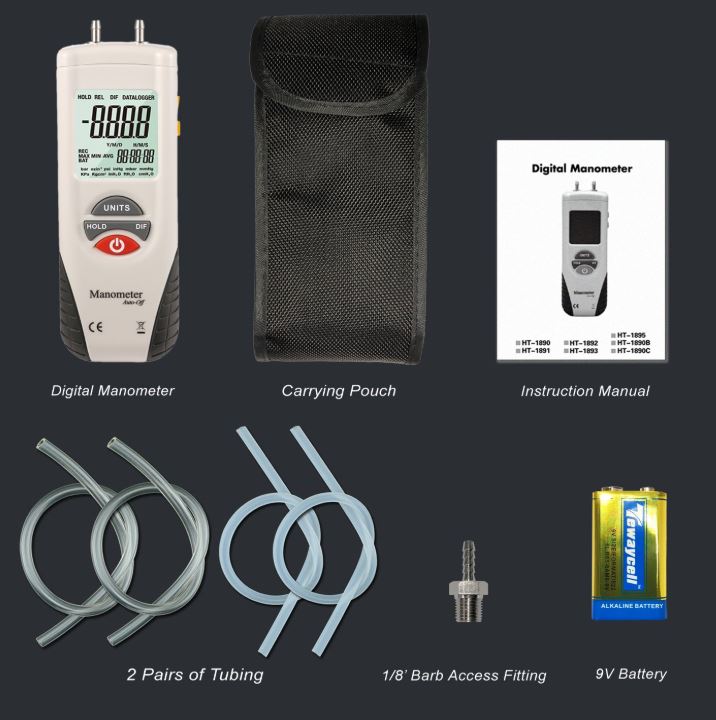 Performance and Functionality
The Hti-Xintai manometer uses 11 different units, including bars, millibars, PSI, mm/Hg, and inches of water. It even uses obscure measurements, like inches of mercury. The differential pressure can measure up to +/- 2 PSI, which is suitable for industrial applications as well as HVAC. The resolution is also very high, with a sensitivity of 0.001 PSI.
Final Verdict
As you can see, there's a lot to like about each of these manometers. But each of them is best suited for a different purpose. The Extech HD755 is the toughest and roughest of the bunch. If you're looking for a manometer to throw in your toolbox, it will handle the beating. It also offers reasonably good resolution.
The Fieldpiece SDMN5 is the easiest to use. It has a magnetic back that can be used to keep it out of the way. It also offers a fine resolution for performing more challenging tasks. And for the best value, consider the Xti-Xintai. It's not as rugged as the others, but it offers a fine resolution at a very reasonable price.
Meet Derek, "TechGuru," a 34-year-old technology enthusiast with a deep passion for tech innovations. With extensive experience, he specializes in gaming hardware and software, and has expertise in gadgets, custom PCs, and audio.
Besides writing about tech and reviewing new products, Derek enjoys traveling, hiking, and photography. Committed to keeping up with the latest industry trends, he aims to guide readers in making informed tech decisions.