One of the most frustrating parts of being a homeowner is dealing with repairs. Ever found yourself stuck with a drain that's clogged? Discovered that some animal is making a nest in the rafters? When we're trying to see what's going on in a tight spot, we often catch ourselves wishing that we had x-ray vision. While x-ray technology is still a little out of reach for most consumers, we've got the next best thing: endoscopes. An endoscope is a tiny camera attached to the end of a long hose. These hoses are flexible, and can be fed into places that we'd never be able to reach. We can shove them into pipes, snake then around corners and elbows, or reach through cracks that our hands would never fit through.
Although endoscopes have been on the market for a long time, a new breed has just been released dubbed "smart" WiFi endoscopes. These devices can sync up with our cellphones or tablets and give us a real time video feed of what's going on at the other end of the tube. With many different models on the market, the possibilities are virtually endless. Let's take a look at the three best smart WiFi endoscopes on the market. We'll go over the features, explaining what they mean for you. After, we'll explore some real-world usage scenarios and help you find the one that best suits your needs.
Potensic WiFi Endoscope
Browsing through the products that Potensic offers, you'll be surprised to see the huge range of niches that they attempt to fill. Potensic has all kinds of tools ranging from automotive electronics to measurement gear to home theater products. While it may not seem like it at first, you'll soon realize that there is one thing these products all have in common. They take commonly used products and uses the latest technologies to make it better. Their handheld inspection camera is the latest entrant to the smart endoscope market, so we had to take a look and see what it's got to offer.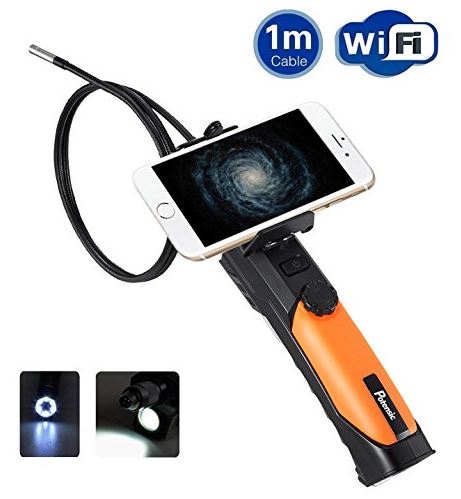 Functionality
The Potensic WiFi Endoscope has been designed from the ground up to help you reach those hard to get spaces. The core of this functionality stems from its 3-meter stem or "snake." Basically, it's a long hose that is flexible, but rigid enough to hold its shape. If you're trying to get around a tight corner, you can pre-bend it and gently feed it where it needs to go. But if you're sending it down a pipe or somewhere that you can't pre-bend, all it takes is a little pressure and the hose will bend as needed. In our tests, we were able to get it easily around two alternate elbows. The length is a huge benefit, but if you're trying to go through more than two bends you might have a little difficulty.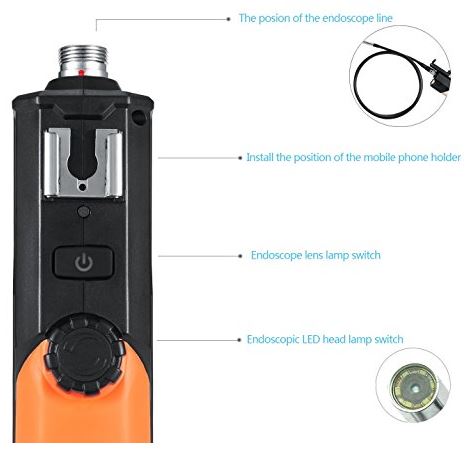 The endoscope is about 8.5mm in diameter, so it's compact enough to fit in most places. On the handle you've got a knob that controls the brightness of the built in LED flashlight, and a trigger that snaps a picture direct to your phone.
Connectivity
There is no display on this endoscope, so the video has to be transmitted to a mobile device. It supports both IOS and Android, and you can access the video feed through their free application. Video is transmitted using a WiFi direct connection. This means that it's not going through your router, just connecting directly from the endoscope to your phone. This is extremely handy when you're out of range of your wireless network, or away from home. Thanks to the included app, there is no setup necessary from your end. Just open the app, make sure the endoscope is turned on, and wait a few moments for it to connect. As long as you stay within range of the endoscope (anywhere in the same room is fine) you're able to stream high definition video with virtually no loss.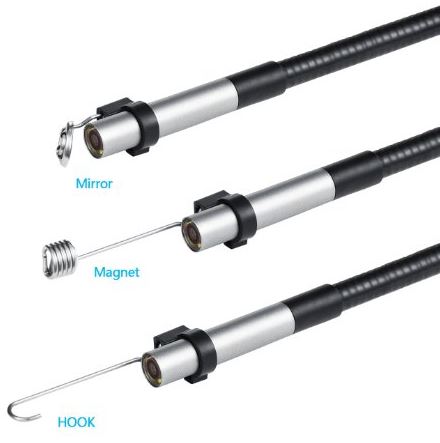 Video Quality
At the very tip of the endoscope is a high end 720p image sensor. It's capable of capturing video at 30 frames per second. We found that the video looks very sharp. It's at least as good as something you'd get from a mid to high end cellphone. The details are crisp and sharp, so you're able to see every tiny little thing in the frame. When compared to a typical video, you'll notice that the color is a little more muted and the contrast is slightly lower. For the purpose, this is actually a huge improvement. We aren't looking to make artistic video, here. What we want is something that shows us everything in the frame clearly, and this image sensor does a great job of that.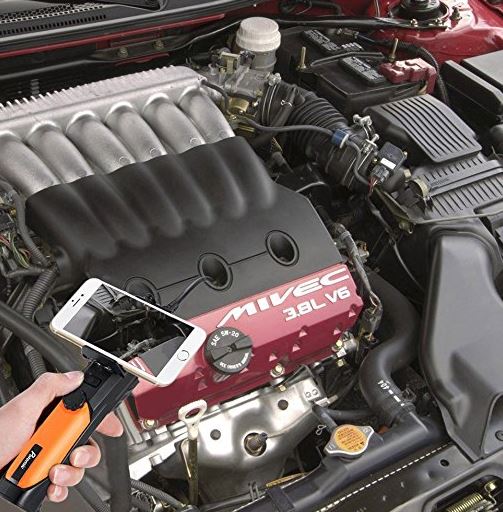 The one flaw we found is that the camera doesn't do all that well in dark light. To compensate for this issue, they've included a bright LED flash light. You can adjust the brightness by turning the knob located on the handle, allowing you to get the exact exposure you need.
BlueFire Wireless Endoscope
BlueFire made a name for themselves creating lighting gear, audio equipment, and custom video technology. Their wireless endoscope is a combination of the three technologies they've perfected over the years, giving it a few advantages over competing models.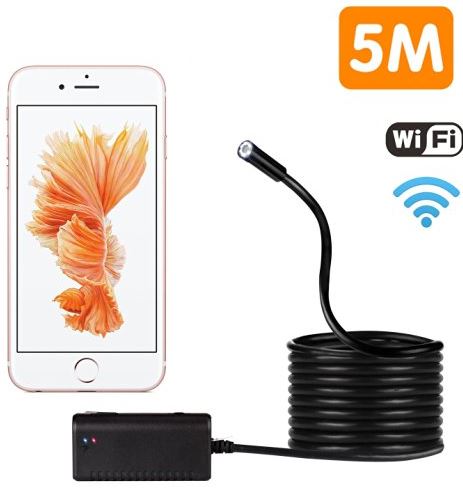 Functionality
Instead of a small handheld unit, the BlueFire Wireless Endoscope is designed to be used separately from your phone. Putting a little distance between the transmitter and your phone allows you to access hard to reach areas more easily, so there is no need to strain on your hands and knees just to watch the video feed. But it's not just easier to get into awkward places, but there are also more places it can go. This particular model is especially suited for plumbing issues, since it's completely water proof. The endoscope is one of the larger models on the market, with a total length of 10 meters. The rubberized hose is much more flexible than some models. This makes it easier to use in pipes, but it's not very suitable for pre-bending.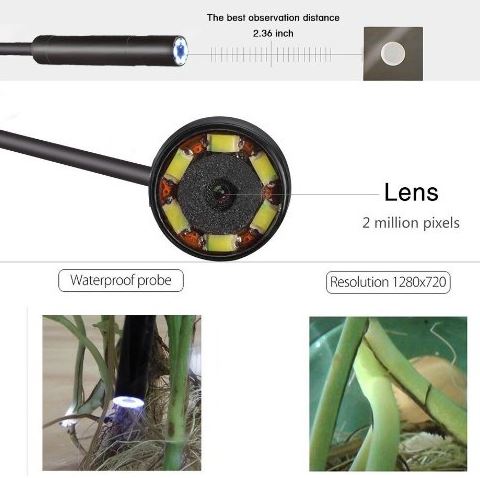 Connectivity
This endoscope also takes advantage of WiFi direct technology, although it can also piggyback on existing networks if you're trying to use it from a distance. Because of this extra feature, there is an extra step required to get it running. When you first begin setting it up, you'll need to download the free app called "WiFi View."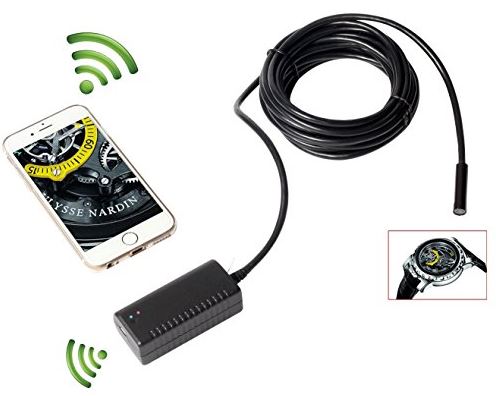 Upon first load, it will ask you to scan a QR code. All you'll have to do is use your phones camera to view the sticker on the base of the endoscope, and everything will be up and running in a few moments. This app does require iOS version 8.0 or above, on any phone or tablet with the exception of the iPhone 4 and 4s. It can also be used with Android devices, provided you've got Android 4.0 or higher.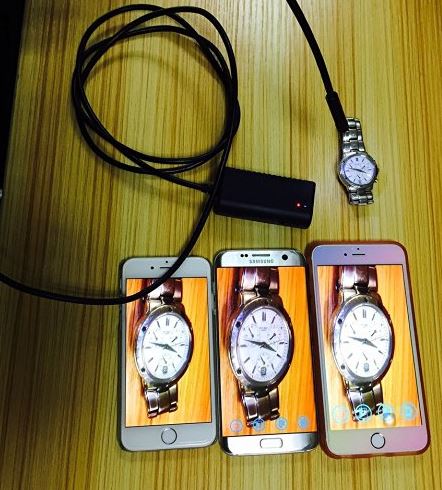 Video Quality
The camera is capable of taking crystal clear 720p video. If you've just live streaming, you'll definitely want to use the uncompressed video stream. This gives you the most detail possible, and is one of the best pictures we've seen from a wireless endoscope. Although it's not adjustable, the built-in LED light does a great job of illuminating the frame, and the powerful image sensor does a great job of showing clear video, even in low light conditions. The only disadvantage to high quality video is the file size. If you're going to be saving the video to be watched at a later date, you can reduce the file size by saving it in 480p.
RioRoo WiFi Endoscope
RioRoo isn't one of the most popular endoscope manufacturers, but they do make a wide range of affordable products to suit a wide range of budgets. If you're looking for an easy way to get an endoscope for those odd times you need it, this is a great option.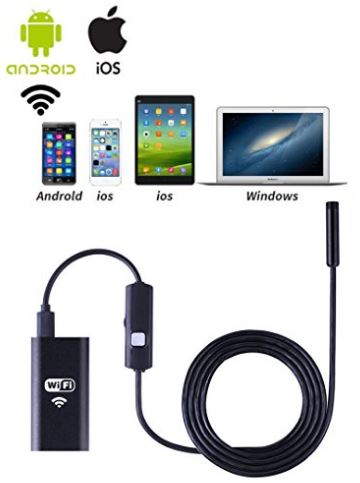 Functionality
The RioRoo WiFi Endoscope is simple in design, but still has a ton of great functionality. Its rubbery hose is extremely flexible, and easy to feed through multiple bends and turns.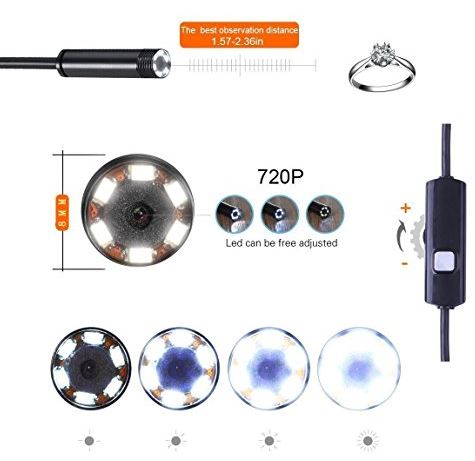 It's not just waterproof, but has completed the IP67 rating. This means that it can be fully submerged in water for extended periods of time. This isn't the only waterproof endoscope you can buy, but it's one of the few that is fully certified for use in humid environments. If you're going to be regularly using an endoscope, this is likely the one you'll want to choose.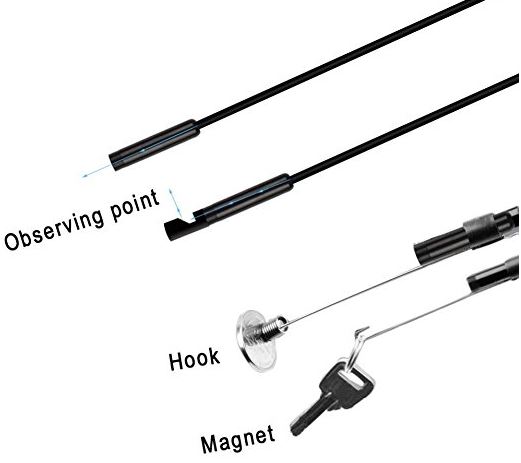 Connectivity
Like many other cameras on the market, this one uses WiFi direct. The antennas are a little more powerful in this model, giving it a range of 5 to 30 meters. This is the distance from the base station to your phone, not from the tip of the endoscope. Like the previous model we looked at, this one is also compatible with the WiFi View app, so the setup procedure only requires that you scan a quick QR code. The WiFi View app is compatible with any Android device starting with 4.0 and up, or iOS devices from IOS 8.0 and up.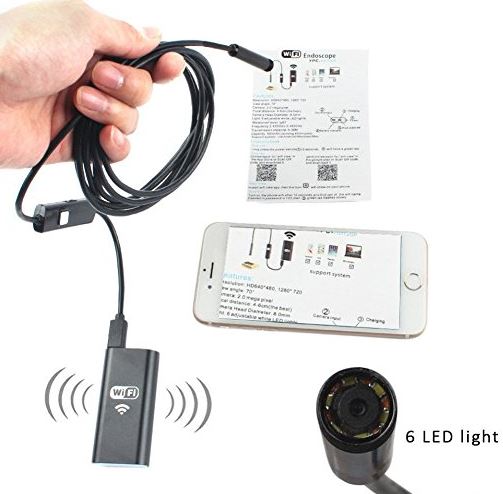 Video Quality
The 5M cable feeds a two-megapixel camera giving you a total resolution of 720p. This is another one of the image sensors that doesn't do super well in low light, but the 9 included LEDs can be turned on with the touch of a button, illuminating your immediate surroundings.
Which WiFi Smart Endoscope is Right for Me?
All three of these are great endoscopes for casual use, but some have additional features that might be useful for some purposes. If you're a professional plumber, HVAC technician, mechanic, or any technician who could make use of this technology on a daily basis, your best option is the BlueFire Wireless Endoscope. It's got a nice long scope, excellent transmission power, and supports custom resolutions in case you need to save the video.
If you're going to be using your endoscope regularly in liquid, you'll appreciate the fact that the RioRoo Endoscope is fully rated for work in a submerged environment.
In dry areas, you might want an endoscope that you can pre-bend to fit around those tight corners. The Potensic WiFi Endoscope has a much more rigid scope, making it easier to use above ground.
No matter which you choose, one handy accessory that everyone should consider is the Supereyes Borescope Side View Mirror Set. Endoscopes are designed to look straight ahead. Sometimes, you might want to exam something in either direction. Since you can't exactly rotate the camera once it's in place, putting one of these inexpensive mirrors on the end to help you see the problem from another direction.