If you want to become a gaming streamer, you're not alone. As of April, 2021, Twitch alone hosted over 9 million active accounts. And that's not counting the people streaming on YouTube and other platforms. It shouldn't be surprising that streaming is more popular than ever. For one thing, the pandemic has certainly been a factor. More people stuck at home meant more people playing video games, which meant more streamers. But even with things starting to get back to normal, streaming continues to grow. Why is that?
It's certainly not the money. Sure, top streamers can score some sweet sponsorship deals. But for the most part, people streaming on Twitch aren't making any money. They're doing it because they already love gaming, and they get to share that enjoyment with others. Gaming has always been a social activity, ever since the first friends played their Atari together. Now, you're interacting digitally instead of physical.
That said, with this many streamers, it can be tough to stand out. And while there's no surefire recipe for a viral channel, there are a few basics you need to get right. First, you need to be engaging and fun to watch. Second, you need to have an interesting twist. You can focus on one game, or focus on exploits, or focus on speedruns, but have some unique appeal. Finally, you need to have a high-quality stream. This means using the right camera, lighting, and capture equipment. Here are some of the best supplies to get started with streaming on the PlayStation 5.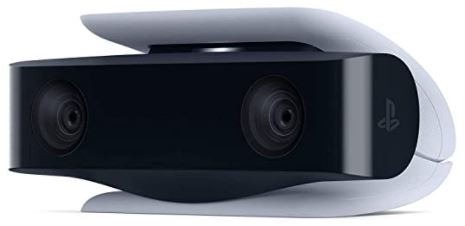 PlayStation HD Camera
Sometimes, the best choice is the default option, and that's the case here. The PlayStation HD Camera is Sony's official camera, and it's optimized to work with the PS5. Console gamers will appreciate the dual wide-angle lenses, which cover a wider area than a simple webcam. This gives your broadcast a more cinematic feel. And since the camera is 1080p, you don't have to worry about looking grainy on modern displays. If you're doing a picture-in-picture, which most people do, you'll look great even on a 4K screen.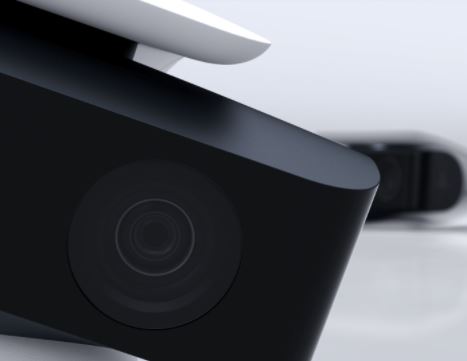 The camera itself is a wide, black, rectangular unit that houses the lenses at both ends. The main housing is sandwiched between a pair of white plastic clamps. These can both be opened to mount the camera on either the top or the bottom of a monitor. As a result, it's easy to get exactly the right angle for your setup. Because the clamps are curved, you can even adjust the angle within certain limits.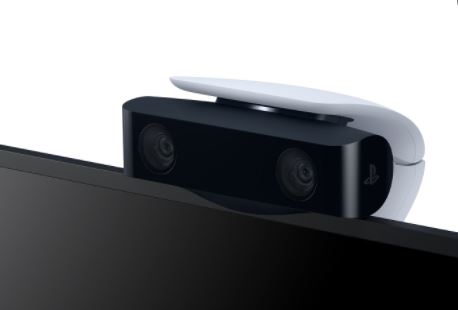 Because this is the official PlayStation 5 camera, it works seamlessly with the PS5's video features. These include the background removal tools, picture-in-picture mode, and green screen mode. All of this works seamlessly, without the need to fiddle around with your settings. You don't have to be an A/V expert to get near-perfect performance.
That said, there are a couple of things we should point out. First, this is a streaming camera, not a motion detection camera. If you're trying to play Just Dance or another motion detection game, it's not going to work. Secondly, unlike the official PS4 camera, there's no internal mic. This might be disappointing, since you'll need a headset or a condenser mic. But the fact is that the streaming landscape has changed a lot since the PS4 came out. Back then, people expected shoddy webcam audio. Now, audiences expect something a little more polished. In other words, even if the PS5 camera had a mic, you wouldn't want to use it.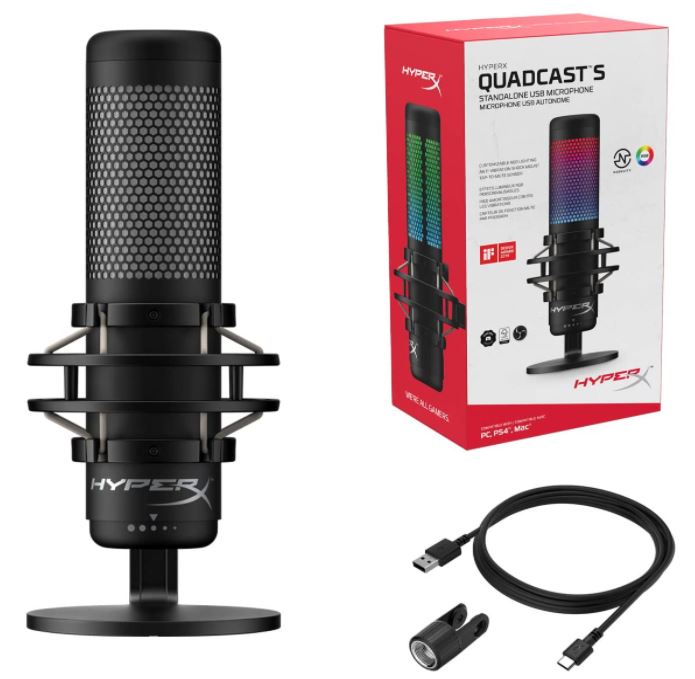 HyperX QuadCast S
HyperX is a well-known manufacturer of gaming accessories, with an emphasis on top-tier audio. Their Cloud Stinger Core headset is a great budget option, and their offerings only get better from their. The QuadCast S is designed to deliver professional-quality audio at a price that won't break the bank. It's a USB condenser microphone, so it's not just compatible with the PS5. In fact, you can plug it into a PS4, Mac, or PC, and it will work equally well on that machine. So if you're a cross-platform streamer, you won't need to invest in multiple microphones.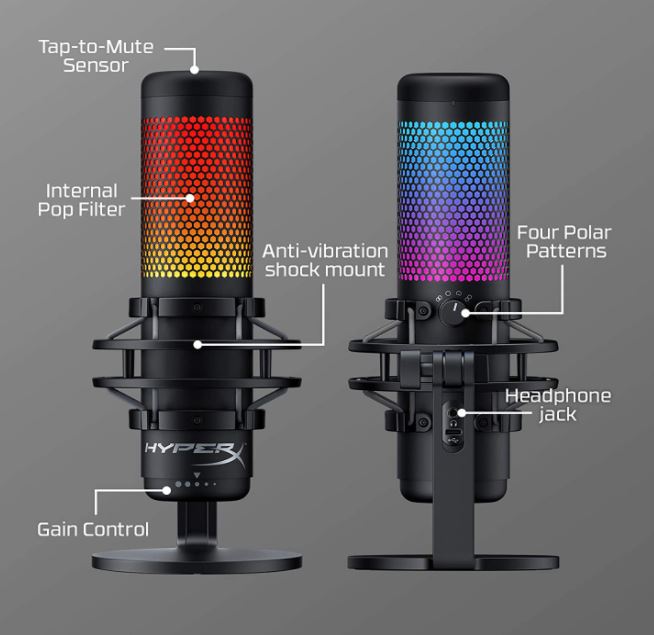 There are also a couple of other things you won't have to invest in; the first is a shock mount. The QuadCast S comes with a mount, and includes both 3/8- and 5/8-inch attachments. As a result, it can be mounted on any standard mic stand, boom arm, or tripod. The other thing you won't have to buy is a pop filter. The microphone has an internal filter that works surprisingly well. You won't have to deal with a bunch of plosives messing up your audio.
In fact, the internal filter serves as a crucial aesthetic element as well as being functional. It forms a black honeycomb pattern over an internal RGB-lit cylinder, which creates a cool visual effect. Normally, we don't wax poetic about the look of a microphone. But in this case, the mic is going to be on camera. So RGB lighting isn't just a gimmick, it's actually going to make your stream better! Not only that, but you can use the included HyperX Ngenuity software to customize your lighting scheme.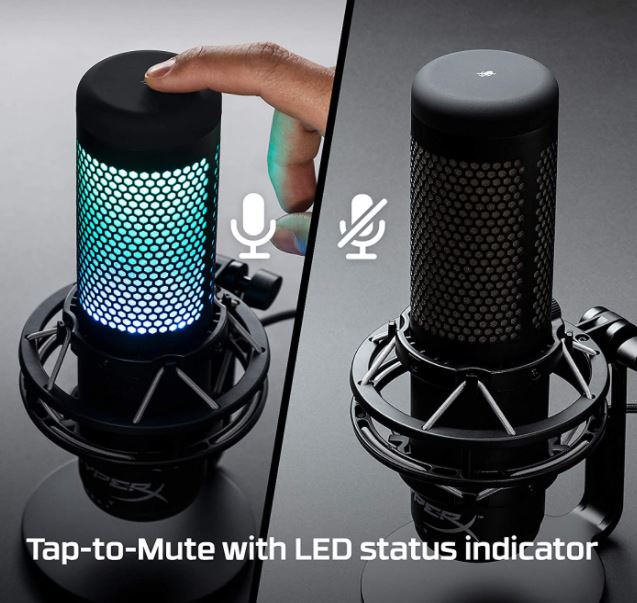 HyperX makes a big deal about the QuadCast S' four cardioid pattern options. Here's the thing. Every cardioid mic manufacturer spends a ton of time talking about how special their cardioid pattern is. But unless you're treating an enclosed sound booth, it really doesn't matter. No matter what pattern you choose, you're still recording the same way – with your mouth close to the mic.
Far more important are the extra control options on the QuadCast S. Because it's built for streaming, it has a couple of features most cardioid mics don't. The first is a built-in volume dial, located on the bottom of the mic housing. The second is a mute button. If you need to have a quick, real-world conversation, your audience doesn't have to hear it.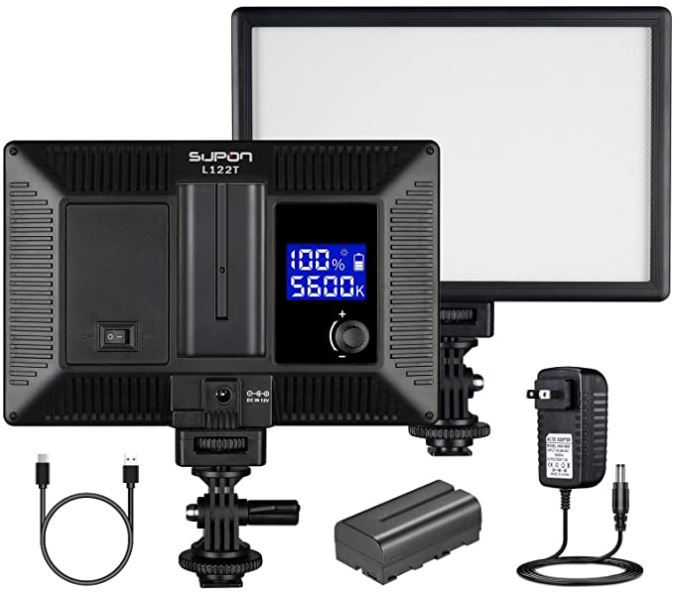 SUPON L122T Ultra-Thin LED Video Light Panel
The SUPON L122T Ultra-Thin LED Video Light Panel is a compact studio light designed for streamers. It's a flat plastic panel that measures 7.56 inches wide, 5.1 inches high, and less than an inch thick. The front looks like a flat screen monitor, but it's much brighter. The maximum brightness will usually be a bit much, but that's not a problem. It can be reduced as low as 20 percent, and raised higher as needed. The brightness is controlled by a knob on the back, along with an LCD display.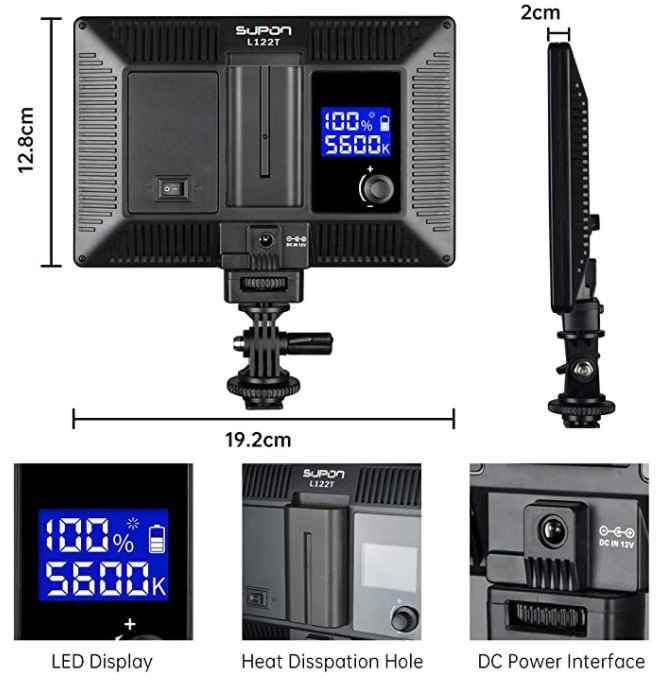 Along with the brightness, you can also adjust the color temperature. You can choose a cool 5600K, a soft 4500K, or a reddish 3300K, depending on your needs. You can even set up two lights with different settings to provide a main light and a spot. The panel base sports a ¼-inch hole, so it will mount on most light stands and tripods. This same attachment will also mount seamlessly on Nikon and Sony cameras if you're using one of those. It mounts on a pivoting joint, which can be swiveled 90 degrees to provide the right angle.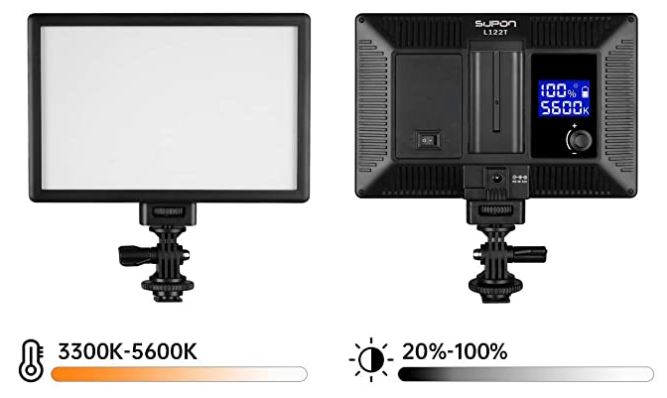 There are two ways of powering this light panel. The first is to use the included AC adapter. This is a standard, barrel-style adapter with a block that plugs into your wall outlet. This is going to be your best option for permanent or semi-permanent installation. That said, if you need to run on a battery, you can. The kit includes an NP-F550 battery, which carries enough charge for 90 minutes of operation at full power. These batteries are used on multiple SUPON products, and replacements are readily available.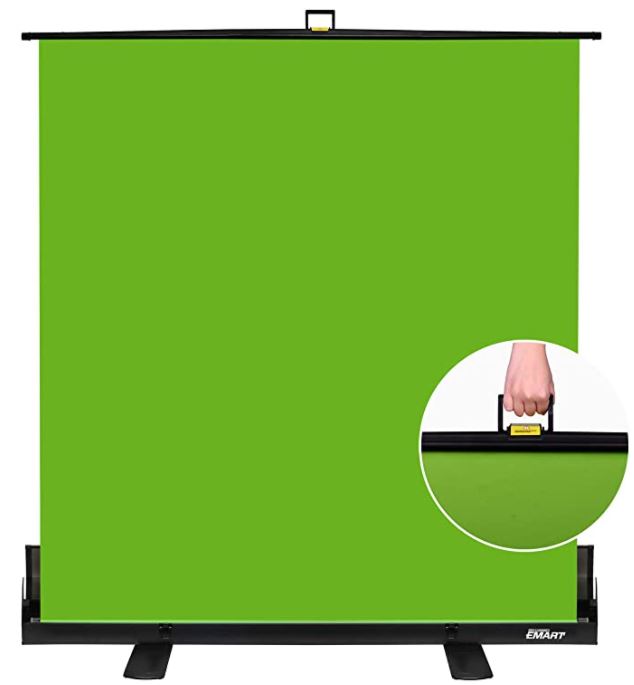 Emart Green Screen
The Emart Green Screen is a portable green screen that's easy to put up and take down. Let's think about why this is important. If you're streaming with your back to your room, you're going to have an open floor space behind you. This means your green screen is right in the middle of the room. Not a great idea for long-term installation! With this screen, you can easily put it away when you're done streaming.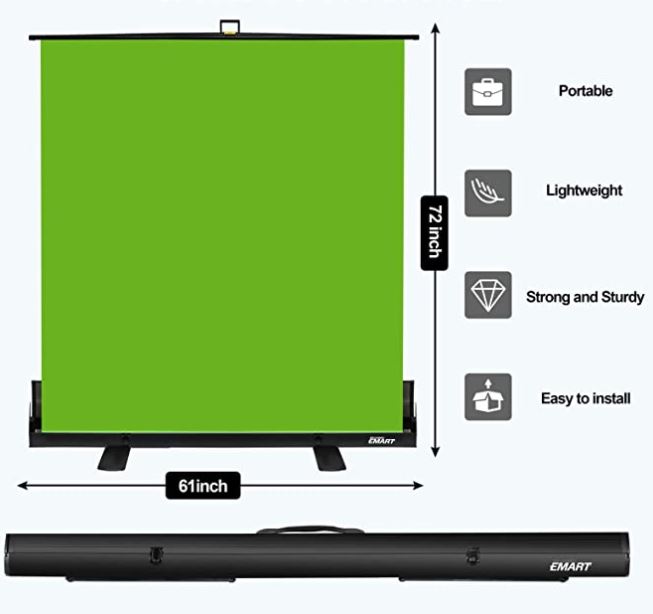 This green screen collapses into a five-foot tube, which sports a pair of feet on the bottom. You swing the feet out for stability, then pull the screen up out of the tube. It's attached to a hydraulic scissor frame, which supports it at a height of 72 inches. This gives you a total surface area of 30 square feet, a decent sized surface for a backdrop. Even better, the top of the frame has a handle that can be used to carry the whole screen when it's collapsed. As a result, it's easy to move from room to room.
One thing we liked about the Emart screen's design is that it's actually held taut when the frame is open. This keeps wrinkles from forming, which can become a problem on simple hanging screens. You won't have to worry about your green screen peeking through in the background.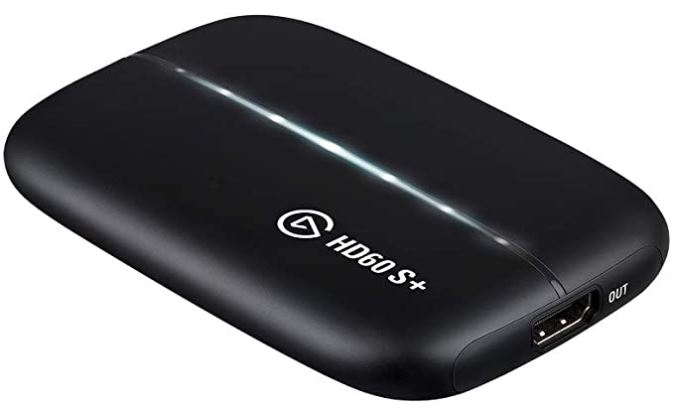 Elgato HD60 S+
Elgato is another longstanding manufacturer of gaming gear. They're well-acquainted with streamers, producing gadgets like the Elgato Stream Deck controller. The HD60 S+ continues in that same tradition. It's the size of a fat smartphone in a thick case, and has an oblong profile with rounded sides.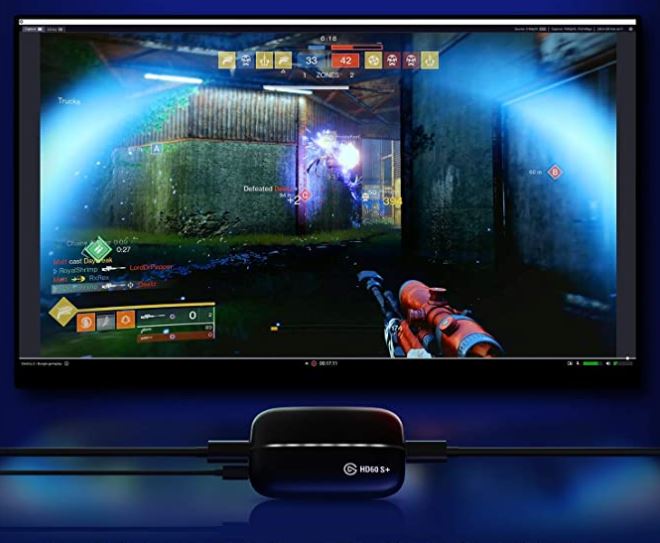 At one end, you'll find an HDMI port in the center, and a USB Type-C port towards the side. These are the HDMI in port from your console, and the USB out port for your PC or Mac. On the other side, there's a single HDMI port, which is the output port for your TV or monitor. There's a white LED stripe down the center that illuminates when everything is connected. It provides an ultra low-latency connection, along with flashback recording. To be fair, flashback recording isn't terribly useful for live streaming. But if you're doing a pre-recorded video, you'll be able to catch key moments you may have missed.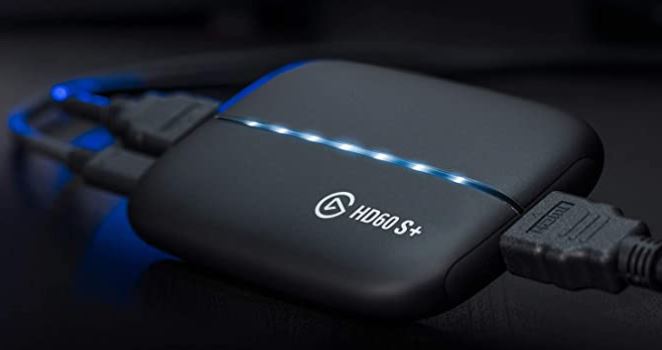 The HD60 S+ records in 1080p at 60 FPS. At first blush, this might seem disappointing. However, most streaming services, including Twitch and YouTube, won't support 4K. On Twitch, it will far exceed their bandwidth limit, and you'll get flagged for abuse. On YouTube, 4K just plain won't work. Since 1080p at 60 FPS is the maximum supported platform, you won't run into any streaming issues. That said, the pass-through video, while 4K-capable, is also limited to 60 FPS and 1080p. This means you won't be able to get the full 120 FPS the PS5 is capable of offering.
Final Verdict
As you can see, each of these pieces of equipment goes a long way towards making your stream look great. To begin with, the PlayStation HD Camera and HyperX QuadCast X make a perfect pair. The camera creates a crisp, wide-angle video that gives your stream an epic feel. The mic, meanwhile, provides rich audio that far exceeds anything you'll get from a headset.
The SUPON L122T is an excellent addition to any streamer's kit. A lot of beginners neglect lighting, which is a shame. As you can see, a good light is a fraction the cost of a good mic! If you can, buy two, and use them in different positions. There are plenty of tutorials that will show you the best positioning and settings.
The Emart Green Screen is a well-engineered piece of equipment. We chose it because it's portable, it's durable, and it's easy to set up and take down. It's also wrinkle-free, an essential feature on any good green screen.
The Elgato HD60 S+ is all you'll ever need in a capture card for the next few years. If you're making a lot of pre-recorded content, you might want to spring for a 4K capture card. But for live streaming, 1080p is as high a resolution as you need. Beyond that, the HD60 performs exceptionally well, with seamless HDMI pass-through and virtually zero latency.