It's easy to kill cables. Lengthy ones, short ones, and even those made with sturdy materials. When you're holding a device that's also charging, the cable tends to become bent at an angle. It's usually a gentle bending force, but it's a bending force nonetheless. And it can wear the cable to death.
Right angle connectors are a smart solution to a simple problem. They help make cables last longer. They prevent cables from sticking out awkwardly while plugged in, or otherwise getting in the way of your hands. And they're really not more expensive or complicated than any other cable.
Note: At no extra cost to you, we may earn a commission for purchases using our links. Learn more.
Choosing the Best Right Angle iPhone Lightning to USB Charging Cable
Your selection won't be complicated, but it helps if you know exactly what you need.
Construction Materials
Nylon is the golden standard for charging cables. It's quite protective against a variety of different abrasive forces. It's also a good choice because it allows you to physically tie the table into a knot without damaging the wires inside.
This is why you see nylon used to cover wires which can't be removed from products, like high-end computer keyboards. When you really don't want a wire to break, it's the most practical choice.
If you plug in a right angle connector with the cable running downwards, then the cable will most likely run past your hands. At that point, you'll want to start thinking about the texture of the cable, and even how easy it is to clean. This is another area where nylon tends to excel, though you do have to be gentle with cleaning it because the nylon fibers can become frayed.
Durability
Outside of cables that are destroyed by disaster, most cables will eventually be destroyed through ordinary use. Like a human body, a right angle iPhone Lightning to USB Charging cable will undergo some regular wear and tear. Unlike a human body, the charging cable doesn't have the ability to repair itself.
Just because these cables are braided and well-protected doesn't mean you should treat them roughly, if at all possible. Tiny bits of damage that accumulate in the cable will never go away, until ultimately it stops working. You don't need to treat a great cable as though it were a sheet of glass. But all the small efforts you make to treat the cable with respect can be rewarded.
The most basic upgraded cables can generally last through about 5,000 bends. That's a step above cables that have no special protection at all, but it's still far from a permanent solution. Truly advanced cables can be constructed to survive nearly 100,000 bends, though that kind of construction usually has a premium cost associated with it.
Connection Angle
You'd think that all right angle connectors would all use a perfect right angle. Actually, there are a handful which use a slightly wider angle. The general idea is to imitate a right angle connection with respect to its functionality, but without requiring the cable make a flush connection against the side of your device. If you're trying to connect the cable within a space where it could interfere with some other component, these wider angle connectors can be a good choice.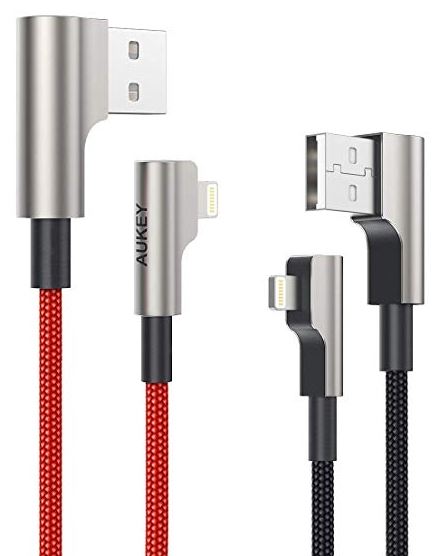 AUKEY Right Angle Lighting Cable
AUKEY Right Angle Lightning Cables come in a two pack. One cable is bright red, while the other is a dark black. Both have silver connector ends, highlighted by the AUKEY name printed across the topside of each connector. This is probably just shameless branding, but it does help you quickly figure out which direction is the topside of the connector cable.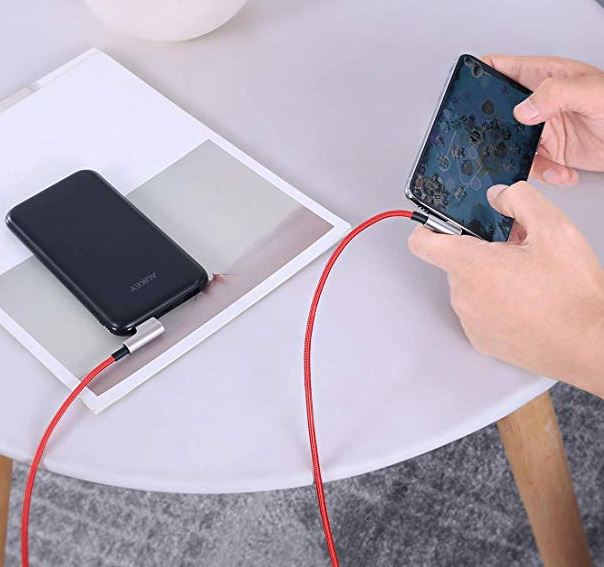 Build & Design
Each cable measures 3.3 feet in length. Each cable is actually six layers of components. The nylon braided jacket is only the outermost layer. Underneath that you'll find a more common flexible TPE jacket, which are the basic plastic jackets used on most cables. Without even looking at the other layers, the nylon jacket means AUKEY already has a grave advantage over simpler cables.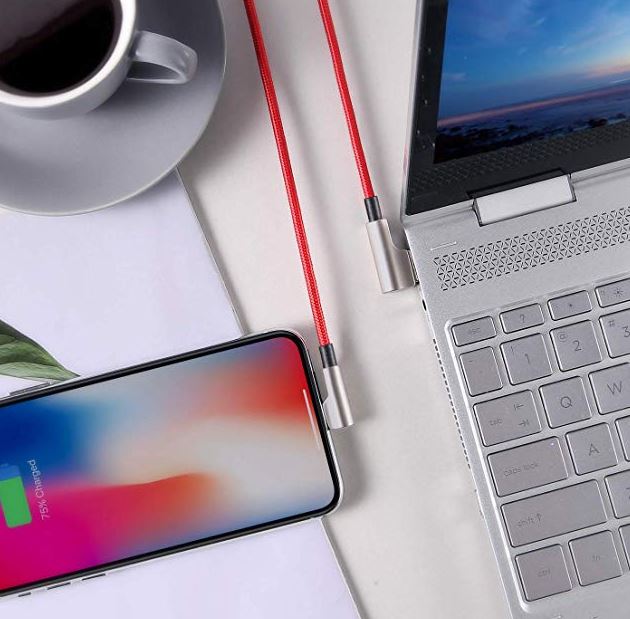 But beneath the TPE jacket, you'll find a tinned copper braid and aluminum foil shield, protecting the cable from electromagnetic interference. And beneath that, aramid fiber is used to reduce bending stress. Only then do we get to the wires that actually matter, a pair of fairly thick power and data wires.
Those data wires connect up with reinforced tin-plated connectors, and conjoined with zinc alloy housing. The resulting construction is capable of withstanding more than 10,000 bends, which is about twice as many as many cables in this price range. It's those six layers of protection that really make all of this possible.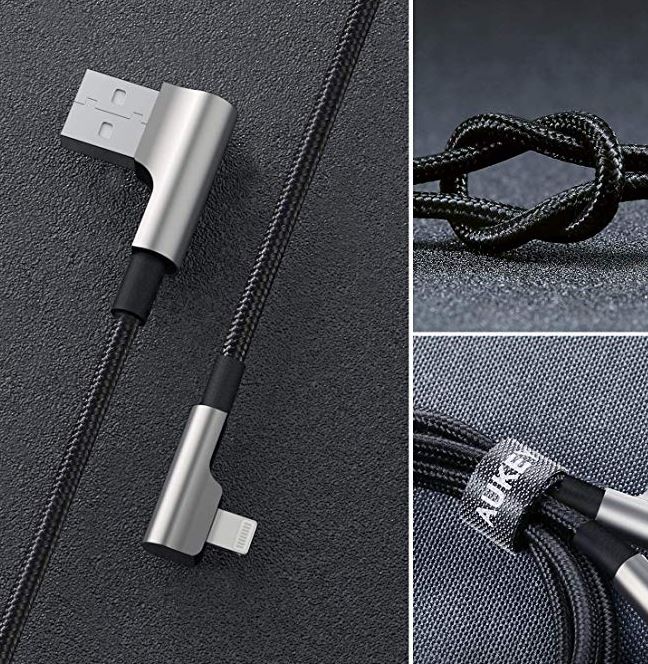 Other Considerations
Each cable is MFi certified, indicating it's been made specifically for Apple products, and will live up to specifications set out by Apple. The MFi certification should tell you all you need to know about compatibility. Provided you have a Lightning connector on your devices, the AUKEY Right Angle Lightning Cable is excellent for the iPhone X, iPad, and just about anything else.
The connection heads on these cables are not exactly a low-profile design. They're full sized. To their credit, that means they're much easier to plug in and remove. However, it does mean you may need to remove your smartphone case to connect with these cables.
That's really only a concern when using thicker cases, not the ordinary cases most people make use of. It can also be a minor concern when trying to connect with the backside of a computer, or a similarly cramped situation. AUKEY includes a 45-day money back guarantee, and a two-year replacement warranty.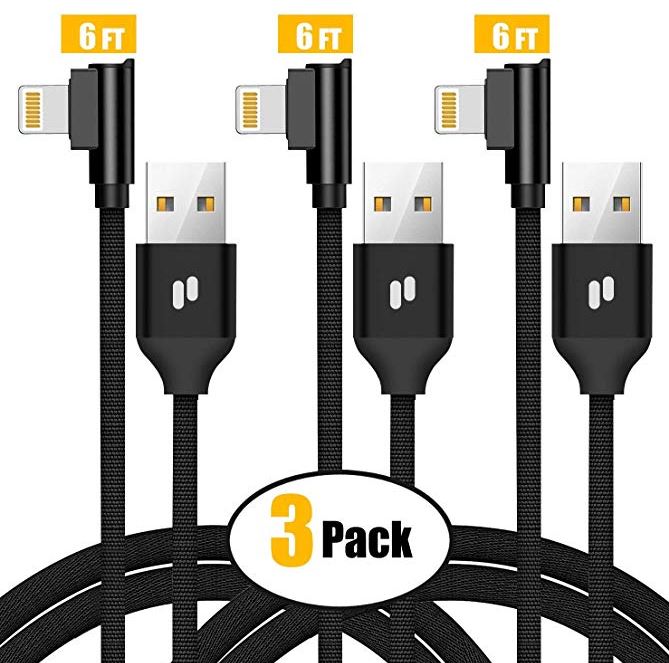 Puridea 90 Degree iPhone Lightning USB Cable
The Puridea 90 Degree iPhone Lightning USB Cable looks like an ordinary cable. It's matte black with silver connection ends. What could be more ordinary?
But looks can be deceiving. The 8-pin USB-C connection head is composed of a resistant aluminum alloy, capable of transmitting your data smoothly without bumping into problems or disconnections. And the durability of this cable is truly unparalleled.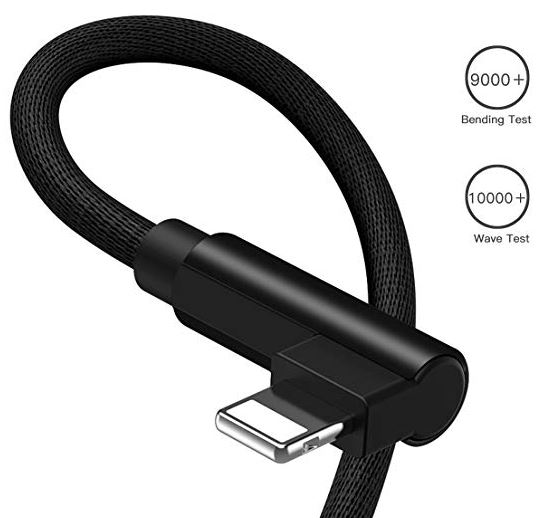 Build & Design
Puridea cables are available in three sizes: 1ft, 3ft, and 6ft. Though heavily protected, each cable still weighs about an ounce. Puridea 90 Degree iPhone cables make use of a right angle design, making them ideal for watching videos, playing games, reading books, or otherwise charging your devices.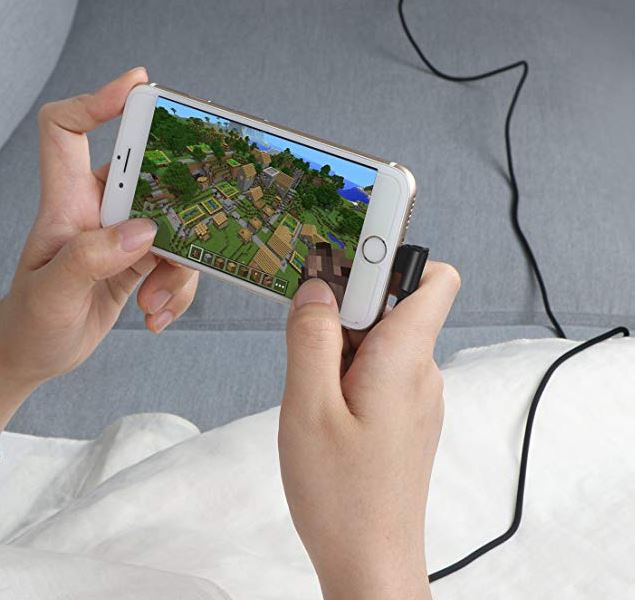 The cabling is composed of a tangle-resistant material, and further protected with braided nylon to shield it from various forms of damage. It also includes a spring-based design to bolster its durability and prevent cable blasting. The Puridea cable is built to survive bending nearly 90,000 times.
It may also be worth noting the cable has a pleasant texture due to the smoothness of the nylon used. That can be worth considering because depending on how you connect the cable, it may end up touching your skin.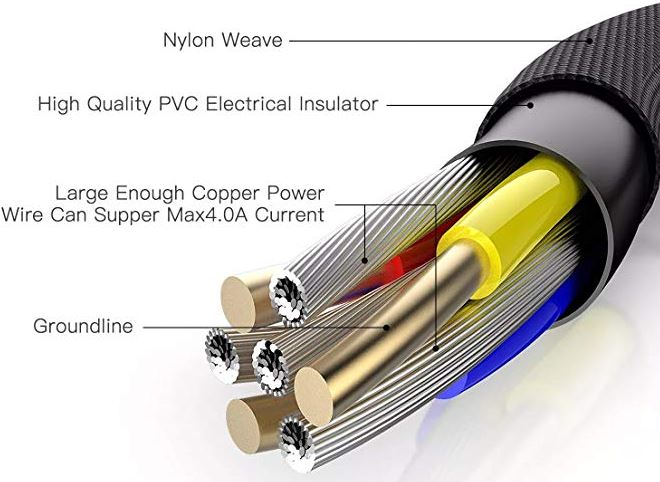 Other Considerations
Three cables are included in each pack. There's also a variety pack which allows you get one cable in each size. In each case, the cost works out to something like five bucks per cable. Not a bad deal.
The Puridea 90 Degree iPhone Lightning USB Cable is compatible with essentially any Apple device you might want to plug it into. That includes basically any iPhone with a Lightning connector.
And Puridea includes a 12-month warranty. Though the shortest warranty of any cable on this list, that ought to be more than enough to ensure you're protected from a defect.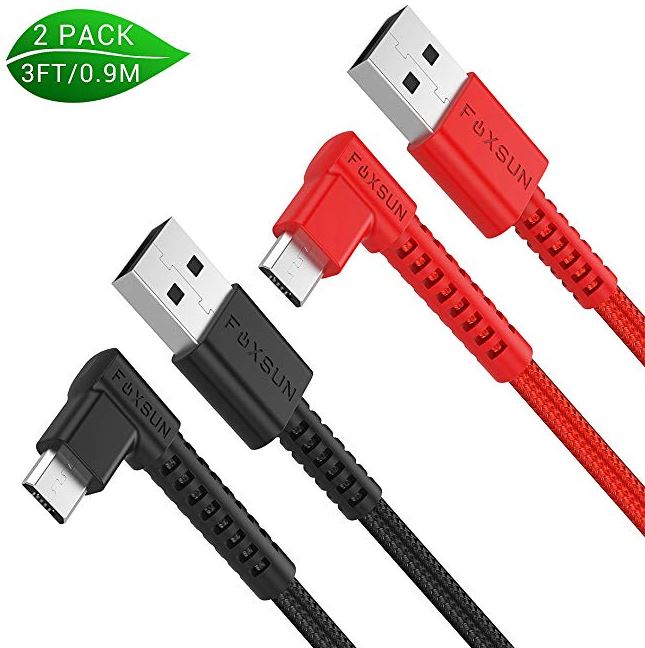 FOXSUN Right Angle 90 Degree Lightning to USB Cable
Initially, FOXSUN cables look like a generic product, almost worthy of being called a knockoff. But far from it, these cables are actually MFi certified by Apple. Each cable is tested to ensure it can withstand more than 10,000 bends, 10,000 plugs and unplugs, and 100KG of force. You probably don't want to use these cables as rope, but it should tell you something they could serve that purpose without breaking.
FOXSUN cables don't exactly use a 90-degree design. But they do closely approximate the 90-degree design, which is great for reading e-books, watching streaming videos, gaming, or otherwise using your mobile devices while they're still plugged in.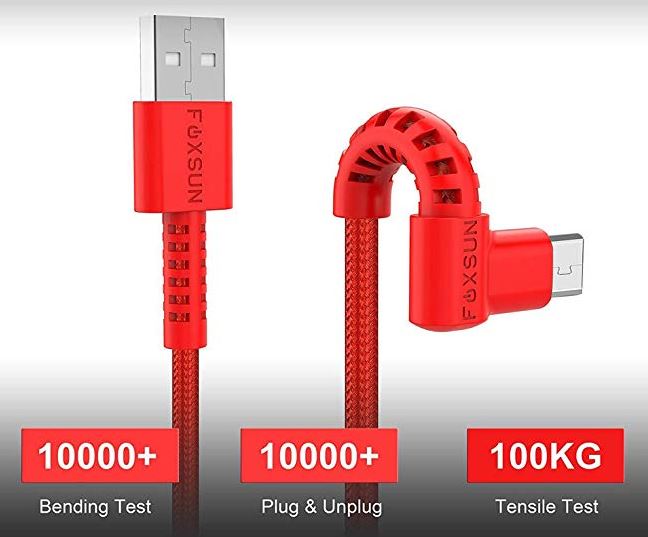 Build & Design
FOXSUN cable kit includes two cables, 1ft and 5.9ft. Both are constructed from an oxygen-free copper wiring, and are capable of providing a maximum 2.4A current to your devices. That means they're capable of using rapid recharge features, and helping restore larger smartphone batteries to life pretty quickly.
Like most upgraded USB to Lightning cables, FOXSUN cables are built with the added protection of nylon braiding. The nylon braided fiber is smooth against your hands, and like almost any nylon braided fiber, it makes this cable resistant to tangling. Though you can actually still manage to wrap the cable up into a knot if you mean to do so.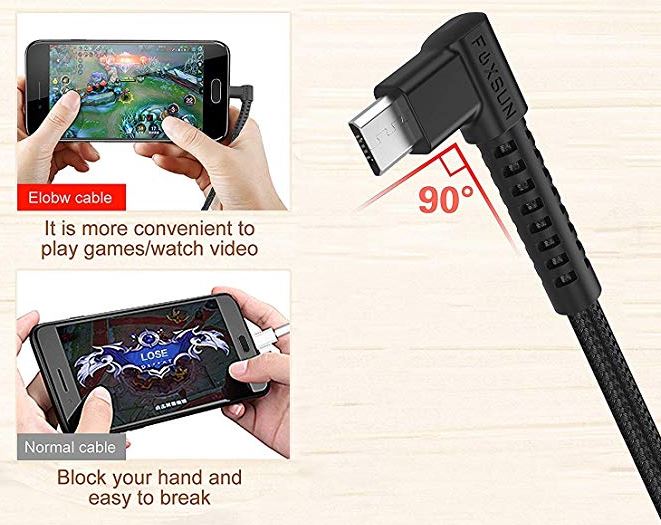 Using the FOXSUN Right Angle 90 Degree Lightning to USB cable is about as simple as you'd expect. But there's a great detail that's easy to overlook. Near the end of the connection, the cable itself has extra shielding, using the help of a rubberized polymer brace. It keeps the end of the wire running a little more rigidly, providing protection in one of the places where cables need it most.
This brace isn't totally inflexible, so it doesn't get in the way when you need it to bend. But it's a nice detail that shows FOXSUN really is invested in making these cables last.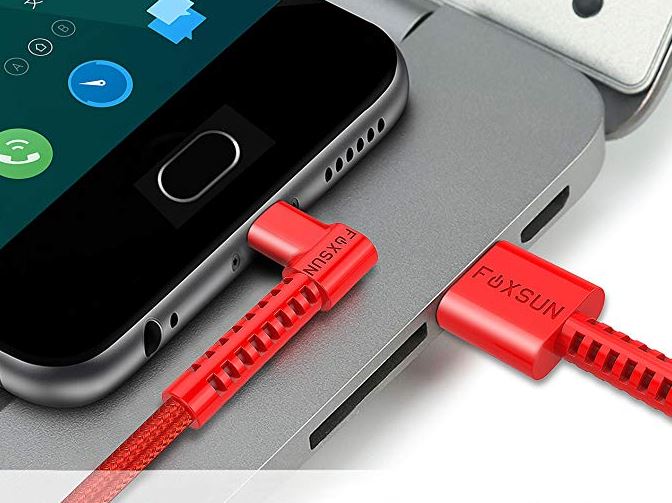 Other Considerations
FOXSUN cables are available in black and red. The black looks like any other cable, while the red has its own distinct style. The shade of red is close to blood red, which really grabs your attention visually. It also makes finding the cable easy, especially when it's among a mess of black cables.
Foxsun Right Angle 90 Degree Lightning to USB Cable is compatible with essentially every iPhone, iPad, iPod, and so on. The only places where you won't find compatibility are for Apple products without Lightning ports. Because of the MFi certification, you can expect the cable to work as well as if Apple had personally made it.
FOXSUN includes an 18-month warranty. There's little reason to think you'd ever need to use the warranty on a cable like this Right Angle 90 Degree Lightning to USB Cable. Because their failure rate is incredibly low, and they're very easy to test before shipping out.
Choosing the Best Right Angle iPhone Lightning to USB Charging Cable
AUKEY Right Angle Lighting Cables are contentious. You may or may not like the fact you're forced into receiving one red cable and one black cable. You may be concerned the connection head will have a problem with thicker phone cases. But if those aren't concerns for you, then the AUKEY cables can provide incredible quality at value pricing.
Foxsun Right Angle 90 Degree Lightning to USB Cables are a good choice for someone who's looking for something cheap and effective. The most basic kit includes one short cable and one long cable, which keeps you equipped for almost any occasion. Both cables are equally well constructed, and protected in ways that make them ideal for someone who's looking for their cables to last.
The Puridea 90 Degree iPhone Lightning USB Cable is gorgeously made. It's constructed to last literally ten times as long as the other cables on this list. By the time you're ready to replace it, you might not need USB or Lightning plugs at all. That makes the Puridea cable an excellent choice for someone who wants their cable to last forever. They're also pretty economical if you can make use of several cables.
Please consider sharing:
Note: At no extra cost to you, we may earn a commission for purchases using our links. Learn more.