Remembering that your laundry is done drying can be a hassle that you might want to stop thinking about. Furthermore, most older drying machines will typically dry your clothes for too long. This both wastes energy and increases the amount of CO2 you passively pump into the atmosphere. Plus, it has the potential to ruin delicate clothes since they become seriously damaged from being heated or dried out for too long or at too high temperatures.
However, it's not always an option to monitor your dryer personally. Even if you could watch the clothes dry, would you really want to? Modern dryers avoid this problem by incorporating sensors straight into their designs. But these dryers are quite expensive, and you may not want to buy an entirely new washer and dryer set just because of this one nitpick.
Nowadays, there's a sensor for everything – why not laundry? The SmartDry Wireless Laundry Sensor is a relatively unique product that can ostensibly provide the monitoring element of modern dryers without needing to replace the entire appliance. It's essentially a small sensor you stick on the spinning wheel of a typical dryer, which can then wirelessly connect to a proprietary mobile phone app and let you know when your clothes are done, when they become too hot, and so on.
Obviously, this holds quite a lot of use for folks that have older dryers in their homes, or those who have to use public laundromats but don't want to stick around for an hour while their clothes dry. But does this sensor/app combo really work as advertised? Let's dig in and find out.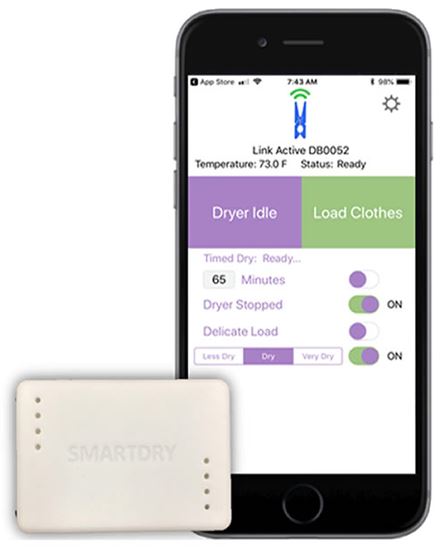 Design
The SmartDry works because of two separate elements: the dryer sensor and the smartphone application. Let's break each down one by one.
The patented home sensor is an innovative piece of equipment that allows you to convert any regular gas or electric clothes dryer into a smarter appliance in just minutes. You don't need tools to install the sensor, and set up is fairly simple thanks to the step-by-step instruction guide you get with the app. In a nutshell, you download the proprietary SmartDry application, which is available for both major types of mobile devices, then run through the built-in tutorial that can run you through the installation process.
The sensor itself is totally wireless, so don't worry about having to open up your dryer and plug things into the circuitry or machinery inside. Instead, the sensor uses powerful magnets on the back to instantly snap into place. The application tells you the ideal placement location for your sensor (usually just the inside of the spinning wheel).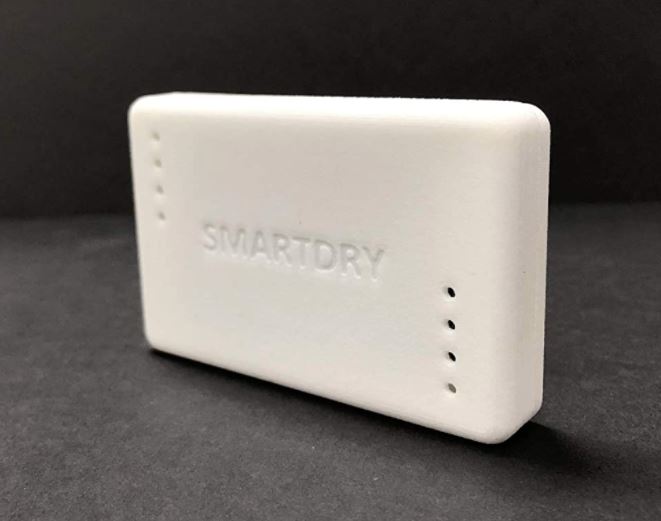 The sensor also runs on small batteries, but these are included with the purchase. These are lithium-ion batteries that should last for several years. The downside is that, while this dryer sensor is an interesting tool for now, we're not sure if you'll be able to get replacement batteries over the next few years. It could be that the manufacturer will stop producing these dryer sensors and may upgrade to a new model, or may otherwise go out of business. If either of these happens, getting new replacement batteries could be next to impossible. This isn't technically a downside per se because there's no way to know how things will shake out, but it's something to keep in mind.
Functionality
The SmartDry sensor will automatically and wirelessly connect to the smartphone app. The app can be installed from either the iTunes or Google Play stores and only takes a couple of minutes. You can actually download the app right now as it's totally free – what you pay for when you order this device on Amazon is the sensor itself. There's no value to the application if you don't pair it with one of the proprietary sensors.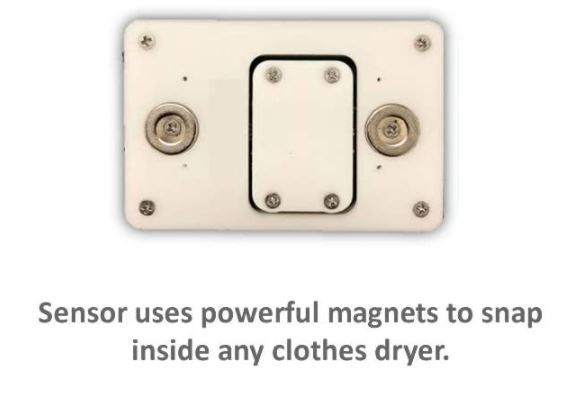 After it connects, the sensor will automatically ping your phone and send you alerts for several things. For instance, it can tell you when your clothes are dry – more interestingly, you're able to select what "dry" really means. For instance, some clothes are better when they're still a little wet so you don't accidentally damage sensitive fabric in your drying machine. Being able to customize when the sensor will alert you to your clothes being ready is an excellent feature and increases the product's overall user-friendliness.
The sensor will also alert you when the dryer is running or stopped – this could be helpful if you live with kids and want to stop them from opening the dryer door, which arrests the drying process. Similarly, this could give you some insight if the dryer isn't working. Other "pingable" things include when your delicate clothes become too hot, if the dryer becomes too dangerous, or if the sensor battery itself needs to be replaced. Again, you can contact the manufacturer for a replacement battery for now, but we'll have to see how this evolves over time.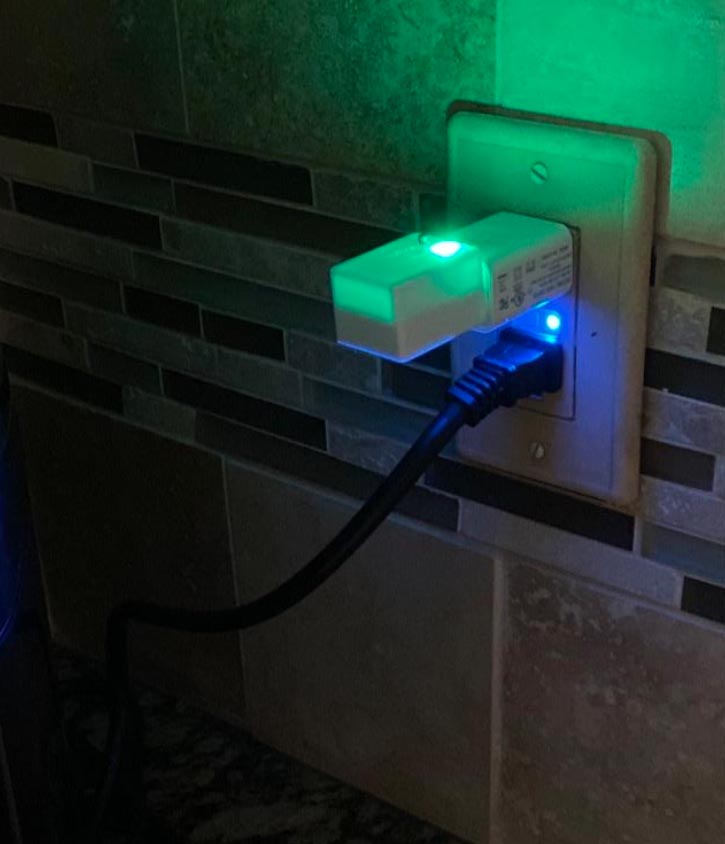 You can also program your own "Set and Forget" alerts. If you have trouble remembering when to retrieve your laundry (for instance, if you need to do a lot of clothes over the course of a day and have a timetable you want to keep), this can be quite a lifesaver. The app overall is fairly easy to navigate and features an intuitive user interface. Both iOS and Android operating systems will allow you to customize your notifications, although the point of the app likely means you'll want these to stay on your home screen in most cases.
All in all, all of this functionality is quite excellent and is fairly useful for those with larger houses or for those who use a public laundromat. Nothing is more boring than having to sit in a public laundromat while your clothes finish drying, especially if you don't need to personally watch over your clothes if the dryers have locks to stop people from stealing your clothes. With an app like this, you can leave the public laundromat and rely on the sensor to tell you when your clothes are done!
This does mean that you'll need to replace the sensor every time you head to that public laundromat, but the magnets aren't so powerful that you can't do this easily enough. Just don't forget to take the sensor out each time you're done using it!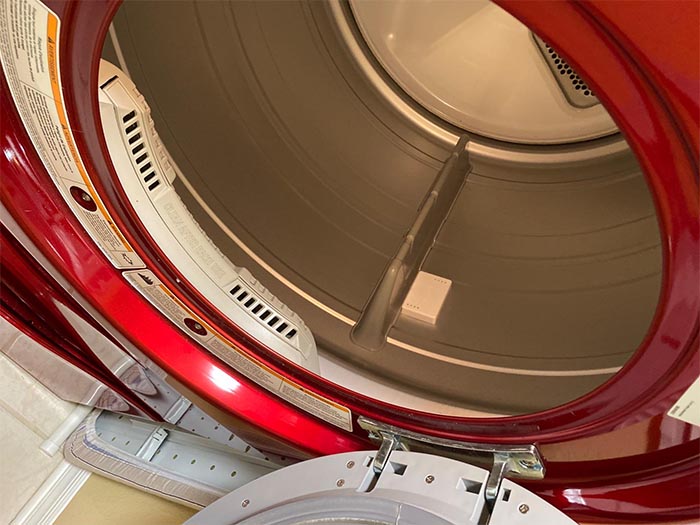 Connectivity
The SmartDry app works with both Apple iPhones and Android phones of any make or model. This versatility allows it to be enjoyed by fans of either OS, which we appreciate.
Even better, the SmartDry can work with Amazon Alexa. The app has a feature where you can connect it to your Smart Home Assistant at the touch of a button. Once Alexa has integrated successfully, it can tell you when your clothes are ready and provide status updates. Further customization is only limited by your imagination – you'll be able to, for instance, program Alexa to inform anyone home that the clothes in the dryer are ready rather than limiting the alerts to the main phone owner.
The nice thing, too, is that SmartDry is assembled in the US and features 100% US customer support. This customer support team is available most of the time and is ready to help get SmartDry working or integrated successfully with your smart home assistant. Furthermore, they can help with any technical issues you might have, such as questions when installing the sensor or if you have some connectivity issues with your Wi-Fi network.
One thing to keep in mind, however, is that you need a Wi-Fi network of at least 2.4 GHz. Furthermore, you need a steady Wi-Fi network rather than a spotty one. If your sensor falls out of connection with your mobile phone, it might fail to ping entirely, eliminating the entire purpose of the sensor/app combo. Those with Wi-Fi networks that don't qualify might need to look elsewhere.
Final Verdict
All told, is the SmartDry really worth your time? It depends on whether you think the alerts and associated potential savings are worthwhile.
For instance, SmartDry claims that getting alerts on your dryer will prevent you from running the machine for too long. This could, in theory, result in savings of up to $60 per year, based on saving you around 15 minutes of drying per load. This is all based on the fact that typical dryers "overdry" your clothes by default to make sure that everything is toasty, rather than only drying them just enough. Furthermore, SmartDry claims that you'll be able to reduce your CO2 footprint by 300 pounds per year.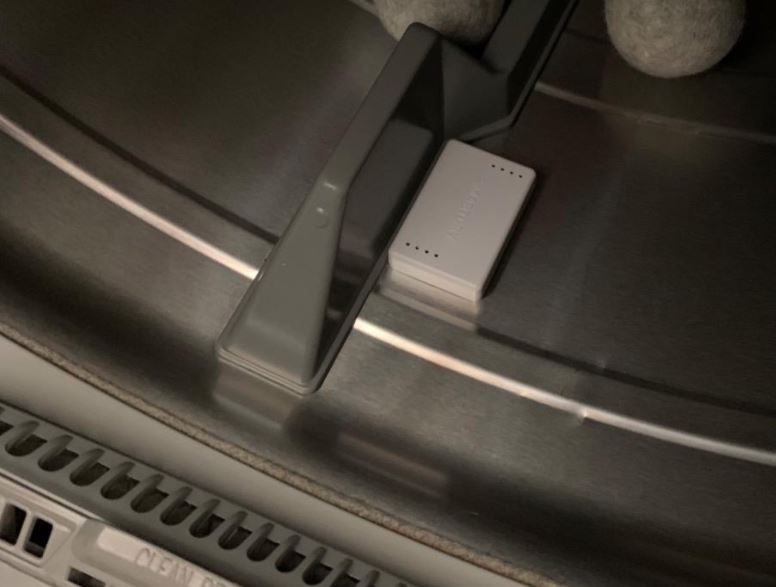 Naturally, all of this is a little difficult to prove. There's no doubt that you will save some amount of energy (and a bit of money on your electric bill) by using this sensor and other energy-saving devices, and you'll also probably reduce the amount of CO2 you consume as a passive side effect. Whether or not it's actually the advertised amounts is up for debate. For instance, older drying machines that run with more power are likely a better match for the SmartDry smart sensor, as you'll save more money with them then you will with modern smart dryers that can do all of this already.
Even with all these caveats, there's no denying that there is some value in the SmartDry app and sensor. The device itself is well constructed and is easy to set up on any modern drying machine, particularly older models (which are the primary machines you'll use for this anyway). The mobile app works for every type of modern device and is easy to install, and it comes with helpful tutorials so that installing the sensor itself is quick and painless.
It's a potentially good choice if you have an older drying machine and aren't looking to upgrade to a smarter appliance in the near future. There's no denying that purchasing the SmartDry is much more affordable, and for what it is and promises, the SmartDry is a solid pick through and through.