Part of the fun of building your own PC is making a rig that is visually stunning, in addition to practically powerful. A blank, slate-gray brick without any lights hardly looks like a top-of-the-line gaming PC compared to one with spinning and glowing fans. Glowing fans, in particular, can make your PC look like a high-tech machine while also helping you keep your vital components cool.
But there are tons of RGB case fans on the market and they all seem to be pretty similar. It's tough to tell which fans are right for your rig, especially when they all claim to be able to shine in millions of colors. Let's break down three top RGB case fans sets made by the same manufacturer.
What is an RGB Case Fan and Why Get One?
RGB (which stands for red, green, blue) case fans are very popular PC build accessories often sought after by those making awesome gaming rigs. They're called RGB case fans because they light up with a dazzling display of neon colors and different rotating combinations of all three primary hues. But although these case fans are most well-known for their color, they also perform a big practical function for any PC that uses a CPU more powerful than the factory-grade stuff you get from prebuilt computers.
In a nutshell, a computer's CPU or central processing unit is the brain of the entire PC. While the CPU handles the majority of the raw processing tasks you'll demand of it as you use the PC, it builds up quite a lot of heat. Most CPUs these days come with thermal paste to help dissipate this heat, plus built-in fans of their own to help get rid of the bulk. But many high-powered gaming PCs use better-than-average CPUs that generate so much heat that their paired fans don't whir enough to do the job. Furthermore, gaming PCs (or any other powerful computing rig, really) often combine those CPUs with other high-powered components that generate their own heat.
All this heat can combine over time and do a number on the delicate components that line your motherboard's surface. Adding additional fans and cooling units is the best way to dissipate this heat and ensure that any high-powered PC continues to run smoothly, particularly if you plan to overclock your PC's CPU.
RBG case fans shouldn't only be selected by their color patterns and projections, however. You'll also need to pay attention to how much airflow a fan can generate – this is a measure of how much air the fan moves across the surface of your computer's motherboard and other components. Some fans can be positioned to move cool air toward your radiators, while others can move hot and stationary air from around the heatsinks or the hot components out of the case through vents.
Furthermore, different fans may create different amounts of static pressure. Fans with high static pressure can push air through heatsinks more efficiently and are usually better at cooling powerful systems. Other fans may be noisy or quiet, and you'll definitely want a set of fans that doesn't ruin your gaming or media viewing experience. Generally, 30 dB fans produce around the same noise level of people whispering.
All in all, there are just a lot of factors to think about as you select top-tier RBG case fans. Let's break down three RGB case fan collections from GIM.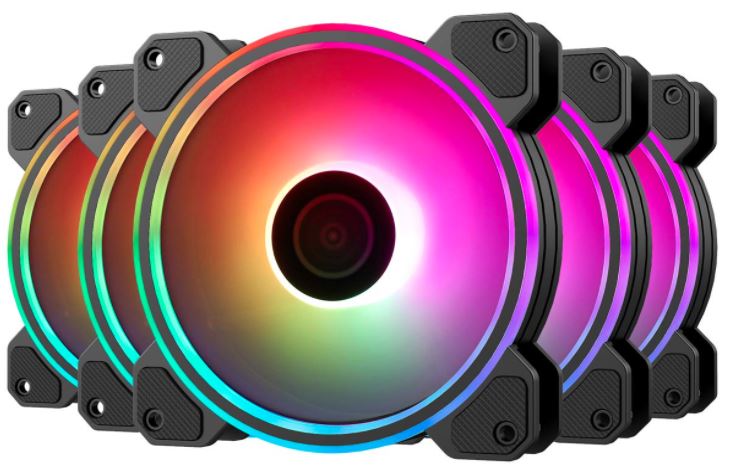 GIM KB-24
Our first pick is the KB-24 set, a 5-pack of 120 mm quiet computer fans. 120 mm refers to the diameter of each fan unit. Right off the bat, you'll notice that this is a higher than average number of fans for most computer rigs. In general, PC cases come with one or two fans built into their chassis by default. They may have extra space for additional fans, but usually only around three or four. Having five allows you to alternatively swap out the default fans with the case you bought for your build or just have a few fans in reserve after slotting all the fans you can fit into the case.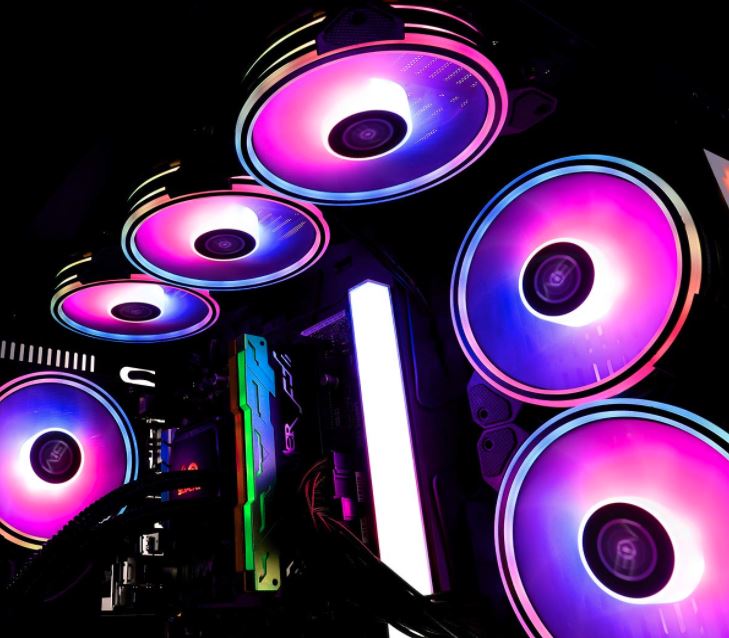 The KB-24s come with RGB lighting effects that span over 16.8 million colors. This number sounds high but is pretty standard across the industry. Still, it'll result in a dazzling light display that, when plugged into your motherboard and when synchronized with other RGB lighting elements in your case, should make quite a visually appealing rig. The fans' luminance is far and above more intense than the light produced by either of the other two fans sets in this review. If you want the brightest and most dazzling display, the KB-24s might be the pick for you.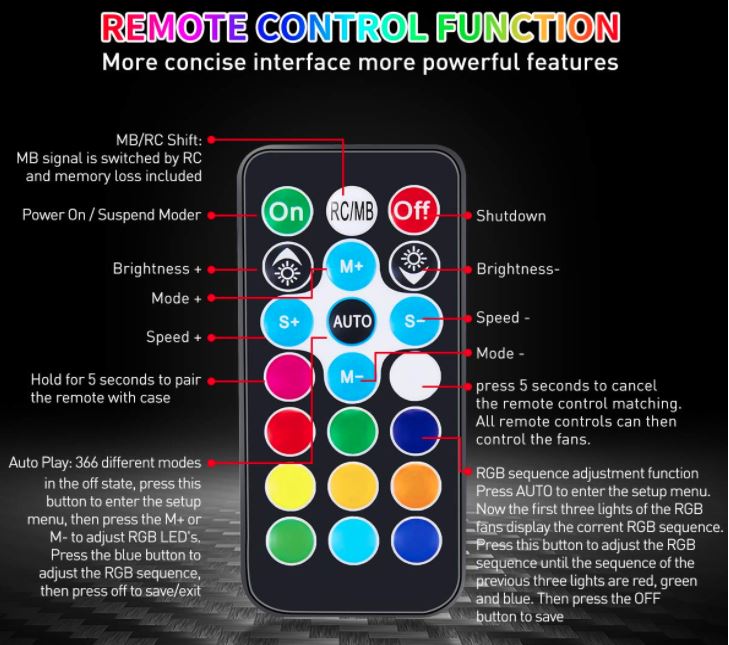 This set also comes with a wireless control you can use to adjust the lighting effects, LED speed, or brightness without having to open the case and perform those operations manually. This can be nice if you enjoy having brighter lights while your gaming but want to turn down the luminosity when you go to sleep and don't need fireworks flashing in front of your eyelids.
As mentioned, you'll be able to synchronize the lighting with most RGB-compatible motherboards. The fans are quite quiet as well, operating at only 15 dB overall. Even with this efficiency, they don't draw much power from your PC's power supply, requiring only 1.92 W on average. They'll last for around 20,000 hours before needing to be replaced and do an excellent job of dispersing heat generated by your powerful components since they rotate at a speed of 1200 RPM.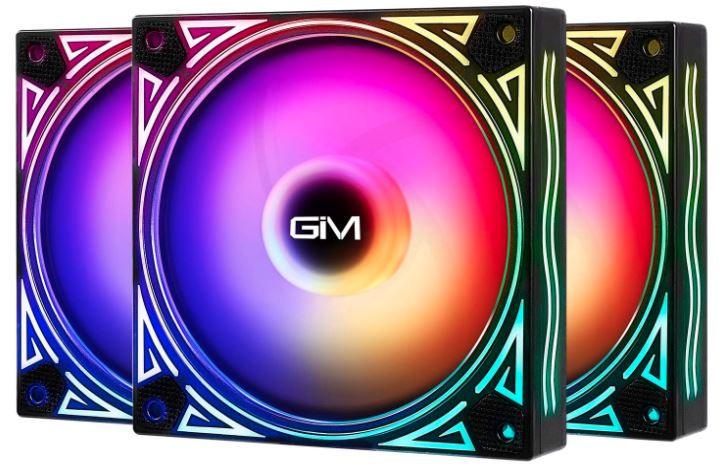 GIM KB-11
The next RGB case fan set is the KB-11. This set comes with three fans instead of five and is a little more affordable as a result. However, each fan is quite individually similar to the last units we looked at. For instance, each fan can produce up to 16.8 million colors overall. The fan set also comes with a wireless remote that allows you to adjust fan speed, brightness, and the pulse rate of the LEDs without having to open the case.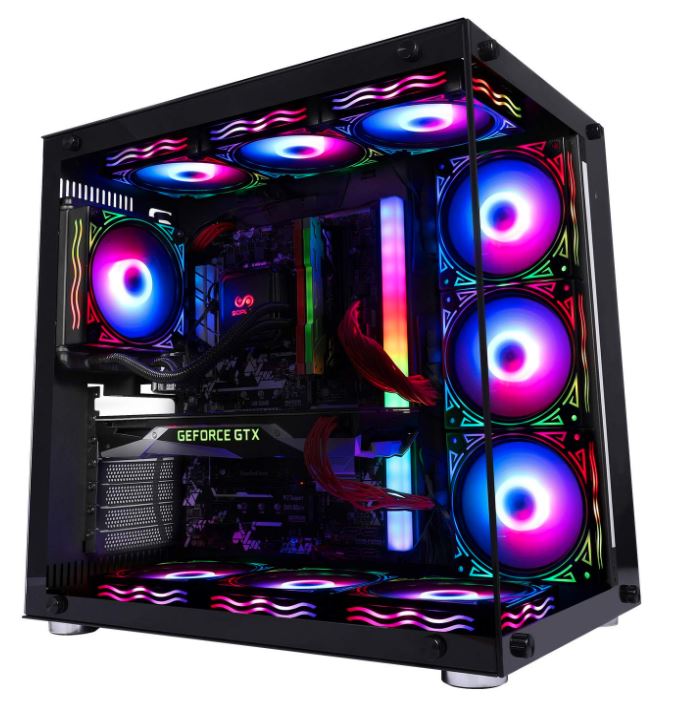 It can also be RGB synchronize with other lighting elements via your motherboard. But where this set differs from the KB-24s is music. Each fan in the set comes with three different music modes, and each music mode comes with an additional and complementary lighting mode to create a visual and audible spectacle. This music feature can also be controlled via the remote control.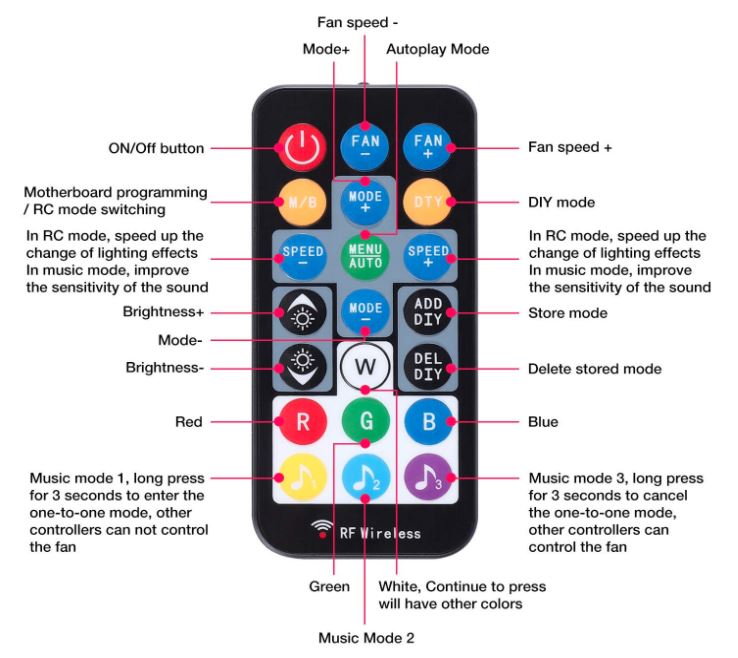 The trick is determining whether the music is something you'll actually use. Most PC gamers who create these kinds of rigs use headsets or other high-quality speakers to play their games or otherwise enjoy visual media. If you'll just have headphones in, the sound effects you get with the RGB case fans are essentially wasted. Thus, whether or not this feature is worthwhile is up to you.
The KB-11s are pretty impressive in their other mechanical aspects. They actually rotate a little faster than the KB-24s, spinning at a rate of 1300 RPM maximum. They also maintain the quiet operation of their predecessors at an average noise level of 15 dB. They demand the same power draw of 1.92 W and have the same lifetime of 20,000 hours.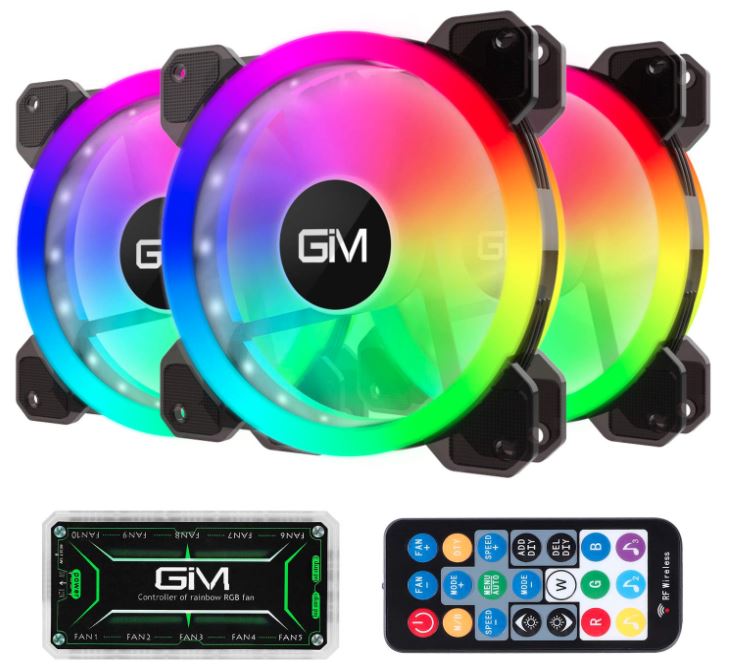 GIM KB-23
This last set also comes with three case fans instead of five, and produces up to 16.8 million colors: the biggest commonality shared between all three of these sets. Like the KB-11s, the KB-23s also come with the music modes associated with their unique lighting modes, allowing you to enjoy visual and audio improvements if you so choose. Once more, however, most gamers won't even use this feature so you'll have to determine if it is actually worth the asking price (though the KB-11s are a little pricier).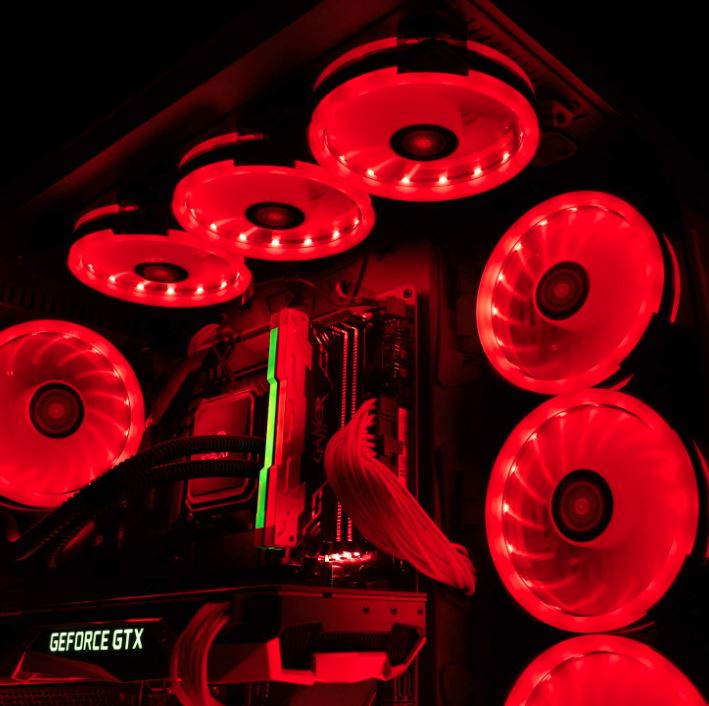 These fans also come with a wireless remote that allows you to adjust fan speed, lighting effects, brightness, and LED speed. The RGB lighting can be synchronized with other lighting elements via your motherboard, and the fans rotate at a maximum speed of 1300 RPM. They're as quiet as the others from this manufacturer, with a maximum noise rating of 15 dB and a power draw of 1.92 W.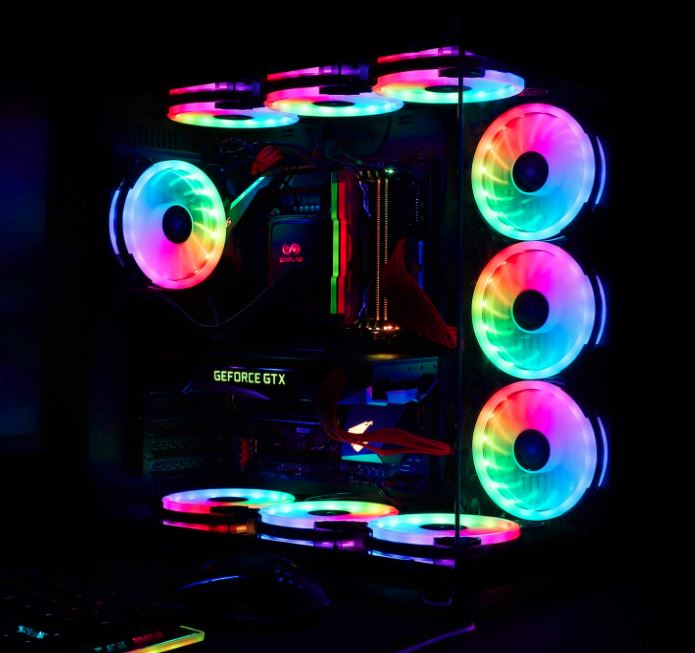 So what's the big difference between the KB-23s and KB-11s? Shape. The KB-11s have an overall square shape without any empty negative space between the corners and the edges of the fans' circles. By contrast, the KB-23s feature for corners for easy installing with the included screws. But there's a little free space between the edges of those corners and the outer diameter of the fans' circles.
There's no right or wrong answer when it comes to which shape is better for installing the fans into a case. However, take a look at the overall dimensions of both fan sets to see which of the two is more likely to fit into the premade slots of your computer's case before making a final decision. Additionally, the KB-23s are a few dollars cheaper than the KB-11s.
Final Verdict
All in all, all three of these case fan sets are valuable and quite similar to one another. They each produce the same types of color patterns and integrate well with modern motherboards and other lighting elements you might decide to include with your PC build. However, the KB-11 and the KB-23, come with musical additions and extra lightning patterns premade specifically for those musical sequences. They also come with three fans instead of five.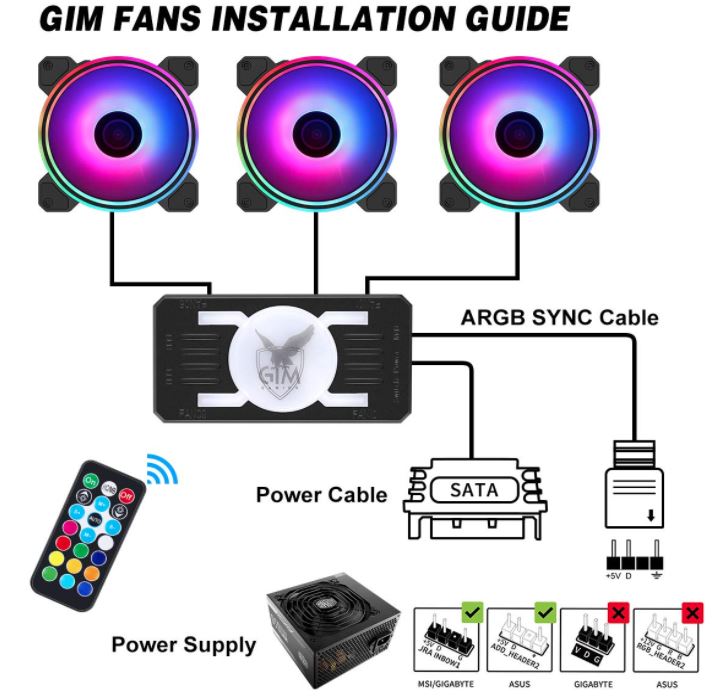 Ultimately, we'd recommend going with a set that works best for your current PC's fan needs. If your PC only needs three, going with one of the latter two choices makes the most financial and practical sense. But the KB-24s are an easy buy if you need four or more fans, particularly since you know they'll all work together and produce a dazzling light display that you can control by remote.
Furthermore, each set is a great pick compared to other RGB case fan sets on the market. They're each easy to use, come with everything you need for an easy install, and can be combined seamlessly with other light-up parts in your build.