Wi-Fi smart switches are becoming more and more common as more folks adopt smart home features or devices into their houses and apartments. While very few people have fully integrated smart homes (with refrigerators, TVs, air conditioners, and more all connected to a single smart home assistant), many more people may have one or two devices that they enjoy using wirelessly or through voice commands. How convenient is it to ask your smart home to turn on the TV or start reading off a weather report?
But these networks do have a limitation in that they don't normally allow you to turn on or off heavy-duty or high-power appliances. The fact is that many higher-power appliances like pool pumps, patio lights, and more demand too much juice to be wired into your Wi-Fi or Z-Wave network by default. But Wi-Fi smart switches – specifically those rated for outdoor use – can overcome this limitation and can plug straight into your regular electrical panel. Some don't even need professional installation!
Outdoor Wi-Fi smart switch controllers allow you to remotely or vocally tell your heater or AC, for instance, to shut off as you are walking out the door for a long vacation. You'll also be able to remotely turn on your front property lights, start your pool pump, and more. Essentially, these are excellent upgrades if you already have a smart home network and want to boost its usability even further.
But telling the difference between different Wi-Fi outdoor smart switches is tough. Today, we'll break down three top outdoor Wi-Fi smart switches from three separate manufacturers. While they can each perform the same basic functions, they have crucial differences that may make one or the other a better fit for your home and needs.
What is a Wi-Fi Smart Switch and Why Use One?
A Wi-Fi smart switch is essentially a third-party switch you can wire into an existing electrical network or use to control the power flow and status of heavy-duty appliances in your home. It acts as a separate switch from a regular wall or garage switch in that it's controllable from afar via Wi-Fi or through Z-Wave signals. It's often used in conjunction with other smart home appliances and devices since most of these switches can be seamlessly integrated and controlled by the same network assistant or remote.
Wi-Fi smart switches often allow users to set our schedules or lockout certain appliances from being used. This can, for instance, be helpful if you have several heavy-duty machines in your garage that you don't want your kids to turn on by accident. With a Wi-Fi smart switch, you'll be able to remotely lock those machines out and prevent power from flowing to them even if the kids manage to find the start button.
Many of the best Wi-Fi smart switches also come with locks or heavy-duty protective cases. This protects the internal circuitry and electronics from wear and tear and from the elements, plus stops someone from tampering with your controls without your permission. Other folks might enjoy these devices since it allows them to prepare their home for their arrival from afar – imagine coming home from a long trip and remotely starting up your water fountains, lights, air conditioning, and more with your phone as you drive down your street.
Naturally, there are dozens of these advanced devices on the market, so finding the right one for your needs can be tricky. In this guide, we'll break down three Wi-Fi smart switches from three separate manufacturers to see which is most worth your time and money. Let's get started.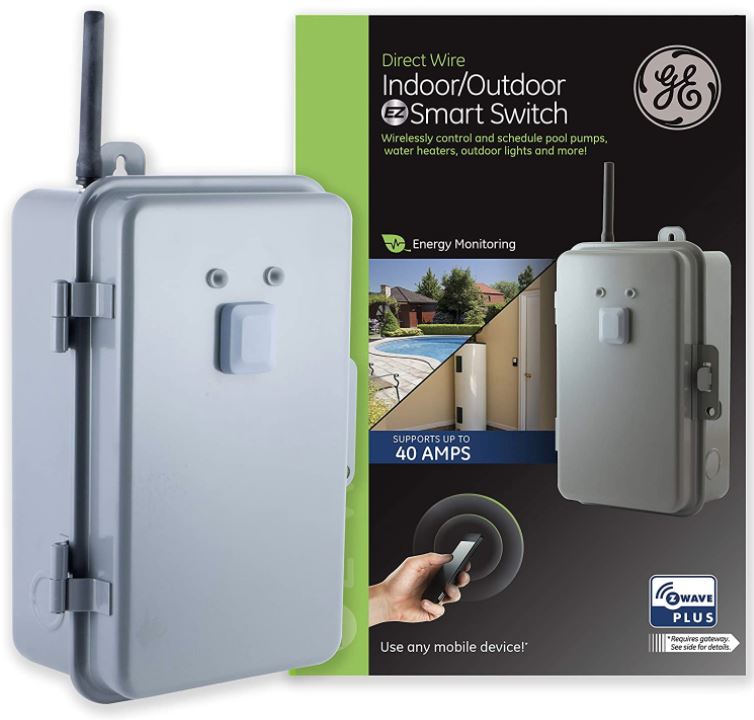 GE Z-Wave Plus
The GE Z-Wave Plus offers a lot to like right out of the box. For starters, the internal switches and circuitry or protected by a lockable and tamper-resistant all-metal case. Not only is this great for keeping out rain or dirt and debris, but it also prevents someone from opening the case with all your permission. The all-metal construction means that someone breaking in would be more likely to accidentally destroy the switch than turn something on! It's a perfect Wi-Fi smart switch for outdoor use. It's even protected from digital threats since it uses software security to eliminate the possibility of the switch being hacked.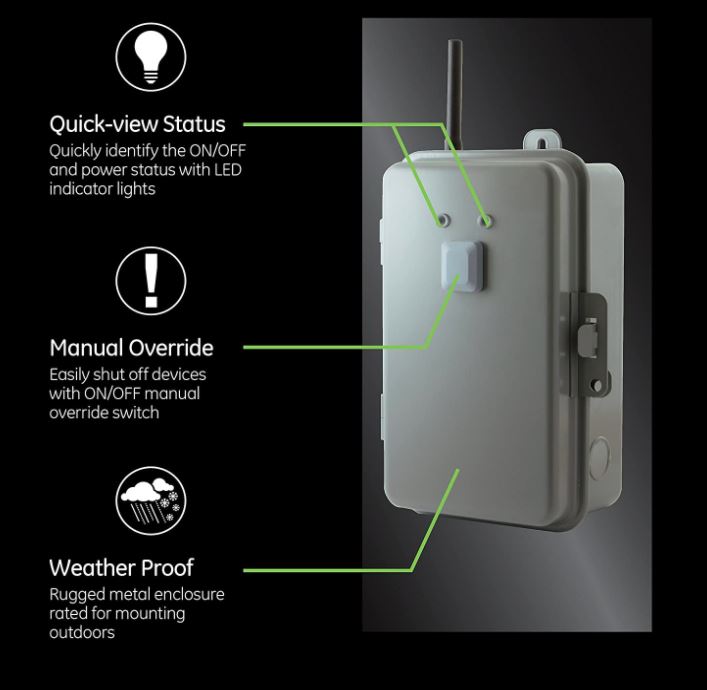 It will allow you to control up to one 277 V device or two 120 V devices depending on your needs, and you'll be able to wirelessly control the honor of functions for a variety of classical machines and appliances. Things like landscape lighting, pool pumps, spas, water heaters and more can all be controlled through this smart switch. You'll also be able to monitor the energy consumption for those various devices, and either in terms of watt or kilowatt-hours.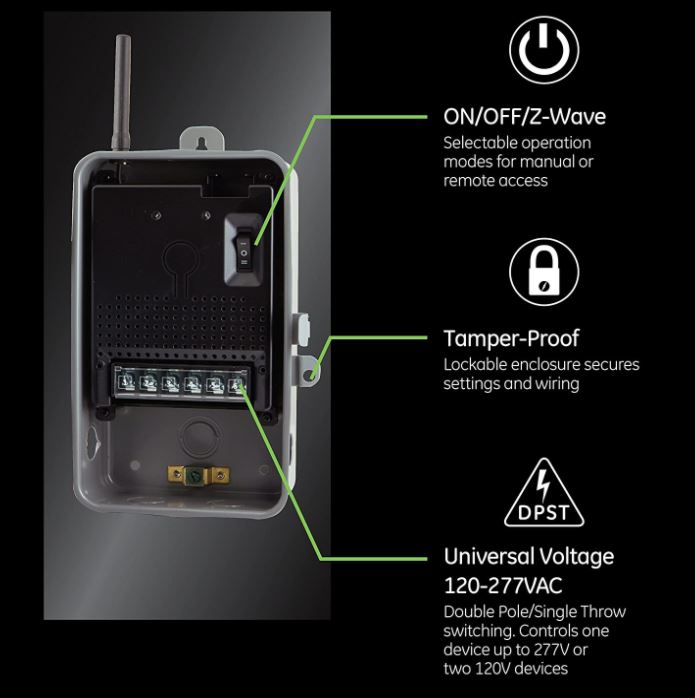 However, it has a small drawback in that it requires a Z-Wave certified hub to function. This makes it a perfect companion device for smart homes that use Amazon Alexa or Google Assistant, but it's useless if you don't have this functionality. Still, it comes with a large external antenna to ensure that wireless connectivity is never disrupted. A built-in Z-Wave signal repeater will strengthen the entire Z-Wave network for your home, essentially improving your smart home's connectivity and consistency across the board.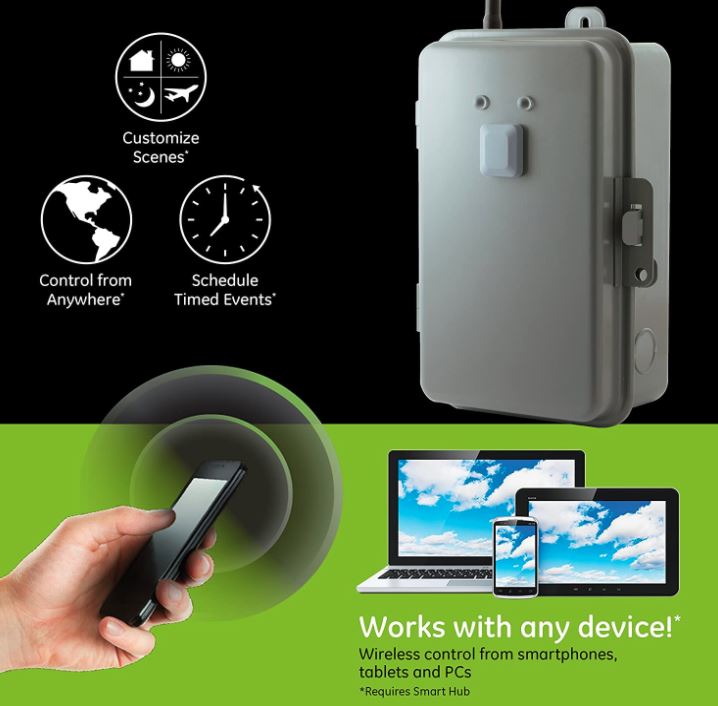 One last thing: the GE Z-Wave Plus allows you to set a manual operation mode if you don't want anyone to be able to remotely access the switch. This is ideal if, for instance, you have a lot of guests over and don't want anyone to accidentally switch things around when they try to use other appliances in your integrated smart home.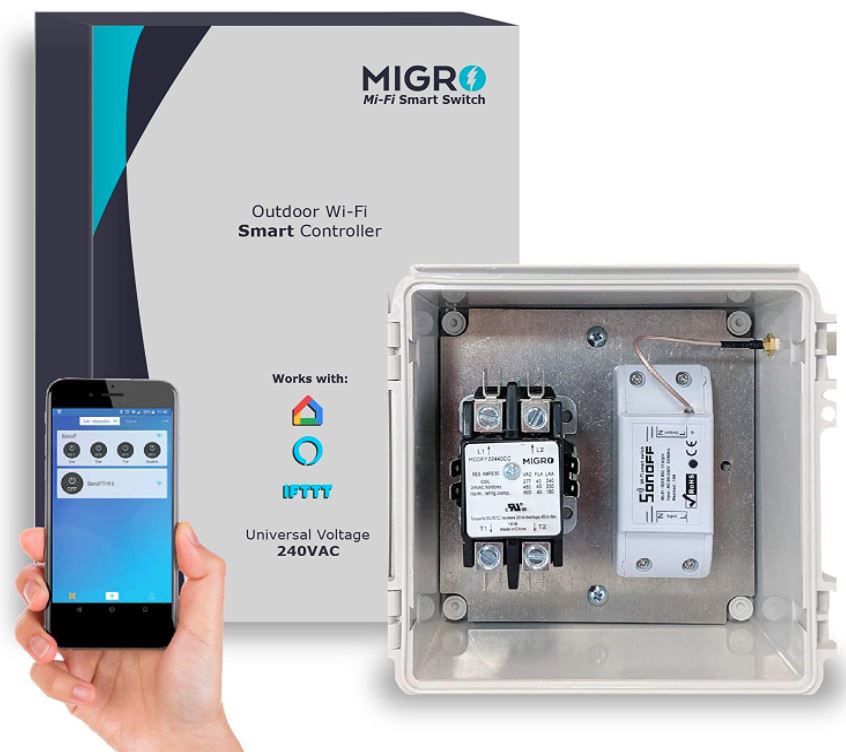 Migro Outdoor Smart Wi-Fi Outlet Box
Here's another top-tier Smart Wi-Fi switch, with a similar waterproof case that can prevent rainwater from getting into the junction box. It's particularly easy to install and set up either outside or indoors, and it'll allow you to control devices requiring 40 amps of power overall. This makes it ideal for several heavy-duty applications like heaters, pool pumps, and fountains.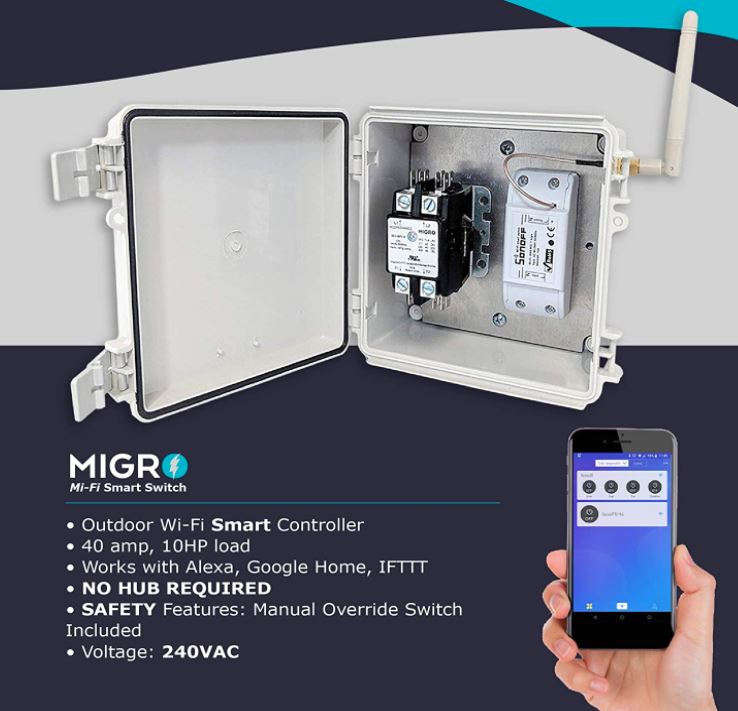 Much more importantly, the Migro doesn't require you have an existing smart home hub to use its various functions. You can integrate this seamlessly with an existing Wi-Fi network and use the proprietary app to control all of your appliances and devices from afar, even if you don't have a Z-Wave network installed in your home. Thus, this is a perfect choice if you want the convenience and functionality of a Wi-Fi smart switch but don't need all the smart home stuff that normally comes with it. If you do have a smart home, you can still use the Migro with it – it's just nice to have the option depending on your needs and preferences. It works with Amazon Echo, Echo Dot, and Tap.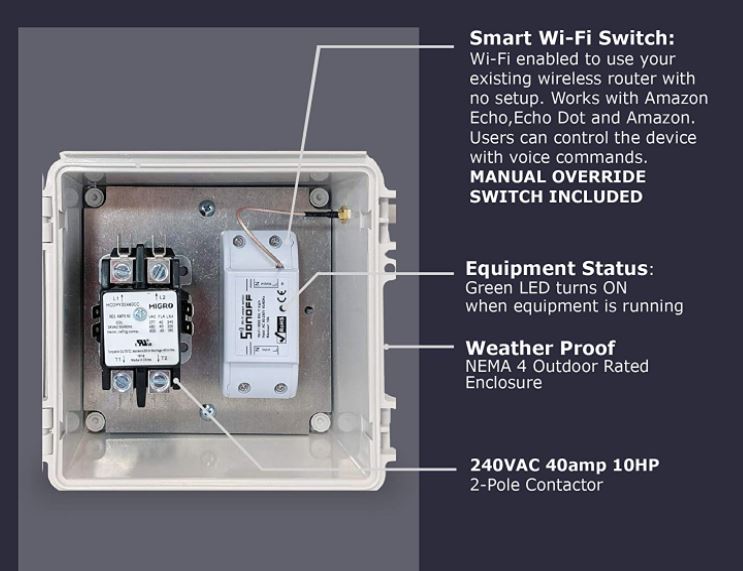 This does mean you can control all of your appliances with voice commands or with the mobile app, which is available for both iPhones and Android users. The Migro comes with a manual override switch on the interior to prevent overloads or to stop people from controlling the devices in your home if they get into your network. On the interior, a basic set of indicator LED lights can inform you on a glance whether the equipment is running or if there's an issue with the switch overall.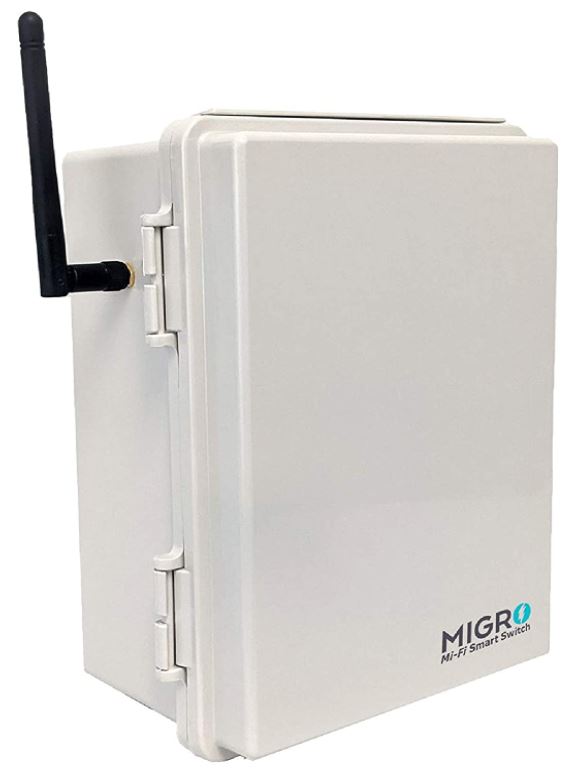 You'll be able to set schedule countdown timers to turn various appliances on or off at specific times. This is nice for making sure your home is welcoming and ready for your arrival after returning from a long trip, or making sure that you get everything shut off when you leave your home for a while. You can even set ancillary conditions for things turning on and off – for instance, the app allows you to set your air-conditioning unit to turn on when the interior of your home reaches a specific temperature or humidity level.
The last notable thing about this Wi-Fi smart switch is its software security, which should prevent the switch from getting hacked digitally. A one-year limited warranty is included with the purchase. This covers any manufacturer defects in case you get a dud unit.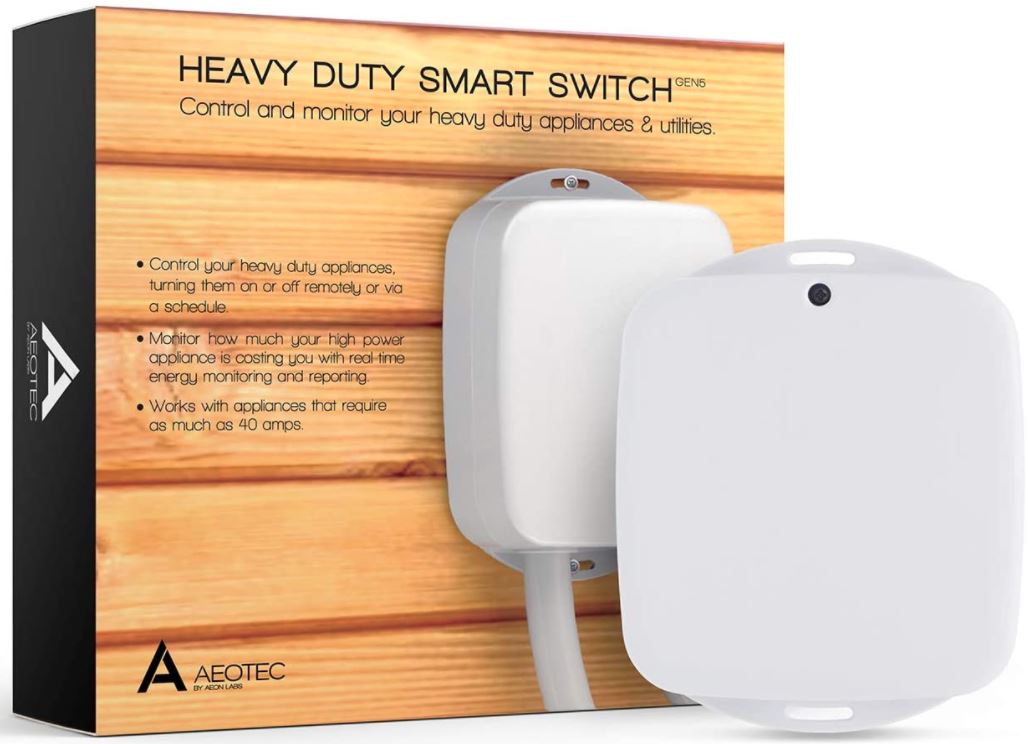 Aeotec Heavy Duty Smart Switch
This last Wi-Fi smart switch is significantly more affordable than the Migro and works with Z-Wave tech. It a heavy-duty electronic device controller that can handle up to 40 Amps of power at once. Large fridges, pumps, electrical car chargers, and much more can all be used with the Aeotec. Because many heavy-duty powered appliances use a lot of energy, the Aeotec can also regularly send you reports in watts and kilowatt-hours and track your energy consumption and adjust things if necessary.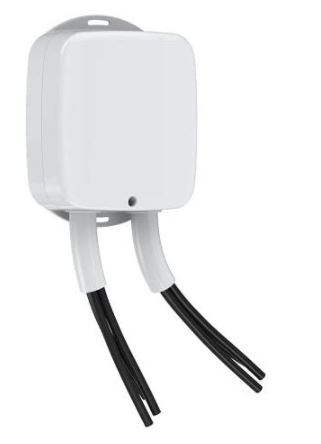 It's an ideal switch for outdoor use if you prefer, thanks to the heavy-duty casing that protects both the main internal switch components and the cables that connect the switch to your existing electrical network. The case is totally waterproof so you don't need to worry about damage from inclement weather. It boasts a long-range antenna that can communicate across 150 m or 490 feet, plus has a Z-Wave repeater – this means it can easily communicate with other smartphone devices that you already have installed on your property, boosting the instability of your network as a whole.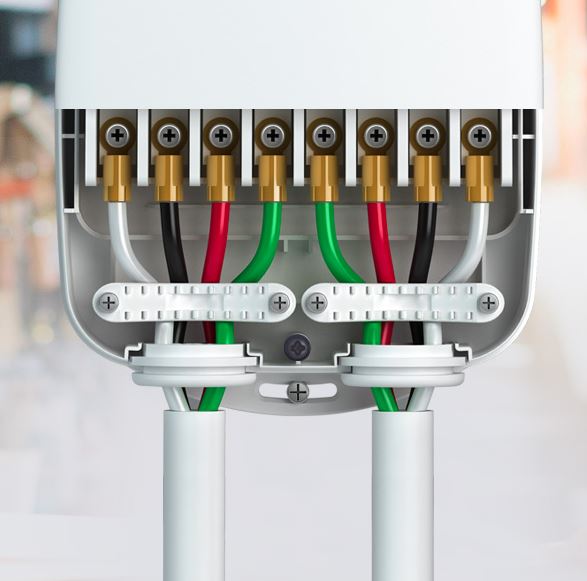 Furthermore, you'll benefit from enhanced 128-bit encryption that protects all of your data and your Z-Wave network from being hacked. This does mean that, like the GE Z-Wave Plus, you have to have an existing smart home network to use this smart switch – it doesn't just run on Wi-Fi alone.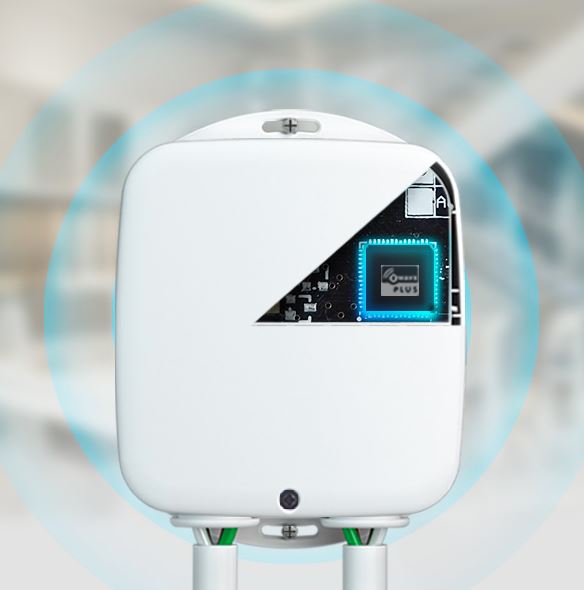 But you do have a smart home network, you'll get a plethora of additional features like the ability to automate or schedule when your high-power devices turn on and off. The Z-Wave functionality will allow you to control the entire system with remote control, with a proprietary app that you can download on any type of phone, and through voice commands by using Amazon Alexa or a similar smart home assistant.
Installing the Aeotec is fairly straightforward – all you need is a screwdriver and a wire stripper. It's easily one of the most surreptitious and smallest heavy-duty smart switches on the market.
Final Verdict
Which of these three Wi-Fi smart switches is most worthwhile largely depends on whether or not you already have a smart home network set up. As mentioned, the Aeotec and GE Z-Wave Plus both rely on existing smart home networks since they use Z-Waves (the type of signal commonly used for smartphone devices) to perform their wireless feats. However, the Migro does not – it works with any existing Wi-Fi network. The difference between these two types of devices is clear. The first and last Wi-Fi switches are better for those who enjoy smart home functionality while the Migro is the clear winner for those who don't.
However, the Migro can work with smartphone devices if you decide to upgrade your home in the future. For this reason, the Migro might be a good choice if you aren't fully sold on smart home integration but are open to the idea of upgrading your home in the future. With the Migro, you won't have to purchase an entirely new Wi-Fi smart switch if you decide to make the upgrade.
Apart from these major differences, all three of the Wi-Fi smart switches are pretty similar. All three feature waterproof enclosures and are fairly durable, though the Aeotec is arguably the toughest thanks to the protection it affords the wires. Each also allows you to set schedules or timers for your various devices and appliances. Both the Aeotec and GE Z-Wave Plus also stabilize your Z-Wave network overall, acting as boosters for all your smartphone devices.
The Migro, ultimately, is the best in our eyes thanks to its versatility and its ability to work with regular Wi-Fi networks and Z-Wave networks. It's also the most expensive compared to the other two options, which is a notable downside. If you're looking for something more budget-friendly, the Aeotec is likely right up your alley if you have an existing smart home network.
Meet Derek, "TechGuru," a 34-year-old technology enthusiast with a deep passion for tech innovations. With extensive experience, he specializes in gaming hardware and software, and has expertise in gadgets, custom PCs, and audio.
Besides writing about tech and reviewing new products, Derek enjoys traveling, hiking, and photography. Committed to keeping up with the latest industry trends, he aims to guide readers in making informed tech decisions.