You might have allergies, or you might just be interested in the various health benefits of having clean air. In either case, a good air purifier can make all the difference in the world. And even though these are surprisingly simple machines, there are still about a million ways you could end up with a purifier that's not ideal for you.
Picking the Best Smart WiFi Air Purifier
Which is why it's important to keep a few specific criteria in mind when selecting an air purifier. You'll want to think about the size of the room that you'd like to be purified, the kinds of filtration necessary for the task, and the general quality of construction behind the unit.
Air Filters
Not all HEPA filters are identical, but for most people, just any HEPA filter will do. Which really makes your primary concern more about the cost of replacement air filters rather than the efficacy of those filters. In fact, when HEPA filters fail to do their job, it's usually because some other part of design has failed. For instance, the filter might not sit flush against the inside of the purifier.
Size of Room
In general, smaller rooms can get away with using smaller purifiers. Larger rooms need larger ones. But there's more to it than that. You also need to think about the location where the purifier is placed. Even a powerful purifier, if its omnidirectional, will lose a lot of efficacy if its crammed into the corner of a room. Ironically, unidirectional units can sometimes have better efficiency than omnidirectional ones, depending on their placement.
Construction Quality
Because air purifiers need to be designed relatively airtight, to help ensure air flows to the right places, construction quality can really count for something. The fact these things are driven by small motors and use moving parts also suggests it's always wise to consider the manufacturer's warranty. Though purifiers are rarely built to be tanks, it does help if they can handle being pushed over without something breaking in the process.
Dyson Pure Cool, TP04
The Dyson TP04 is one of the most unique looking air purifiers you'll ever set eyes upon. The white and silver design looks modern, professional, and high-class. That's because it operates a tower-sized fan that's connected to a more traditional air purifier base.

But this system isn't all about good looks. The air captured passes through a full-fledged filtering system, and then is ejected in a purified form across the room. And the airflow can be distributed to certain areas of the room as you see fit. Very fancy.
Design & Layout
The topside of the unit hosts a touch control system with a total of eight buttons. The top row of those buttons allow you to enter sleep mode, or to affect the directionality of the fan. The next row of buttons can enter the automatic mode, or adjust the speed of the fan. And the final row of buttons lets you power on or off the TP04, and allows you to enter the backwards airflow mode. This isn't totally intuitive, and the labeling of each button really doesn't help much. But since there are only eight buttons, it's not hard to work it out.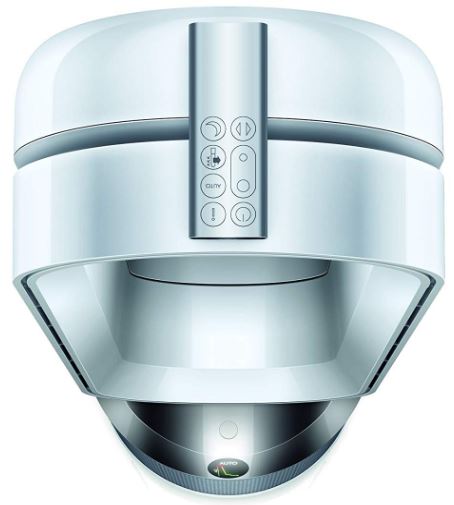 There's a small LCD on the purifier, which will display air quality levels. That includes ultrafine particle levels and allergen levels, PM 2.5 or PM10. It also will display the presence of volatile organic compounds or nitrogen dioxide. As the TP04 is detecting pollutants, it's also cleaning them from the air. The HEPA filter was built to capture 99.97% of all allergens, and it captures stuff that's as small as 0.3 microns. That makes this purifier suitable for helping manage pets, dust, pollen, allergens, and basic mold spores.
It doesn't hurt that the TP04 is enabled for Alexa, allowing you to control it with voice commands. Apart from that, there's also an automatic mode. That mode allows the TP04 to use its best judgement for determining whether or not it's necessary to increase or decrease the speed of the fan. It does that based on sensor data captured from the onboard air quality sensors. There's also a backward airflow mode, which can purify without cooling or heating the air. Very nifty for people who are using this purifier in a smaller environment.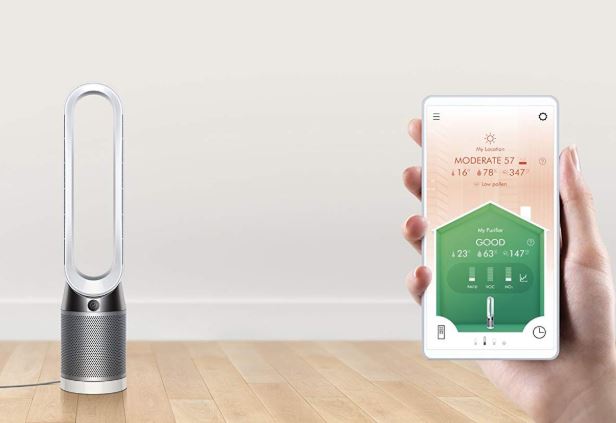 Other Considerations
This is a Wi-Fi connected device, which means several things. One is that you can get real-time reports from the Dyson app, and you can create purification schedules around your needs. You can also check out how your air cleaner has done over the past few days, weeks, and months.
But the hardware is just as adaptable. For instance, the design of this fan is able to spread air across an entire room. It ejects 77 gallons of air per second, and the 350-degree range of oscillation has few limits. Those last 10-degrees may not be covered in rotation, but the fan frustrates enough of the air particles to effectively be able to reach every part of a room.
Inofia Air Purifier
The Inofia Air Purifier looks much more like a traditional air purifier than its counterparts. Except unlike a more traditional purifier, inside they've packed Wi-Fi controls and some other smart-home oriented features inside this device. For instance, that include some smart air monitoring features, which are enabled by the presence of several air quality sensors.
Because there are air quality sensors, there is also an automatic mode. That mode allows you to let the Inofia Air Purifier do its thing without your oversight. Most of the time, that's the mode you're going to want to be running. Because it's a great compromise between power efficiency and efficacy. But when you do want to take control, the app allows you to manage the purifier from anywhere you've got a wireless connection.
Design & Layout
This air purifier is rather large, measuring 13 x 13 x 23.8 inches. And it weighs about 27lbs, which helps explain why they've attached some wheels to the bottom of the unit. It's larger because it was designed to service about 1056 square feet, which is a rather large space for one purifier to handle.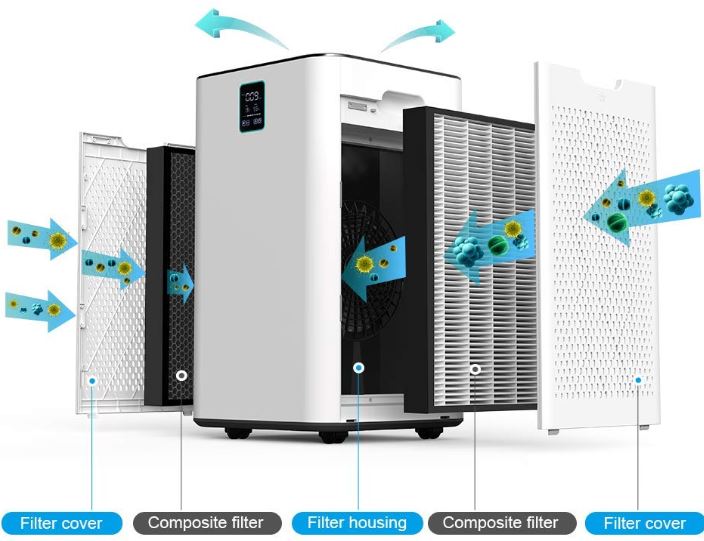 Their purification process is actually a two-step system, skipping the basic pre-filter and relying entirely on the HEPA filter and carbon filter. But because this is a very large air purifier, it makes use of a very large filter. And consequently, replacement filter costs are a little high for a unit like this. On the other hand, unless the filter is being hammered with dust and allergens on a constant basis, you can also rely on a larger filter like this to be able to last much longer. And that does help offset the cost of replacing the filters.
Running at its lowest speed, the Inofia Air Purifier gives off a miniscule 27dB for operation noise. But of course, there are a total of five speeds. And as you crank them up, that noise will go up as well. By the time you reach speed 3, you're hearing 42 decibels. And for someone with healthy ears, that's something you can hear from 15-feet away.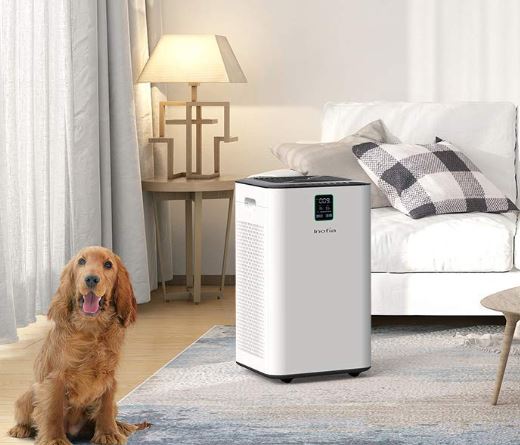 Running at the highest speed, it kicks up to 67dB, which is pretty close to the sound levels of a quiet conversation. So it's not something you'd want to be running right next to you while you were talking, or watching TV. But then again, if you need to be on speed 5, that suggests the air quality might be a higher priority for you. And in any case, the sleep mode keeps things at 27dB, which is a whisper.
Other Considerations
The app has support for both Android and iOS platforms, so you can run it on virtually any mobile device. And Inofia includes a 2-year warranty. You generally don't have to worry too much about an air purifier needing warranty service. Because at the end of the day, these are basically fancy fans built with relatively simple motors.
LEVOIT LV-PUR131S
LEVOIT is one of the bigger names in this particular industry, and their PUR131S is a good example of why. Inside this unit you'll find no shortage of strengths, both with respect to the hardware and the underlying software that runs the show.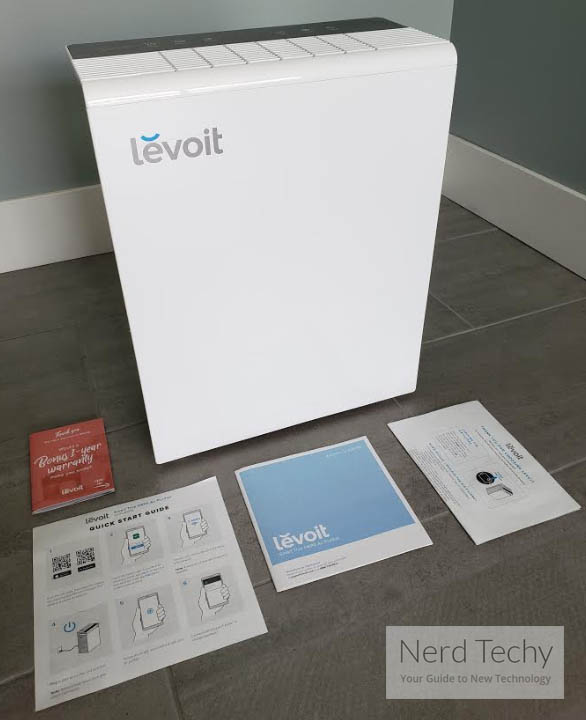 For a larger room, this air purifier is supposed to be quite efficient. It can swap the air of a room 5 times per hour, managing a tad more than 360 square feet. That makes this purifier suitable for most large rooms, including bedrooms and living rooms.
And like most air purifiers, LEVOIT designs theirs with a three filter system. But the filters used by this particular system are actually slightly modified. Because the active carbon sheet has a honeycomb shape, which is superior at trapping odors. Apart from that, the system is pretty straightforward, but it does give the PUR131S and edge when it comes to combating bad smells.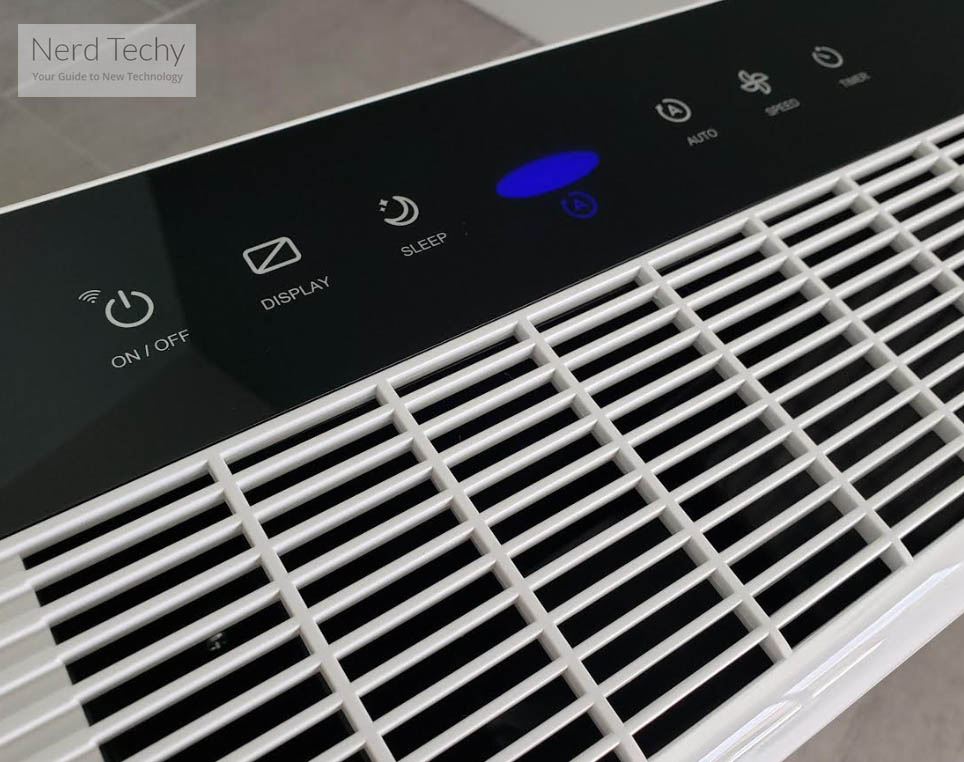 Design & Layout
The LV-PUR131S measures 21.6 x 17.7 x 9.8 inches, and it weighs about 15lbs after you've got an air filter inside of it. But you don't actually make much physical contact with the device because of all its wireless options. For instance, the VeSync app lets you create purification schedules, monitor the quality of the air around you, move between different modes of operation, turn on/off the display lights, and so on.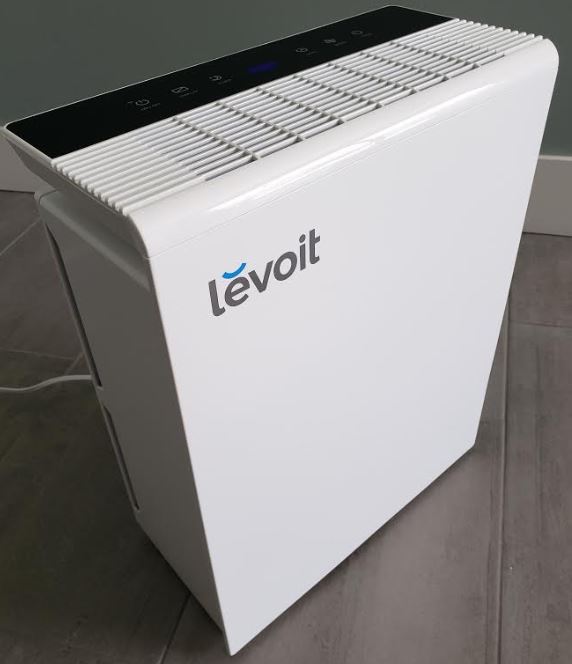 The app lets you schedule timers now and in the future, even distant dates years ahead. You also have support for Alexa, IFTTT, and Google Assistant. So you can exercise control over your purifier without having to actually be in the room with it.
Turning to noise concerns, the lowest level of operation is 27dB, which is quiet enough that it can't be heard. At least, not without placing your ear within a few inches of the machine. But as the fan begins to speed up, those noise levels do begin to change. The highest setting is closer to 55dB, which is a conversational level of volume that sounds somewhat like a small hand vacuum.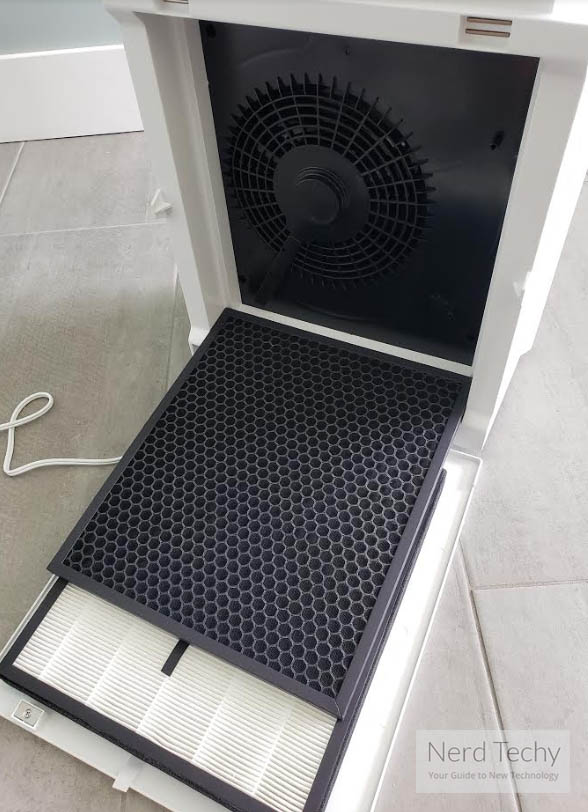 Other Considerations
Their VeSync app uses a smart algorithm which allows the air purifier to help calculate the filter's lifespan. It does that in relationship to the filters real-world circumstances, not a static timer. In other words, it can look at the quality of the air coming through the unit and compare it to the speeds at which the fan has had to spin-up. And based on those data points, it can have made some educated guesses as to when the filter will need to be replaced.
The exterior casing has a small hatch which you can pop-open. There's a reset button inside that can be used to tell the replace filter button it isn't wanted. And there's also the air quality sensor inside, which you're supposed to clean up every two months or so. Even just checking up on it after two months is a good idea because the sensor will stop working efficiently if it becomes covered in dust or debris.
Choosing Between 3 of the Best Smart Wi-Fi Air Purifiers
The Inofia Air Purifier is a great choice for someone who's looking to clean an enormous 1,000 square foot space. Its filtration system can be automated or programmed with almost the same level of specificity as you can get from the LV-PUR131S. Though this machine is a tad louder than the other purifiers on this list, that's just a consequence of size.
The Dyson Pure Cool TP04 is the most stylish unit on this list. It has the best air distribution especially because it allows you to aim the direction that the air is ejected. It has the most sensitive air filter sensors, allowing you to get readings of the air quality based on the types of particles in the air. Though it's also rather expensive, elegant design often is.
For cleaning the air in a single large room, the LEVOIT LV-PUR131S has a lot of strengths. This unit has formidable Wi-Fi connectivity, and an app that lets you control the purifier in great detail. For people who need the best smart-features they can get their hands on. LEVOIT's app is by far the most robust.
Was this helpful? Please consider sharing: