During my first year of college, my Economics teacher was explaining price elasticity. Margarine, for example, is a highly inelastic product. If it becomes too expensive, people would quickly stop purchasing it and just buy butter instead. But some things are highly inelastic. If I tried to sell you some air, you'd likely laugh in my face. But if you didn't have access to any air, you'd quickly give me every dollar you have to get your hands (or lungs) on some. Although we're not here to explore economics, this highlights how underappreciated air is. It's always been available, and so we tend to take it for granted.
Although our air supply isn't directly threatened, it's well known that our environment is becoming more polluted day by day. If you suffer from allergies, you're well aware of just how many irritants can fill the air as the seasons change. For this reason, many consumers are having air purifiers installed in their home.
Historically, air purifiers have been large, expensive boxes that are installed in your home along with your heating system. After spending a pretty large chunk of change on one of these machines, many homeowners want to know if theirs is working or not. Until recently, there wasn't really any way to tell. You'd just have to hope it was working as intended, change the filter occasionally, and expect to see it pay off with your health in 10 to 20 years.
Today, the story is quite different. As industry works to make our homes smarter and more effective, you can tell if your air purifier is working. Smart WiFi Air Purifiers won't just confirm that they're cleaning your air, but also give you up to date readings about your air quality. Having clean air in your home is essential to maintaining good health, and these handy little devices are the best way to keep your air clean. We'll be looking at the three best solutions on the market. After we explain how they work, we'll help you find the one that's right for you.
GermGuardian Smart 4-in-1 Air Cleaning System
Guardian Technologies has all kinds of products designed to keep you healthy and happy. They've been creating air purifiers, conditioners, and monitors for many years, but the CDAP4500BCA is their top-of-the-line model, and the first with smart functionality.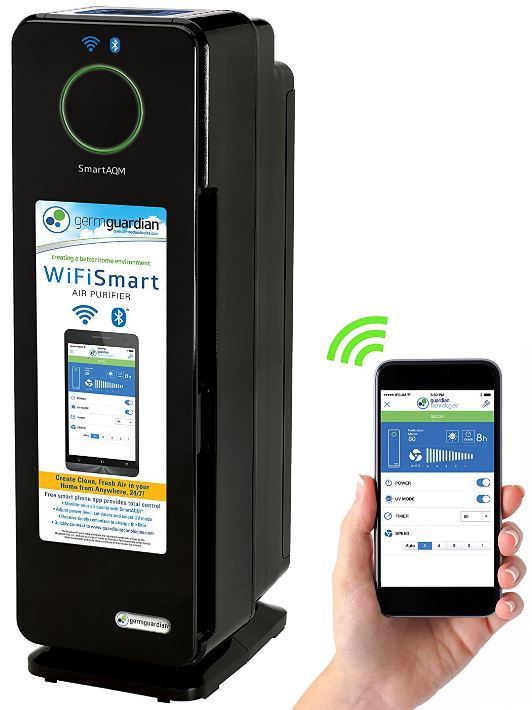 Filtration
The GermGuardian Smart 4-in-1 Air Cleaning System has been carefully design with a specific air flow in mind. The process starts at the back of the unit. Thanks to the powerful fans, air is pulled in through the rear vents where it first passes through what they call a "pre-filter." This is actually a carbon lined foam filter very similar to the one used on your fireplace.
This is designed to stop large particles from entering the main filter. It seems like a pretty simple process, but we really want to highlight how important this step is. Large particles can block up your main filter in no time, forcing you to replace it more regularly. But this step does a little more than your typical pre-filter. It's been coated with an anti-microbial agent that prevents the growth of fungus. Just this step alone is all that's used by many inexpensive air filters, but this is just the beginning for the Germ Guardian.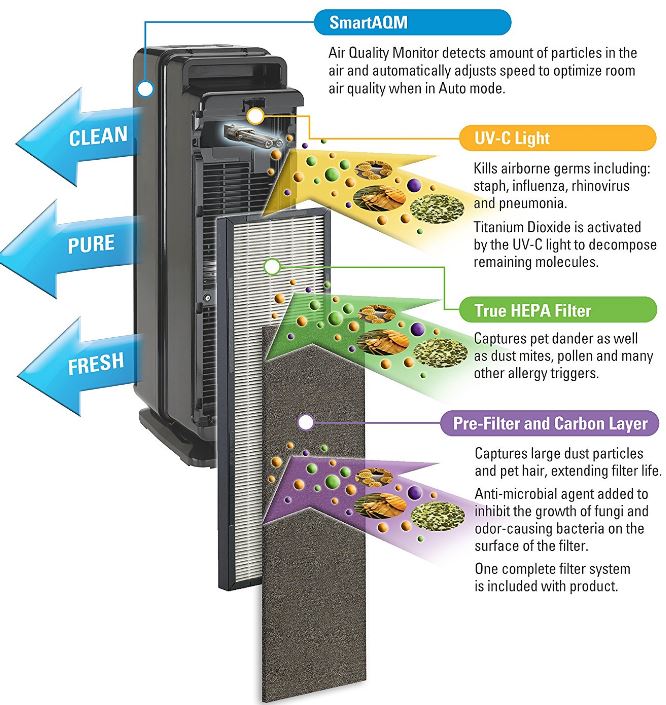 Step 2 of the filtration is the HEPA filter. HEPA stands for High Efficiency Particulate Air. This is an extremely fine mesh that traps particles that are normally invisible to the human eye. There are many products sold as HEPA filters, but not many actually live up to the standards of a true HEPA filter. This one is built to the same grade as the ones used to clean up after house fires, and in manufacturing. They're extremely effective at removing allergens, pet dander, and dust. But some things are just too small to be removed using a physical filter, and that's where step 3 comes in. A bright UV-C light illuminates the inside of the filter, which is an extremely effective way to kill airborne viruses and germs.
Monitoring
There is a two-part air quality monitor built into the GermGuardian that serves two purposes. First, it connects with your smartphone to keep you up to date about your current air quality. It also automates the operation of the filter, speeding it up or slowing it down to reach peak efficiency. If there are lots of pollutants in the air, the filter needs to run at a slower speed to remove as many as possible. If your air is mostly clean, it will run at high speed to clear the largest volume of air possible.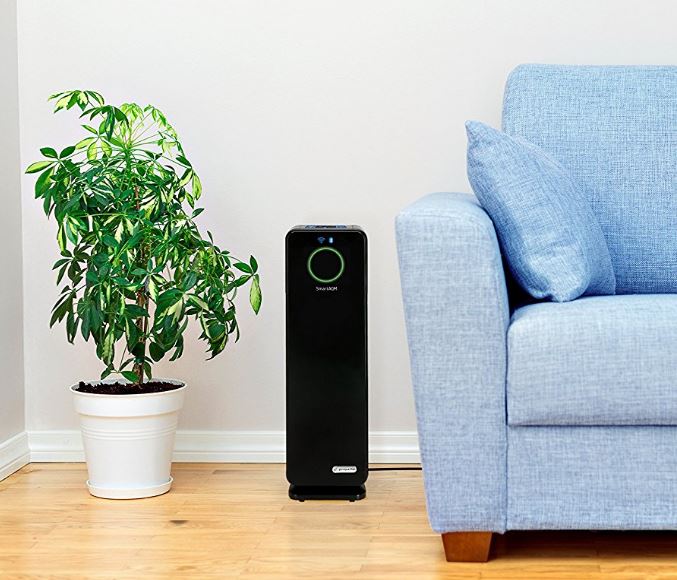 Monitoring takes place in a two-step process. It tests the air before purification, and after. When you open the free app on your smartphone, you can see your current status. It's divided into three categories: Good, fair, and poor. You can tap each of these ratings to find out more information about your specific air quality, although the ratings are a little more general. It's worth noting that this applies primarily to pollutants, as it's not possible to measure viruses or the presence of bacteria in the air without specialized lab equipment.
Control
Many people will find that their air quality is generally rated as good. In this case, you might not want to run your air filter all the time. This is where the smart functionality comes in. No matter where you are, your smartphone will always be connected to the air filter. If the air quality ever drops, you can set it up to automatically start until the situation improves.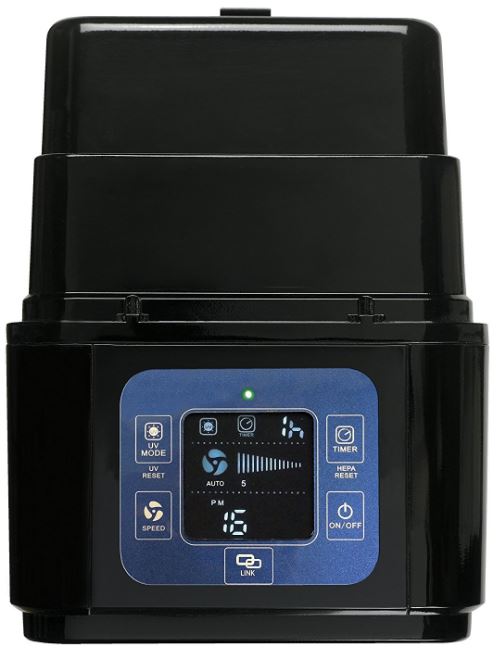 This is great for many purposes. For example, you might want to run the air filter every time your cat uses the litter box to remove the odors. It can also detect things like cigarette smoke, or pollution entering in through a window. This is great for situations that can't be solved with purification alone. The notifications might remind you to close a window, or turn on a fan. The level of control provided by the Germ Guardian gives you a window into your homes air quality, and finally provides a way to actively solve the problem.
Blueair Classic 405 WiFi Air Purifier
Blueair is another company that's been making air purifiers for many years. This particular unit is designed to be used in a single room, but packs a lot more punch than competing models. Although it's not the only high volume air purifier on the market, it tackles several problems with competing models in new and unique ways.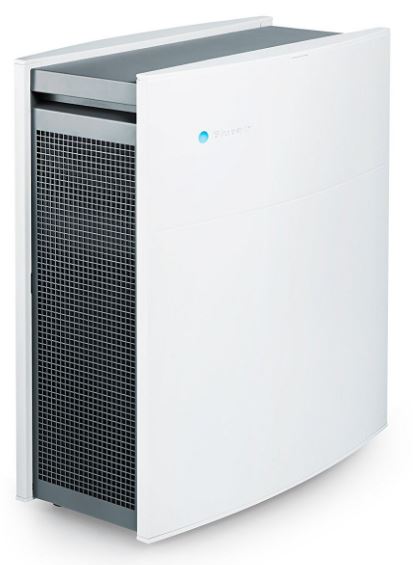 Filtration
The Blueair Classic 405 uses a highly advanced HEPA air purifier that is capable of removing particles down to a size of 0.1 micron. This is rated well above your typical HEPA filter, making it suitable for use in extreme environments. The problem with filters like this is that they're loud. When you pass air at high speed through a tiny set of filters, you end up with white noise. Good luck sleeping with something like that running all night!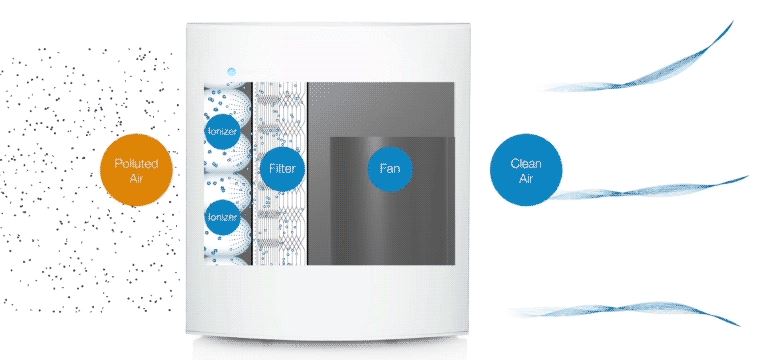 Blueair's solution is unique, and highly effective. The air filter is thicker than most, and has several layers. It starts with a larger sheet to trap the biggest particles, gradually pulling the air through smaller and smaller holes until the final stage is reached. The end result is that there is much less wind noise, making the filter suitable for use even in a child's room.
This system allows them to silently clean huge volumes of air. It can deliver up to 300 cubic feet per minute of air that is free of both dust and pollen.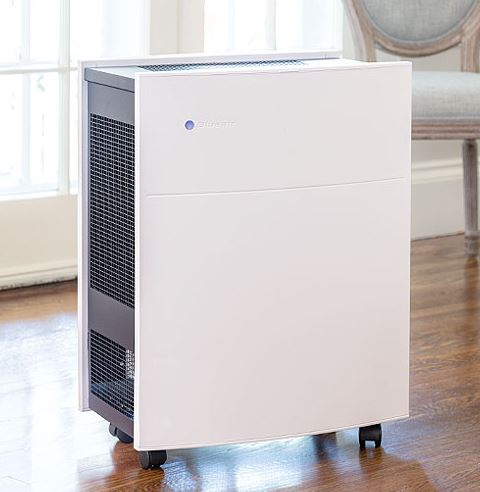 Monitoring
The Blueair Classic 405 is designed to be as simple and easy to use as possible, so it doesn't include a lot of built in monitoring features. You can pair it with the Blueair Aware indoor air quality monitor if you're looking for real time updates, but this isn't necessary with this unit. Since it's virtually silent, you can leave it on almost all the time. It's also one of the most powerful air purifiers on the market, so if there is pollutants that it can't clean you'll likely have an issue that can't be solved with an air purifier.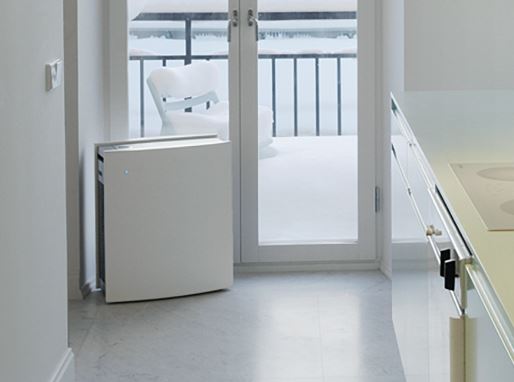 Control
Using the free Bluair Friend app, you can control any aspect of the air purifier from the palm of your hand. You can set the speed, choose a schedule, and view its performance in real time. This app connects over your local WiFi network, but also gives you the ability to reach it from anywhere you have an internet connection.
Winix NK105 WiFi Enabled True Hepa Tower Air Purifier
If you've looking for a powerful air purifier suitable for small to medium sized rooms, this would be a good option to look at. Instead of attempting to be as quiet as possible, this model combines advanced speed control with a powerful filtration system to give you the best of both worlds, at a price you can afford.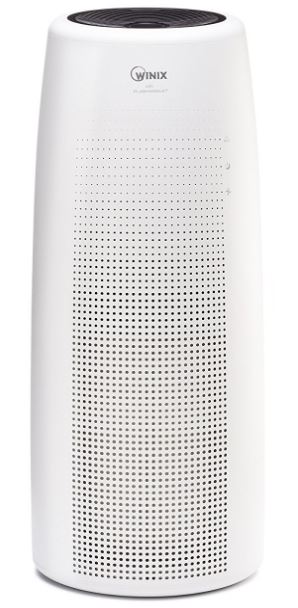 Filtration
The four-stage purification system in the Winix NK105 is capable of purifying the air in any room up to a total size of 320 square feet. The first step is a carbon filter which removes all larger debris. After, the air is pulled through a two stage HEPA filter, similar to the one used in the BlueAir model. Because the filters are split into two separate stages, air can be pulled a little faster through each, allowing the purifier to remove 99.97% of pollutants. The final step is a patented system known as a PlasmaWave cycle. Really, this is just a fancy circulation technique.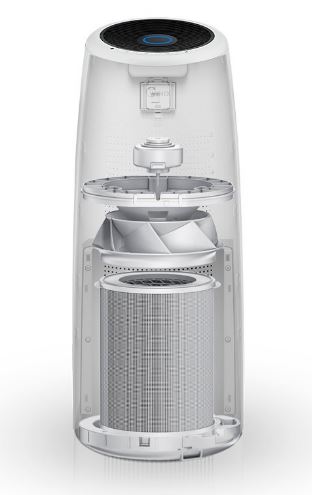 The filter is shaped like a cylinder, and the air moves in a circular motion through the filter. As it reaches the top, only the air in the center is pushed out into the room, while the air on the outside is recirculated through the filter. What this does is ensure that all of the air passes through the filters enough that nothing is missed, making for a very thorough process.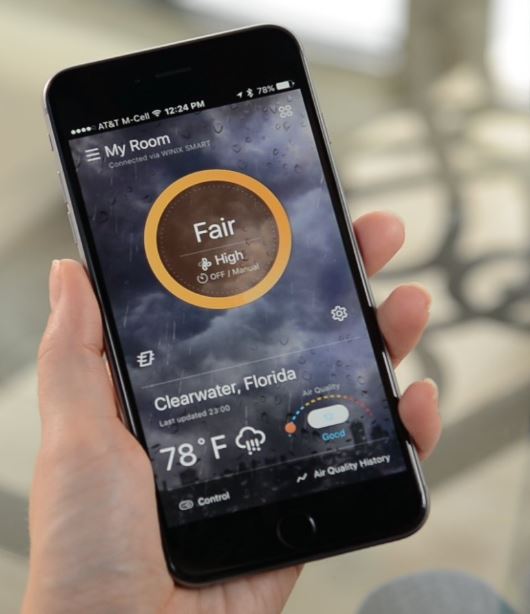 Monitoring
Built into the filter is a smart sensor that measures your air quality. This sensor is incredibly accurate, but only detects the air that is being removed from the filter. This gives you a good indicator of how clean your air is after the filtration process, allowing you to choose the correct speed for maximum quality.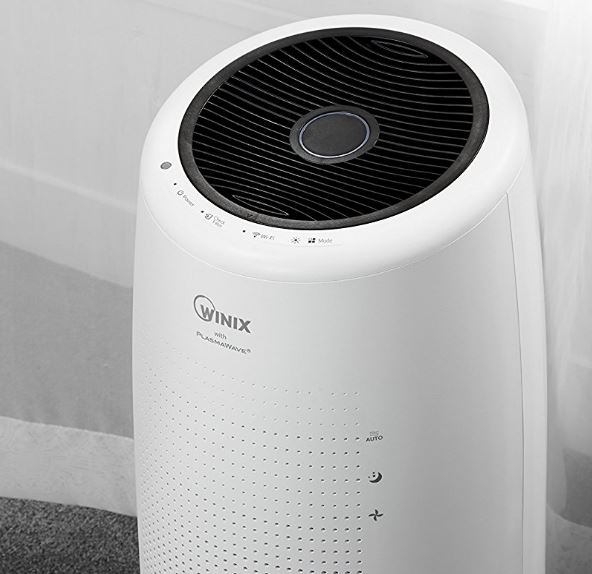 Control
The only disadvantage to this system is that it's not totally silent. The automatic speed control can help with this a lot, but when you're using your smartphone you can configure it to work exactly the way you want. You can set it to low speed sleep mode, allowing it to run virtually silent at night. You can do this manually, choosing between sleep mode, slow sleep, moderate speed, or high speed. If it's easier, you can also set a schedule so this is done automatically.
Which Smart WiFi Air Purifier is Right for Me?
If you're looking for the ultimate in air filtration, the Blueair Classic 405 is the most powerful model on the market. Not only is it the most effective at removing irritants and pollutants from the air, but it can do so silently. It's perfectly suited for rooms both large and small, making it one of our first choices.
But not everyone need something so powerful. If you're just looking for a way to remove odors or deal with intermittent air quality issues, the GermGuardian's Advanced Monitoring and Control System makes for a great light duty system.
For a good balance between the two, the Winix NK105 Air Purifier provides high capacity air filtration and combines it with a powerful speed adjustment that let you have the best of both worlds.