There's no such thing as being too concerned about your home's air quality. Whether you're worried about allergens, odors, or general air pollution, an air purifier is a powerful tool. But there's a wide variety of air purifiers available on today's market with different sets of features. Before you choose one for your home, you need to consider your actual needs. What kinds of contaminants are you trying to remove? How much area do you need to cover? And how versatile is the control scheme? If the purifier has a companion app, so much the better. By considering these and other factors, you'll be able to find the best possible purifier for your needs.
Today, we're going to be looking at three of the best smart WiFi-enabled air purifiers that money can buy. We'll begin with the Coway Airmega 400S. This is a large, oversized filter with a massive coverage area. Next, we'll examine the TruSens Smart Wi-Fi Air Purifier. This is a mid-sized filter with a built-in ultraviolet sanitizer. Finally, we'll check out the Filtrete Smart Air Purifier. This is a smaller purifier with advanced filter status tracking features. We'll take a deep dive into all of their features, benefits, and even their drawbacks. After that, we'll sum up what we've learned, and deliver our verdict. Let's begin!
How to Find the Best Smart WiFi-Enabled Air Purifier
Because air purifiers come in so many varieties, it's best to start out by asking yourself what you need. By thinking about your application in advance, you'll be able to narrow the field considerably. So, what are the things you might want to think about?
To begin with, ask yourself what you're trying to achieve. If you're worried about seasonal allergens, you can use pretty much any HEPA filter. Some HEPA filters are more powerful than others. But even the most basic will remove mold spores, pollen, and cigarette smoke. In most cases where one HEPA purifier clearly outperforms another, it's because of the construction quality. A well-designed filter will seal around the edges, so no air can sneak past it through the purifier. If the housing is poorly constructed, the filter might not sit flush, so dirty air could get through.
Another thing to think about is how much area you need to purify. Different purifiers have different space ratings, depending on how much air they can handle per hour. The more air they can cycle, the more area you'll be able to cover. If you're just looking for a bedroom purifier, even the smallest will be just fine. If you need to purify a larger room, you'll need one that's correspondingly more powerful. Along the same lines, look at how the purifiers disperse the clean air. If they spread it around rather than sending it through a single vent, that's a big plus. That said, placement is also a factor here. Any filter will be less effective if the inflow or outflow vent is obstructed.
In addition to all that, you need to look at the design of the housing and the controls. Is the purifier well-engineered, and tough enough to take a beating? It's not necessary for a purifier to be military-grade, but it should at least withstand a casual bump. Is there a handle built in to move it around? Unless you plan on leaving your filter in the same place all the time, portability is an important feature. And an easy-to-use control scheme is a major plus. The less time you spend fiddling around with your controls, the better off you'll be.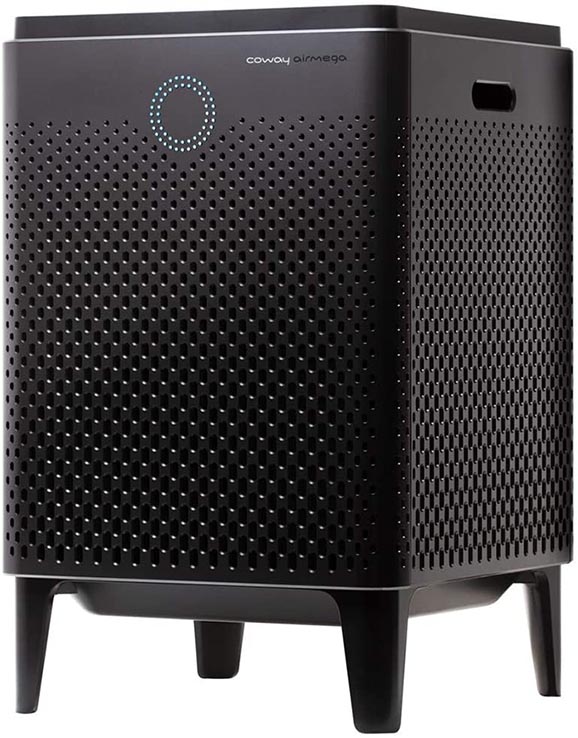 Coway Airmega 400S
The Coway Airmega 400S is a large, rectangular air purifier that comes in black or white. The footprint is 15 inches to a side, with a height of 23 inches. The sides, front, and back are all vented, so air can be sucked in through all the directions. It's then expelled through the top, through a circular vent with horizontal slits. At 24.7 pounds, the housing is on the heavy side. However, there are handholds molded into the side, so it's still pretty easy to carry around.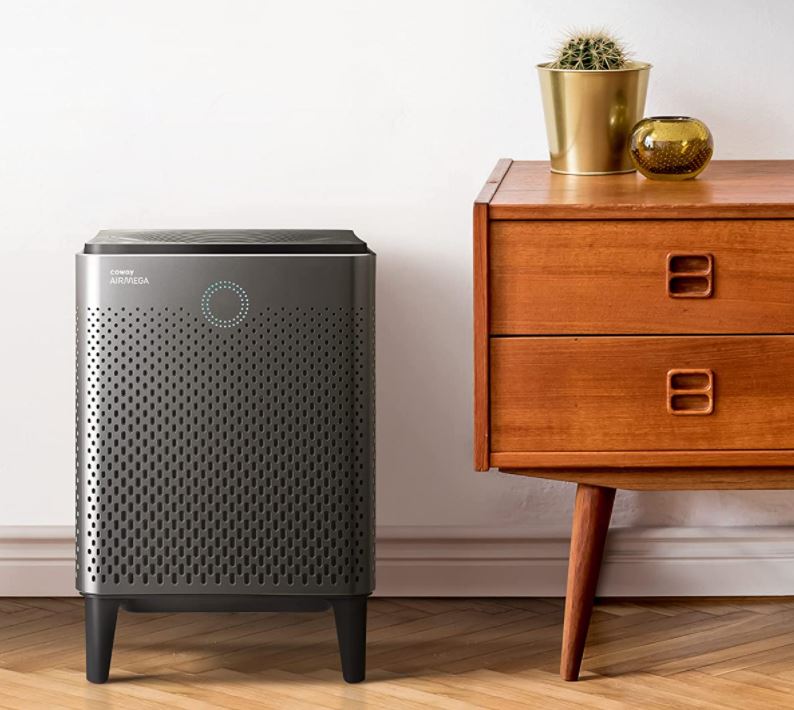 The controls are located on the top of the housing, and they're pretty straightforward. There's a power button at the front right, which cycles through the different operation modes. You can cycle through smart mode, sleep mode, and three continuous modes. Towards the left, there's a pair of filter indicator buttons, one for the main filter and one for the pre-filter. These light up when the filter is dirty. Once you've replaced or cleaned the filter, you press the button again to reset the sensor.
There's an LED light ring on the front, consisting of a number of little dots arranged in a circle. This light ring changes color based on your indoor air quality. That way, you get a visual indication of how clean – or dirty – your room's air is.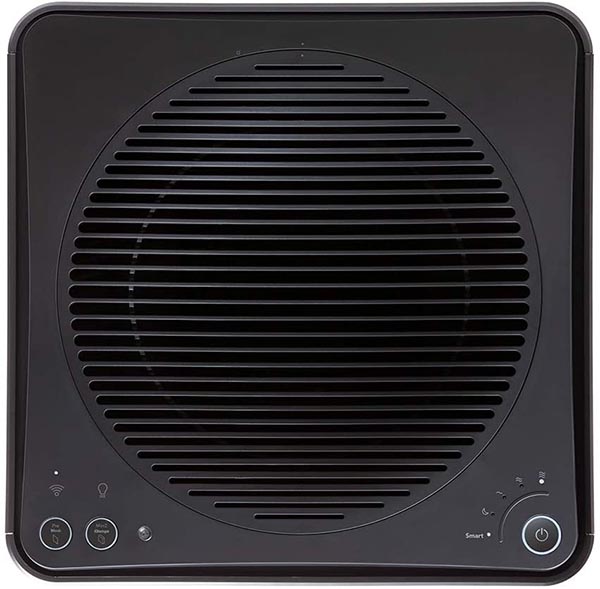 If you like this general design but want something a little bit different, check out the Xiaomi Mi Air Purifier 3C. It has a similar blocky design, as well as a digital air quality readout with your particulate number. On the downside, it only has about a third of the coverage area of the 400S.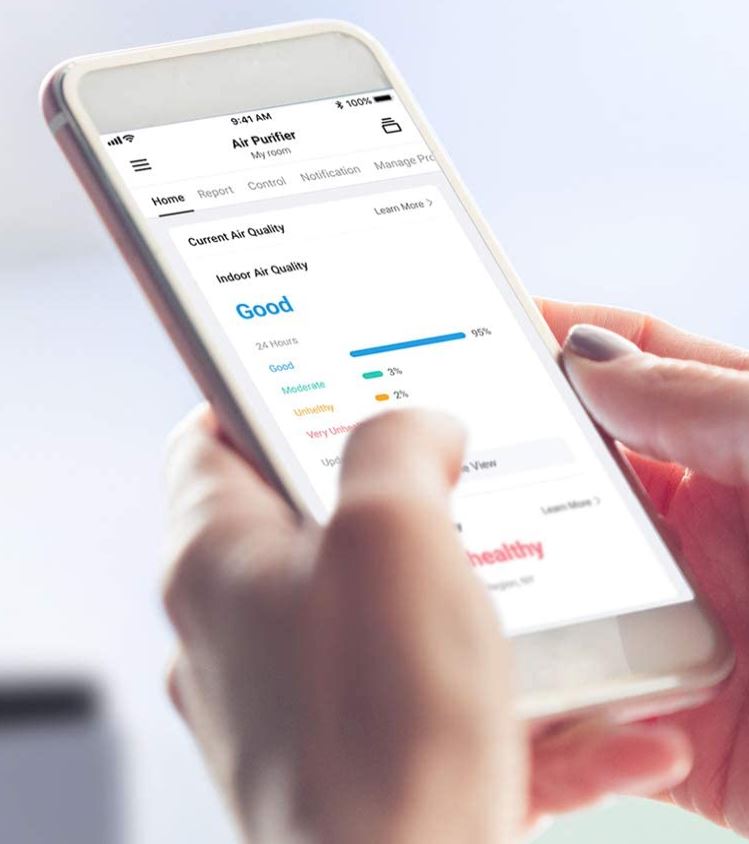 Through the Coway mobile app, you can access several extra features and controls. To begin with, you can set a 1-, 2-, 4-, or 8-hour timer for the purifier. You can also view your indoor and outdoor air quality directly through the app. You'll get push alerts when your filters need attention, and you can even schedule replacement orders. If that's not enough, you can also change the motor speed, just as you can with the physical button. And in just a few minutes, you can pair the 400S with Amazon Alexa or Google Home for voice controls.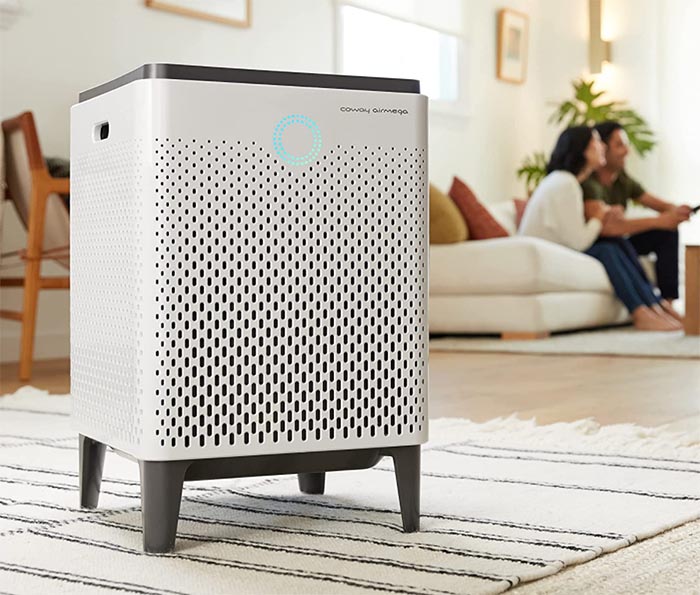 Filter Performance
As we briefly mentioned, there are five different fan modes. The low, medium, and high settings should be pretty straightforward. On low, the fan is very quiet, just a soft whisper. And even on the highest setting, it's quieter than ordinary conversation. Even so, it can cover up to 1,560 square feet on this settings. That's the size of a small house, so for some people, it's a whole-house purifier. The same is true for most apartments. And even in a larger home, you're talking about a lot of filtration power.
The smart mode is designed to keep your air clean while saving as much power as possible. In this mode, the motor will run on the lowest setting whenever the air quality is pure. When the internal sensors detect more particles, the fan speed will automatically ramp up. Sleep mode, on the other hand, is designed to be as discreet as possible. The fan runs on the lowest setting, and the LED light ring turns off.
The filtration system itself consists of two layers. The first is a pre-filter, which removes hair and larger debris to keep it out of the main filter. This pre-filter is removable, washable, and reusable. As long as you keep it clean, it can be used more or less indefinitely.
Inside the pre-filter is the True HEPA filter, which removes most particles from the air. This includes 99.97 percent of all particles 0.3 microns in diameter or larger. Pollen, mold spores, cigarette smoke, and even many bacteria fall into this size range. As a result, the filter does a very good job of removing most allergens and other irritants. The inside of the HEPA filter is an activated charcoal layer. This layer absorbs VOCs like formaldehyde, which can leech out of your upholstery. It also absorbs odor from pet urine, cooking, and other household sources.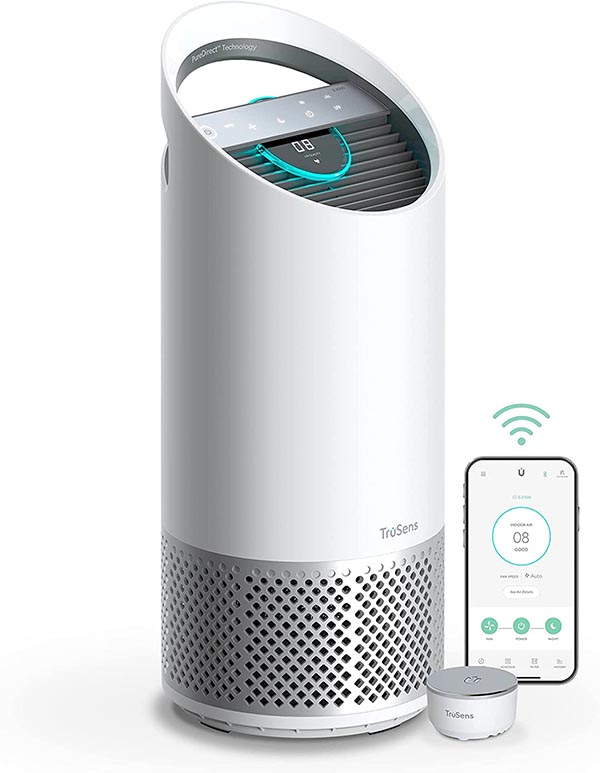 TruSens Smart Wi-Fi Air Purifier
The TruSens Smart Wi-Fi Air Purifier is the latest and greatest offering from TruSens. It's an upgraded version of their original TruSens purifier, but with the added bonus of online features. The housing comes in white or charcoal, and has a vertical cylinder design. The diameter is 8.78 inches, with a height of 22.32 inches. At 8.82 pounds, it's easy to move around, a task made easier by the built-in handle on the top. The bottom quarter or so of the housing is vented, and air is drawn in from all sides. It vents through the top, with vents angled towards the front and back.
On top of the front vent, there's an LED ring indicator that changes color based on the air quality. Above this, there's a row of soft touch backlit control buttons. In addition to changing the fan settings, you can also set a timer for 2, 4, 8, or 12 hours. When the timer is running the remaining time will appear in the middle of the LED light ring.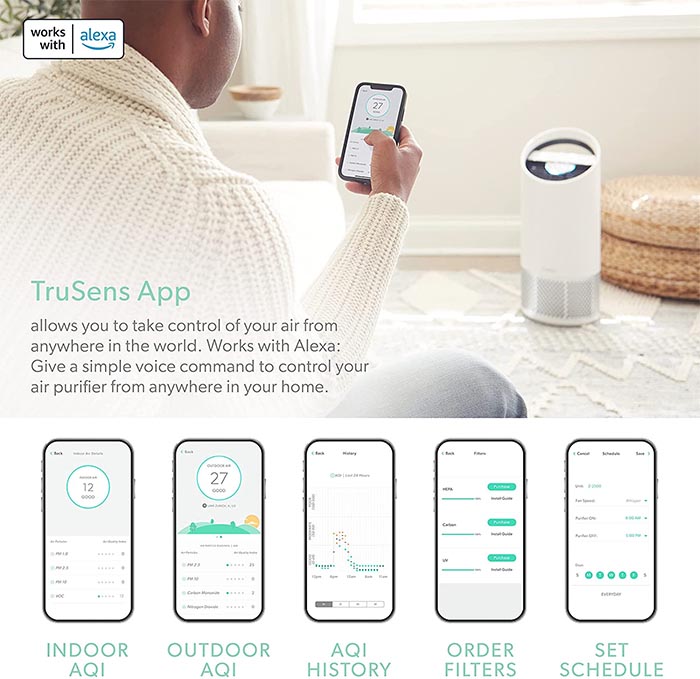 Filter Performance
In terms of both filter performance and the app, this purifier is more or less similar to the Coway. That said, there are a couple of differences worth pointing out. To begin with, the lower price comes with less coverage. But with 668 square feet of coverage, you still get a pretty large coverage area. There are also five fan settings instead of three, which gives you a bit more flexibility.

The most significant difference, though, is that the TruSens purifier has a UVC bulb in the middle of the filter. This bulb helps kill germs in the air, and it also stops bacteria from growing inside the filter. This is a great feature if you're worried about blowing germs all over your home. If you like the idea of a purifier with extra features, the TCL Breeva A2 is another solid option. It has a modular design, along with a built-in humidifier. That said, there's no UVC bulb, and there's less total coverage.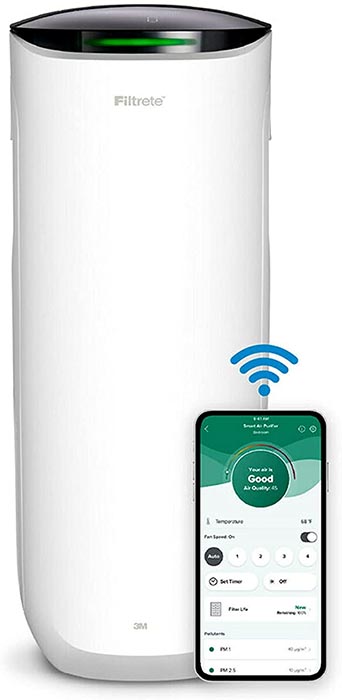 Filtrete Smart Air Purifier
The Filtrete Smart Air Purifier is in the middle of the three purifiers in terms of size. The white housing has an oblong footprint, 13.94 inches deep and 11.75 inches wide. It stands 28.56 inches tall, with a weight of 17.26 pounds, and handles molded into the sides. Near the top of the front, there's an LED light bar, which changes color based on the surrounding air quality.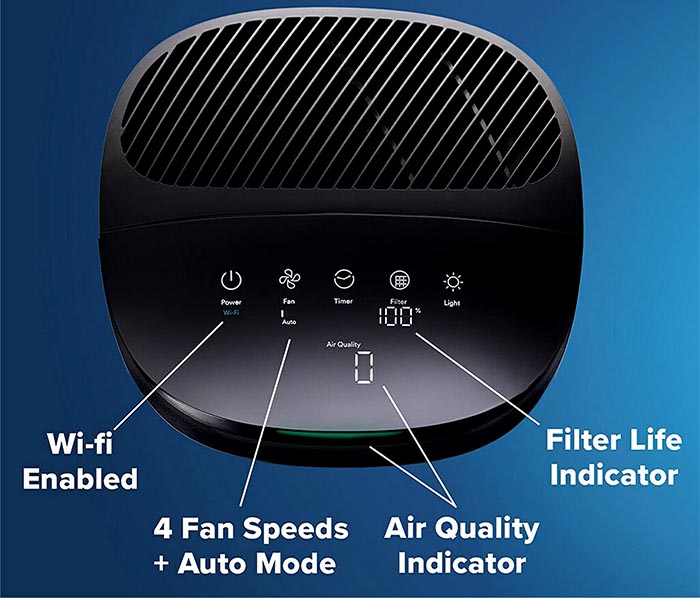 The top of the housing is black, and sports a row of LED-backlit soft touch control buttons. These give you full command of the purifier, including the fan speed, and the ability to set a timer. In this same general area, there's an indicator/reset button for the filter. It will light up when the filter is dirty, so you know it's time to replace it. The indicator will also tell you the estimated filter percentage remaining. Beneath this, there's a digital readout of your air's particle count. If you want a scientific measure of air quality, now you have it.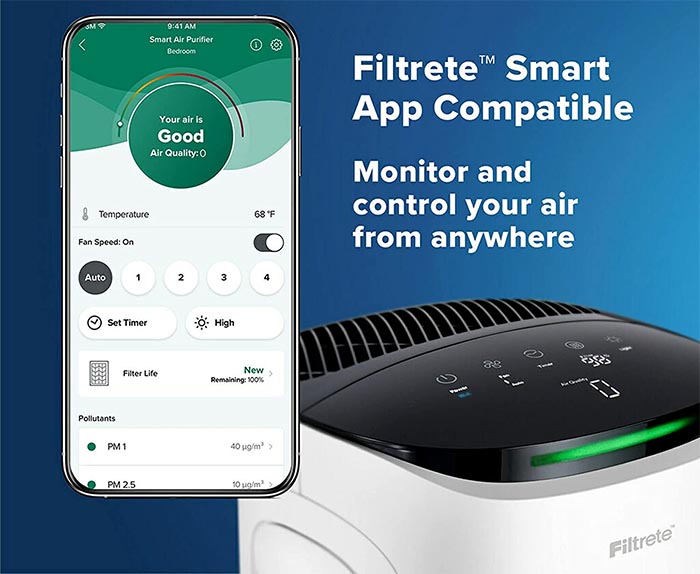 Filter Performance
The Filtrete purifier has a True HEPA filter, including a built-in pre-filter and charcoal layer. As such, it can remove the same contaminants as the other filters. On the downside, it only covers 310 square feet, about the size of one large room. But considering the low price, you're still getting a great value.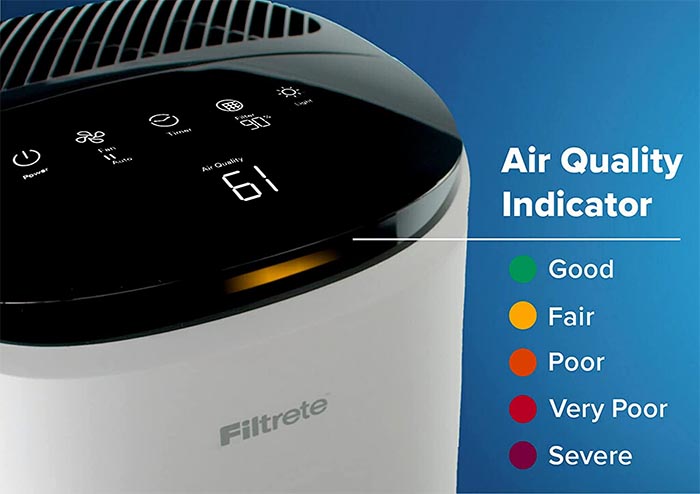 The app gives you similar controls to the other purifiers, including the ability to pair with your voice assistant. That said, Filtrete sweetens the pot with an awesome filter replacement program. If you sign up for automatic ordering, they'll even give you a discount on your replacement cartridges.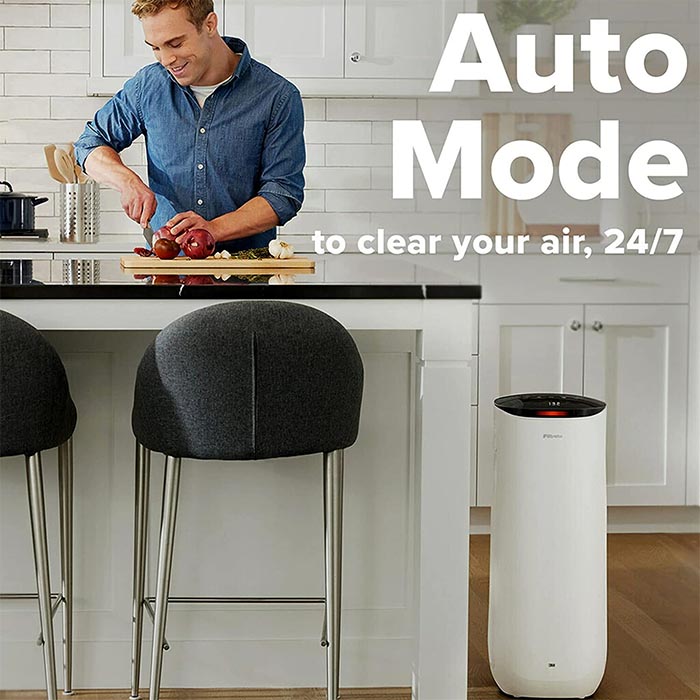 Final Verdict
As you can see, each of these filters has its own benefits. The Coway Airmega 400S is what you want if you need to cover a very large area. With over 1,500 square feet of coverage, it's suitable for many whole house applications. That said, it's a bit bigger and pricier than you'd want if you only need a little coverage.
The TruSens Smart Wi-Fi Air Purifier provides an excellent balance between coverage and value. We also appreciated the built-in UVC sanitizer. While it's not medical-grade, it kills a lot more germs than a filter with no sanitizer.
The Filtrete Smart Air Purifier, meanwhile, is a great choice for smaller spaces, such as bedrooms. We also liked the intuitive controls, as well as the filter cartridge ordering program.