One of the reasons so many businesses have gone paperless is longevity. You can't damage a digital file. Worst case scenario, if one is lost you'll just have to copy it from another location. Sadly, the same cannot be said for paper documents. If you want to keep your documents protected, the only way is with a high-quality laminator.
These handy little devices use heat to press your documents between two thin layers of plastic, allowing it to stand up against bending, creasing, or even liquid spills. Generally, laminators are quite affordable. But not all are created equal. Today, we'll be taking a look at the three best laminators on the market. After, we'll help you choose the one that's right for you.
AmazonBasics Thermal Laminator
We've always been a fan of Amazon. They're one of the most well respected retailers on the internet, and you can find virtually every product you want on their site. When we discovered that they made their own laminator under the AmazonBasics brand, we had to check it out. Laminators are reasonably affordable products, so if we can find a durable one that's eligible for Prime, it's a bonus!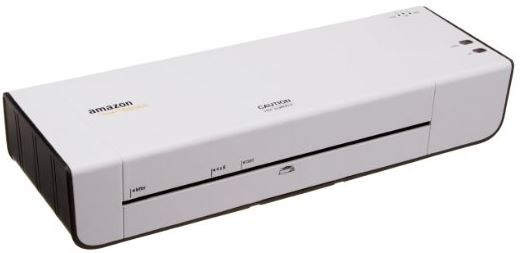 Design
The AmazonBasics Thermal Laminator has been updated to have a very modern look to it. It's almost perfectly square, with smoothly rounded corners and an ever-so-slight taper on each side. The sides and bottom are capped off with black plastic, adding a touch of contrast to an otherwise plain design. We're a really big fan of the matte finish. Not only does it look professional, but it feels smooth and durable in the hand. The face is pretty bare, giving it a minimalist look.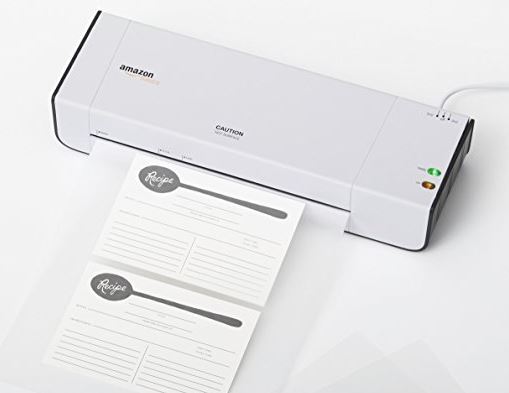 On the right, you've got the Amazon logo, a small heat warning in the center, and your indicator lights on the right. These show you that the laminator is turned on, and whether it is warm enough to start. On the top right you'll see three indication points that let you choose the lamination thickness or "off". Behind this is a toggle switch that you can slide to either side to turn on the laminator.
Although it's on the back, the indication allows you to easily operate it from the front. Along the back you've got the power cord, and a "release" lever that lets you raise the heat rollers to remove stuck laminate. This is necessary if you accidentally feed your page incorrectly. If you put it in at too sharp of an angle, or feed in a second sheet before the first is out, you'll need to lift this release lever so you can pull the entire thing out.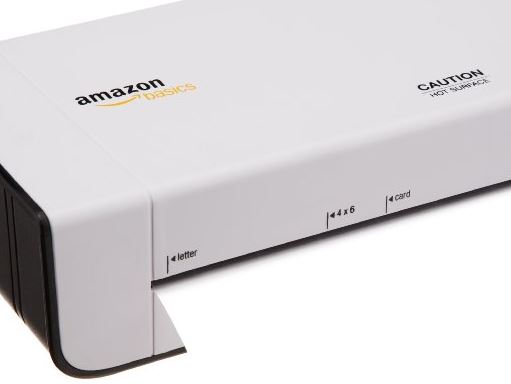 Compatibility
With a total width of 9 inches, this laminator is suitable for laminating any document that is 8.5" or smaller. In practice, this means standard size paper or legal sheets, since they are the same width but just a little longer. It uses full width feeding and heating rollers, so you can laminate smaller documents as well.
The AmazonBasics Laminator is compatible with both 3 mil and 5 mil laminating pouches. Mil is a measurement that's equal to one-thousandth of an inch. Therefore, a 5 mil laminate is 0.005" and 3 mil is 0.003." There are other size laminating pouches, but these are the most common. It's hard to imagine thicknesses this small, but in practice the only noticeable difference is the flexibility.
5 mil pouches are a little more rigid. They're not quite as hard as a credit card. You can bend them, but you'll feel a bit of force as the card wants to spring back to its natural flat shape. 3 mil pouches are much more malleable. You can bend them much more easily and not feel much force. But they still resist creasing and almost always go back to their natural shape. We recommend 3 mil pouches for any documents you'll be storing in a binder, or want to minimize space. A binder that can hold 100 3 mil sheets can only handle 60 5 mil pages, so you're losing a lot of space. But for ID card purposes, 5 mil is much more durable.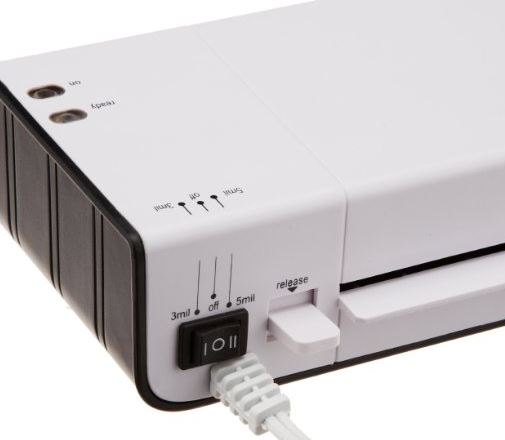 Heat
One of the things that we like about this laminator is that it has variable heat. Laminating pouches contain a heat activated adhesive on the inside. When you're laminating thicker pouches, the laminator needs to produce enough heat that it can quickly pass through the layers of the pouch in order to activate the adhesive before the material passes by. Most laminators use a very low heat, and adjust the speed. This means that 5 mil labels will pass more slowly.
Unfortunately, this isn't ideal. At low heats, there is a high chance that the label well self-insulate, leading to the adhesive splitting over time. We were looking for high quality laminators, so we like that the AmazonBasics model uses variable heat. When you turn the switch to the 5 mil selection, the heater increases to the maximum tolerable value. This means that your laminated documents have virtually no chance of peeling apart once completed. At 3 mil, the heater cools off a little. The only consideration is that if you heat it up in 5 mil mode and then reduce it to 3 mil, you'll want to give it about 40 seconds to cool off before you start laminating.
Using a high speed heating element, this laminator can go from cold to warm in under 4 minutes. It's the fastest one on the market, making it an excellent choice for environments where time is money.
Scotch TL901X Thermal Laminator
Anyone who's used office supplies has heard of scotch. They're one of the largest tape manufacturers in the world, and have their own special blend of adhesives. Normally, we'd be skeptical of a laminator this cheap. But we've never had any trouble with scotch products before, so we figured we'd give this model a shot.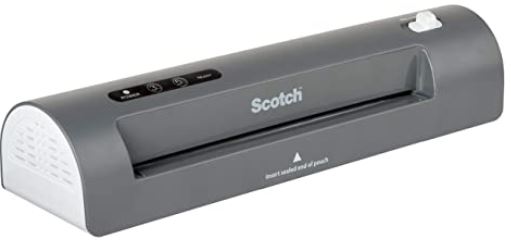 Design
The large rounded face and brightly colored accents give the Scotch TL901X Thermal Laminator a bit of a fisher price look, although it's subdued a bit by the gray control strip. To make it easy, this model puts all of the control options along the face of the laminator. On the left, you've got the power button. Once you turn it on, the indication light to the right of it will turn orange. This light stays orange for five minutes until it's heated up, at which point it will turn green. To the right, you've got the release lever. This isn't something you'll use often, but when you need it you'll want to be able to access it quickly. For that reason, we're happy that they put it on the front.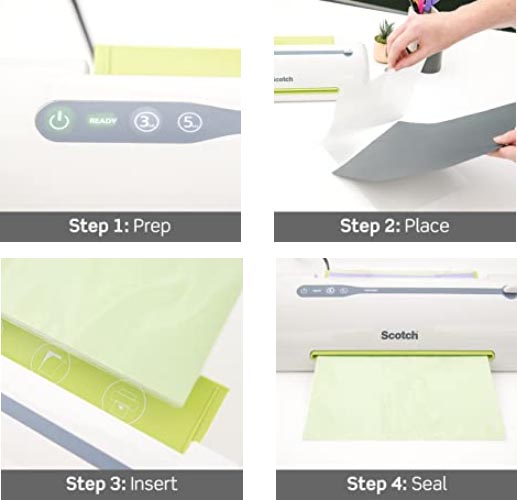 Compatibility
This laminator is compatible with your standard 8.5 x 11 sheets of paper, but it does have a little extra width making it easier for you to feed it in. Another little bonus is the dual rollers which can adjust the speed to correct mis-fed items. If your document is going in at a slight angle, the mechanical system can sense this and adjust the speed to straighten it out.
The laminator supports both 3 and 5 mil sheets, and provides you with heat controls to set the mode you want.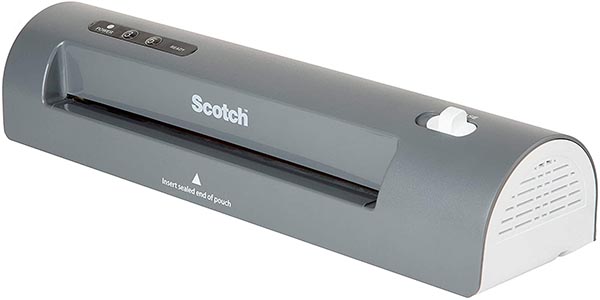 Heat
Surprisingly, this laminator does have dual heat settings for the differently sized tags. This is extremely impressive at this price range, and we haven't come across it before. However, it does have a slightly lower temperature from some high-speed models. To compensate, it does run a little slower than some laminators. It can run at 15 inches per second, and requires a brief warm up time every few documents. It takes 45 seconds to laminate a single 8.5 x 11" sheet, and you'll need to take a 60 second break every 5 to 7 minutes.
Swingline Inspire Plus Lamination Machine
In the movie Office Space, an awkward accountant known as Milton gets into a confrontation with his superiors over the loss of his red Swingline stapler. After years of frustration, the loss of his prized stapler is the last straw, and he goes on to burn down the entire office building. This humor in this situation isn't just his overreaction to a situation, but the fact that it's a scenario that many office workers can relate to. Swingline is a prized brand that makes the highest quality office supplies, and in a busy office environment their products can be a hot commodity. Fortunately, you won't have to steal this laminator. But at its current price, you might feel like you did.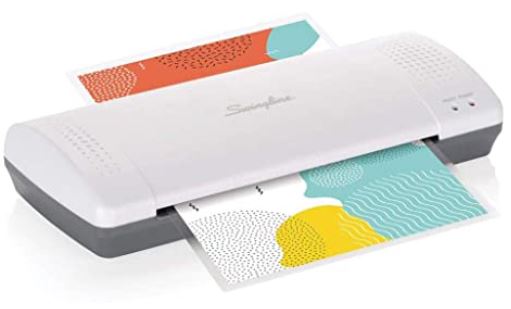 Design
The Swingline Inspire Plus is one of the most stylish laminators we've come across. It's colored bases let you add a little flare to your workspace. It's available in vibrant hues of blue or pink, but you can also pick up a gray model if you're looking to keep it simple. The top of the laminator is gently curved, featuring a stylized metallic silver Swingline logo in their notable handwritten font. There are two cooling vents on either side, each of with start with small holes and gently taper into large ones to give it a unique look. There are no controls on the front, just two LED lights that indicated the laminator is powered on and hot.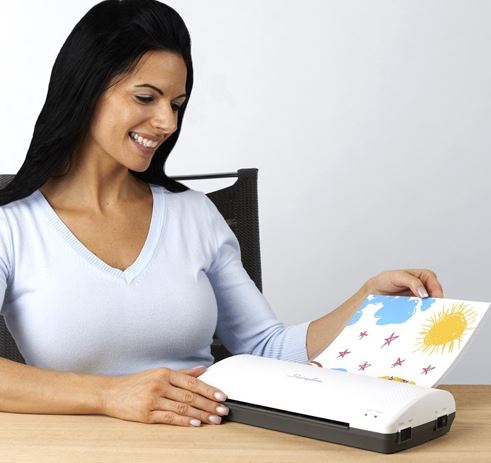 Compatibility
The base model is capable of laminating any document under 9" wide. It has heat settings for both 3 and 5 mil pouches, and adds on the bonus feature of cold laminating. You'll want to use this setting for sticky backed lamination pouches. Technically, these can be done by hand. But running them through a press helps them last longer, and keeps them straight. This is something that can be tricky to do by hand.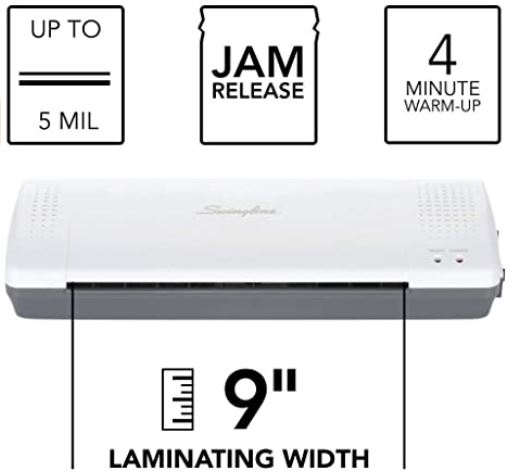 If you're looking for large format laminator, there is a 12" model available. This is the only high quality laminator we've come across that supports such large documents, so if this is something you need we'd recommend jumping on this deal while it's still available. The only downside is that the large format model doesn't come in pink or blue, although there are no functional disadvantages to this.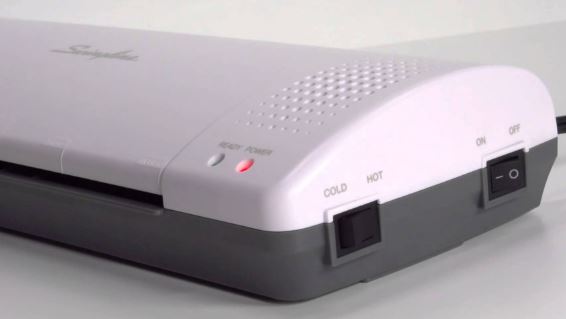 Heat
This is one of the areas where the Swingline model excels. The heating coil itself is much hotter than the other models, although this is dissipated through the larger rollers. This gives it two advantages. First, because it holds more heat, you can laminate endless documents without having to take a break while it warms back up. This also allows it to laminate a little faster, completing a standard size page in just under 30 seconds. It takes four to five minutes to heat up, and the extra 60 seconds is well worth it when you've got your lamination time by half.
Which Thermal Lamination Machine is Right for Me?
Which model you choose depends entirely on volume and the importance of speed. If you're just laminating a few documents here and there, you'll do fine with the Scotch TL901X Thermal Laminator. It isn't the fastest on the market, but for a couple minutes here and there it won't make much of a difference to many.
If you want the best of the best, you'll be glad you pick up the Swingline Inspire Plus. It's the hottest and the fastest on the market, allowing it to handle everything you throw at it.
A good balance between the two is the AmazonBasics Thermal Laminator. It's still a very high speed model, allowing you to laminate over 100 sheets at a time before warming up. With the exception of very large batches, many people won't find it any slower than the Swingline model.
Regardless of which model you choose, don't forget to pick up some laminating pouches. You can get them locally, but typically you're paying huge markup on them.