Using a pouch laminator is great for preserving and protecting important documents. Whether it's the sentimental value of a family photo, or legal documents given a more professional look, a pouch laminator can get the job done. For schools, homes, print ships, and offices, they're a staple of professional presentation.
Of course, laminating documents seems relatively simple. All that's involved is sealing some document between a pair of thin plastic sheets. But how those laminations are done can have an impact on what kind of presentation and protection you end up with. Creases, folds, bubbles, and outright ruined documents are some of the worst outcomes you can end up with. With the wrong laminating pouches, you may have to try laminating a dozen times before the job gets done properly.
Choosing a Thermal Laminating Pouch
The two primary types of laminating are heat acting thermal laminating, and cold pressure sensitive laminating. The cold type uses a self-adhesive which sticks to the document without the addition of heat. Cold laminators are therefore able to seal documents without the help of a laminator machine, but this self-sealing can lead to bubbles and creases in the presentation.
Where presentation is non-negotiable, thermal laminating is the better choice. It involves using heat to melt adhesives within the plastic together, safely sealing your documents. Beyond the most basic types of pouch laminators, you'll want to think about the specific uses you have in mind for lamination. Are you trying to protect or display photos? Are you mostly worried about waterproofing documents? Knowing what you need is the first step to ensuring you get what you want.
Width and Thickness
The width of a pouch laminator will determine the maximum document size you can laminate. The most common size is 9" of width, which is useful for reports, resumes, and standard A4 legal paper. But you can also find smaller 4" laminators, which are useful for applications like identify cards, business cards, and wallet cards. Some of the largest laminators reach sizes closer to 17-inches, which can be useful for posters and menus.
Every laminator machine will have a minimum and maximum thickness for sealing. Choosing a laminator that isn't compatible with the thickness of the pouches you want to use will result in poor lamination, provided you can even get it through the machine without repeatedly jamming. Most pouch laminators should be able to handle between 3-5mm thickness. Top shelf laminators reach towards supporting 10mm thickness and beyond.
Pouch Finish
Aesthetically speaking, some lamination pouches are glossy and others are matte. Glossy pouches help documents look great. But like glossy computer monitors, there are conditions where readability can decrease with a glossy finish. Anywhere you might experience glare, outside on a sunny day, isn't going to provide a clear environment for viewing the document. Matte pouches are the way to go whenever lighting conditions aren't highly controlled, as well as anywhere that producing distracting glare is not acceptable.
The Laminator Machine You Use
You might need to stop laminating in the middle of an attempt. It could be because the lamination starts to run sideways, which causes wrinkling of your document. It might be because your document managed to get jammed. In any case, you don't want lamination to continue. As lamination pouches are heated, some of them may provide more of a struggle to remove. With the wrong pouches, even laminators with a jam release button can become more difficult to safely and quickly recover a document.
Laminating machines are typically built with between two and six rollers. As documents are run through a laminator, they're turned and pressed against rollers to smoothly seal the document. More rollers mean more heat will be distributed to the plastic, and more pressure to distribute sealing across the laminate. In short, more rollers do much of the heavy lifting of lamination, and they're responsible for many of the end-results you end up achieving.
As a result, finding the right laminating pouches will partially depend on the laminator you're using. Many laminators will end up working equally well with any brand of laminating pouches. But subtle differences in factors like the slickness of the plastic, and the sizing of the laminate, can have unpredictable consequences on a laminator. And it's not uncommon for people end up favoring one brand or another, not simply because one is better, but because it's a brand that works well with their own equipment.
With the benefit of personal experience, you may find Scotch brand laminates working poorly in some laminators, and excellent in others. Finding the perfect laminate pouches can be a process of trial and error. It's about finding a brand that not just meets essential compatibility, but exceeds your expectations. Just about any average-sized laminate pouch is going to work with any ordinary laminator. But "going to work" may not be the standard you're looking to set.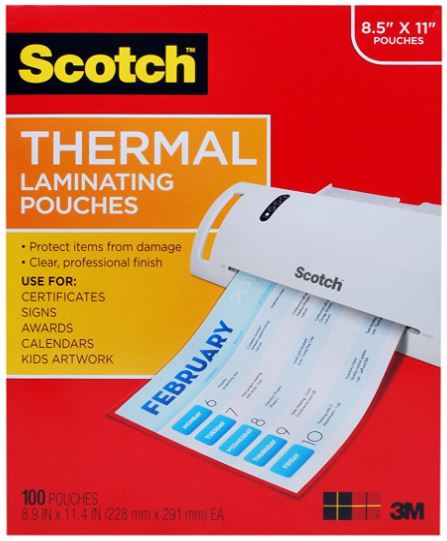 Scotch Thermal Laminating Pouches
Scotch Pouches are some of the better quality name brand laminate pouches you can find without really going out of your way to look for obscure products. Their thermal design ensures these pouches can be accurately sealed with low risk of bubbles and creases forming in the process, and Scotch emphasizes this process is photo safe. Consequently, these pouches are ideal laminating schedules, children's artwork, certificates, and signs.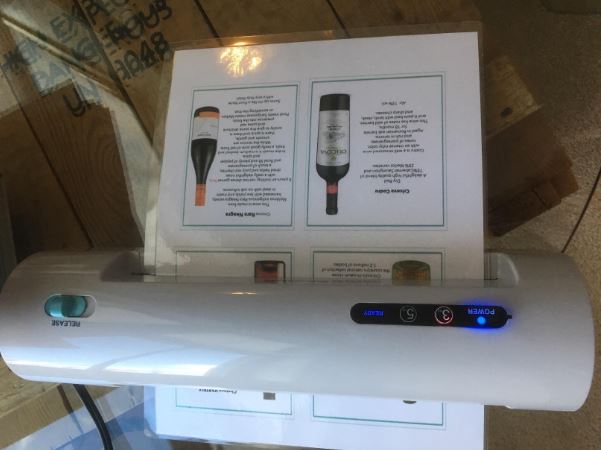 Universal Design
Scotch Thermal Laminating Pouches use the standard A4 document sizing, placing them at 8.9 x 11.4-inches. That makes them great for essentially any kind of document you print from an ordinary home office printer. They're made using the same 3mm thickness of most laminating pouches, which is roughly the depth of six sheets of paper. And they're easy to use, so it takes a few seconds to mock-up some dry erase worksheets and signs that you can draw on with an erasable pen.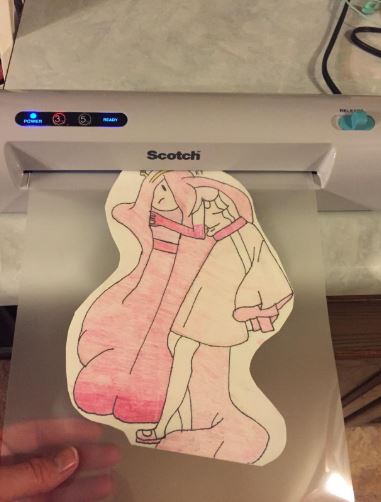 Other Considerations
Scotch Thermal Laminating Pouches are intended to be used by any Scotch thermal laminator. Each set of Scotch thermal laminating pouches offer 100 laminate pouches per package. They're also available in 20-packs, 50-packs, and 200-packs. Pricing for the smaller 20-pack isn't particularly economical, but the availability of smaller packs is noteworthy for people who are doing a highly finite amount of lamination. If you're only looking to laminate a small set of documents, Scotch will almost certainly be the most economical decision.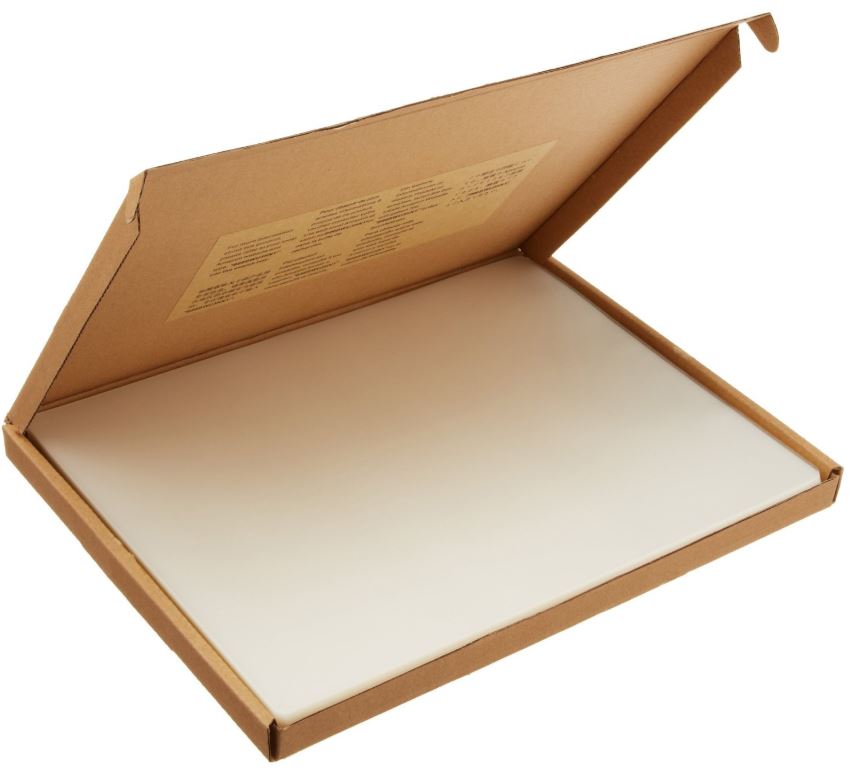 AmazonBasics Thermal Laminating Pouches
If you've ever purchased an AmazonBasics product, you have a good idea of what to expect from their thermal laminating pouches. AmazonBasics is essentially a value-oriented brand that strives to be an economical alternative for people who don't want to pay the prices of bigger brands. AmazonBasics thermal laminating pouches are only sold in a 100-pack, but they're paired with the kind of inexpensive pricing AmazonBasics is best known for.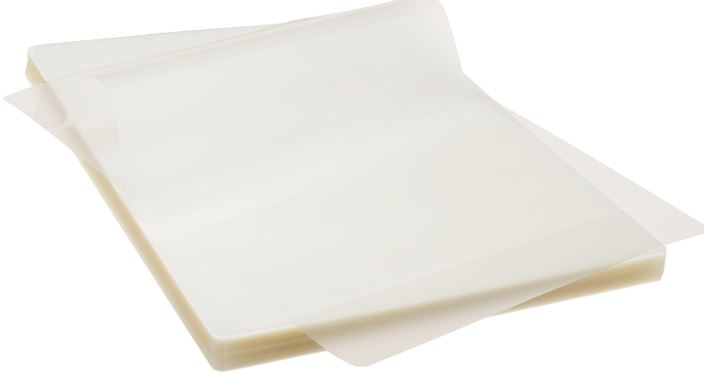 Universal Design
AmazonBasics pouches are photo safe, with an eye on protecting the integrity and clarity of your documents and pictures. Like with Scotch, these laminate pouches use the standard 8.9 x 11.4-inch sizing that's ideal for the paper that rolls out of ordinary home printers. They're also 3mm thick, and provide about the same level of protection you find from any other brand using 3mm laminates. For keeping your documents guarded against moisture, spills, smudges, and errant marks, they're more than up to the task.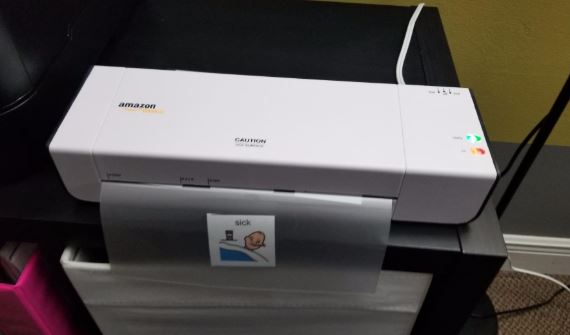 Other Considerations
AmazonBasics laminating pouches describe themselves as compatible with most thermal laminator machines, but you'd be hard-pressed to find a laminator machine that couldn't take advantage of these pouches. Their highly generic design is perfect for matching up with essentially any type of laminator, including Scotch brand laminators.
Fellowes Thermal Laminating Pouches
As with AmazonBasics pouches, Fellowes Thermal Laminating Pouches are made with the intention of being compatible with essentially every laminator machine. And like with Scotch, Fellowes are trying to produce laminating pouches which exceed ordinary expectations. Their quality is comparable to Scotch.
But one limitation to choosing Fellowes pouches is they're not available in small packs. You'll find pouches available in packs of either 100 or 200 laminate pouches, making Fellowes a better option for someone who does regular lamination.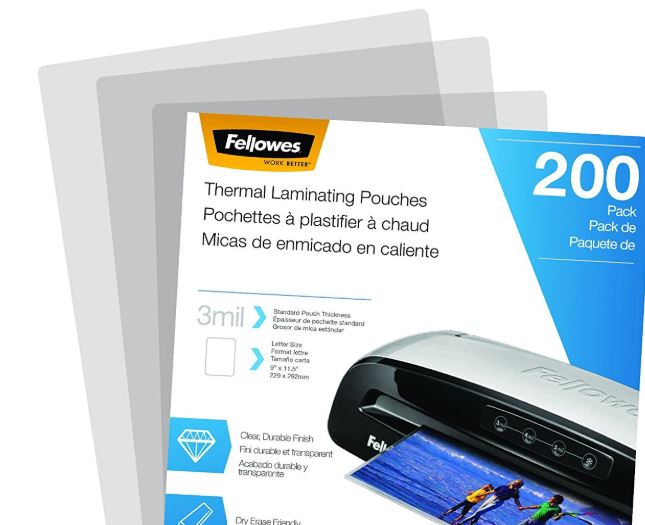 Universal Design
What makes Fellowes stand out is they're the only pouches on this list to provide two options for thickness: 3mm or 5mm. One of the most common complaints people lodge against 3mm laminating pouches is that they feel too thin and unproductive. A 3mm pouch make paper more durable, waterproof, and presentable.
But when it comes to protection against threats more serious than light rain, 5mm pouches are often the better choice. The 5mm packs use virtually twice as much material to protect your documents. But naturally, their price rises to match the amount of material that's used.
Other Considerations
Another thing to notice about Fellowes pouches is they use a slightly different 9 x 11.5-inch format. Their width is 1/10th of an inch greater than the other pouches on this list, which makes it particularly easy to slip documents inside. That's a tiny touch that's easy to miss unless you spend a lot of time laminating. But the slightly increased width can be a double-edged sword, if your laminate machine is highly particular about the width of your laminate pouches.
All in all, Fellowes Thermal Laminating Pouches are made with a high emphasis on preserving the clarity of your documents. They provide all the essential protection you need, especially if you use the thicker 5mm pouches. And they're both dry-erase friendly and safe for photo materials. Combined with clarity, their general ease of use helps them stand out as a brand.
Choosing Between 3 Universal Thermal Laminating Pouches
It's hard to guarantee the laminating pouches you select are going to work well for your specific laminator without some amount of trial and error. If you choose trustworthy brands, select the right sizes for your pouches, and know what you're buying, then you can minimize the amount of trial and error involved in finding great pouches. Certainly, these 3 lamenting pouches are among the best you can select from, and they're a good place to begin that process of searching for a brand that works well for you specifically.
AmazonBasics is a good choice for people who do tons of laminating and want to save money on laminating pouches. You end up with excellent quality laminations that compare favorably with bigger brands, but with real savings that rapidly add up with each additional pack. AmazonBasics offers is quality that's comparable to the big name brands, but with a highly competitive cost. Ordinary consumers choosing 3mm protectors won't notice any appreciable difference between the quality of AmazonBasics protectors and those of premium brands.
Scotch Thermal Laminating Pouches are a safe bet if you're using a Scotch Thermal Laminator. Other laminating pouches, like AmazonBasics product, will still fit through your laminator. But Scotch pouches are built and tested around Scotch machines, so staying in-brand can slightly decrease the chance you'll encounter laminating problems. If you're not using a Scotch brand laminator, Scotch pouches are still a steadfast choice, especially if you want to purchase laminate pouches without having to invest in a bulky 200-pack.
Finally, Fellowes is a great pick if you want more than the thin 3mm protection available through AmazonBasics and Scotch. Their 5mm pads are far more robust. But because their price rises to match the added protection, you'll only want to select the thicker laminate pouches if you can actually make use of the protection. One more thing to notice is that Fellowes products tend to use a small Fellowes watermark on their laminate pouches, making them more oriented for protecting documents, and less favorable towards presenting artwork.