Believe it or not, more people enter their home through their garage door than their front door. Because of this, it only makes sense to put a bit more thought into the way you, your family, and your vehicles enter and exit the garage. Gone are the days of manually opening and closing the door since pretty much every home is now equipped with a garage door opener, but garage door openers haven't changed much over the past decade, until recently.
As a useful upgrade for any home, a smartphone-enabled, WiFi-connected garage door opener can bring much more simplicity, ease of use, and peace of mind than you may expect. Often seen as a worthwhile investment, a garage door opener that's connected to your smartphone is actually quite an easy upgrade that shouldn't take much effort to install and configure.
The common question that remains is, which one is the best and a valuable upgrade in 2017-2018? We're going to take that question into full consideration and outline a few of the top-rated, best-performing WiFi/smartphone connected garage door openers and outline the notable features of each in detail.
Chamberlain WD1000WF
The Chamberlain WD1000WF Smartphone Controlled Wi-Fi Garage Door Opener is specifically designed to bring complete peace of mind by giving you the ability to control, manage, and operate your garage door from virtually any location in the World. Utilizing a powerful 1.25 horse power motor and incorporating a wealth of smartphone-distinctive features, it's one of the highest reviewed, most popular and best selling option in its class.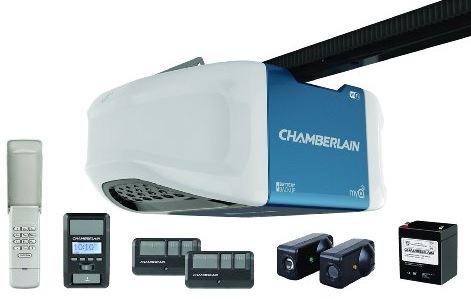 MyQ Smartphone Control
From your iOS or Android enabled device, you can install the MyQ Technology Smartphone Control application through the iTunes or Google Play store. Once installed, you can connect to the Chamberlain WD1000WF and have all of the control right at your fingertips. Although WiFi connectivity is required within your garage, it'll always give you instant access to see whether or not you remembered to shut the garage door.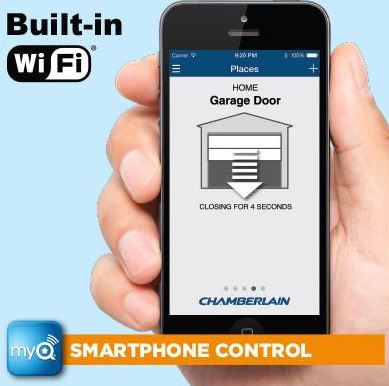 Best of all, the MyQ app will give you instant notifications to remind you if you left the door open, or if the door opens without your consent.
Easy Installation
Setting up and configuring the Chamberlain WD1000WF for the first time is a painless task that doesn't require any previous knowledge, technical experience or advanced understanding. With no additional hardware required, it's been designed for easy installation and comes included with a comprehensive instructional guide that'll walk you through the process without any hassles. In fact, the average installation time is around 10 minutes,
Very Quiet
Nobody likes a garage opener that's loud or obnoxiously sounding every time you open and close the door. Chamberlain knows this, which is why they've incorporated a whisper drive steel belt that performs well without the added noise. Inside of the unit, there's a reinforced drive belt that's heavy-duty in build quality made from a durable steel material. It's been specifically engineered and designed to hold up well to constant use over time. Additionally, it's ideal for homes that have a bedroom or two located directly above the garage since the amount of noise it emits is much less than you'd expect.
Battery Backup
Power outages happen, and they always seem to happen at the most inconvenient time. Since Chamberlain has integrated a battery backup feature, you won't need to worry about not being able to open or close your garage door in the event of a power outage. The battery has enough capacity to run as a backup for up to three consecutive days, so you're never left in the driveway, even if the power to your home is completely gone.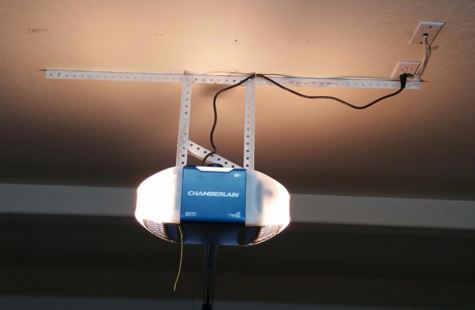 What's Included?
There's a few additional items in the box that are worth mentioning, and boost the value of the Chamberlain WD1000WF a bit more. Included is a wireless keypad, two remotes, safety sensors, and an LCD wall control panel. The wireless keypad can be setup directly outside of your door, near your driveway. The two remotes can be kept within your vehicles for opening/closing the door when you may not have your smartphone on you. The safety sensors are to be installed with a line of sight to each other, across the area where your garage closes to assure that your door won't close when something is in the way. The LCD wall control panel is to be mounted near the doorway inside your home, so you're always able to configure settings and control the unit without your smartphone.
Excellent Warranty
In order to give you total peace of mind about your investment, Chamberlain includes a lifetime warranty on the motor and belt, a five year warranty on parts, and a one year warranty on all of the accessories that are included.
Chamberlain MYQ-G0201
Rather than completely replacing your existing garage door opener unit (motor and all), the Chamberlain MYQ-G0201 is a simple upgrade for those who simply want to monitor, open and close your garage door from your smartphone with ease.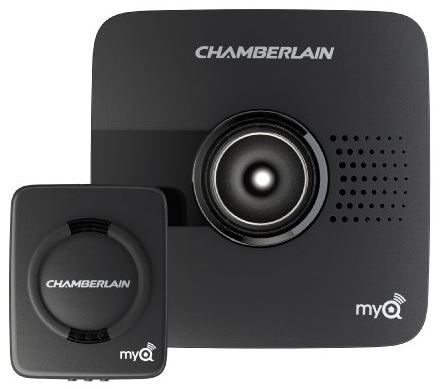 Designed to be compatible with just about any garage door opener that was made after 1993, you don't need to replace you existing system. First, mount the WiFi hub near your garage door opener. Then, mount the sensor to your garage door. Next, install the free MyQ app on your iOS or Android device and follow a few simple configuration options. It'll then allow you to open, close, and see the status of your garage door from any location. It'll send you alerts/notifications right to your smartphone so you're always aware.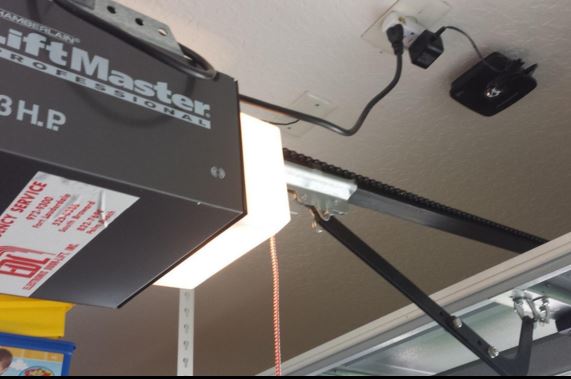 Affordable and Simple
Since the Chamberlain MYQ-G0201 is more or less an "add-on", it's ideal for those who already have a functional garage door opener but would like to add WiFi and smartphone integration. Designed to be installed and configured within a matter of seconds, it's a simple solution that even your grandma could install. Priced affordably at around $88, it likely won't break your budget.
Smartphone App
Using the same app as the aforementioned Chamberlain WD1000WF, the MYQ-G0201 uses the MyQ smartphone app to deliver it's real benefits. Allowing you to instantly receive notifications, it'll alert you when the garage door opens or if it opened while you were away. What's even better is that you can integrate it with your Nest home automation system, although this isn't a necessity.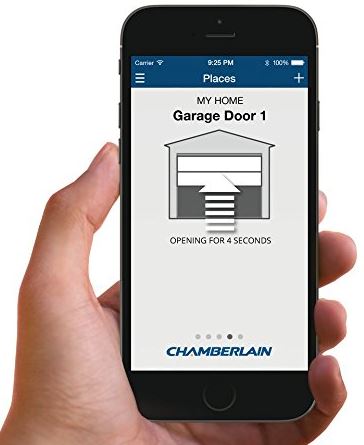 In addition, it can work with other Chamberlain WSLCEV, PILCEV light control products if you happen to want control over your outdoor and indoor lighting too. Best of all, there's no recurring costs involved. Once you own it, there's no additional fees since the app is and will always remain free.
We love the overall simplicity and ease of use that it offers. It does what it says it will do, and offers some substantial improvements to any existing or outdated garage door opening system.
Asante Garage Door Opener with Camera
With a camera included, the Asante Garage Door Opener offers a bit more in terms of features since it offers you a live-view of your garage from your smartphone, no matter where you may be. Without any monthly fees, it allows you to fully monitor and control your garage door with an impressive 5,000 square foot WiFi range.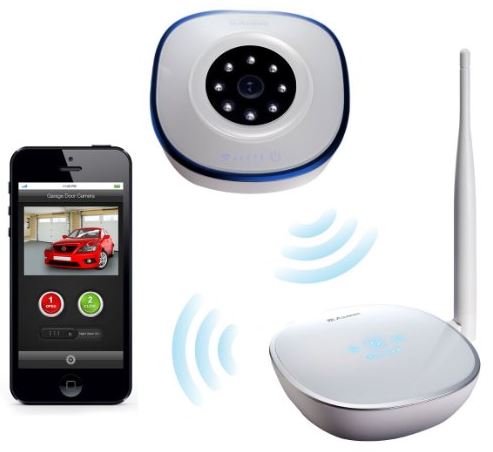 Each kit comes included with a camera and a home extender. The home extender is used to communicate simultaneously with your network and the camera to ensure that you're always within close view and control of your garage.
With one kit, you have the ability to control two separate garage doors with the same unit. Have more than two doors? Optionally, you can buy additional units and increase your control as needed.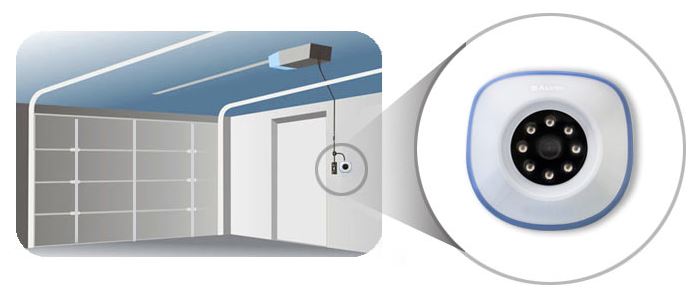 Better Awareness
Since the Asante Garage Door Opener incorporates the use of a camera, you're given an upper-hand on your overall awareness with your garage. What's more is that the camera is equipped with a set of infrared lights to illuminate your garage in total darkness. Giving you vision in total darkness, it's easy to see an intruder, even in the middle of the night. Best of all, you can stream the camera in real-time so you have a live-view 24 hours a day, 7 days a week. Also, you can turn off the infrared feature if desired, or have it automatically turn on when it's needed.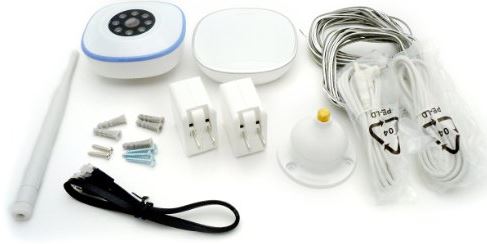 Mobile Control
Using the free Asante mobile app, you can grant access to any family members, friends, guests or contractors so they can enter or exit your garage when needed. At anytime, you can revoke their access and make sure that they won't be able to enter again at a later time.
For Your Smart Home
Asante can be much more than a garage door opener since they also offer a whole line of smart-home related products that you can automate your house with. From smart irrigation controllers to smoke detectors, and optional accessories that can alert you via text or email, there's a lot offered in terms of possible expansion.
Final Thoughts
By adding WiFi integration to your garage door opener, you're given more freedom, peace of mind and total control over one of the most utilized entries to your home. Whether you're interested in changing your entire existing garage door opener (motor and all) or if you'd like to add simple smartphone integration, we've outlined a few fantastic options that offer a wealth of beneficial features.
In our honest opinion, the Chamberlain WD1000WF is the best choice for those needing a full-system, but the Chamberlain MYQ-G0201 is the best choice for those needing a simple "add-on" to their existing opener.
The Asante Garage Door Opener is another excellent option, offering both vision and smartphone control. Since there's an infrared camera included, the price is a bit steeper than the other two options, but some may truly benefit by its real-time viewing capabilities.