In 2017, Nintendo was facing high expectations. Eleven years previously, they had release the Wii, and revolutionized gaming as we know it. The Wii led to an entire generation of motion-sensing games from Wii Sports to the Let's Dance series. Not remaining idle, Nintendo had doubled down in 2012 with the Wii U. This new HD system also featured a touchscreen controller, which functioned as a secondary display. While the Wii U didn't sell as many units as its predecessor, it continued to push Nintendo's unique design philosophy. It was also a precursor to what would come next.
When Nintendo announced the Switch in 2017, it was just as innovative as the Wii. The Switch functions as both a traditional console and as a handheld gaming system. As the name implies, you can "switch" effortlessly between the two. The console sits in a dock, which connects to your TV. When you want to take it on the road, you remove the console from the dock. The Joy-Con controllers can be mounted either on a handheld grip or directly on the sides of the Switch. So even in mobile mode, you can set the console on a table and hold the controller in your hands.
Note: At no extra cost to you, we may earn a commission for purchases using our links. Learn more.
Like the Wii, the Switch also supports motion controls. These controls work just fine with the Joy-Con controllers alone. However, it can be helpful to have an accessory or grip if you want a more realistic feel. For example, you can play a racing game by just tilting the controller. But if you use a racing wheel grip, you'll actually be turning a physical steering wheel.
The same goes for any type of sports game. If you're playing Mario Tennis Aces, do you really want to be flailing around with a controller? Not only is this less natural than swinging an actual racket, but you have to be careful. Let the controller slip, and it could go right through your TV. Invariably, this means you're not putting as much velocity into your swing as you possibly could be. If you want to stay on your A-game, a tennis racket controller is practically mandatory. Keep in mind that the motion sensor will only work this way if you set your Switch controller to Swing Mode. You should already be doing this for any tennis game, but if you're not sure, double-check your settings.
We're about to review three of today's best Nintendo Switch tennis rackets. We'll look at their physical design and ergonomics, to see how easy they are to use. We'll also talk about their effectiveness, durability, and even their physical appearance. First up, we'll be reviewing the Tendak Tennis Racket. This is a long, sturdy racket that includes a game carrying case. Next, we'll examine the FYOUNG Tennis Racket. This is a mid-sized racket with an easy release system. Last, we'll look at the YOLO Tennis Racket. This is a compact racket with a vice-like grip. Let's dig a little deeper, and see how these three choices compare!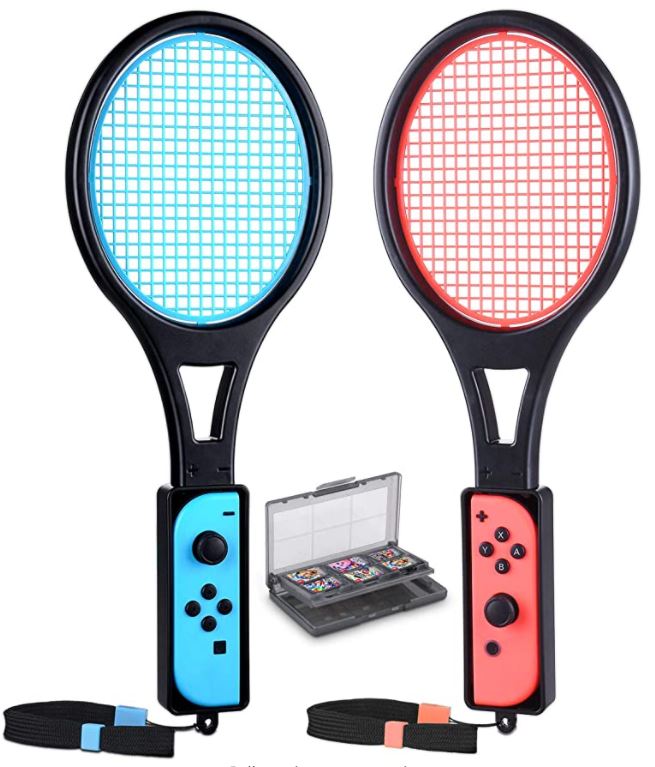 Tendak Tennis Racket
The Tendak Tennis Racket comes in a 2-pack. You can tell the two rackets apart because the webbing is a different color on each one. They're blue and pink respectively, to match the two Switch Joy-Con controllers. The rackets are ambidextrous, which means they can both be used with either Joy-Con grip. So if you want to use the pink grip in the blue racket or vice-versa, you can.
The Tendak racket is the largest on our list, measuring 13.3 inches long. It's 5.1 inches wide at its widest, although the grip is actually fairly small. It hugs tight to the sides of the Joy-Con controller, and only measures 0.95-inch thick. This is exactly what you want in a real tennis racket: as much surface and as little dead weight as possible. As a result, the Tendak racket is comfortable and easy to swing, and feels natural if you're used to the real thing.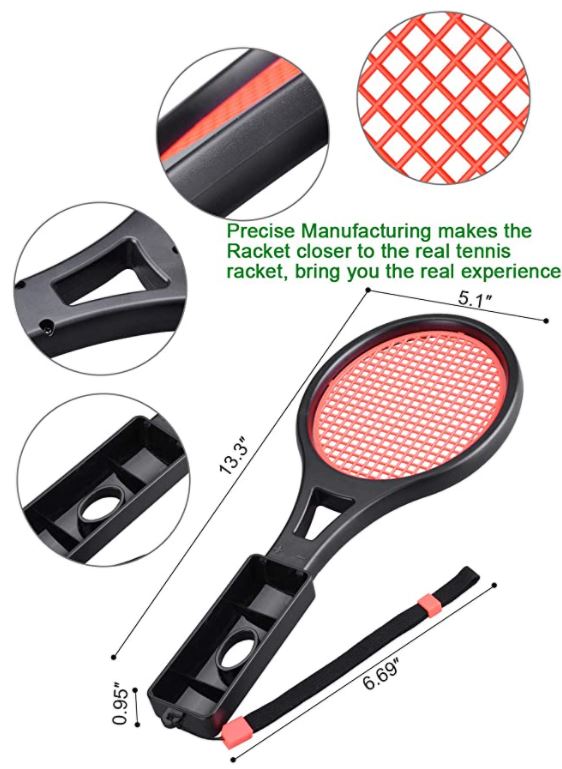 Along with the racket, you get a semi-transparent grey case for carrying game cards. There's an inner leaf that folds to reveal two sides, with space for 12 cards in separate compartments. There's also a small memory card holder that carries two cards. All of this fits in the small grey case that can be carried in your pocket. Your games and your save files will always be close at hand. While this case doesn't add anything to the function of the racket, it's a good added value.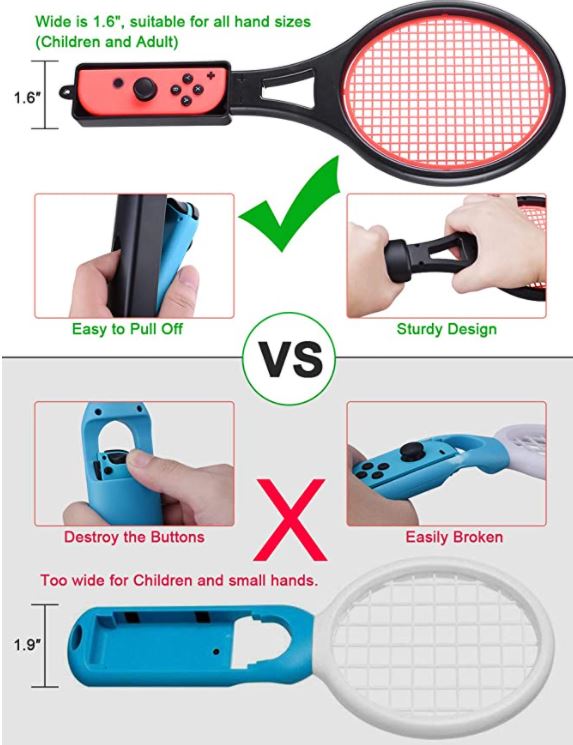 Feel and Performance
Despite its large size, the Tendak Tennis Racket is actually the lightest of the three options on our list. At only 2.5 ounces, you'll hardly notice you're carrying anything at all. In large part, this is due to the narrow frame. This minimalist design keeps the amount of material to a minimum, so the racket is nice and light. Better yet, almost all the weight is around the head, which is where you want it to be.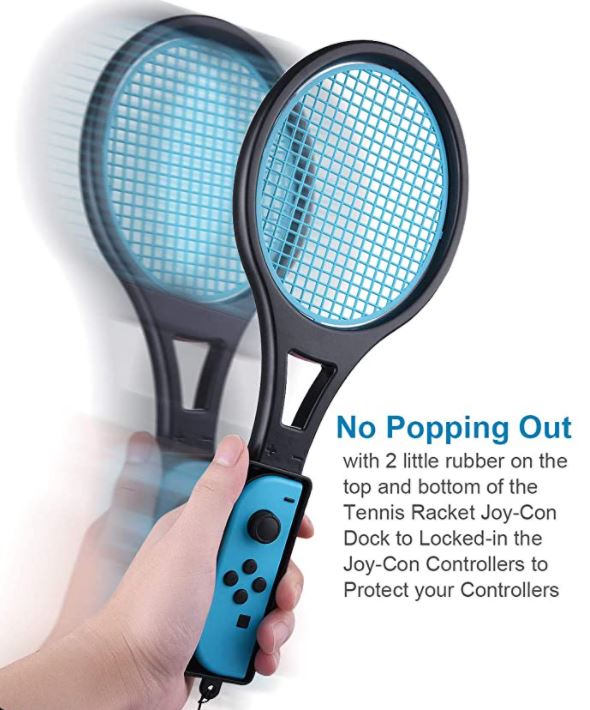 The grip itself leaves a bit to be desired. It's advertised as "ergonomic," but it's basically a rectangular box. It's not uncomfortable per-se, but it's not like it's molded to your hand. That said, the cutout at the front is large enough to allow easy access to the trigger. The sides of the handle are also relatively low, so it's easy to operate the buttons on the face of the Joy-Con.
It's also safe to use. A pair of rubber bumpers grip the Joy-Con controller from the top and bottom. This provides a secure, safe grip that won't allow the controllers to fall out easily. When you first insert the Joy-Con controller, it might feel like you're pushing excessively hard. You're not. The bumpers have to be tight, or the controller might go flying. As is, you don't have to be concerned about your Joy-Cons flying around the room. There's also a hole in the back of the handle, behind the Joy-Con. This allows you to push the controller out of the handle when you want to play a different game.
In addition, the Tendak rackets come with a pair of wrist straps for extra security. The straps are lightweight nylon, with colorful, decorative adjustment bands. Keep them tight around your wrist, and the racket will remain attached even if you lose your grip.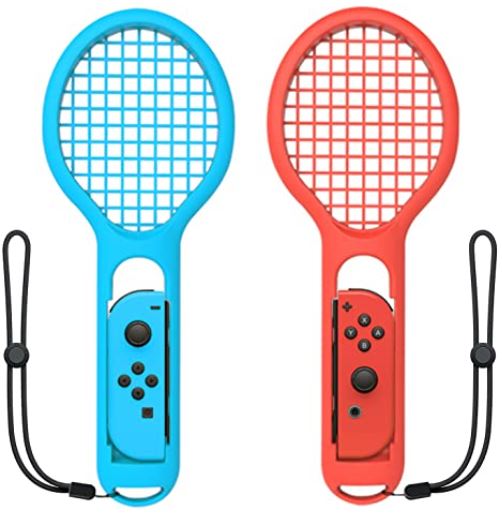 FYOUNG Tennis Racket
FYOUNG is an established manufacturer of console accessories. Among other gadgets, they make a Switch Lite charging dock that impressed us. The FYOUNG Tennis Racket is of similar quality. It's made from ABS plastic, with a single-piece, solid-color design. One racket is red and the other is blue, to match the Joy-Con controllers. However, just like the Tendak racket, the design is ambidextrous. If you prefer to mix and match colors, there's nothing stopping you.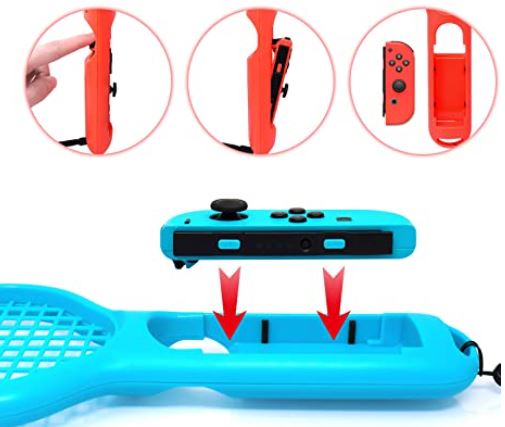 The overall length is slightly shorter than the Tendak racket, at an even 12 inches. It's proportionally narrower, at only 4.6 inches in width, tapering to a 2-inch handle. On the other hand, the FYOUNG racket is also slightly thicker, at 1.18 inches. This difference of a quarter inch might not seem like much. But it's an increase of 25 percent, which is noticeable.
Despite the shorter length, the head of the racket is actually reasonably large. This is because there's very little frame between the handle and the webbing. There's even a little dip at the bottom of the webbing. This is something you might find on a real racket to maximize the surface area. It serves no such practical purpose here, but it does make the racket more attractive to look at.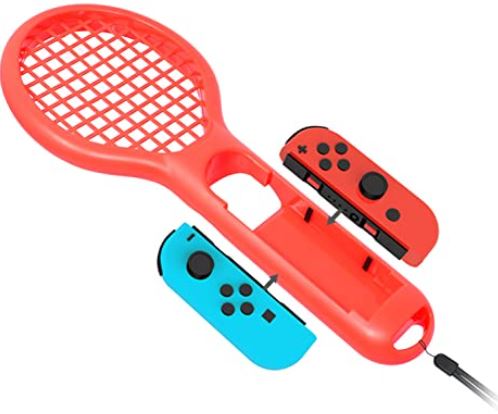 The kit also includes a pair of round, shoelace-style lanyards. A pair of plastic slides allow for easy adjustment, with a spring-loaded locking system. As a result, you don't have to worry about losing control of the racket. If you've got butter fingers, it will still remain securely attached.
Feel and Performance
In practical terms, the thing that most clearly separates the FYOUNG and Tendak rackets is the width of the handle. The FYOUNG racket's 2-inch handle is noticeably wider, and is a better choice for larger hands. The extra thickness is not really a factor here, since the case is still not as thick as the Joy-Con controller. The weight is actually more, at 3.2 ounces. Most of this extra weight is carried in the handle, which provides better balance. However, it's not quite as easy to swing as a more front-heavy racket.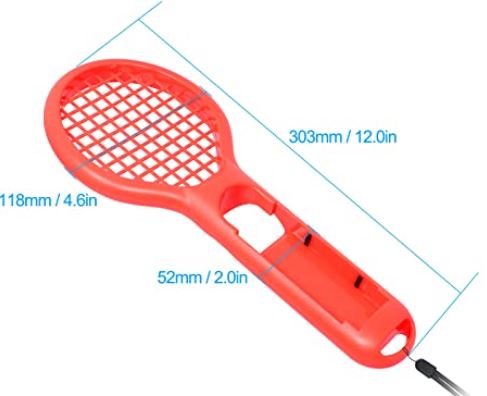 The grip on the FYOUNG racket isn't molded, but it does have nice, smooth curves all the way around. This makes it comfortable to hold, even for an extended period of time. There's also a generously-sized cutout around the trigger. Inside the grip, a pair of rubber bumpers are located on the left and right sides. These secure your controller in place by sheer force of pressure. This means you need to push hard to get the Joy-Con to fully seat. Removing the Joy-Con is also easy. There's an opening in the frame in front of the controller, so you can pop it out with one finger.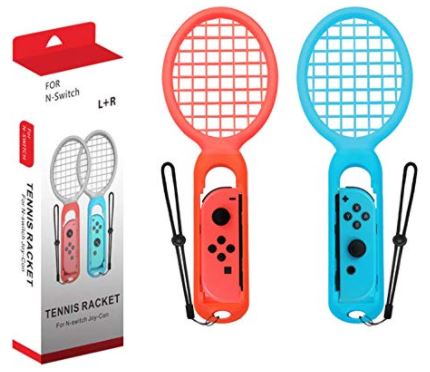 YOLO Tennis Racket
The YOLO Tennis Racket is similar in many ways to the FYOUNG. It comes in blue and red, and is constructed from ABS plastic. It also has a similarly wide handle. However, it's noticeably shorter, measuring only about 11 inches in length. This makes it a great choice if space is a concern, since you won't have as much reach to worry about. The downside here is obvious. A smaller racket feels less "real".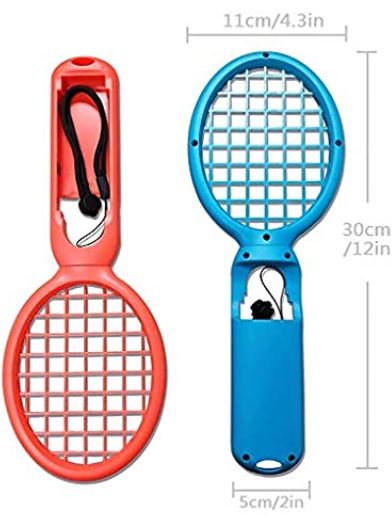 Like our last two offerings, these rackets are ambidextrous. You can use either racket with either Joy-Con grip. You also get a pair of wrist straps. These straps are virtually identical to the FYOUNG straps, right down to the material and the plastic adjusters. They're tough enough to keep you from accidentally throwing away your racket, which is all you really need.
Feel and Performance
In terms of weight, the YOLO racket falls right in-between our last two choices. At three ounces, it's hefty enough without being too overweight. Keep in mind, though, that the short design means it can only be so front-heavy. This can make the YOLO racket feel more awkward to handle than it otherwise would.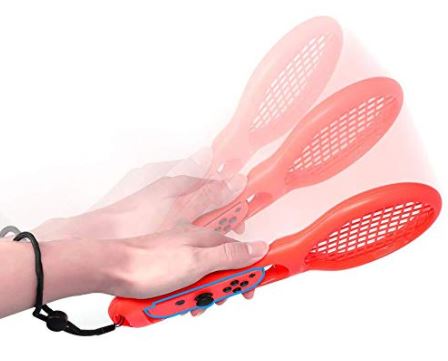 The rubber retention bumpers are very tight, perhaps too tight. Getting your Joy-Con in and out of the handle can be a true labor of love. That said, your controller is going nowhere by accident. And removal is made easier by an opening at the top of the controller. This opening continues downwards to form a cutout around the trigger, for easy operation.
Final Verdict
Which one of these rackets is the best will largely depend on what you want. If you're looking for a larger, more realistic racket, the Tendak Tennis Racket is a good choice. At 13 inches long, it's smaller than a real racket, but it doesn't feel like a tiny toy either. If you're used to playing actual tennis, you'll prefer the feel of this one. To be fair, the grip isn't perfect. We would have liked to see something a little more comfortable to hold onto. Even so, it holds the Joy-Con securely, and it doesn't obstruct the buttons or trigger.
The FYOUNG Tennis Racket is a better choice for anyone with larger hands. It doesn't have the same elongated design as the Tendak racket. However, the 2-inch-wide handle is very easy to hold onto. It also has a more even weight balance, which some players may prefer.
The YOLO Tennis Racket is the smallest of the bunch, ideal for playing in small spaces. With less reach, you don't have to worry about knocking things over. The downside of this small size is a less realistic feel, more like a toy than the real thing. That said, the retention is very good, so you're looking at much better than "toy-grade" performance.
Note: At no extra cost to you, we may earn a commission for purchases using our links. Learn more.