In today's high tech world, it's easy to get distracted by fancy, flashy technologies. Everyone gets excited when there's a new iPhone, or when Sony even hints at a new game console. But a lot of technologies are more mundane things that make our everyday lives easier. Take cordless power tools, for example. Better battery technology has freed us from the horrors of running multiple extension cords. Another good example is the profusion of smartphone apps. Nowadays, we can do our banking, order a meal, and watch a TV show, all from the same device. That's way more convenient than having to drive to the bank, pick up takeout, and go home to your TV.
But some things have remained remarkably the same. For as long as people have lived in houses, they've used brooms to keep those houses clean. Sure, the design has changed. Ancient brooms were nothing more than stiff straw, bundled together with a handle at the end. Nowadays, we make brooms out of synthetic fibers. But the general concept is the same. You sweep all your dust into a dustpan, and dump it out. And yet, that process remains flawed. If you have a big mess, that's a lot of dumping. And if you're sweeping up fine dust, you can never get it all up. Thankfully, there's a better solution. With a stationary vacuum, you just sweep your dust pile up to the vacuum. All of it gets sucked up, and you don't have to keep bending over to use your dustpan.
Today, we're going to review three of the best touchless stationary vacuums that money can buy. We'll begin by taking a look at the EyeVac PRO. This is a powerful 1,400-watt vacuum with a large, 1.6-gallon dust canister. Next, we'll check out the EyeVac Home. This is a more affordable 1,000-watt vacuum that's available in multiple colors. We'll finish up by reviewing the NeoVac Elite. This is a similar 1,000-watt vacuum with an easy-to-use control scheme. Which one is going to be your ideal home companion? To answer that question, we'll need to go a bit deeper into each one of these stationary vacs. Once we've given them each a thorough evaluation, we'll be able to make a fair comparison. Let's begin!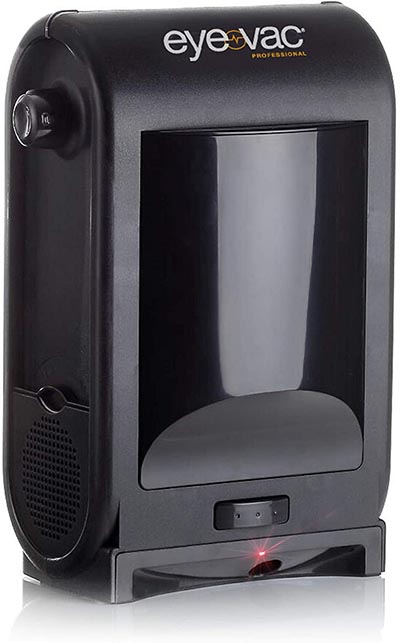 EyeVac PRO
The EyeVac PRO is a robust device that's about the size of a small trash can. It stands 20.5 inches high, with a width of 13.5 inches and a depth of 9.5 inches. And at 14 pounds empty, it's easy to reposition when you need to. That said, keep in mind that all of today's vacuums rely on wall power, not batteries. You'll need to be plugged in to a wall outlet in order to actually operate the vacuum. The housing is constructed from a durable ABS plastic, with three color schemes available. In addition to the standard black and white, there's also an attractive silver variant. The overall shape is similar to an outdoor Post Office drop box, with a rectangular footprint and curved top.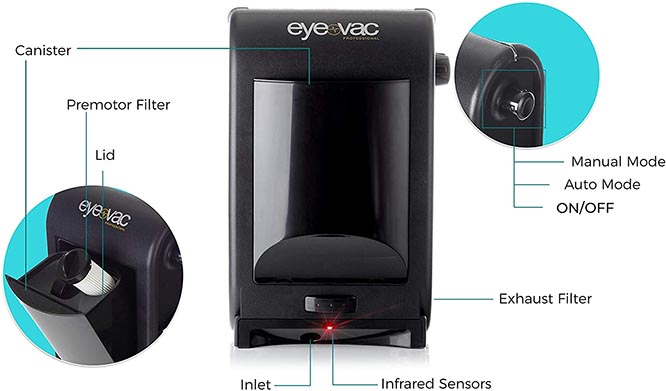 On the top right side of the housing, you'll find a control knob. This knob is nice and sturdy, with grips worked into the sides so it's easy to turn. There are also indicator lights to let you know what operating mode the EyeVac PRO is running in. Lower down on the right side of the housing, you'll notice a large round air vent. This is the outflow vent, where the motor blows out its exhaust. You don't want it pointed at your dust pile, or at anything else that might get disturbed.
The front of the housing is hinged about three quarters of the way down, and opens like a dishwasher. When opened, it reveals the internal removable dust bin. It also reveals the filters. There's a wide, flat pre-filter and a tall, small-diameter cylinder filter. Both are easily removable for cleaning. Beneath the door hinge, there's a cutout in the front of the housing, where the vacuum hole is located. When you're using the vacuum, you simply sweep debris underneath, and it gets sucked up. There's a laser sensor in this area, which is used to detect when dust is present.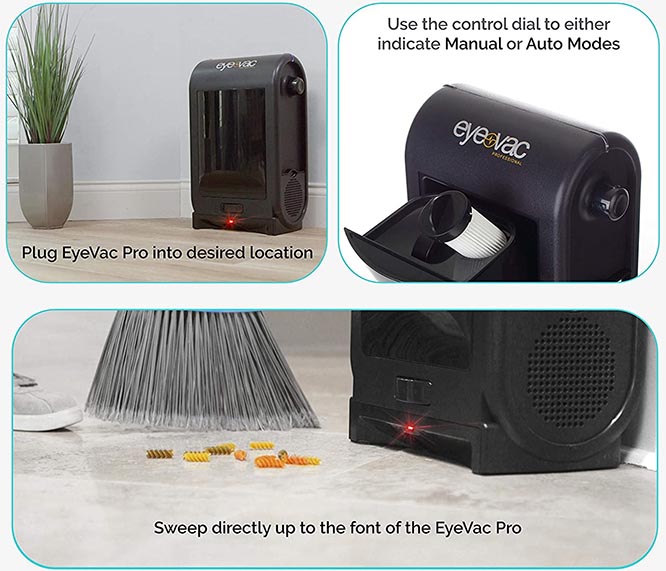 The EyeVac PRO comes with a 12-month manufacturer's warranty. If it fails during this time period or there are any defects, you'll get a refund or a free replacement.
Vacuum Performance and Functions
The EyeVac PRO has a power rating of 1,400 watts. Now, they don't provide a suction rating in Pascals (Pa), so it's tough to know exactly how powerful it is. But 1,500 watts is the maximum amount of power you can get from a standard 15-amp residential outlet. So at 1,400 watts, you're talking a lot of suction. To put it another way, this vacuum will trip your breaker if the circuit has any significant load on it. By comparison, the Ultenic U11 is one of the most powerful battery-powered vacuums on the market. It has an incredible 25,000Pa of suction, almost as much as a small shop vac. And its battery puts out nowhere near 1,400 watts.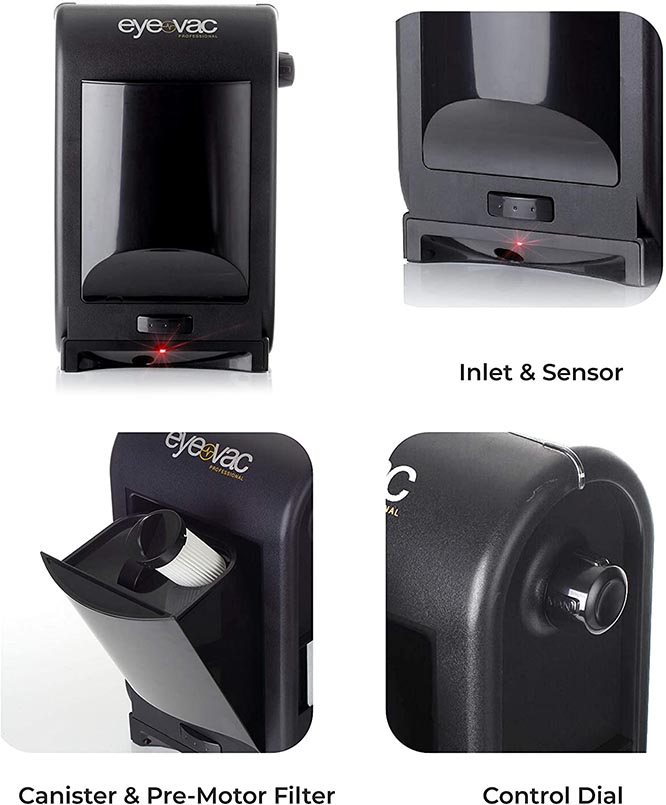 There are two different methods of operating the EyeVac PRO. The first is manual mode, and it's exactly what it sounds like. You turn the vacuum on, sweep your debris up to it, and let it do its work. Then, you turn the vacuum off again when you're done. In automatic mode, the vacuum automatically turns on whenever the laser sensor detects movement. This way, you can leave the EyeVac running 24/7, but the motor only spools up when you need it. This method of operation is easier in theory. That said, if you have small children or pets, they might set it off all the time by accident. In that case, manual mode is the one you want.
Alongside the dial, a pair of LED lights let you know whether you're in automatic or manual mode. When the lights are off, so is the EyeVac. In addition, there's a third light that lets you know when the dust canister needs to be emptied. It has a large capacity of 1.6 gallons. That's larger than even the biggest standard vacuum bags. And because it's reusable, all you have to do is dump it out and put it back. There's no need to buy replacements, or to go through a complicated cleaning process.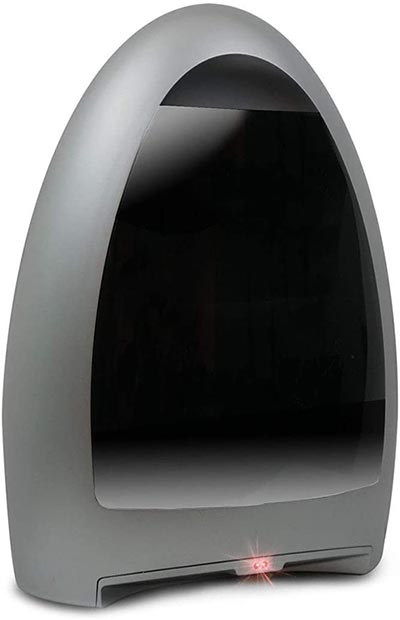 EyeVac Home
The EyeVac Home is the smaller little brother to the EyeVac Pro, with its unusual form factor. It's shaped like a teardrop with the bottom cut off, and it's constructed from a durable plastic. You get several color options, including matte black, gloss black, rose gold, light blue, silver, and white. With the exception of the matte and gloss blacks, the rest of the colors all have a satin finish. The overall size of the vacuum is 12 inches wide, 7 inches deep, and 18 tall. And at only 11.2 pounds in weight, it's reasonably portable. You can easily carry it from outlet to outlet without any difficulties. There's even a little cutout in the back for carrying it.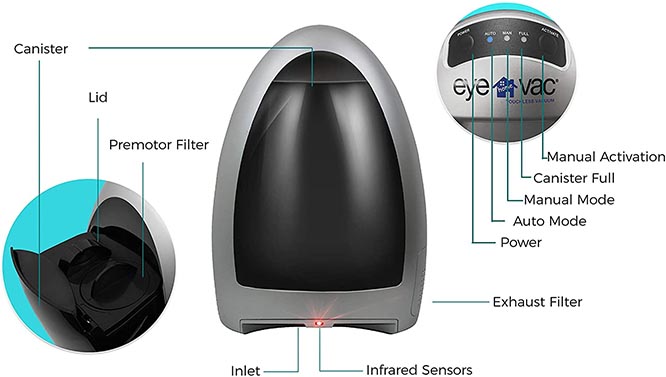 The controls are located on the top of the housing. These consist of a power button, as well as a row of indicator lights and an activation button. Just beneath this is the EyeVac logo, which is bright and colorful. Beneath this, there's a seam where the front of the housing opens. Much like the EyeVac PRO, this is a dishwasher-style door that reveals your filters and dust canister. The door also has a contrasting color to the rest of the housing. On the black variants, it's silver in color. On most of the other housings, it's black or white.
At the bottom front of the vacuum, there's a cutout, with a little suction hole inside. Just above the hole is a laser sensor, which detects any movement in the area. The motor vents through the side of the housing. As before, make sure to keep this area clear. The last thing you want is for the exhaust to blow your dust pile all over the room.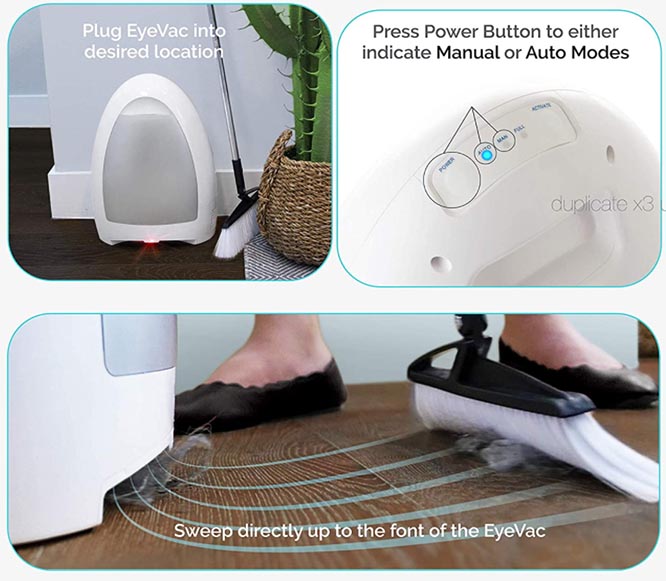 This vacuum comes with EyeVac's 12-month warranty. This protects you from any defects in materials or workmanship.
Vacuum Performance and Functions
The EyeVac Home has a 1,000-watt motor. This is a little more than 2/3 of the motor power of the PRO vacuum. As before, it's impossible to assign an exact suction rating. But you're looking at a reasonably powerful motor. Hair, dust, dirt, cereal, and cat food are all easy to suck up with this vacuum. You can even clean heavier debris, but not as quickly. That's a lot of suction power for the size. If you want an even easier cleaning method, check out our list of the best self-emptying robot vacuums and mops. They're not nearly as powerful, but they work independently, and can clean any kind of floor.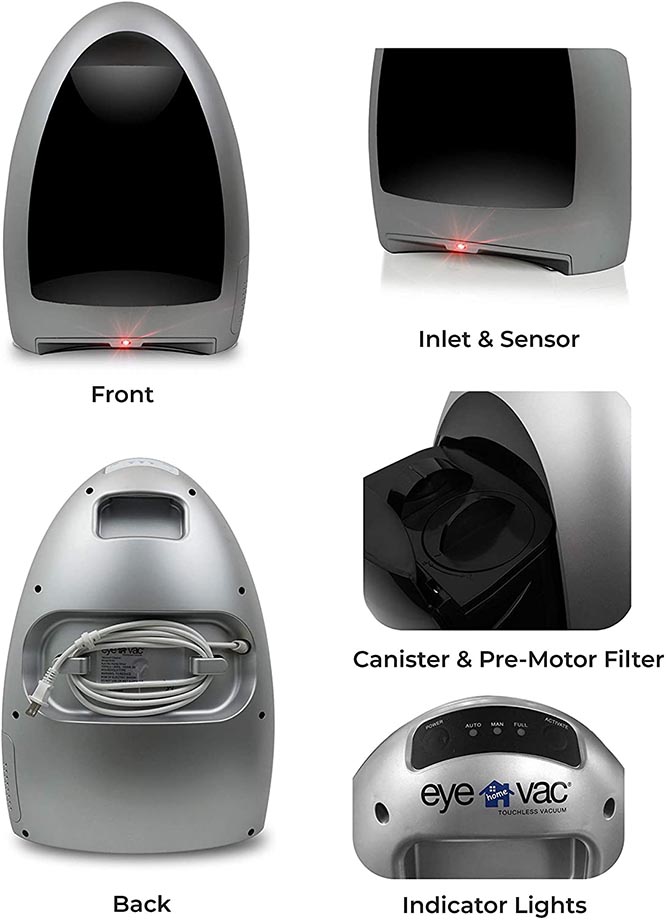 The control scheme on the EyeVac Home is pretty straightforward. You press the power button once to go into manual mode, and again to go into automatic mode. A third press will turn the vacuum off again. When the vacuum is in manual mode, you simply press and hold the activation button to run the motor. A set of LEDs will keep you informed of what mode you're in, so you won't get lost. A third light will let you know when the dust canister needs to be removed. The canister itself has a capacity of 1.4 gallons, a bit less than the PRO's canister. That said, it's still larger than the bags in most vacuums.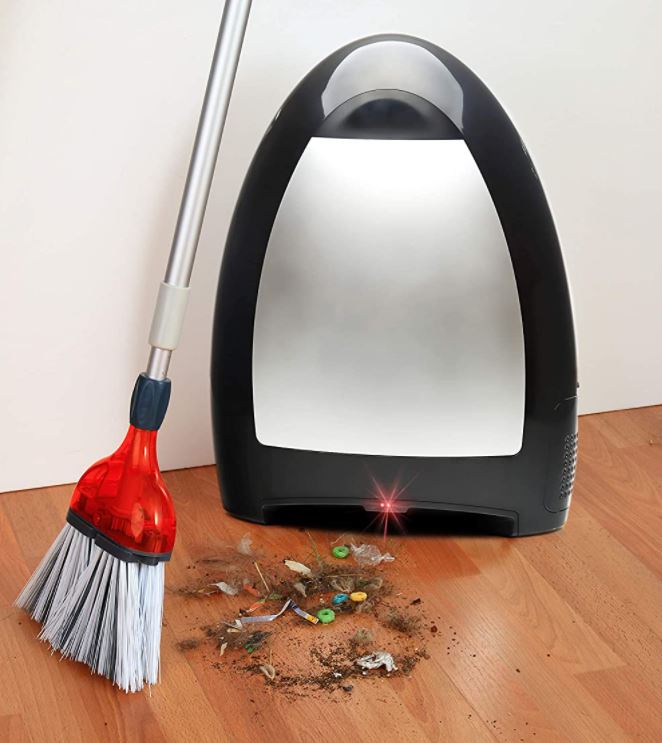 NeoVac Elite
The NeoVac Elite looks exactly like the EyeVac Home. It has the same distinctive teardrop-shaped housing, with the same exact weight and dimensions. In fact, the physical design is identical, with only two noticeable differences. First, the only color options are black and white, without any extra choices. Second, the branding around the control panel is for NeoVac, not EyeVac.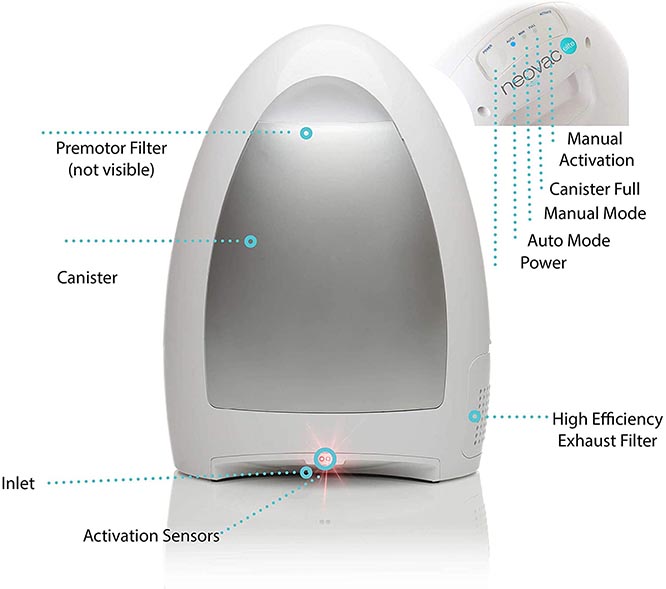 Other than that, we suspect this is a clone of the EyeVac Home. The buttons and controls are the same. The front panel opens the same way, to reveal the same pair of filters. The motor vent is in the same place, and the front sports a little laser sensor.
Vacuum Performance and Functions
Once again, we're not seeing any difference between the NeoVac Elite and the EyeVac Home. The motor draws the same 1,000 watts, and seems to provide the same suction. The power button and activation button work in exactly the same way. You even have the same 1.4-gallon dust bin capacity.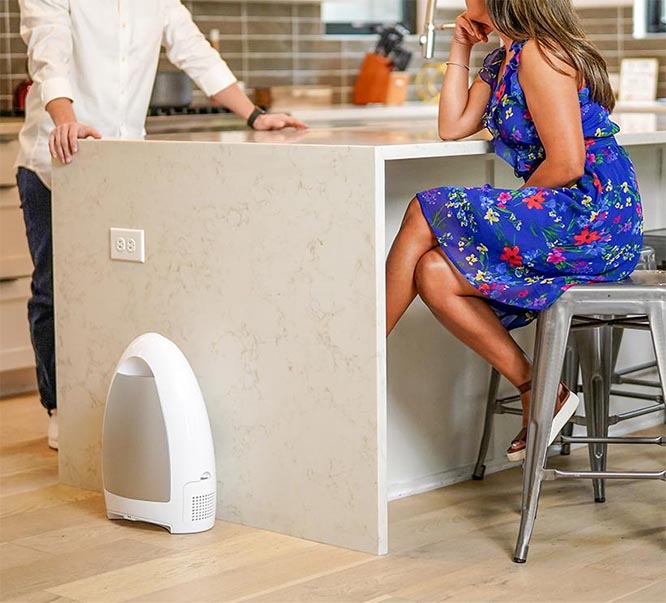 One advantage of this kind of vacuum is that they're brushless. They're great for hair and pet fur, since there's no roller to get tangled up. Another good brushless option is the Lefant F1. It's a brushless robot vac that does the job for you, and even has a built-in mop.
Final Verdict
As you can see, each of these vacuums has its own strengths and weaknesses. But which one is the right choice for your home? Let's go back over what we've learned.
We began by reviewing the EyeVac PRO. This is the most powerful of the bunch, with a robust, 1,400-watt motor. It also has the highest-capacity dust bin, with 1.6 gallons of space. The controls are easy to operate, and you can clean up even heavy debris. The only real downside is that its loud, and it might be bigger than what you actually need.
The EyeVac Home is a better choice if you want a lighter-duty stationary vac. The button controls are also easy to use, and the 1,000-watt motor is plenty for most debris. The dust canister is smaller, but only marginally so. The same is also true for the profile, though, which means that space is less of a concern. The smaller, 1,000-watt motor is also quieter.
The NeoVac Elite is nearly identical to the EyeVac Home. Literally the only difference is the branding. We'd say you're just as well off either way, but the EyeVac has a warranty. Since there are no other differences and the price is identical, the EyeVac Home is a better value.