Five years ago, the mobile devices we used were very different from the ones we had today. While there were many similarities (the ARM processor, the form factor, and many types of applications) there was one glaring difference. During the palm pilot era, mobile devices all used physical touchscreens. The display was made from two different sheets, the backs of which were coated with a conductive material. When you touched them together, the material would make contact and open a circuit. In theory, it was a great idea. But it wouldn't work unless you touched a very small area (generally using a stylus) and wasn't known for being particularly accurate.
When the first iPhone came out, it had a brand new capacitive touchscreen. You didn't need any special stylus to use it, you could simply use your finger. And it was impressively accurate. The concept of touching a particular part of the screen and having it know exactly what you were trying to do without struggling was amazing to us.
Today, we've become used to it. We're no longer impressed by an accurate touchscreen, we just expect it to work. As we rely on our phones increasingly, the most frustrating problem is when we can't use our phones. The one issue with capacitive touchscreens is that they only detect a specific type of touch. When you're bundled up in the chilly weather, your gloves prevent you from checking your messages or answering your latest Snapchat. That is, most people's gloves. When you pick up one of these special touchscreen gloves, you won't have to make the difficult choice between chilly hands and unanswered notifications.
The North Face Unisex Etip Glove
If you're an outdoorsy person, you've likely heard of The North Face. This brand is known for making high quality outdoor gear that is capable of keeping you comfortable in even the most challenging conditions. The North Face has such widespread respect that it would be a shame not to take their own capacitive compatible gloves for a spin.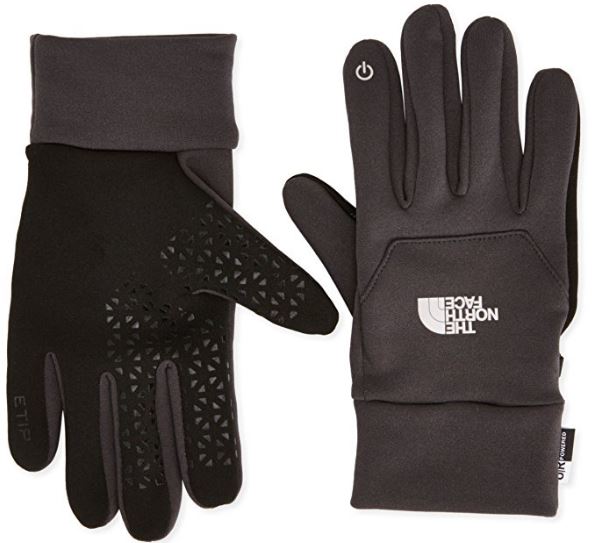 Design
The North Face Unisex Etip Gloves are a very understated pair, but they still have some subtle design elements that stands out a little. You can buy them in two different shades, Ashphalt Grey and TNF black. Personally, we prefer the Ashphalt Grey the best. It's actually only the top of the gloves that is gray – the palm is still black. The contrast between the two shades give them a stylish look that separates them from your typical dollar store gloves. The top of the gloves are a little more plain. They've got a large "The North Face" logo on the back of your hand, and a boxed off stitching line that separates the fingers from the rest of the gloves. With the exception of the power logo on the pointer finger, you'd never know that anything was different about them.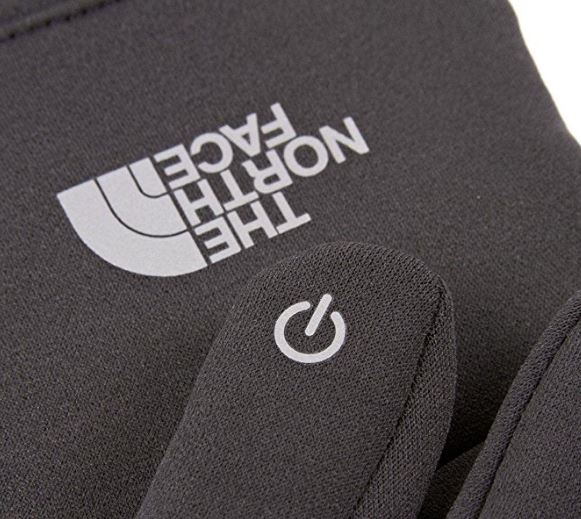 Fit
One of the most important things about a pair of gloves is how well they fit you. Gloves are all about comfort, and wearing a pair of gloves that doesn't quite fit right is almost pointless. Fortunately, we were very happy with the fit of the Etip gloves. They're made from a very smooth stretchy material almost like neoprene. They're the type of gloves that fit snugly on your hand, but don't feel too tight. In fact, if you're the type of person that has a hard time finding gloves that fit right these may just be your best shot. Because they stretch in all directions, you won't find them overly snug even if you have to stretch them in either direction.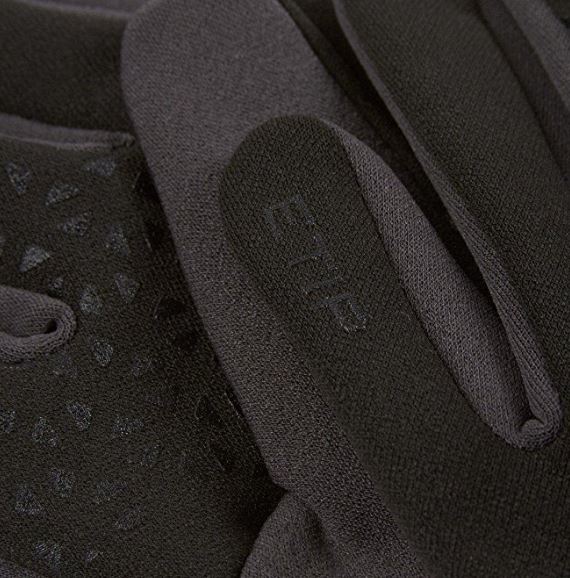 Comfort
The one problem with stretchy gloves is that they are actually quite taut. Often, they try to force your hand in one direction or hold it in a specific position. This is impossible to avoid, so The North Face used it to their advantage. By carefully placing the stitching in specific places, the gloves don't really pull your hands in either direction. You will occasionally feel a little pressure, but they are actually keeping your hands in the natural, relaxed position. Most of the time, you won't notice your hands being pulled at all.
But once of the biggest assets of the gloves isn't found on the entire thing, it's found on the bottom of the thumb, pointer, and middle finger. Along the base of the glove, geometric rubber triangles provide a grippy surface that allow you to keep a good grip on your phone. This even saved us once or twice, so you don't have to worry about losing your expensive phone in a snowdrift.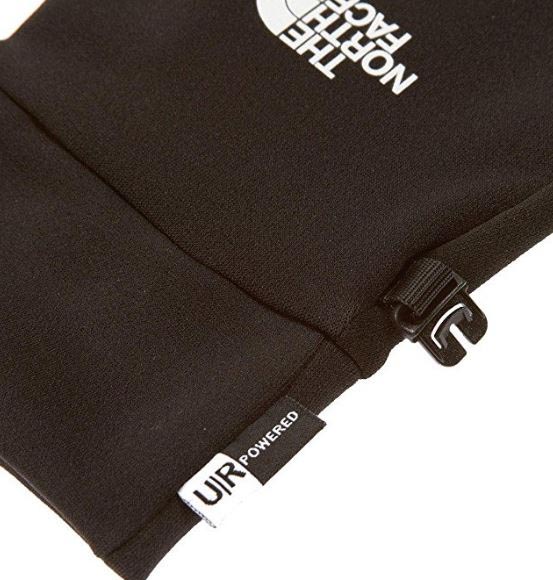 Touchscreen Compatibility
The black material on the palm of the hand isn't just a neat way to style the gloves, it's actually a special material that's 100% capacitive touchscreen compatible. In our tests, we had absolutely no problem navigating the menus of our phones, sending text messages, or any other general use. It did take a little getting used to as you aren't able to feel the phone screen quite as well as bare fingers would, but after just a few short minutes we were zipping through the menus as usual.
Warmth
This is one of the areas where the Etip gloves really excel. The stretchy material they use is very dense, and keeps your fingers toasty in even the chilliest conditions. While we wouldn't recommend them for dogsled racing in northern Canada, they're plenty warm enough for the typical American winter.
Glider Gloves
Although Paul Simon isn't a huge fan of one trick ponies, when it comes to consumer goods it can actually be an asset. Glider Gloves self-titled product is the only thing they produce, and they do it well. They were one of the first to market with a touchscreen compatible glove, and they can still hold their own against competitors.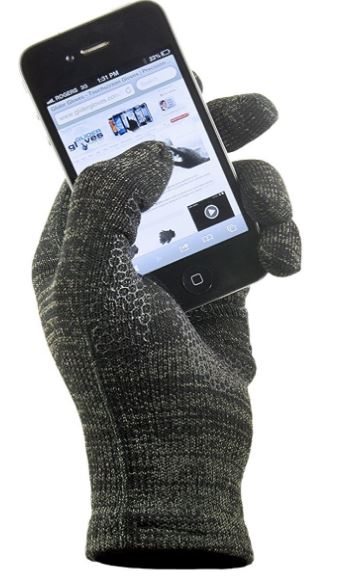 Design
If it aint' broken, don't fix it. This may be true, but they never said anything about tweaking it. From a shape standpoint, the Glider Gloves probably look a lot like the standard winter gloves you wore in school. Where these gloves stand out is in their coloring. By varying the thread color, these gloves stand out with their stonewashed look.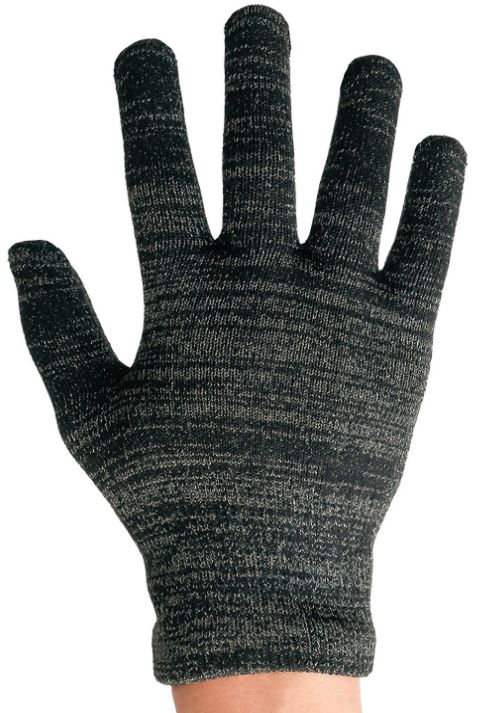 Fit
These gloves are a little thicker than some, but they compensate for it by fitting very close to the skin. They're not so tight that they pull your fingers, but not so loose that they fall off. This makes them a great choice for everyone from the outdoor enthusiast to the unenthusiastic commuter. Their form hugging design means that there is no adjustment period when using your phone, as your fingers are roughly the same size.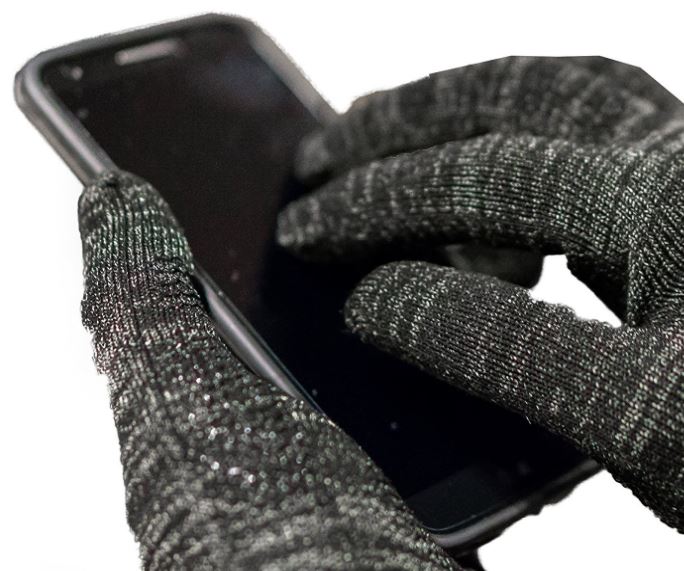 Comfort
On the inside, the gloves are very soft. This is one of the reasons that they feel a little looser than you expect. When you see a pair of gloves like this, you're reminded of the ultra-tight bargain gloves you're used to seeing. Even though they are just a little looser, we found that the comfort level was much higher than similarly designed gloves.
Touchscreen Compatibility
This is the only pair of gloves on our list that is completely, 100% touchscreen compatible. Although we don't forsee ourselves using the backs of our hands to use our phone, there is an advantage to this. It wasn't until we started using touchscreen gloves that we realized how often the tips and sides of our fingers come into the equation. It's generally during gestures that we roll our hand a bit, or use the end of our pointer finger. For those occasions, the GliderGloves will pass your tests with shining colors.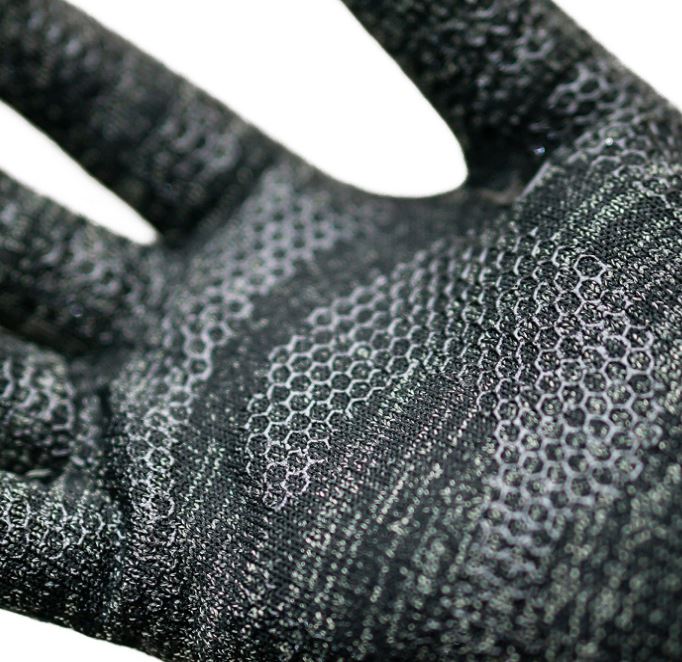 Warmth
The Glider Gloves come in two forms, the urban edition and the winter edition. When it comes to ease of use, the urban ones are by far the best. But these are really only suitable for stopping windchill or moderately cool temperatures. If you're in a really cold environment, you'll want to use the winter edition. Those gloves provide much more insulation, keeping you toasty at all times.
HEAD Sensatec Touchscreen ThermalFUR Gloves
As a company known for their high quality Skis, it makes sense that they'd be able to produce a high quality pair of gloves. Their ThermalFUR gloves are both fashionable and warm, so you can have the best of both worlds.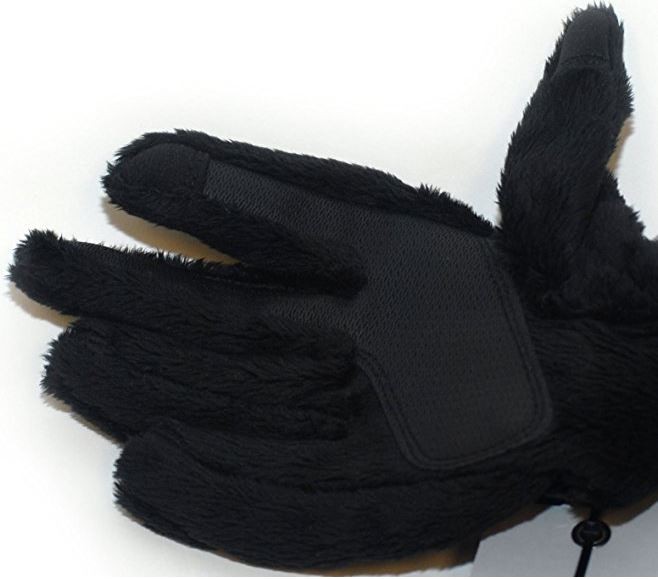 Design
From the top, the HEAD Sensatec Touchscreen ThermalFUR Gloves look almost as if they are made of bear fur. For ethical reasons, they're entirely synthetic. But that doesn't change the fact that these are some of the fuzziest gloves we've seen in a while. If you're looking to add a little color to your life, Head gives you the choice of purple, gray, or black.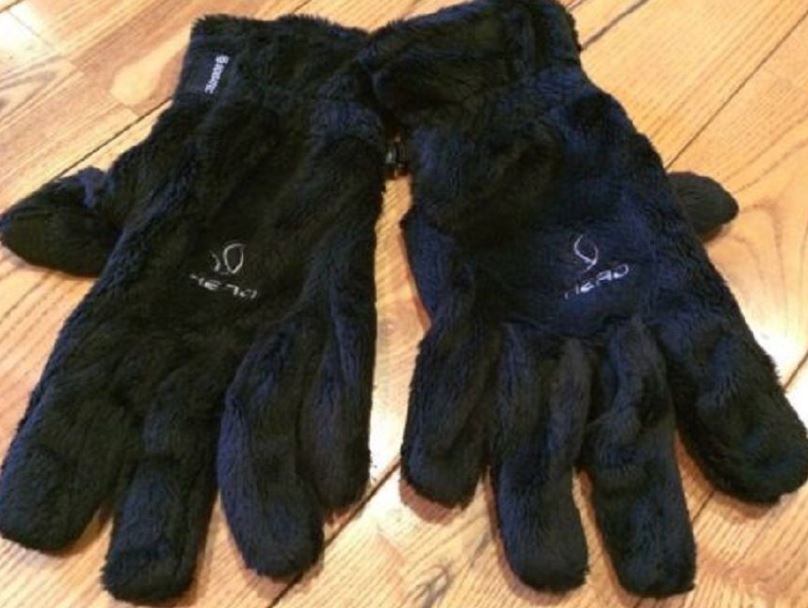 Fit
If you're not into the form fitting gloves, these are the pair you'll want to look at. They're very loose fitting, but not baggy. The inside is made of the same fuzzy material as the outside, so they don't fall off even though they're a little loose.
Comfort
These are, hands-down, some of the softest gloves we've ever worn. Sure, they are women's gloves. But the incredible level of comfort is almost enough for us to consider picking up a pair for ourselves. Wearing them is almost like wrapping your hands in clouds. They're not the best when it comes to tactile motions, but for the average commuter they're perfect.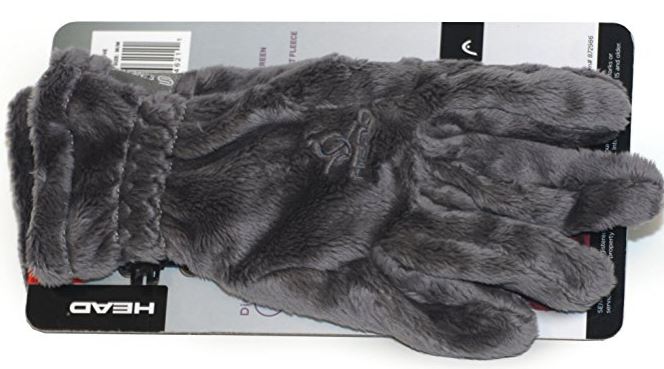 Touchscreen Compatibility
Obviously, fur isn't the best material for use with touchscreens. To make it work, Head remove the fur from the inner pointer finger and replaced it with a stitched fabric that is touchscreen compatible. This frees up your pointer to work with your phone. It's not the most elegant solution on the market, but it's by far the warmest.
Warmth
From the images alone, it should be clear that these are the warmest gloves on our list. Even with strong wind that chills you to the bone, your hands stay completely warm. These are the kind of gloves we'd want to have on our hands if we were forced to venture out into a blizzard for 8 hours. Head made no compromises keeping these gloves insulated, and the second you place them on your hand this will be apparent.
Which Touchscreen Texting Gloves are Right for Me?
If you're like us, the idea of having to be disconnected from the world for a few hours is a little unnerving. By the same token, trying to blast out a quick message when your fingers are going numb doesn't sound too fun either. Any pair of gloves in this list can solve both these problems at the same time, but the pair you choose depends heavily on two factors: the temperature, and how often you text.
For the coldest places, you'll want something ultra-warm like the Head Sensatec ThermalFUR Gloves. Although they only have one finger available for texting, you'll still be able to get a message out when you need to.
If you're lucky enough to live in a warmer climate, and just need something to compensate for the slight temperature drop during January and February, the Glider Gloves are a great choice. They're perfect for the city, and they're the only pair of gloves that are completely touchscreen compatible. You'll be able to fire off text messages at the same rate you normally do, without suffering from numb fingers.
For a good balance between the two, the North Face Unisex Etip Gloves are a little thinner than Head's poofy ThermalFUR, but a little more insulated. For most of the population, these will be the best choice.
Meet Derek, "TechGuru," a 34-year-old technology enthusiast with a deep passion for tech innovations. With extensive experience, he specializes in gaming hardware and software, and has expertise in gadgets, custom PCs, and audio.
Besides writing about tech and reviewing new products, Derek enjoys traveling, hiking, and photography. Committed to keeping up with the latest industry trends, he aims to guide readers in making informed tech decisions.