Nobody wants an HDMI cable running through the middle of their living room. In a home setting, it looks less than organized. In a professional setting, it looks less than professional. Not to mention it's a tripping hazard attached to what is presumably a decently expensive display.
That's like tying a string to your TV, and then making it so people might trip over that string. So going wireless makes a lot of sense. It's convenient, it's simple, and it won't endanger your stuff. Unfortunately, actually extending an HDMI signal into a wireless one can be a little more challenging than that.
Diamond VS75 Wireless USB Type C to HDMI Extender Kit
Diamond Wireless actually makes a lot of HDMI extender kits like the VS75. And the Diamond VS75 is a wireless USB Type-C kit intended to help facilitate the transmission of an HDMI signal. What makes this one special? Well for starters, this kit is composed of two separate units: the HDMI receiver and the Type-C extender. You can tell them apart because of their connection headers. Apart from that, they share essentially the exact same dimensions, size, and weight.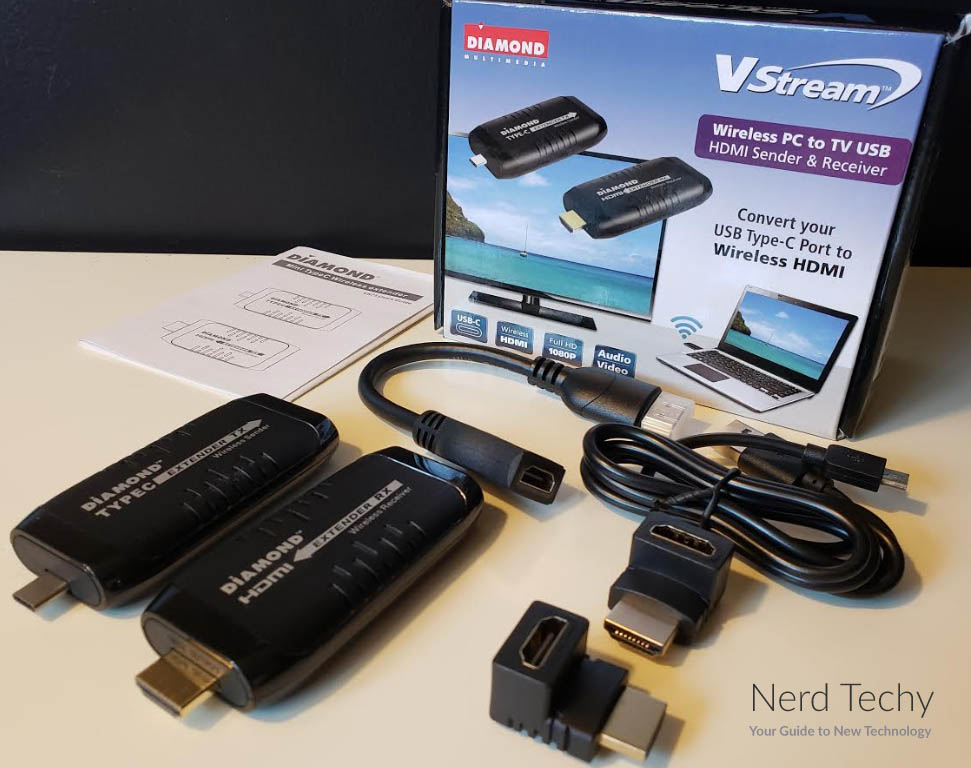 Like you might expect from looking at them, these adapters convert the USB/Thunderbolt 3 port into the wireless HDMI 1080p format. That works by moving the signal from the sender to the receiver, not unlike a radio. But unlike a radio, this is a pretty low latency system. There's no lag on the system due to anti-interference tech, largely thanks to the fact this kit utilizes the 5G band.
The small form factor of the unit makes it very simple to plug into existing devices without messing with cables. That way, the HDMI receiver can be plugged straight into a TV without the need to get an HDMI cable involved. And the USB connection from the TV can then power the adapter without needing to get batteries or additional power adapters involved. But how well does it work in practical use?
Design & Layout
Again, Diamond Multimedia makes a lot of similar kits to this one. They've all got essentially the same very straightforward design. Because long ago, they figured out how to make these kind of kits more reliable. It largely has to do with whether or not you need to be able to extend the sender's signal using an extra antenna, or if you can get by with something more basic.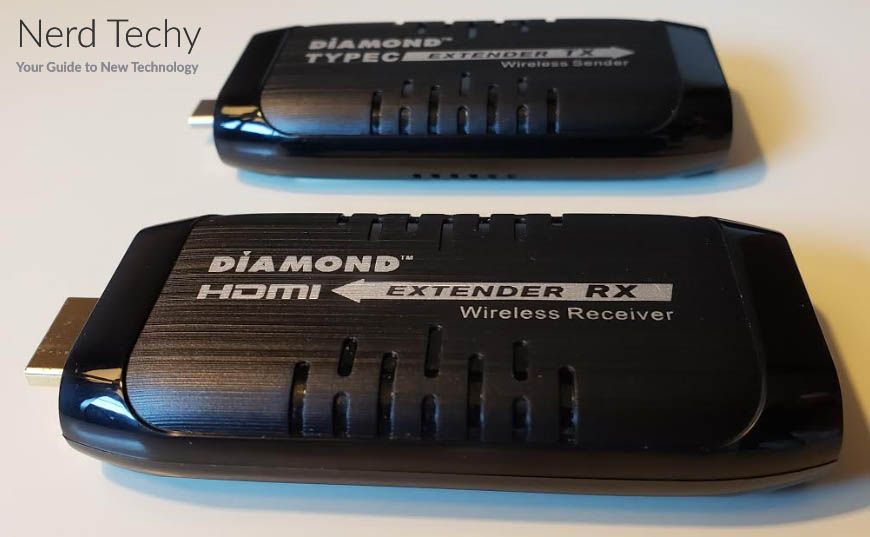 In this case, each receiver measures 1.5 x 3.2 x 0.6 inches. That's pretty much the size of a regular USB thumb drive. The VS75 doesn't come with any antenna extensions because both units have their antennas internal instead. Externally, there are almost no physical differences between the receiver and the transmitter. As is the case with some of their other kits, it would be easy to confuse the two, were one of them not USB-C.
Installation Process
Since they're using such a simple design, it shouldn't be a big surprise that the setup is also pretty simple. In fact, it's just about plug and play. Do you know how to plug-in a USB cable? Then you're ready to setup this kit. There's no need to get drivers or software involved, so you don't have to do any extra added steps. There's no wireless network that needs to be integrated with this system, so you don't have to think about the availably of your wireless network. And the lack of added cables keeps things clean and simple.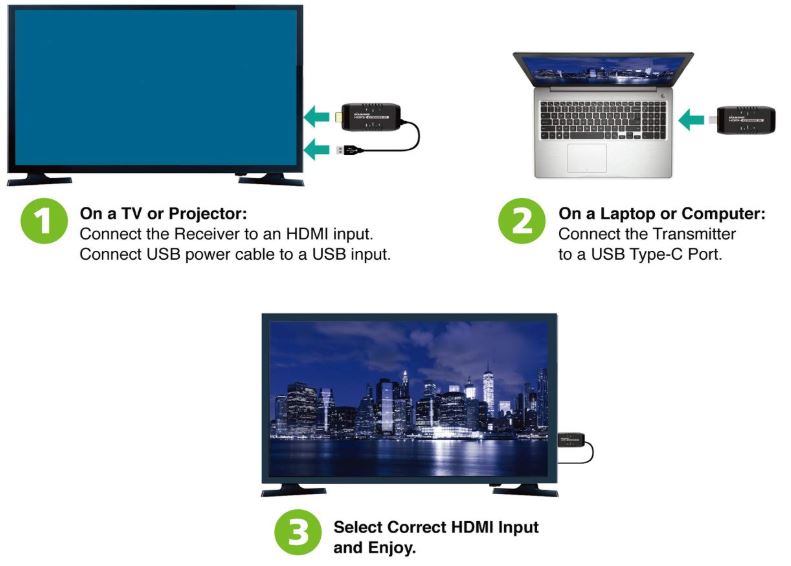 For portable solutions, like notebooks and laptops, that can be very convenient. Because the Type-C connection allows things to stay self-powered, though the receiver must be powered with an included USB cable. That does add a little bit of extra wiring to the kit, but it sure beats having to use a battery, doesn't it?
As mentioned earlier, the antenna is internal, so you can't extend it beyond the initial placement of the unit. As such, you do need to think about the placement of the transmitter rather carefully. Though as long as the sender and receiver are roughly in line of sight of each other, you shouldn't have an issue. Even broadcasting a signal through your television is often possible, depending on the thickness of the screen and the location of the receiver.
Video Support & Formatting
Notably, the VS75 has HDMI compliance for version 1.3 — which isn't the highest version. But since you're only going to be transmitting 60Hz, running version 1.3 is going to be perfectly fine for this kind of adapter. Furthermore, it has HDCP compliance for version 1.2, so you don't have to worry about being able to run content that's been protected by anti-piracy technologies. Things like Netflix go on without a hitch.
As you might expect from a 1080p, you can also run lower resolutions. That includes 480p at 60Hz, 576p, and 720p. You can drop to 50Hz if need be, though otherwise all of those resolutions are played at 60Hz. And that's pretty much the best set of resolutions that you can support from a wireless connection without greatly expanding your budget.

The only supported audio format is PCM, which puts some soft limitations on the kind of audio signals you can transmit. But virtually nobody should find this to be an issue, outside of some audiophiles. But that's really not who this equipment was made to serve. It also wasn't made to serve gamers.
Because notably, there is a 200ms delay while using this wireless setup. That means it's not optimal for certain types of gamers, and certain types of games. Anything over 150ms is something that the average person will have no problem recognizing. If you're playing a fast paced action game, this signal delay is probably not going to be ideal for you.
That's just a limitation of the wireless technology that's hard to get around without being willing to spend a great deal of money. And for slower paced games, 200ms is something that's livable. It's just not something you'd want to bring to an online first person shooter title.
Transmission Range & Extendibility
Theoretically, you can send a signal across at much as 45-feet, assuming you can provide a clear line of sight. In part because the receiver uses a small compact design that allows you to power the USB port on the projector display from which it is transmitting. That makes the VS75 ideal for conferences, home theaters, classrooms, and so forth.
And the 45ft transmission range is just one step above average. When you look at a lot of Bluetooth devices, you'll find they're usually designed for about 30ft. Because for most people in most situations you probably aren't going to have more than 30ft between your signal and your source.
Going an extra 15ft really gives you a lot of extra breathing room, and it means you can probably extend your signal cleanly better than a lengthy HDMI cable can handle. Especially for people who are going to lose some of that transmission distance because their signal will need to be blasted through their television's chassis. It really depends on the location of the USB port on your projector or TV. Poor port placement can have some unpredictable consequences.
One limitation to keep in mind is that you do need to maintain line of sight in order to keep the signal going. Of course, Diamond Multimedia has some accessories to help you work around those eliminations if need be. For instance, you could get an extension cable to help run the antenna on the receiver so that it could be brought around from the backside of your TV.
Other Considerations
You'll need an HDMI port on the display for which you want to connect. You'll also need a USB-C 3.1 or Thunderbolt 3 port on the transmitter. And you'll need a USB port on the display for power to be drawn from. With all of that in place, you're ready to make use of the VS75.
Where does that leave people without a USB port on their TV? Well, there's an optional USB wall charger for RX power if you don't have a USB available. But that optional adapter is not included, so you'll need to look into getting that separately. Still, it's nice to have the option to expand now and in the future.
Apart from that, Diamond Multimedia provides a pretty useful installation guide online. Though installation is so simple, it's likely you won't need any assistance in getting it going. You also get protection with a couple of years of warranty service. Though you probably don't need to over-value the warranty coverage because the failure rate on this kind of device is abysmally low.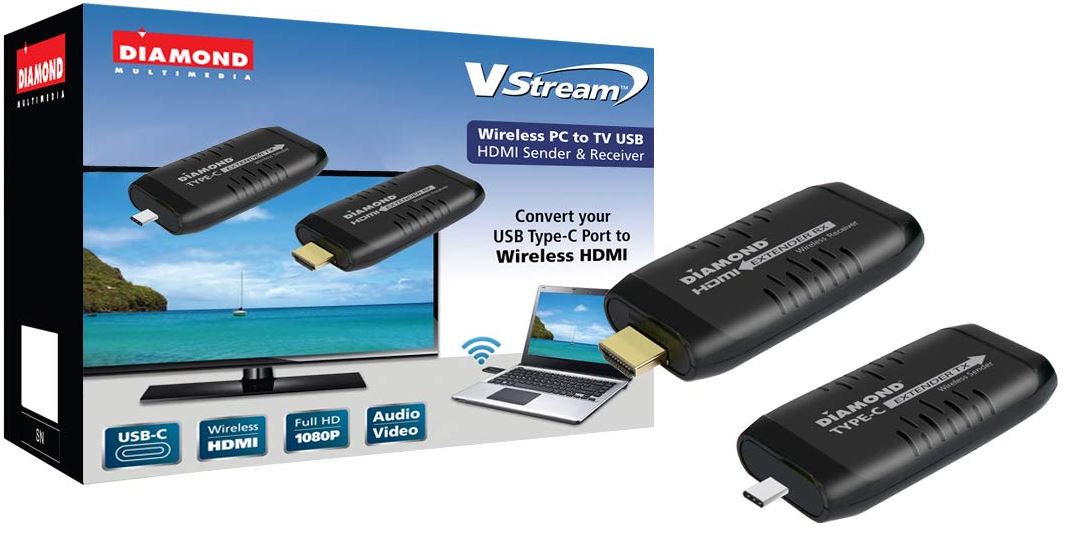 Who Should Choose the Diamond VS75 Wireless USB Type C to HDMI Extender Kit?
The Diamond VS75 has its limitations. It's distinctly stronger than the VS50 because it can connect 15ft further, and it has a USB-C interface instead of two HDMI interfaces. But it's distinctly weaker than the VS100, which can stretch to 150ft, and as an external antenna that can be used to help extend the signal. That makes this unit a nice medium point between the bare minimum and something a little more.
Once you've got it setup, it's possible to wirelessly stream Netflix, YouTube, Amazon Prime, and so forth. You can stream away basically all your content, from cable signals to DVDs. Diamond Multimedia makes a lot of these kind of wireless adapters. And they're almost always pretty good. For the most part, the VS75 doesn't seem an exception to the rule.
For people who can take advantage of a 45ft connection, this adapter will be worth checking out. It's simple to install, simple to use, and it gets the job done in a way that will satisfy most people. If you don't need 45ft or could actually make use of a longer signal, you'd have to start looking elsewhere.