If you're a homeowner, there are a number of things that you'll always want to take into consideration. From maintenance, to cleaning, to staying up to date on electric and water bills, owning your own house can certainly be stressful. One thing that most people take for granted is the quality and cleanliness of their water.
It's usually not possible to just take a drive over to the local reservoir and check things out for yourself. In many cases, the quality of your tap-water is left up to chance. Depending on where you live, your drinking water may even be doing more harm than good.
Note: At no extra cost to you, we may earn a commission for purchases using our links. Learn more.
However, nowadays there are a number of ways to ensure that the water you're drinking from your faucet is clean, free of germs and safe to drink. You could certainly get a filter for your faucet, or filter your drinking water with a special pitcher that sits in the refrigerator, but even these household items can't guarantee that your water will be fully devoid of harmful germs. It may come at a higher price, but guaranteeing clean water in your home is possible.
By using an ultraviolet water purifier, you can effectively purifiy all of the water that enters your house. These devices come in a variety of sizes, ranging from a 1 gallon-per-minute capacity all the way up to 40 gallons-per-minute. They can be a bit difficult to install, and involve some modifications to your home's existing water system, but can make all the difference if clean water is your goal.
You'll have to pre-treat your water so that is already fairly clean without sediments or any tint for the ultraviolet systems in these devices to work properly. They also require some yearly maintenance and some versions need to have parts replaced the longer you use them. However, these are small prices to pay for peace of mind when it comes to your water.
Today we're going to be looking at three different ultraviolet water purifiers to see what their capabilities are. We'll be looking at the design, specifications as well as required maintenance of each device to give you an idea of which of these devices is not only most convenient, but also the best for ensuring clean, drinkable H20.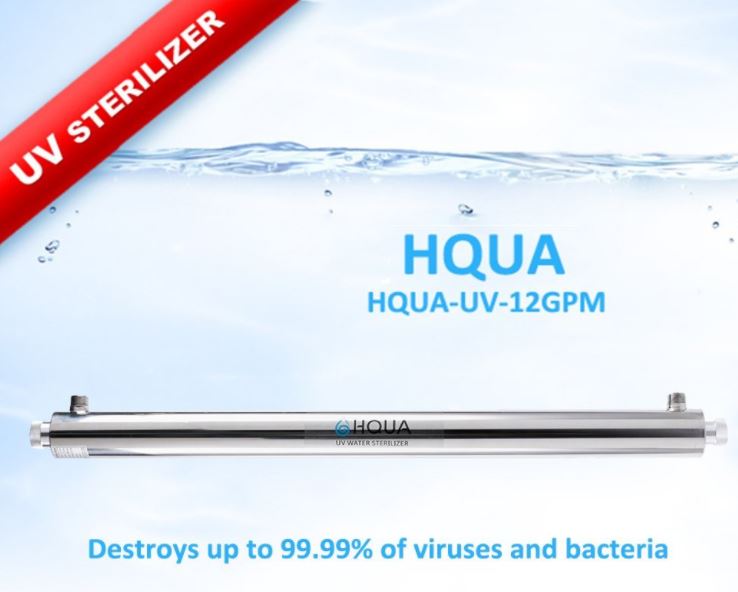 HQUA Ultraviolet Water Purifier
The HQUA Ultraviolet Water Purifier comes disassembled, but with all of its parts fairly easy to identify. In the box you'll find the stainless steel chamber, a protective quartz sleeve for the UV lamp, two UV lamps, two waterproof O-rings, two plastic brackets and a 55W electronic ballast with a three-prong plug.
Even before we assembled the purifier, we felt that the set up and design was fairly intuitive and didn't require a whole lot assistance from the manual. That being said, the manual only contained twelve steps to begin with. When fully assembled the entire purifier is 37.2 inches, so you may have to make some modifications to your existing plumbing system, and you'll also need to situate the HQUA relatively close to an outlet in order to plug in the ballast. In general, we found the design to be simple enough that you could install the HQUA Water Purifier quickly without much of a headache.
Specifications
When it came to producing clean, high-quality water quickly, the HQUA certainly had some impressive specifications and capabilities. First and foremost, this purifier is one-hundred percent chemical free. Due to its UV sanitation method, there was no need for added chemicals similar to what you might find in a pool or irrigation filter. This also ties into the second bonus contained within.
Considering that it purifies water with no chemicals, it will not affect the taste, PH or chemical makeup of the water. The water that goes in will effectively be the same water that comes out, just minus the bacteria or germs. It's also incredibly fast, able to purify at a rate of 12 gallons per minute. If you've ever seen a gallon jug of water at the grocery store, you have a pretty good idea of how much water this really is.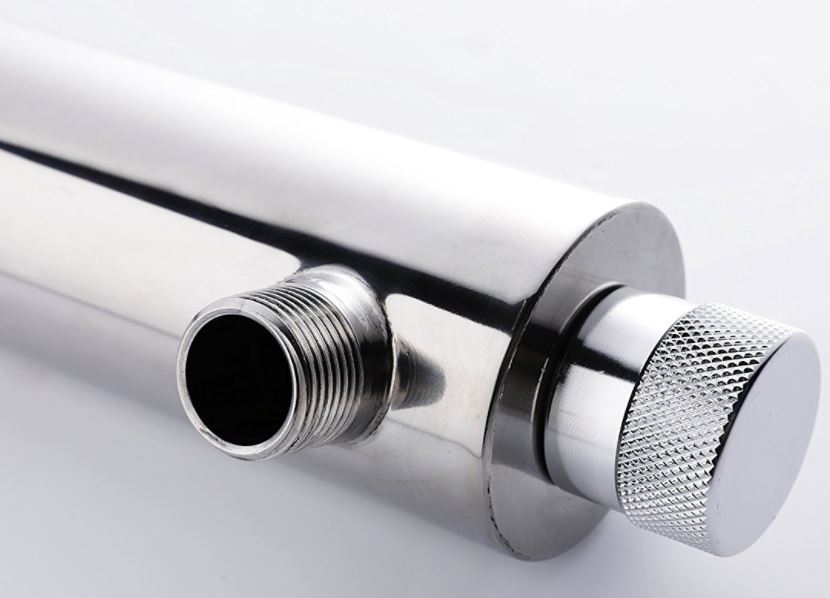 The UV light itself is built to last, and made for up to 9000 hours of use. It's also powerful enough to kill bacteria and germs in about 1 to 2 seconds. It's made of glass, so you'll have to be careful when installing it, but once placed in the protective tubing will be safe from damage. Lastly, HQUA offers replacements for any broken parts.
Maintenance
The HQUA purifier requires some maintenance at fairly regular intervals. You'll need to clean the quartz sleeve every 6-12 months and replace it every 24 months. The UV lamp should also be replaced once a year in order to ensure best performance. This wasn't all that tedious, but pre-treating water so that the purifier worked properly can become a little bit of a hassle. You'll need to make sure that your existing water meets the following requirements:
Iron < 0.3 ppm
Hardness < 7 gpg
Turbidity <1 NTU
Manganese < 0.05 ppm
Tannins < 0.1 ppm
UV Transmittance > 75%

While we understood the need for our water to already have certain conditions, it did detract slightly from the overall capabilities of the purifier, mainly because it required an extra thing to monitor while it was installed. It would be really incredible if the HQUA purifier could not only rid water of bacteria, but also pre-treat it to meet the above mentioned standards. The need to pre-treat water is certainly worth mentioning, but didn't change our overall opinion that the HQUA purifier was a quality device that was easy to install.

VIQUA UltraViolet Water Disinfection System
When we first opened the box of the VIQUA UltraViolet Water purifier, we were a little surprised to only find one piece contained inside. Considering that the other items on our list came with several pieces that needed to be assembled, we figured something was missing. The reality was that VIQUA really outdid themselves when it came to convenience.
The entire unit comes fully ready to install without a ballast or much assembly. It had a stainless steel finish, measured at 37 x 3.5 x 3.5 inches, and weighed a little over ten pounds. It was a little on the heavy side, but once it was installed this didn't pose much of a problem. Even though the purifier is the kind of appliance that will likely be hidden, it still had a sleek, futuristic look, with the VIQUA logo printed right on the side. As far as the design and convenience was concerned, the VIQUA UltraViolet purifier really blew us away.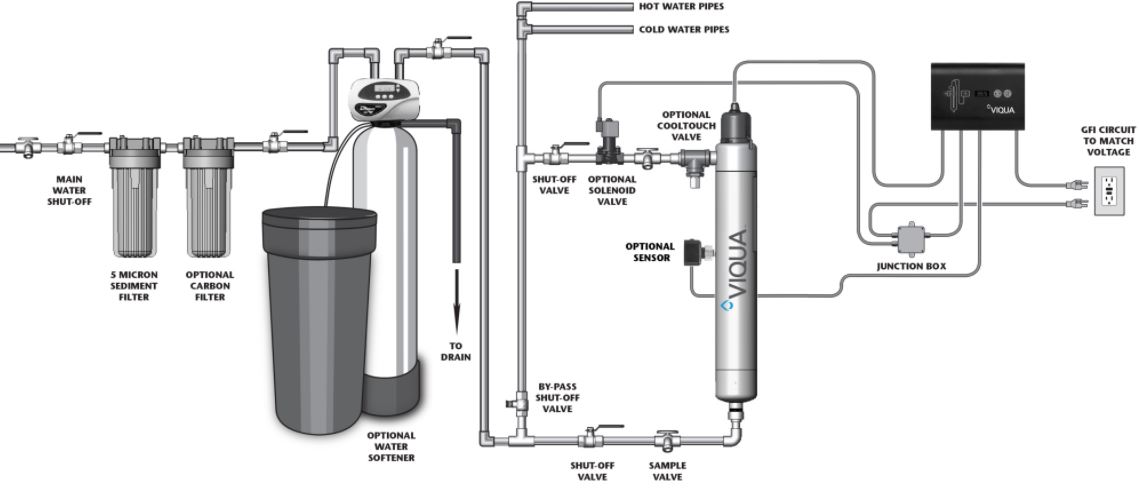 Speficifications
The VIQUA UltraViolet purifier is a little bit on the slower side when it comes to its gallon-per-minute capacity. It can clean about ten gallons per minute, but ultimately this will be relative to your home's existing flow rate. For example, for a home with a flow rate of 6 gallons-per-minute, this would be more than sufficient. Whether or not 10 gallons-per-minute is too slow, will just depend on your existing plumbing and water delivery system.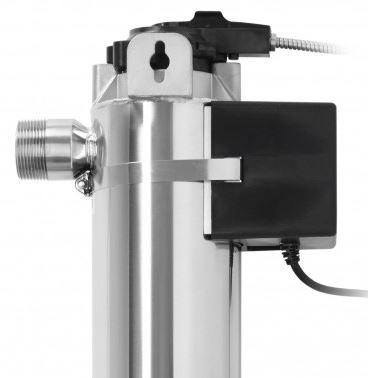 When it comes to purification, the VIQUA purifier is incredibly powerful, and covers a variety of contaminants. It can rid drinking water of protozoan cysts, viruses and bacteria without the use of chemicals. Like most UV water purifier, it uses light waves to disable and deactivate the DNA of various microorganisms to prevent growth and further contamination. Like the other options on our list, this means clean water and no chemicals—a very good combination.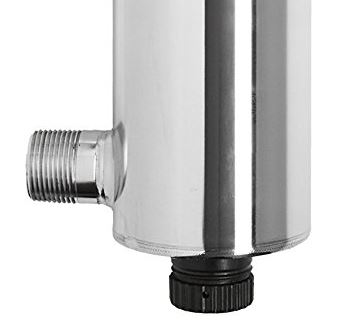 Maintenance
The VIQUA purifier is also very light on upkeep, and requires only two periodic maintenance checks. Once a year, you'll have to change the UV lamp, but this depends on how often you use it, and your existing water quality. Essentially, the harder you make the purifier work, the shorter it'll last.
The quartz sleeve also needs to be cleaned every three months, but does not need to be replaced as long as you stay on top of regular cleaning. VIQUA sells replacement UV purifier at a reasonable price too, making this device incredibly convenient and simple to maintain.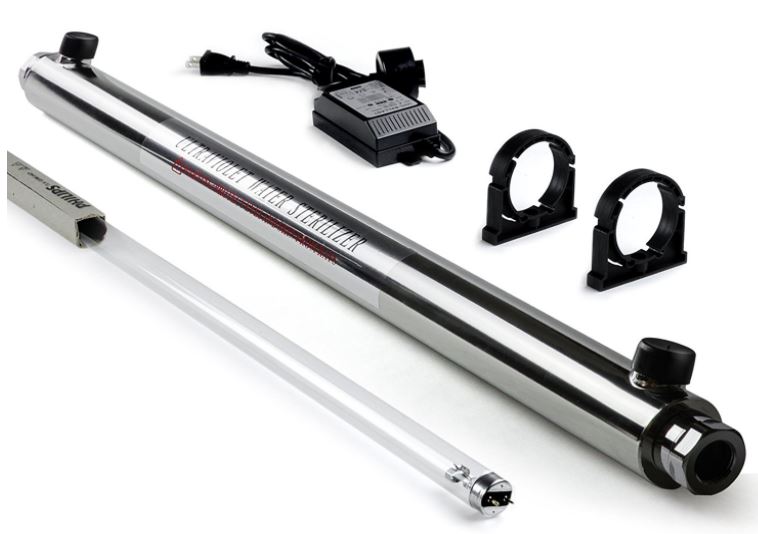 I-Spring UV Disinfection System
The I-Spring UV Disinfection System comes semi-assembled with some included accessories. It has a pretty standard design that didn't strike us as being as high-quality as the other two on our list. It did have a stainless steel protective tube with a quartz sleeve and was about the same size as the other models measuring at 38x4x4 and weighing at just over 7 pounds. However, it had more of an industrial look when compared to the luxurious appearance of the VIQUA purifier.
Certainly performance is paramount to looks for a device like this, but at first glance it just seemed like a pipe, rather than a sophisticated filtration system. That being said, the assembly seemed fairly intuitive, and the unit even came with a couple of brackets to make mounting it easier. The 55W lamp was also included and required some installation. It requires the use of a ballast, which means you'll have to set it up close to an outlet, much like the HQUA purifier.
Specifications
Despite its relatively basic looking appearance, the I-Spring UV purifier was very capable of yielding clean water in a variety of settings. I-Spring recommends using this purifier for not just the home, but also in professional water treatment equipment as well as reverse osmosis systems.
Like the others on our list, it's capable of ridding water of viruses, protozoan cysts as well as a number of different types of bacteria. The included lamp will yield 9000 hours of use, and the purifier even has the ability to reduce water pressure up to 5 PSI. This added bonus, as well as the versatility of the I-Spring made it a powerful water-purification system, even if it wasn't the most flashy or robust in its design.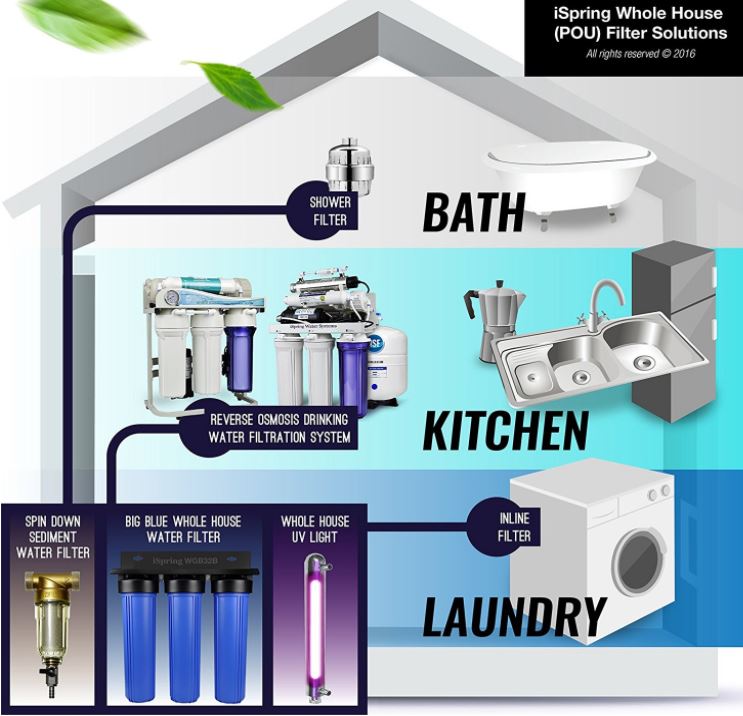 Maintenance
As far as we could tell, the only maintenance the I-Spring requires is periodic replacement of the UV light. It will last for about 9000 hours, depending on how often you use it as well as the existing cleanliness of your water. It isn't as easy to maintain or install as the VIQUA, but is still a close second, and seemed like it would do its job well with minimal issues.
The Winner
It was pretty clear that the winner was the VIQUA Ultraviolet Filtration System. It was the easiest to install, while still only requiring similar maintenance to the other two. Even the cylinder itself felt more robust and powerful than the other two options. What was more impressive was that it didn't require an external power source. It was ready to be installed right out of the box and was just as chemical-free and effective as the contenders.
While the HQUA Purifier and the I-Spring were worth contenders, the VIQUA purifier just couldn't be beat when it came to ease of use. Considering that all three used similar bulbs and had fairly high rates of filtration, the main thing that got the VIQUA purifier the number one spot was its convenience. Granted, it did come at a higher price point that the other two while essentially doing the same job. That being said, not everyone may be willing to go through the trouble of a complicated assembly, making the higher price somewhat justified.
The only thing that would have made the VIQUA purifier even more impressive would have been some mounting accessories. In a way, the decision to include almost nothing else in the box but the purifier was a slight drawback, because it leaves the user to have to figure out a way to keep the purifier secure in their home. Including brackets was one thing that I-Spring did better than both others. While it was a great accessory, the VIQUA purifier was still ultimately at the top of our list.
Note: At no extra cost to you, we may earn a commission for purchases using our links. Learn more.